These Easy Peanut Butter Noodles are perfect for Baby Led Weaning (BLW) with babies 6 months or older as an easy allergen introduction recipe.
If you are following along on my Instagram stories, you know Baby E loves to eat and I love to feed Baby E. I've been really impressed with his interest in trying new foods – we're already at over 100 foods and he's only 9 months old! But if you're just getting started, you probably have heard that you want to rule out the top allergens first. In fact, I wrote an entire post about the importance of early introduction of allergens that you can read up on here.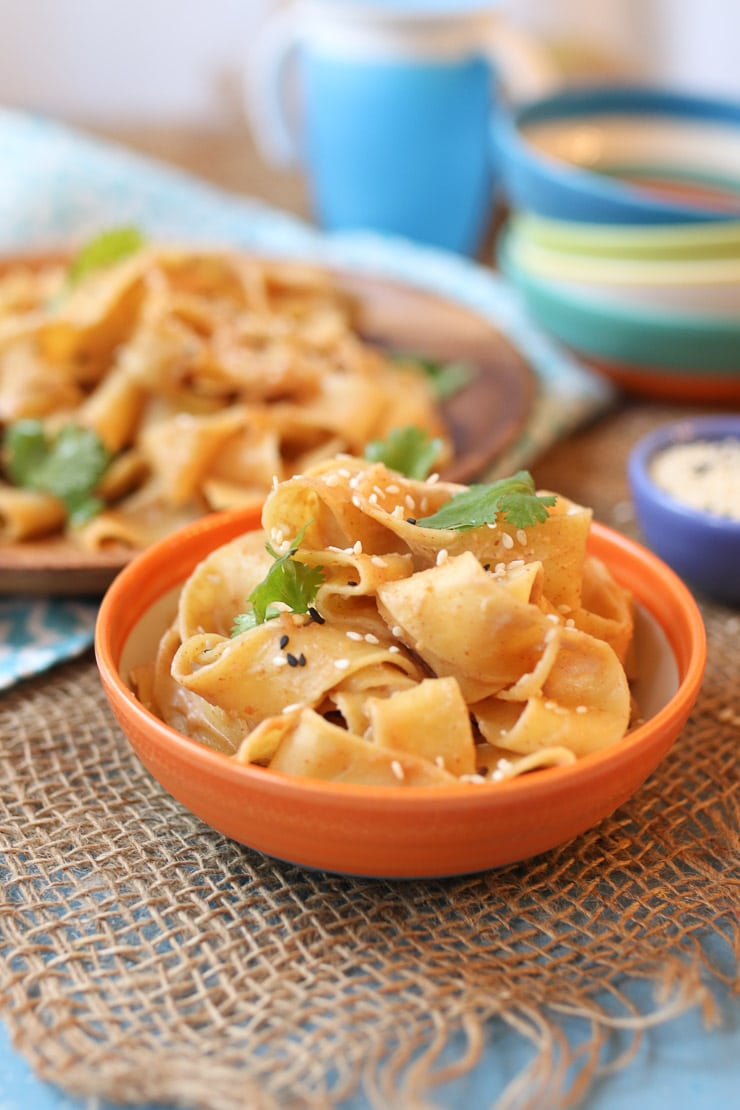 New research has suggested that introducing your baby to peanut products early (between 4-6 months) may help reduce the risk of peanut allergies, so if you're struggling to figure out a tasty BLW way to serve peanut butter, these peanut butter noodles are for you.
This recipe actually features a number of common allergens – wheat (noodles), egg (noodles), sesame (sauce), and peanut butter (sauce). For that reason, I wouldn't make this the FIRST dish you serve to introduce all of these foods because if heaven forbid your little one had a reaction, you wouldn't know WHICH of the allergens caused it! This is a fantastic recipe, however, for maintaining allergen tolerance, which you should make a priority every week after you've introduced each of these on their own.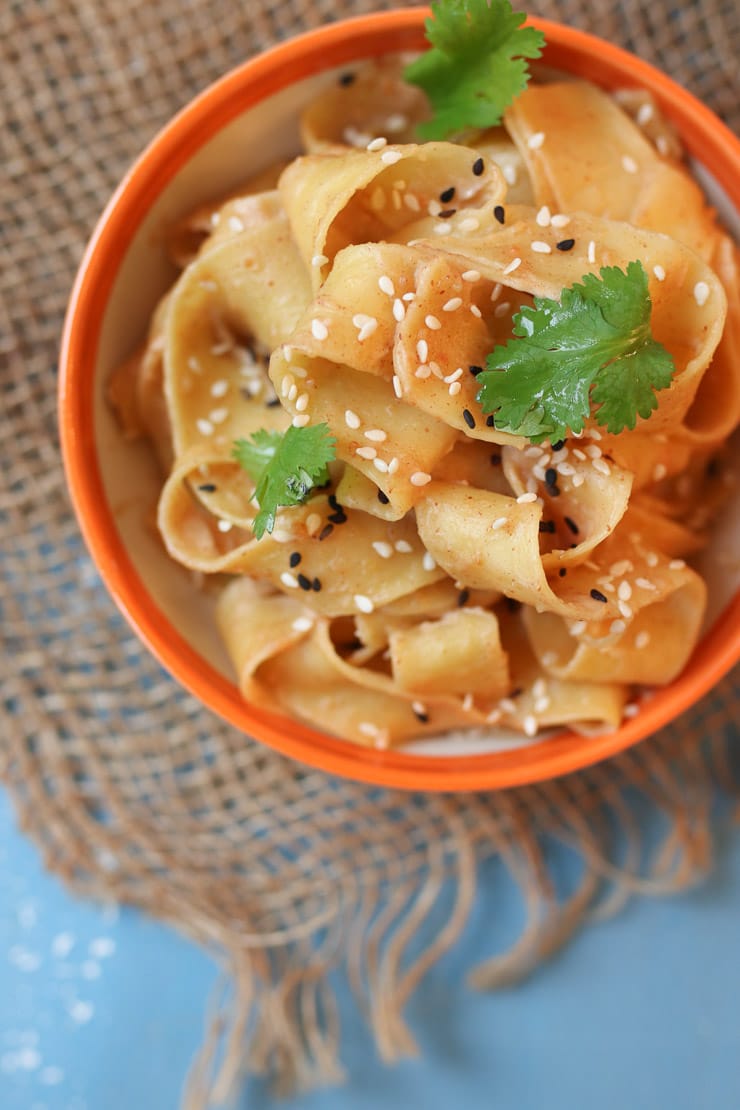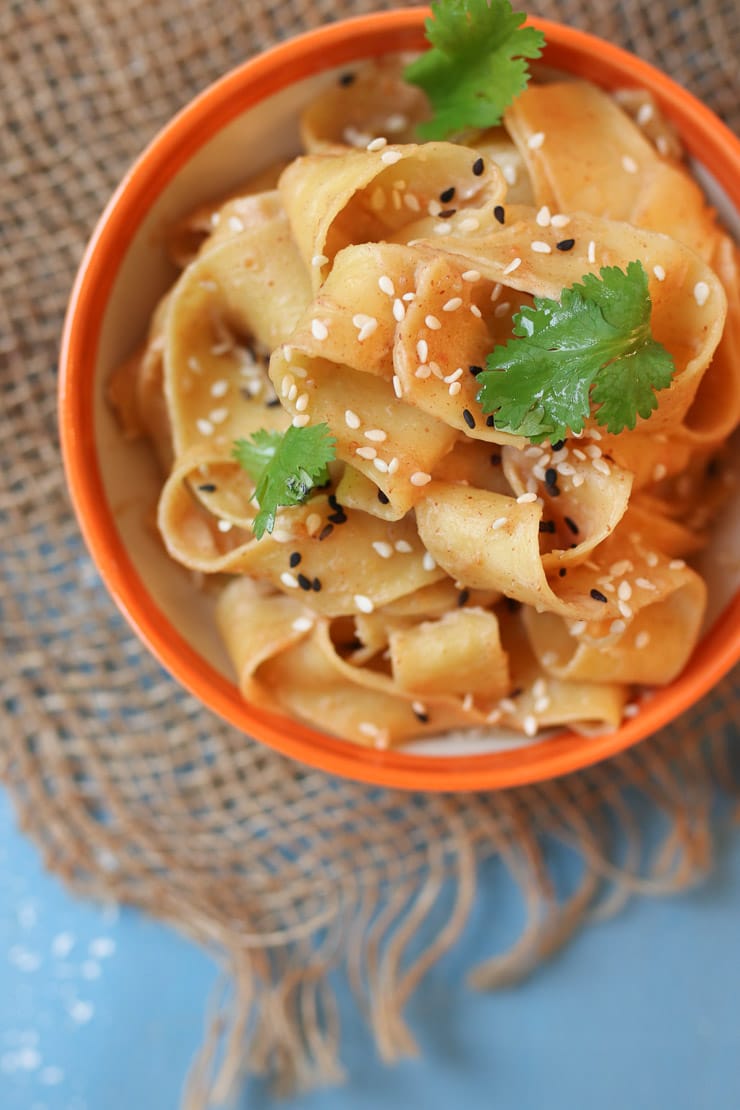 In other words, I have trialed Baby E on peanuts and waited a few days. I did sesame and waited. Wheat then waited. Egg then waited etc. Once I was in the clear, I wanted to make sure he didn't develop an allergy down the road, and these easy peanut butter noodles became an awesome dish to do that with.
How to Make Easy Peanut Butter Noodles for BLW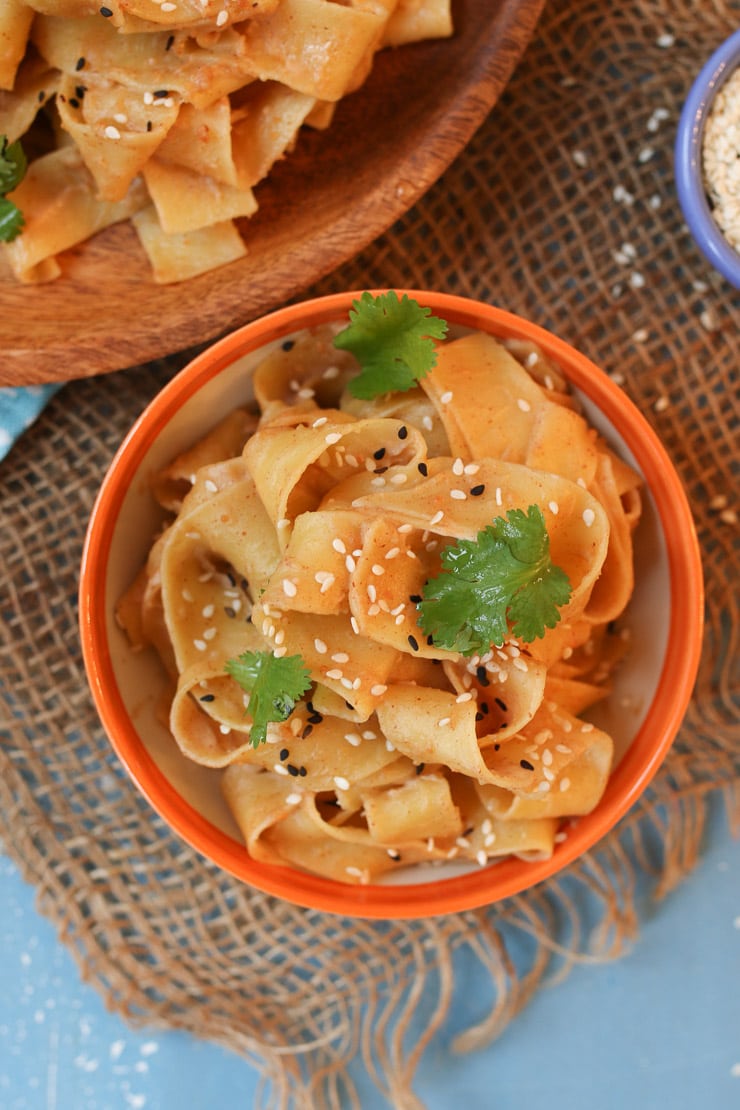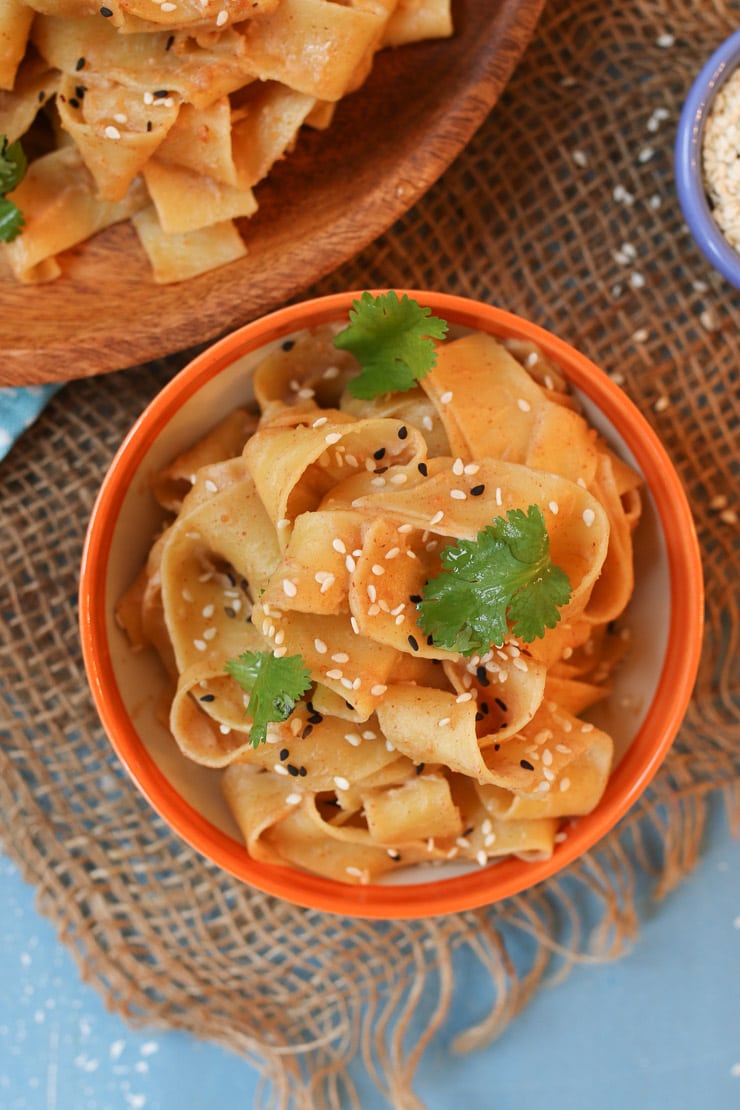 Like his momma (and most reasonable humans), Baby E loves pasta. He likes it more than toast because I think it's more fun to play with and eat, so putting peanut butter on noodles is an easy sell.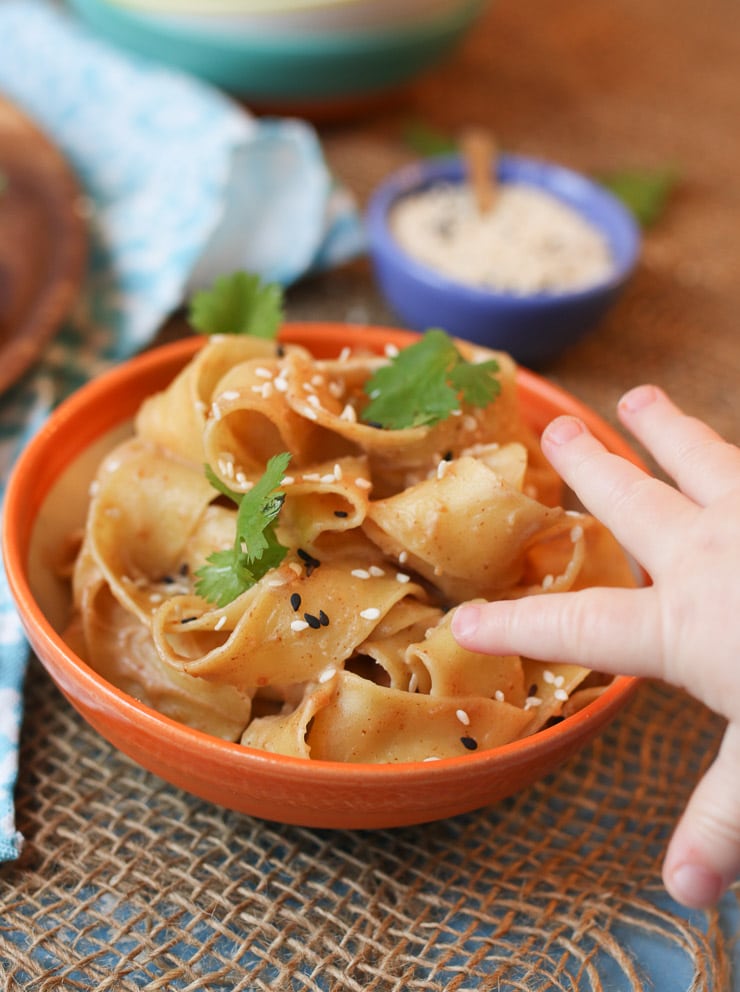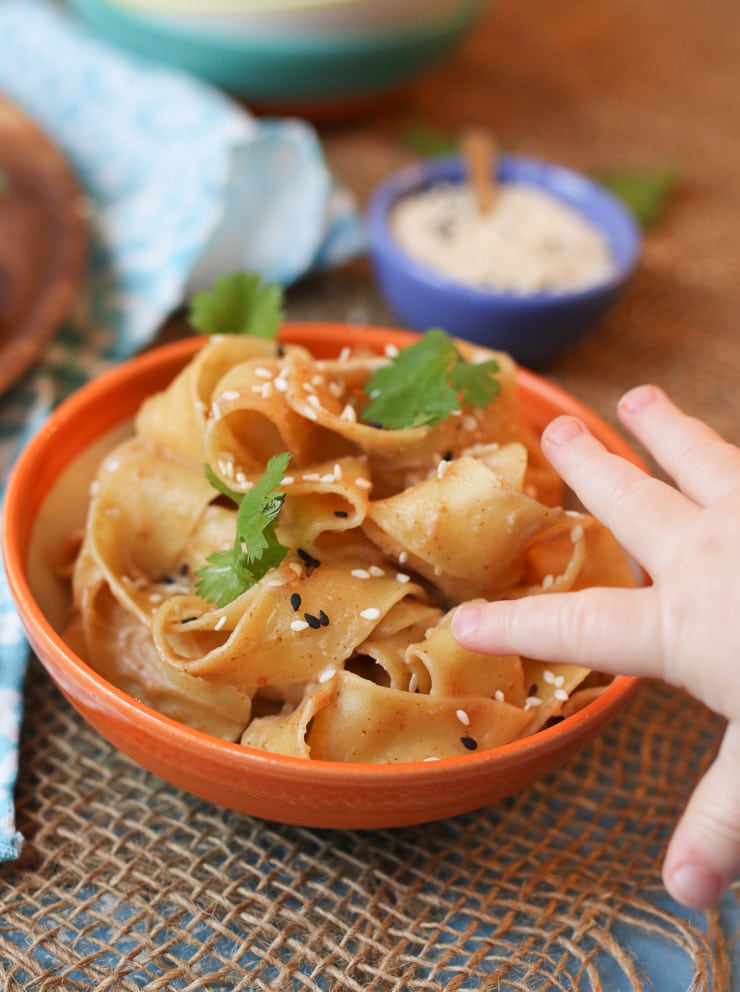 To make the sauce, you simply soften some garlic and ginger, then add in the peanut butter, sesame, rice wine vinegar and some starchy cooking liquid to thin it out. Then I toss my cooked egg noodles with my sauce and garnish it up.Yes, you could "adultify" this by adding in some cooked veggies, but for a beginner eater, I try to keep things relatively easy and simple.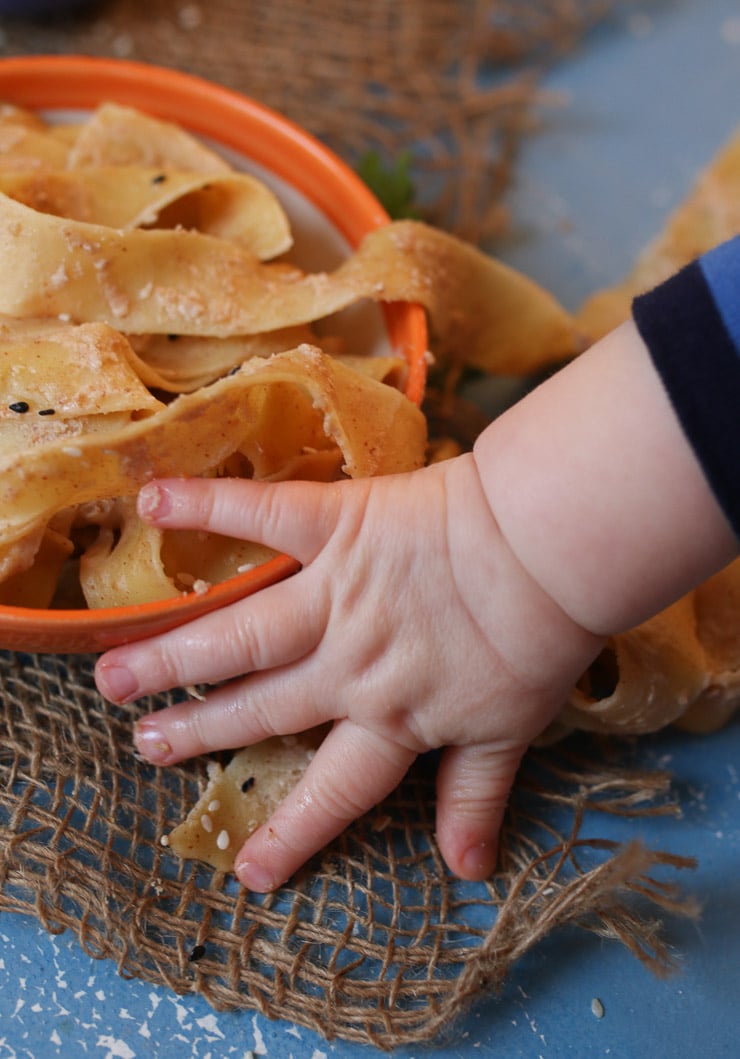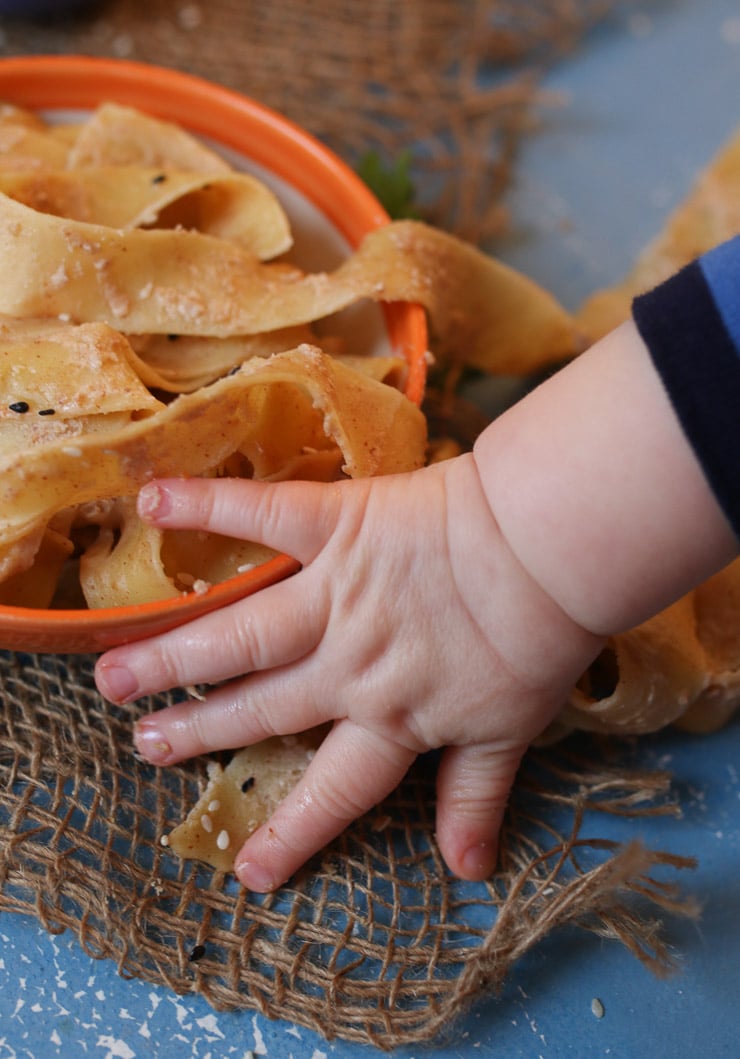 These easy peanut butter noodles will quickly become a family favourite and an easy stress-free way to keep up allergen tolerance in your little baby.
Hey moms and dads, I would love to know what are some of your go-to BLW recipes for allergen prevention?
Have you tried making these easy peanut noodles for your baby?
How has baby led weaning gone for you so far?
I would love to hear what your kids are loving and what isn't working so well for you!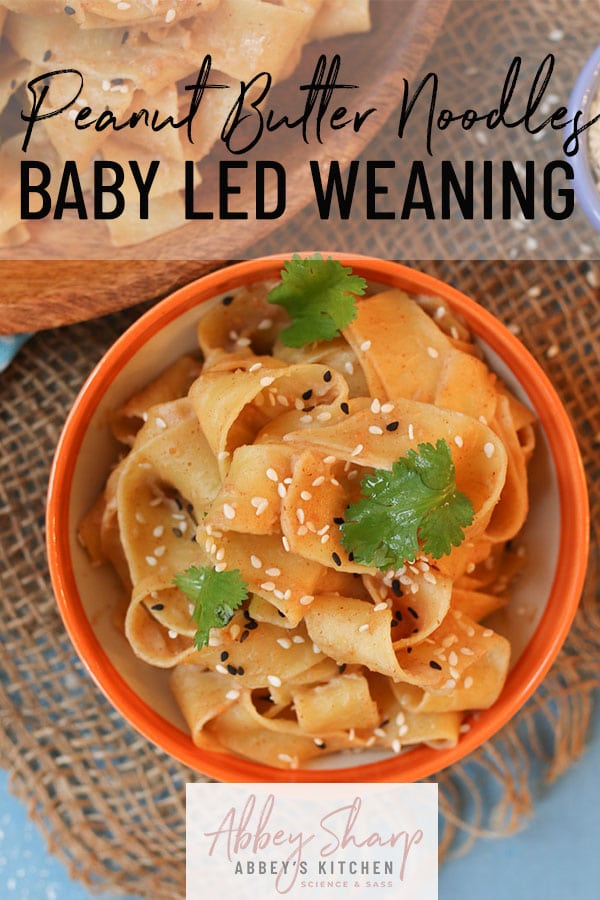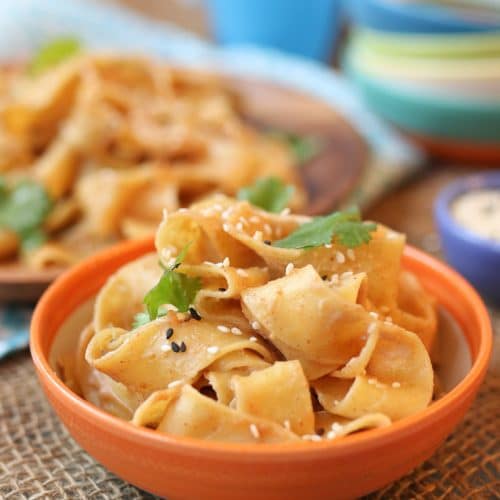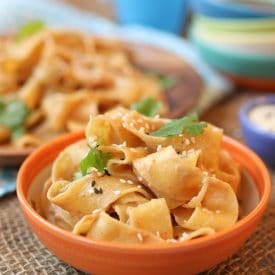 Easy Peanut Butter Noodles
These Easy Peanut Butter Noodles are perfect for Baby Led Weaning (BLW) with babies 6 months or older as an easy allergen introduction recipe.
Print
Pin
Rate
Ingredients
¼

lb

egg noodles

1

tbsp

olive oil

2

tbsp

ginger

grated

2

large cloves garlic

grated

½

cup

natural Peanut butter

1

tbsp

rice wine vinegar

2

tsp

sesame oil

½

c

starchy cooking water

White and black sesame seeds

for garnish
Instructions
To a large pot filled with boiling water, cook the noodles until just al dente. Before draining, scoop out about 1/2 cup of the cooking water and set it aside.

Add the olive oil to the pan over medium heat. Add the garlic and ginger and saute until fragrant, about 1 1/2 minutes. Take off the heat and add the noodles in, along with the peanut butter, rice vinegar and sesame oil. Start to toss the pasta with the peanut butter while adding the starchy cooking liquid a tablespoon or so at a time. Transfer to a platter and top with white and black sesame seeds, if desired.
Nutrition
Calories:
182
kcal
|
Carbohydrates:
26
g
|
Protein:
9
g
|
Fat:
5
g
|
Saturated Fat:
1
g
|
Cholesterol:
24
mg
|
Sodium:
132
mg
|
Potassium:
84
mg
|
Fiber:
3
g
|
Sugar:
2
g
|
Vitamin A:
70
IU
|
Vitamin C:
0.5
mg
|
Calcium:
23
mg
|
Iron:
0.5
mg
Updated on July 21st, 2020