These Vegetarian Stuffed Zucchini Boats with Chickpeas, Barley, Olive & Feta are about to become your family's favourite meatless monday meal.
Meatless Mondays are starting to become my favourite night of the week. Ever since I went to the innovative veggie-centric restaurant, Vedge in Philadelphia (which just happens to be completely vegan and vegetarian, too), I have been completely enamoured by vegetable cookery.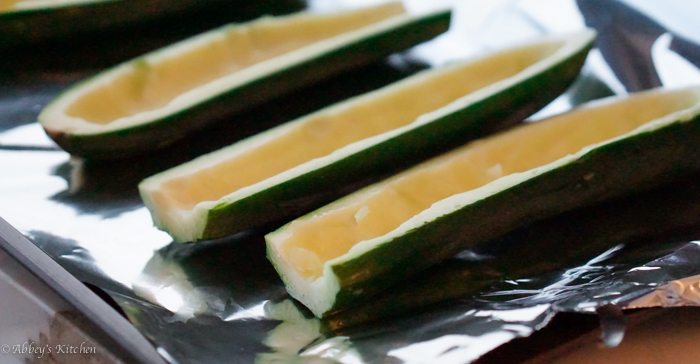 And yes, I do prefer to use those terms instead of vegetarian simply because I find it far more inclusive. Vegetarian often implies a certain lifestyle to people that many carnivores see as too boring, too prudent, or too restrained for them. That's not necessarily my opinion, of course, but I know a lot of people who's eyes roll when you tell them it's "vegetarian". I prefer not to dole out such judgmental labels because I would rather we simply appreciate delicious food for what it is- delicious! How about those nutritional benefits just be a great bonus, cool?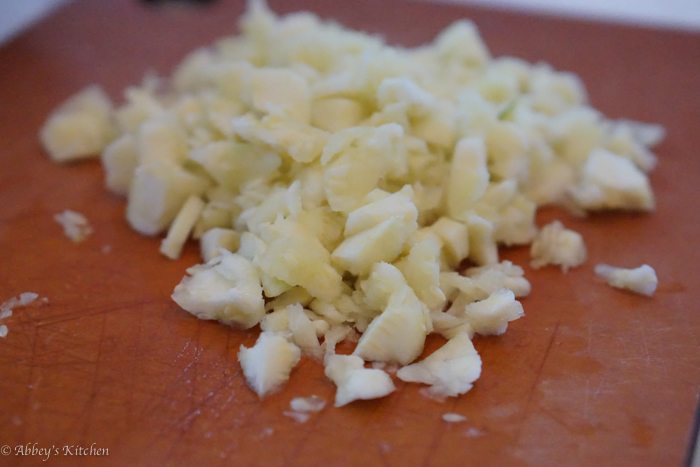 So this week, I had an abundance of zucchinis in the house because I got a wee-bit overenthusiastic at the store with a sale. I decided to pretty much just beef these babies up with a variety of the staple ingredients I had lying in my pantry. This is how my Vegetarian Stuffed Zucchini Boats were born.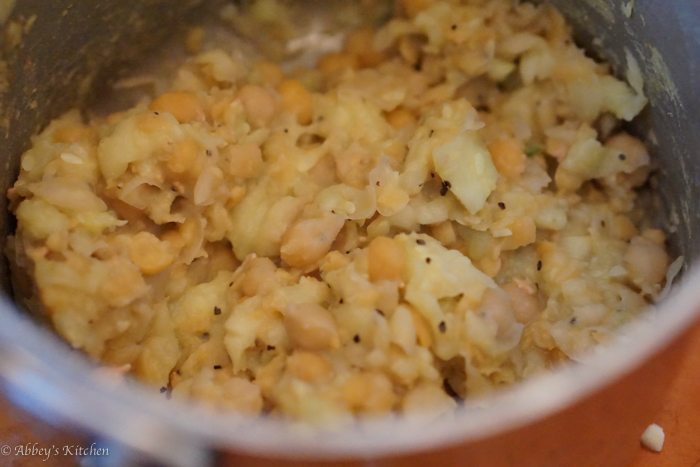 The "Stuff" in Vegetarian Stuffed Zucchini Boats
In my vegetarian stuffed zucchini boats, I added chickpeas because they are always in my cupboard because they're an easy simple way to add protein and fibre to any meal. Making a salad? Throw in some chickpeas. Whipping up a grain-based side? Throw in some chickpeas. Soup night? I hope you get the picture.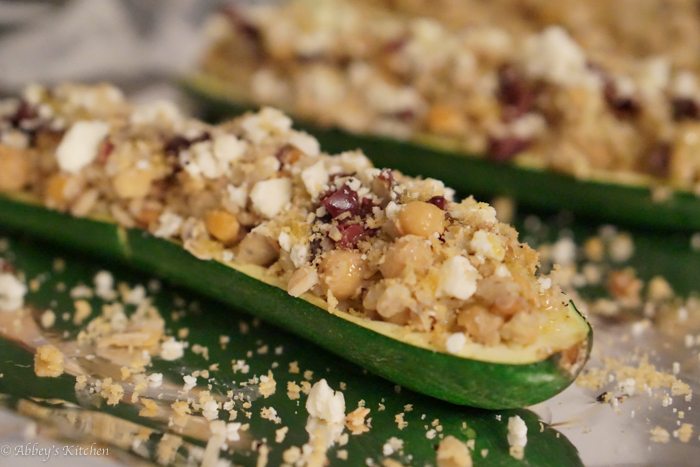 Now, in my vegetarian stuffed zucchini boats I went ahead and used this PC Blue Menu blend of brown rice, barley and spelt, which I have hopelessly fallen in love with as of late. It's nutty, its chewy, and it's a total nutritional superstar – 4 grams of fibre and 5 grams of protein per 1/4 cup! Obviously, this is just what I had on hand, but feel free to use any whole grain you've got- rice, quinoa, farro, bulgur, kamut- it's all going to work out just fine.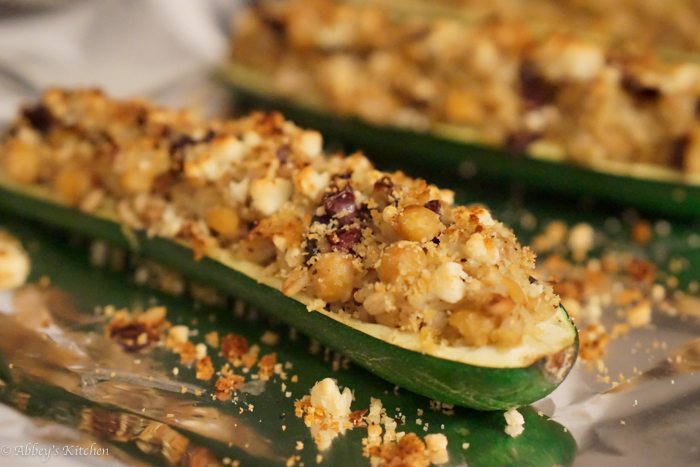 I'm also obsessed with Middle Eastern cuisine, and I knew that the combination of the vegetarian stuffed zucchini boats with the chickpeas and grains would lend itself perfectly to that flavour profile. So in went some tahini (sesame paste, the characteristic flavour in hummus), olives, feta, lemon, mint, sumac and za'atar.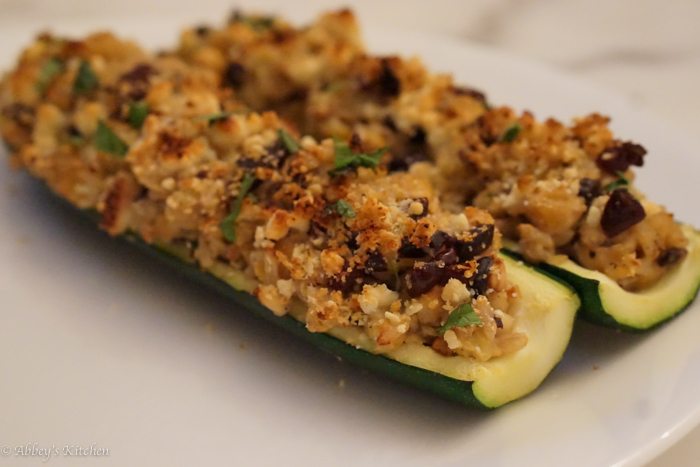 These last two are now super easy to find in your local grocery store as Middle Eastern cuisine has become uber-trendy as of late. For those who aren't well acquainted, sumac is a bright, almost citrus-like spice with a gorgeous dark purple hue- I put it on my hummus, fish, salads, rice, asparagus, et al. Za'atar, on the other hand, is a spice blend usually consisting of a more sumac (told you I love the stuff), thyme, sesame seeds, marjoram, oregano and sometimes salt. It's crazy yum on olives, eggs, soups, chicken, cheese- seriously, folks, whatever you've got.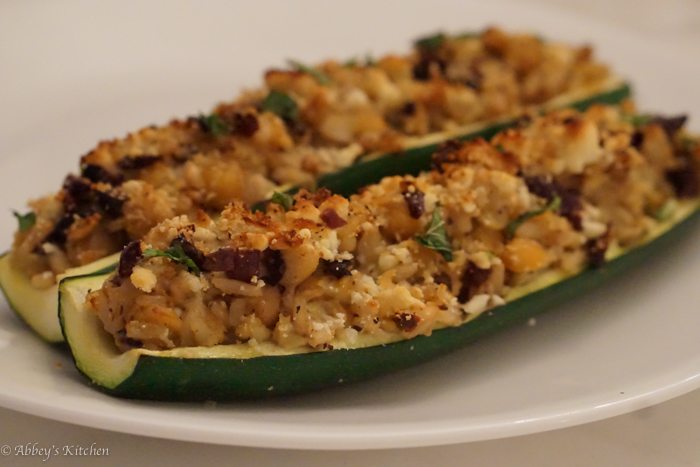 So give this recipe for your next Meatless meal, what's your favourite way to use up any of that end-of-season zucchini? Have you tried making vegetarian stuffed zucchini boats?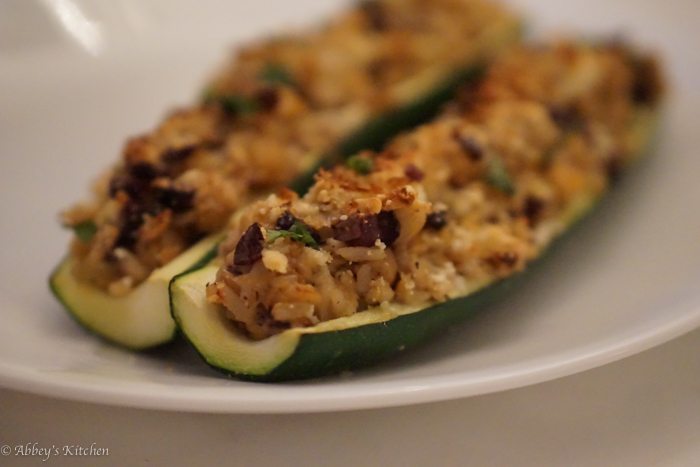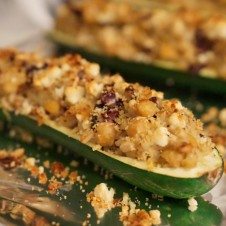 Chickpea, Barley, Olive & Feta Stuffed Zucchini Boats
These Vegetarian Stuffed Zucchini Boats with Chickpeas, Barley, Olive & Feta are about to become your family's favourite meatless monday meal.
Print
Pin
Rate
Ingredients
2

large zucchini

top removed and halved lengthwise

1/4

cup

whole grain

(I used a rice, barley and spelt mixture)

1

tsp

oil

1/2

can of chickpeas

rinsed and drained

3

tbsp

black pitted olives

minced

2

tsp

tahini

1/4

tsp

sumac

1/4

tsp

za'atar

2

tbsp

feta

crumbled

1

tsp

lemon zest

Salt and pepper

to taste

2

tbsp

feta

crumbled

2

tsp

panko bread crumbs

2

tsp

olive oil

1

tbsp

mint

chiffonade
Instructions
Preheat oven to 375 F. Using a small spoon, hollow out the zucchini, leaving at least 1/4 cm of zucchini all around to form a boat. Coarsely chop the zucchini flesh and set aside.

Place the zucchini boats on a baking tray lined with aluminum foil, season with a pinch each of salt and pepper and roast for 12-15 minutes. Remove and preheat oven to broil.

Cook the grains according to package directions- depending on what kind you use. Set them aside once cooked in a medium bowl.

Return the saucepan to medium heat and add a teaspoon of oil. Add in the chopped zucchini and the chickpeas and sauté for about 5 minutes. With a potato masher, or fork, mash the chickpeas lightly so that there are some lumps and some of it has formed a paste. Allow the mixture to cook another 3 minutes to evaporate some of the moisture. Transfer to the bowl with the cooked grains.

Mix in the olives, tahini, sumac, za'atar, feta, lemon zest and salt and pepper to taste.

Stuff the baked zucchini boats with the mixture, dividing it between the four halves. Top them with the remaining tablespoons of feta, panko, and olive oil. Broil for about 5-7 minutes, keeping an eye on it that it doesn't burn- you are simply looking for the bread and cheese to brown lightly.

Remove from the oven, transfer two halves each to two dinner plates and sprinkle with mint. Enjoy loves!
Nutrition
Updated on October 23rd, 2020