These Salted Tahini Date Caramel Truffles are the perfect Vegan, Gluten Free, No Sugar Added treat for Mother's Day or any occasion.
Anyone who knows me knows I'll take any excuse to celebrate. I throw elaborate birthday parties (for myself and everyone else I know), volunteer to host every holiday meal (even all the random holidays no one cares about), and have annual theme parties (just because!). All my life, Mother's Day has been a day I've celebrated someone incredibly important to me (my momma, of course). And I love that! But for the first time in my life, my hubby, my own mother and my mother-in-law, all want to take the time to celebrate ME and my first few weeks joining the special mom club. Call me hormonal, but wow, what a lucky girl I am!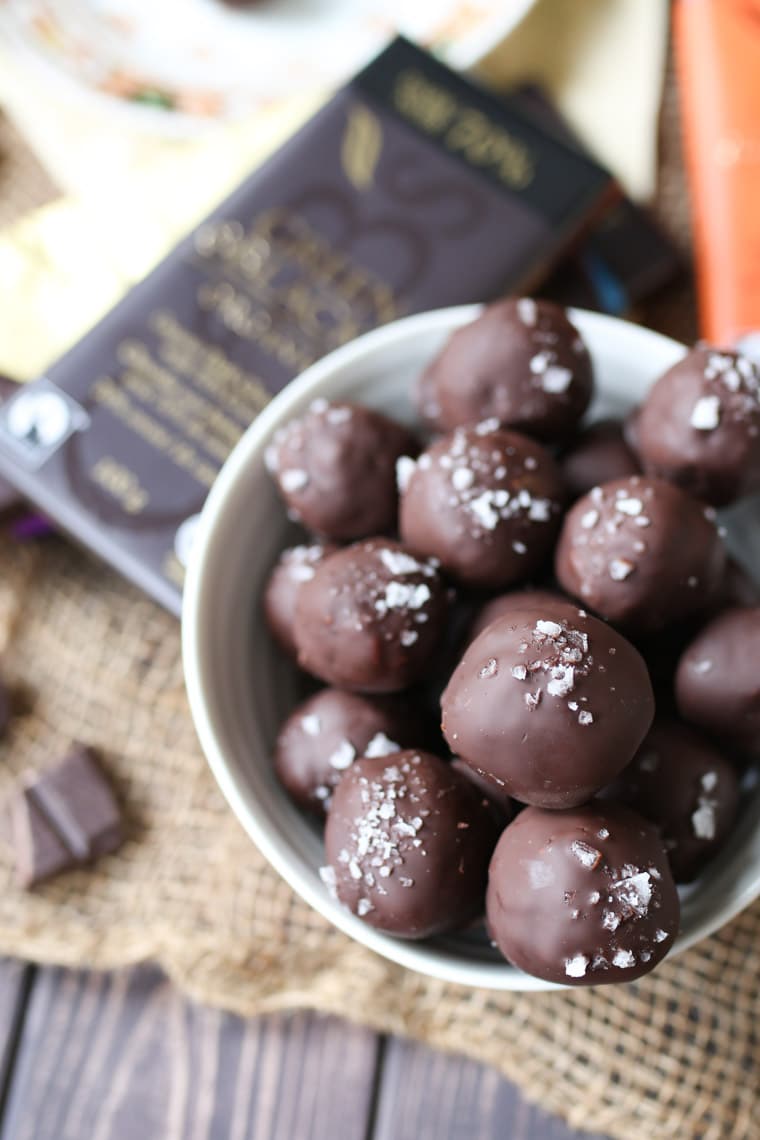 While I've always just had to assume I knew what moms needed on their special day, this is the first year I definitely have an opinion. If you've got friends and family asking you what you could use or you're like me, and just plan to use the day to do things your way, here's some things I recommend.
How to Treat Yourself on Mother's Day
Get your hair done!
It doesn't need to be a full expensive day at the spa. Sometimes when I need a little perk up, a $30 blow dry is enough of an indulgence to satisfy. It not only feels good to have someone wash and dry your hair but you look glamorous afterwards, as well!
Move in ways that feel good!
Whether you're a fan of yoga, swimming or just could use a nice brisk walk outdoors, moving your body feels good. Choose an activity that you actually enjoy and take a bit of time, uninterrupted, to enjoy moving your body.
Ask for help!
I know as moms we think we need to do everything ourselves to do it right, but asking for help and delegating some tasks may actually help us be happier, healthier and ultimately, better moms! Whether it's getting someone in to clean your house for a few hours one week, ordering in for a few meals, or asking your in laws to watch the kiddos so you can enjoy date night, find some ways to take the load off yourself for once.
Indulge in something delicious!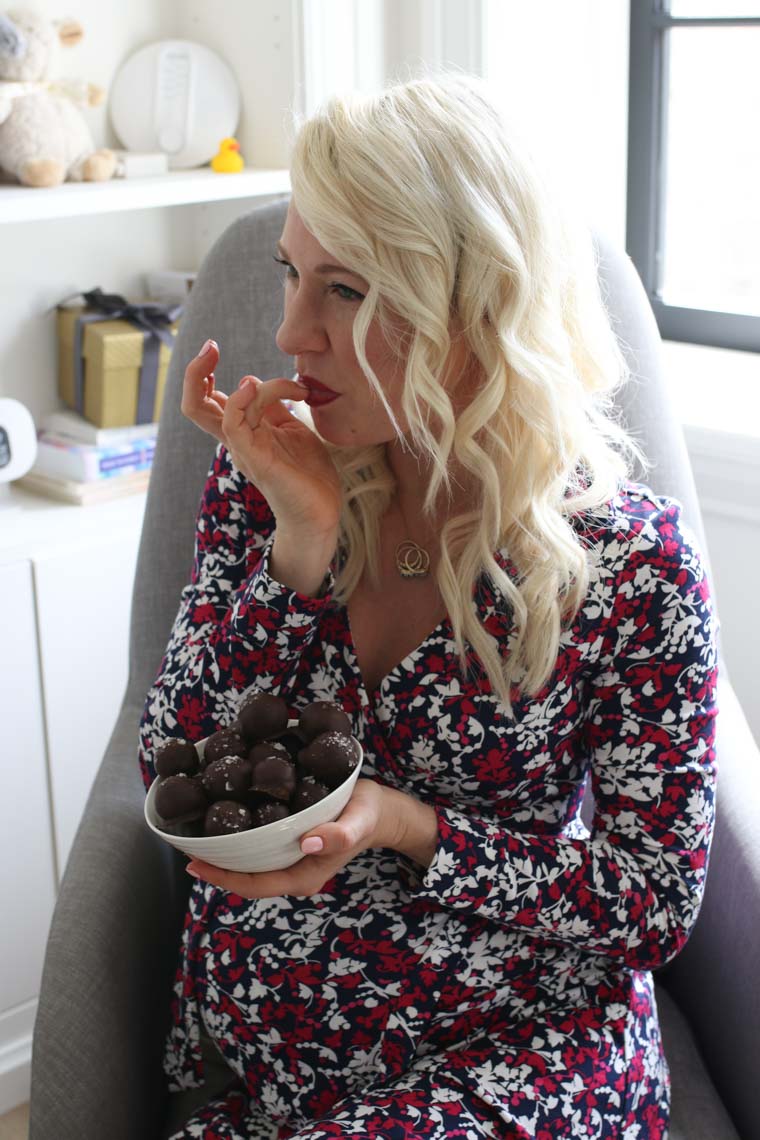 I don't believe you need to wait until Mother's Day to tuck into something truly delicious but unapologetically indulging in a tasty treat always feels good. I am a huge fan of Green and Black's Organic chocolate any time of year, but when I want to treat myself to the best, it's my go to. I'm happy to enjoy a bar in its unadulterated state, but when I'm having company over for brunch, I like to do things right with these Salted Tahini Date Caramel Truffles. These beauties are vegan, gluten free, have no sugar added and are SUPER easy to pull off- even for a sleep-deprived brand-spanking-new mama like me! And of course, the totally tick off all the spots when it comes to an indulgent Mother's Day treats.
How to Make Salted Tahini Date Caramel Truffles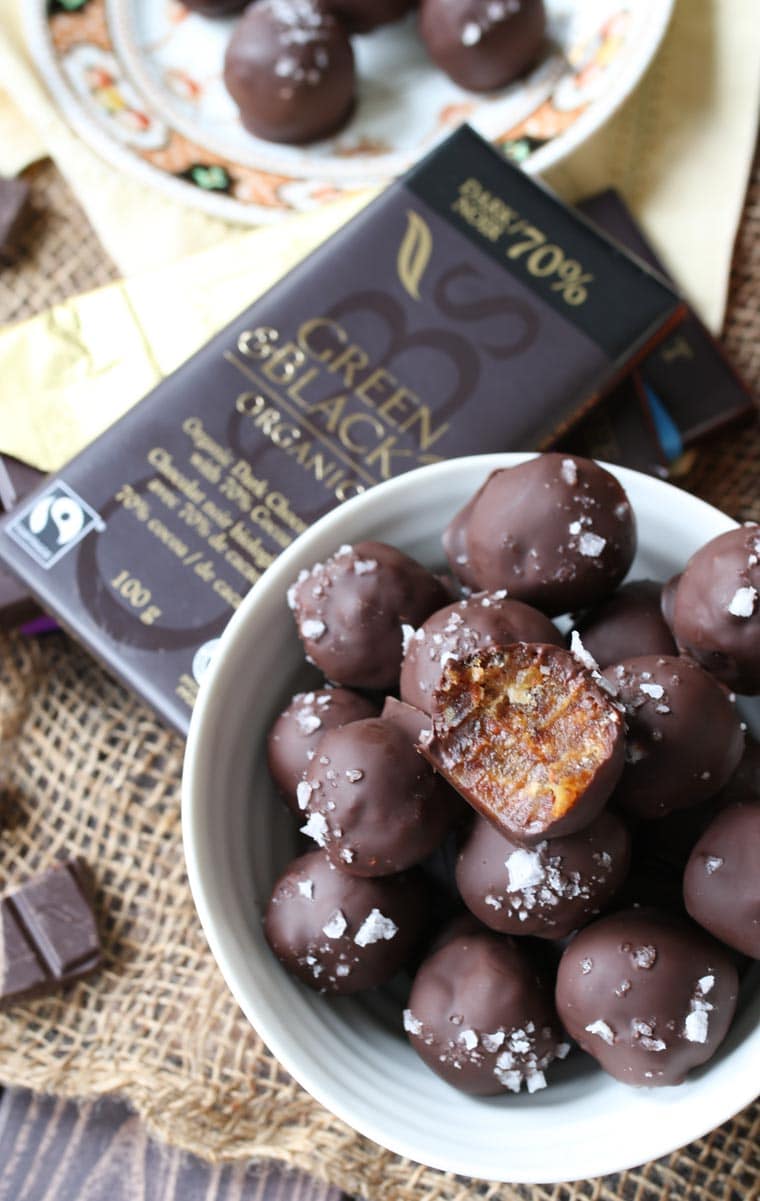 My first batch of Salted Tahini Date Caramel Truffles didn't make it to Mother's Day. In fact, my husband and I wolfed them down in the week leading up to baby's arrival. I bet you didn't know that dates are actually a legitimate food to naturally encourage labour, so hey, I had an excuse. Well, as we got closer to Mother's Day, I ended up making a master batch for my mother, mother in law and of course, also for me since they freeze really well.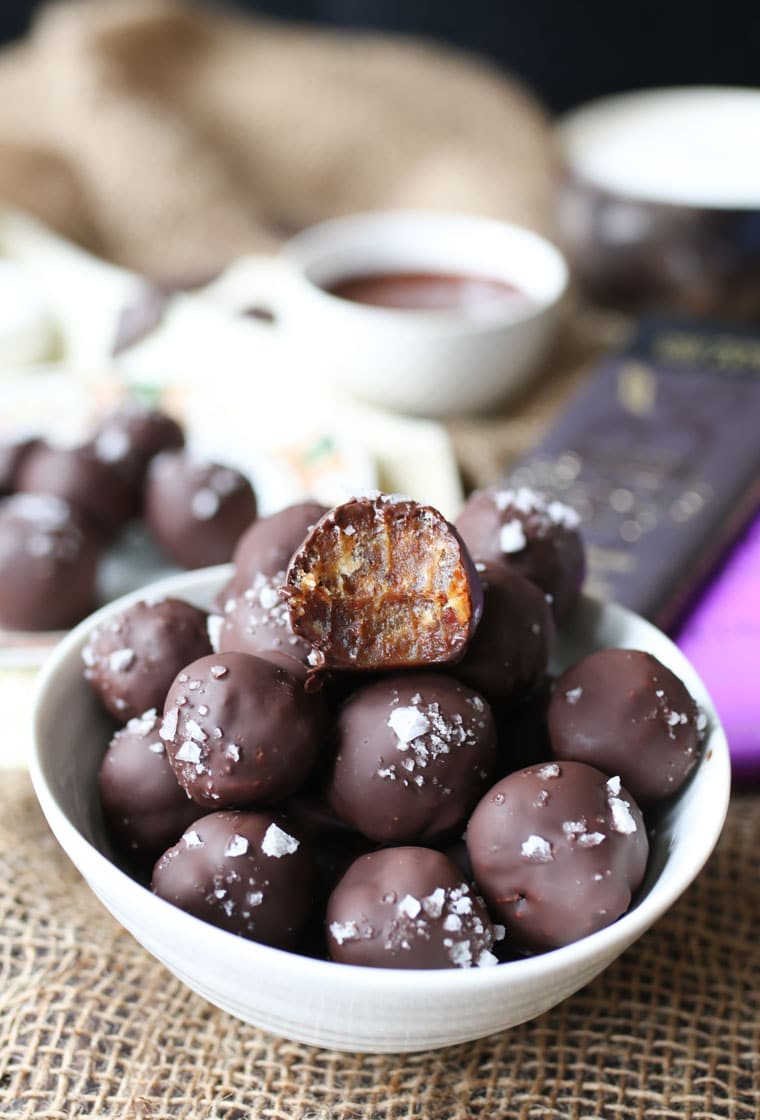 Since there are only a handful of ingredients in these truffles, it's important that we're using the very best – especially when it comes to the chocolate. I always use Green & Black's Organic chocolate, both for snacking and for baking because it's made with super high quality fair-trade ingredients. They offer twelve different varieties, and I use the Dark Salted Toffee flavour in my iconic Peanut Butter Banana Cups , but the 70% Dark Chocolate is my go-to for balancing out the natural sweetness of those dates here.
Not only are these truffles delicious, but they're great for accommodating a wide range of dietary restrictions. Since they're naturally gluten free, dairy free, nut free, vegan, and have no sugar added, they're a relatively healthy little treat.
They're also a sinch to whip up in a hurry. Sticky, sweet medjool dates get blitzed together with nutty tahini and then mixed with some crispy brown rice cereal. I like creating two layers- one with the crunch, and one without it, to yield a really decadent caramel-y treat with texture. Then I coat that in my melted dark chocolate and finish these Salted Tahini Date Caramel Truffles with a very generous sprinkle of crispy fleur de sel. Yes, you could use kosher salt, but man, there is nothing like that crackle sensation of good salt. If you're making these for mom, I highly recommend you splurge on good stuff.
Now, mommas, what are you hoping your family makes you for Mother's Day?
Have you tried making these Salted Tahini Date Caramel Truffles?
What's your go-to dessert to whip up when you're sleep-deprived, but craving something sweet?
Leave me a comment below with your Mother's Day ideas!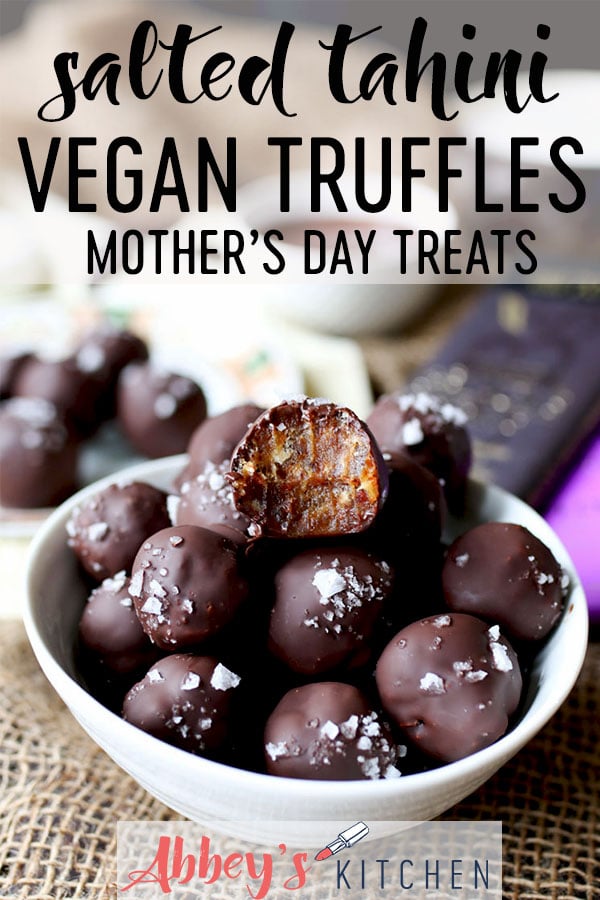 Disclaimer: This recipe was developed in paid partnership with Green & Black's Organic Chocolate however all opinions are genuine. Green & Black's Organic is not certified gluten free, vegan or dairy free, however, the ingredient label does not list any animal or gluten products.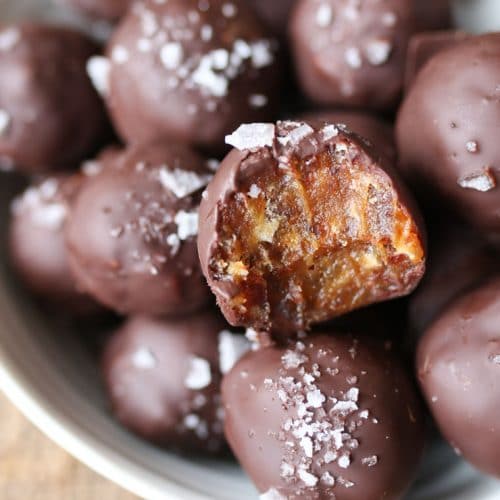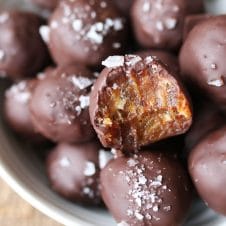 Salted Tahini Date Caramel Truffles
These Salted Tahini Date Caramel Truffles are the perfect Vegan, Gluten Free, No Sugar Added treat for Mother's Day or any occasion.
Print
Pin
Rate
Ingredients
Chocolate Coating:
2

x 100 gram bars of Green & Black's Organic 70% Dark Chocolate

chopped

4

tsp

coconut oil

Generous pinch of fleur de sel
Instructions
In a food processor or high power blender, puree the dates until sticky and smooth. Add the tahini and salt, and puree again until smooth.

In one bowl, set aside 1/3 of the mixture for the filling, and in another bowl, set aside another 2/3 of the mixture. To the larger portion, add in the brown rice cereal to the caramel.

Grab about 2 tablespoons of the brown rice caramel and a tablespoon of the pure date caramel. Pop the date caramel on top of the brown rice and roll into a ball. Place on a baking sheet lined with a silpat or parchment. Continue with the remaining balls and place in the freezer for 10 minutes.

Meanwhile, place the Green & Black's Organic 70% Dark Chocolate in a glass bowl set over a medium-sized pot filled an inch up with water. Bring the water to a simmer and all the coconut oil. Simmer the water until the chocolate melts.

Remove the balls from the freezer and toss in the chocolate until fully coated. Transfer to the baking sheet and sprinkle generously with the fleur de sel. Refrigerate until ready to eat.
Nutrition
Calories:
114
kcal
|
Carbohydrates:
22
g
|
Protein:
1
g
|
Fat:
3
g
|
Saturated Fat:
1
g
|
Sodium:
1
mg
|
Potassium:
187
mg
|
Fiber:
1
g
|
Sugar:
15
g
|
Vitamin A:
35
IU
|
Vitamin C:
0.1
mg
|
Calcium:
19
mg
|
Iron:
0.7
mg
Updated on July 21st, 2020