These Vegan Tahini Stuffed Dates with a Salted Chocolate Dip are the ultimate pantry staples dessert recipe that are also gluten free and added sugar free.
If you're currently socially isolating for Covid-19 Coronavirus, you may not have access to your favourite weekend bakery treat or restaurant desserts. I hear you. While it's a lot of stress to try to plan my family's meals for a whole week at least a week in advance, I do try to still leave room for treats. I sometimes buy a frozen pie in my haul, or plan the ingredients to make something simple like rice pudding. But last week, I totally forgot, and still, I wanted something sweet to serve at the end of night. These vegan tahini stuffed dates totally saved the day and OMG, were they ever good.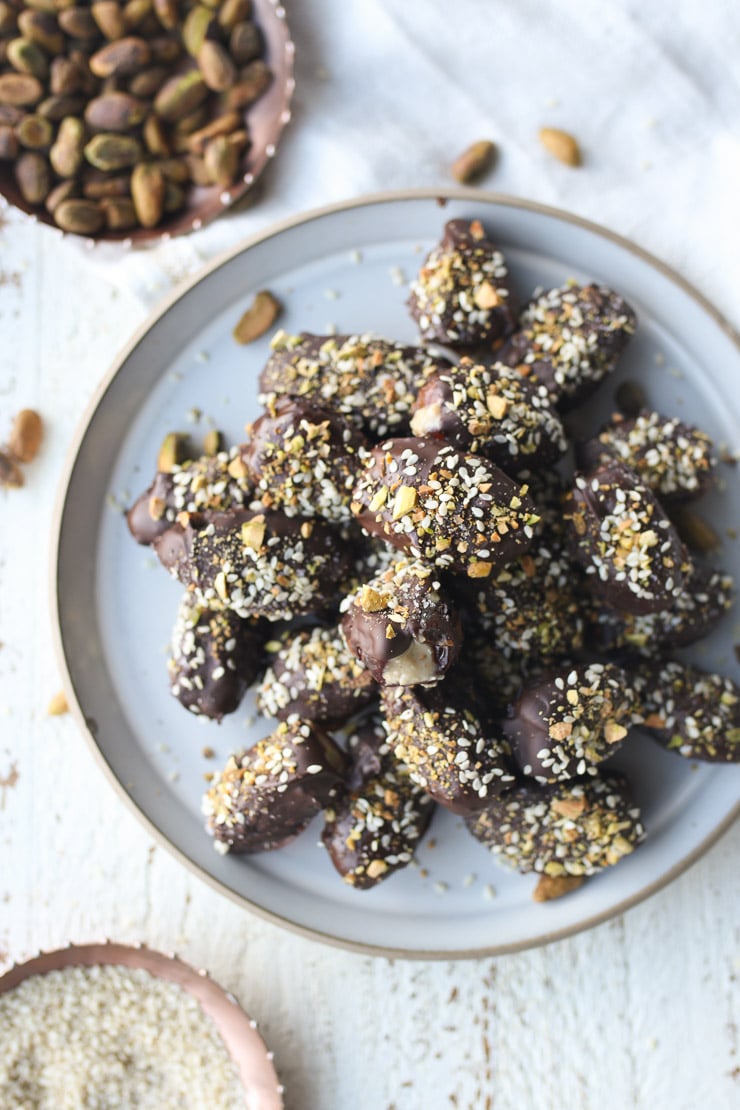 Key Ingredients to Make Vegan Tahini Stuffed Dates with Salted Chocolate
Well, this is an embarrassingly easy recipe but tastes too good to even ever have to point that out. To make it exactly as I have, the main things you need are:
Dates- I do recommend medjool dates because they tend to be the juiciest and softest.
Tahini- This is a pantry staple for me and something I always have WAY too much of since I find all of these tahini containers are HUGE. I love hummus, but man, I don't eat THAT much of it.
Pistachios – They add crunch, flavour, nutrition (healthy fats) and a pretty colour.
Sesame seeds- This is just a garnish and totally optional.
Fleur de sel – Another garnish but man, does it ever kick these up a notch. I do recommend some salt, even if you just have kosher salt.
Dark Chocolate- This is for dipping and keeping the tahini filling sealed in, and yes, it's mandatory LOL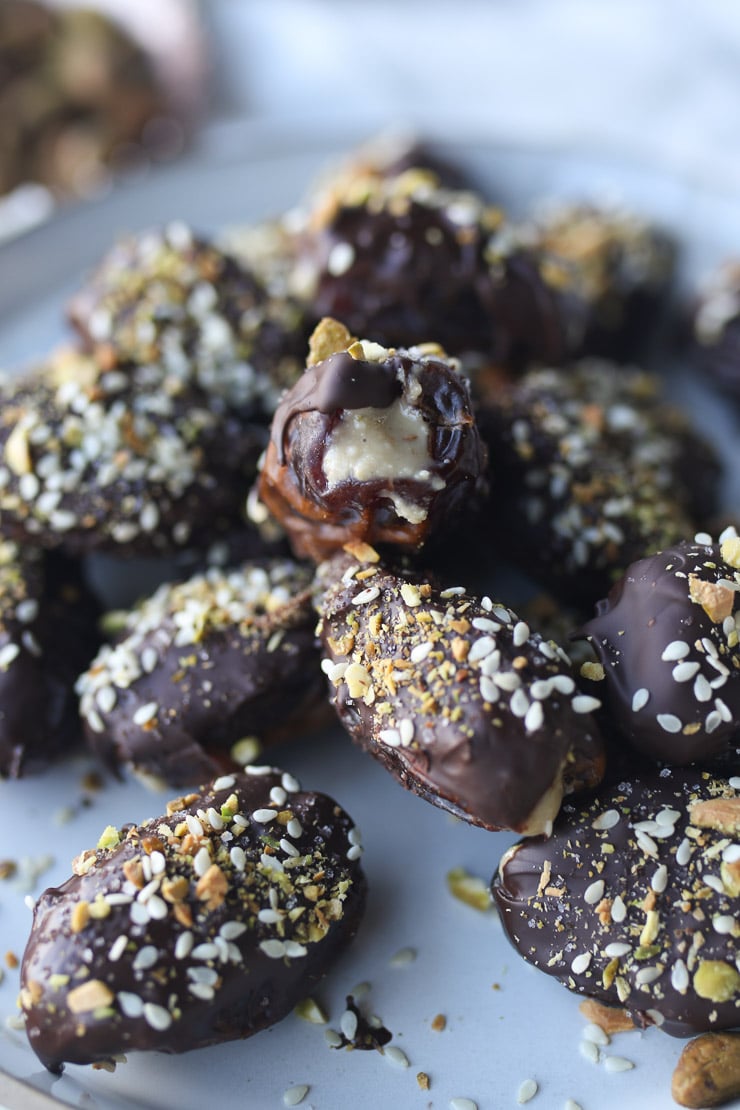 Tips for making this pantry staple dessert
My biggest tip for nailing these is to dig to the bottom of your tahini jar so that you get mainly the more firm part of your tahini, not so much the oil on the top. Too much oil from the tahini and you're going to end up with a huge mess and not a lot of tahini filling.
As for reducing the mess in general, I suggest when you're dipping the dates in the chocolate to designate one hand for dipping, and the other clean hand for sprinkling with the toppings. I recommend dipping and sprinkling just 2-3 at a time and having a little assembly station ready so you can get the toppings on before the chocolate dries.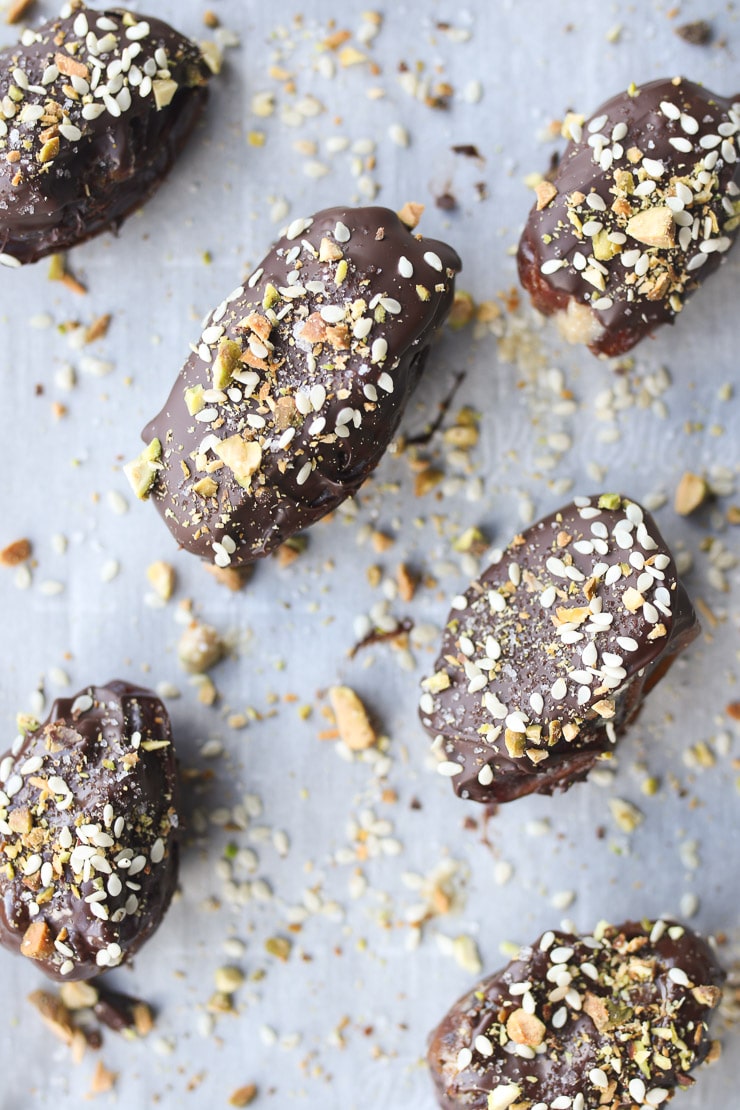 FAQ about this recipe
Here are some of the most common questions I anticipate getting about this recipe.
Can I freeze these stuffed dates?
Yes, in fact they are DELICIOUS slightly frozen. I recommend placing them on a baking sheet lined with parchment until frozen before you transfer them to a freezer bag.
Can I use milk chocolate if that's what I have?
Totally, this is the most versatile recipe of life.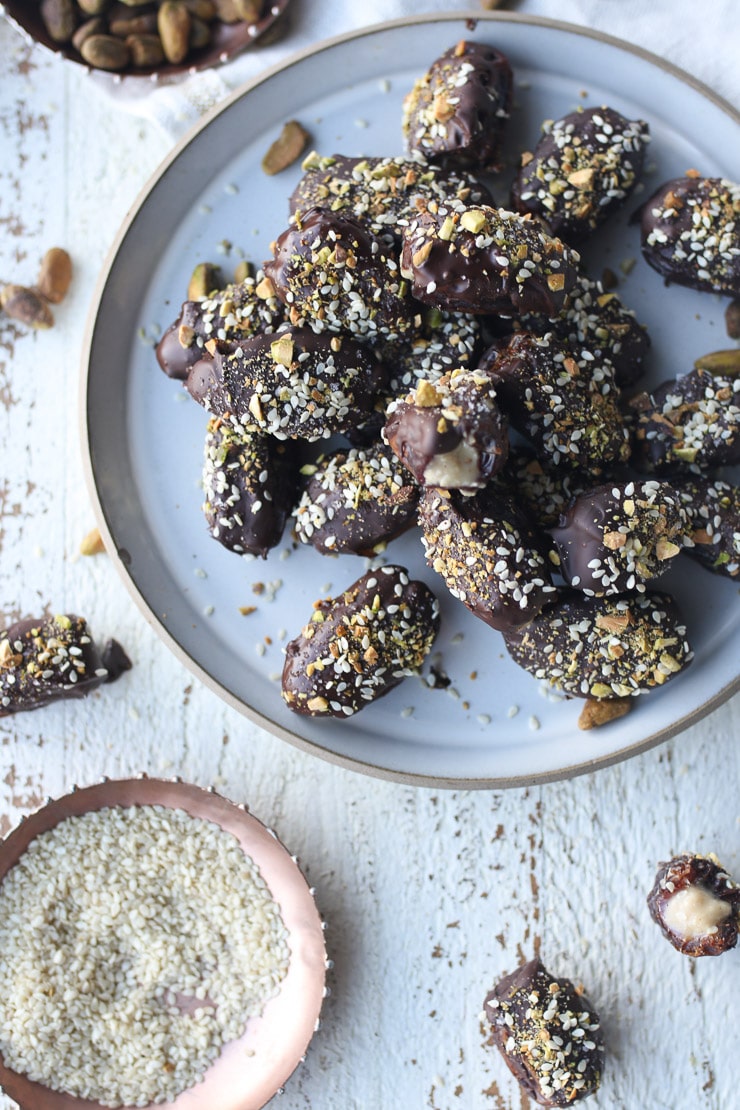 Could I use peanut butter instead of tahini?
Yes, and in fact, I've made them that way too. It's a different flavour, and reminds me a bit of my peanut butter cup recipe, but equally delicious so go for it!
Will almonds or another nut work instead of pistachios?
Absolutely use whatever nuts you want for sprinkling and stuffing.
Are these gluten free?
They are gluten free and vegan, so they're great for those with dietary restrictions.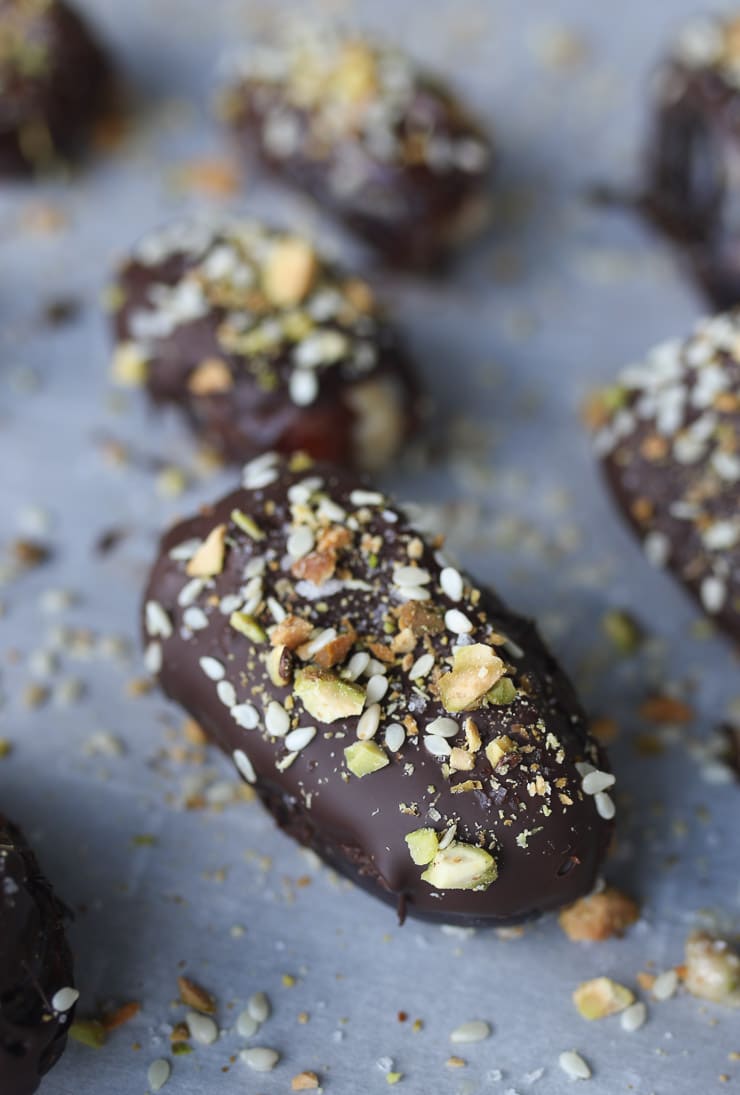 Can my toddler or kids have these for dessert?
Kids would definitely love these as a no added sugar treat. A toddler could also enjoy these with some precautions – I would make sure they're not frozen, and I would probably cut them into smaller pieces so they're easier and safer for them to eat. Dried fruit (especially with a sticky filling) is a choking hazard so I would only give these in slices to my toddler.
How long will these last in the fridge?
I would think these would be fine in a sealed container for up to a week, but after that, I would transfer them to the freezer for longer storage. There's no way they would last that long in my house though.
can i use this as an activity for my kids?
You bet! Kids will love helping with the dipping and sprinkling, and even with the filling if they have good dexterity. Note: You will have a mess, and a lot of chocolatey fingers, but messes are fun when you're a kid.
What sweet treats are you making with your pantry staples while in isolation? Leave me a comment below with your thoughts!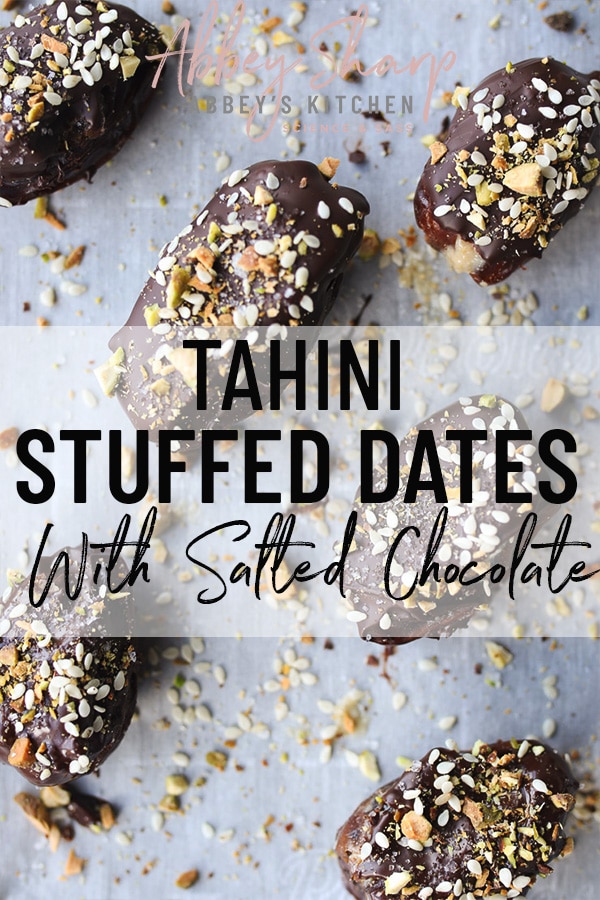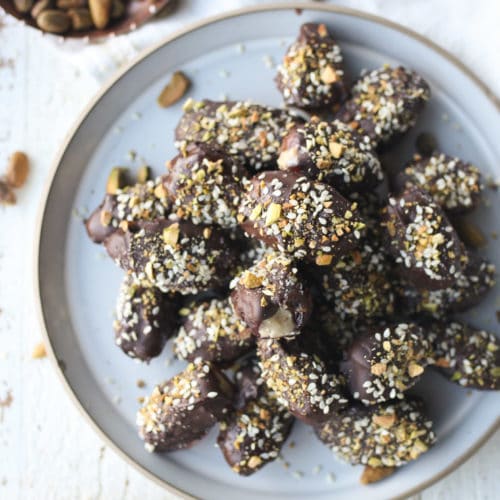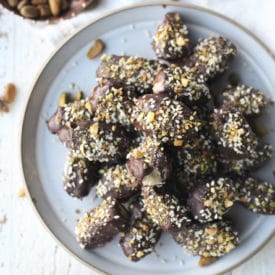 Vegan Tahini Stuffed Dates with Salted Chocolate (No Sugar Added)
These Vegan Tahini Stuffed Dates with a Salted Chocolate Dip are the ultimate pantry staples dessert recipe that are also gluten free and added sugar free.
Print
Pin
Rate
Ingredients
1

dozen medjool dates

3

tbsp

tahini

trying not to get too much oil from the jar

2

tbsp

minced shelled pistachios

4

oz

dark chocolate

dairy free, no added sugar if desired, finely chopped

1

tsp

coconut oil
Toppings:
Fleur de sel or sea salt

Sesame seeds

Finely minced shelled pistachios
Instructions
Carefully pit the dates by opening up a slit but not breaking them fully in half.

In a bowl, mix together the tahini and pistachios and a pinch of salt.

Using a small teaspoon, stuff the dates with the tahini mixture and close shut.

Transfer to a baking dish lined with parchment paper or a silpat and freeze for 20 minutes.

Meanwhile, melt the chocolate and coconut oil in a double boiler or in the microwave. For the double boiler, place the chocolate and oil in a glass bowl over a small saucepot filled one inch high with simmering water over medium heat. Stir until melted and take off the heat. If using the microwave, place the chocolate and oil in a microwave safe dish and microwave for 60 seconds on 50%. Stir, then put it back in the microwave for another 30 seconds. Stir and repeat until melted. Set aside.

Place the sesame seeds, finely minced pistachios and salt in three bowls. Remove the dates from the freezer and dip 2 or 3 at a time into the chocolate. You don't have to fully immerse them if you don't want to, the important thing is you cover up the slit where the tahini was put in. Place back on the baking sheet and quickly sprinkle with the sesame, pistachios and salt. Continue with the remaining dates. The chocolate should firm up very quickly but if you go too slow and the dates are no longer cold, then you can pop them in the fridge or freezer for a few minutes until the chocolate is fully set. Keep refrigerated until ready to eat.
Updated on July 23rd, 2020