These Keto Egg Cups are the perfect gluten free breakfast meal prep staple for the week, served in 5 different ways to keep mornings interesting!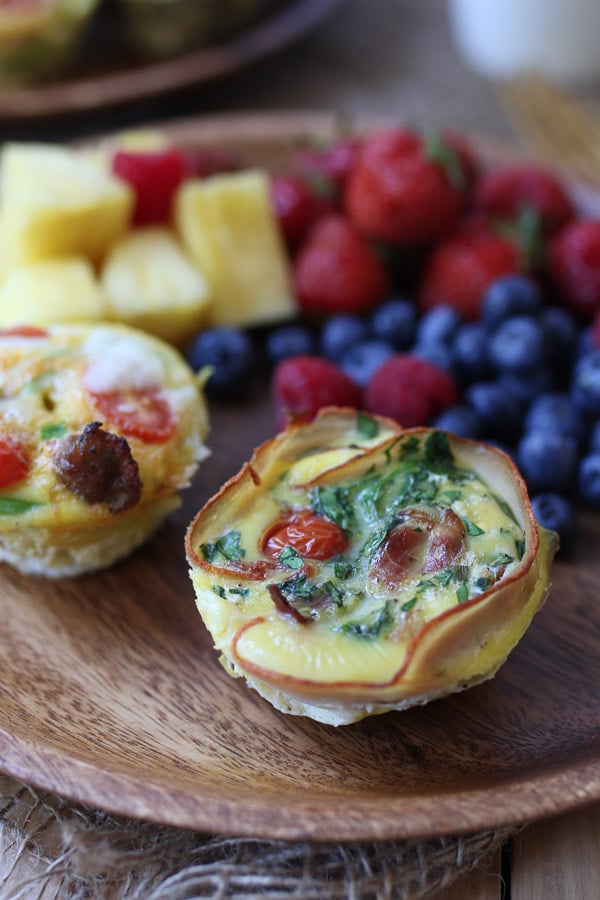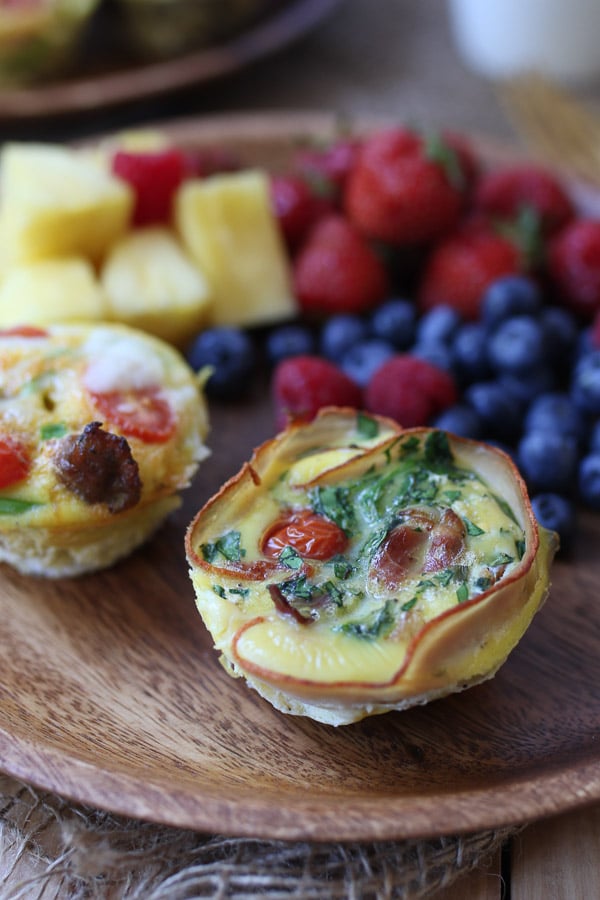 Back to school and work season is sadly around the corner, and that means a lot of us are thinking about one thing – meal prep. Coming up with fast, easy, make ahead breakfasts can be essential to preventing the inevitable stop at Starbucks for a pastry. That's where these keto egg cups are so key. These easy make-ahead breakfast can be made in a big batch on the weekend using up any little leftovers you've got in the house, and then can be enjoyed cold or rewarmed for 1 minute when you're on the go.
How to Make Keto Egg Cups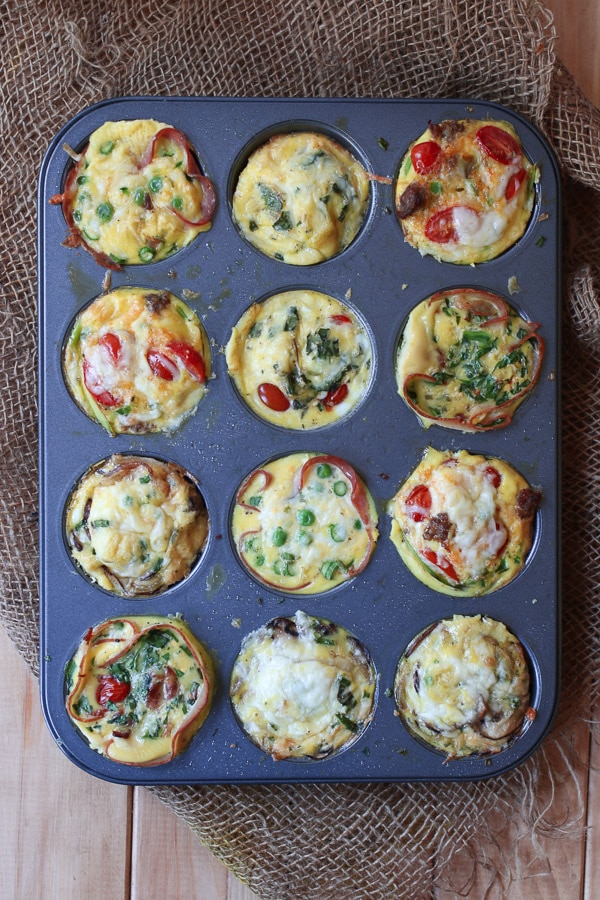 I've included my top five favourite keto egg cup combinations, but the reality is, you can totally use up anything and everything you've got left in the fridge or pantry using this technique.
First, decide if you're going to use a little thinly sliced meat to line the muffin pan. If you want to make your keto egg cups vegetarian, then obviously omit this step. If you're using though, just try to nestle in a thin round piece of deli meat and press it out into the sides.
Next, beat your eggs with some salt and pepper in a bowl.
Third, round up any bits of veggies or leftover cooked meat you've got and sprinkle them into your cups. Then fill to the top with your eggs and sprinkle with cheese, if desired.
Bake these bad boys for about 18-20 minutes until they puff up and feel set when you jiggle them in the middle.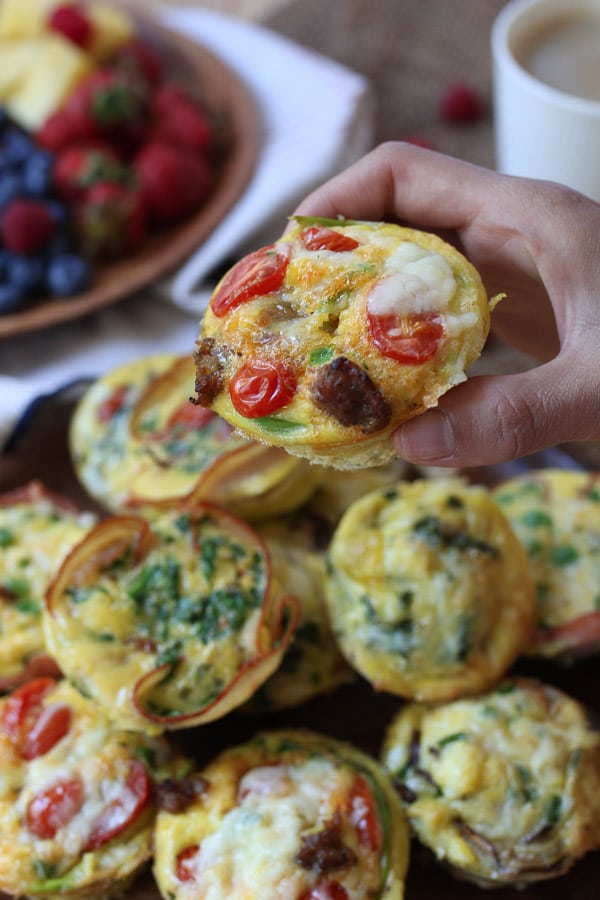 These keto egg cups are my go to breakfast for a good hit of protein in the morning, but these cups are also a favourite when entertaining friends and family for brunch. I find it's really stressful trying to make eggs for a crowd any other way (because I'm not a short-order cook with a 10 foot long griddle), so these cups can come out hot and ready all at once. It's also easy to customize the egg cups to meet the preferences of your guests. If some like meat, and others are vegetarian, and some are dairy-free, then you can make sure everyone gets what they want!
Become an Abbey's Kitchen Subscriber
Now tell me, what fillings and toppings would you like in your keto egg cups?
Leave me a comment below with your thoughts!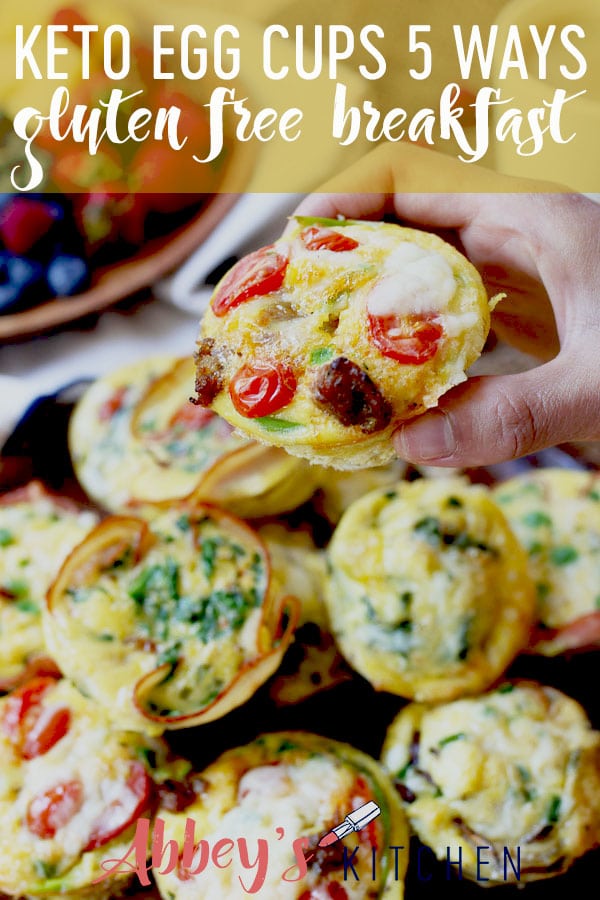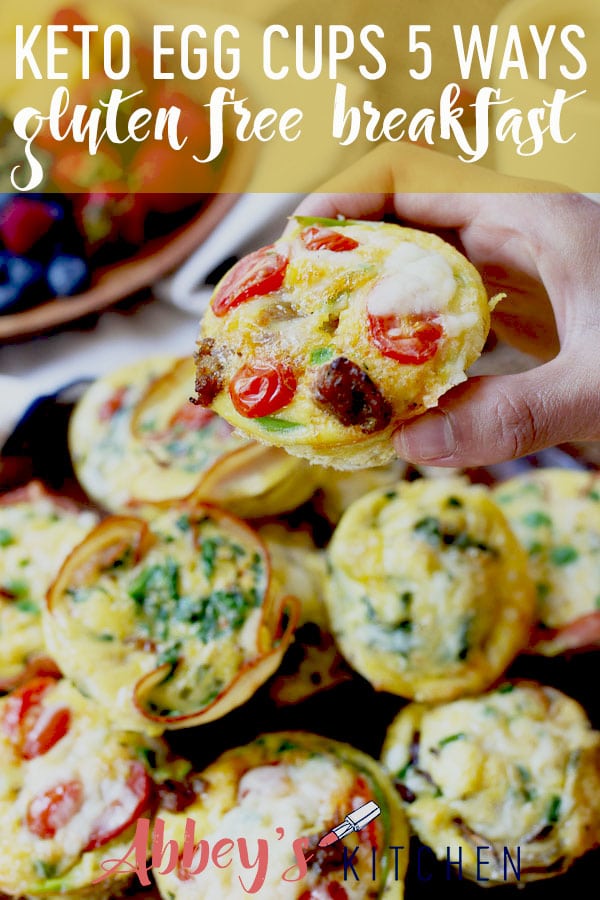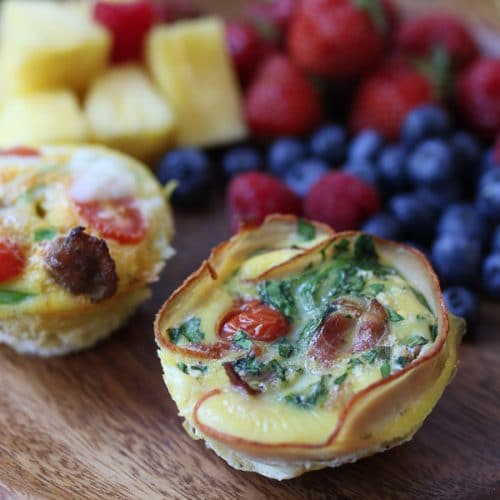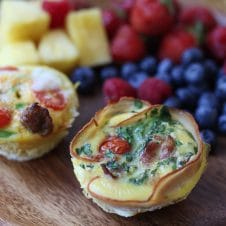 Keto Egg Cups
These Keto Egg Cups are the perfect gluten free breakfast meal prep staple for the week, served in 5 different ways to keep mornings interesting!
Print
Pin
Rate
Ingredients
Filling Options:
Ham + cooked chopped asparagus + baby peas + cooked leeks + white cheddar

Turkey + cooked crumbled bacon + cherry tomatoes + shredded spinach

Baby tomatoes + mozzarella + basil

Cooked sliced mushrooms + caramelized onion + chive + gruyere

Cooked chorizo + minced jalapeño + diced avocado + cherry tomatoes + Monterey Jack
Instructions
Preheat oven to 350 F.

Lightly grease 12 muffin tins.

Line with deli meat, if using.

Add in any cooked veggies or cooked meats.

In a bowl, beat the eggs with a pinch of salt and pepper. Pour into the muffin tins to the top. Sprinkle with cheese, if using.

Bake for 18-20 min, or until puffed and set in the middle when you jiggle them.
Nutrition
Calories:
62
kcal
|
Protein:
5
g
|
Fat:
4
g
|
Saturated Fat:
1
g
|
Cholesterol:
163
mg
|
Sodium:
62
mg
|
Potassium:
60
mg
|
Vitamin A:
240
IU
|
Calcium:
25
mg
|
Iron:
0.8
mg
Updated on July 21st, 2020