Easter is just around the corner, and that means massive family feasts, candy and mountains of chocolate. But Easter doesn't have to be an absolute diet doozy of a holiday. A healthy approach to this Spring holiday can mean colourful salads, flavourful lean meats and a celebration of seasonal produce. Yay for early Spring produce!! To help you plan out your Easter menu, I've compiled a list of some of my favourite healthy Easter recipes in a delicious round up.
But first, we need some decadent mini eggs and hot cross buns.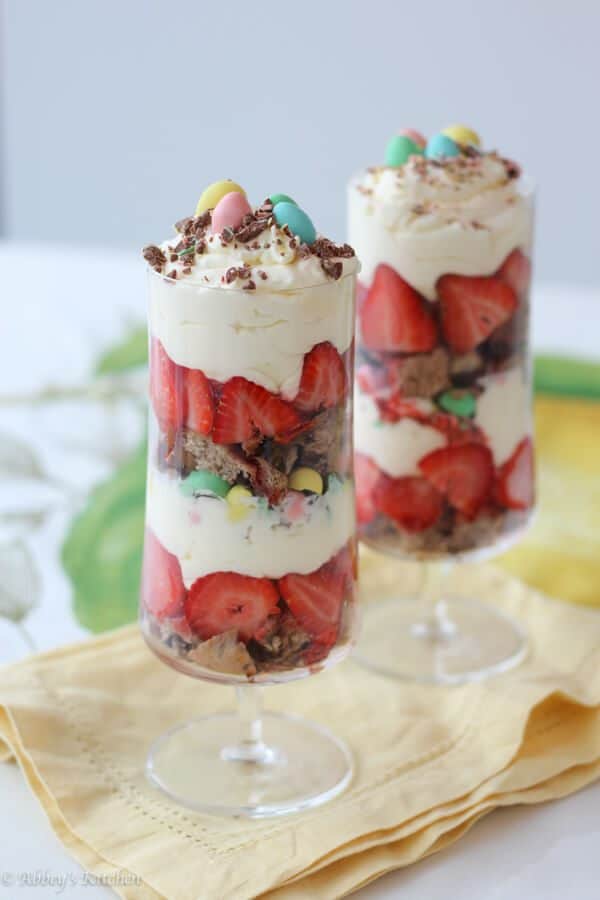 Alright, now that we got our fix, let's check out those healthy Easter recipes.
Best Healthy Easter Recipes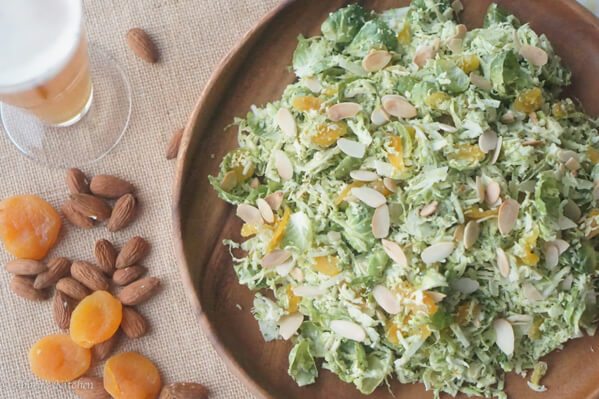 Yep. Beer IN your salad along with parmesan cheese, almonds, apricots, apple and shredded Brussels sprouts. You're welcome.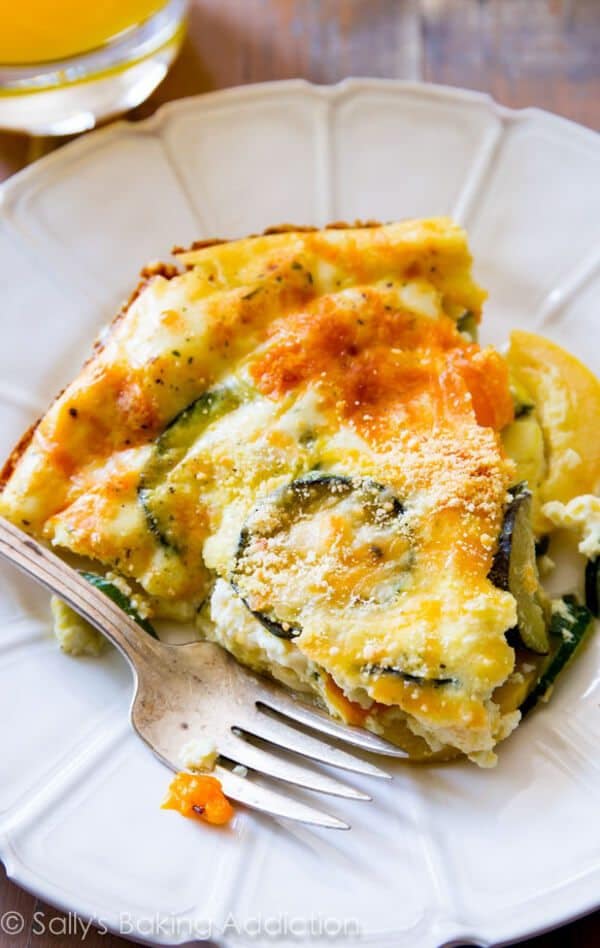 This lightened up version of a classic vegetable quiche is one of my favourite healthy Easter recipes. And because (realistically) no one is having a sliver of quiche during the holidays, its low-cal (110 kcal/serving), crustless, low-carb and packed with egg whites to help keep you satiated throughout the day!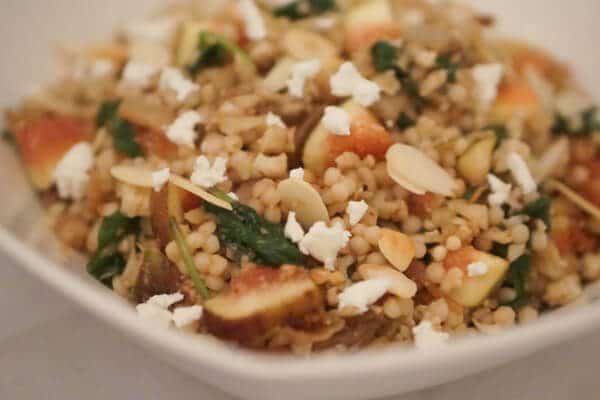 Why not stretch your carbs with this cauliflower couscous and add mucho flavour with figs, spinach and crunchy almonds!
Five heart Home- Roasted Asparagus with Brown Butter Pecans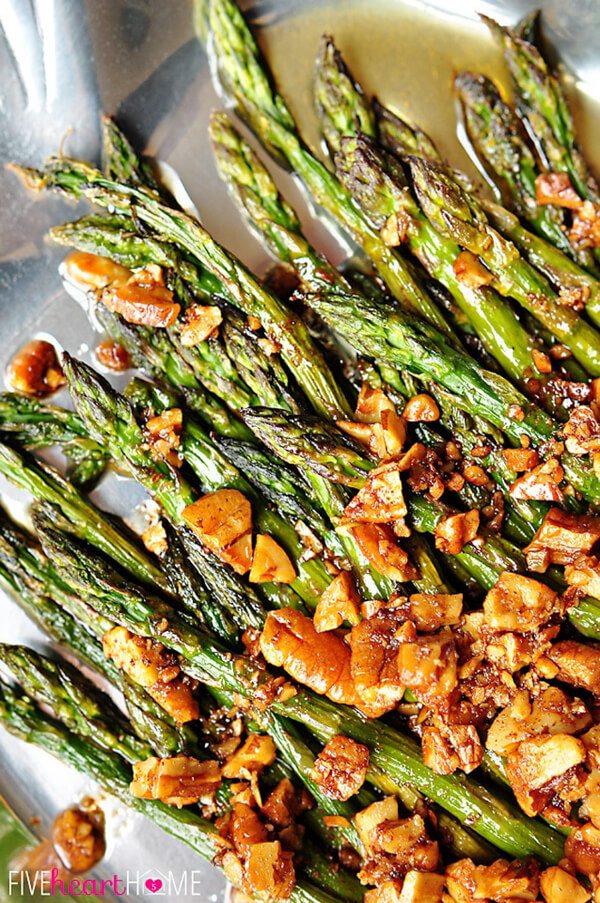 Okay, are you drooling? Because we are. This lightened up Easter recipe is the perfect spring dish. And with these mouth watering brown butter pecans, it really brings out the awesome caramelized, sweet flavour and aroma of these widely cultivated vegetables crops. This is sure to be a hit on your dining room table this year! Check-it-out.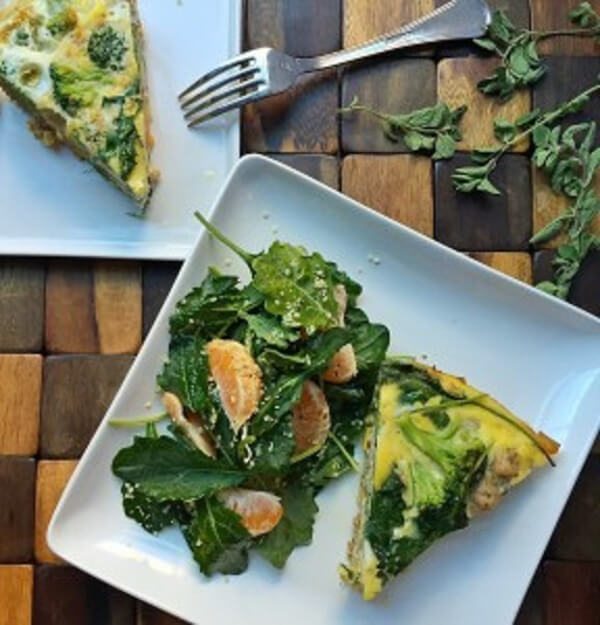 You cannot go wrong with frittata. And the combination of juicy chicken sausage, kale and green broccoli make it an amazing spring brunch main.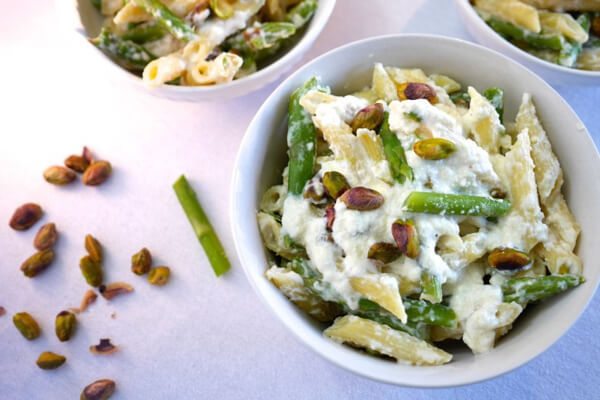 'The Nutty Nutritionist' puts a healthy spin on a cheesy penne, that includes asparagus, a Greek yogurt sauce, low fat mozzarella and wait for it… PISTACHIOS! Now, you might not think of this type of nut as something to include in a pasta dish, however, the flavours compliment each other perfectly and give the pasta a nice little crunch. Plus, they're loaded with awesome nutrients too.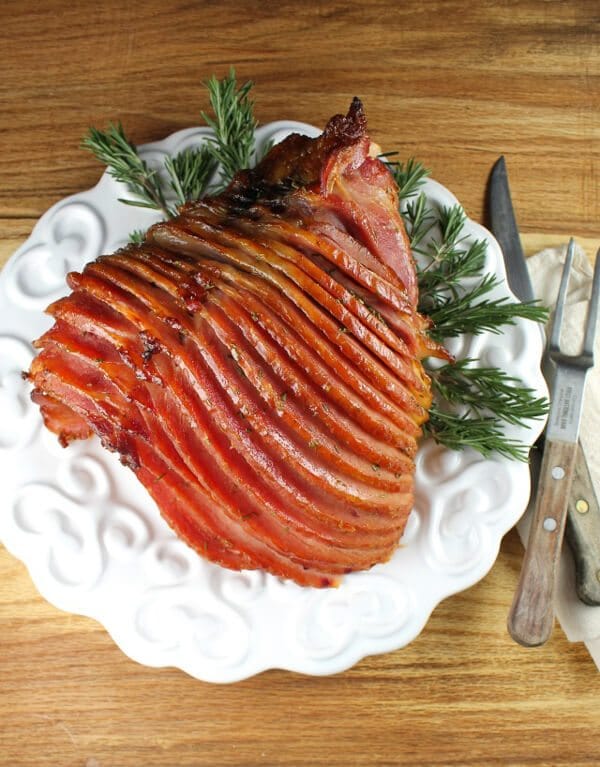 This lovely Maple Dijon and Rosemary Glazed Ham by Miss in the Kitchen is a quick and easy glaze hickory smoked entrée that came just in time for your Easter dinner. The simplicity of the recipe makes it an attractive main course to offer to your loved ones this Easter holiday. Plus, the authenticity of real maple syrup, dijon mustard and fresh rosemary really come together to create a perfect main dish.
NourishRDs- Grilled Lamb with Roaster Cauliflower Polenta

Lean meats like lamb are commonly showcased on many kitchen tables around the time of Easter. This dish is perfect served with some of the roasted vegetables and springtime side dishes we've included for you in this roundup. This is one of my favourite healthy Easter recipes.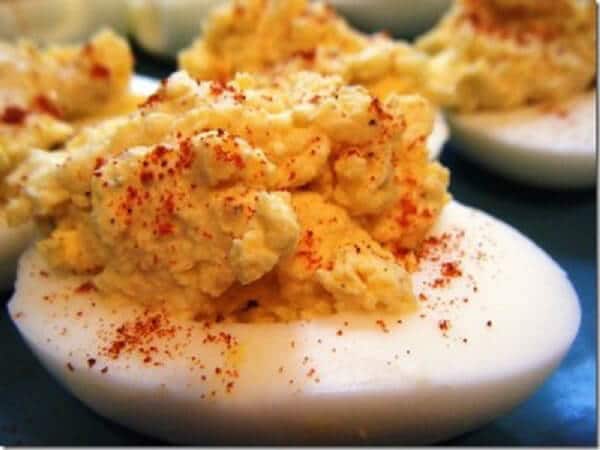 Ahh, delicious deviled eggs, who doesn't love this one? It's common to find this recipe using mayonnaise to give the yolk center a creamy consistency, however, this recipe uses Greek Yogurt instead- equally as good but half the calories. This year enjoy this Easter delicacy guilt-free.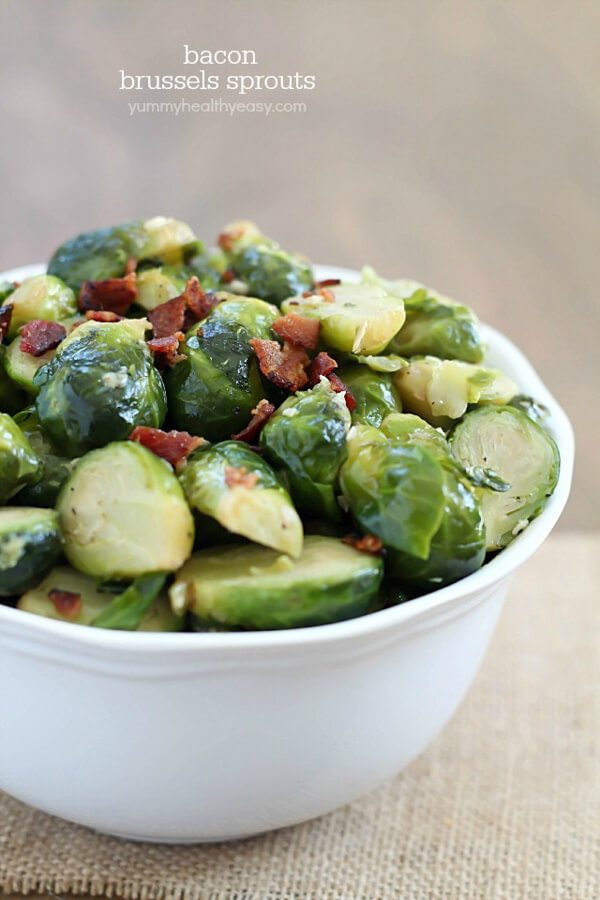 This awesome Bacon Brussels Sprout recipe combines the meaty flavours of bacon with delicious Brussels sprouts. Perfection? We think so.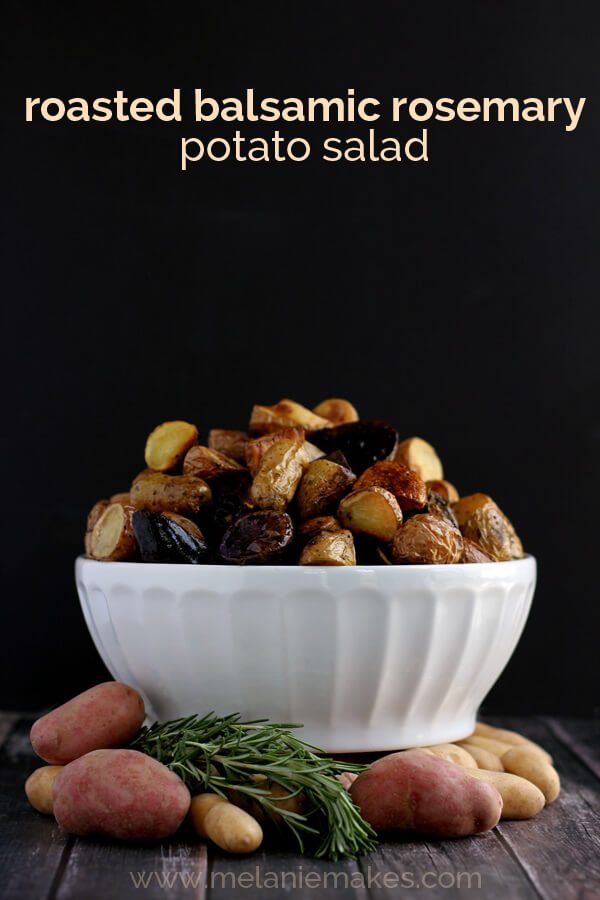 Melanie believes the potato salad is best when eaten around the warmer seasons, when you can enjoy it outside with friends. We couldn't agree more. These gorgeous red, white and purple potatoes will look beautiful alongside your other dishes on the kitchen table. This recipe is super easy to make, and you can enjoy the potatoes right from the oven!
The colors of this salad not only look beautiful on the plate, but the combination of this tangy dressing, prominent cheddar cheese, sharp red onions, crunchy almonds and sweet strawberries make it totally irresistible.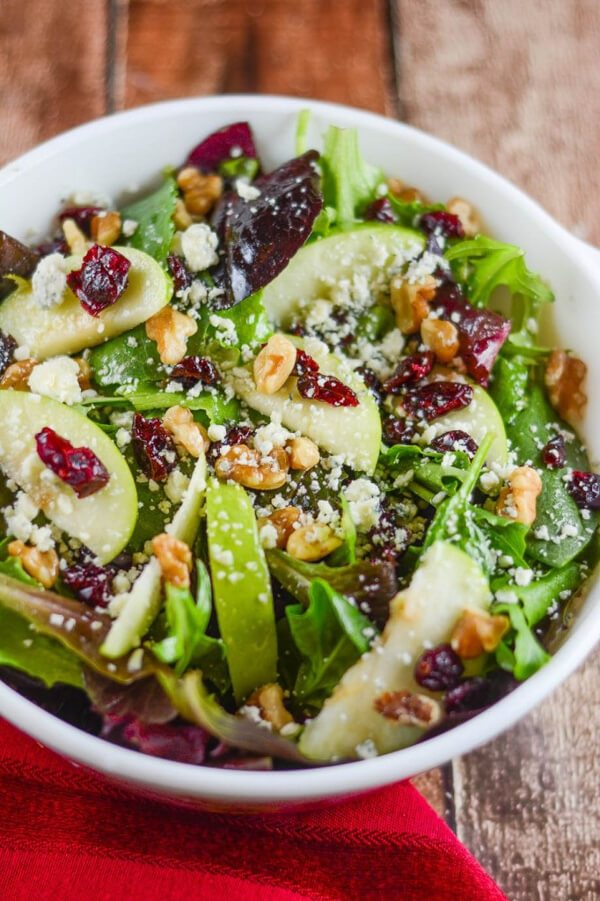 Want to impress your friends and family? Want a healthy but delicious salad? Want to spend 15 minutes or less preparing your sides? If you answered yes to any (or all) of the above, you've gotta try out this salad! Flavor Mosaic nailed it with the sweet apples, tangy cranberries, slightly salty gorgonzola cheese and crunchy walnuts! Added bonus: save a few dollars and make your own dressing with the simple Apple Cider Vinaigrette in this recipe.

Taylor at Food faith Fitness never fails with delicious, simple and tasty meals- we love her healthy Easter recipes! This makes the perfect side dish and the combination of cumin, coriander seeds and garlic to give the carrots the perfect kick they need.

This recipe is gluten free, and uses 100% pure blend Golden Blossom Honey (pure blend of White Clover, Orange Blossom, and Sage Buckwheat) which gives it a naturally sweet taste from the citrus, and earthy undertones. The frosting uses a super easy heart-healthy-feel-good fat, coconut, and honey cream, and this recipe is completely Paleo!

These aren't the traditional kind of Easter cakes you find at the grocery store, these are the cutest little Gluten Free Easter themed cupcakes. They're simple to make and relatively speaking, lower in fat, than your classic carrot cakes. Such a great addition to our healthy Easter recipes ! They're made using coconut flour instead of all-purpose flour, coconut oil instead of vegetable oil, reduced-fat cream cheese and (optional) Cadbury mini eggs on top, just for an extra touch! We think these are a keeper.
What are some of your favourite healthy Easter recipes? Do you have a go-to decadent Easter recipe that you would like to see lightened up? Tell us in the comments below, we'd love to hear some of your favorites!
Disclaimer: no Easter Bunnies were harmed in the making of this post.
Contribution by AK Nutrition student Alexis Silver
Updated on October 23rd, 2020