This Vegan Breakfast Sausage Recipe with Apple, Maple and Lentils are packed with fibre and are 100% gluten-free, soy-free, egg-free and nut-free!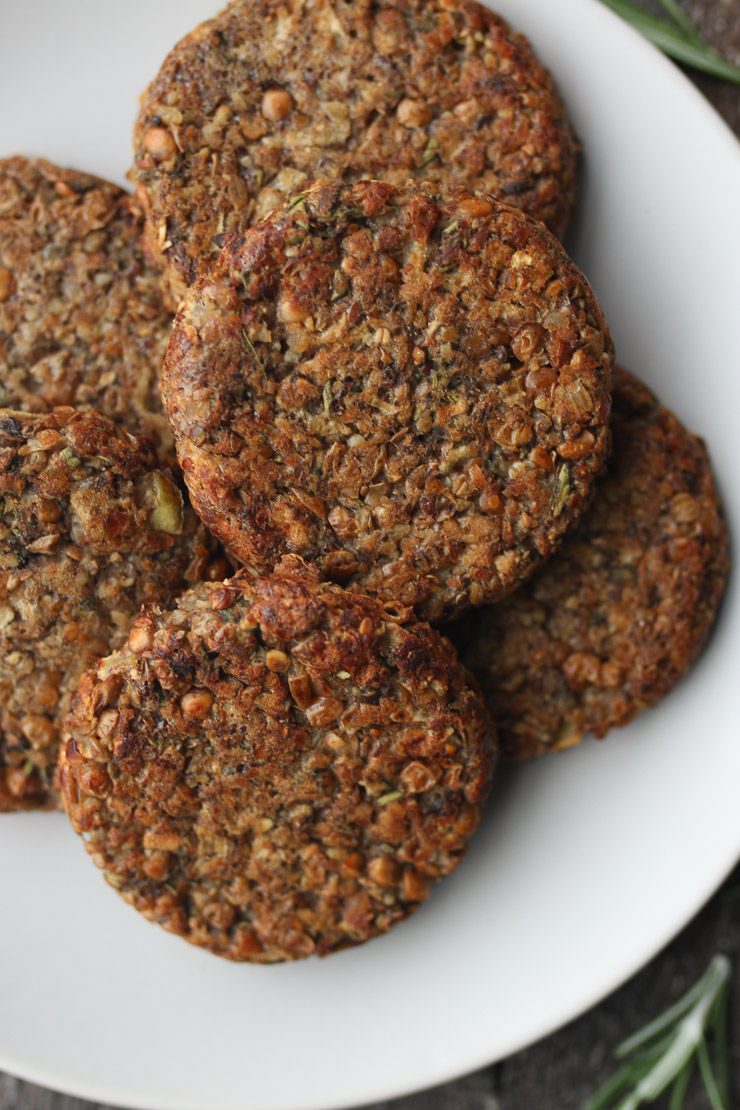 You know what one of my all time favourite food smells is? Maple breakfast sausages cooking up on a Sunday morning. Since I now try really hard to eat more plant-based meals, I have been experimenting with new ways to get my fix. This maple-infused vegan breakfast sausage recipe is made without any soy faux meat, but rather are packed with mushrooms, lentils, apples, sage and a hint of maple syrup to give that spicy cozy flavour experience without the meat.
Why This Recipe Works
I'm a big fan of this recipe for a couple of reasons!
Allergen-friendly- gluten-free, egg-free, soy-free and nut-free.
High in fibre (5g per serving)
Freezer-friendly
Perfect for meal-prep
Key Ingredients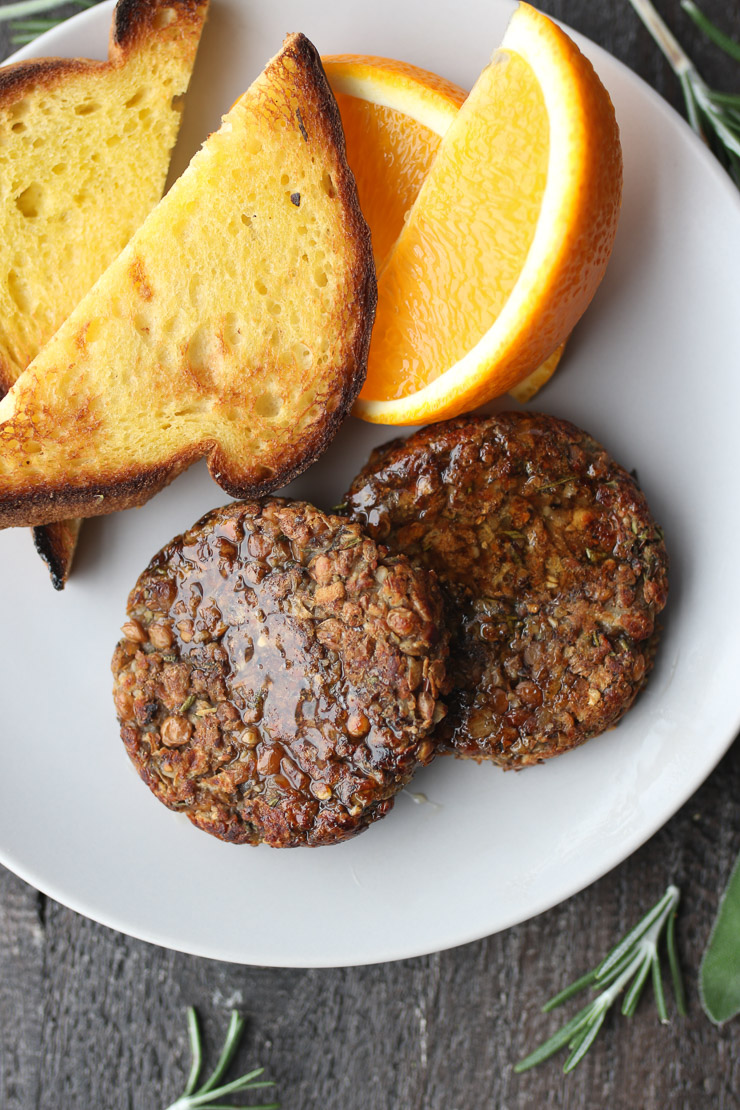 These vegan bangers are surprisingly easy to make. Here's what you will need to make this recipe:
Cremini mushrooms – Mushrooms add an amazing umami oomph to plant-based recipes that simulates the savoury flavour of meat.
Canned lentils – You can also cook dried lentils, but I love using canned for convenience
Onion and Garlic – Our aromatics to make everything more delicious.
Maple Syrup – You can try subbing for another liquid sweetener, but for best results I recommend sticking with maple syrup for the warm, sweet tones.
Apple – For subtle sweetness.
Gluten-free Low Sodium Tamari – Sub for coconut aminos or soy sauce, if you're not gluten-free.
Sage, Rosemary, Thyme – Together, these dried herbs add a delicious earthy flavour.
Oat flour – I like oat flour for an extra punch of high-fibre whole grains. In this recipe, it serves as our binder.
If you want to ensure these bangers are gluten-free, make sure to choose a gluten-free tamari and oat flour.
How To Make This Recipe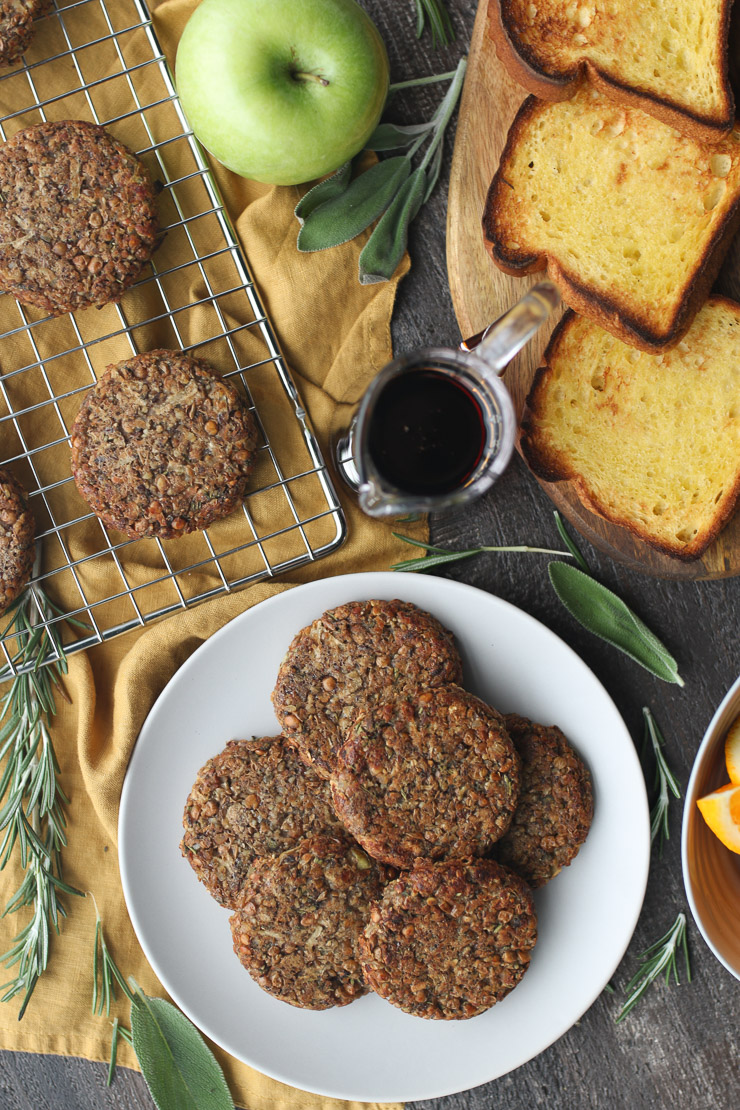 The base for these meat-free breakfast patties is not "faux" meat, but rather lentils and mushrooms! Two of my all time favourite plant-based foods! I start by pulsing the mushrooms in a food processor until very fine. The next step is key – you MUST squeeze the hell out of these to remove excess moisture.
When you rinse your lentils, you also have to really do a good job at squeezing out the excess moisture. Ditto for the grated apple.
Then I puree half of the lentils and leave the other half whole.
I then cook the onion, garlic and mushrooms in a pan along with the apples, maple, tamari, sage, rosemary, and thyme and season with a generous pinch of salt and pepper. Once any excess moisture is gone, I transfer to a bowl with my lentils, oat flour and some salt and pepper, to taste.
Then I bake them in my whoopie pie pan and enjoy!
Expert Tips
Squeezing out excess moisture is a key step in this recipe. When I'm doing this with the rinsed lentils and grated apple, I like using a cheesecloth. If you don't have a cheesecloth, you can use a kitchen towel too.
Now if you weren't as meticulous about getting the liquid out, you may need to add a little extra flour in the last step. No biggie!
Recipe FAQs
What if I don't have a whoopie pie pan?
Don't worry, you can also totally just carefully form these into patties and pan-fry them.
How do you suggest serving these vegan sausages?
I love my sausages with toast and some fruit, but you could also easily serve these with a nice tofu scramble or on an English muffin like a McDonalds sausage sandwich.
Can you make these sausages ahead of time and freeze them?
Yes! I made a big batch of this vegan breakfast sausage recipe and kept them in the freezer and then I just pulled a few out and rewarmed them in the microwave for 30 seconds. Make sure when you're storing them to put wax or parchment paper between layers so you don't have them sticking together.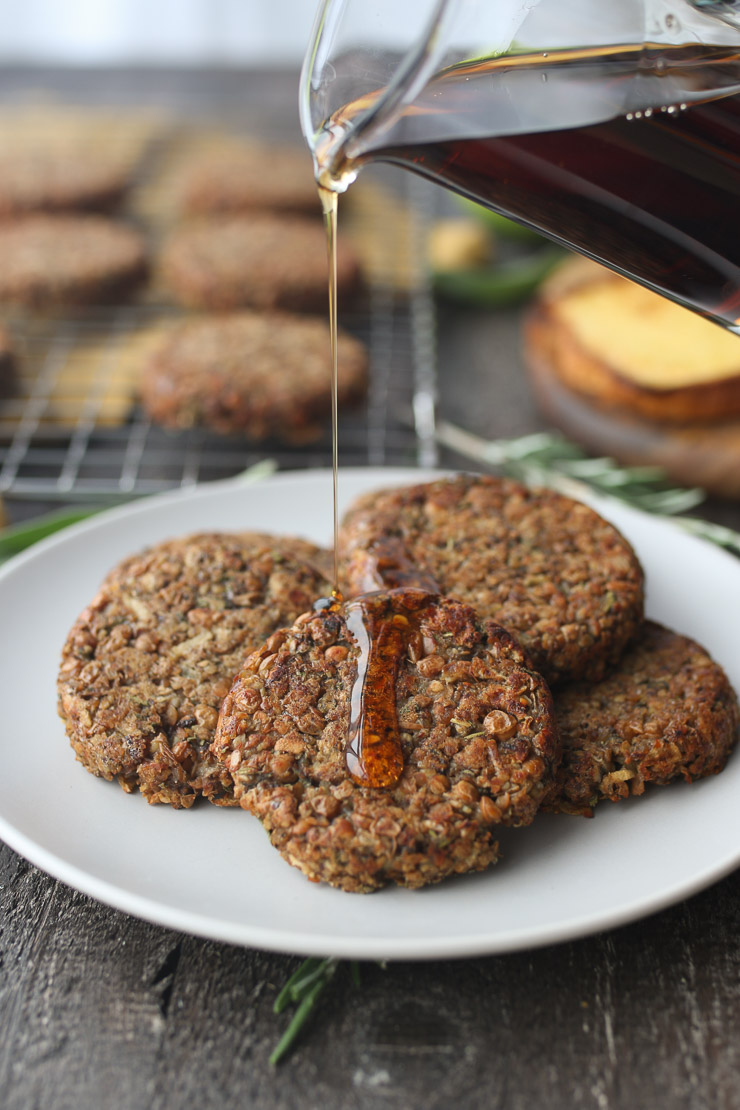 More Recipes You Might Like
If you liked this vegan breakfast sausage recipe, give these a try:
What are some of your favourite breakfast memories? Let me know your thoughts below!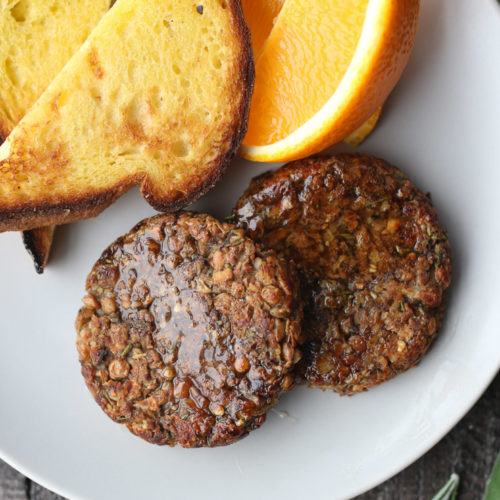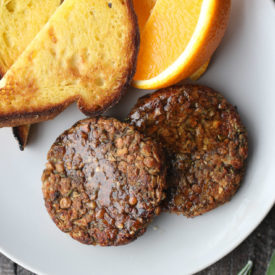 Vegan Breakfast Sausage Recipe | Gluten & Soy Free!
This Vegan Breakfast Sausage Recipe with Apple, Maple and Lentils are packed with fibre and are 100% gluten-free, soy-free, egg-free and nut-free!
Print
Pin
Rate
Ingredients
8

oz

cremini mushrooms

stemmed and quartered

1 19

oz

can lentils

drained and rinsed

1

tbsp

extra virgin olive oil

1/2

small onion

minced

3

clove

garlic

minced

3

tbsp

maple syrup

1

apple

peeled and minced or grated with liquid very well squeezed out

2

tsp

gluten free low sodium coconut aminos or tamari

1 ½

tbsp

fresh sage

minced

1 ½

tbsp

fresh rosemary

1 ½

tbsp

fresh thyme

6

tbsp

oat flour

gluten fee if desired

Salt and pepper

to taste
Instructions
Pulse the mushrooms in a food processor until they reach a ground meat like consistency. Transfer to a cheesecloth and ring out as much liquid as possible. Set aside.

Drain and rinse the lentils and squeeze out any excess moisture. In the food processor, puree half the lentils.

Heat a tablespoon of olive oil over medium low heat. Add in the onion and cook until lightly browned and caramelized, about 30 minutes. You can also save time and just saute them for 2 minutes before adding the other ingredients but caramelizing adds a lot of flavour.

Add the garlic, squeezed out mushrooms, the grated and well squeezed apples, maple, tamari, sage, rosemary, and thyme and season with a generous pinch of salt and pepper. Cook until any excess liquid evaporates and the mushrooms are browned.

Transfer to a bowl along with the lentils, pureed lentils, and oat flour and season with additional salt and pepper.

Form into a greased whoopie pie mold. Spritz with olive oil in an oil atomizer and bake for 17-20 minutes or until golden brown.
Nutrition
Calories:
112
kcal
|
Carbohydrates:
19
g
|
Protein:
6
g
|
Fat:
2
g
|
Saturated Fat:
1
g
|
Sodium:
60
mg
|
Potassium:
319
mg
|
Fiber:
5
g
|
Sugar:
6
g
|
Vitamin A:
57
IU
|
Vitamin C:
3
mg
|
Calcium:
32
mg
|
Iron:
2
mg
Updated on March 16th, 2023