This Vegan Meringue Nergi Berry Parfait is a delicious Gluten Free, Plant-Based, Aquafaba-based Dessert that would be elegant enough for entertaining a wide range of dietary restrictions.
As a dietitian, I thought I knew a lot about fruits and veggies. But I was pleasantly surprised when I found a tasty new (to me) fruit that has now become a total snack-time staple. Friends, let me introduce you to my new BFF, the Nergi.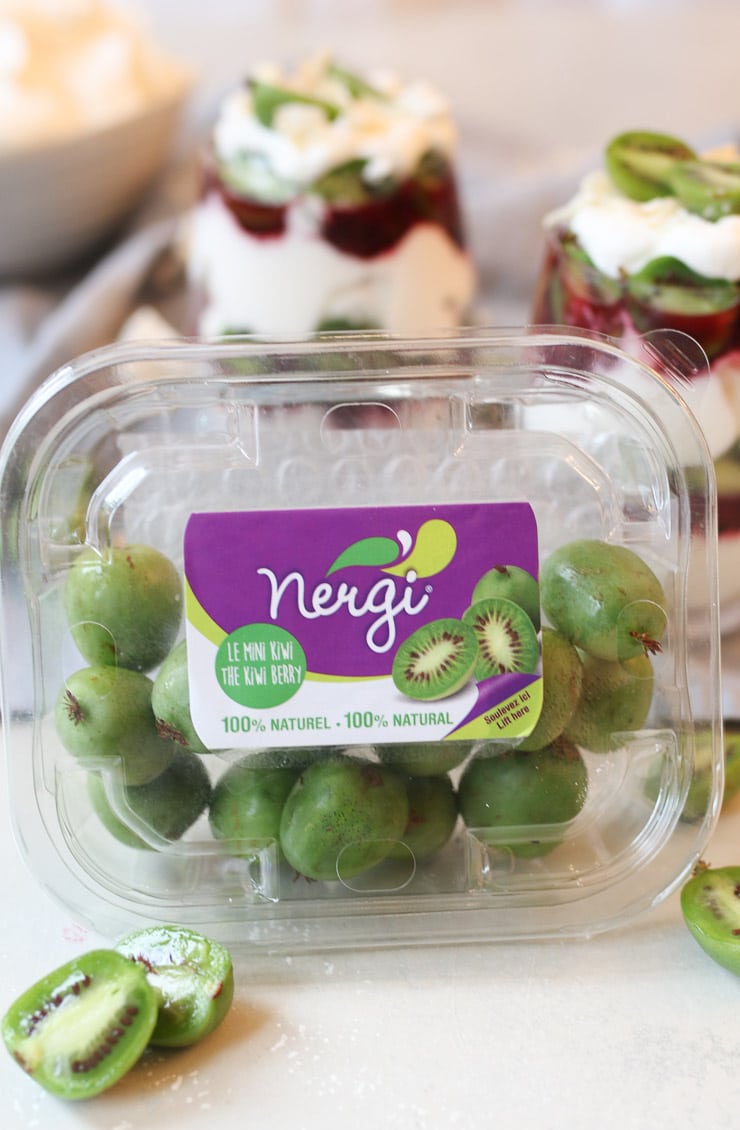 Originally from Asia, and now grown in France, Nergi are like cute baby kiwis – without the fuzz! Like a berry, they're perfect for just popping back by the handful and are totally addictive, to boot. They also may be tiny, but they pack some serious nutrition with vitamin C, E, potassium, calcium, magnesium and phosphorus plus 3.66 grams of fibre for only 52 calories per serving! Man, the French know how to make great food.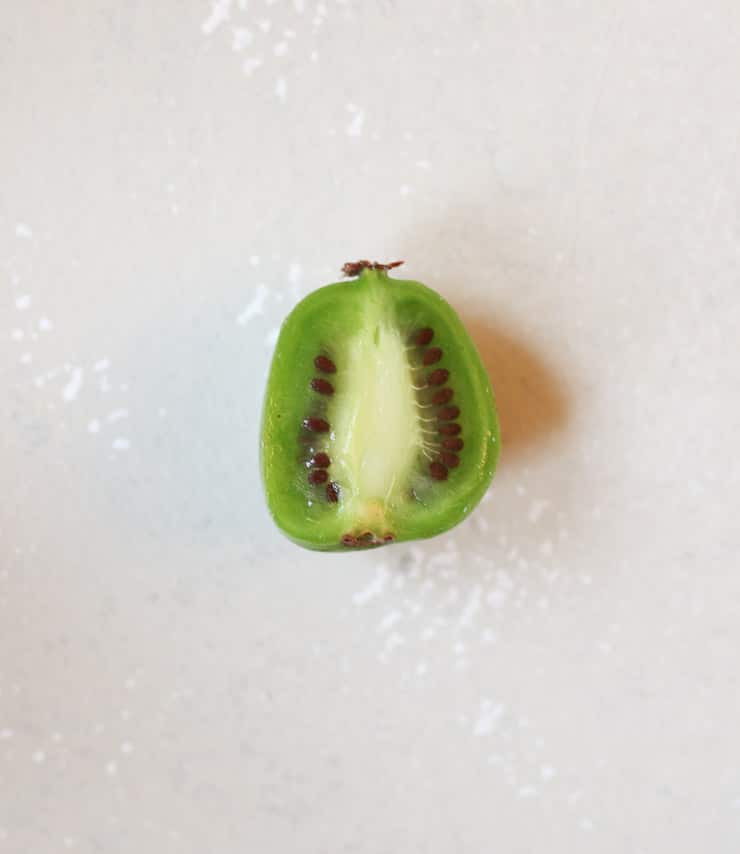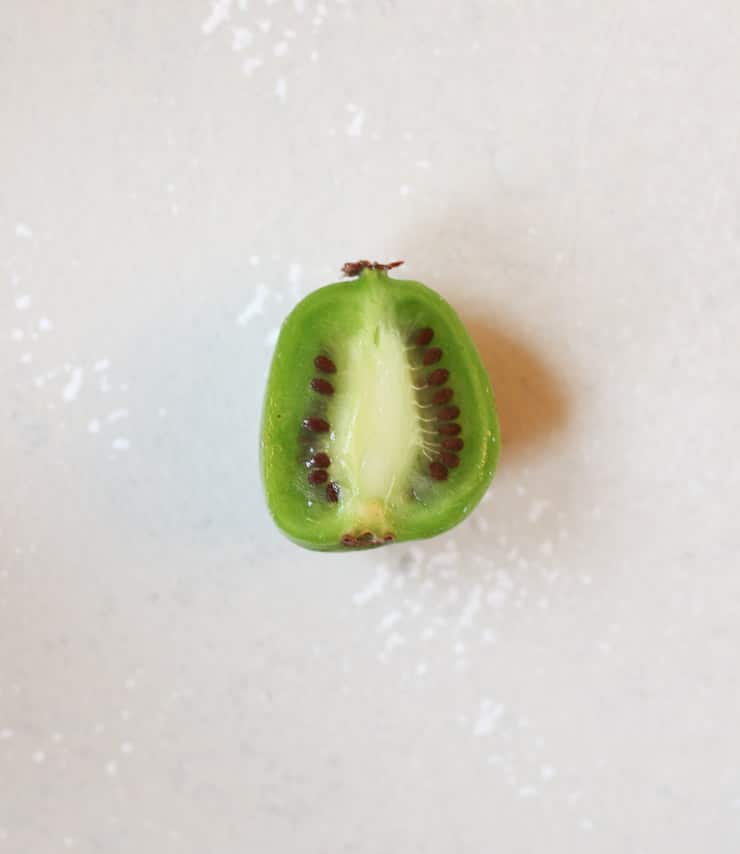 While these little darlings have definitely become a favourite snack, their natural sweetness instantly sparked some dessert inspiration. This Vegan Meringue Nergi Berry Parfait was the result! Gluten free, plant-based and absolutely divine, with big juicy pieces of Nergi in every bite, this is definitely my new favourite way to end a meal.
How to Make this Vegan Meringue Nergi Berry Parfait with aquafaba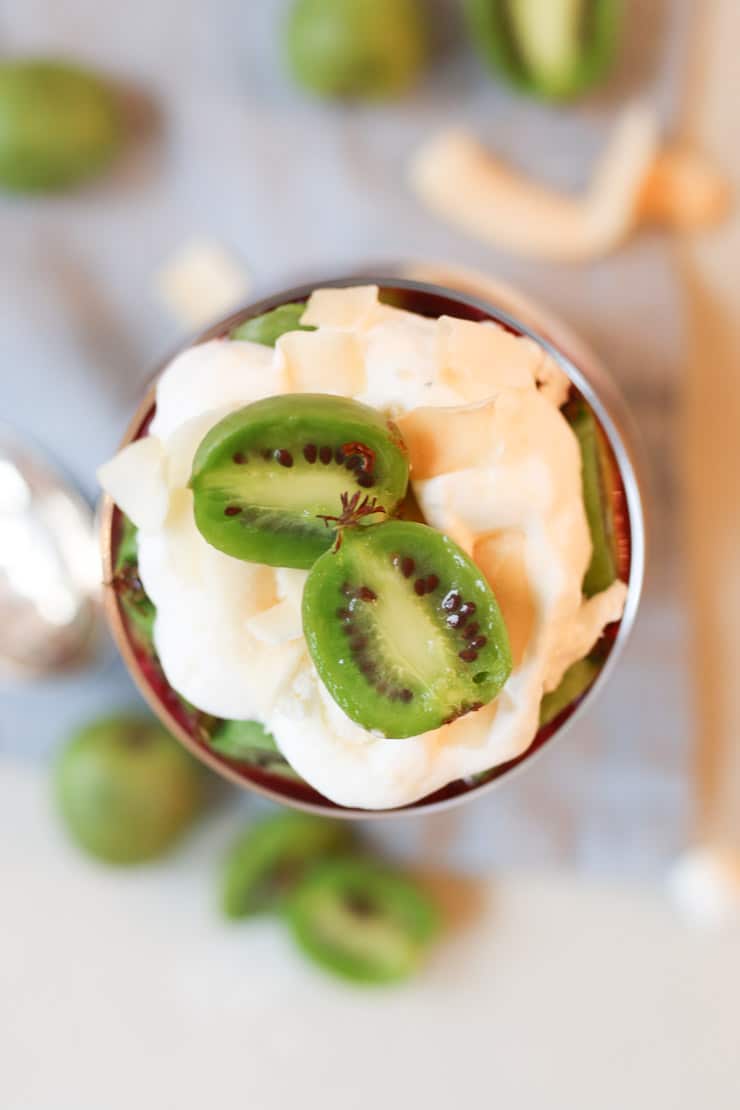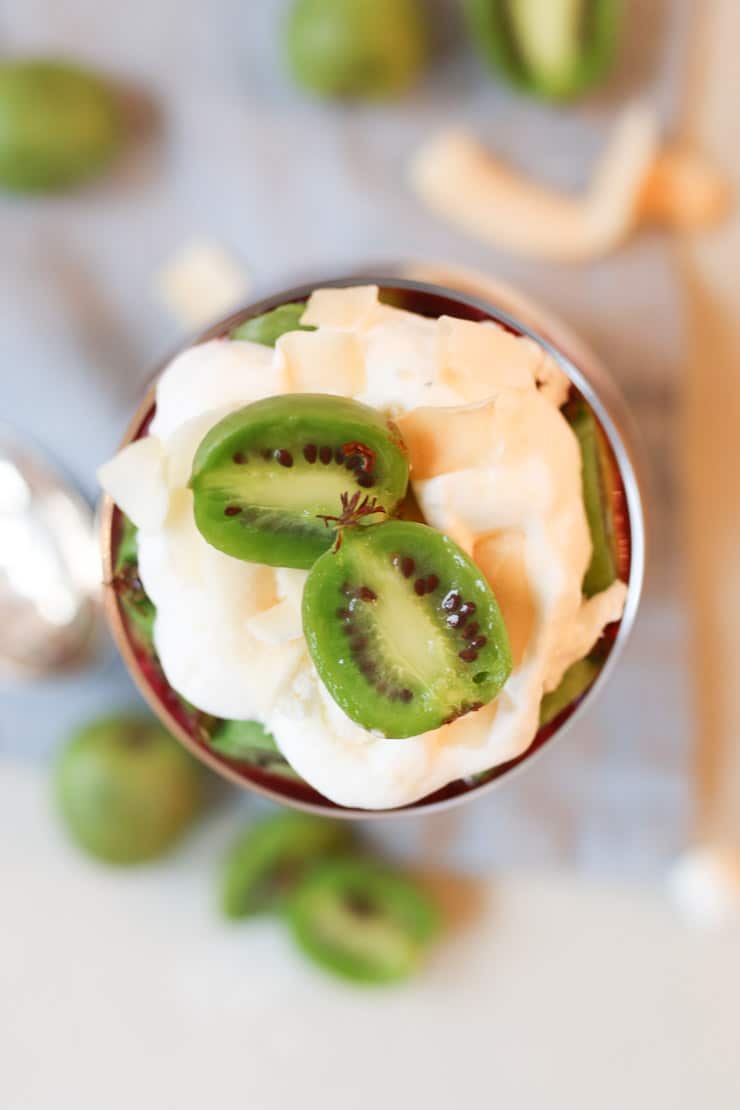 So this dessert has a few steps but all of them are surprisingly simple and yield such a beautiful dessert for a crowd that it's TOTALLY worth the investment
First we make a vegan meringue out of the strange liquid you find in the bottom of the can of chickpeas. Yes, you heard that right. You can actually make COOKIES out of the gloopy liquid you usually throw away from canned beans. If you haven't tried this, get ready for your mind to literally be blown.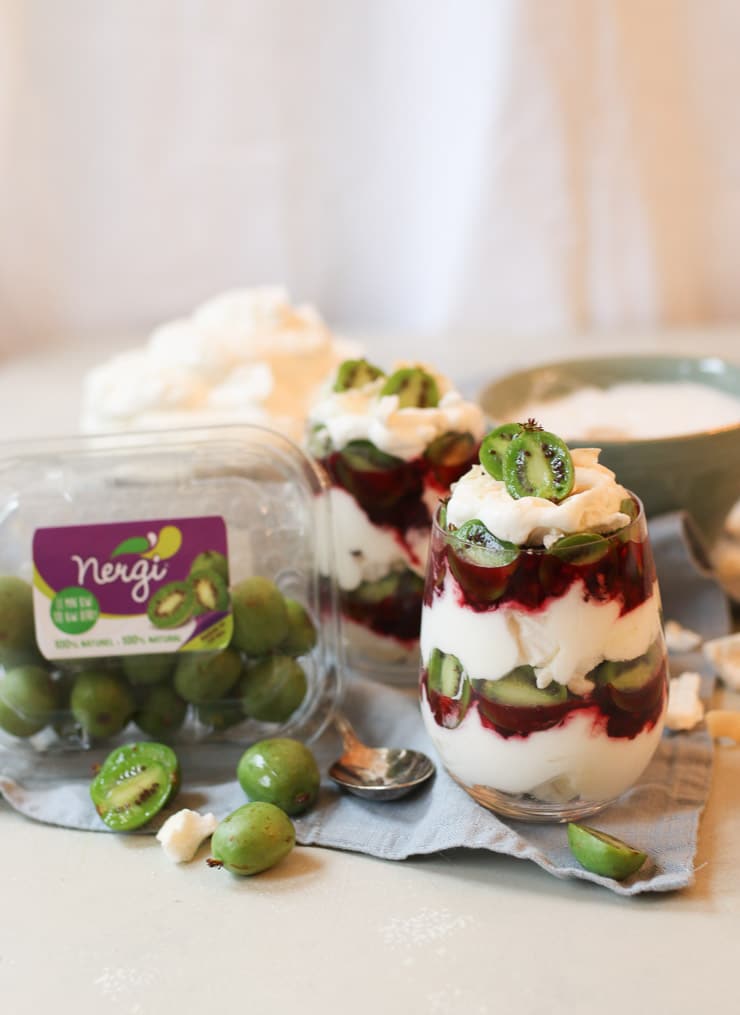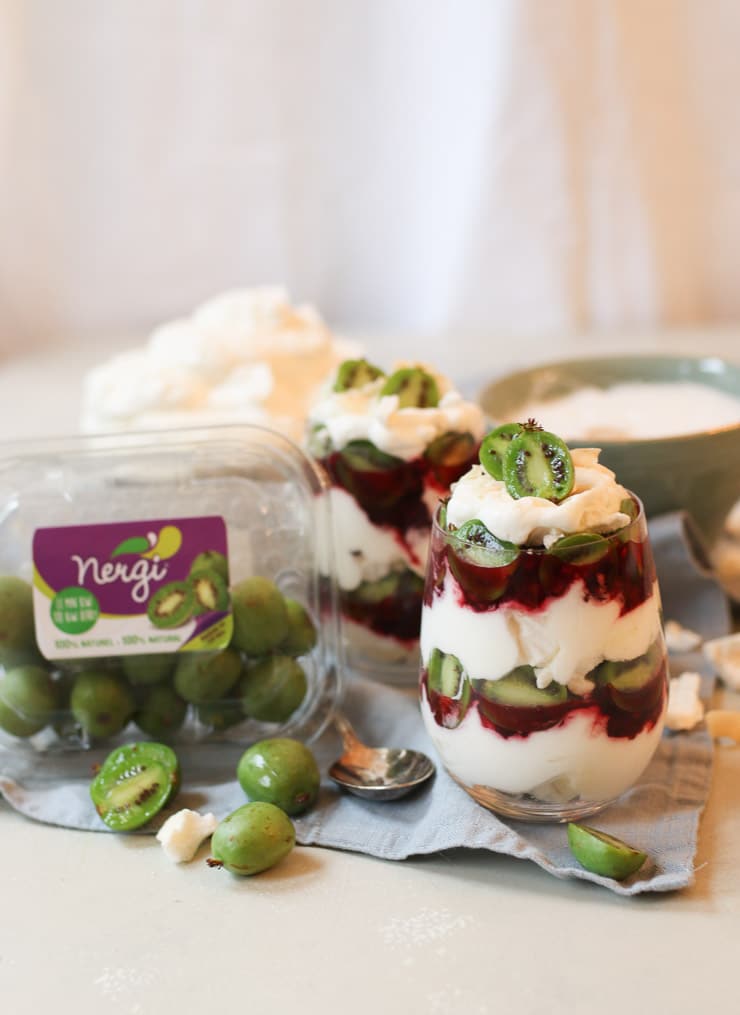 Next, I whip up some coconut cream and lighten it up with coconut yogurt. Easy peasy.
Third, we make a really quick berry chia jam. I'm obsessed with chia jam and use it on toast, in oatmeal and desserts like this, so feel free to make a triple or quadruple batch for the week!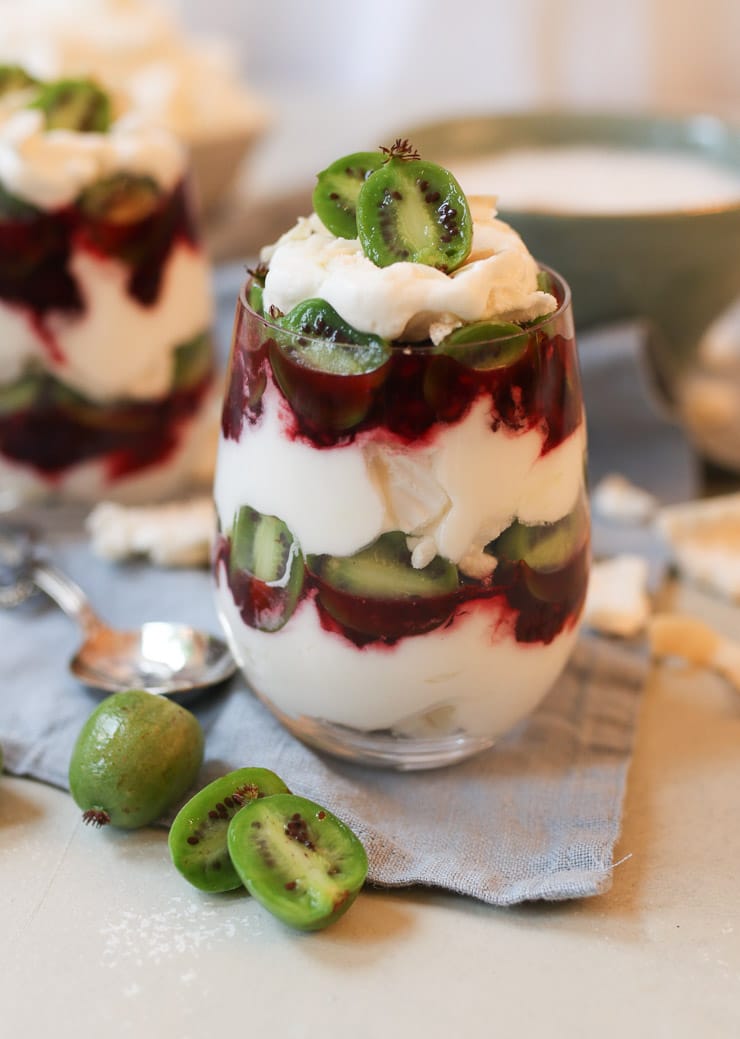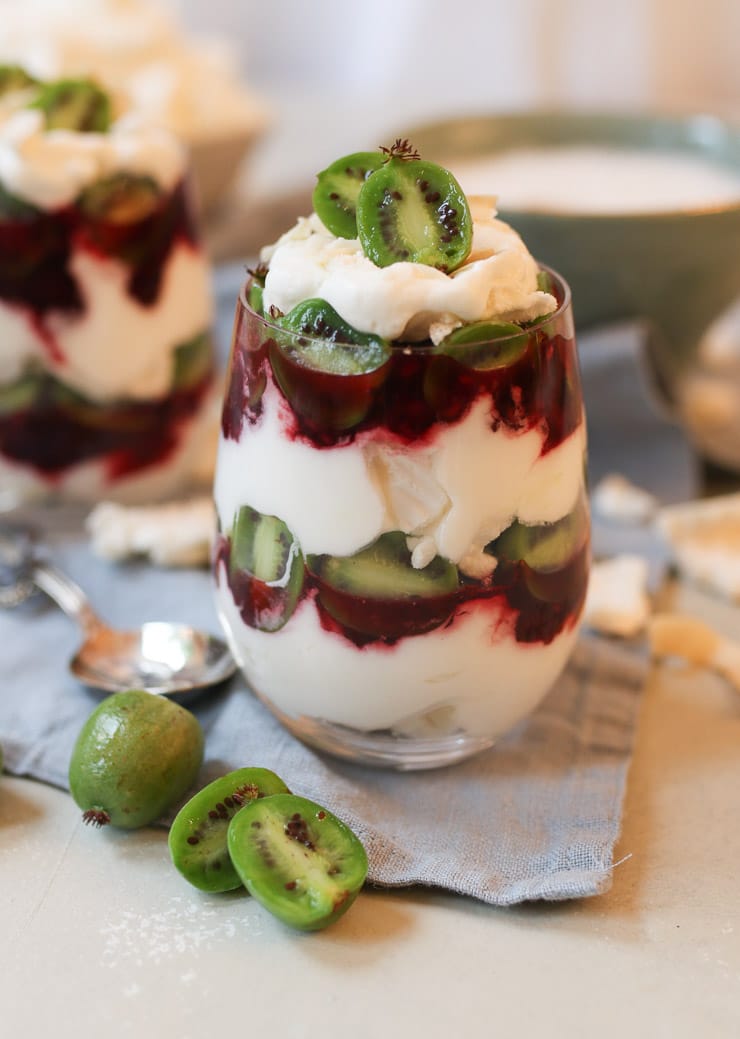 And then most importantly is the Nergi. I just love the supple pop and subtle sweetness of the juicy fruit, especially against the rich cream and crunchy meringue. You may want to get extra then what's called for in this recipe since you'll probably end up eating half of your stash before you've put together dessert.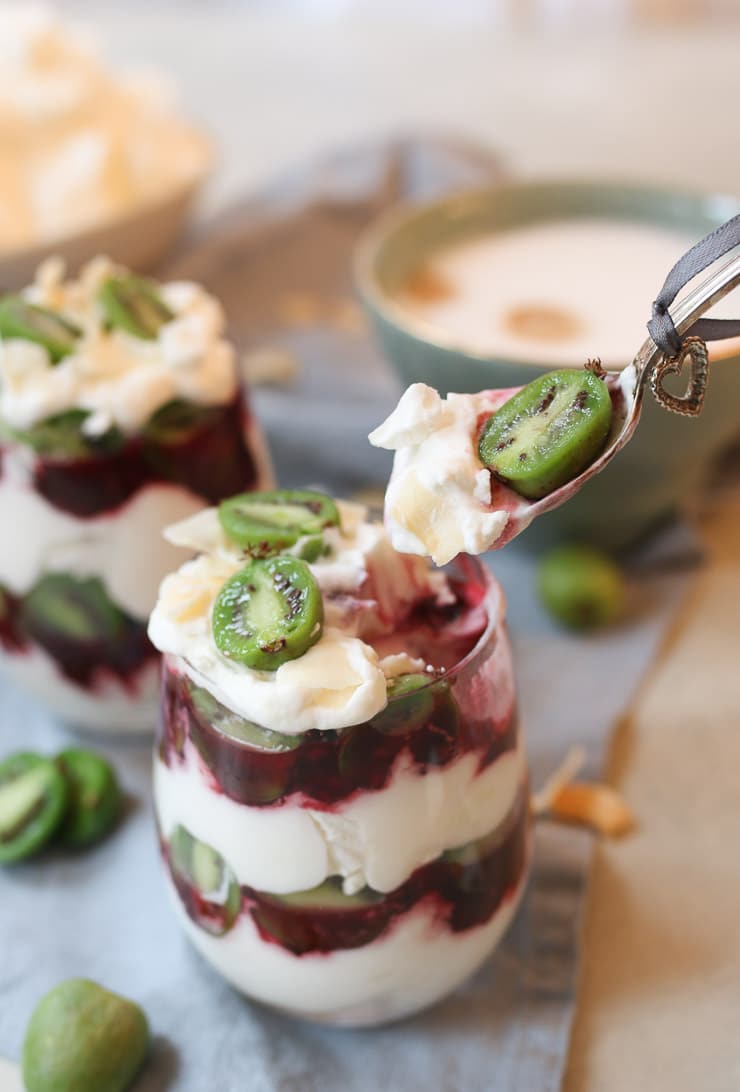 When assembled, this Vegan Meringue Nergi Berry Parfait is a perfect dessert for entertaining because it's gluten free, plant-based, dairy-free, nut-free and egg-free, ideal for a group with a wide range of dietary restrictions.
Now lovelies, have you tried Nergi yet?
Have you tried making vegan meringues from aquafaba?
Have you tried making these Vegan Meringue Nergi Berry Parfaits yet?
Leave me a comment below with your thoughts!
Disclaimer: This post was developed in paid partnership with Nergi, however all opinions are my own.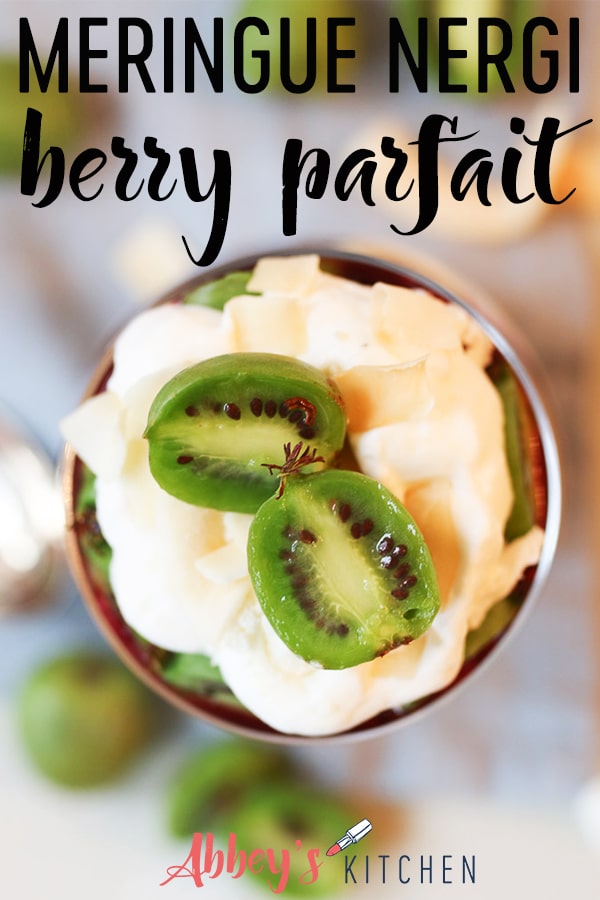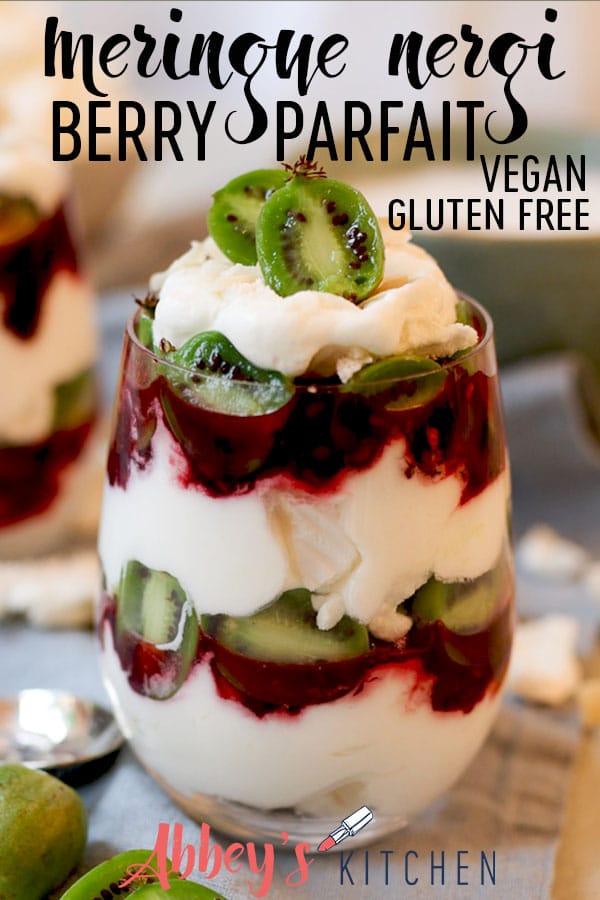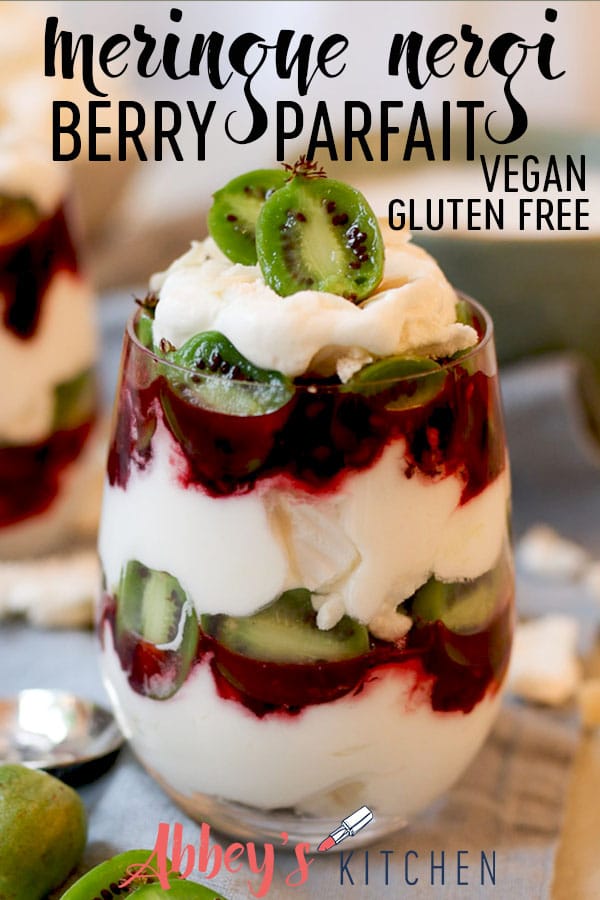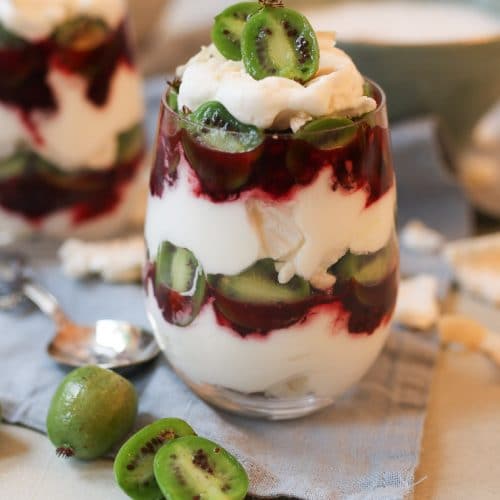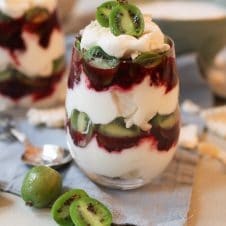 Vegan Meringue Nergi Berry Parfait
This Vegan Meringue Nergi Berry Parfait is a delicious Gluten Free, Plant-Based, Aquafaba-based Dessert that would be elegant enough for entertaining a wide range of dietary restrictions.
Print
Pin
Rate
Ingredients
Instructions
Preheat oven to 200 F and line two baking sheets with parchment.

Add the aquafaba and cream of tartar into a bowl with electric beaters or in a standmixer. Beat on medium speed until billowy soft peaks form- about 3-5 minutes. Once soft, add the vanilla and start to slowly add in the sugar about a spoonful at a time until it's all been added while continuing to beat. Beat until it reaches stiff peaks, likely another 5 minutes or so.

Dollop the meringue onto the baking sheet into 1 inch cookies and then bake for about 1 hour until dry. Cool and set aside.

Meanwhile, whip the coconut cream until soft, then fold in the yogurt. Set aside.

Finally, in a saucepot over medium heat, heat the nergi, raspberries, blueberries, lemon and maple syrup until bubbly and soft, about 7 minutes. Mash any big pieces then take off the heat. Add in the chia seeds and refrigerate for 20-30 minutes in the fridge until thick.

To assemble, break up 1 ½ cups of the meringues into smaller pieces and shards. Mix them the yogurt cream and place a layer on the bottom of a glass. Add a layer of the jam and a layer of the Nergi. Repeat with another layer of the meringue cream, jam, and Nergi. Finish with a few toasted coconut chips and enjoy!
Nutrition
Calories:
445
kcal
|
Carbohydrates:
53
g
|
Protein:
6
g
|
Fat:
26
g
|
Saturated Fat:
21
g
|
Sodium:
15
mg
|
Potassium:
509
mg
|
Fiber:
7
g
|
Sugar:
38
g
|
Vitamin A:
60
IU
|
Vitamin C:
77.9
mg
|
Calcium:
136
mg
|
Iron:
2.2
mg
Updated on July 22nd, 2020