These Vegan Carrot Cake Lactation Cookies are a perfect gluten free recipe to satisfy your momma sweet tooth and increase breast milk supply!
Breastfeeding is hard. I know, I struggled with both supply issues, and latching issues, and ended up exclusively pumping to feed my son breastmilk within the first year. As I near the one-year mark and the end of my pumping and breast milk journey, I'm so proud to announce that I have a whopping 75 L of breast milk in the freezer ready to go. It wasn't easy to get here. I worked DAMN hard with pumping around the clock, took a ton of supplements, and ate right. I know how many of you have been asking me for more great lactation cookies after my salted chocolate chip almond cookies were such a hit (as was the carrot smoothie!), so I went back to the drawing board with these bad boys. Introducing my gluten free vegan carrot cake lactation cookies with a cream cheese drizzle. Honestly, I don't care if you're not breastfeeding – I don't even care if you're a man and DEFINITELY not breastfeeding, these carrot cake lactation cookies will quickly become a family favourite.
Why will these Vegan Carrot Cake Lactation Cookies potentially increase my breast milk supply?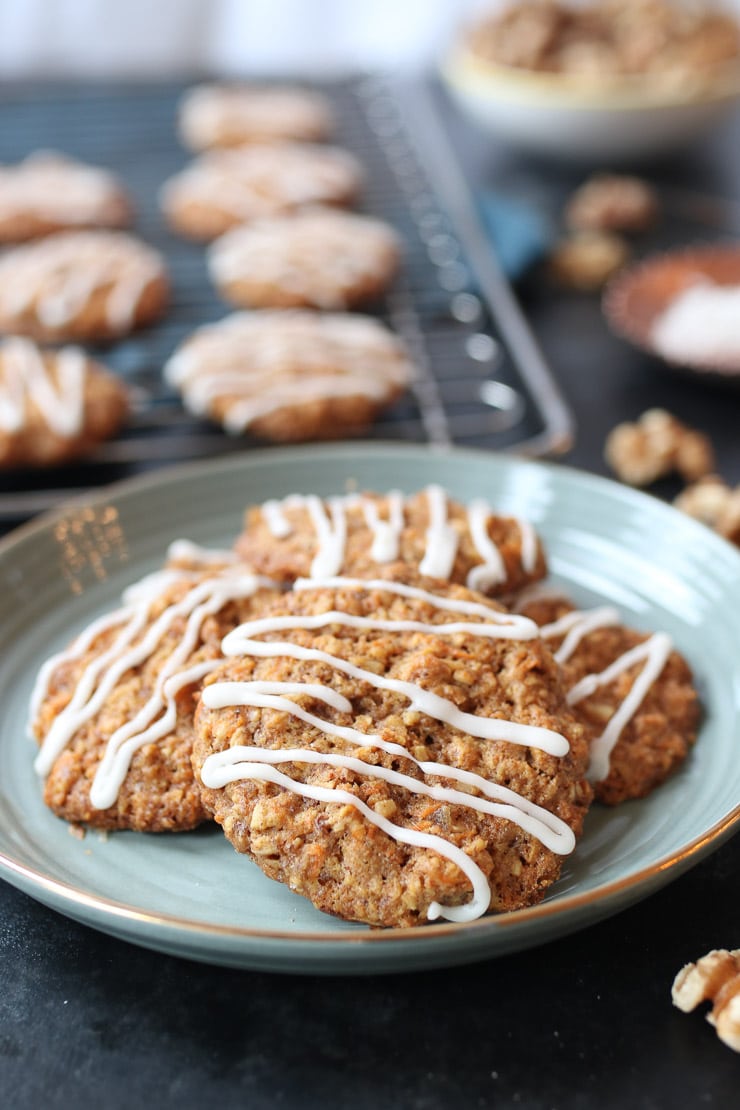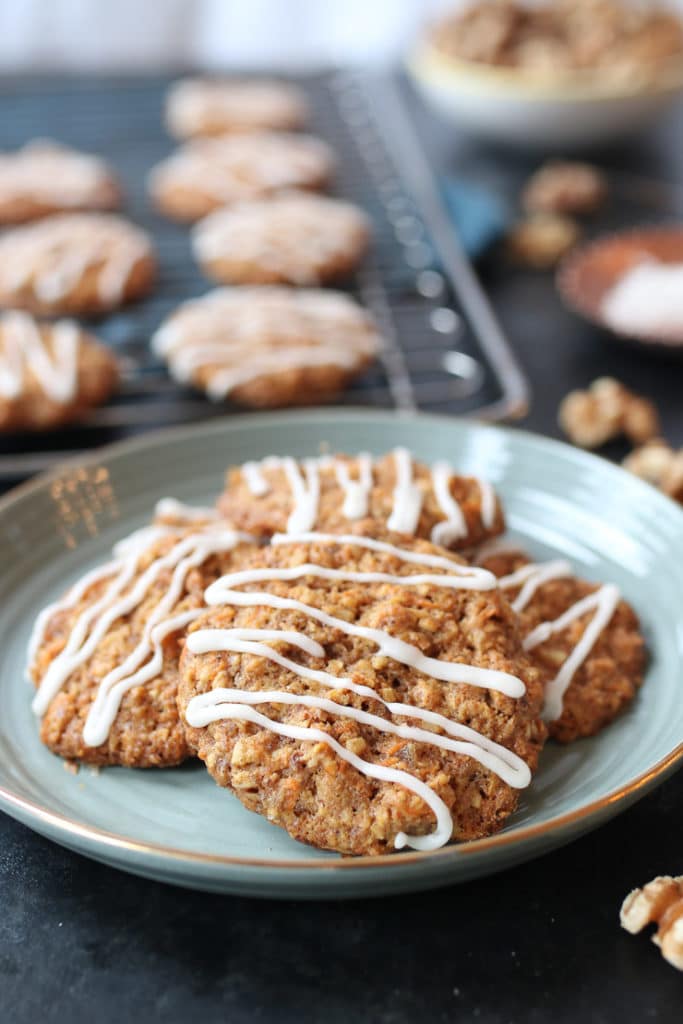 There's a lot of talk in mom groups about what foods increase breast milk supply, so we dove deep into the research on it here. While a lot of these so-called galactagogues don't have a whole lot of research to support their benefits, they're also pretty much all really healthy ingredients and that in itself is really important when you're breastfeeding or pumping.
These vegan carrot cake lactation cookies contain a number of helpful ingredients for increasing breast milk supply. These include:
Flax
Ginger
Brewers Yeast
Oats
Carrots
Nuts
Apricots
Most importantly though, they're a REALLY tasty treat and did you know that breastfeeding and pumping burns some serious calories?! You totally need to fuel up!
How to Make these Vegan Carrot Cake Lactation Cookies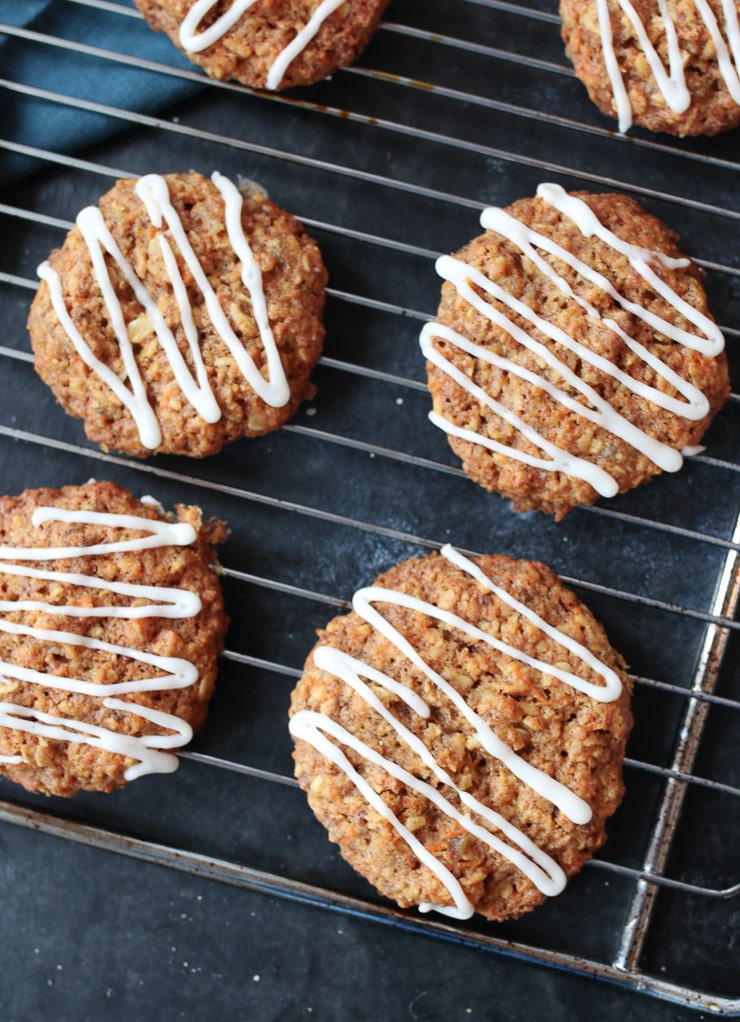 These carrot cake flavoured lactation cookies are so easy and also just happen to be vegan and gluten free, but I can ASSURE YOU, you would never know. You basically just cream together some vegan butter and sugar, add in some flour, spices, and your flax egg, then fold in all the good stuff – carrots, oats, coconut, walnuts, apricots and ginger.
You can totally stop there and have an irresistible cookie, but if you want the full out carrot cake experience you need some cream cheese frosting.
Do I have to make these Carrot Cake Lactation Cookies vegan or gluten free?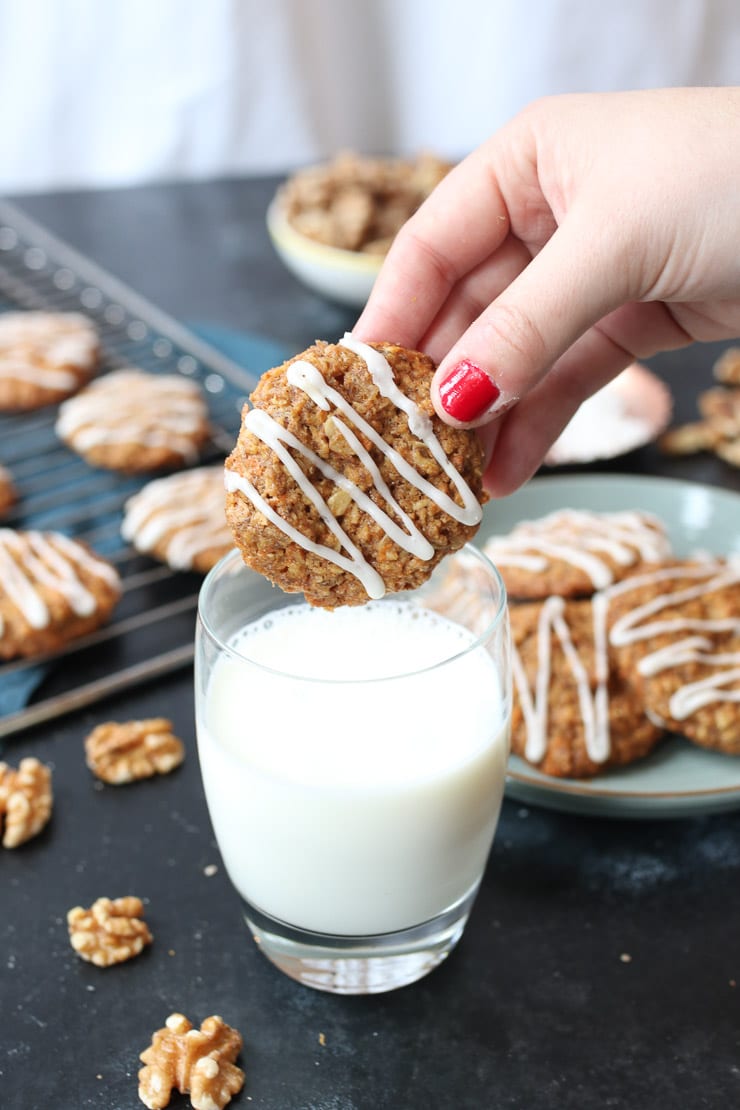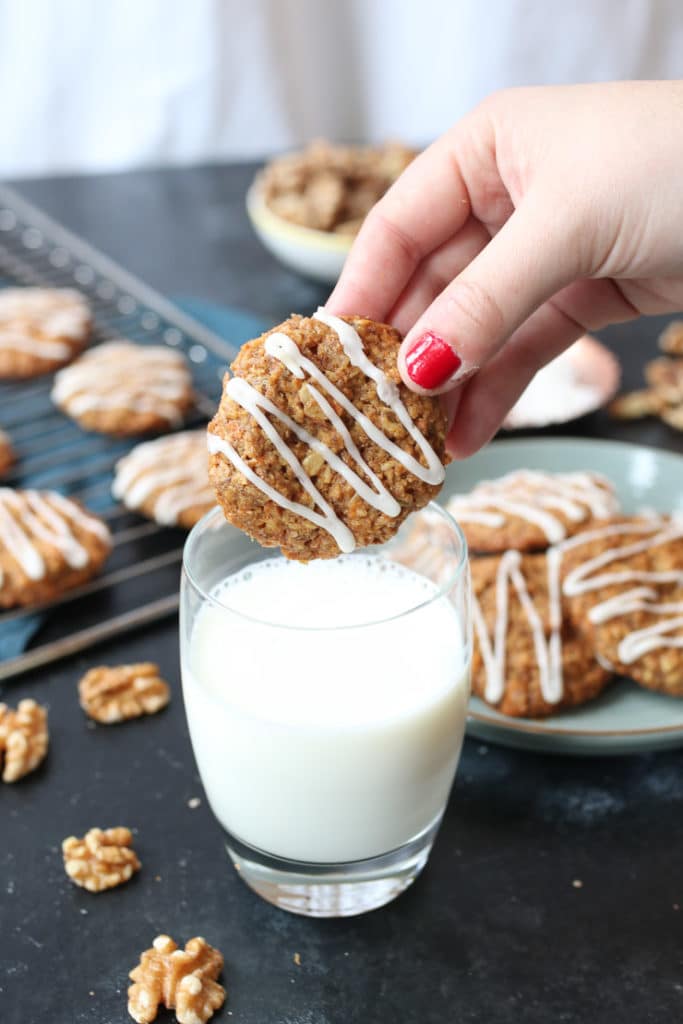 Nope. Just trying to be inclusive to a wide range of pumping and breastfeeding mamas. You can totally make the drizzle non-vegan by using regular cream cheese, but I actually find a lot of vegan cream cheeses pretty good these days too. You can also use a real egg instead of the flax egg, but since flax is so healthy for breastfeeding mamas, I prefer it for its nutritional benefits.
As for the gluten, totally go ahead and use regular all purpose flour and oats! It will absolutely work out fine!
will eating BREAST MILK COOKIES SAFE FOR NON BREASTFEEDING PEOPLE
ABSOLUTELY. These are healthy vegan cookies packed with nutrition that are great for the whole family, breastfeeding moms and non breastfeeding dads. You will not produce breast milk if you're not lactating.
So loves, I promise you I'll have even more yummy lactation cookies on the way to help fuel you through your breastfeeding or pumping journey and make it as delicious (and pleasurable) as it possibly can be.
Have you tried lactation cookies to increase your breast milk supply?
What flavour lactation cookies would you like me to come up with!
Have you tried these gluten free vegan carrot cake lactation cookies?
Leave me a comment below with your thoughts!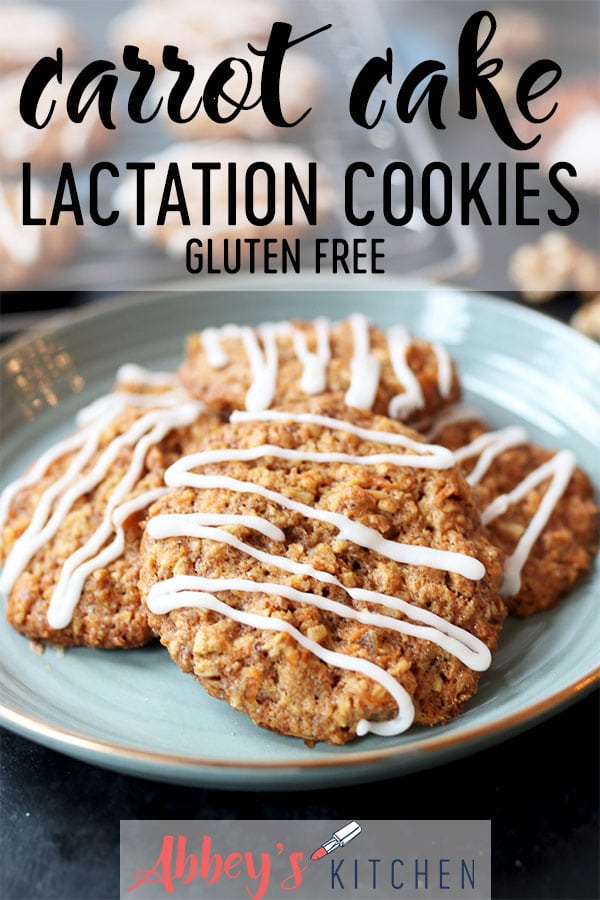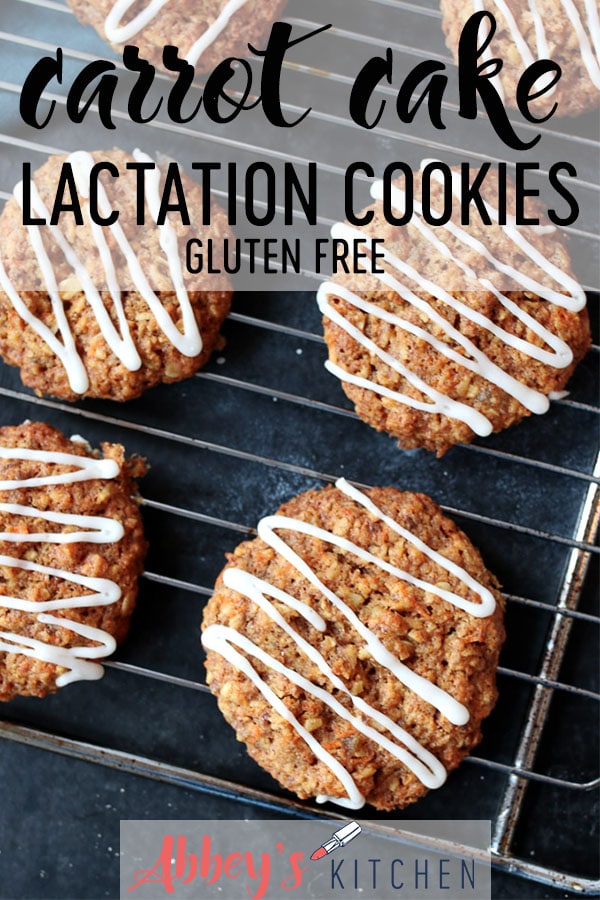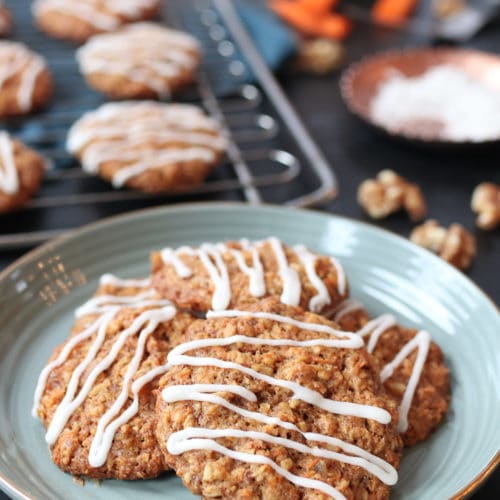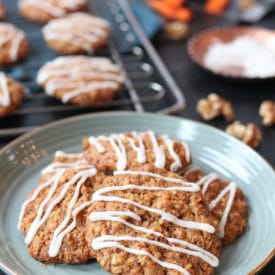 Vegan Carrot Cake Lactation Cookies
These Vegan Carrot Cake Lactation Cookies are a perfect gluten free recipe to satisfy your momma sweet tooth and increase breast milk supply!
Print
Pin
Rate
Instructions
Preheat oven to 350 F and line two baking sheets with parchment paper or a silpat.

To a stand mixer fitted with the paddle attachment (or a bowl with electric beaters), beat the vegan butter until softened. Add the brown and white sugar and beat until creamed.

Add in the flax egg and vanilla and beat until combined.

In another bowl, mix the flour, baking soda, powder, cinnamon, ginger, salt, brewers yeast, and ground flax. Add the dry ingredients to the stand mixer and beat on low until just combined.

Using a spatula, fold in the rolled oats, coconut, carrots, walnuts, apricots and ginger.

Roll one heaping tablespoon into a ball and place on the baking sheet. Gentle press down just a bit (they will flatten out in the oven). Repeat with the remaining cookies, spacing them an inch apart.

Bake for 20 minutes or until golden brown, rotating the baking sheet once half way through. Cool on a cooling rack.

Meanwhile, in the standmixer, beat the vegan cream cheese until soft, then add in the powdered sugar, almond milk and vanilla. Transfer to a piping bag.

Once the cookies have cooled to room temperature, drizzle with the cream cheese. Enjoy!
Nutrition
Calories:
129
kcal
|
Carbohydrates:
18
g
|
Protein:
2
g
|
Fat:
5
g
|
Saturated Fat:
1
g
|
Sodium:
76
mg
|
Potassium:
95
mg
|
Fiber:
1
g
|
Sugar:
12
g
|
Vitamin A:
620
IU
|
Vitamin C:
0.2
mg
|
Calcium:
19
mg
|
Iron:
0.7
mg
Updated on July 21st, 2020