This Canada Day vegan ice cream semifreddo is the perfect dessert to bring to party and surprisingly easy to make.
Canada day is almost upon us, which means I'm making plans to make sure I'm celebrating in the BEST possible way. AKA. with amazingly good FOOD. Okay, so cool people help, as well.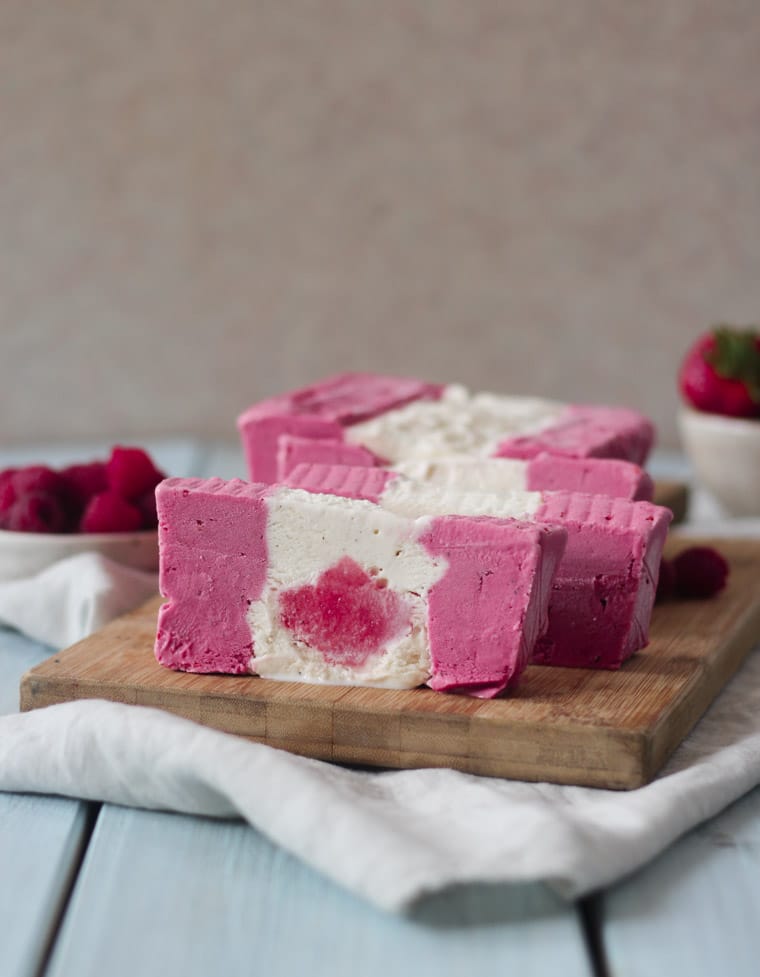 I love partying on Canada Day, because I get to be outside (crazy Canadian weather pending) with a crisp cider in hand. But the goal on Canada Day is spend MORE time getting ma drink on on the dock, and spending less time in the kitchen putting together elaborate meals. I DEFINITELY won't be baking. Just no. I'd rather buy a box of butter tarts and enjoy my life. But, alas, it's always nice to put something you're proud of on the buffet, so that's where this Canada Day Vegan Ice Cream Semifreddo comes into the picture.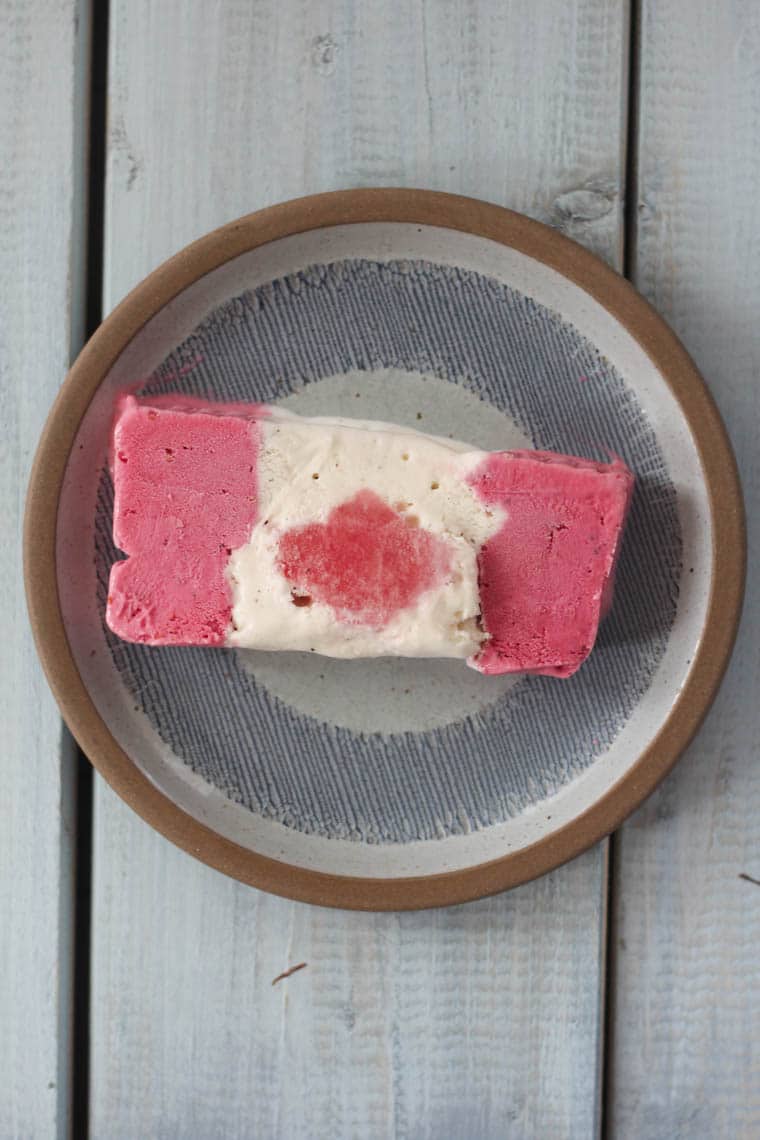 How to make Canada Day Vegan Ice Cream Semifreddo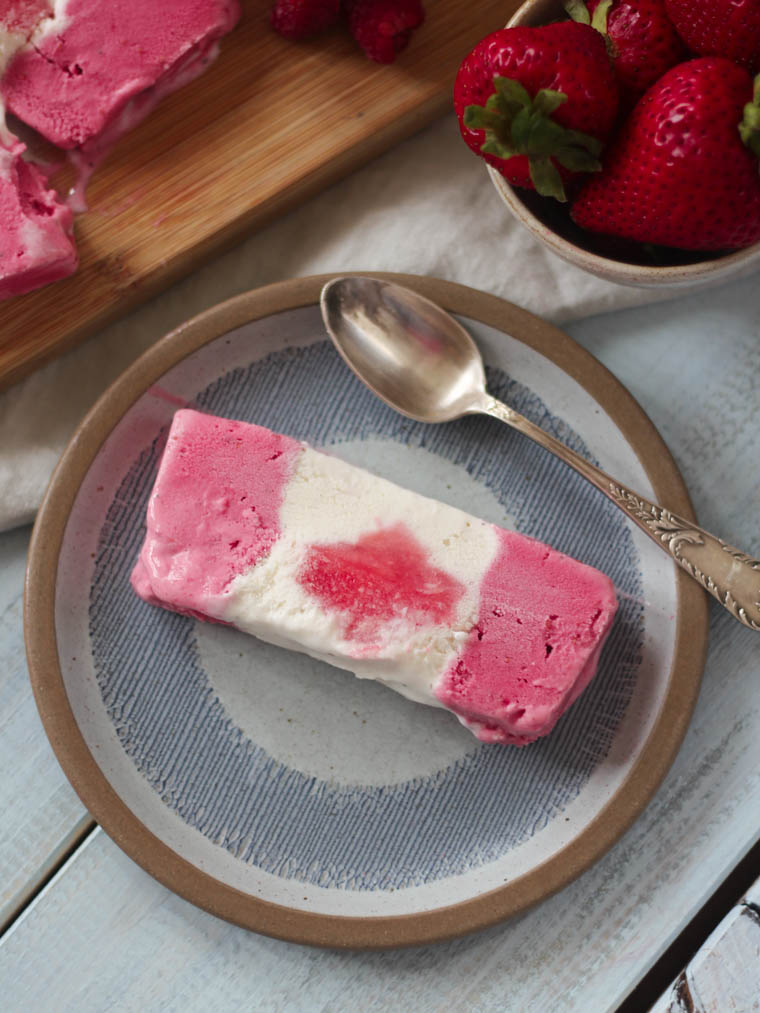 Semifreddo is basically a semi-frozen dessert which is similar to an ice cream cake… SO basically a instant crowd pleaser. Okay dessert snobs giving me the stink eye, so this isn't a real semifreddo. Semifreddo typically includes a custard and a meringue and it's a pain in the ass, but this looks damn impressive on a Canada Day dessert spread and it's actually quite easy to pull off.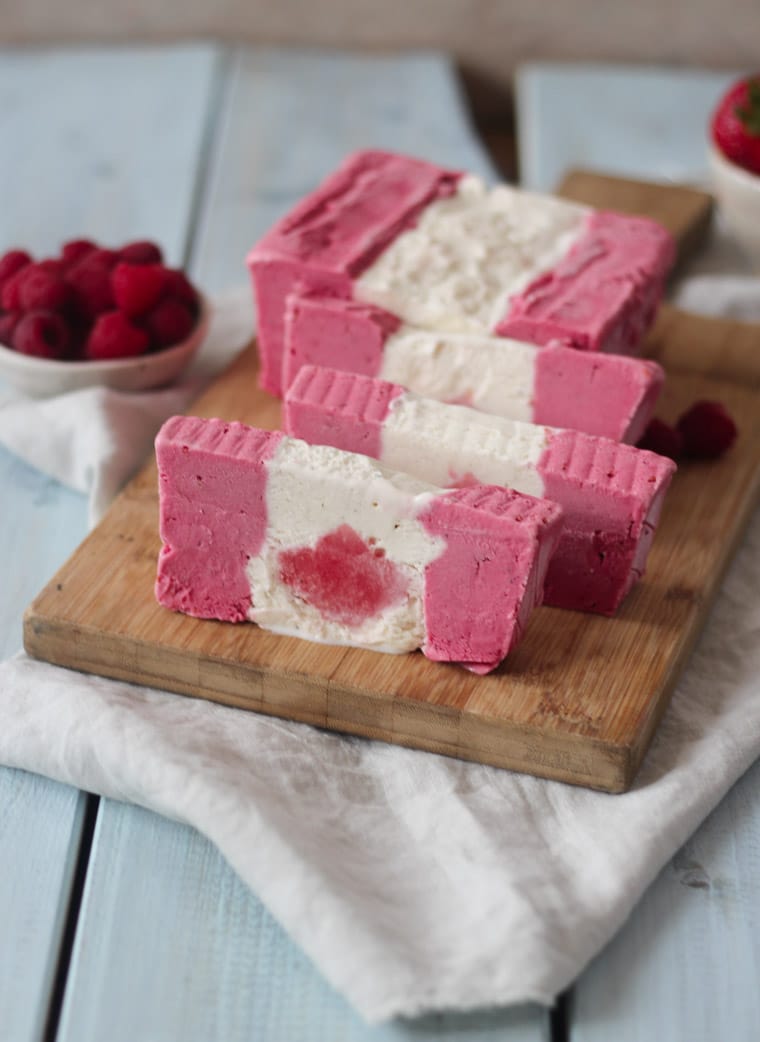 To give this Vegan Ice Cream Semifreddo a healthy makeover, I'm using coconut ice cream, watermelon and raspberries. It's crazy easy but it looks DAMN impressive. It takes a few steps so that you can get the layers right, but OMG. When you unmold this bad boy- BAM. Get ready for the instagram likes.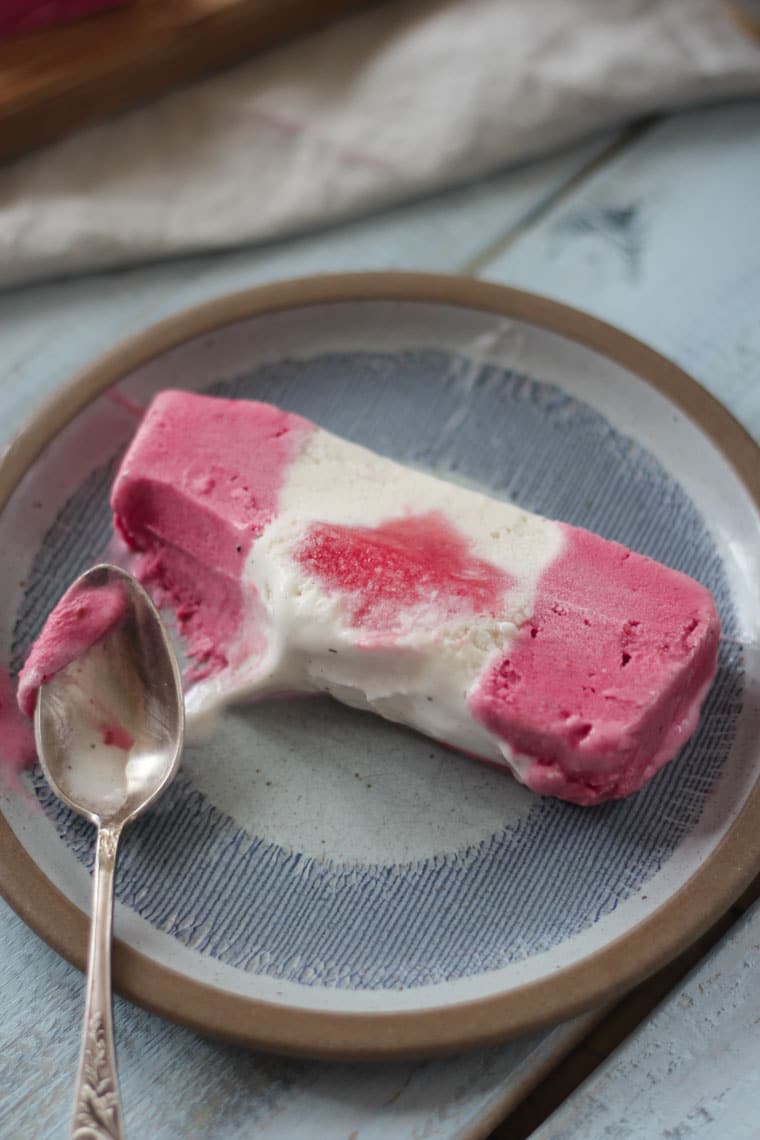 So friends, get the hell out of the kitchen and get onto the dock with a slice of this delicious vegan ice cream semifreddo. Happy birthday Canada- you are legit the best and you DESERVE this bad ass ice cream cake.
Now tell me, what are your plans for Canada Day? What will your menu look like? Comment below with your thoughts!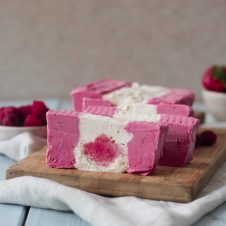 Canada Day Vegan Ice Cream Semifreddo with Coconut and Raspberries
This Canada Day vegan ice cream semifreddo is the perfect dessert to bring to a party and is surprisingly easy to make.
Print
Pin
Rate
Ingredients
1/4

seedless watermelon

7

cups

coconut ice cream

(vegan)

1

cup

frozen or fresh raspberries
Instructions
Slice the watermelon into 1/2 inch slices. Using a 1 1/2 inch maple leaf cookie cutter, slice leaf shapes and set aside.

In a food processor or blender, puree 4 cups of the coconut ice cream with the frozen raspberries until smooth.

Line a 9 x 5" loaf pan with plastic wrap. Cut two pieces of cardboard or card stock to fit the length the loaf pan. Cover the cardboard in plastic wrap and place them about 1 1/2 inches from the long sides of the pan. Fill the sides with the pink raspberry coconut ice cream. Place in the freezer for 30 minutes. Then carefully remove the cardboard and put a thin layer of the white coconut ice cream into the centre. Line the maple leaf cut outs all in a row with the top point facing down, nestled into the ice cream. Then fill the rest of the space around and above the pieces with more ice cream. Freeze for at least 4 hours or until solid.

Using a warm knife, slice the semifreddo into slices and enjoy.
Nutrition
Updated on June 24th, 2020