Between Christmas, Valentines Day and Easter, I am pretty much always looking for a new reason to make a chocolate recipe. Okay, so sometimes a Tuesday is a good enough excuse for me. Unfortunately, the holidays tend to be indulgence overload as is, so I'm all for finding healthier ways to get my fix. I also love creating better-for-you treats like Vegan Chocolate Truffles to give out as holiday hostess gifts and entertaining gifts.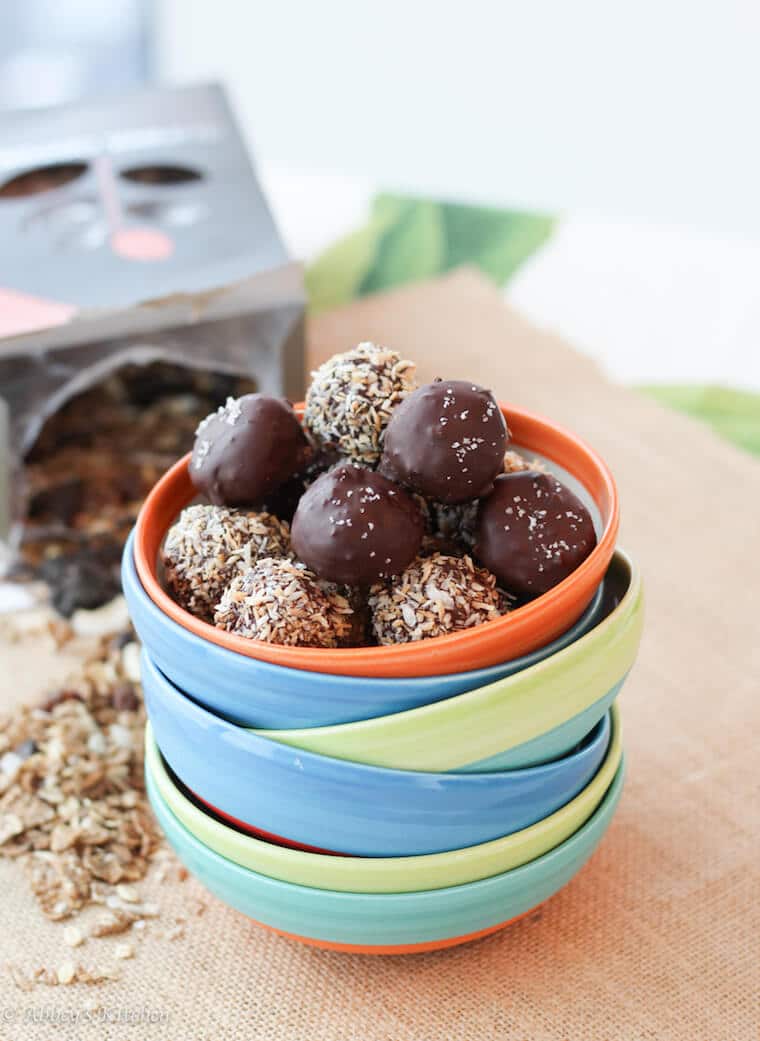 But let's get real here, folks. Life tends to get a wee bit hectic whenever big family meals sneak into the calendar. We've got parties, and recitals, and obviously work doesn't stop. Wouldn't it be nice to make desserts and holiday gifts quickly on the fly? Listen up, my darling bunnies, you are in luck.
I made these bad boys out of all of my favourite healthy pantry staples. These vegan chocolate truffles combine all natural almond butter, vegan dark chocolate, toasted coconut and my favourite breakfast cereal, Dorset Cereals Muesli. I am obsessed with the Super High Fibre variety- it has yummy whole grain cereals, coconut, raisins, dates, sunflower seeds, and hazelnuts. OMG. It's really good. The muesli is sweetened just with the dried fruit, is super low in sodium, totally vegan and packs 5 grams each of fibre and protein per serving. It usually makes its appearances at my breakfast table sprinkled on Greek yogurt or cottage cheese, but I had a hunch it would make a crazy good treat.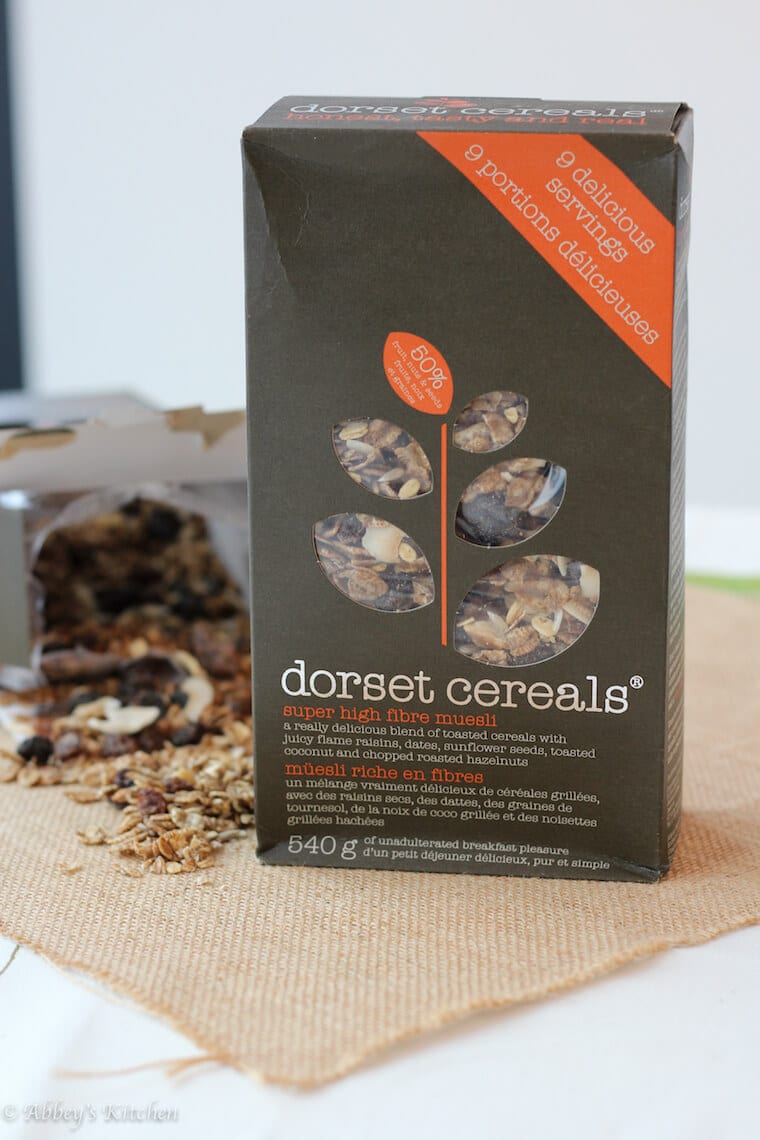 Vegan Chocolate Truffles Made Healthy
Step one- make a decadent, yet still super healthy filling for my vegan chocolate truffles. I love that these truffles are both chewy and crispy with these teeny tiny little crackly bits from the nuts, grains and seeds. If you kept them naked, they would make awesome post-workout protein bites, but with Easter coming, I'll take any excuse for a chocolaty treat.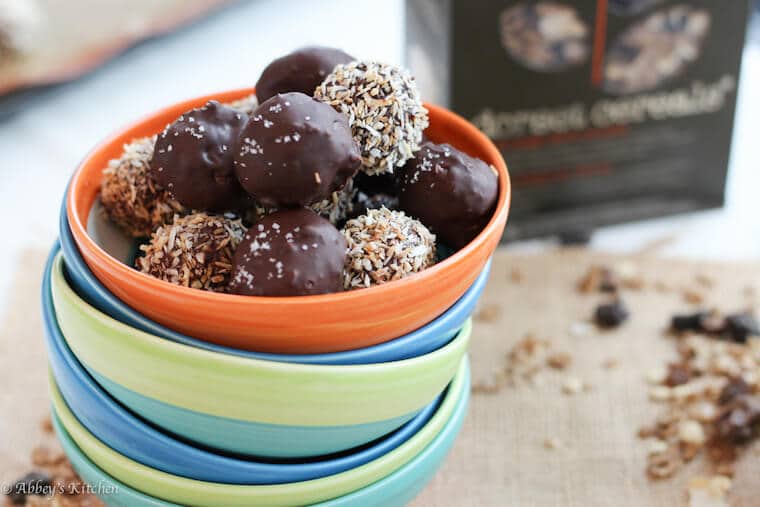 Naturally, I go with the good quality dark stuff for these, and make sure it's labeled vegan if you follow a plant-based lifestyle. Dorset Cereals Muesli is already totally vegan, so it's the perfect base for these bite size vegan treats. Then, I top those babies off with a little sprinkle of toasted coconut or fleur de sel and bam- talk about a pick me up. Throw away those cheap-o marshmallow peeps and hollow drug-store bunnies, these Muesli Vegan chocolate Truffles are all you need.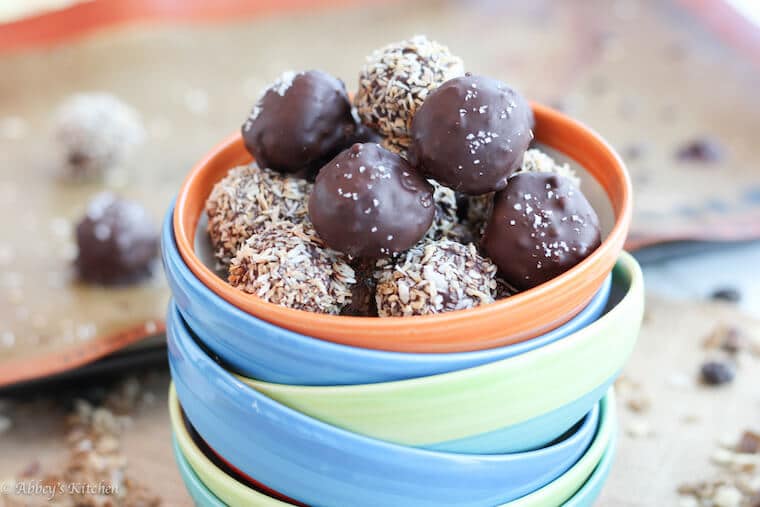 If you have some fun recipe ideas of your own using Dorset Cereals, you can enter to win an amazing gift basket of Dorset products and a Scandinave Spa Gift Card! Simply follow Dorset Cereals on Pinterest, create a Dorset recipe board, pin your Dorset recipes to the board and hashtag #DailyDorset in the board description and comment your boards URL on Dorset Cereals Canada Recipe Board. To get all of the important details, check out their website here.
What are some of your favourite guilt free ways to crush a chocolate craving? Have you tried these vegan chocolate truffles?
Disclaimer: This recipe was developed in partnership with Dorset Cereals, however, as always, all opinions are genuine.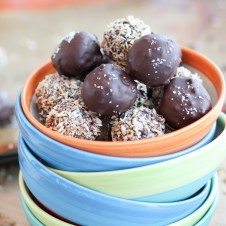 Muesli Vegan Chocolate Truffles
I love these decadent tasting easy vegan chocolate truffles that are free of any butter or cream, and loaded with healthy high fibre muesli.
Print
Pin
Rate
Instructions
In a food processor, process the Dorset Cereals Super High Fibre Muesli until it starts to break into smaller flakes and pieces. Add in the almond butter, chocolate, raisins and coconut sugar and process until very smooth and moist.

Line a baking sheet with parchment paper or a silicon mat and roll the balls into 2 tablespoon balls. Place on the baking sheet and freeze for at least 20 minutes.

Meanwhile, fill a saucepot up with 1 inch of water and heat on medium. Place the chocolate and coconut oil in a heat proof bowl on top of the pot and simmer until the chocolate gently melts.

Once the balls are set and cold, place the coconut into a dish or bowl. Dunk the balls into the chocolate and either roll in the coconut or jus sprinkle with fleur de sel before setting back onto the baking sheet. Allow the chocolate to set at room temperature, in the fridge or in the freezer. Enjoy!
Nutrition
Updated on January 9th, 2018