This is the best tofu marinade I have ever tried – perfect for making tofu in different ways including grilled, baked, or panfried and so much more!
I am all about having simple go-to recipes to make meals easier so a classic stand-by marinade is one of those recipes you need in your repertoire. I have a whole blog post on different chicken marinades but I wanted to stretch my culinary skills and bring you a fool proof tofu marinade that would blow your MF socks off.
Why you need to marinate tofu (or anything)
Marinades typically serve two roles – flavour and in some cases, tenderization. Tofu doesn't need to be tenderized the way that some tougher cuts of meat might, but man, it definitely needs to be flavoured. Tofu on its own tastes a bit like, well, nothing. It is literally begging for a good marinade, glaze or sauce.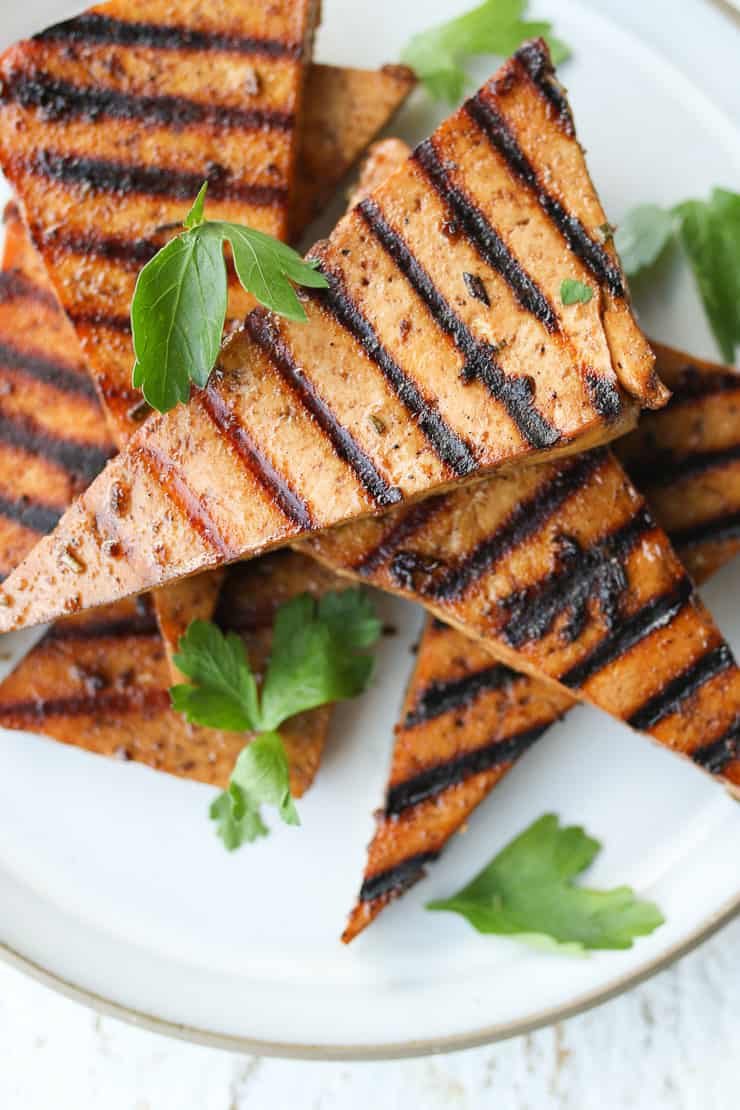 Key Ingredients for the best Tofu Marinade
Extra virgin olive oil– I prefer olive oil for the health properties, and it also goes nicely with the balsamic flavour. But you can also use a more neutral oil like canola or avocado if you prefer.
Balsamic vinegar – I am obsessed with balsamic vinegar and because you will taste the vinegar I recommend using a good quality one.
Low sodium gluten free tamari – Tamari or soy sauce will work, even coconut aminos works! But if you want to keep this recipe gluten free, you'll want to avoid soy sauce.
Maple syrup – I love the richness of maple syrup, but you can use coconut sugar, honey or agave!
Fresh rosemary– I am all for dried herbs and spices, but some herbs just do not lend themselves nicely to drying and rosemary is one of them. Dried rosemary just has no flavour in my experience, so I always recommend fresh when available.
Grainy dijon mustard – If you can't find a grainy mustard, a regular dijon will work, but I do find that some dijons are really pungent while the grainy dijon is a little more mellow and rounded out. Your call though!
Garlic powder – You can use fresh garlic here, but be warned that if you cook your tofu on a high heat (like pan-frying or grilling), there's a good chance those pieces of garlic will burn. So I do typically recommend powder for this marinade.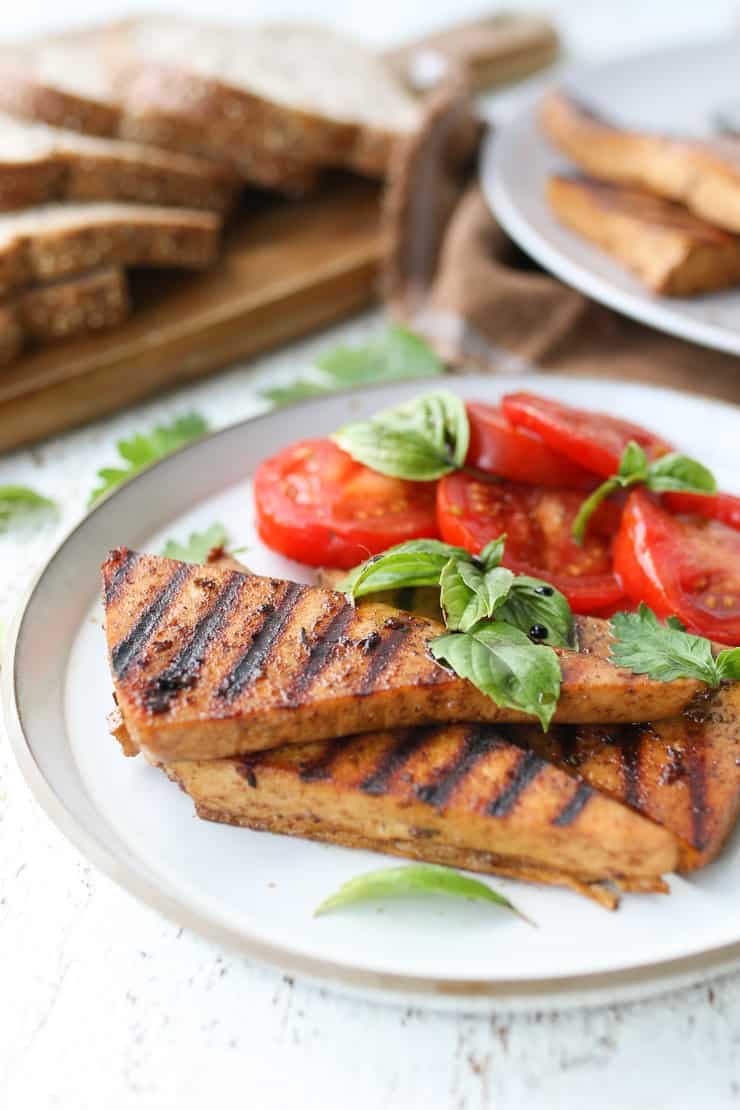 How to Cook Your Marinated Tofu
The awesome thing about this recipe is that it's really super versatile and can be prepared a multitude of ways, depending on your needs.
The first step, before you even marinate your tofu is to press it for at least 30 minutes. Pop the tofu on a baking sheet lined with paper towel or kitchen towel. Top with more towel, and a few heavy objects like cast iron skillets or books) and allow to sit for 30 minutes.
Then put all your marinade ingredients in a bag, add the tofu and refrigerate for 2 hours.
Then you can move onto your preferred cooking method.
Baking Instructions
Preheat oven to 425 F. Place the marinated tofu on a baking sheet and bake for 30 minutes, flipping half way through. If you want the tofu extra crispy, you can broil for 2-3 minutes at the end.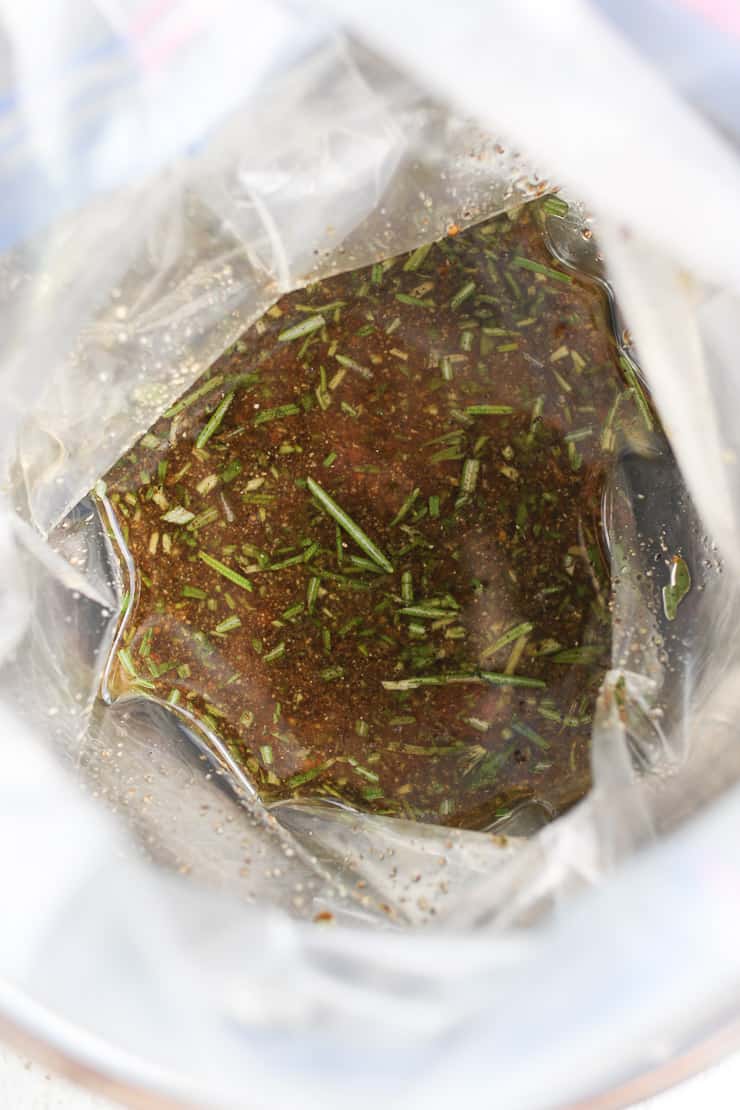 Grilling Instructions
Preheat grill to medium heat. Cook the tofu until grill marks appear on each side, about 5 minutes per side.
Pan-frying Instructions
Add a tablespoon of olive oil, or canola oil to a large cast-iron or nonstick skillet over medium high eat. Add to the hot pan and cook on each side for 4 minutes until golden brown. If you want, you can add a drizzle of the reserved marinade to the pan and coat the tofu.
What to Serve with this Tofu
I love this tofu with grilled or roasted asparagus, steamed green beans, roasted potatoes or a baked sweet potato. It's also really delicious with a fresh tomato salad if you want to keep it summery and light. This recipe for balsamic roasted brussels sprouts with figs and grapes also makes an amazing accompaniment.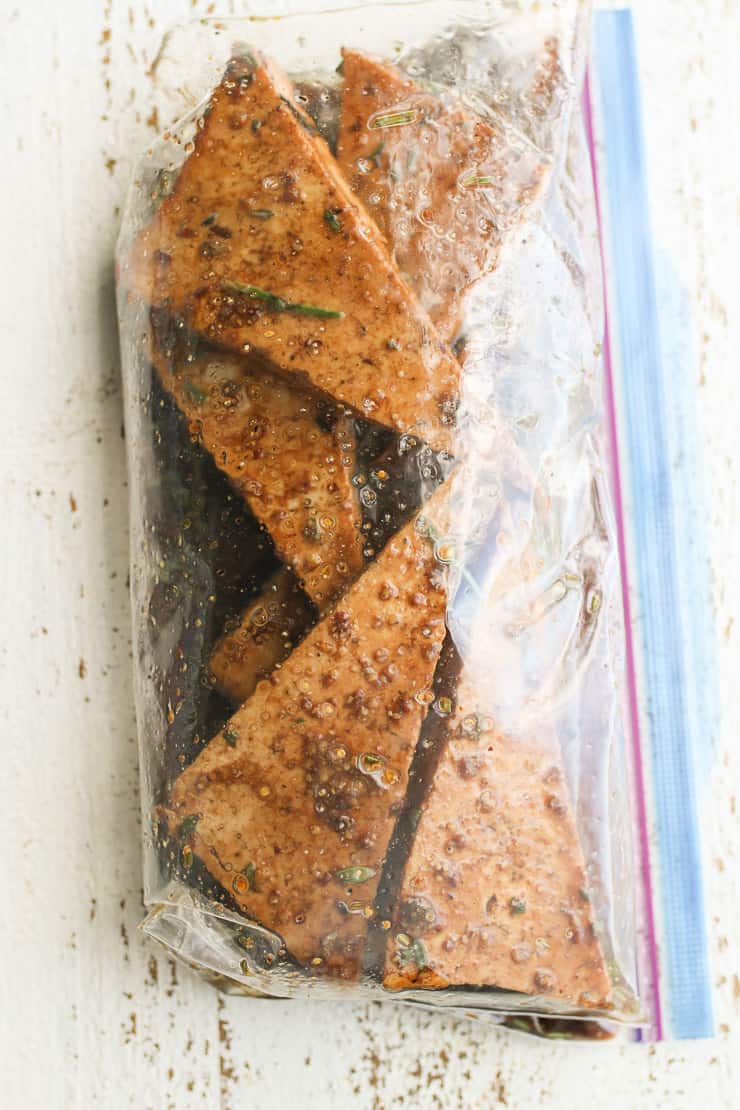 FAQ about this recipe
Here are some of the most commonly asked questions about this recipe.
Is this gluten free and vegan?
Yes, as long as you use a gluten free tamari this marinade will remain gluten free and vegan.
Is this kid-friendly and safe for baby led weaning?
Tofu is an easy to eat option for babies because it's soft, it's something they can pick up (for baby led weaning) and it's typically pretty flavour neutral. It's also great for introducing soy which is one of the top allergens (check out this post if you want to learn how to introduce your baby to allergens). This marinade is naturally sweet and not spicy so kids do like it, but do keep in mind there is sodium in it (from the tamari) so you might want to just go easy on it for brand new baby eaters.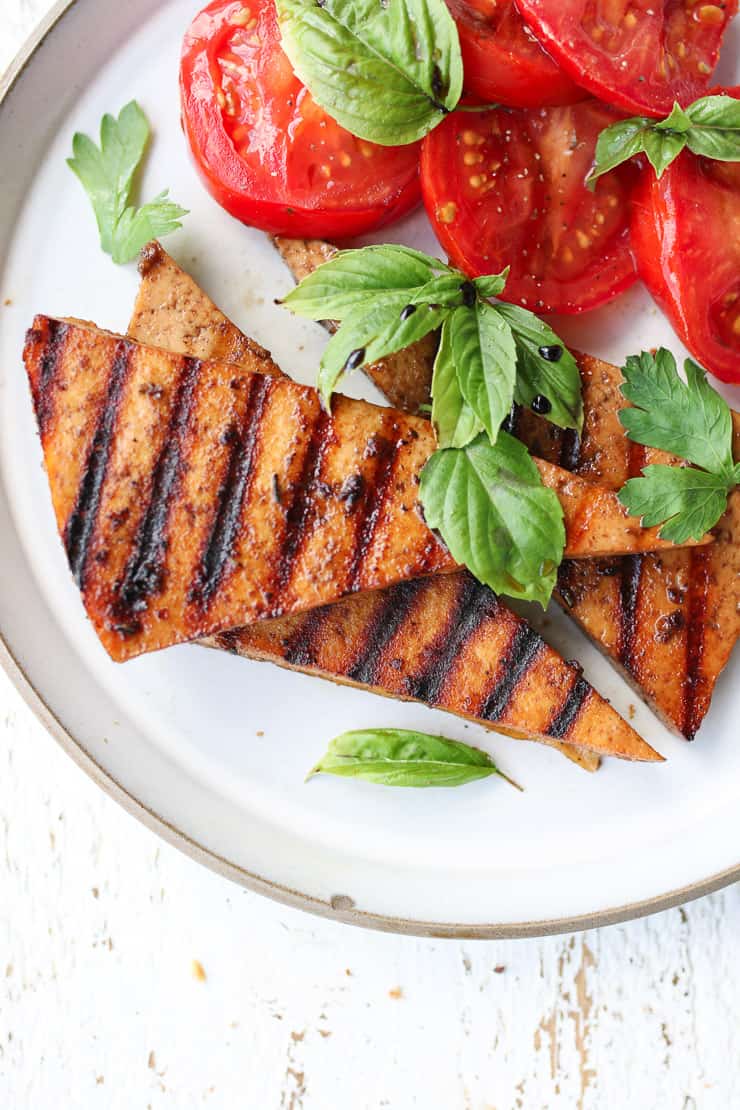 Can i make this ahead and freeze the tofu in the marinade?
You can absolutely make a bunch of these marinated tofu packs and keep them in the freezer ready to be pulled out and thrown on the grill. I would allow them to thaw in the fridge for a few hours or overnight before it's time to cook just so the marinade doesn't burn before the tofu itself is cooked through. These will last about 9 months in the freezer.
What can i do with the marinade so i don't waste it?
You can make an amazing glaze or sauce for your tofu (or chicken or veggies) by pouring the marinade into a saucepot and boiling it over medium high heat until it reduces down to a thick syrup. To thicken it faster, you can mix a teaspoon of cornstarch with 2 teaspoons of water and add that into the marinade as it cooks.
other great tofu recipes
I am always looking for flavourful ways to enjoy tofu, so check out these options!
Vegan Sriracha Grilled Tofu with Pineapple Skewers
Vegan Tofu Tacos with Peanut Sauce
Crispy Baked Buffalo Tofu Sticks with Ranch Dip
Everything Bagel Vegan Tofu Nuggets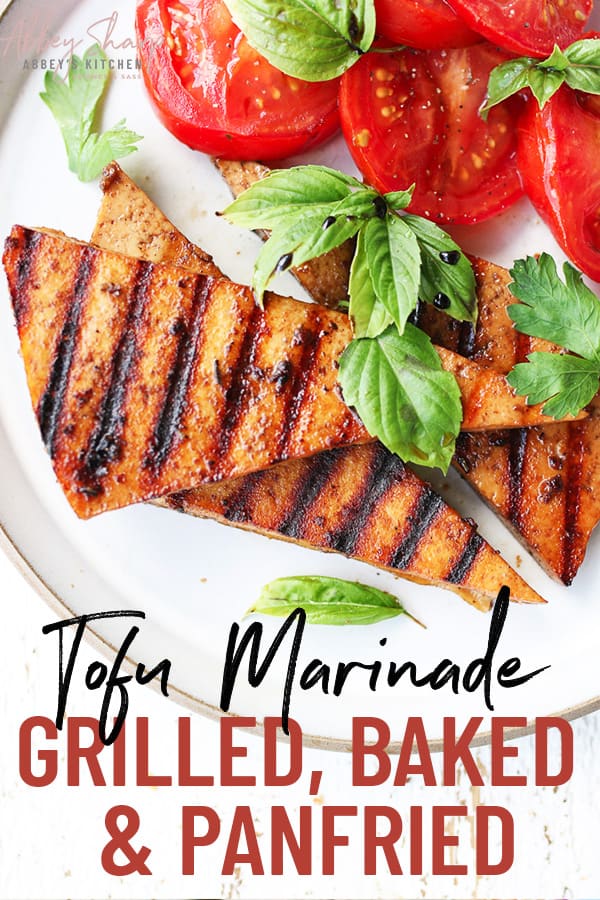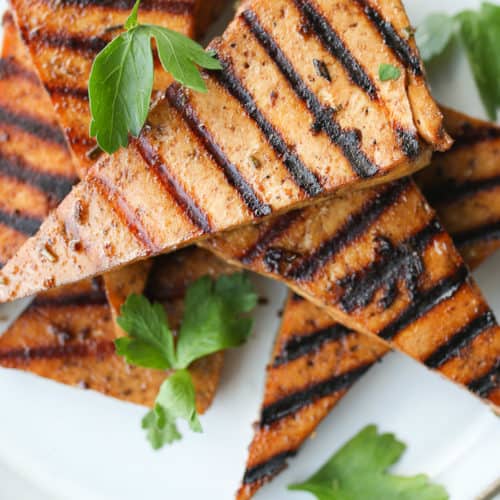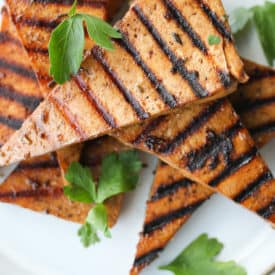 The Best Tofu Marinade (Grilled, Baked, Panfried)
This is the best tofu marinade I have ever tried - perfect for making tofu in different ways including grilled, baked, or panfried and so much more!
Print
Pin
Rate
Ingredients
1 350

g

block extra firm tofu

cut into thin triangles or cubes

1/4

cup

extra virgin olive oil

1/4

cup

balsamic vinegar

2

tbsp

low sodium gluten free tamari

¼

cup

maple syrup

2

tsp

fresh rosemary

minced

1

tbsp

grainy dijon mustard

1/2

tsp

black pepper

1

tsp

garlic powder

Oil for cooking

optional
Instructions
Cut the tofu into desired shape, then place it on a baking sheet lined with paper towel or kitchen towel. Top with more towel, and heavy objects and allow to sit for 30 minutes.

Meanwhile, in a plastic bag, mix together the oil, balsamic, tamari, maple, rosemary, mustard, pepper and garlic. Add the tofu and allow to marinate in the fridge overnight or at least for 2 hours.

Cook on the grill over medium heat until grill marks appear on each side, about 5 minutes per side. To pan-fry, cook in a large nonstick or cast-iron skillet over medium high heat with a tablespoon of oil for 4 minutes per side. To bake, preheat oven to 425 F and cook for 30 minutes, flipping half way through. You can also broil it for 2-3 minutes to get it extra crispy. Enjoy!
Nutrition
Calories:
328
kcal
|
Carbohydrates:
26
g
|
Protein:
10
g
|
Fat:
20
g
|
Saturated Fat:
3
g
|
Sodium:
494
mg
|
Potassium:
296
mg
|
Fiber:
1
g
|
Sugar:
21
g
|
Calcium:
71
mg
|
Iron:
2
mg