This 2 ingredient easy balsamic glaze is perfect for desserts, meats, cheese, salads, and everything in between! You will wonder what you ever did without it!
A lot of people talk about how they have a sweet tooth or are more a salty person. I love acid. I love lemons and limes, and I really love balsamic vinegar. There's something super satisfying about the combination of sweet and sour, so balsamic glaze is a staple ingredient in my pantry. Yes, you can buy it, but when it's so impossibly easy to make it yourself, you'll wonder why a store-bought version could ever do.
What is Balsamic Glaze?
Balsamic glaze is a thicker, sticker reduced down version of balsamic vinegar, usually with the addition of some kind of sugar to turn it into a syrup. It looks a bit like molasses, slow moving and sticky.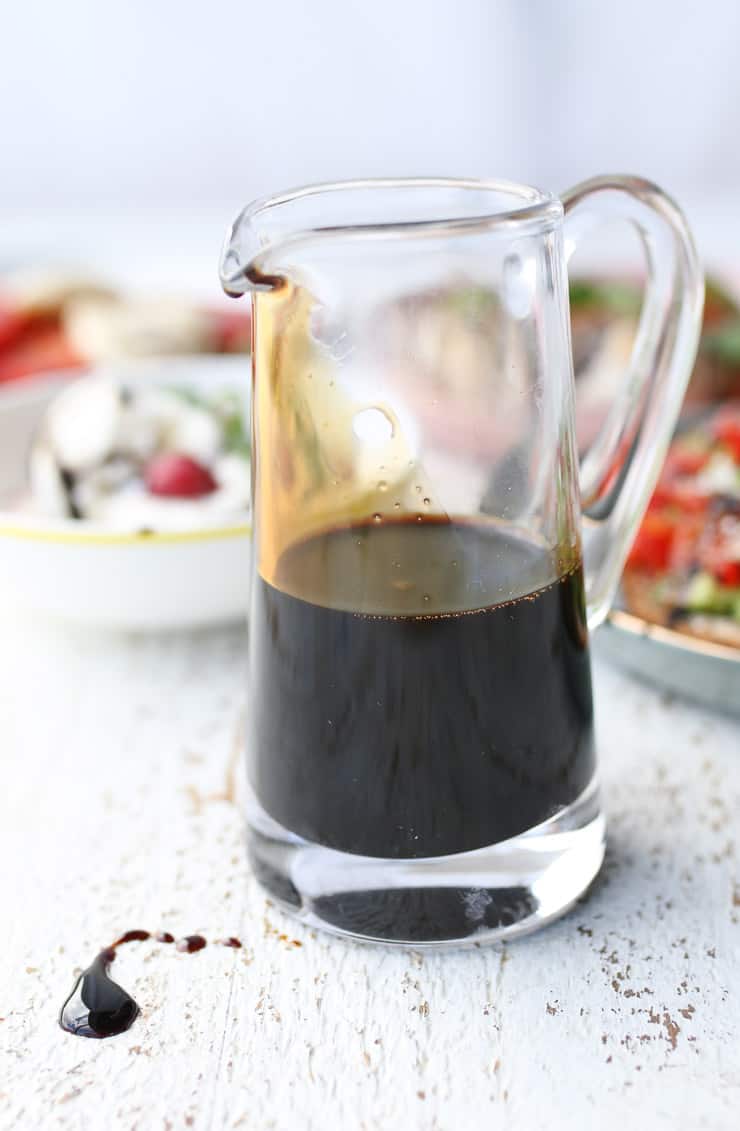 How do you make it?
It's a simple two ingredient recipe that involves boiling balsamic vinegar until it reduces down, along with maple syrup until it easily coats the back of the spoon.
How do you know the balsamic glaze is ready?
You will want the glaze to reduce by half (but not much more, so take note of what you're starting with) since it can easily burn if it gets too low. You'll want to see it coat the back of a spoon and drizzle slowly off of a spoon (but not in thin strands which could denote that it's become too hot and will set into candy.)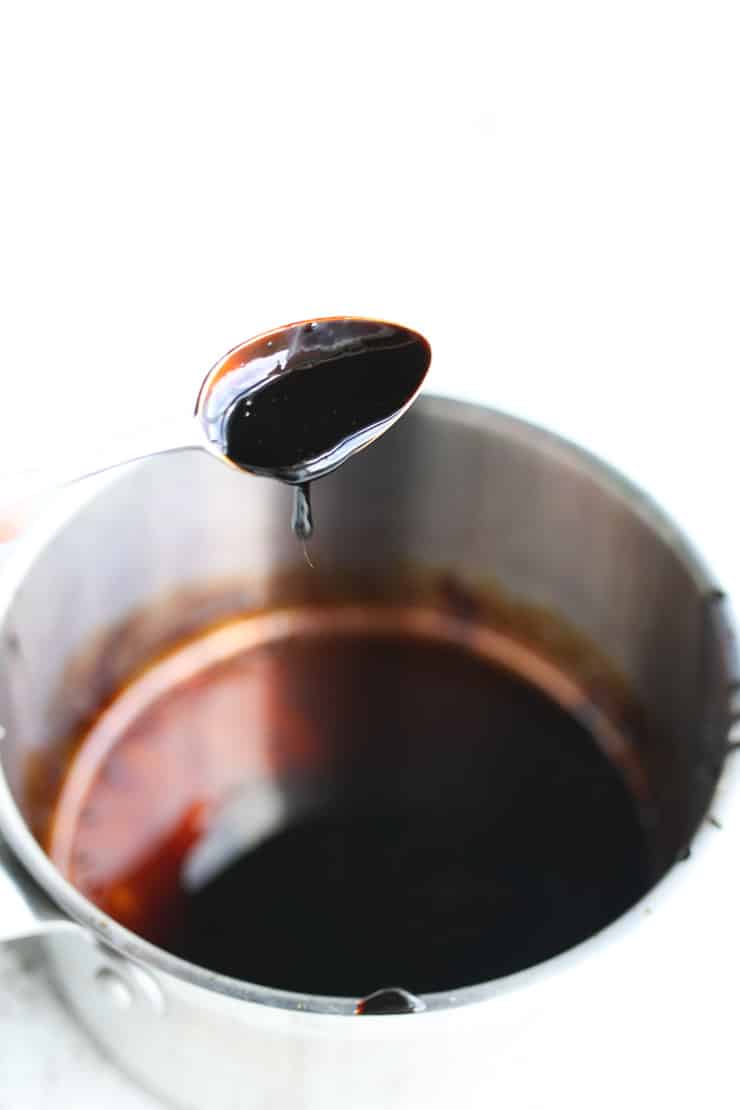 What can I put it on?
There are so many delicious things I use balsamic glaze for. Here are some of my favourites:
Ice cream
Caprese salad (or any salad, really)
Chicken breasts or skewers
Pork loin
Strawberries or other fruit
Savoury or sweet tarts
Bruschetta
Avocado toast
Cheese platter accompaniment
Watermelon
Prosciutto and Cantaloupe
Pizza or flatbread
Sweet potatoes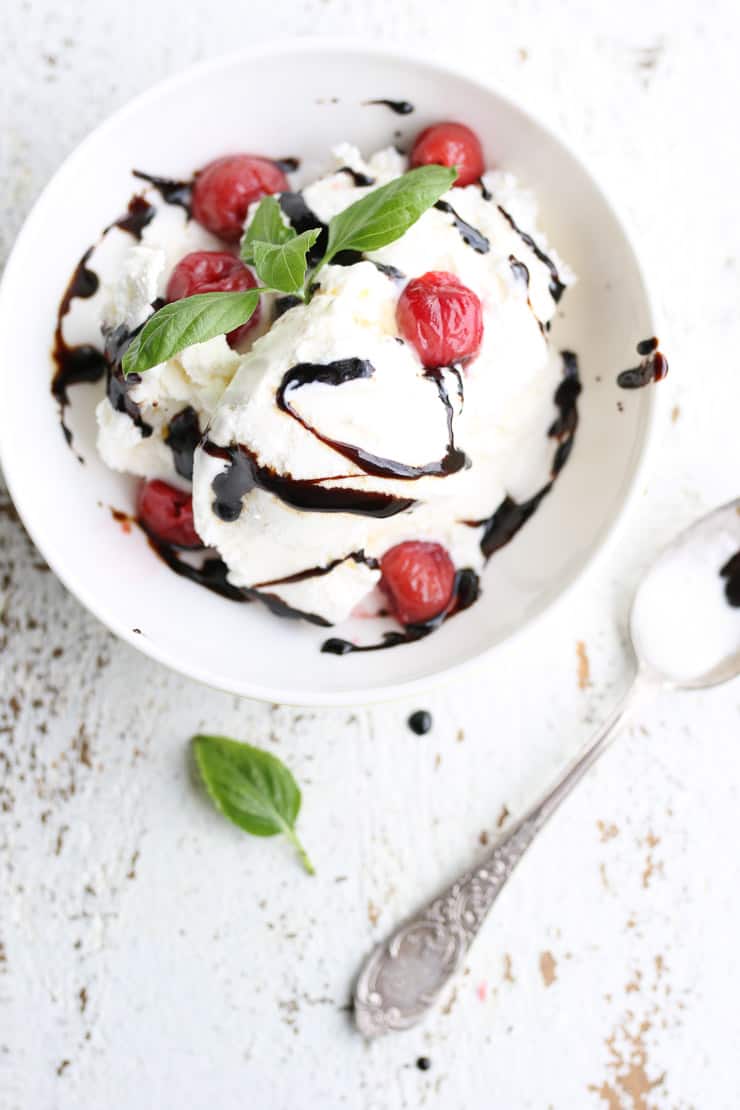 Best way to easily clean the sticky pot
This is the "hardest" part of this whole process. Cleaning the pot. Ugh admittedly, cleaning is not my forte. But you would just need to fill the pot with water, and bring it to a boil. Once it's boiling, most of the sticky sugar will have been removed, and anything left will be so pliable you can just wipe it off.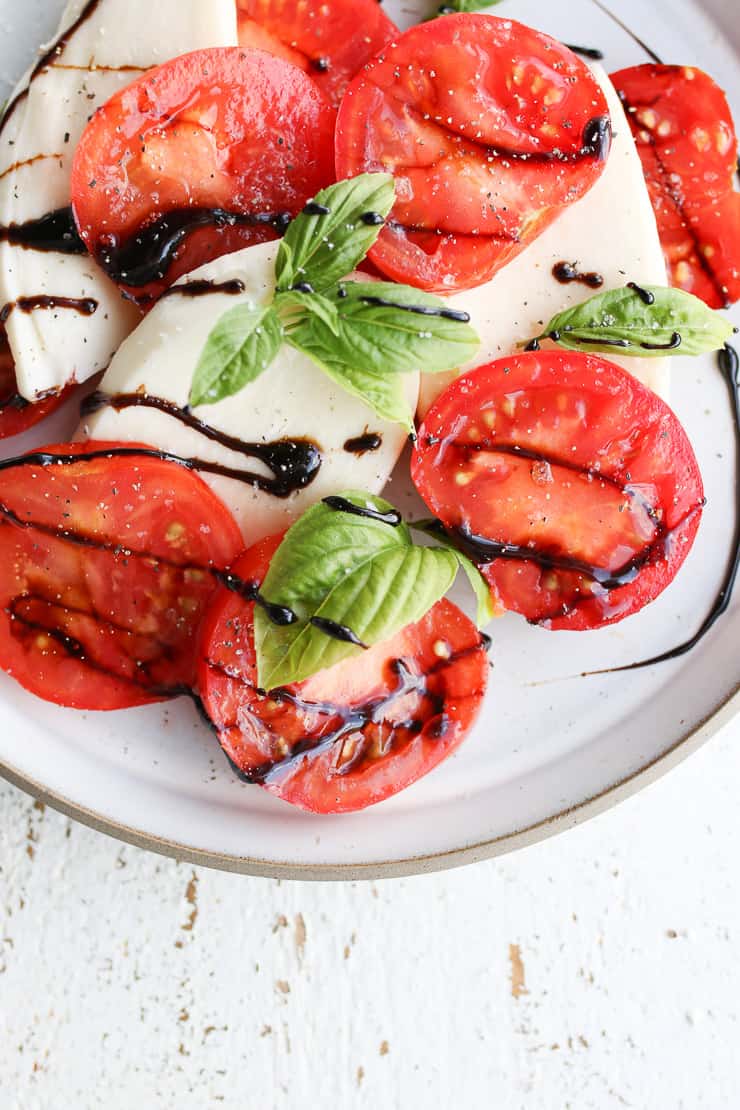 Flavour Options for your balsamic reduction
I love making this because the sky is the limit for flavour. You can throw in some thyme or rosemary sprigs for a nice earthy aromatic balsamic glaze. Or you could throw in a cinnamon stick, star anise or whole nutmeg for a sweet dessert like option. I also love adding orange or lemon rind (just peel a good chunk of it and pop it into the pot).
FAQ about this recipe
Here are some commonly asked questions about this recipe.
How to store it and how long will it last?
Assuming you didn't add any herbs or spices, this will last for a month in the fridge.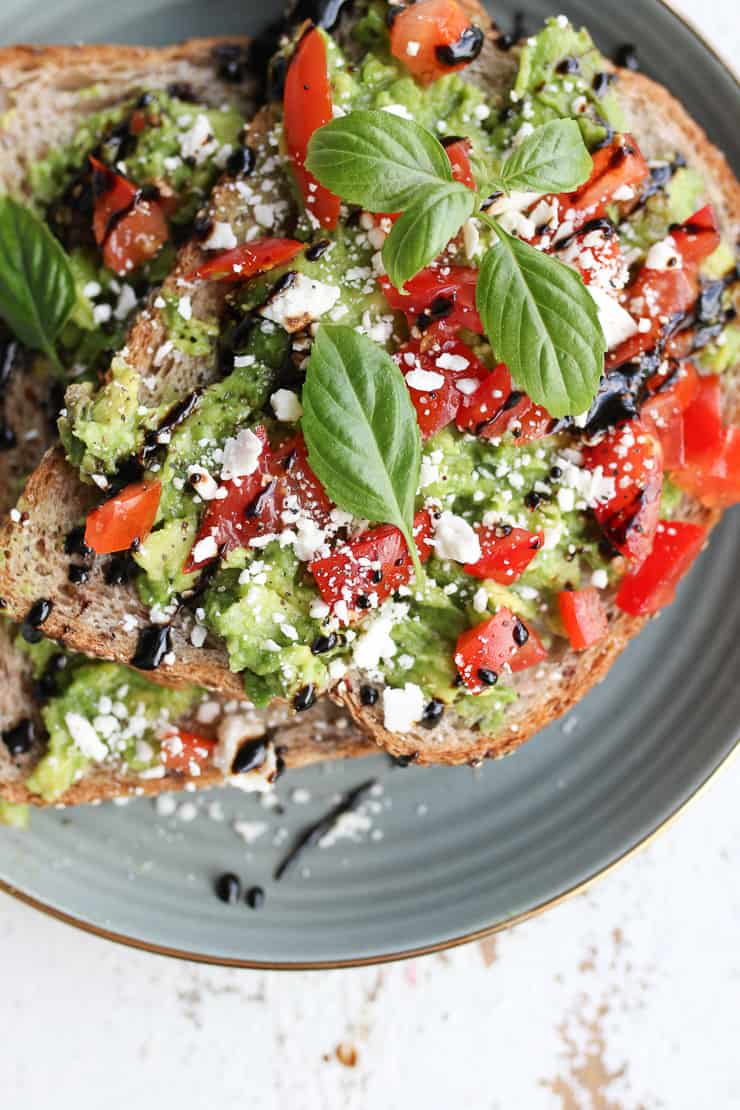 What happens if it gets too hard being in the fridge?
You can throw it in the microwave or dip the glass jar in a bowl of hot water just to loosen it up like you would a thick caramel.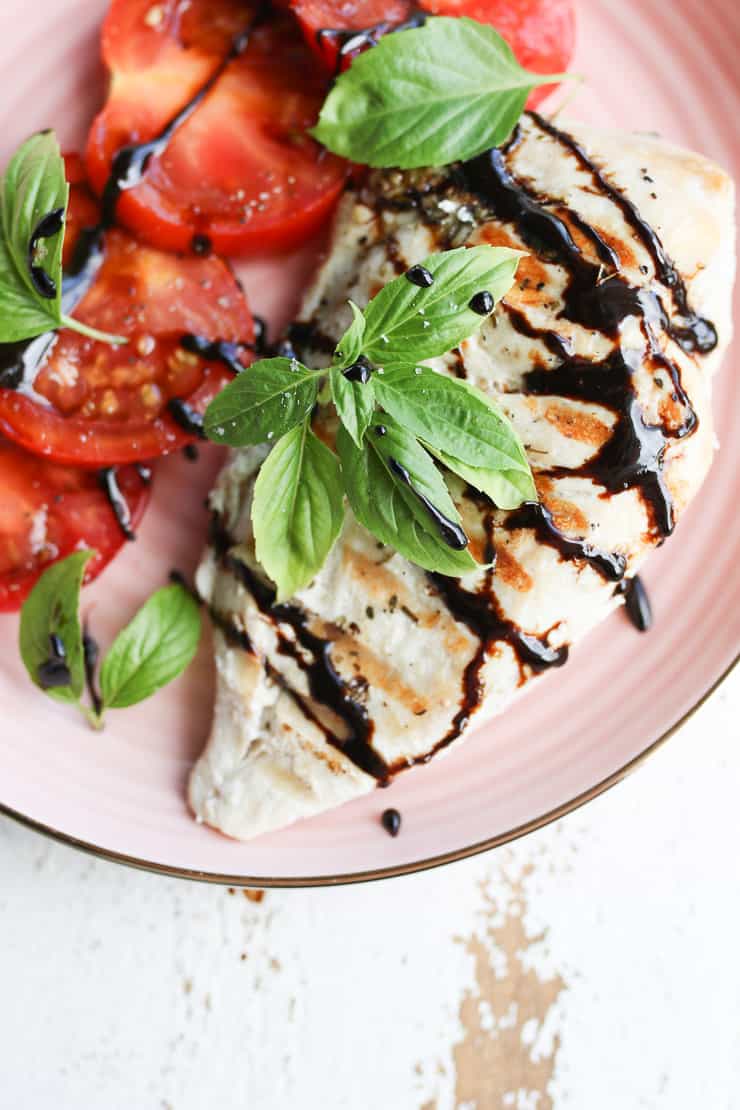 Abbey's kitchen recipes that would pair nicely with balsamic glaze
I adore balsamic on everything so here are some favourite recipes that you could easily pop it on top.
Grilled Watermelon and Avocado Salad
Prosciutto Wrapped Chicken Breasts
What are you using your reduced balsamic for? Have you tried making this easy balsamic glaze?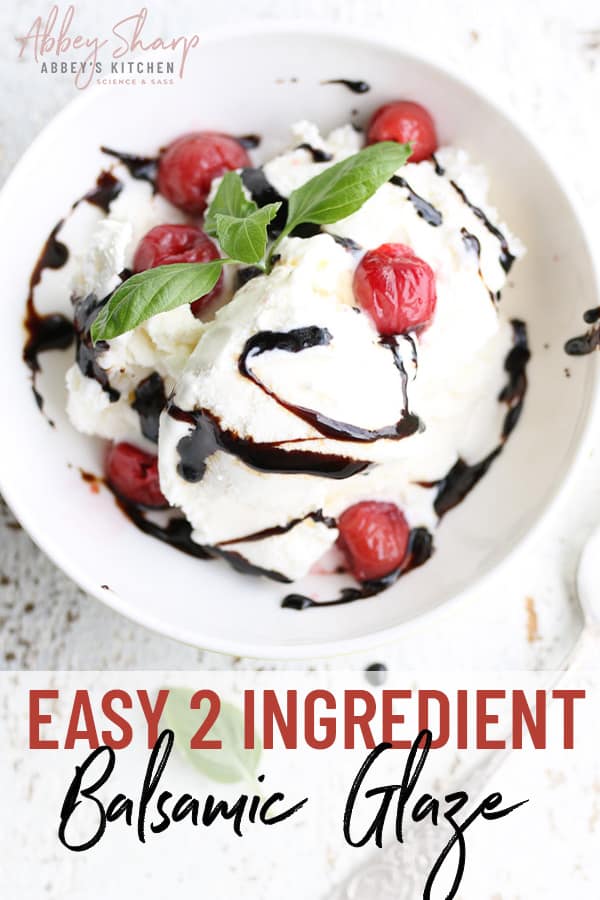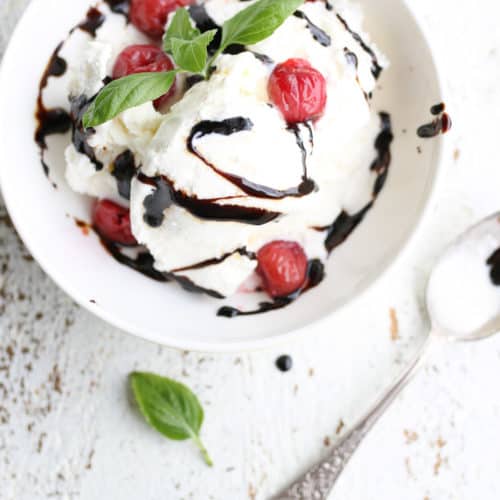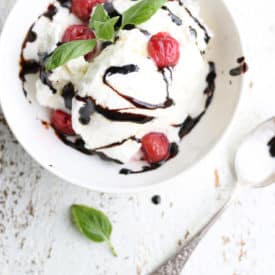 Easy Balsamic Glaze
This 2 ingredient easy balsamic glaze is perfect for desserts, meats, cheese, salads, and everything in between! You will wonder what you ever did without it!
Print
Pin
Rate
Instructions
Add the balsamic and maple syrup to a medium non-reactive saucepot over medium heat. Once you see some gentle bubbles (and it really starts to produce a strong balsamic odour), reduce the heat and let it simmer until you pop a spoon into it and it easily coats the spoon (it should reduce by half but not much more, because it can easily burn). This generally takes about 10-12 minutes on low, but definitely watch it because some stoves are hotter than others, and it can easily burn and get TOO sticky (like candy).

Allow to cool just slightly for a few minutes, then transfer to a glass jar or container and then to the fridge.
Nutrition
Calories:
442
kcal
|
Carbohydrates:
98
g
|
Protein:
1
g
|
Sodium:
66
mg
|
Potassium:
467
mg
|
Sugar:
86
g
|
Calcium:
157
mg
|
Iron:
2
mg
Updated on October 23rd, 2020