These Healthy Peanut Butter Cookies are super chewy and crispy and the perfect snack to enjoy any day of the week. They are also vegan, gluten free, low in sugar and toddler friendly!
When the fall weather hits, theres nothing I love more than filling my house with the smell of freshly baked cookies. And getting the first bite of a chewy cookie fresh out the oven? Legit heaven! So because I am totally obsessed with peanut butter (I literally eat the stuff every day), and I have copious amounts of it in the house, right before baby came I made a big batch of toddler friendly peanut butter cookies to freeze. Let's just say they've come in handy as breastfeeding fuel.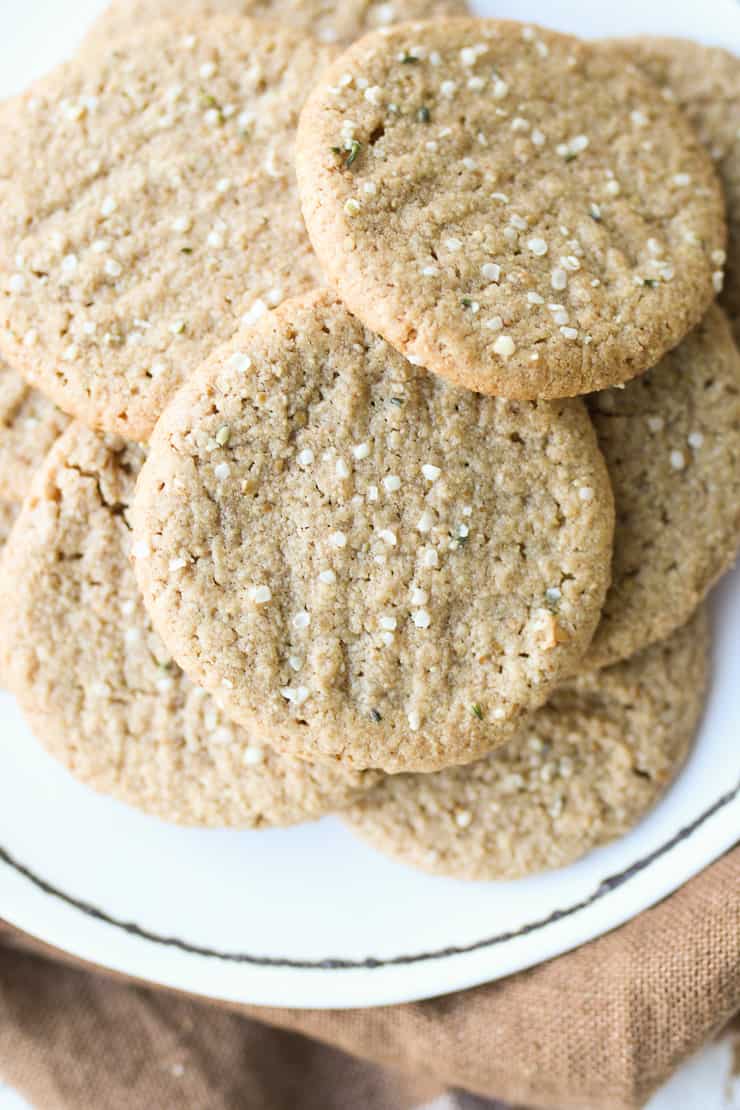 These healthy peanut butter cookies are perfectly crispy and chewy – which is everything you could want out of a homemade cookie. Not to mention – they are also loaded with healthy fats from the flax, almond flour, peanut butter, and hemp seeds.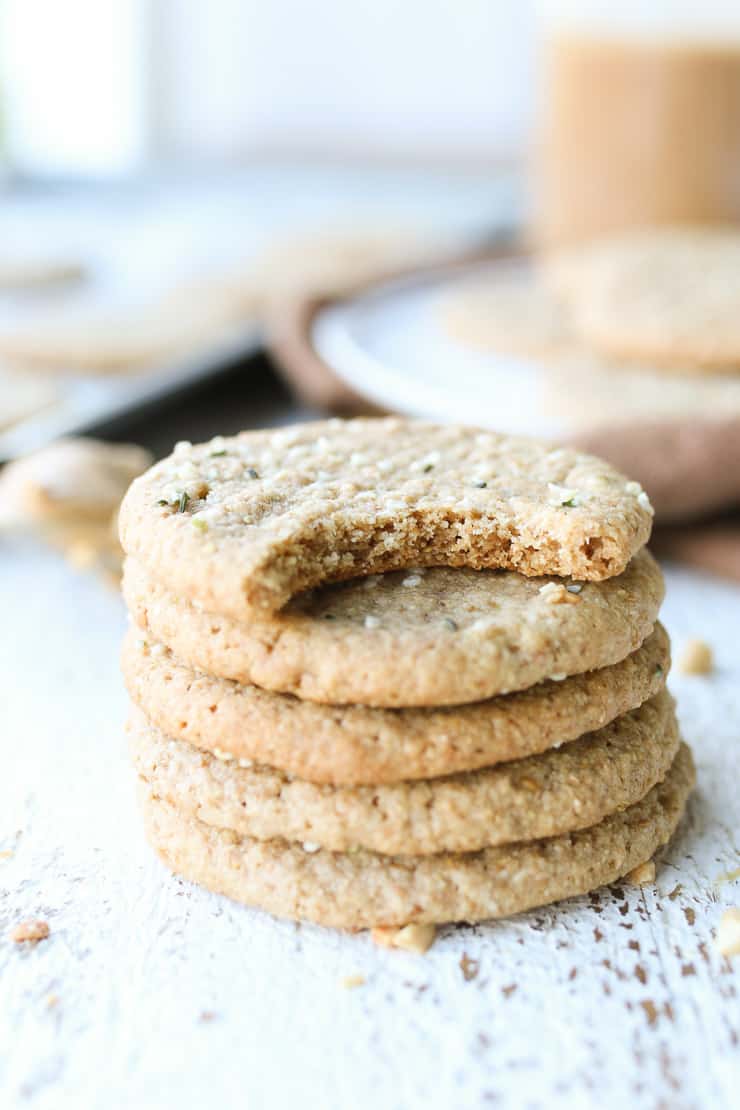 key ingredients to make these peanut butter cookies
Ground Flax – to make this recipe vegan, I use a flax egg instead of a regular egg. All you need to do is mix 1 tablespoon of flax with some water and let it sit in the fridge until it thickens. This adds a ton of healthy omega 3s, protein and fibre, and requires no eggs.
Natural Peanut Butter – Make sure to look for peanut butter that only lists "peanuts" in the ingredient list to ensure that its natural and doesn't contain any hydrogenated oils and added sugar. If you're making these for babies under 1, also choose one without salt.
Vegan Butter – This will make the cookies extra tender. Feel free to substitute for regular butter if you don't need to make these cookies vegan or dairy free.
Maple Syrup & Brown Sugar – You know, for sweetness and texture. These are cookies, after all.
Vanilla Extract, Salt & Cinnamon – All the fixings for enhancing the cookies flavour.
Almond Flour – Almond flour is basically just finely ground up almonds. I love it for making these peanut butter cookies gluten free, while also adding in some healthy fats, protein and fibre. It's a great way to slow down the absorption of sugar in baked goods so you don't get a sugar spike.
Hemp Hearts – Y'all know I put hemp hearts on everything because they're an easy way to boost up the protein, fibre and healthy omega 3 fats in my kiddo's (and my) snacks.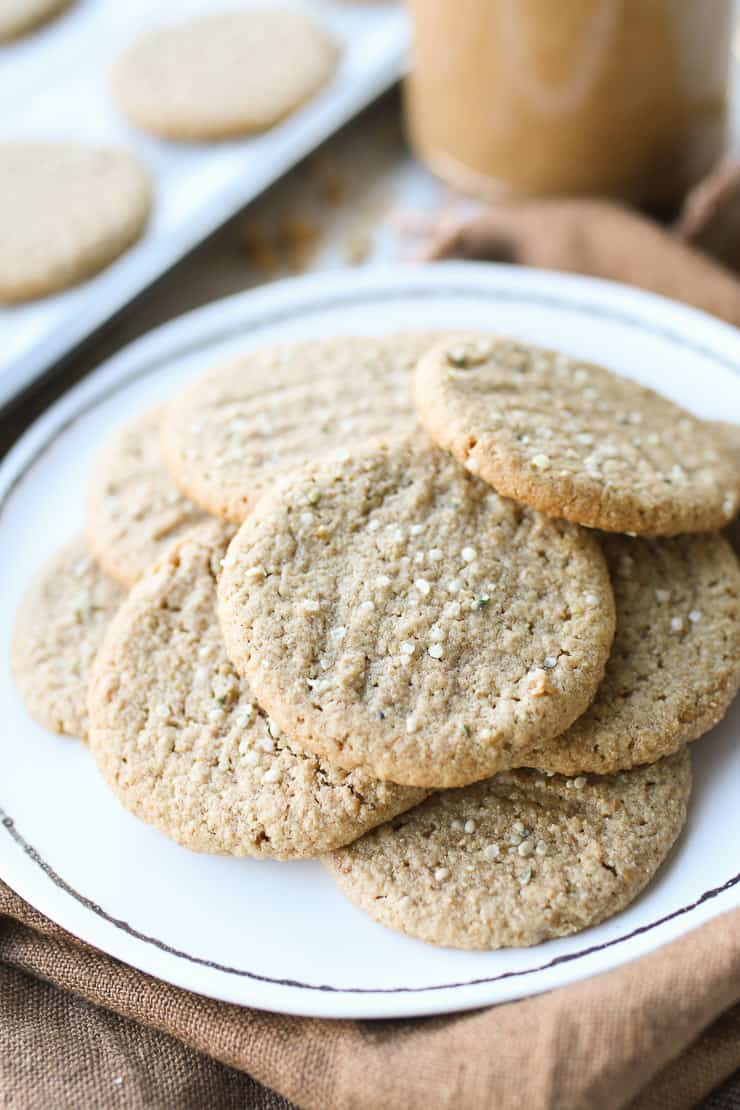 tips to make these chewy peanut butter cookies
There are three main things you need to know about these cookies.
One, you need to make sure your vegan butter is soft and not hard when you beat it with the sugar. Otherwise you won't get a uniform consistency.
Two, you need to make sure to refrigerate the batter. This will make it way easier to scoop the cookies.
And three, because these are gluten free and vegan, they're admittedly delicate cookies. They don't have as much structure as a typical cookie because the almond flour doesn't have any gluten in it. But I actually really prefer that texture because it means they're SUPER chewy and not dry. It does mean you need to allow the cookies to fully cool before you transfer them to a storage container. What happens if you break one? Um… you eat the pieces! LOL

faq about this recipe
Here are some frequently asked questions about this recipe.
Are these cookies toddler and kid friendly?
Yes absolutely! They're especially a hit with kiddos who LOVE peanut butter (like my Big Boy E). They're also lower in sugar and higher in healthy fats, protein and fibre compared to store-bought peanut butter cookies, so you can feel good about giving them to your toddler and kids. They're also really soft and chewy so they're safe for younger new eaters as well (just note that there is some added sugar).
They are not, however, allergy friendly because of the peanut butter, so I wouldn't recommend sending these in your kiddos lunch box to school. But if peanut allergies aren't an issue for your child, then these cookies would be great to enjoy at home as an after school snack.
how can i make these cookies allergy friendly if my child has a peanut allergy?
If you or your little one have a peanut allergy, you can substitute the peanut butter for almond butter instead. You can also use Sun Butter (made from sunflower seeds) or Wow Butter (made from soy) as safe alternatives, especially if you or your child are allergic to all nuts.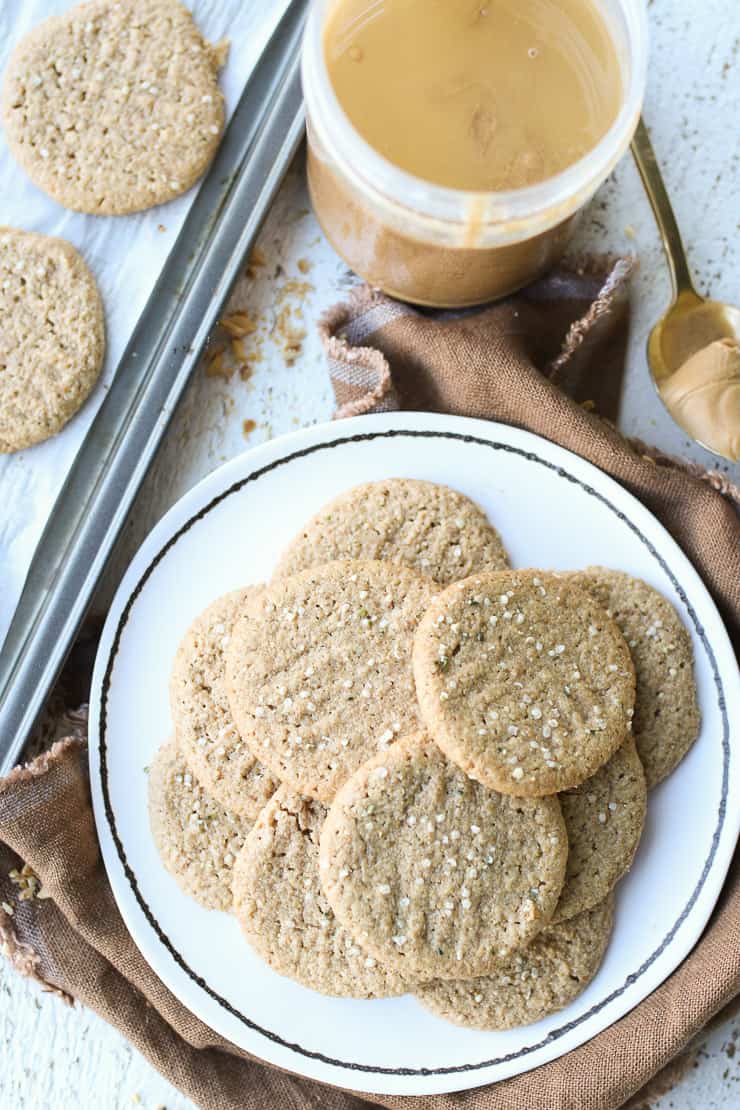 do you have any freezing tips for these cookies?
Before freezing these healthy peanut butter cookies, FULLY allow them to cool on the baking tray (I don't recommend transferring them to a cooling rack because they are very delicate). You can transfer the baking sheet to the freezer and allow them to freeze without touching for an hour. Then you can transfer them to a freezer bag. When you want to enjoy a peanut butter cookie, you can take it out of the freezer and let it sit at room temperature until thawed (they're thin so they really won't take long), or you can microwave them in 10 second intervals. These peanut butter cookies will keep in the freezer for about 3-4 months.
what makes these cookies gluten free?
To make these cookies gluten free, I use almond flour instead of a wheat based flour which is made from ground almonds. I love using almond flour because not only is it naturally gluten free, but it is also more nutrient-dense and lower in carbs than most flours – like wheat flour or coconut flour.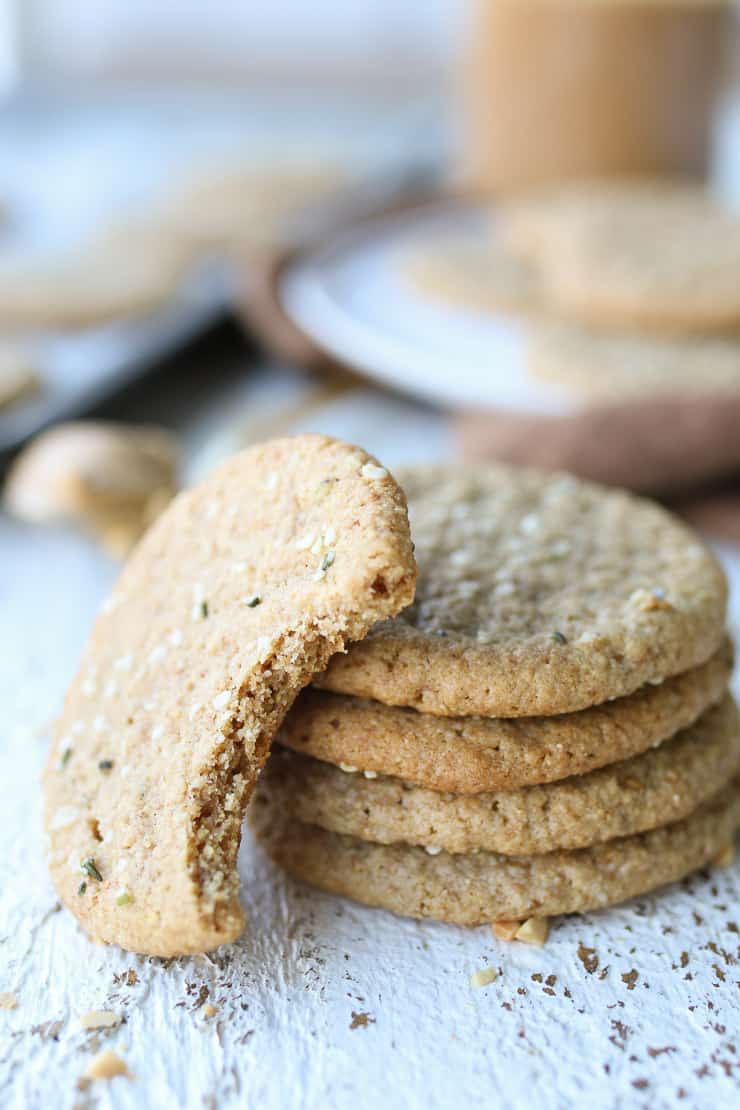 do you have any other vegan cookie recipes?
I love cookies, and so does my kiddo, so here are some family favourites we love!
Peanut Butter & Jelly Breakfast Cookies
Salted Chocolate Almond Cookies
Now loves tell me, do you love the nostalgia of peanut butter cookies? Have you made these vegan healthy lower sugar cookies? Leave me a comment below with your thoughts.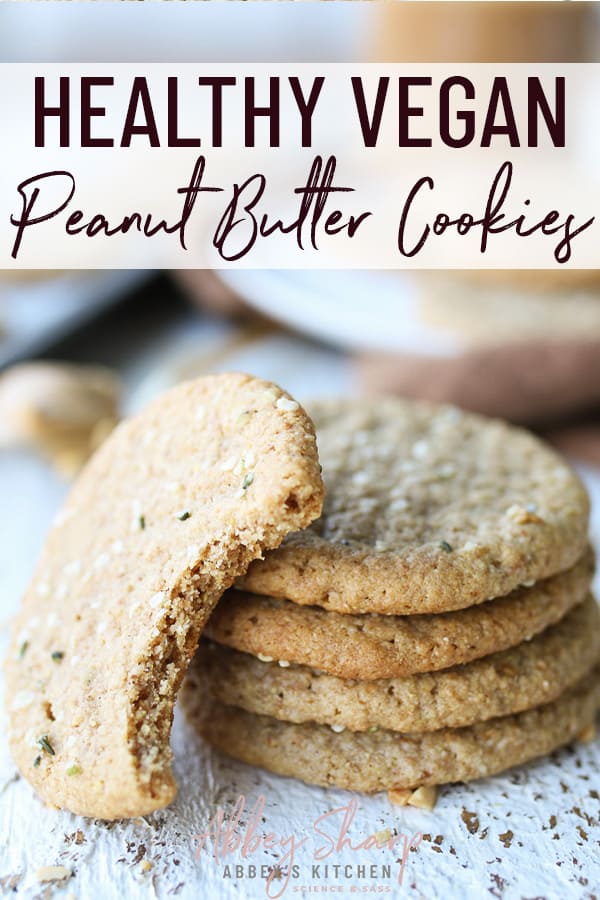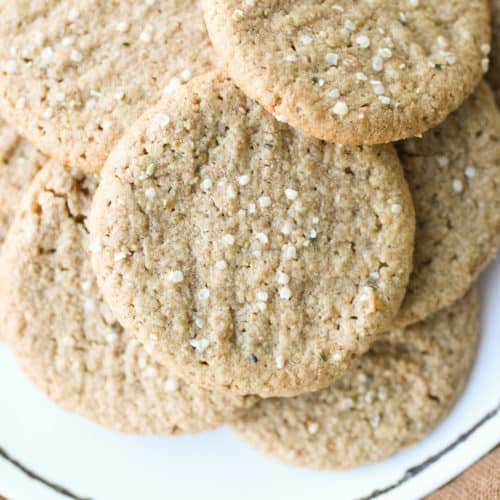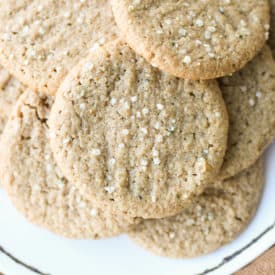 Healthy Peanut Butter Cookies
These Healthy Peanut Butter Cookies are super chewy and crispy and the perfect snack to enjoy any day of the week. They are also vegan, gluten free and toddler friendly!
Print
Pin
Rate
Instructions
Mix together the 1 tbsp flax with water in a small ramekin and sit in the fridge for 15 minutes to set as a flax egg.

In a medium bowl, mix the peanut butter, butter, maple, and sugar. Beat using electric beaters until fluffy and combined.

Add the flax egg and vanilla and beat until combined.

In another large bowl, mix together the almond flour, flax, baking soda, baking powder, cinnamon and salt. Add the wet to the dry ingredients.

Refrigerate the batter for 1 hour.

Preheat to 350 F and line two baking sheets with parchment paper.

Roll a heaping tablespoon into balls and flatten until they're about 2 inches in diameter.

Lightly press your fork into them to make a cross hatch and sprinkle with hemp hearts. Make sure there is at least an inch between the cookies.

Bake for 12-14 minutes or until lightly browned on the bottom. These are very delicate cookies so allow them to cool completely before transferring them to an air-tight container.
Nutrition
Calories:
107
kcal
|
Carbohydrates:
9
g
|
Protein:
3
g
|
Fat:
7
g
|
Saturated Fat:
1
g
|
Cholesterol:
1
mg
|
Sodium:
93
mg
|
Potassium:
44
mg
|
Fiber:
2
g
|
Sugar:
6
g
|
Vitamin A:
134
IU
|
Calcium:
34
mg
|
Iron:
1
mg