This easy tomato avocado tuna melt turns a classic deli favourite into a healthy low carb, keto friendly, high protein, kid approved lunch or dinner.
I don't know about you, but I was raised eating classic tuna melts. My hubby still requests them on the regular. I have no qualms with the OG, but I figured we could make it a more frequent menu addition by throwing in some yummy cream cheese and avocado, smothering it with cheddar and mozzarella and stuffing it into an antioxidant-rich tomato.
In the great words of Ina Garten, how can that be bad?
My Easy Tomato Avocado Tuna Melt checks off all the boxes. It's creamy, gooey, savoury and super healthy- plus it's keto friendly, high in protein and totally KID APPROVED.
WHAT ARE THE KEY INGREDIENTS FOR THIS tomato avocado tuna melt?
Canned Tuna
– ideally try to get a can of light tuna instead of albacore, as albacore tends to have higher amounts of mercury.
Cream Cheese – this is my secret ingredient and is what turns a standard tuna melt recipe into an Abbey's Kitchen recipe! Cream cheese just adds extra creaminess that just takes this tuna melt up a notch.
Avocado – Avocado not only mingles well with the cream cheese to make things even creamier, but it also adds even more healthy fats.
Cheese – Because whats a tuna MELT without MELTED cheese? You cant really go wrong with what cheese you use but I chose a mix of cheddar and mozzarella.
Tomato – I chose to use tomatoes as the base of this tuna melt but tuna melts, in general, go well with pretty much anything. So you can opt for the standard bread version or experiment with another vegetable.
How to Make EASY tomato Avocado Tuna Melt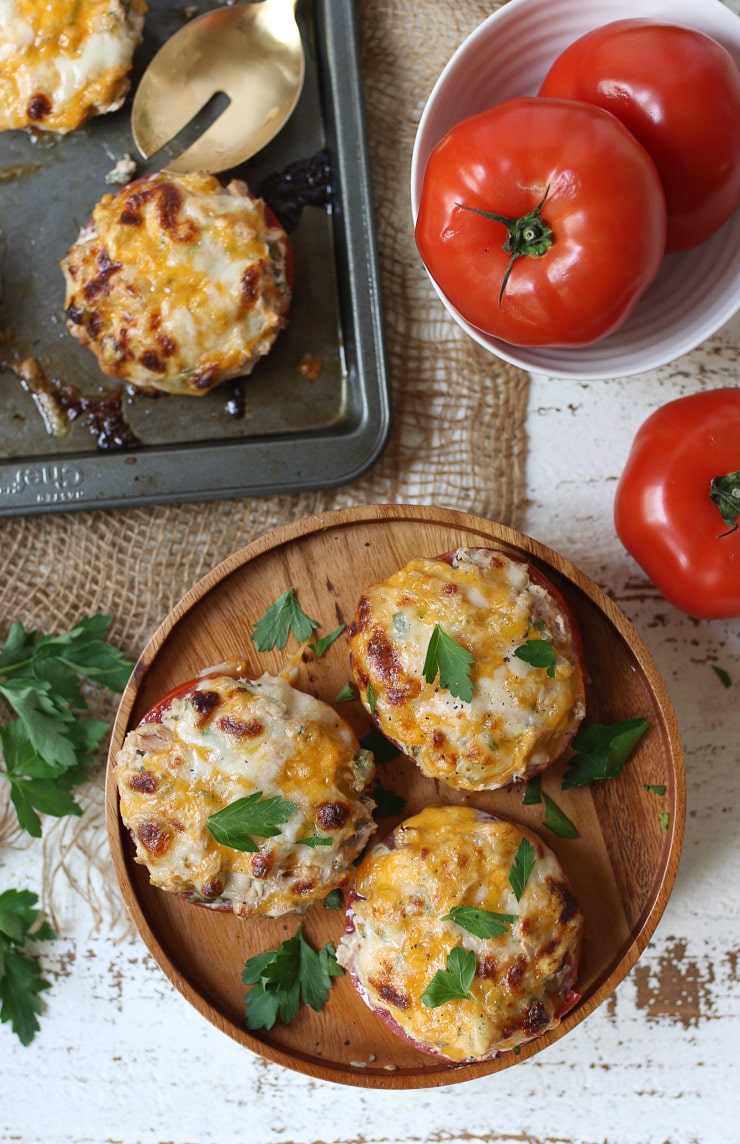 My own version of a classic tuna melt ditches the bread and instead I'm using huge beefsteak tomatoes to deliver all the juicy deliciousness. In a bowl, I combine tuna, avocado, dill pickles, green onions, a little mayo and cream cheese. I know, you could legit just eat it as is.
Then I scoop out the mixture onto thick tomato slices, top with cheddar and mozzarella cheeses and let them broil until the top yields that crispy brown crust we all know and love.
Yep, it's all your childhood dreams reimagined and it feels. so. good.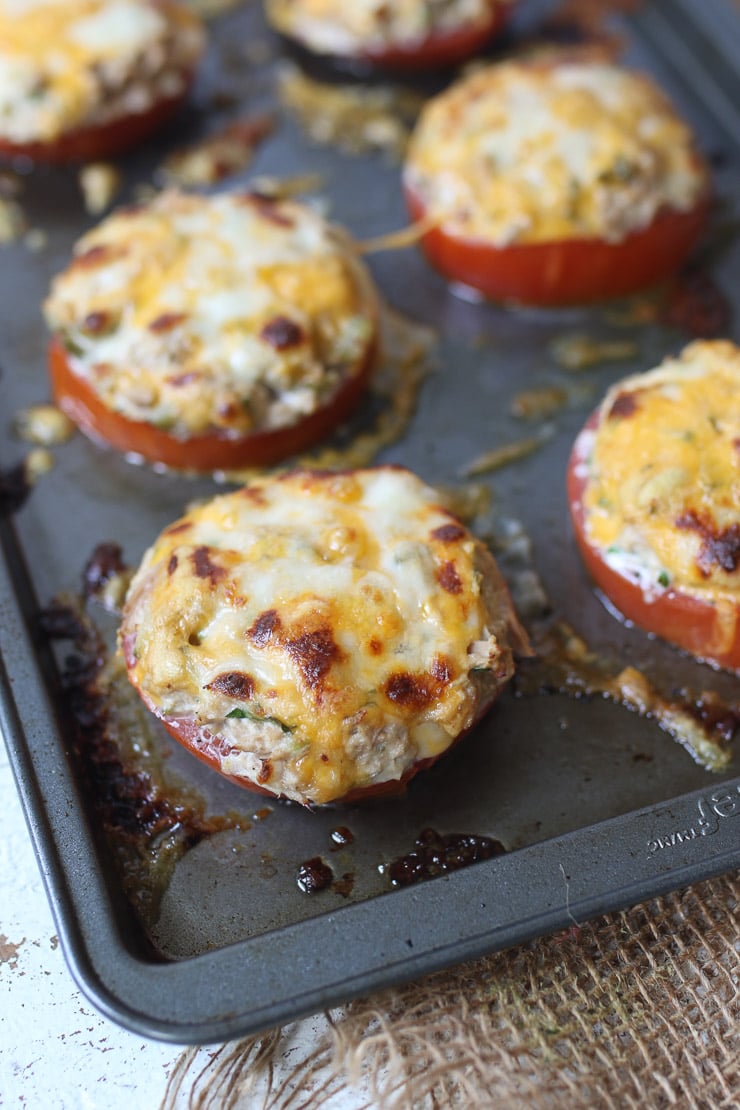 Lunch (or dinner) is served lovelies. You can either use a fork and a knife, or get crazy and dig right in if you don't want to wait. My son (Baby E) LOVES these easy tomato avocado tuna melts, and they're also totally hubby approved.
FAQ ABOUT THIS RECIPE
Here are some commonly asked questions that I get about this recipe.
What About Mercury Levels in Tuna?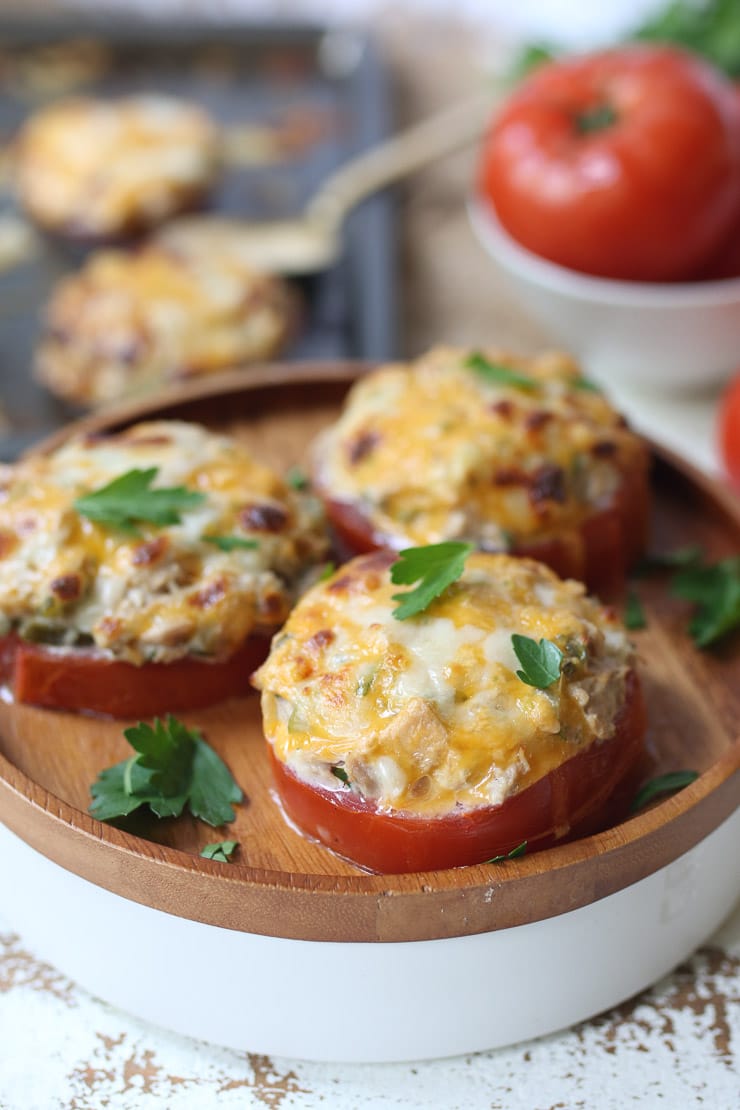 It's true that certain species of tuna (mainly large ocean fish) contain higher levels of mercury, but it really comes down to choosing lower mercury fish. When shopping for tuna, choose light canned tuna which has the lowest amounts of mercury. Albacore is a moderate choice, so you'll just want to limit how much of it you give children per week (150 g/ week for 5-11 year olds, and 125 g/ week for kids under 5). Most people are not getting anywhere closer to those amounts so I really wouldn't worry if you're choosing light tuna most often for these easy tomato avocado tuna melts.
Can You Put This Avocado Tuna Mixture on Bread?
Of course!! Go classic, by all means, and add a slice of tomato to a piece of bread, top it with the avocado tuna mixture, cover it with cheese and go to down broiling it off. I love getting MORE tuna filling with my tomato base, but there are definitely days I'm feeling I need the extra carbs too. If you're kids are a little iffy on the idea, then for sure, put it on their favourite whole grain bread!
Is this recipe kid friendly?
Definitely. But it also all depends on your little ones own food and taste preferences. My big boy E went through a "no tuna" phase and is now loving it again and is a big fan of these tuna melts especially.
How long does this recipe last in the fridge?
Tuna will usually keep in the fridge for roughly 3-4 days but definitely give it the old sniff test to make sure.
CAN I USED CANNED SALMON INSTEAD OF TUNA?
Absolutely! I think most recipes that call for tuna can be easily substituted for salmon. I have never tried it it with this recipe, specifically, but using canned salmon may give it a more fishy flavour if you're okay with that.
DO YOU HAVE ANY OTHER EASY CANNED TUNA OR SALMON RECIPES?
Yes I do! Here are some of my favs.
AVOCADO SALMON SALAD FINGER SANDWICHES
Now I want to hear from you. Are you a tuna melt fan? Let me know by leaving a comment below!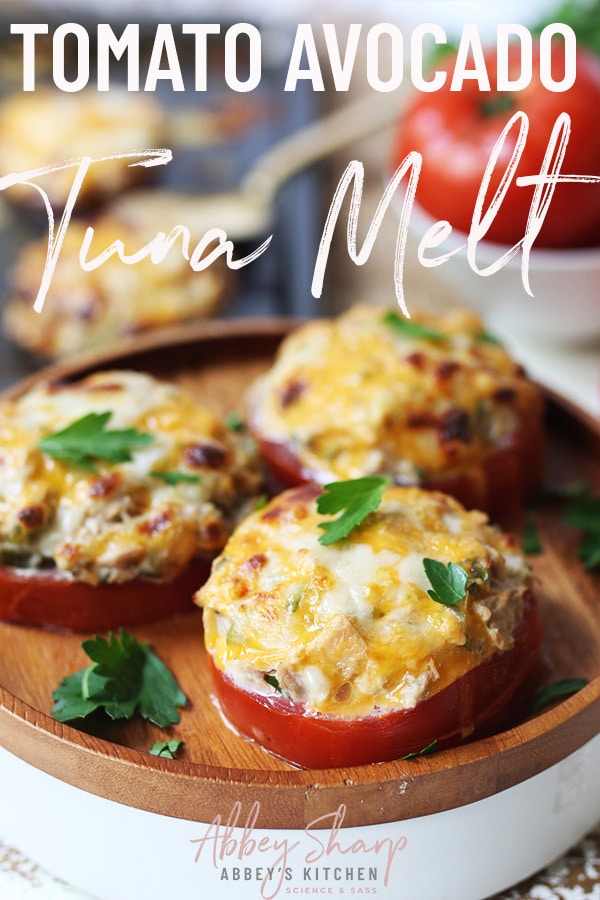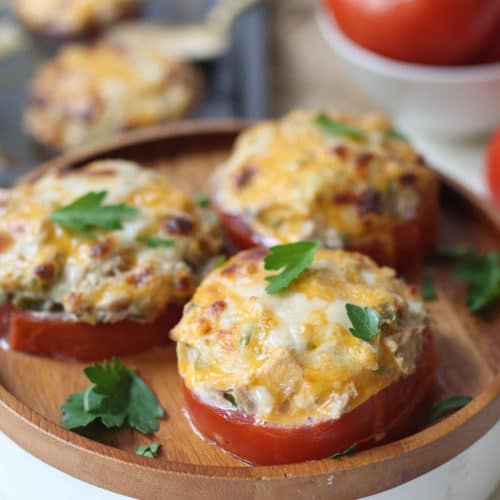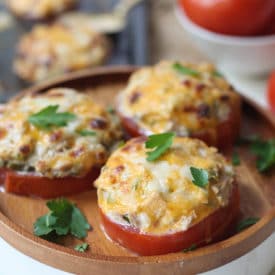 Keto Avocado Tuna Melt
This easy tomato avocado tuna melt turns a classic deli favourite into a healthy low carb, keto friendly, high protein, kid approved lunch or dinner.
Print
Pin
Rate
Ingredients
2

cans tuna

¼

c

minced dill pickles

1

tbsp

parsley

dill or Green onions

¼

cup

mayo or yogurt

2

tbsp

cream cheese

1

small avocado

mashed

½

cup

shredded cheddar

½

cup

shredded mozzarella

Salt and pepper

to taste

8

thick slices of tomatoes

from 2-3 tomatoes
Instructions
Cut 8 thick slices out of 2 to 3 large tomatoes and place on a parchment lined baking sheet.

In a bowl, combine the tuna, dill pickles, herbs, mayo, cream cheese and avocado.

Spoon out the tuna mixture onto each tomato slice.

Top each tomato slice with cheddar and mozzarella cheese.

Add pan to oven and broil for 5-7 minutes.
Updated on July 23rd, 2020