This vegan curried sunchoke and chickpea soup packs a punch with intense flavours and it finished with a crunch from the roasted crispy chickpeas.
Guys, I LOVE curry. Spicy, rich, aromatic and sweet. It may be hot, but it's a welcome addition to my weekly menu any night of the week. While I usually make curry with noodles or rice (check out this amazing version here and here), this week I had a hankering for some soup sans carbs.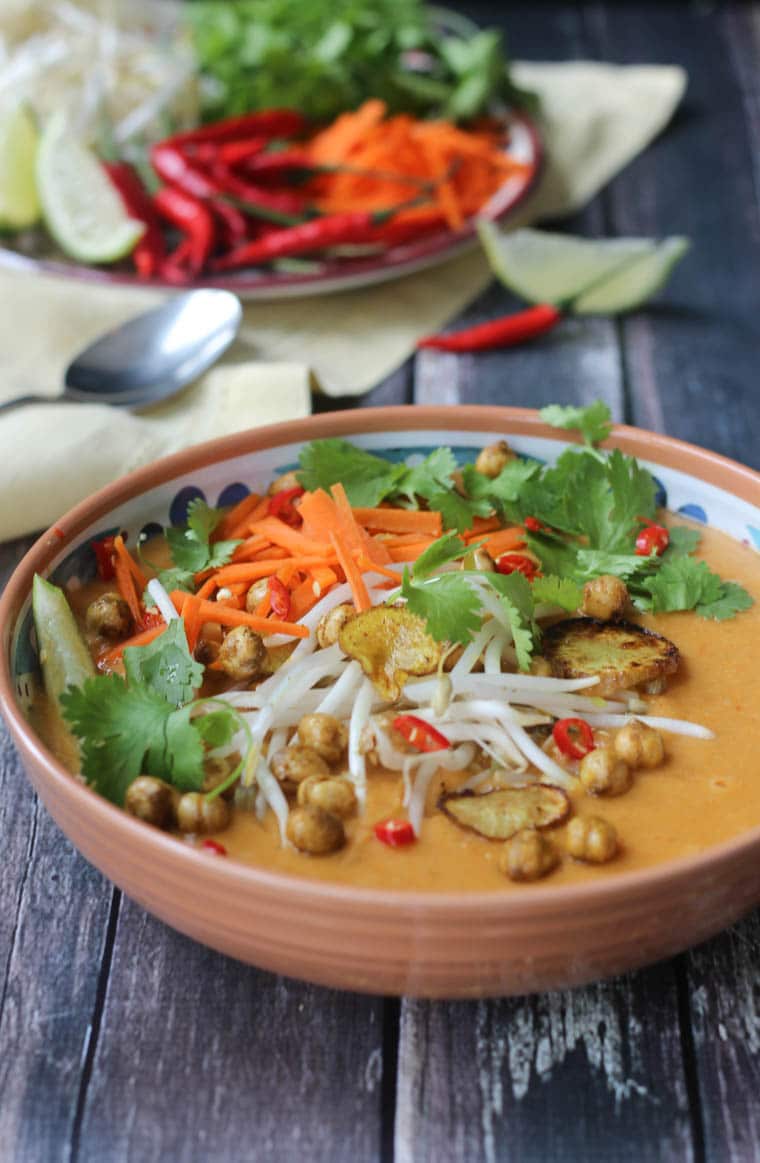 I've got a secret ingredient in this not-so authentic curry chickpea soup recipe and you'll never guess it: Sunchokes, also known as Jerusalem artichokes, sunroot, earth apple or topinambour. You can find sunchokes at your local grocery shop where they're usually offered all year round. Here are a few reasons why I love to cook with sunchokes:
You don't have to peel em, which saves you a ton of time in the kitchen!
There's so many ways to cook em – you can roast them, boil them (then mash them up), saute them, even pickle them… the options are endless!
They carry some unique health benefits!
Health Benefits of Sunchokes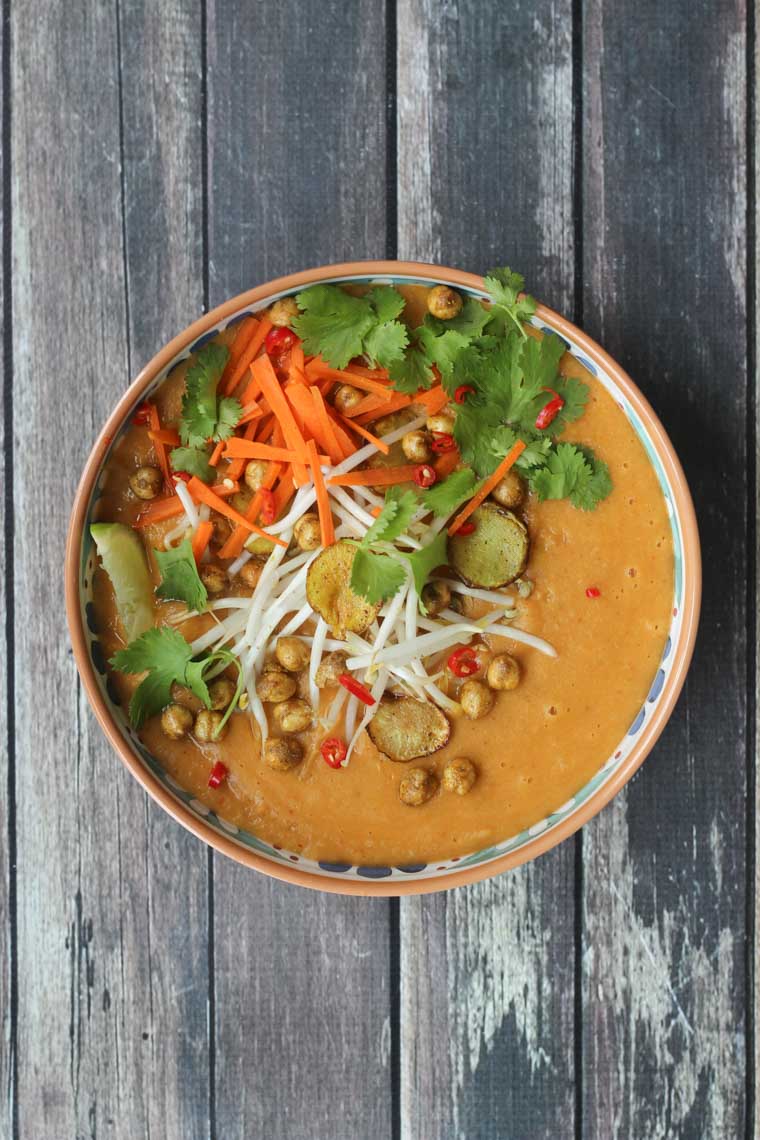 First of all, here's a quick nutrition breakdown of a sunchoke. 1 cup contains approximately 110 calories, 3 gram of protein, 26.2 gram of carbohydrates and 2.4 grams of fiber. The fibre component of a sunchoke carries all of the benefits and is specifically known as inulin fibre. Inulin fibre is also known as a prebiotic which helps to promote the growth of probiotics (healthy gut bacteria). To read up more on probiotics and prebibiotics, check out these posts here and here and/or watch this video from my Toilet Talk series!
Become an Abbey's Kitchen Subscriber
Basically, the inulin prebiotic contained in sunchokes is being studied heavily and studies have seen an improvement in gut health (increase in certain types of probiotic bacteria) after consuming sunchokes. Which is pretty cool, because they also taste amazing, which is why I'm using them in this delicious Vegan Curried Sunchoke and Chickpea Soup.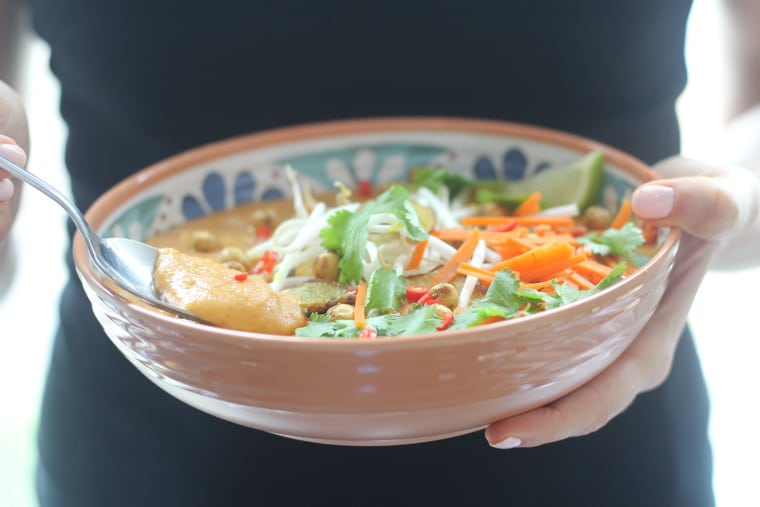 How to Make Vegan Curried Sunchoke and Chickpea Soup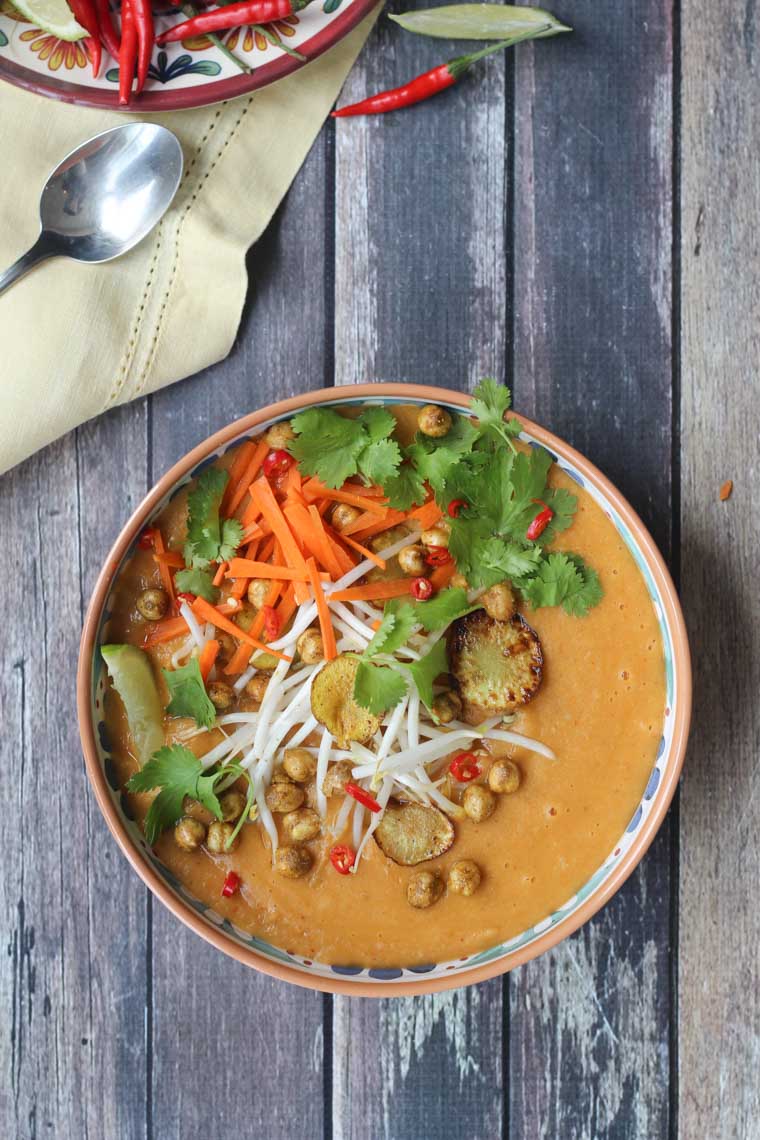 To make the base of this Vegan Curried Sunchoke and Chickpea Soup, I puree coconut milk, spicy curry paste, nutty sunchokes and protein-packed chickpeas until creamy and thick. To add some texture and crunch to this soup, I roast up chickpeas and panfry some extra sunchokes until perfectly crispy and golden brown. Scoop out your soup into a few bowls and garnish with your crispy toppings, bean sprouts, cilantro, shredded carrot and a lime wedge. And as they say, folks, the rest is history. Seriously, thisVegan Curried Sunchoke and Chickpea Soup is damn historical it's so good.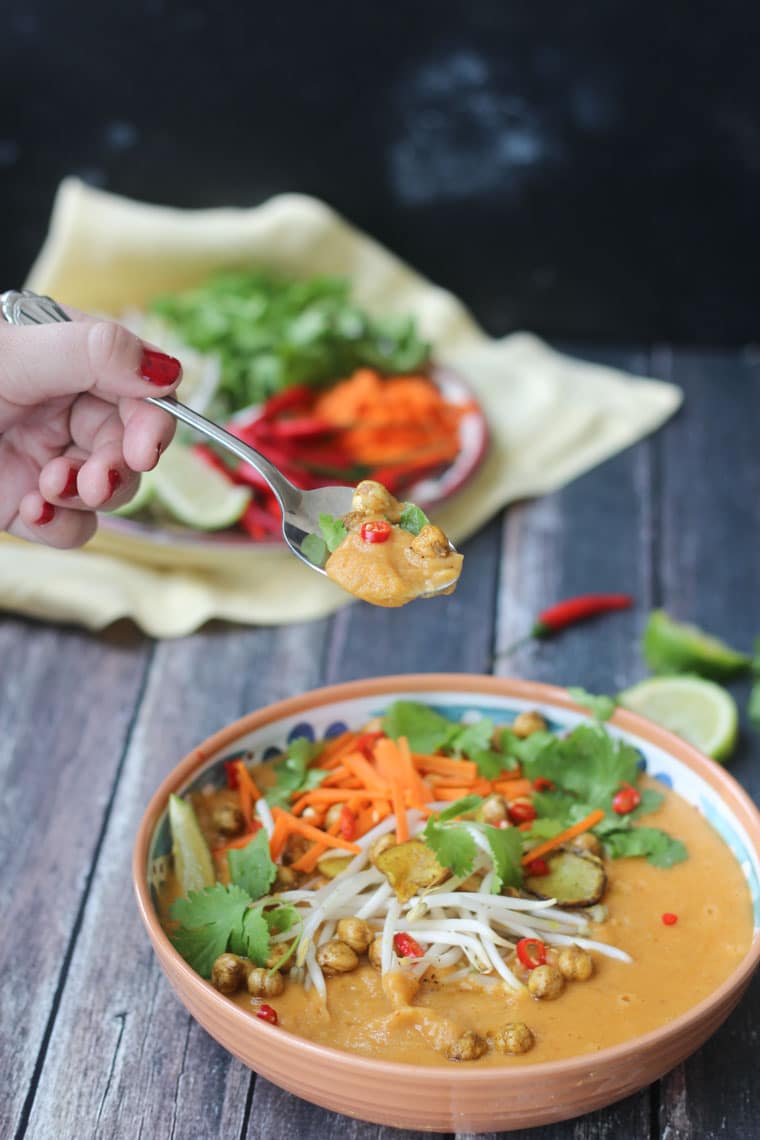 Also I highly recommend hot piece of naan for the occasional dip in all this deliciousness.

Now I want to hear from you! Are you a curry lover?
Have you ever cooked with sunchokes before?
What's your fav way of preparing them? Comment below with your thoughts!Â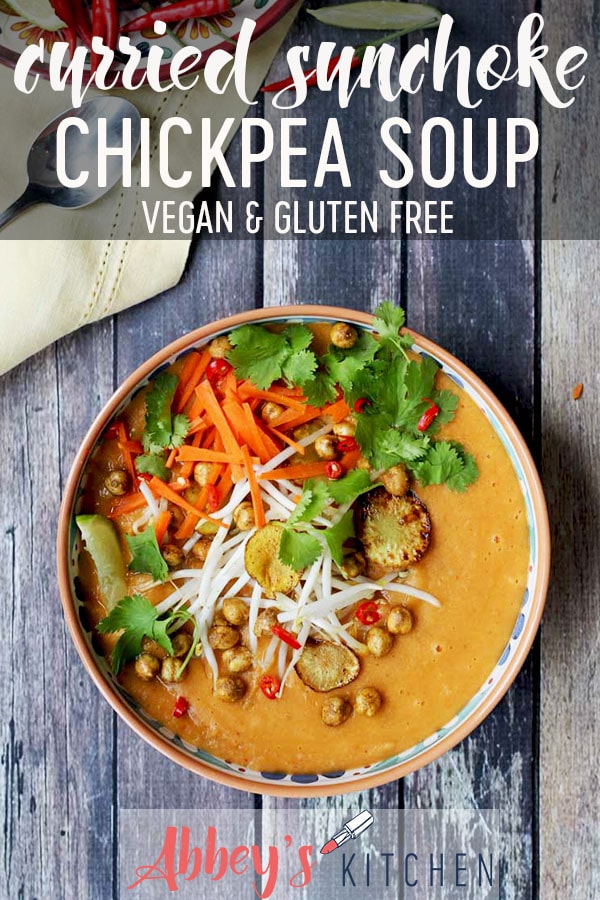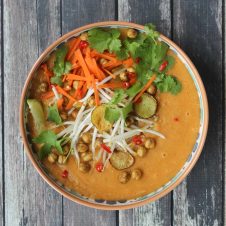 Vegan Curried Sunchoke and Chickpea Soup with Crispy Chickpeas
This vegan curried sunchoke and chickpea soup packs a punch with intense flavours and it finished with a crunch from the roasted crispy chickpeas.
Print
Pin
Rate
Ingredients
Soup:
1 1/2

tbsp

extra virgin olive oil

1/2

onion

chopped

2

cloves

garlic

minced

1

tbsp

fresh ginger

grated

3

tbsp

red curry paste

4

cups

sunchokes

peeled and diced

1

can

(19 ounces) no salt added chickpeas, rinsed, drained, and dried well

3 1/2

cups

reduced sodium vegetable stock

1

can lite coconut milk

Kosher salt and pepper
Garnishes:
Fresh cilantro

Shredded carrots

Bean sprouts

Lime wedges

Thai red chili

thinly sliced
Instructions
Crispy Chickpeas:
Place the chickpeas onto a clean kitchen towel. Then top with another towel, and gently use the towel to rub them until the chickpeas start to pop out of their thin, translucent skins. The skins hold a lot of moisture, so getting rid of as many as you can will help keep these beans crispier longer. Don't worry about getting each and every one, just remove any that easily pop off.

Transfer the dried chickpeas to a large baking sheet. Toss the chickpeas with a tablespoon of olive oil and ¼ teaspoon of sea salt and curry. Bake for 20 to 22 minutes, or until golden brown and crispy, stirring and tossing them at least once during the cooking process.

Turn the oven off, and allow them to sit in the oven (with the oven door closed) as the oven cools down for at least an hour up to until the pan is no longer hot.
Sunchoke Chips:
Heat the oil in a nonstick skillet over medium high heat and add in the curry powder and sunchoke slices. Pan-fry until golden brown on both sides, about 30 seconds to a minute. Drain on a few sheets of paper towel and set aside.
Soup:
Preheat a large pot over medium high heat and add in the olive oil. Add the onion and sauté until transluscent, about 5 minutes.Stir in the garlic, ginger and curry paste and stir until the onion is coated in the paste. Cook for about 30 seconds.

Add in the sunchokes and sauté until they are coated in the mixture, then add in the chickpeas and vegetable stock. Cover and simmer on medium heat for about 20-25 minutes until the sunchokes are very soft.

Add in the coconut milk and using a hand blender, puree until very smooth. Season with salt and pepper, to taste. Keep warm until ready to eat.

Garnish with the chickpeas, sunchoke chips, bean sprouts, cilantro, chili, lime and carrots.
Notes
This recipe makes lots of extra chickpeas, so use them on salads, or as a healthy snack!
Nutrition
Updated on July 12th, 2020