These crispy baked buffalo tofu sticks with a vegan ranch dip are both crunchy and spicy, and totally will give you a healthier plant based pub food experience.
I grew up in a British food household and if we ever did go out for a meal, it was usually to some kind of gastropub for wings, a burger or a Sunday night prime rib roast supper. My extended family are very much NOT vegetarian or vegan, even though I try to eat more plant based whenever I can. These crispy baked buffalo tofu sticks are so unbelievably addictive and crunchy that even the biggest wing lover will totally fall for them. I serve them with an impossibly easy vegan ranch dip but feel free to use storebought if you want!
what is buffalo sauce traditionally made out of?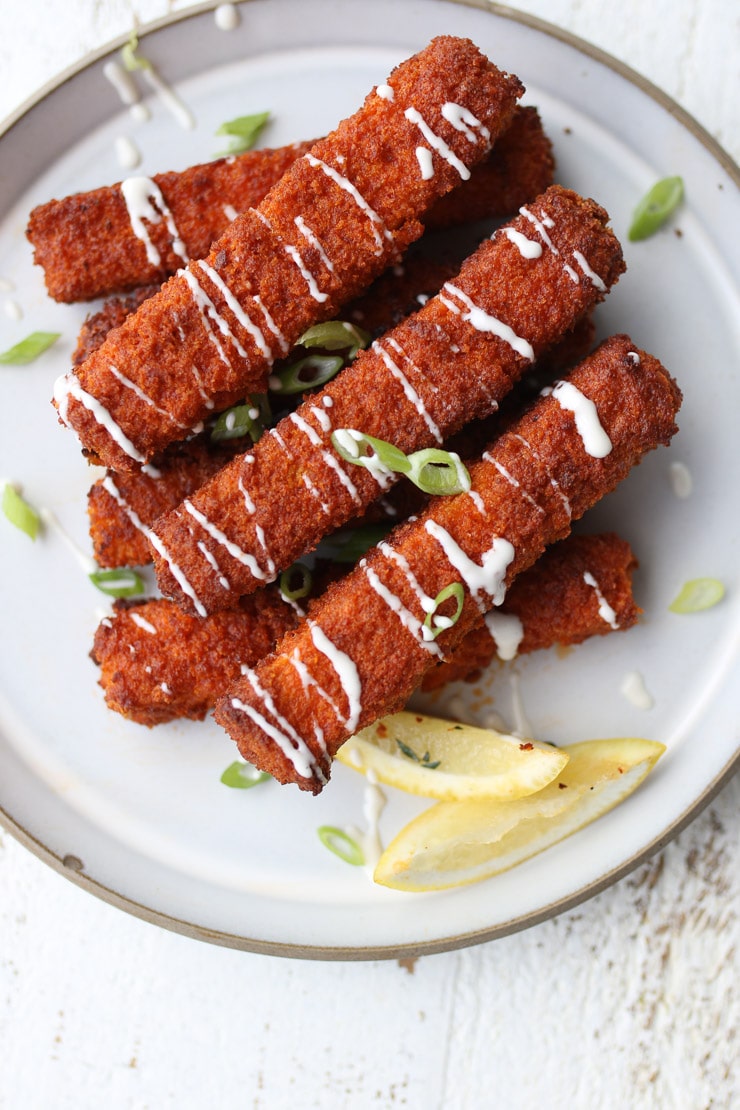 It's usually mainly just tabasco and butter, and sometimes a few other spices, and honey to sweeten. So if you're buying a storebought buffalo sauce, it probably is not vegan.
Key ingredients for these crispy baked buffalo tofu sticks
Extra firm tofu– I do suggest using extra firm tofu in this recipe so that the sticks are solid enough to pick up and dip. There's also less moisture in extra firm tofu so these get really crispy.
Hot pepper sauce – I always have used tabasco in this. I think it has the most characteristic buffalo sauce flavour. But feel free to have fun and experiment with other hot sauces you might have!
Cold vegan butter- This helps to smooth out the heat of the hot sauce.
Apple cider vinegar – I like a little tang to balance out the crazy heat in the sauce.
Vegan worchestershire sauce – You can buy worchestershire sauce online that is vegan, or you can use coconut aminos which are a lot easier to find.
Almond meal- This is for making a nice dry nutrient rich breading that you'll next use to adhere your panko on with. I love almond meal because it's a great source of fibre, protein and healthy fats.
Unsweetened almond milk – This is the wet ingredient to get those panko breadcrumbs to stick. Any kind of non dairy milk will work!
Whole wheat panko breadcrumbs- I love the crispiness of panko, but you can use any kind of breadcrumb (including gluten free ones if you want to make this gluten free).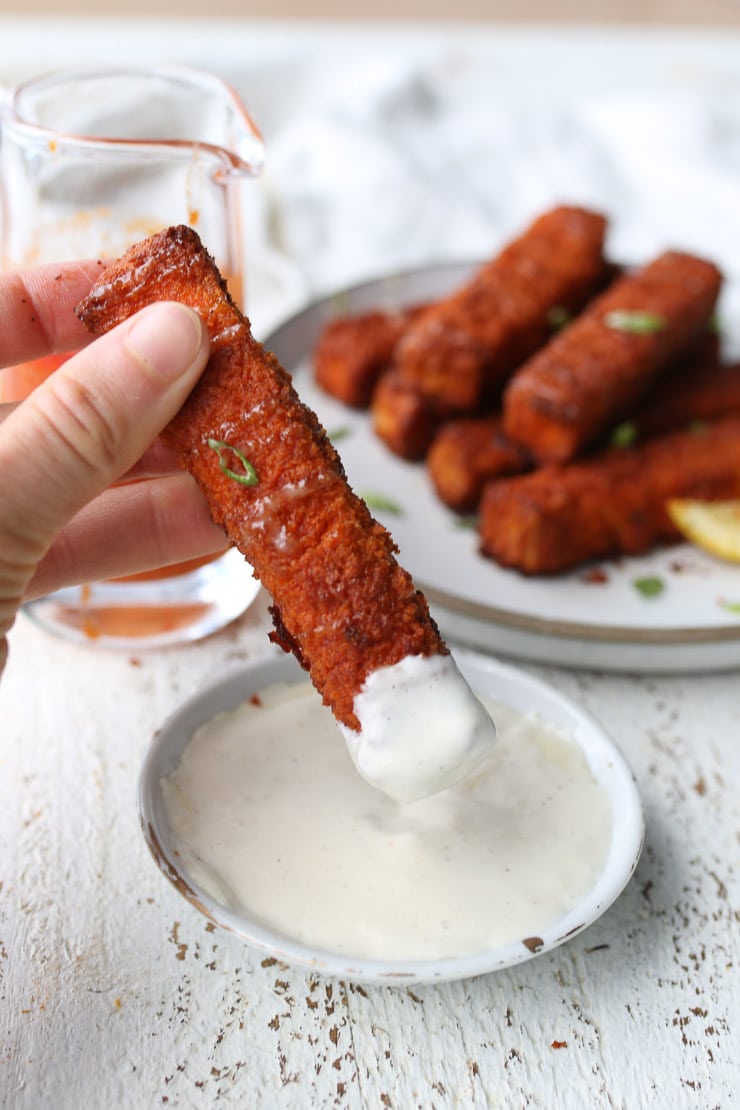 Key Ingredients for Making Vegan Ranch Dip
Vegan mayo- You can use regular mayo or light mayo if you're not vegan.
Unsweetened almond milk- This just helps thin out the ranch dip but you can use any kind of milk.
Spices, herbs and seasoning – Onion powder, garlic powder, lemon juice and parsley are all great additions to ranch dip. If you're short on time you can totally use a pack of ranch spice mix but just note that these do tend to be high in salt.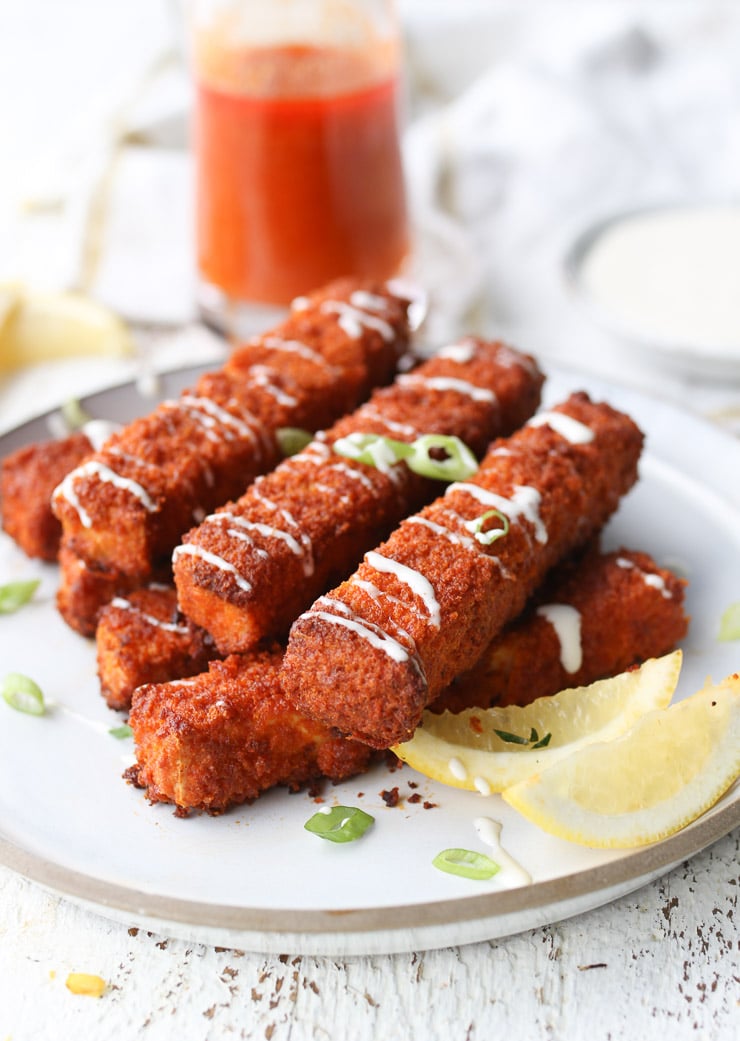 what to serve with these vegan buffalo sticks
These would be great with some celery and carrots for dipping, but also a simple salad for some green would be delicious. Here are some favourites:
Grilled Watermelon Avocado Salad
Grilled Broccoli, Carrot and Avocado Salad
tips for avoiding soggy tofu
They key is to first make sure you squeeze out a lot of the moisture in that tofu by pressing it with paper towel/ regular towels and heavy items. This is step one and integral to a good crispy finish.
I also suggest using an oil atomizer to get a nice even light layer of oil on them to help them crisp up in the oven, flipping regularly so they get evenly browned.
Finally, allowing them to sit on the baking sheet for just a few minutes will really help everything firm up nicely.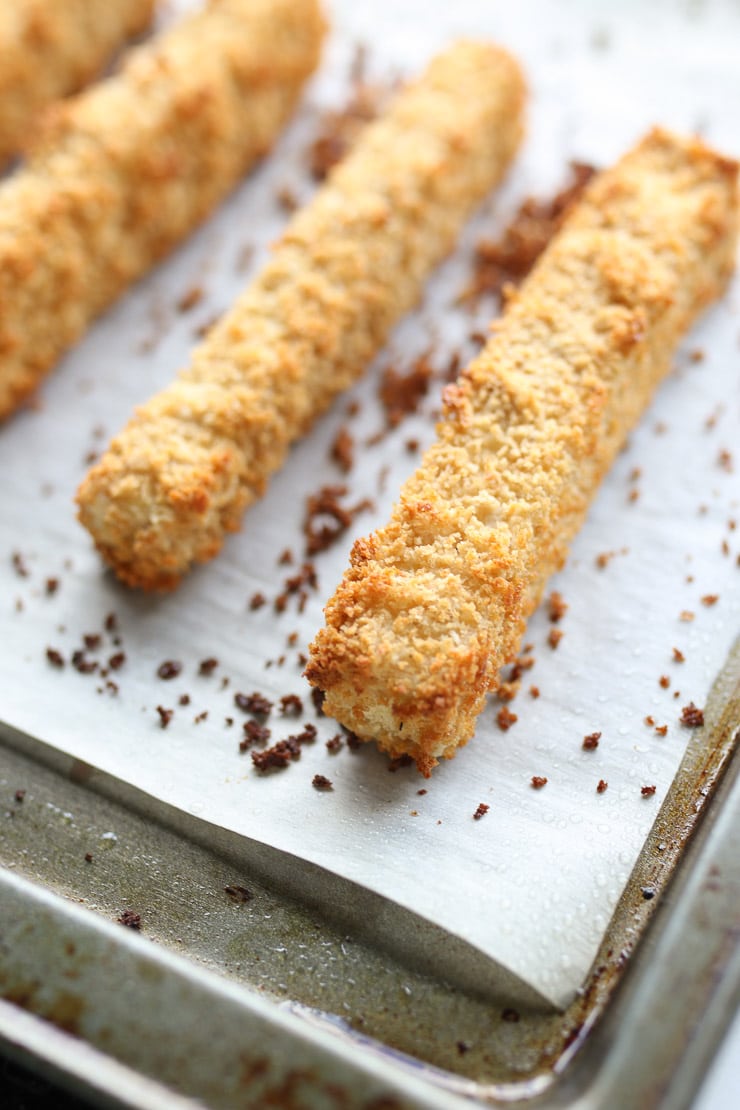 FAQ about this recipe
These are the most commonly asked questions about this recipe.
Are these kid friendly?
It depends how sensitive your kiddos are to heat. These are moderately spicy so I do know that my 2.5 year old would probably not like them.
can I shape these into nuggets instead of sticks?
Absolutely. I like to rip the tofu into pieces rather than cut it into squares if you're looking for more of a nugget shape.
can i serve these as an appetizer or party snack?
Absolutely- these vegan buffalo sticks are a great party snack alternative to hummus and veggies for your plant-based guests and friends.
can i use soft tofu instead of extra firm?
I don't recommend using softer tofu because it will too easily fall apart when you try to bread it and put it into the oven. Extra firm, or at least firm, will work best.
can i batch prep these buffalo sticks and if so, how do i store them and reheat them?
Yes! You can make a huge batch of these, bake them as instructed and let them cool. Then transfer them to a baking sheet in the freezer to freeze individually (not in a big clump) for at least an hour before transferring to a freezer bag for up to 4 months. When you're ready to eat, heat them in a 400 F oven from frozen.
do you have any other buffalo inspired recipes?
Yes! I am obsessed with buffalo everything over here. Here are some other awesome buffalo wing inspired recipes.
Vegetarian Gluten Free Buffalo Cauliflower Steaks
Vegan Buffalo Cauliflower Pasta Salad
Vegan Buffalo Cauliflower and Chickpea Tacos
Gluten Free Buffalo Chicken Fingers Sheet Pan Meal
What's your favourite healthier buffalo wing inspired recipe? Leave me a comment below if you try these out!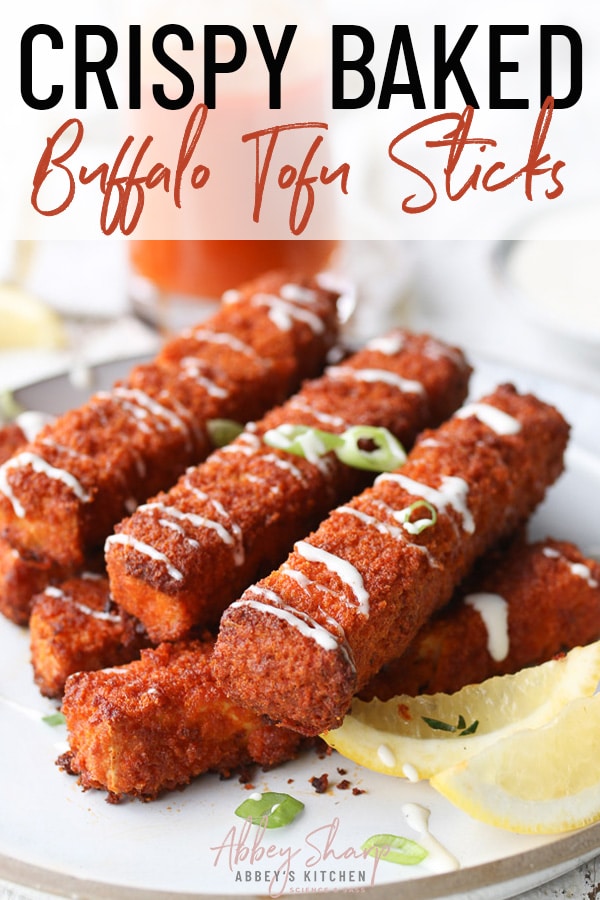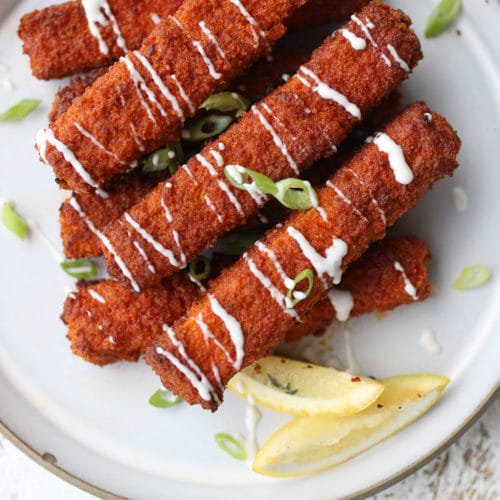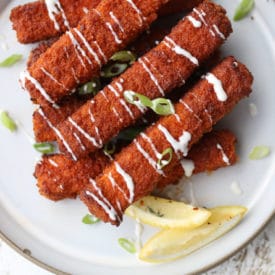 Crispy Baked Buffalo Tofu Sticks with Vegan Ranch Dip
These crispy baked buffalo tofu sticks with a vegan ranch dip are both crunchy and spicy, and totally will give you a healthier plant based pub food experience.
Print
Pin
Rate
Ingredients
Instructions
Cut the tofu into 12 strips (3 layers width wise of 4 strips lengthwise).

Place the tofu on a baking sheet lined with paper towel or a clean kitchen towel. Top with more towel (paper or kitchen), another baking sheet and a few heavy pots or pans. Allow to sit for 30 minutes.

Combine the hot sauce, vegan butter, vinegar, Worcestershire sauce, garlic powder, and salt in a pot and place over medium heat. Bring the mixture to a simmer and whisk gently. Once you see some bubbling and most of the butter melted, remove the pot and whisk until fully melted. Set aside to cool.

In one bowl, mix together the almond flour and garlic powder, salt and pepper. Put the almond milk in another bowl.

Place 2-3 tablespoons of the breadcrumbs on a plate.

Prepare a baking sheet with parchment paper, and a spritz of the oil, and preheat oven to 425 F.

Dip the tofu stick delicately into the almond flour, then into the almond milk, then into the breadcrumbs. Place on the baking sheet and repeat with the remaining tofu strips.

Spritz the tofu sticks with oil in the oil atomizer and bake for 15 minutes. Flip them so they now are on their side. Bake for another 15 minutes.

Remove from the oven and give them a quick dip in the buffalo sauce. Return to the oven for another 10 minutes, then flip and let them finish for 10 more minutes. They should be browned.

Allow them to sit for 3-5 minutes just to firm up a bit.

To make the ranch dip, mix together the dip ingredients. Serve with the tofu sticks.
Nutrition
Calories:
515
kcal
|
Carbohydrates:
19
g
|
Protein:
11
g
|
Fat:
43
g
|
Saturated Fat:
6
g
|
Sodium:
1223
mg
|
Potassium:
219
mg
|
Fiber:
2
g
|
Sugar:
3
g
|
Vitamin A:
941
IU
|
Vitamin C:
16
mg
|
Calcium:
114
mg
|
Iron:
2
mg
Updated on July 8th, 2020