These mini fried rice cups are adorable kid and toddler friendly snacks for lunch boxes and make a delicious vegetarian lunch, dinner or appetizer.
We are gearing up for back to school time and if you're looking for an easy packable lunch or snack for your kid or toddler, you're going to love these mini fried rice cups. This recipe was really born out of the reality of making too much rice in the rice cooker. That rice then became too much fried rice, and I wondered what I could do with it to make it more fun for my toddler to eat. You know what is always more fun than eating food with a fork? Eating it out of an edible cup in your hand! And so these adorable mini fried rice cups were born.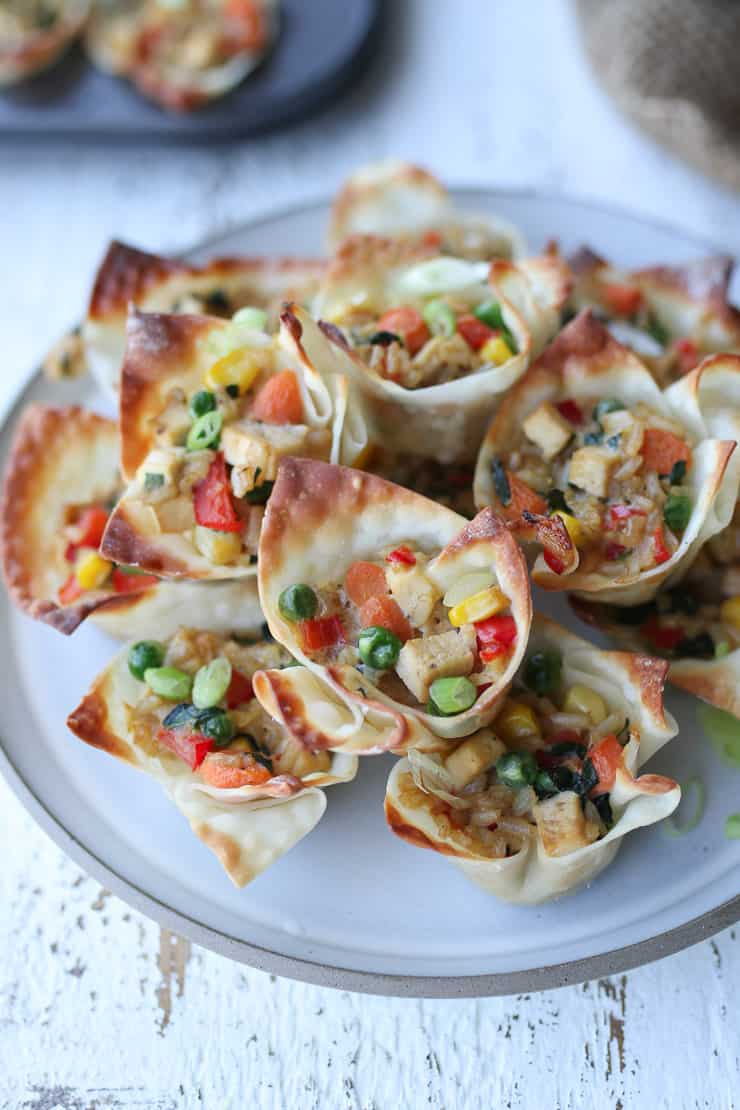 Key Ingredients to make Fried Rice Cups
Here's everything you need to make a killer vegetarian fried rice and pop them into these super cute cups.
Extra firm tofu – I do recommend extra firm so it keeps its texture in the fried rice – especially since it's going to have to go through a second bake in a wonton skin and you don't want them to get soggy.,
Veggies – I like onion, garlic, bell pepper, peas, corn, carrots, and some kind of green, but you can use whatever you have on hand. I also use a mixture of fresh or frozen veg here, so whatever is easiest and more cost effective for you will work.
Cooked leftover brown rice – You can absolutely use white rice, quinoa, or any other hearty grain. Couscous would be a bit too small to stick together in these cups, but feel free to use whatever your family has on hand. I always make a big batch of some kind of grain at the start of the week, and this is a great way to use up any leftover bits.
Reduced sodium tamari or soy sauce – You can also use coconut aminos, but I do prefer to stick to a lower sodium option just to keep the sodium lower for kids and toddlers.
Hoisin sauce– This adds some umami and sweetness to the mix.
Sesame oil – This just brings out the flavours, but if don't have sesame oil, you can omit this ingredient and just add a pinch of sesame seeds (or skip that too).
Wonton wrappers – Now wonton wrappers are different than egg roll wrappers in their texture and size. Wonton wrappers are typically square and are made with flour and often egg and water. They are used to make little panfried or deep-fried dumplings. You can typically find them in the refrigerated section of your produce department.
Eggs – This is like the "glue" that will hold your rice and veggies together in the little wonton cup.
how to cook the perfect brown rice
Dietitian confession: I never really liked rice. But I have a husband and a son who LOVES rice so I figured I had better learn to make it well. Now, of course, the easiest thing to do is to cook it in a rice cooker. But sometimes I don't feel like shlepping out another contraption to do meal prep. So here's how to cook perfect brown rice every time (which of course means perfect fried rice).
1 cup brown rice
6 cups water
Pinch of salt
Bring water to a boil.
Rinse the rice to remove any excess starch.
Add the rice to the boiling water, then reduce the temperature a bit to medium. Boil uncovered for 30 minutes. Start to check the rice around 20-25 minutes.
When it's tasting al dente, drain the water and return the rice to the pot with the lid on. Let it rest there for 5 minutes, then fluff and add your seasoning.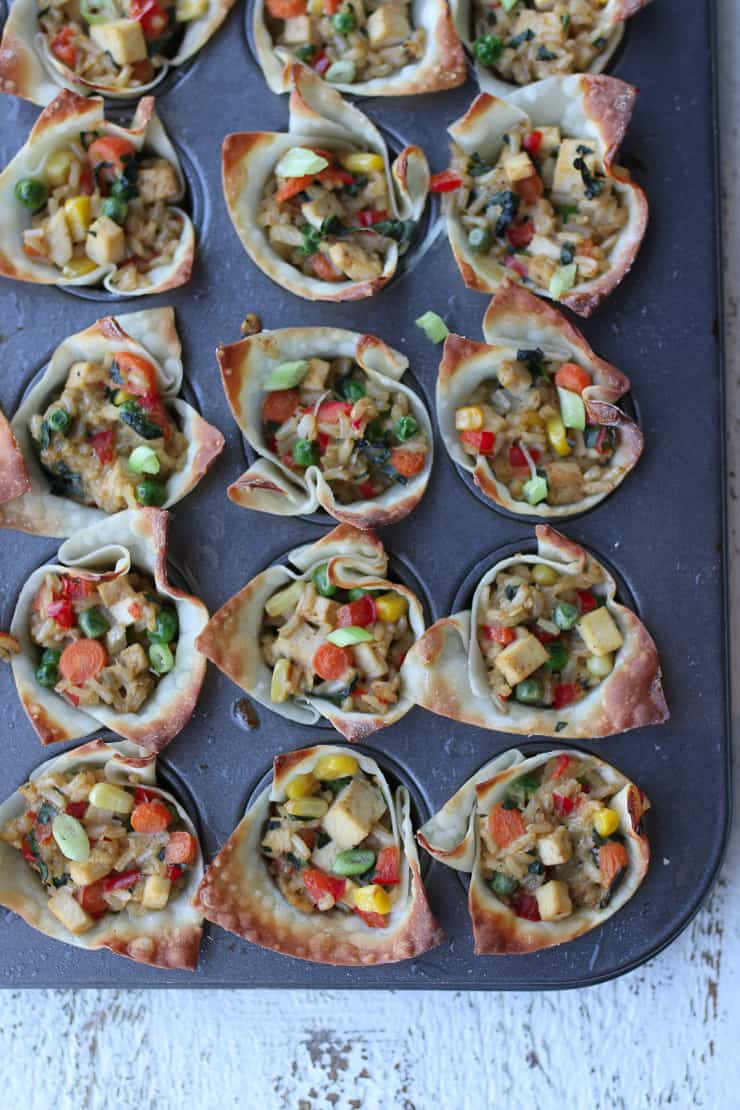 ingredient and Flavour Variations
This recipe is really adaptable and forgivable so you can basically add in whatever you have in the fridge leftover.
Instead of tofu you could add:
Chicken or Turkey (ground or pieces chopped up)
Shrimp
Pork (ground or leftover bacon)
Beef (ground or steak chopped up)
Edamame or beans
For veggies, you could add:
Cauliflower
Broccoli
Bok Choy
Zucchini
Parsnips
Water chestnuts
Mango
Pineapple
Instead of brown rice you could add:
White rice
Quinoa
Kasha
Wheatberries
FAQ about this recipe
Here are some commonly asked questions about this recipe.
is this fried rice vegan?
This is not vegan, but it is vegetarian because of the addition of eggs that bind the rice together. I have seen a lot of vegan fried rice recipes online but they mainly rely on tofu for the "egg" flavour and texture. But in this recipe, the egg holds everything together in the cup. If you want to attempt this without the egg, just know that it may not hold together as well.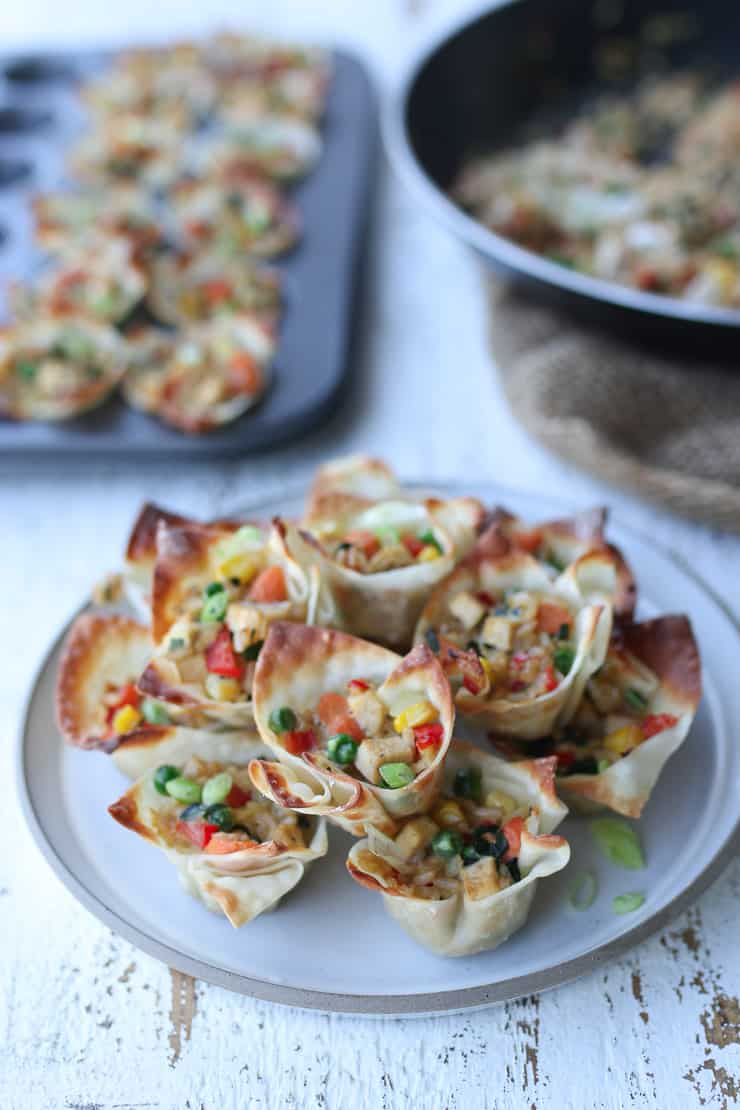 is this gluten free?
Store-bought wonton wrappers are typically not gluten free. But you may be able to find gluten free ones in specialty stores, or you can make them yourself.
can i make these with large muffin tins instead of mini for older kids?
You can, however, most wonton wrappers will not be large enough. If you want to do that, you could overlap a few wonton wrappers to fill the bottom of the muffin tin.
how long will these last in the fridge?
Assuming your rice isn't old, these should last about 4 days in the fridge or up to 4 months in the freezer.
can i freeze these?
Yes, I do! I would remove them from the muffin tin and allow to cool for 20 minutes on a baking tray lined with parchment or a silpat. Then I would freeze them on the baking tray for an hour before transferring to a freezer bag or container. This way they won't stick together and the filling won't all spill out.
How do I reheat these before serving?
If you have frozen these, you can thaw it in the fridge then pop them in the microwave for 20 seconds or so (covered with a bowl).
other great school snacks and meals, or after school snacks for kids and toddlers
Yes, we know you're looking your lots of healthy snacks and mini meals for your kids now that they're about to head back to school. Here are some of our faves!
Butternut Squash Mac & Cheese Bites
What are you going to be packing for your kids lunches this back to school season? Leave me a comment below with your ideas!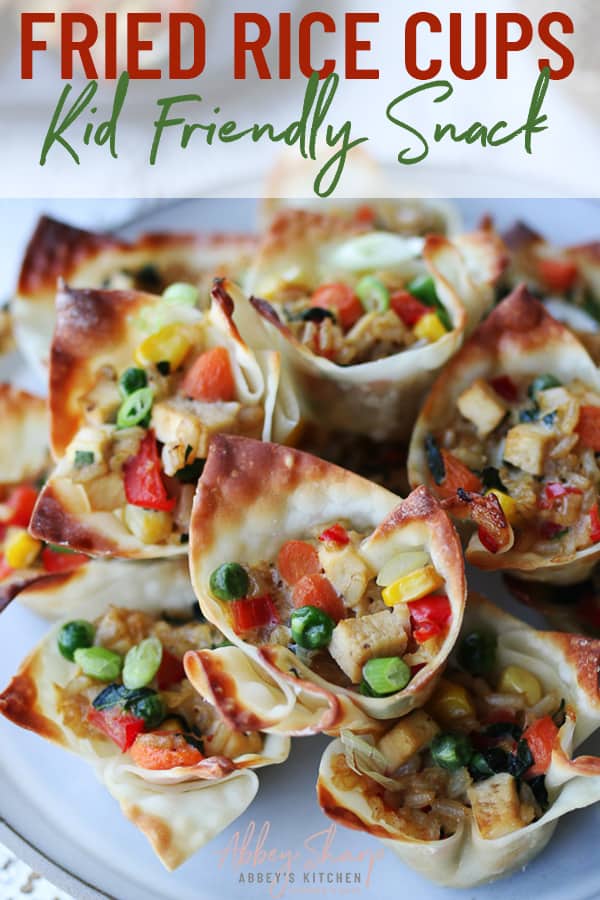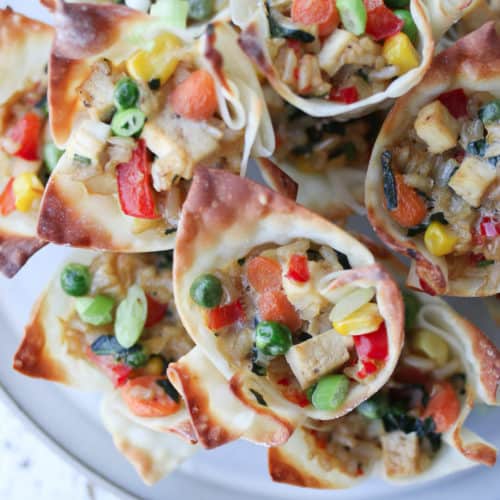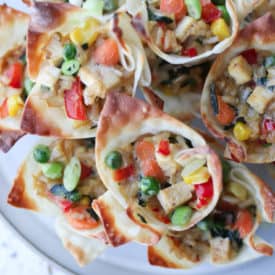 Mini Fried Rice Cups
These mini fried rice cups are adorable kid and toddler friendly snacks for lunch boxes and make a delicious vegetarian lunch, dinner or appetizer.
Print
Pin
Rate
Ingredients
1/2 350

g

block extra firm tofu

175 g

2

tsp

extra virgin olive oil

1/4

cup

minced onion or shallot

about 1/2 small

2

cloves

garlic

minced

1/2

red bell pepper

minced

3/4

cup

frozen pea

corn and carrot mixture

1

cup

minced spinach or kale leaves

1 1/2

cup

cooked leftover brown rice

1

tbsp

reduced sodium tamari or soy sauce

6

tsp

hoisin sauce

1/2

tsp

sesame oil

Salt and pepper

to taste

48

wonton wrappers

Oil in atomizer

Pinch

each salt and pepper

3

eggs

beaten

Green onions

to serve
Instructions
Cut the tofu into very small pieces (the size of a pea). Place on a baking sheet lined with a kitchen towel or paper towels and top with more towels. Press down with another baking sheet and heavy items. Allow to sit for 20 minutes to press out the excess liquid.

Preheat oven to 425 F.

Meanwhile, to a large nonstick skillet, heat the oil over medium heat. Add the onion and garlic and saute until fragrant, about 4 minutes.

Add the bell pepper, frozen corn, carrot and pea mixture, spinach, leftover rice, pressed tofu, soy, hoisin, sesame and a pinch of pepper, if desired. Saute and stir until everything is coated in the sauce.

Taste and season with additional salt and pepper, if desired.

Remove from the heat and set aside.

Meanwhile, spray two mini muffin tins with olive oil (48 mini muffin holders total). Press a wonton wrapper into each hole. Spray with more olive oil and add a pinch each of salt and pepper to the wonton wrappers.

Add the beaten eggs to the rice mixture and toss until everything is combined.

Fill the wonton cups with the fried rice mixture.

Bake for 10 minutes until the wontons are golden brown and the egg and rice filling is set.

Garnish with green onions, if desired. Enjoy!
Nutrition
Calories:
59
kcal
|
Carbohydrates:
10
g
|
Protein:
2
g
|
Fat:
1
g
|
Saturated Fat:
1
g
|
Cholesterol:
11
mg
|
Sodium:
72
mg
|
Potassium:
56
mg
|
Fiber:
1
g
|
Sugar:
1
g
|
Vitamin A:
211
IU
|
Vitamin C:
4
mg
|
Calcium:
13
mg
|
Iron:
1
mg