These Three Ingredient Easy No Bake Vegan Oatmeal Bars are perfect healthy snacks for BLW, Toddlers, and Kids, and are very versatile depending on what you already have on hand!
If your household is looking like MY household, your kiddos are probably asking for snacks around the clock. This has been a common concern in my circles while in lock down for Covid19 because when kids are less stimulated by activities and other kids, they're more likely to seek out another source of pleasure- FOOD. And for a lot of kids, SNACKS = fun food specifically.
Meanwhile, I know a lot of us don't have a ton of time to be prepping snacks from scratch or even have the ability to easily and quickly pick up lots of ingredients. So I wanted to share my kiddo's new favourite snack that is super versatile, these easy no bake vegan oatmeal bars.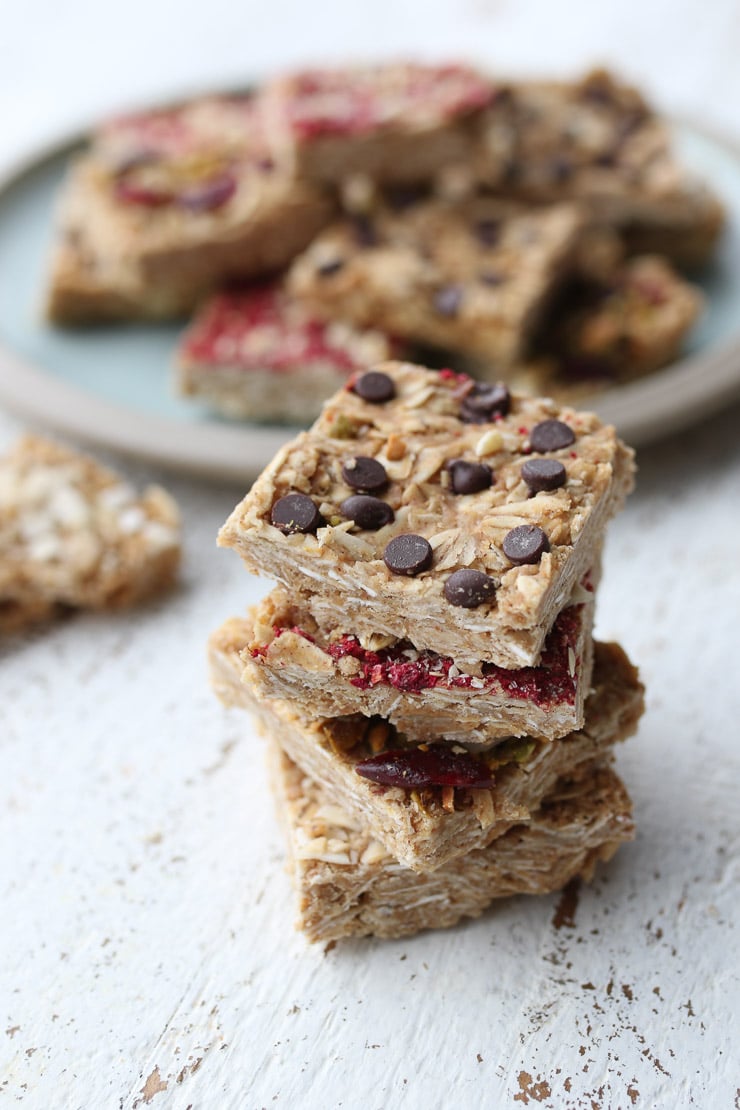 Key Ingredients in these Granola bars
This recipe could not be simpler, and basically just utilizes all of your pantry staples – there are only THREE mandatory ingredients!!
Quick Cooking Oats – I prefer the quick cooking oats to the old fashioned rolled oats since these bars are no bake, the texture is a little easier to handle.
Natural nut butter – Use a good natural peanut butter or almond butter with no added sugar or salt.
Maple syrup- This can easily also be honey or agave, whatever you have on hand.
The rest of the ingredients are optional including salt, cinnamon (or another favourite baking spice), vanilla and whatever toppings you want to throw on top.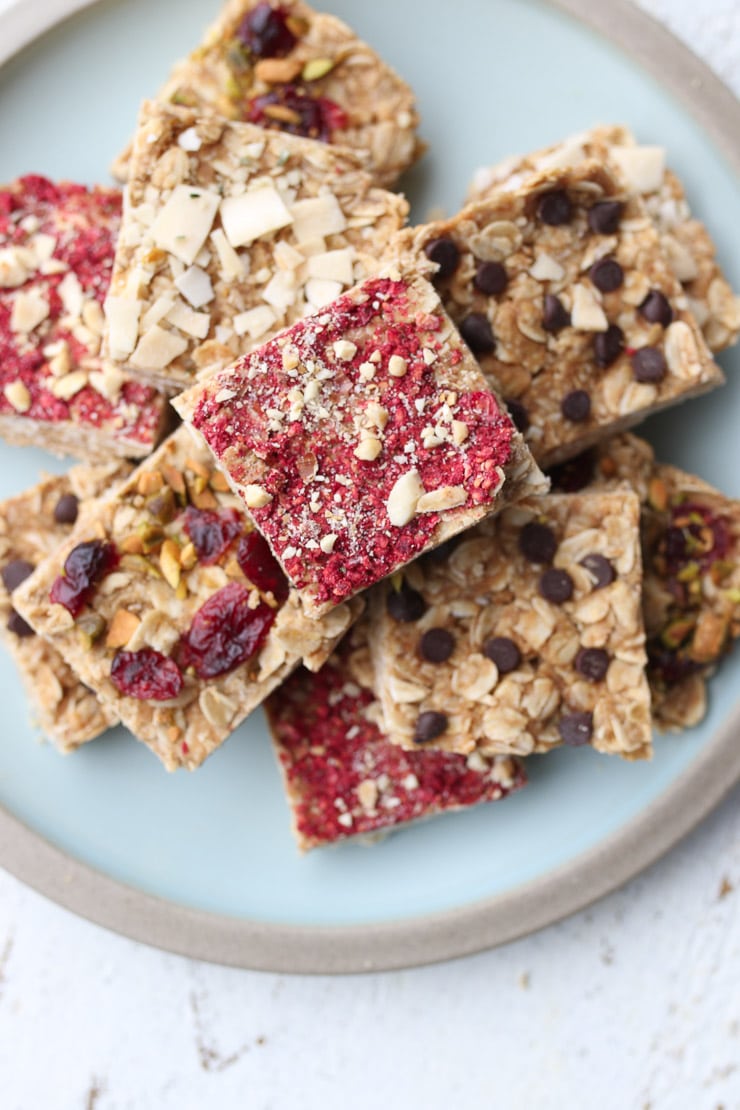 Fun Topping Ideas for these Oatmeal Bars
The sky is the limit when you're flavouring up your vegan granola bars. This is your opportunity to really go to town using up any little odd or end you have in the pantry! Here are some ideas:
Freeze dried fruit (I like to pulverize or smash mine into a powder)
Minced up nuts
Chia seeds
Flax
Mini Chocolate chips
Coconut shreds
Sprinkles!!
Let the kids get involved adding in some of their favourite toppings.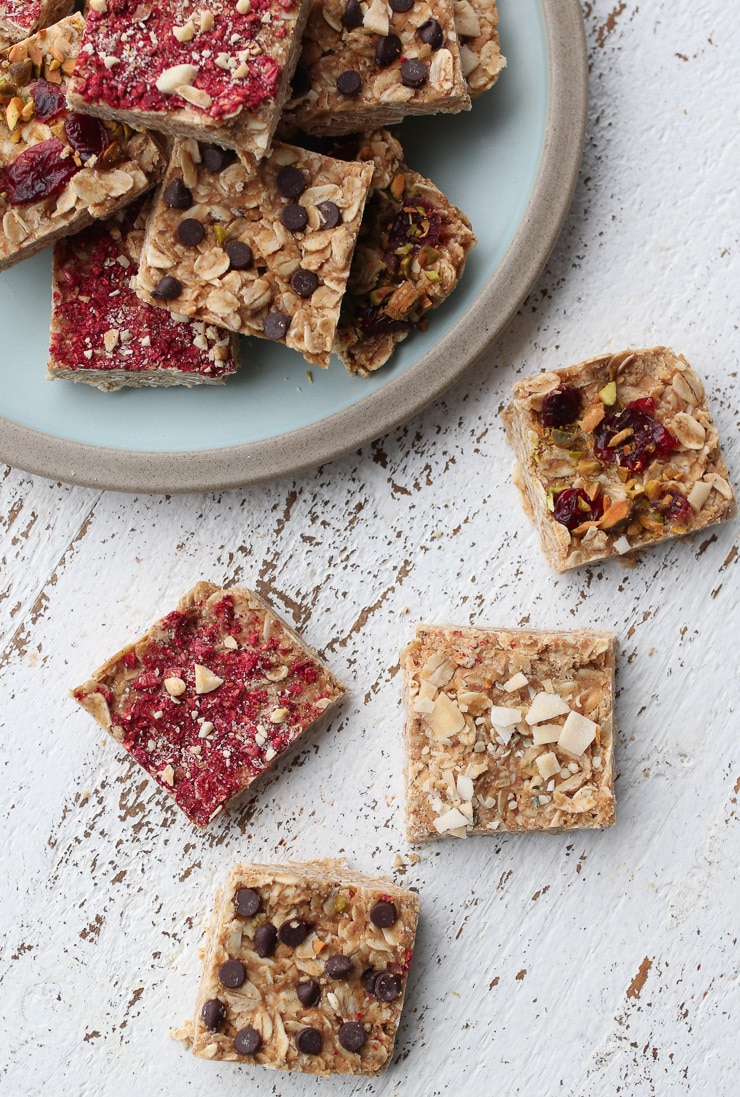 FAQ about this recipe
Here are some of the most commonly asked questions about this recipe.
are these bars safe for a new eater starting BLW?
They are definitely safe, especially if you're mincing up any dried fruit or nuts very fine. Just one thing to note is that there is added sugar in them, so if you're limiting this for little ones under 1, you may just want to be mindful of portions. In this situation, of course, it would also be really important to use maple syrup instead of honey. But for babies over 1, toddler and kids, this is a delicious no bake nutritious easy snack.
Can i get my kids involved in making these bars?
Since these granola bars are no bake, it's easy for kids to get involved safely. Once you carefully put the hot maple syrup into the oats, have them help you mix in the peanut butter, and any of the add ins or optional ingredients. You can also have them help you pack it down really tight.
how can i store these oatmeal bars if I make a big batch for snacks?
These no bake bars can be kept at room temperature for 3-5 days in an airtight container (I usually like to cut them into squares and separate them in layers in an airtight container). They will last in an airtight container in the fridge for up to 1 month. You can also freeze them for up to 6 months if you'd like to make a larger batch. They can thaw overnight in the fridge, or in your purse if you'll need to be out and about.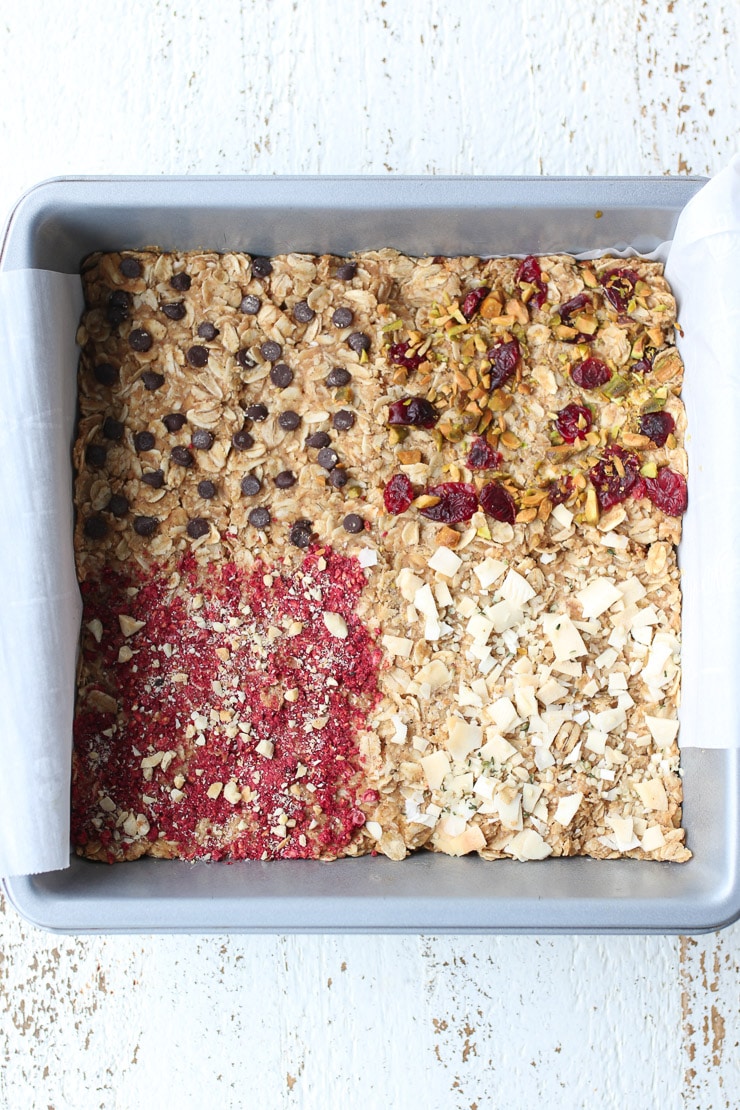 can i make these nut free to be safe for school or daycare?
You can use sunflower seed butter or soy based butter in place of the peanut butter (and of course, avoid any nut toppings as your add-ins). However, always check with your school or daycare to make sure that these "faux" nut butters are still okay.
Do you have any other easy granola bars or oatmeal bars that the kids and family might like to try?
Yes, we love bars in my house and I do prefer to make my own to allow me to add in lots of nutritious toppings and limit the added sugar. Here are some of my favourites!
Patriotic Vegan Oatmeal Breakfast Bars
Toddler Vegan Homemade Granola Bars
Vegan Cinnamon Bun Granola Bars
Have you tried these no bake easy vegan oatmeal bars yet? Leave me a comment below and let me know what toppings your family added!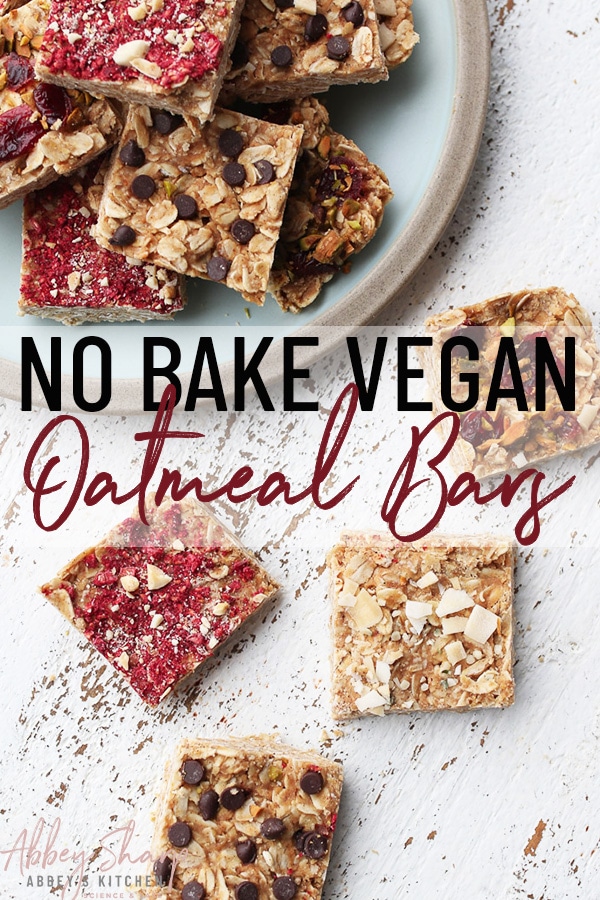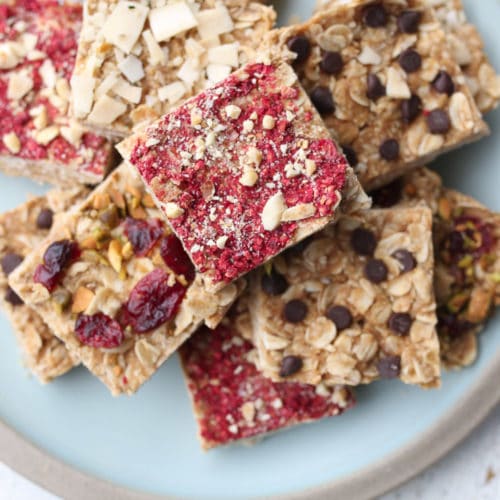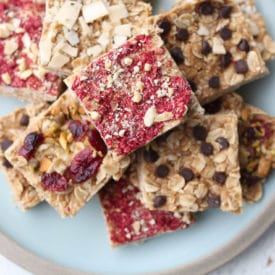 Easy No Bake Vegan Oatmeal Bars for Kids & Toddlers
These Three Ingredient Easy No Bake Vegan Oatmeal Bars are perfect healthy snacks for BLW, Toddlers, and Kids, and are very versatile depending on what you already have on hand!
Print
Pin
Rate
Ingredients
2

cups

quick cooking oats

gluten free, if needed

½

cup

natural almond butter or peanut butter

½

cup

maple syrup

3-4

tbsp

the add-ins of your choice

see below for ideas

1/4

tsp

salt

optional

1/2

tsp

cinnamon

optional

1

tsp

vanilla extract

optional
Add-ins:
Mini chocolate chips

Pulverized freeze dried fruit

Minced dates

raisins, cranberries

Minced almonds

pecans, pistachios, seeds, coconut

Flax
Instructions
Line a 9-inch square pan with parchment paper and set aside.

Put the oats in a large bowl.

In a small saucepan over medium-high heat, bring the maple syrup to a boil. Once it's bubbling, mix it in the oats, along with the peanut butter, any of the optional ingredients and your "add ins".

Quickly mix everything together as it will become very hard to mix if you wait.

Transfer the mixture to the lined loaf pan, and press down very hard to pack it tightly. This will help the bars stay together. If you want to add more toppings on top, go for it now! Put the pan in the fridge or freezer for 1 hour then using a serrated knife, cut into 16 bars.
Nutrition
Calories:
113
kcal
|
Carbohydrates:
15
g
|
Protein:
3
g
|
Fat:
5
g
|
Saturated Fat:
1
g
|
Sodium:
75
mg
|
Potassium:
111
mg
|
Fiber:
1
g
|
Sugar:
7
g
|
Calcium:
20
mg
|
Iron:
1
mg