This Low Sugar No Bake Pop Tarts Swap is Toddler and Kid Friendly and makes an awesome kid-friendly activity to get them in the kitchen!
Do you remember POP TARTS?! I'm not going to lie, I basically was raised on pop-tarts and not so much for dessert. I am pretty sure I had a pop tart for breakfast every day in highschool (and it was usually the one with lots of extra blue icing on top). No shame here. But now that I have a little one, I can appreciate that we may all want to make things a little bit lower in sugar for them, especially if they're having this for breakfast!
So I invented the DIY NO BAKE pop tart that is naturally low in sugar, and packed with some protein and healthy fats.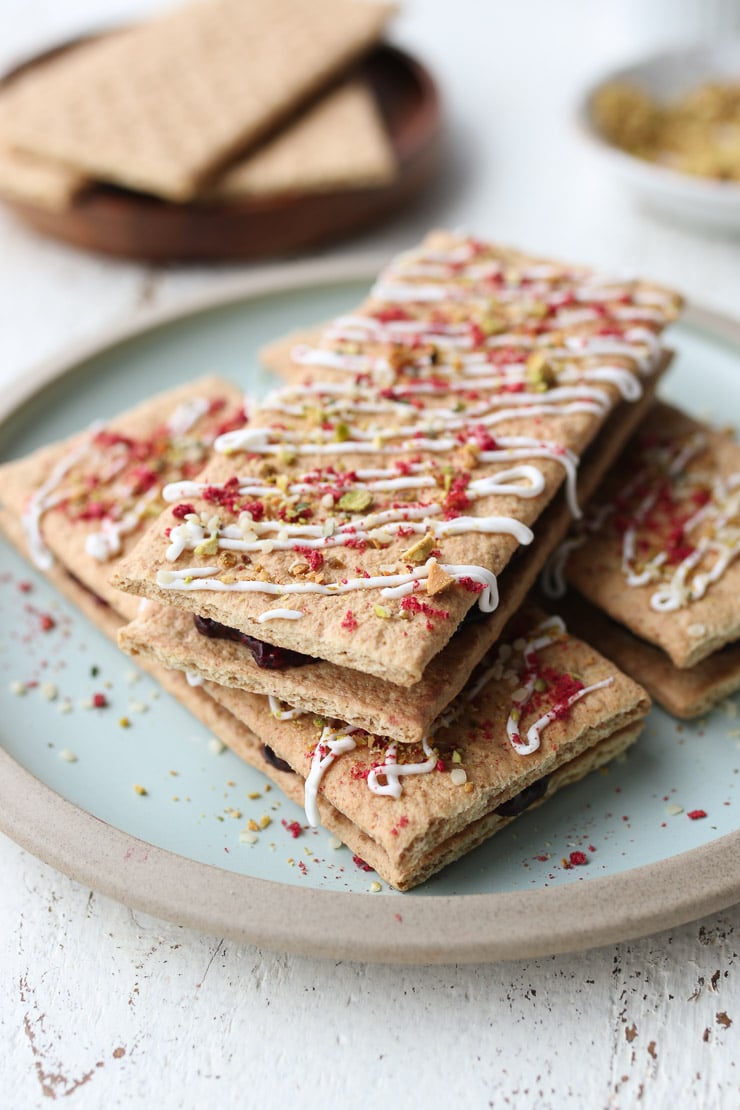 Key Ingredients for Making these No Bake Pop Tarts for Kids
Graham Crackers – Did you know that graham crackers are super low in sugar? I'm literally obsessed.
Chia Jam – I make my own chia jam (it's one of the most popular recipes on my blog) by mixing cooked down fresh or frozen fruit with chia seeds, a little lemon juice and if you want, you can add maple syrup. But honestly, it's so flavourful, it's not even necessary.
Toppings of your choice – Remember the frosting? I've been using some high protein greek yogurt for that! And remember the sprinkles? Well, my son calls hemp hearts sprinkles, so that was an easy addition, but for some pretty colour, I pulverized some freeze dried fruit and pistachios, too!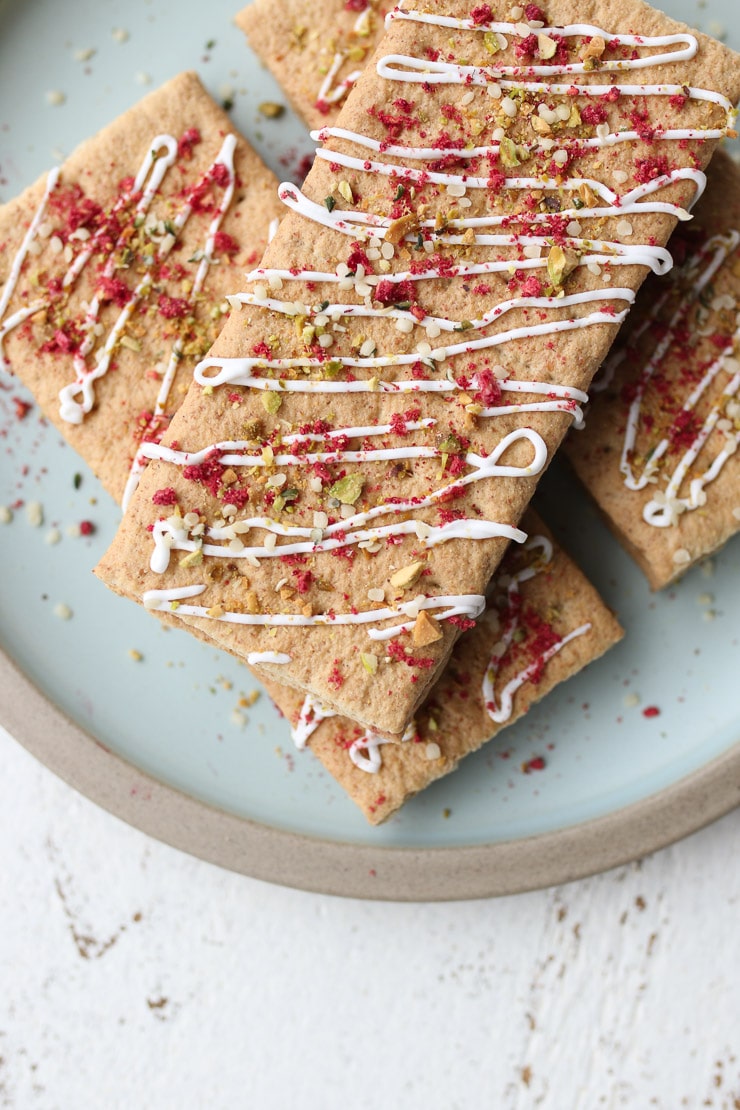 How do you make the chia jam?
Chia jam is one of the most popular recipes on my blog for a reason. I cook down some frozen berries with a little lemon juice, and usually I find they're sweet enough for my kiddo but if not, you can add a splash of maple syrup or honey, to taste. Then I just mix the smashed down berries with chia seeds (which add fibre, protein and omega 3 fats) and let it sit overnight. The chia seeds "bloom" in the moisture and thicken the berries to a jam-like consistency.
What other Ingredients can you use to decorate these low sugar pop tart sandwiches
Honestly, the sky is the limit! You can use:
Flavoured or plain yogurt
Fresh sliced fruit inside the pop tart
Pulverized seeds or nuts
Flax
Chia seeds
Spices
Grated chocolate
Actual candy sprinkles!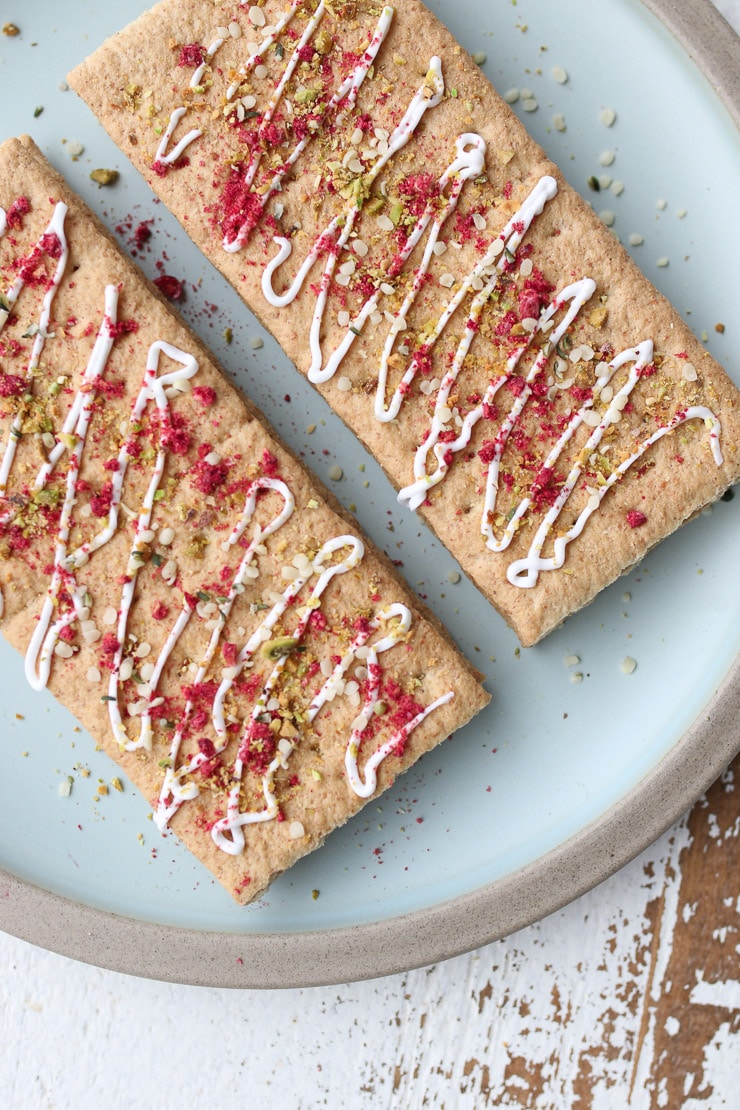 FAQ about this recipe
Here are some commonly asked questions about this recipe.
Is this safe for BLW and babies?
There is honey in traditional storebought graham crackers, so you may want to wait until after 1 to serve them to your new eaters.
How much added sugar are there in these pop tarts?
A traditional pop tart has about 200 calories and 16 grams of sugar. If you avoid adding sugar to the chia jam (and just rely on the natural sweetness of the fruit), you're looking at just 2 grams of added sugar since each graham cracker has 1 gram each! Pretty amazing, really.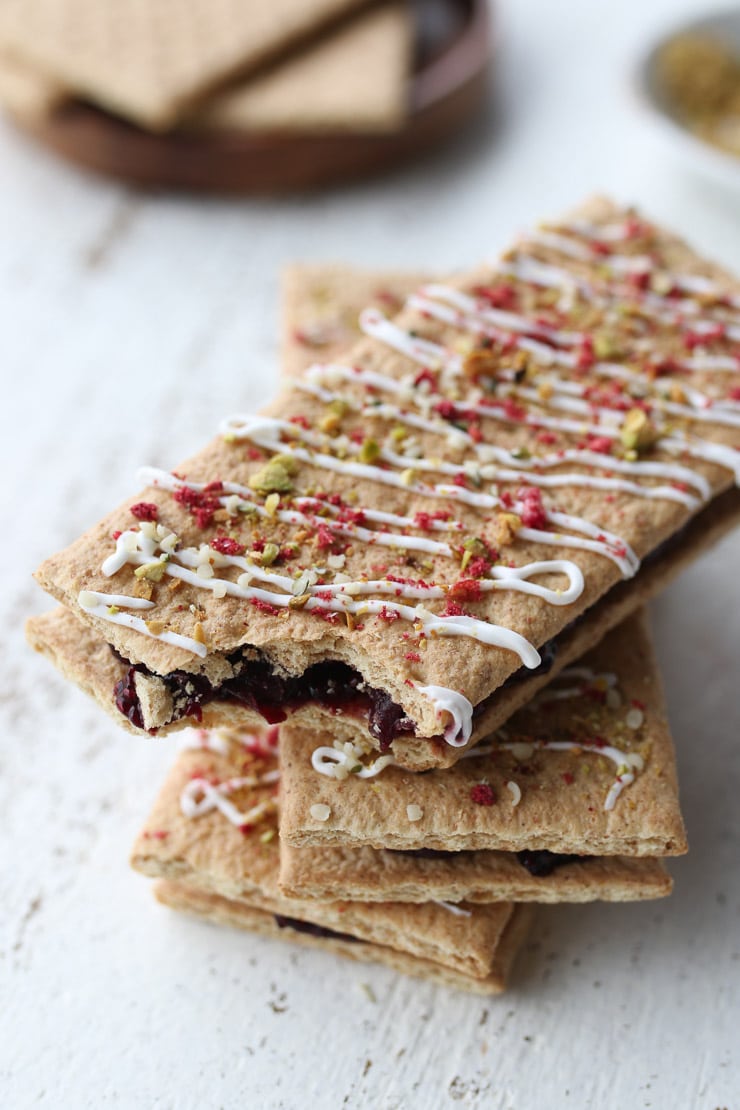 what are some things kids can do to help out with making this recipe?
Depending on their age, children should be able to help you decorate their own pop-tarts. If you're afraid of mess (I mean, isn't all of parenthood pretty messy?), you can put down a plastic tablecloth and just let the kids go to down with it.
can i make these no bake pop tarts vegan?
You can use vegan graham crackers (I've seen them before online), and a plant based yogurt! The rest is inherently plant based.
How do you get the yogurt in a nice drizzle like that?
SO EASY! I just put the yogurt into a zip top plastic baggy and cut out a teeny hole in the corner. Then drizzle away!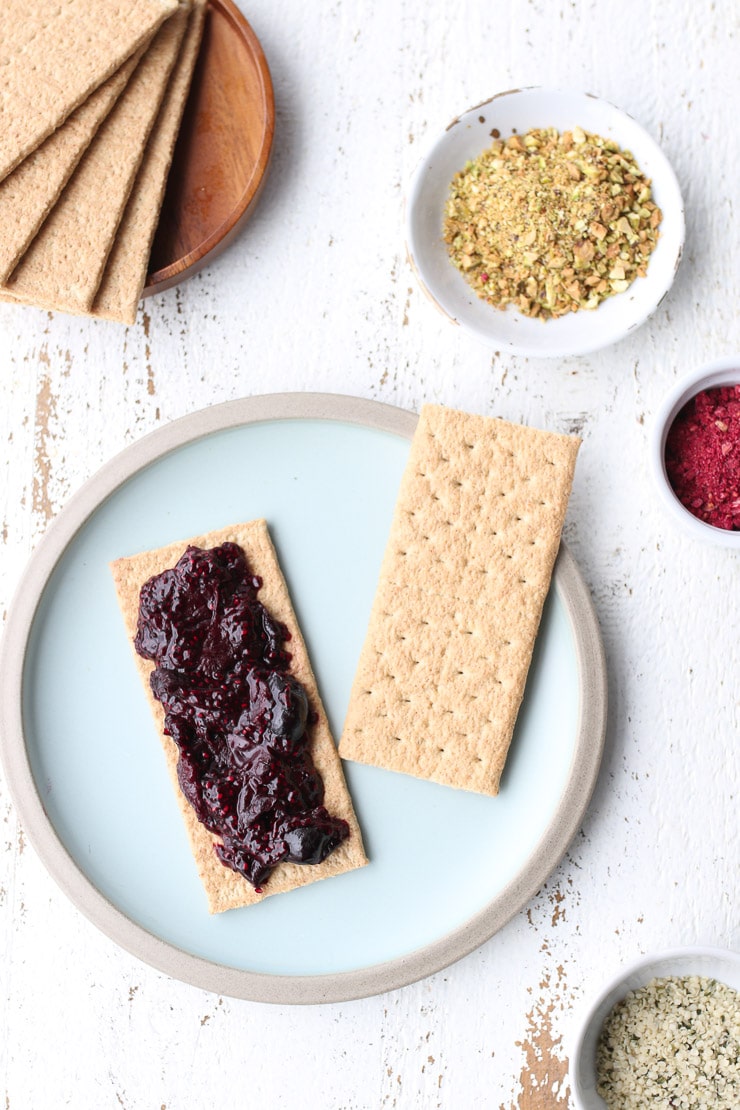 Do you have other easy kid and toddler approved snacks, breakfasts and desserts on your blog?
You bet! Here are some of my favourites!
CHICKPEA PEANUT BUTTER BISCUITS
What are some of your favourite kid and toddler friendly recipes? Leave me a comment below with your thoughts!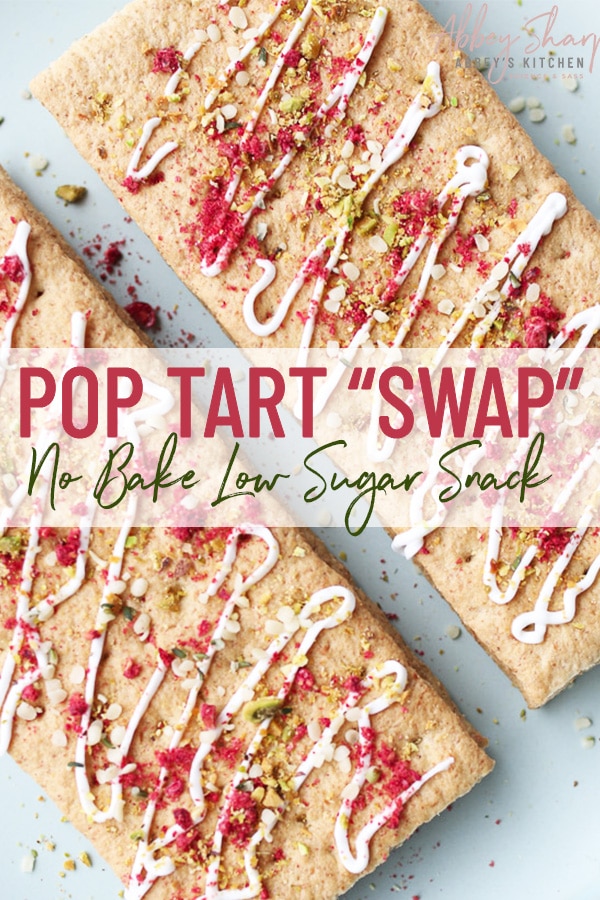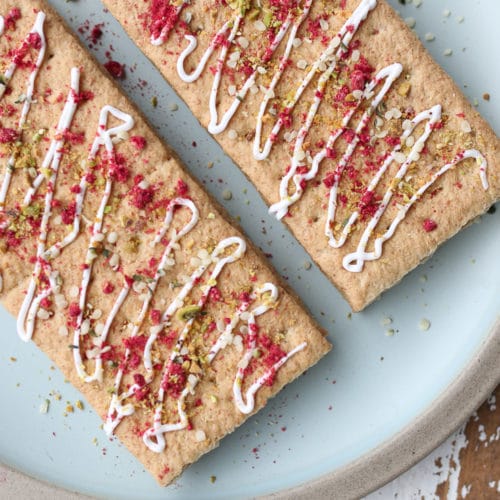 No Bake Pop Tarts
This Low Sugar No Bake Pop Tarts Swap is Toddler and Kid Friendly and makes an awesome kid-friendly activity to get them in the kitchen!
Print
Pin
Rate
Ingredients
8

graham cracker squares

1/2

cup

homemade chia jam
Instructions
To assemble "Pop Tarts", spread two tablespoons of the chia jam onto 4 of the graham crackers.

Top with the other graham cracker. Drizzle with yogurt and decorate with hemp hearts, freeze dried berries and pistachios.
Nutrition
Calories:
104
kcal
|
Carbohydrates:
26
g
|
Protein:
2
g
|
Fat:
2
g
|
Saturated Fat:
1
g
|
Cholesterol:
1
mg
|
Sodium:
97
mg
|
Potassium:
62
mg
|
Fiber:
1
g
|
Sugar:
14
g
|
Calcium:
27
mg
|
Iron:
1
mg
Updated on July 16th, 2020