Postpartum hair loss is a normal process, but it can cause stress and anxiety for new moms. We review why it happens, cover a postpartum hair loss remedy and other strategies for healthy hair growth.
Pregnancy is a beautiful thing, and all of the changes it brings along with it are nothing short of magical. But that doesn't mean it's fun to watch your hair come out in clumps after you've just pushed a freaking human out of your lady flower. Ah yes, if you were enjoying that thick luscious head of hair during pregnancy get ready for a RUDED awakening. According to a statistics from the American Pregnancy Association, 40-50% of women are affected by postpartum hair loss. Okay, so now I don't feel so bad.
First, let's talk about how normal hair growth occurs before we get into the postpartum hair loss remedy.
The Hair Growth Cycle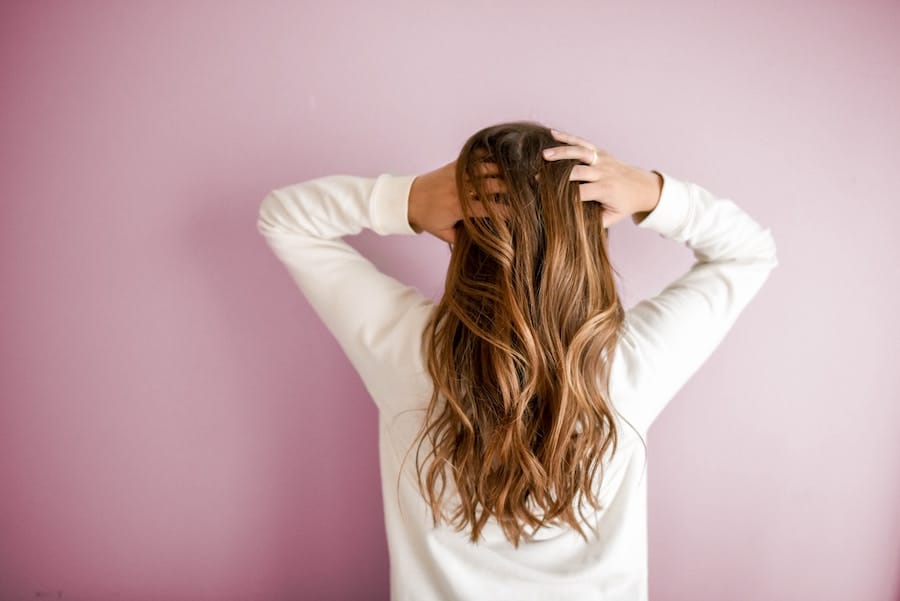 Normal hair cycle involves the replacement of every hair on the scalp every 3-5 years. Each hair follicle on our scalp has its own routine and growth speed uninfluenced by the neighbouring hair follicle. Unfortunately, this makes it even harder for us to understand and control postpartum hair loss, or hair loss in general. What we do know is that the hair cycle has three phases:
Anagen – growth phase.
Catagen – transitional phase which lasts about ten days.
Telogen – resting phase when hair is released and falls out.
What is Postpartum Hair Loss?
Postpartum hair loss or postpartum alopecia is a temporary but sudden shedding of hair after giving birth. Some mothers experience an extra few loose strands while others experience massive clumps of hair coming out. Both are considered a normal (albeit really fucking annoying) postpartum change.
Why Am I Losing Hair?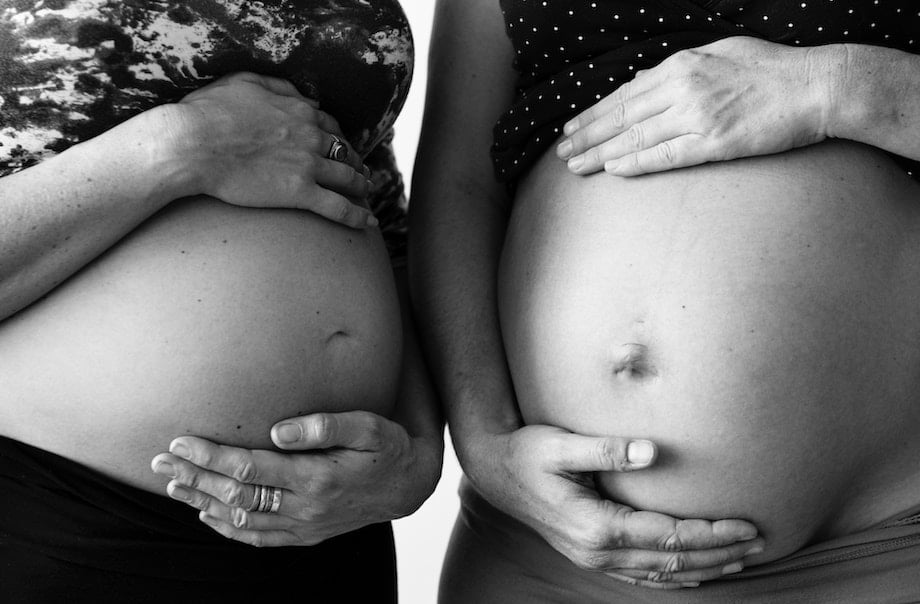 Explaining postpartum hair loss starts with pregnancy. High levels of estrogen and progesterone during pregnancy causes an increase in hair and nail growth. Maybe you noticed that your nails were suddenly "on fleek" and your hair was doing all the right things. Hey, amidst the hemorrhoids and heart burn, there has to be SOME perks in pregnancy, right?
Well, one study examined the growth phase of hair follicles during pregnancy and found that 85% of non-pregnant woman's hair follicles were in the anagen phase (aka the growth phase), while in the second trimester, the hair growth phase increased to 95%.
Now, it's time for the no fun part.
Those nine months of "hair goals" will likely come to an end as your pregnancy comes to a close as your hormone levels drop significantly and normalize. In the study I just mentioned, they found that three months post-pregnancy, the hair growth phase decreased significantly to 77%. BOO!
To give you a better idea, normal hair loss per day amounts to about 50-100 strands of hair. New mothers can shed up to 400. This is a huge chunk of hair, literally! But it's basically your body's natural attempt to catch up after nine months of very little hair shedding. After 6 months postpartum, most women describe the shedding as slowing down.
Other Factors That May Cause Postpartum Hair Loss
Stress
Ahh stress. It seems to always play an important role in our health and having a baby can be a really stressful time. If you thought childbirth was stressful, well now you've got a newborn baby and you're probably running on very little sleep. All of these things can impact our health, including our hair cycle
Low Iron Levels
There is some evidence that low iron levels at postpartum could cause hair loss. During pregnancy a women's iron requirements are increased from 18 mg to 27 mg, while after pregnancy those iron requirements decrease to only 9mg/day of iron unless you lost a significant amount of blood during childbirth or had a cesarean section. This study found that a cesarian section is one of the many risk factors for severe postpartum anemia. In that case, you may need to take an iron supplement and/or include iron rich food sources in your diet.
Drug Side Effects
Drugs carry a ton of side effects, and hair loss may be one of them. So always consult with your doctor or pharmacist about drug side effects, especially when you're pregnant.
Breastfeeding
Some claim that breastfeeding can cause hair loss, however there is NO RESEARCH to support that theory. Breastfeeding organizations like the Australian Breastfeeding Association and Canadian Breastfeeding Foundation have concluded that there is no relation between hair loss and breastfeeding. So breastfeed away, and don't be concerned that it's causing your hair loss, because postpartum hair loss is a normal process.
Thyroid Condition
When your thyroid gland isn't working properly, you either produce too much or not enough of certain hormones. This disruption in hormone production can cause hair loss. When hormones T3 and T4 are affected, they can interfere with the development of hair at the root of your scalp and may cause your hair to fall out. Speak with your doctor to monitor your thyroid health and get your levels evaluated.
Strategies to Manage Postpartum Hair Loss
Women experiencing hair loss often express anxiety and fear about going bald. I get it, it's freaking me out too. Hair loss, postpartum or otherwise, is associated with low self-esteem, depression and social isolation. Women specifically often associate hair with their identity, femininity, attractiveness and sexuality.
While we can't prevent this hair loss from happening, you can try a postpartum hair loss remedy to promote healthy hair growth and a healthy lifestyle post pregnancy.
Best Foods for Postpartum Hair Loss Remedy
Protein Packed Foods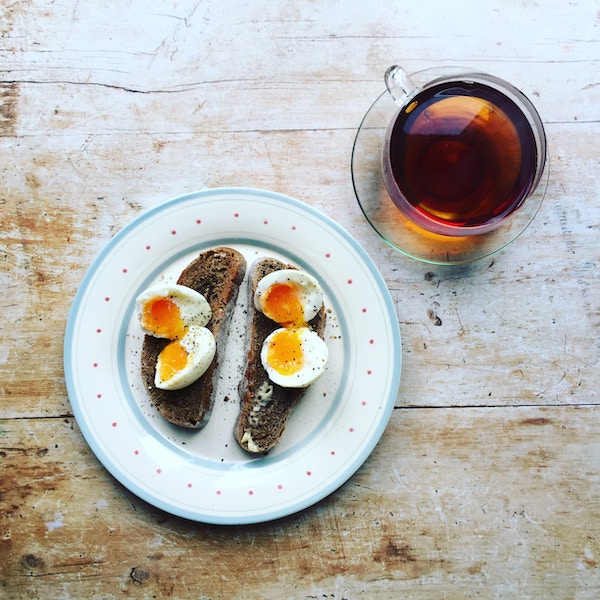 One of the vitamins often linked to hair growth is biotin, which is a part of the B-vitamin family. According to research, biotin deficiency is often associated with hair loss in humans, however whether it's an effective form of treatment is debatable. A review of the use of Biotin for hair loss found that biotin supplementation improved hair and nail growth but more definitive research is needed. That doesn't mean it's not worth getting lots of protein-rich foods into your day including:
Liver
Egg yolks
Nuts and seeds
Salmon
Milk, cheese and yogurt
Avocados
Sweet Potato
Vitamin A Rich Foods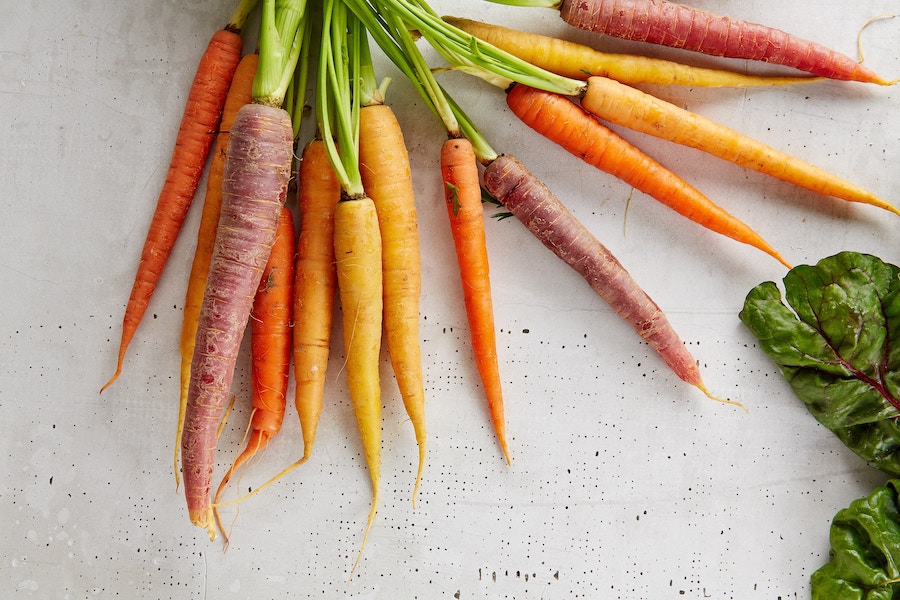 Vitamin A is an essential nutrient for healthy vision, teeth, skeletal tissue and skin. It also helps our skin make an oily substance known as sebum which helps moisturize our scalp to promote a healthy head of hair. Vitamin A can be found in a wide range of foods including, but not limited to:
Carrots
Sweet Potatoes
Pumpkins
Spinach
Kale
Milk and yogurt
Eggs
Cod liver oil
Vitamin E Rich Foods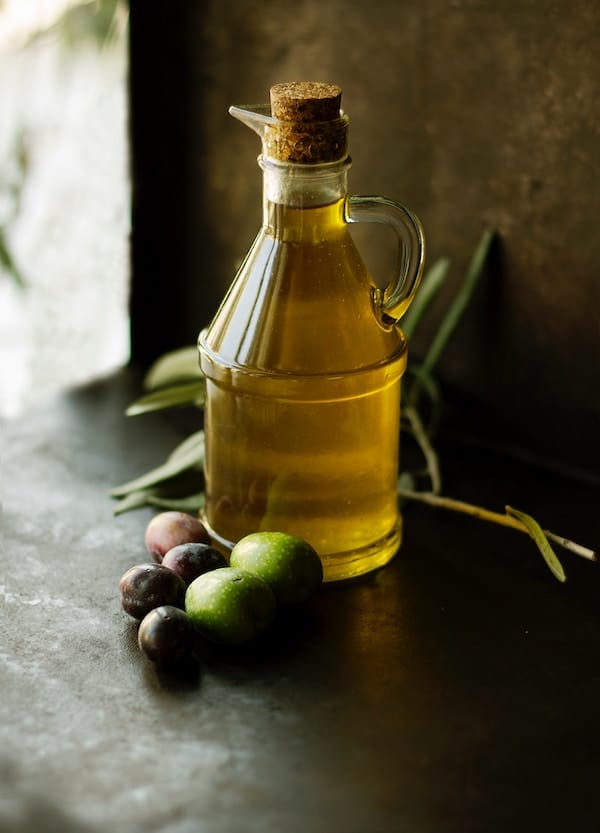 Bring on the antioxidants! Antioxidants should always be included in a healthy diet because they can do wonders for our health, including hair growth. In one study, participants with hair loss experienced a 34.5% increase in hair growth after they supplemented with vitamin E for eight months. This is likely due to the antioxidant known as tocorienol. Some of the best sources include:
Vegetable oils (olive, sunflower, corn, safflower)
Nuts and seeds
Green leafy vegetables (spinach, broccoli, swiss chard)
Zinc Rich Foods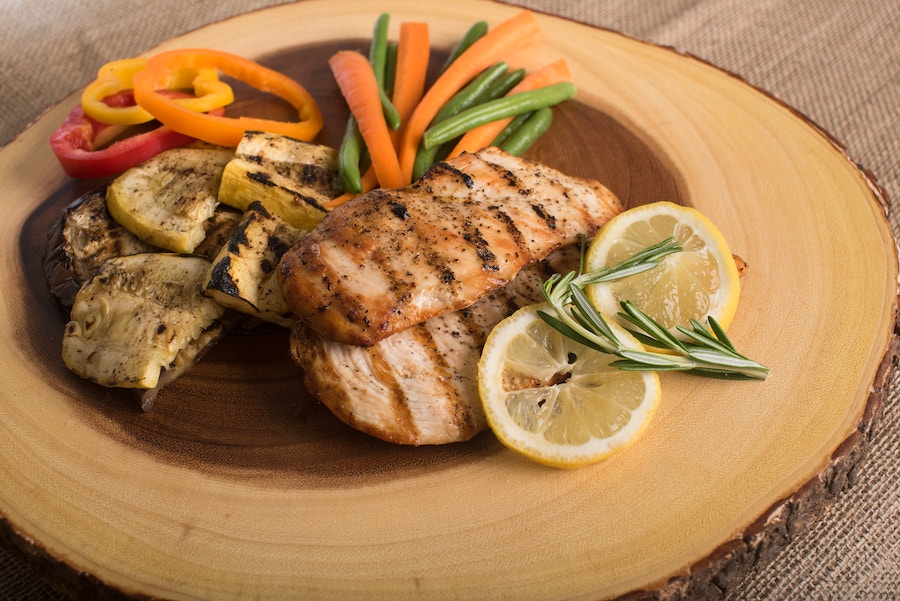 Zinc is an essential antioxidant which is involved in many bodily processes, including wound healing, cell division and growth. Hair loss can be a sign of zinc deficiency, which is why researchers have found that zinc supplementation may aid in hair growth. While alopecia (baldness) is not the same as postpartum hair loss, the research on alopecia treatment may be applied to postpartum hair loss remedies as well. One study found that zinc supplementation was effective in alopecia patients who were suffering from low zinc levels. Having said that, it is still unclear whether eating zinc rich foods or taking zinc supplements is effective in individuals that are not zinc deficient. In any case, getting enough zinc in your diet is essential, so always aim to include a variety of these foods:
Seafood (oysters, crab, lobster)
Red meat and poultry
Beans and lentils
Yogurt
Cashews
Chickpeas
Cheese
Vitamin C Rich Foods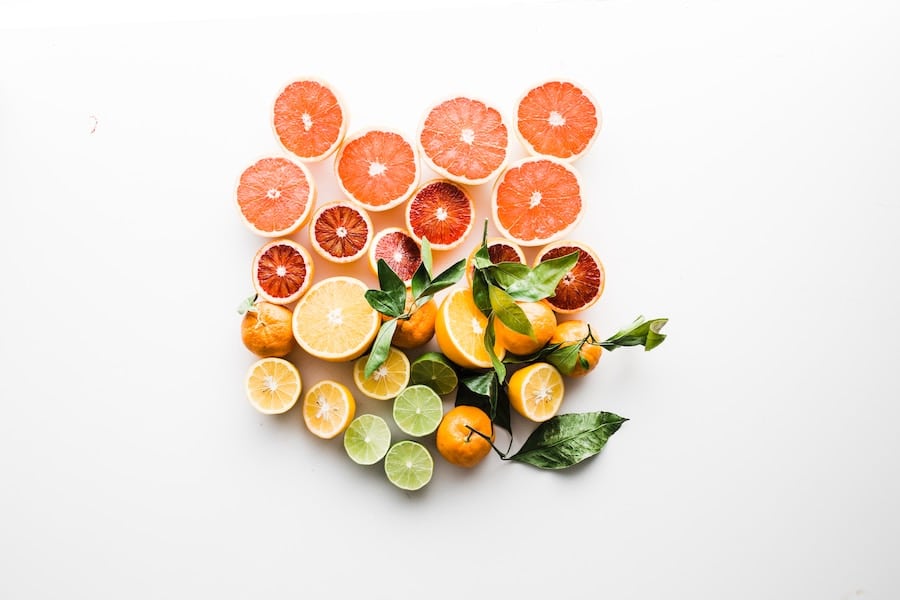 Yes, another antioxidant! Just like vitamin E, vitamin C is a powerful antioxidant that helps to produce and maintain healthy collagen levels within our hair follicles. Think of collagen like the glue that holds our body together – it provides strength and structure, two things essential to beautiful locks. Get in your vitamin C fix by including these foods in your diet:
Cantaloupe
Citrus fruits (oranges, grapefruit)
Tropical fruits (mango, papaya, pineapple)
Berries (strawberries, raspberries, blueberries and cranberries)
Watermelon
Alternative Postpartum Hair Loss Remedy
Styling Your Hair
Try to limit the use of damaging heating tools which can often make your hair look thinner. You may also want to limit brushing and be gentle when you do!
Put it Up
Gently pull your hair back or up if you've got a stage four clinger on your hands. I don't know about you, but if my kid sees as much as a little tuft of hair he can grab onto, it's going into his death grip and coming out!
Keep Up a Multivitamin
It's recommended that women take a multivitamin after pregnancy, especially if you're breastfeeding. You can choose to take either a daily multivitamin or continue to take your prenatal vitamin if you have any leftover. According to a 2017 review, taking a prenatal vitamin ensures you're getting enough vitamins and minerals, which are increased when you're lactating. It is also best to consult with a dietitian before choosing an over the counter supplement because over-supplementation of some vitamins may actually contribute to hair loss.
Minimize Stress
I know, I know. It's easier said than done – especially for a new sleep-deprived mother. But mothers should prioritize their health and make time for themselves as stress is often linked to hair loss. Stress relief can be different for everyone but it might be nice to indulge yourself in a yoga class, massage session, workout class or reading a book. Moms, let your partner have some alone time with babe. You deserve a little time for you.
Check in With Your Doctor
While postpartum hair loss is a totally natural process while your body adjusts to hormone changes, at times there may be other things at play. To eliminate that doubt, check in with your doctor to make sure everything else is normal.
Bottom Line on Postpartum Hair Loss Remedy
Before you go popping nutrition supplements or packing your smoothies with mass doses of "hair growth" nutrients, keep in mind that the majority of these research on hair and nutrition is based on the notion that nutrition deficiencies can cause hair loss. Whether taking more of these nutrients aids in hair growth is still unclear. At the end of the day, getting adequate nutrition should be a priority any time in the life cycle, so whether it has a direct impact on postpartum hair loss may not be the most important thing. Somethings we just can't prevent, but like everything in this motherhood thing, this phase too will pass. Keep looking ahead mama, the next chapter is moments away. You totally got this.
So mamas, let me know – did you experience any postpartum hair loss? Do you have a postpartum hair loss remedy you want to share? Leave me a comment below!
Contribution By:
RD2B Sumeet Chopra and Sofia Tsalamlal, RD, MHSc Nutrition Communication
More Blog Posts You Might Like:
If you liked this blog post discussing on a postpartum hair loss remedy, then you might also enjoy more blog posts on pregnancy and postpartum:
Updated on April 1st, 2023