Starting solids for baby is exciting but can also be overwhelming, so today we're going to cover the basics – from concerns over arsenic in rice cereal, baby-led weaning, allergies and more.
So far, motherhood has been a wild journey. From my struggles with breastfeeding to my mom guilt balancing my career and a baby, I am still surviving and enjoying every minute of being a mom. One thing I believe most moms are excited about – and as a foodie myself – is the moment we start our little ones on solids! FINALLY, I get to feed my babe something other than breastmilk (and maybe that means I can drop one of my 9 daily pumps)!
Aside from it being an exciting time, it can also be a nerve-wracking time because of the overwhelming information out there about baby food and starting them on solids. Don't even get me started on the things moms are saying in my Facebook mommy support groups. Many parents are making claims that certain baby foods are toxic and should be avoided. If that doesn't stress you out as a parent, I don't know what will.
I can understand why you might feel overwhelmed, and like you, I just want the best for my little babe when it comes to their relationship with food and overall health. So let's start by unpacking some of these misconceptions and explore what the research says about introducing your baby to solids.
Recommendations on Starting Solids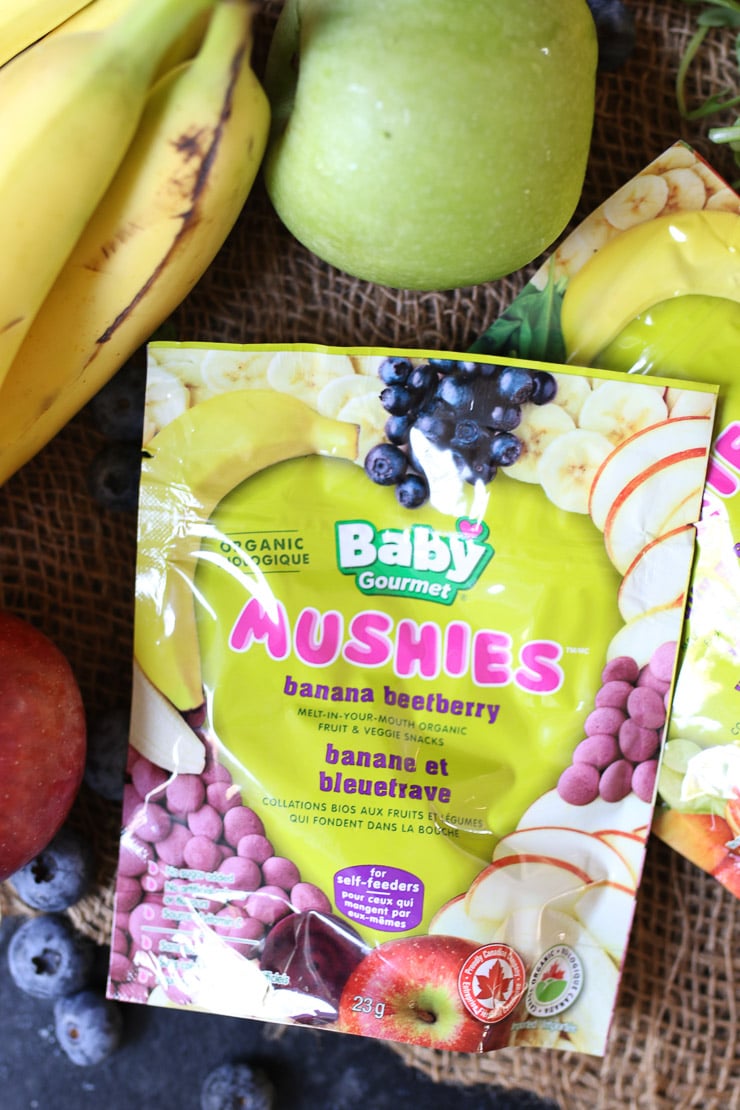 Let's go to the research! According to Health Canada, when your babe turns six months, your baby needs more nutrients and energy to meet their growing needs. If possible, this should be complemented with either breastmilk and/or formula. It is also recommended that you continue to supplement your child with vitamin D if they are being breastfed or receiving breastmilk. Vitamin D supplementation isn't usually necessary if your baby is formula fed because formula typically already contains vitamin D. Read your formula label and speak to your pediatrician to confirm this.
So what are the best solid foods to offer your baby?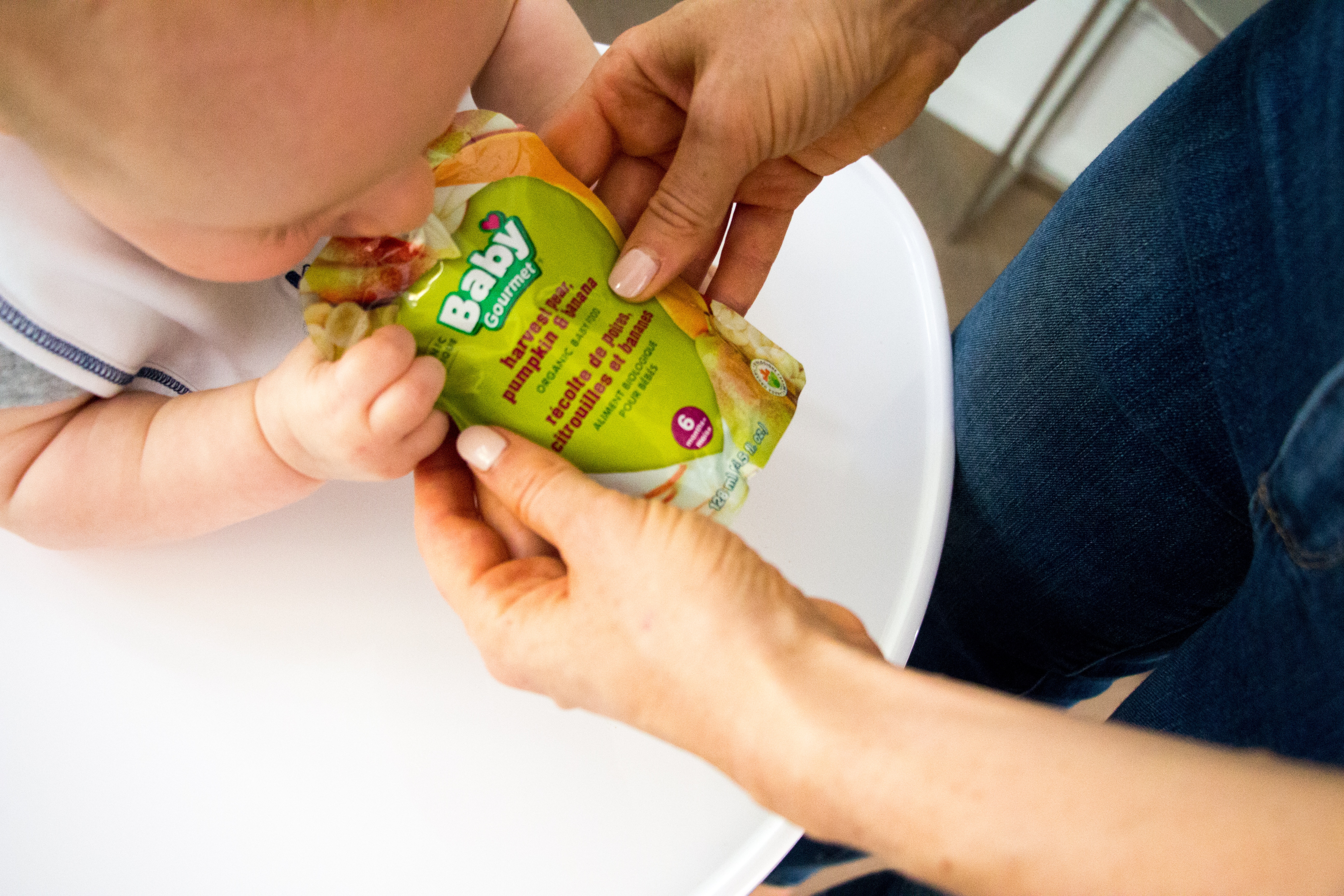 Iron-Rich Foods
It is very important that your baby's first bites contain iron to prevent iron deficiency. It is recommended to offer your baby iron-rich meat, meat alternatives and iron-fortified cereal a few times each day. It doesn't have to be the FIRST food you offer, but it definitely should be offered around the six-month mark.
But what about Arsenic in Baby Cereal?
Recently parents have been concerned that rice-based infant cereal contains toxic levels of arsenic. Rice containing foods like rice cereal do contain arsenic as well as other metals like mercury and cadmium. Believe it or not, brown rice tends to have even higher concentrations compared with white.
So what is arsenic? Is it bad for you?
Arsenic is a known carcinogen that's been linked to cardiovascular, respiratory, metabolic and immune related conditions. Research has found higher levels in babies who are regularly fed infant rice cereal. Having said that, an occasional serving isn't something to worry about – especially since it's encouraged to feed your baby a variety of iron-rich foods and there are other types of infant cereals that do not contain rice. If you are choosing infant cereals for your baby, I highly recommend Baby Gourmet's line up of Ancient Grains iron-fortified cereals. These cereals are made with organic whole grains like millet, amaranth, buckwheat and quinoa and have no added sugar or dairy.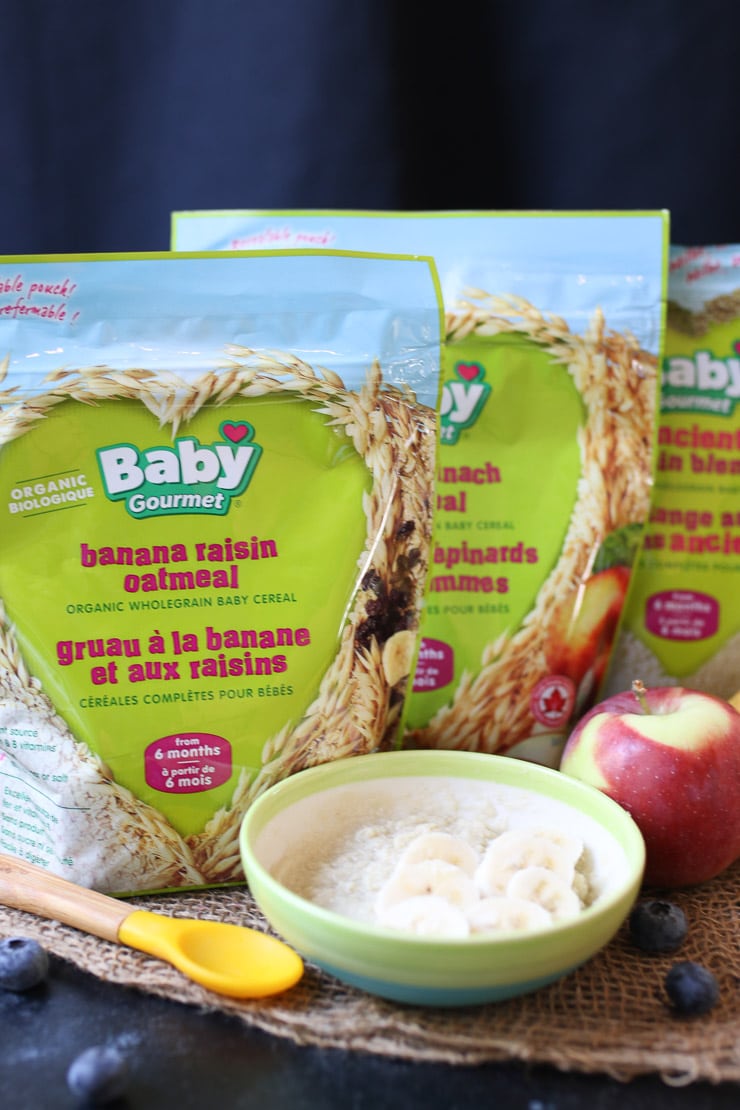 Don't Forget Your Fruits & Vegetables when Starting Solids
Aside from iron-rich foods, other foods that are recommended to introduce to your baby are fruits and vegetables. If you are making homemade baby food with pureed fruits or vegetables, that is great! But if you don't have the time, store-bought purees can be a convenient option. One thing I recommend when shopping for store-bought purees is to grab products that have the shortest ingredient list. It shouldn't be an exhaustive list because it's just veggies or fruit pureed. Watch out for products with a ton of added sugars and salt and other filler ingredients that aren't needed. I'm a big fan of Baby Gourmet's Simple Purees because they have no fillers or thickeners, and no added sugar – just tasty combinations of real veggies and fruit.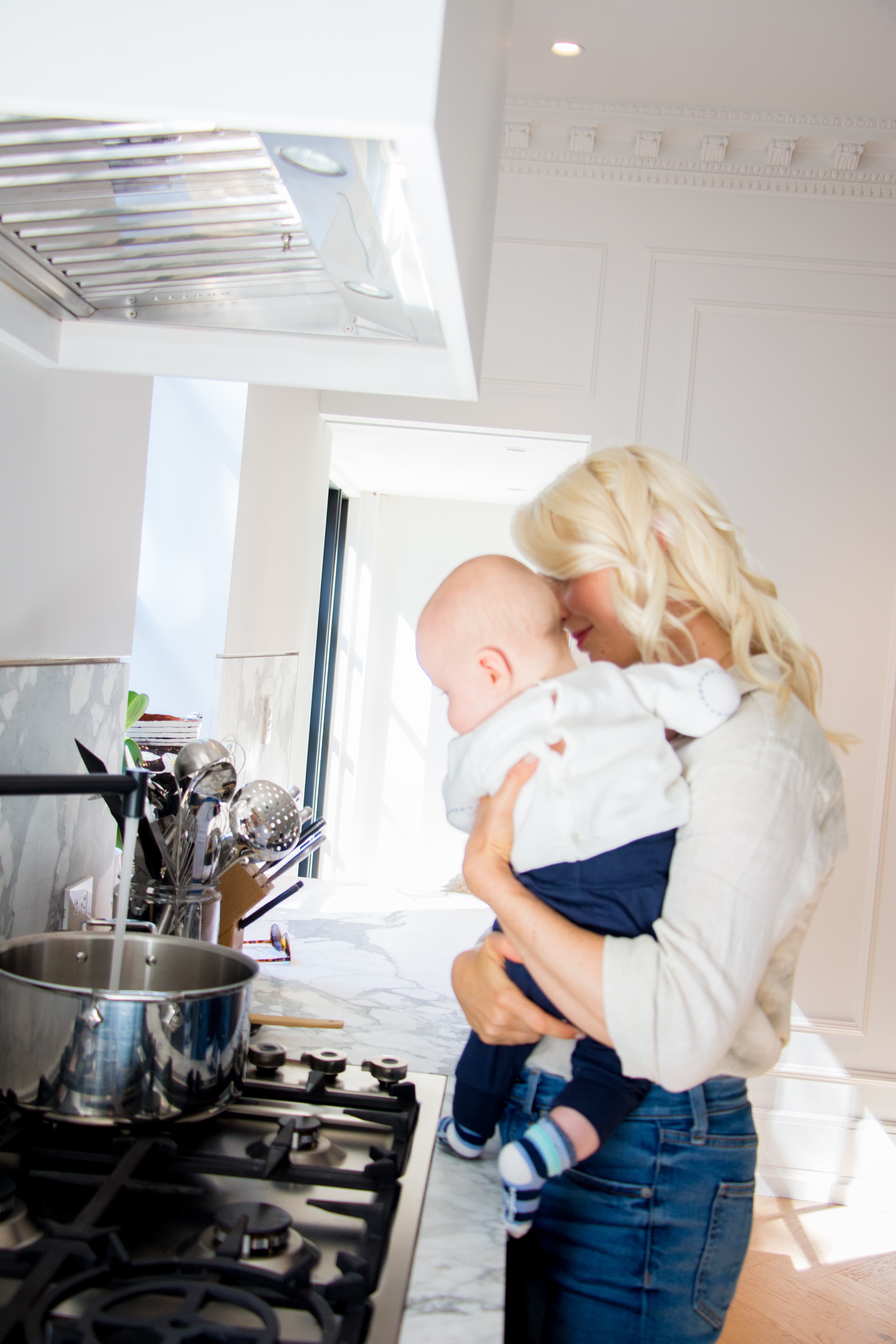 Now, let's talk about textures in solids
Baby Led Weaning Versus Spoon Feeding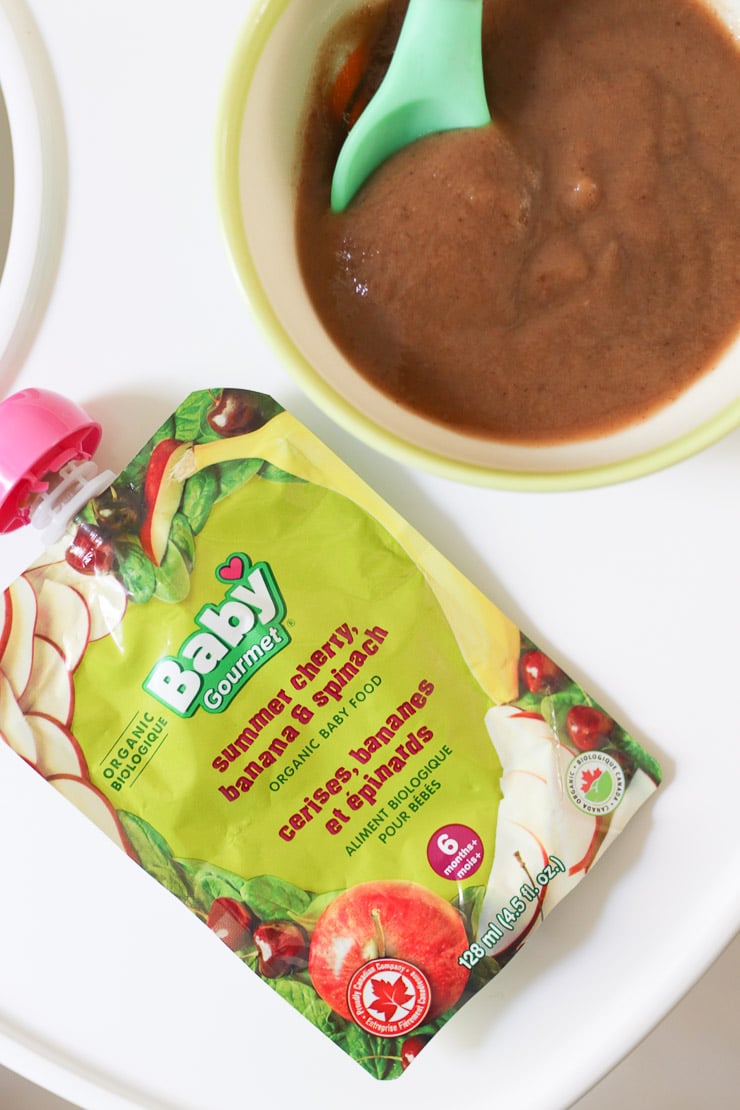 I won't go into too much detail on baby-led weaning as that will require an entire post on its own (and don't worry – it's coming). But if you're just diving in, you may have noticed that there's often a discussion in mom groups about whether you should let your babe take the lead when it comes to feeding (baby-led weaning) or you should take the lead with traditional spoon-feeding. A lot of people feel strongly about what side they're on but the reality is, you can actually do both! The beauty of baby-led weaning is that it gets baby interested and used to a variety of textures and purees are just another texture for them to explore. It is recommended that that you start with whole pieces of food, assuming baby is developmentally ready, and then transitioning to purees. If you feel comfortable you can also incorporate some of the principles of baby-led weaning into your puree-feeding game.
Here's what I mean.
Put some purees onto a pre-loaded spoon and let baby feed him or herself. Or, hand them a pouch and let them learn to bring it to their mouth to eat.
At the end of the day there isn't one best technique, and the best tip is to follow baby's lead to see what works best for him or her.
Starting Solids and Avoiding Allergies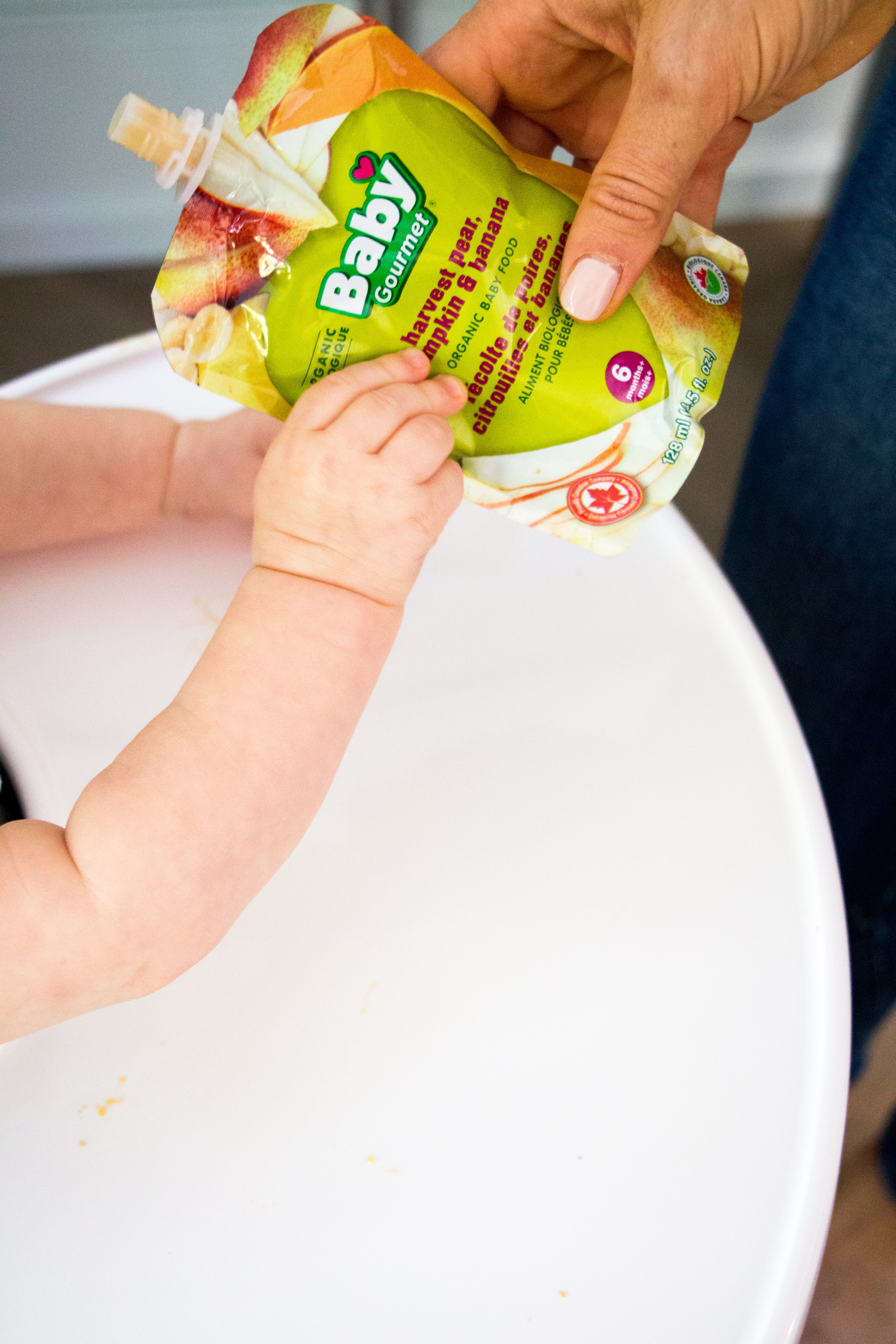 A huge concern for parents when they're introducing solid foods to their baby is allergies. Just the thought of having to deal with a serious allergic reaction can be traumatizing for us new moms. Here's the top question I get asked: Should I steer clear of the top allergen foods until my babe is one years old? OR, Is exposing my baby to those allergen foods going to reduce my baby's risk of having food allergies? This is a tricky subject and there has been significant research in this area, but the bottom line is that there is no evidence that the order in which solid foods are introduced to older infants affects their risk of developing a food allergy. According to the current World Health Organization (WHO) guidelines, solid foods (common food allergens and non food allergens) can be introduced at the age of six months and not before that. There is some evidence that suggests introducing solid foods before the age of six months might reduce the risk of food allergy, however for now there is insufficient research to actually confirm this. Some observational studies and randomized controlled trials support the notion that the early introduction of peanuts and eggs (at four months of age) may prevent food allergies, but for now large organizations will not change their recommendations because of the lack of consistent studies supporting this.
For now, the research is premature so speak to your pediatrician about your concerns to come up with a plan.
Here's a list of common food allergens:
Peanuts
Fish
Wheat (that includes iron-fortified infant cereals with wheat)
Milk products
Soy
Tree nuts
Seafood (shellfish and fish)
Whole eggs
So how do I introduce these common food allergens to babe?
Once you start solids, it's ideal parents and caregivers only offer a food allergen once per day and wait two days before they introduce another of the common food allergens. This makes it easier for you to identify a food that may have caused a reaction. Keep track of this in a diary so you can easily refer to it in case you need to report back to your babe's physician. Once you've successfully introduced that food, continue to offer the food regularly to maintain your baby's tolerance. Then you can move onto the next common allergen.
Encourage Variety
Aside from the common food allergens, incorporate as much variety in your baby's first foods as possible! Unless they're the common food allergens you don't have to separate foods out at every meal. Just like adults, babies enjoy a wide range of flavours and textures; sometimes on their own, and sometimes mixed together.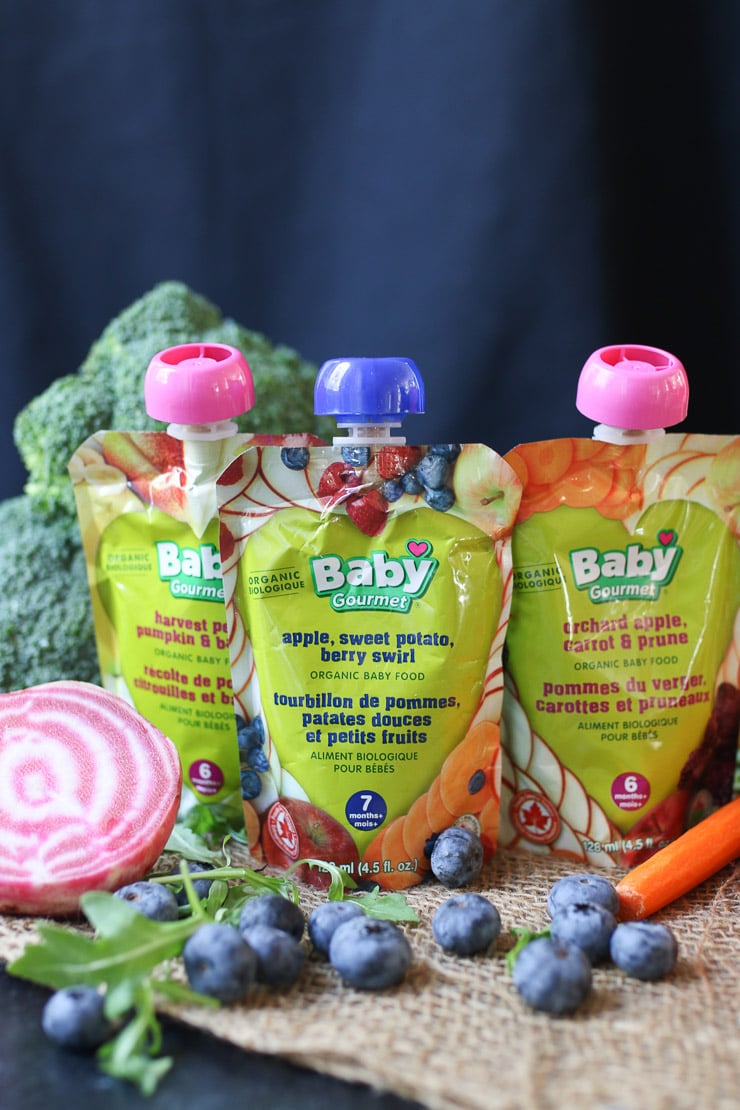 This is the fun part! Experiment to see what your baby enjoys best and don't feel like everything needs to be totally plain and separated. I'm a foodie which means I'm not going to just eat plain cooked salmon. When I'm serving up salmon I brush it with olive oil and spices and I plan on feeding that to my babe. If you're mashing up broccoli, throw in a sweet potato to give it some colour and expose your baby to a variety of textures. Mixing in purees with whole foods is a great way to keep things interesting for your baby while allowing them learn about different textures. The only thing you want to be mindful of is keeping salt and sugar to a minimum.
A Recap on Starting Solids for baby 101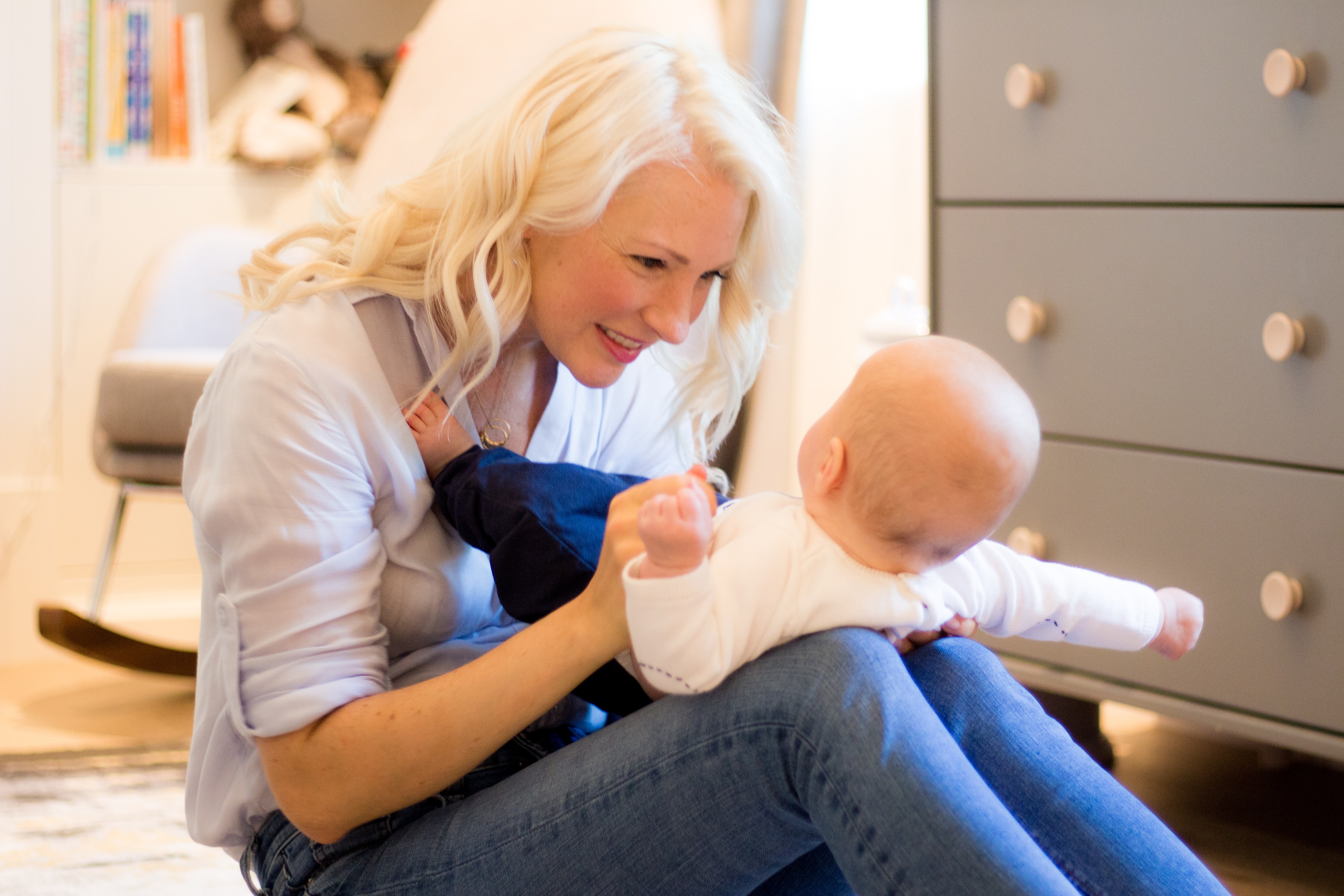 Introduce iron-rich foods around six months to prevent iron deficiency.
If you're worried about arsenic, choose iron rich infant cereals that are made without rice like Baby Gourmet's Ancient Grains iron-fortified cereals.
Introduce a variety of fruits and veggies, either in whole form, or, if you're buying purees from the store look for pureed baby food without added sugars and salt like Baby Gourmet's Simple Purees.
You can combine principals of baby-led weaning with purees if you want to.
Don't wait to introduce common food allergens. Start at six months and introduce them one at a time, once a day, and wait two days before introducing a new one. Watch for signs of an allergic reaction and continue to offer that food regularly so that it becomes a familiar food to your baby.
Keep variety in your baby's diet – serve up more than one food at once and let them experiment with different textures and flavours – but keep sugar and salt to a minimum.
Bottom Line on Starting Solids
The most important lesson I've learned about starting solids for baby is to do what works for you and works best for babe because as always there's really no right or wrong way to do it. Like most things in life it's a learning process and I'm really looking forward to this one.
What did you find worked best for you when it came to starting solids with your babe?
Leave me a comment below and don't forget to check out this exclusive contest to win Baby Gourmet for a whole YEAR! To enter, simply sign up for their e-newsletter here, follow them on Instagram, and like their Facebook page by November 30th. And as a bonus, you'll also get Dietitian Sarah Remmer's Top 25 Feeding Hacks E-Book when you sign up! Good luck and happy feeding!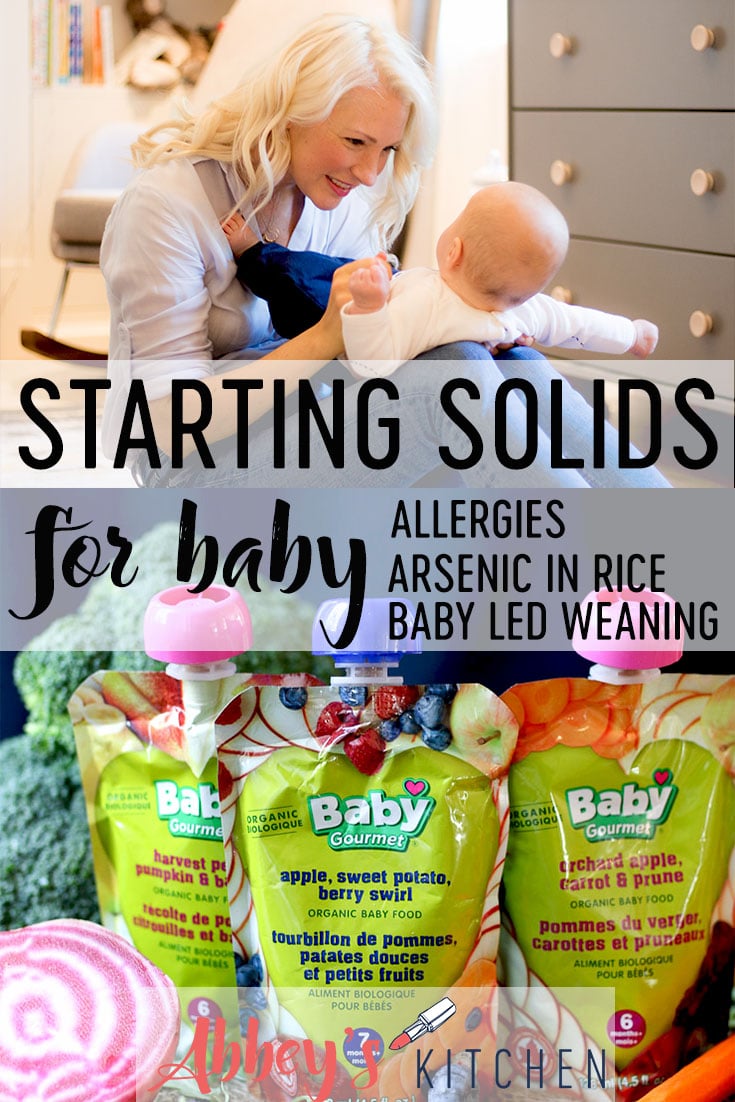 Disclaimer: This post was developed in paid partnership with Baby Gourmet, however, all opinions are genuine.
Updated on September 1st, 2022