I give an overview on saturated fat and cholesterol and chat about why fat is officially on the table with the popularity of keto diet and paleo diet.
The one thing about nutrition that can be frustrating at times is the wishy-washy positions on certain foods and nutrients. One day carbs are bad, the next day it's fat. It seems that in today's day and age, with all the "experts" online touting their favourite eating regime, nutrition is more complicated than ever. Up until recently, there was two things most people agreed was "bad" for us: saturated fat and cholesterol. Until, of course, debate ensued about the questionable past research that supported this notion. We've seen an explosion of fat-friendly diets like the keto diet and paleo diet. And thus came the great debate of 2017: "Is saturated fat actually bad for you? Does it raise your cholesterol? And what about plant-based saturated fat, such as coconut oil?" I've given you a nifty infographic on fats before but today I am here to chat with you about all things fat. The different kinds, what type of fat you should be eating and what the current research says to answer these questions.
Let's dive in, shall we?
All About Fat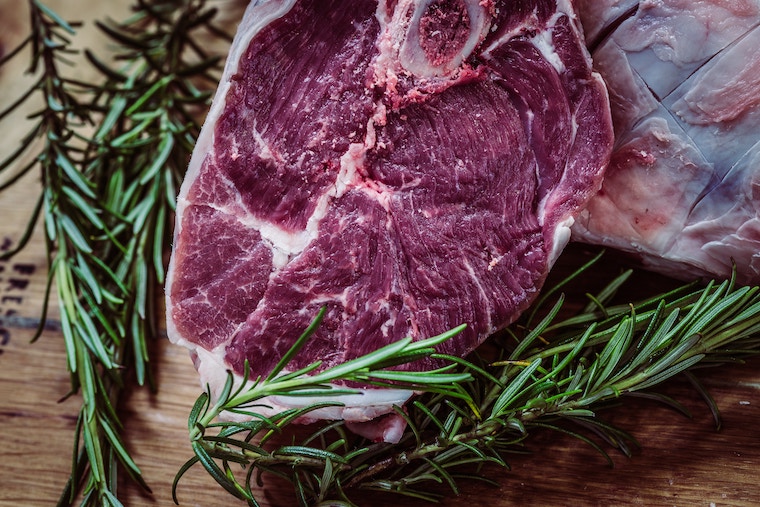 I don't know about you, but when I was younger and even to this day, I was told "don't eat the fat on your steak". The idea behind this was that eating fat made you fat. It does make some sense, but now that we've finally exited the decade of fat-phobia, I have a better appreciation for the different types of fat and how our bodies utilize them. There are 4 main types of fat that I will talk about today: Saturated, monounsaturated, polyunsaturated, and trans fat. Additionally, I will dive into other fats such as omega-3's and cholesterol. The important thing to know about fats for this section is that a fat, or "fatty acid", is a chain of carbons linked to each other (think C-C-C-C). This will just help you understand the different types of fat better. Don't worry guys, I don't plan on going all biochem on your minds. We'll keep this simple.
Saturated Fat 101
Saturated fat is commonly found in animal products such as red meat and dairy. However, it's also found in some plant foods such as coconut oil, which has become the trendiest fat I ever did see. The term "saturated" is used because of the chemical makeup of the fat, which is called a fatty acid. Saturated means that there are no "double bonds" in the chain of carbons. So, it would look something like this if we were to think of regular bonds as one line and double bonds as two lines: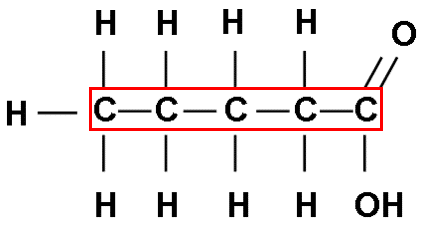 As you can see, there are no double bonds in the carbon chain. Because of the structuring of this type of fat, it creates a more solid structure at room temperature (it doesn't melt unless heat is used). A perfect example is butter, which is high in saturated fat.
Monounsaturated Fat
Monounsaturated fat is one double bond away from being a saturated fat, but is still very different! "Mono" means one and "unsaturated" means that there is a double bond. Here, there is one double bond between two carbons along the entire chain and would look something like this: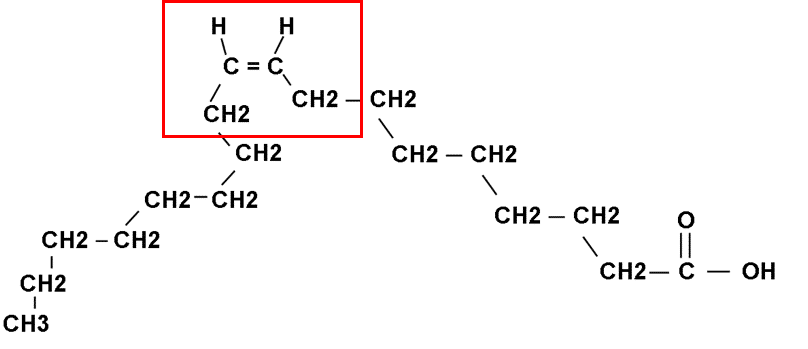 This double bond changes the shape of the fatty acid and forces a bend. This bend causes the food to be less solid at room temperature. Foods that have a large amount of monounsaturated fats would be avocado, olive oil, safflower oil, nuts, and peanut butter.
Polyunsaturated Fat
The "poly" in polyunsaturated simply tells us that there are multiple double bonds in this fat. The more double bonds in a fatty acid, the more the chain of carbons bend. This creates a fluid product at room temperature. There are a variety of polyunsaturated fats out there, but there are two that are considered "essential" because our bodies cannot make them: linolenic acid (aka omega-3) and linoleic acid (aka omega-6).
Omega-3
I am sure you have heard at least once in your life how good omega-3s are for your health. That information is not wrong! Omega-3s are linked to an array of health benefits from heart health to brain health to joint health. There are three types of omega-3s: alpha-linolenic acid (ALA), eicosapentaenoic acid (EPA), and docosahexaenoic acid (DHA). Don't worry about remembering these names, just remember the acronyms.
ALA is found in foods such as flaxseed, vegetable oil, and nut/seed oils. While this is an absolutely fantastic way to get in your omega-3s, research has found that EPA and DHA have the most influence on our health. As well, ALA is actually used by the body to make EPA and DHA. Unfortunately, the conversion is quite small.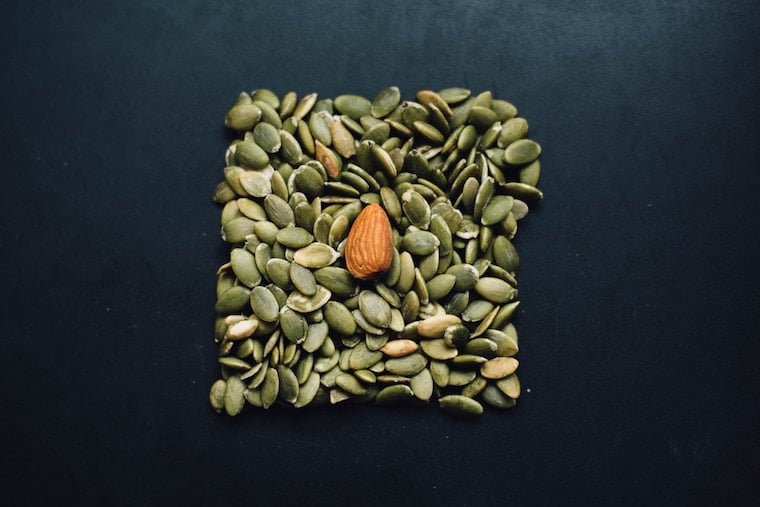 This leads us to EPA and DHA. These bad boys are predominantly found in oily fish, which is why we recommend getting at least 2 servings of fish per week. Now, I completely understand that some people avoid consuming fish or do not like the taste of fish (you really need to check out my recipe here!) But if you still can't stand the thought, then I recommend an omega-3 supplement that contains 1200mg of EPA and DHA combined (make sure it has both!) Just be sure to consult with your Registered Dietitian or doctor before starting anything, especially if you're on certain medications such as blood thinners or are pregnant/breastfeeding.
Omega-6
Omega-6 fatty acids are found in many of the foods we eat, such as poultry, eggs, whole grains, nuts, and vegetable oils. In fact, most of us are getting enough omega-6 but not enough omega-3. A good balance of omega-3 to omega-6 is the key to achieve the health-promoting effects they have.
Trans Fat
The verdict is in for trans fats and it will be officially banned in Canada as of September 2018. A trans fat is simply an unsaturated fat that has had hydrogens rearranged where there is a double bond. Normally, an unsaturated fat has hydrogens on the same side. However, during a process called hydrogenation, the hydrogens are placed across from each other.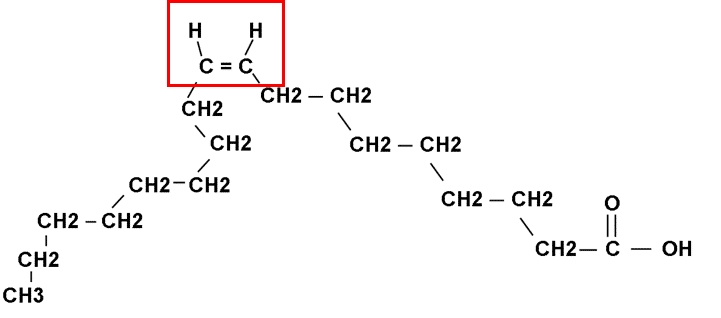 Here is an unsaturated fat. As you can see, the hydrogens (the H's) are on the same side.

Here is a trans fat, it is very similar to the unsaturated fat, but the hydrogens (the H's) are on the opposite side of each other. When they are on the opposite side of each other, it creates a straight structure to stay solid at room temperature. A good example of a trans fat would be hydrogenated margarine (most margarines are processed differently, but be sure to check the label).
Okay, so what's the problem with trans fat if it's just slightly different from the other fats? Well, artificial trans fats (meaning they are made during the processing of food) are known to increase the risk of heart disease, increase inflammation, and also decrease "good" cholesterol and increase "bad" cholesterol. It appears that the structure of a trans fat is not favourably dealt with in our bodies. Therefore, to reduce the incidence of heart disease and other health issues, Canada will ban its use by food manufacturers. Good job, Canada.
Cholesterol
The word on cholesterol has been very confusing over the past few years. It was first thought that all cholesterol was "bad" which led to the egg boycott of the 21st century. Ugh, that was annoying. Research (here, here, here) then started to show that maybe not all cholesterol was equal and the cholesterol in eggs wasn't to blame. In fact, some research pointed out that changes in cholesterol intake had limited change in a person's lipid profile (total cholesterol, LDL, HDL). In fact, an update 2020 meta-analysis concluded that moderate consumption of eggs is not associated with heart disease and that it may also LOWER heart disease risk in Asian populations. Interesting right? How the tables have turned.
Right now, the verdict is that most healthy individuals, not including those with diabetes, heart disease, or other chronic diseases, can consume about an egg per day, with many health professionals suggesting 2-3 in one sitting should be okay. There are many reasons why cholesterol is a tricky subject, mainly because there are different types of cholesterol, different transporters, and different sizes of cholesterol that all play an important role in heart health. So, let's discuss!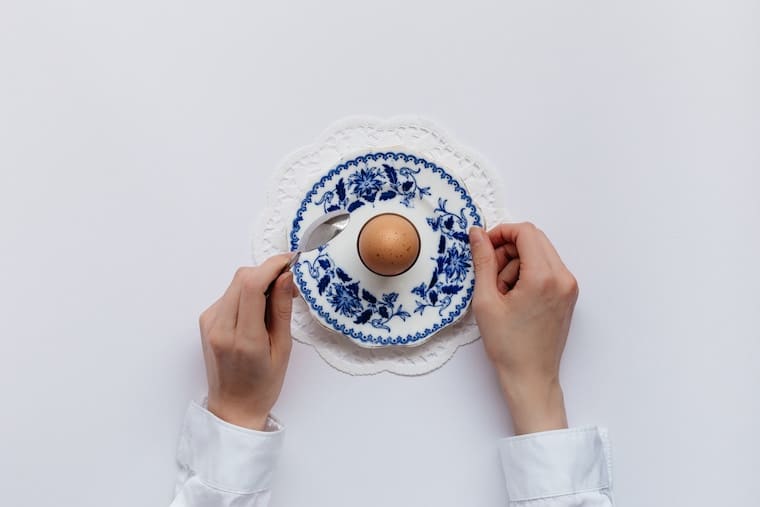 Cholesterol 101
Cholesterol is a "sterol" because it's chemical structure has a 4-ring core. Other types of sterols include plant sterols and steroids. Our body needs cholesterol for many important functions such as making bile acids that help with digestion, sex hormones (e.g., estrogen and progesterone), and the development of vitamin D. So, let's first clear the air and say officially that cholesterol is not the villain it's made out to be. However, the type of cholesterol is important.
LDL (aka Low-Density Lipoprotein) and VLDL (aka Very-Low-Density Lipoprotein)
LDL cholesterol is the "bad" cholesterol we hear all about. Without going into too much detail, these particles (i.e., lipoproteins) actually contain more than just cholesterol. They also contain different proteins and lipids. Think of lipoproteins as little circles that travel in our blood, to and from our liver, and drop off different components throughout our body. Each type of lipoprotein has a different makeup. For VLDL and LDL, they are mainly cholesterol and lipids (i.e., a type of fat), with a little bit of protein. The main role of LDL is to transport cholesterol to body tissues to make things our body needs, such as hormones.
HDL (aka High-Density Lipoprotein)
HDL cholesterol is the "good" cholesterol. This lipoprotein is important because it takes excess cholesterol that hangs out in our blood back to the liver where it is either re-used or excreted out of the body. Too much cholesterol in the blood can be harmful because it eventually will build up on the walls of our arteries. If this happens, then it becomes difficult for blood to travel smoothly throughout our body and to our heart, leading to an array of health issues such as a heart attack. Think of HDL cholesterol as the custodian that cleans up the leftover cholesterol after a "hearty meal" party.
So why is LDL "bad"? Well, it's only an issue if there is way more LDL than HDL. This means that LDL is taking cholesterol throughout the body but there isn't enough HDL to help remove any excess. Really, think of them as working as a team with HDL being the one "in charge". If LDL starts taking over and HDL can't keep up with the work, chaos ensues. However, if HDL takes control of the situation and makes sure LDL is bringing the "right" amount of cholesterol to our tissues, then the office is calm and working well. Another thing to consider is genetics. Some people can have naturally higher levels of LDL or HDL cholesterol. What is important is the ratio between the two.
Does Particle Size REALLY Matter?
It's up for debate. Research is currently conflicted as to whether the size of an LDL cholesterol particle makes a difference. According to the American Heart Association, some studies have found that larger particles cause less damage than smaller LDL particles, while other studies have shown no effect. Likewise, a 2018 study found that small or medium LDL particles, specifically when they changed in composition from large to medium or small, was associated with a 40% increase in heard disease risk. Similarly, a 2006 study found a relationship between a smaller particle size and an increased risk in fatal heart attacks, but when other measures were considered, it was no longer significant. However, research appears to suggest that eating foods higher in monounsaturated and polyunsaturated fats can decrease the amount and size of LDL cholesterol in general.
And what about cholesterol in foods? Well, for the average healthy adult, 300mg per day is fine. An egg has about 186mg. If you have a heart problem or other health condition, then it may be less depending on your situation and medications. It appears that trans fat and saturated fat consumption may have more of an impact on poor cholesterol levels than actually consuming cholesterol from food. As well, if you have a family history of heart disease, speak with your Registered Dietitian or doctor.
Now that we've wet your appetite, want to learn more about the impact of Saturated fat and cholesterol and their impact on human health?
Be sure to subscribe to my blog so you don't miss Part 2 of this Saturated Fat series!
Now tell me, do you consume foods high in saturated fat?
What about eggs and cholesterol?
Leave me a comment below with your thoughts!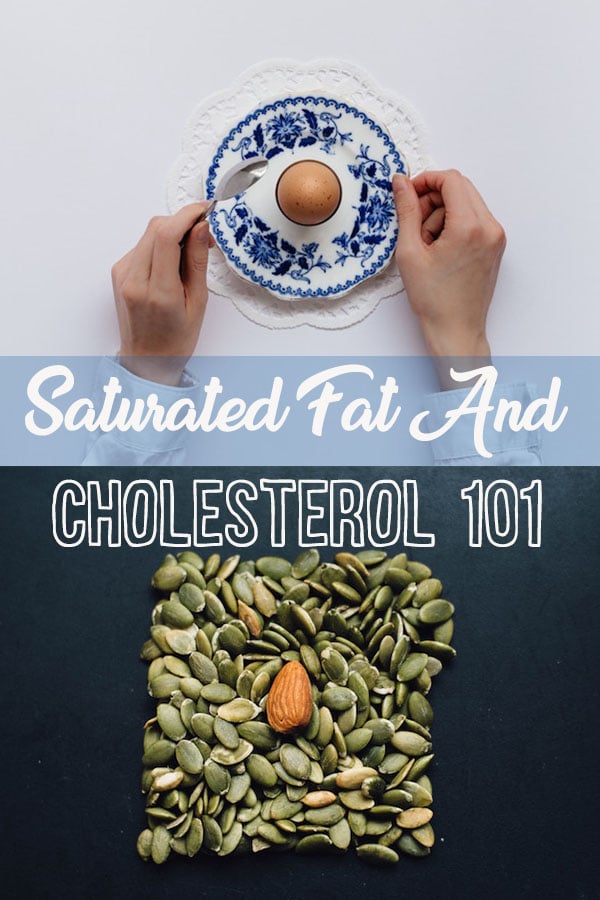 Contribution By:
RD2B Katey Davidson
Updated on October 4th, 2021