These decadent vegan chia pudding granola cups are packed with the hunger crushing combination of fibre, protein and healthy fats and were created in partnership with Kellogg's® All-Bran cereal. They make a super satisfying one-bite breakfast that feels like a decadent dessert, but is a surprisingly healthy way to start your day.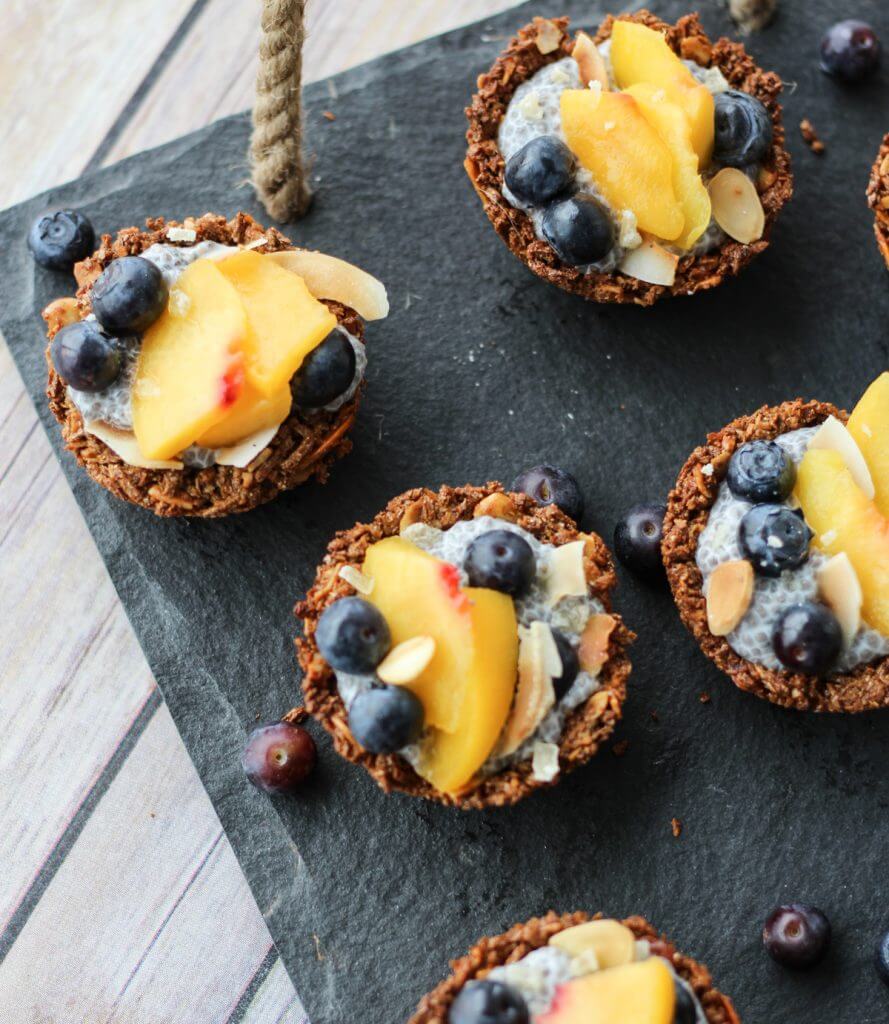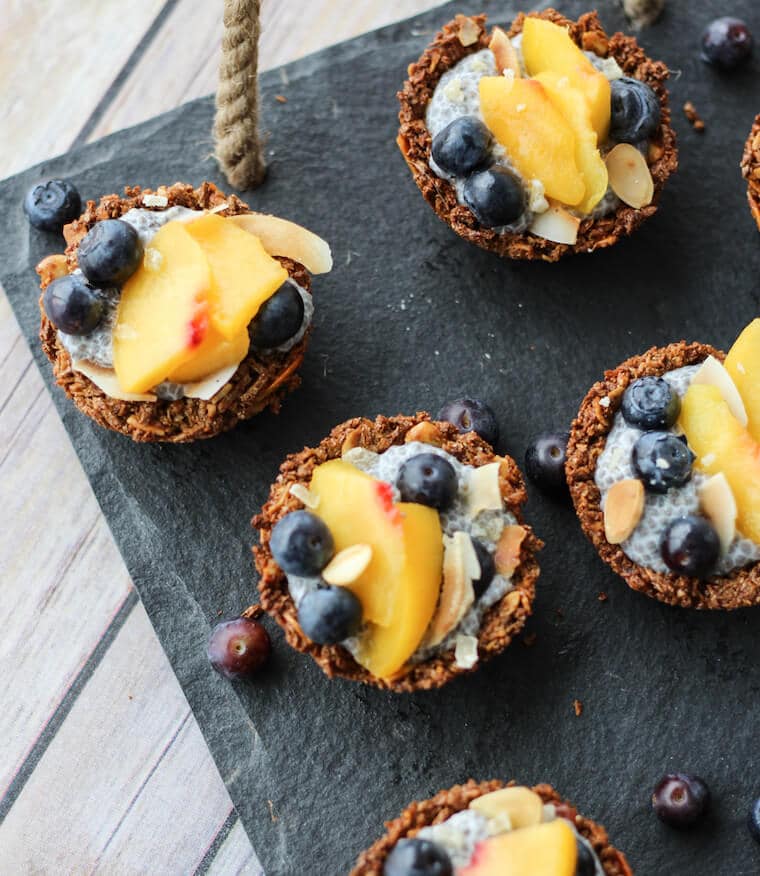 I'm a busy girl. My mornings start super early and my days end pretty late, so there's often no time for lengthy, leisurely meals. Having said that, I'm a dietitian. I know how important it is to make time for good nutrition, particularly for a healthy balanced breakfast.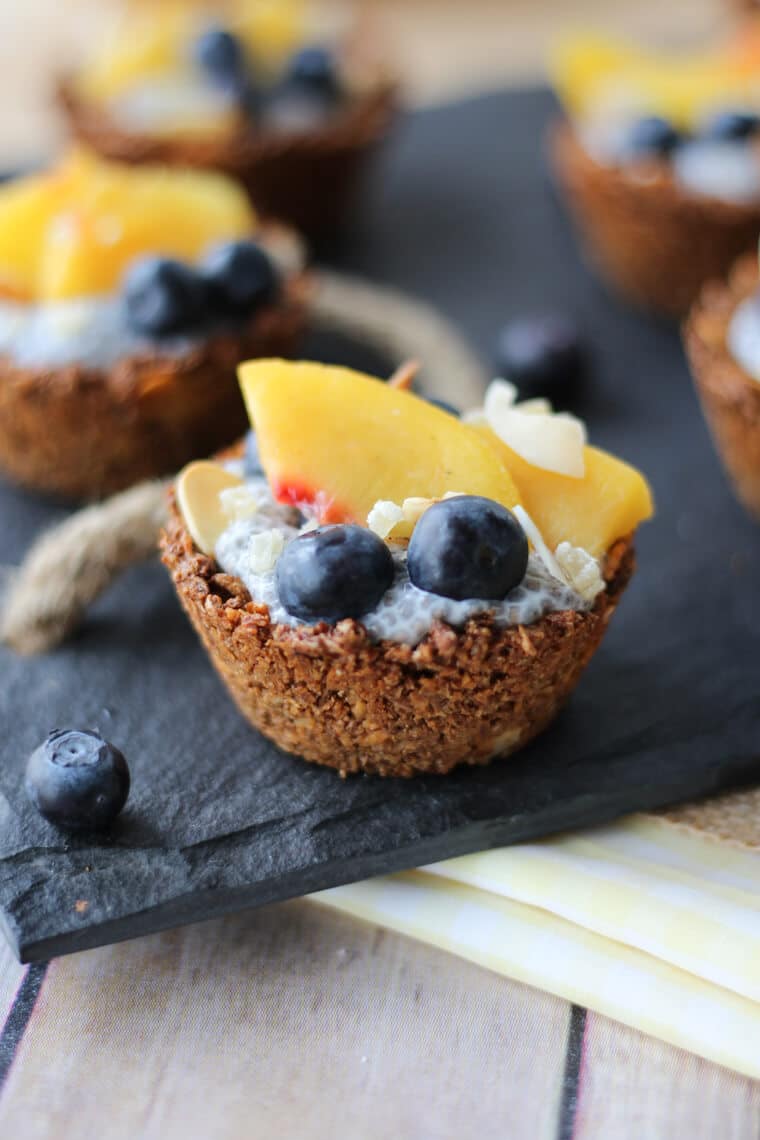 Breakfast in my home needs to be make-ahead, hand-held and definitely not boring. It sets the stage for the rest of the day and literally can make or break my mood. Maybe I'm dramatic, but food is that important to me. These Vegan Chia Pudding Granola Cups with Peaches & Blueberries have become the way to kick off any day with a solid smile.
How to Make Vegan Chia Pudding Granola Cups
Imagine for a second that you had an edible cup that you could enjoy your vegan chia pudding in. Woah. That's the beauty of these delicious granola cups. It starts by combining a sweet ripe banana with almond butter, coconut, almonds and my secret ingredient – Kellogg's® All-Bran Original cereal®. Just 1/2 cup of All-Bran Original cereal has 48% of your recommended daily fibre, and fibre helps us feel full.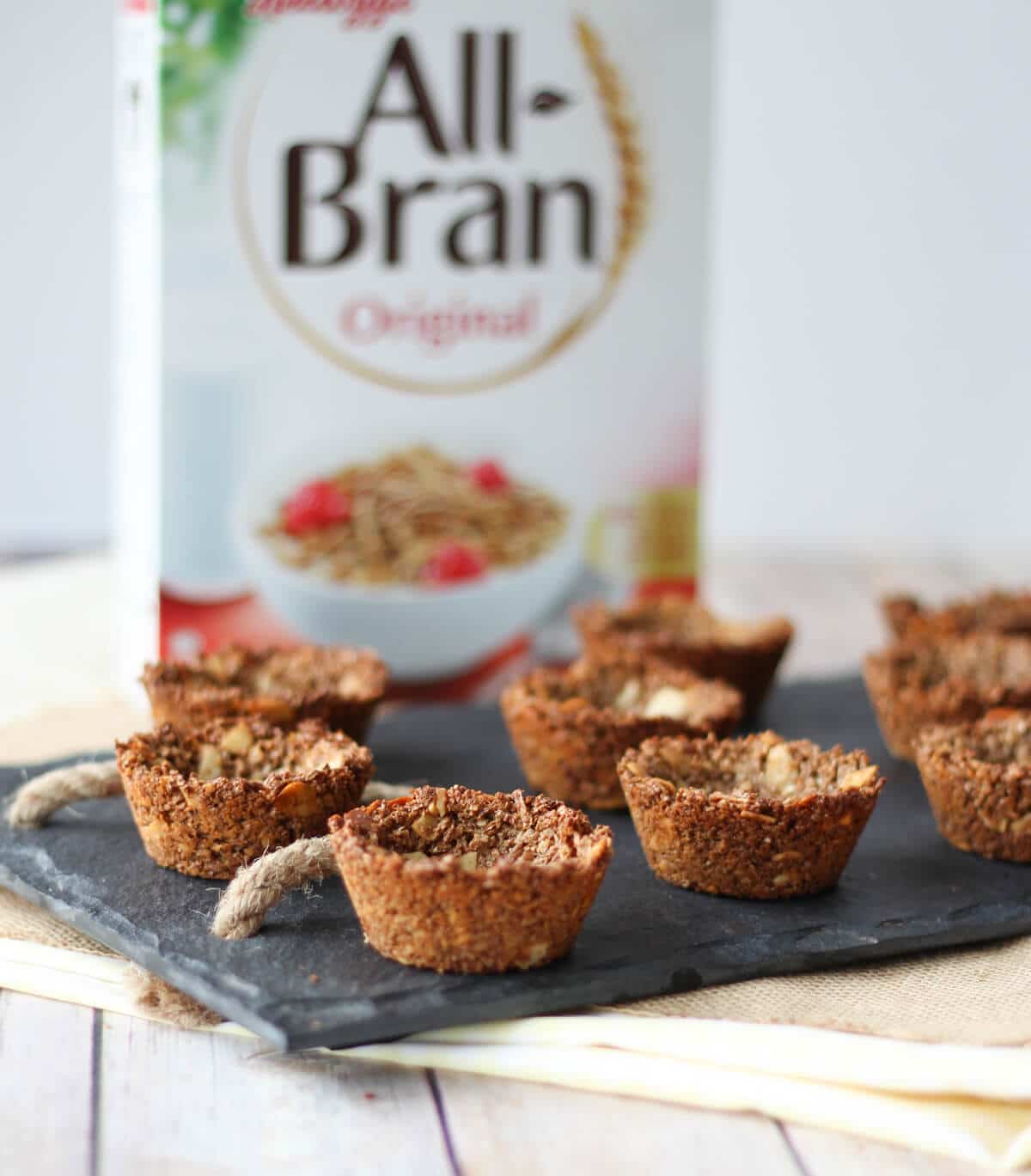 In other words, you only need one or two of these babies and you'll be good until lunch. I always bake off a bunch of these granola cups on Sunday afternoon so by the time I'm scrambling at 7 AM on Tuesday, I know I can easily get my fix. Also, it tastes like a delicious cookie BUT it's a very high source of fibre, so I'm definitely in a good mood after this.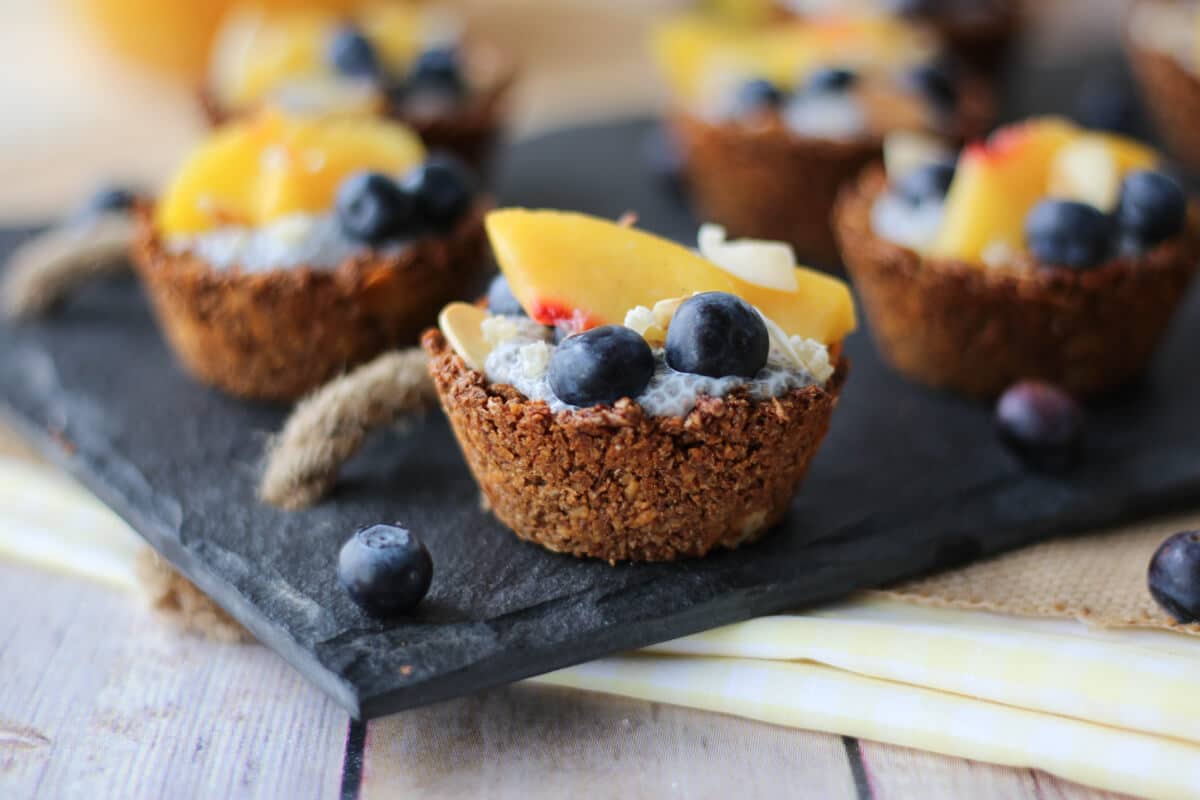 My chia pudding also starts at least one night before but could not be easier to put together. Seriously, if you can mix together coconut almond milk with chia seeds and the sweetener of your choice, you can make thick, luscious vegan chia pudding.
When I'm hangry, frazzled, and trying to blow dry my hair and answer emails at the same time, I just throw a few spoonfuls of the vegan chia pudding into my high fibre granola cups, toss a few blueberries and peaches on there for some extra nutrition and BAM- my on-the-go breakfast of champions is served.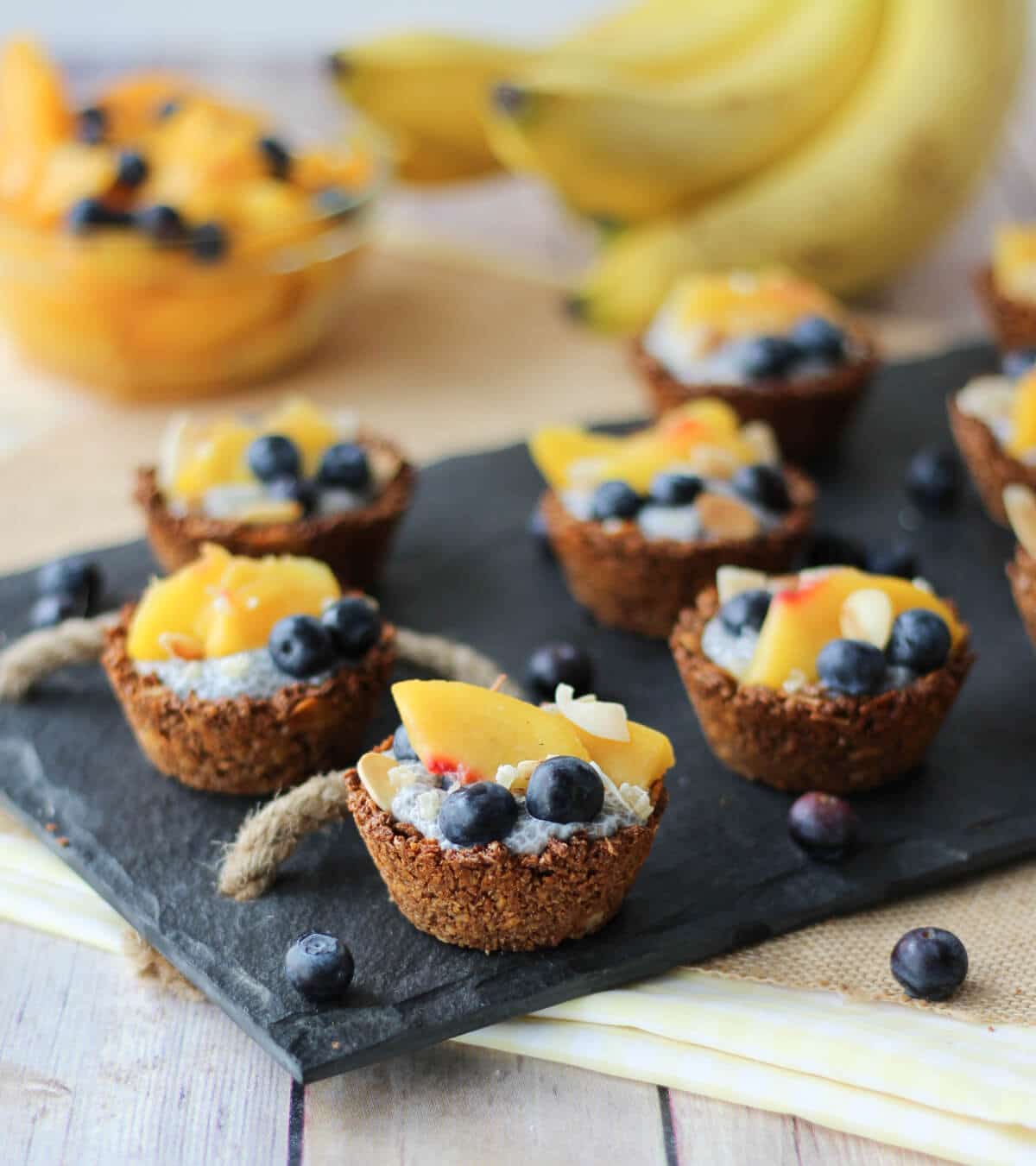 Nutrition Per 2 Granola Cups: Calories 410, Protein 10 g, Carbohydrate 42 g, Fat 29 g, Dietary Fibre 15 g, Sugars 19 g
What are your favourite on the go breakfast recipes? Have you tried making vegan chia pudding? What else would you fill your granola cups with? Leave me a comment below! I would love to hear your ideas!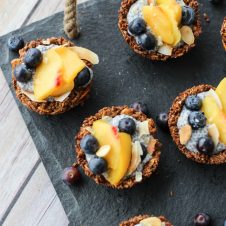 Vegan Chia Pudding Granola Cups with Peaches & Blueberries
This granola cup dessert is fibre-rich and will satisfy your hunger.
Print
Pin
Rate
Servings:
6
(2 Cups Each)
Ingredients
Topping:
2

peaches

peeled and thinly sliced

1/3

cup

blueberries

2

tbsp

toasted shaved coconut

2

tbsp

toasted sliced almonds

1

tbsp

candied crystallized ginger

finely minced
Instructions
In a small bowl, whisk together the coconut almond milk, chia seeds, and maple syrup until combined. Let it sit for 5-10 minutes, then stir to ensure it doesn't clump together.

Cover and chill in the fridge for at least 3 hours, but ideally, overnight.

The next day, preheat your oven to 350 F.

In a medium bowl, mix together all of the ingredients in the granola cups until thoroughly mixed through.

Grease 12 muffin tins with non-stick cooking spray and divide the mixture between the tins. Using the bottom of a cup, press the mixture down to form a flat surface, then use your fingers to gently press down in the centre and press the cereal up the sides of the cups. Make sure there is at least a few millimeters of Kellogg's® All-Bran Original® on the bottom and all around on the sides.

Bake for 10-12 minutes, or until the sides brown nicely. Cool completely for at least 1-2 hours.

Once cool, very carefully remove the cups from the muffin tins, loosening them gently with a palette knife.

Add a few spoonfuls of chia pudding to each cereal cup, then top with the peaches, blueberries, coconut, almonds and candied ginger. Enjoy at room temperature.
Nutrition
Disclaimer: This recipe was developed in paid partnership with Kellogg's® All-Branl® , however, as always, all opinions are genuine.
LEGAL: In keeping with good allergy practices, we remind you to be aware of allergens and to check labels on any packaged goods used. This recipe has been tested using Kellogg's® products. Results with other products may vary.
Updated on October 23rd, 2020