When it comes to healthy smoothies, freestyling is the name of the game, so whether it's breakfast on the go, an afternoon snack, workout fuel, or an after dinner treat, the possibilities are endless! They're also a great way to use up odds and ends in your fridge or freezer, throwing in that last little bit of milk, yogurt, or fruit before it spoils.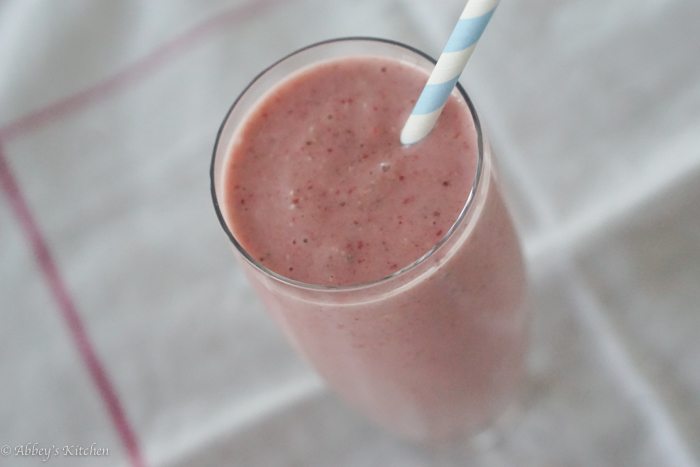 With the help of two of my amazing nutrition students, Olivia Maida and Alexis Silver, we have collected 10 terrific healthy smoothies from talented food bloggers, each boasting a range of important health benefits. A trend you will discover is that each recipe uses ingredients which provide protein, fiber, and healthy fats – all nutrients our bodies need in order to feel satiated and fuller for longer! That means popular add-ins like Greek yogurt, nut butters, seeds, fruits and even a few veggies!!
Our Favourite Healthy Smoothies
Pick Fresh Foods
175 Calories, 3.35 g Total Fat, 29 g Carbohydrate, 4 g Fibre, 19.3 g Sugar, 8.3 g Protein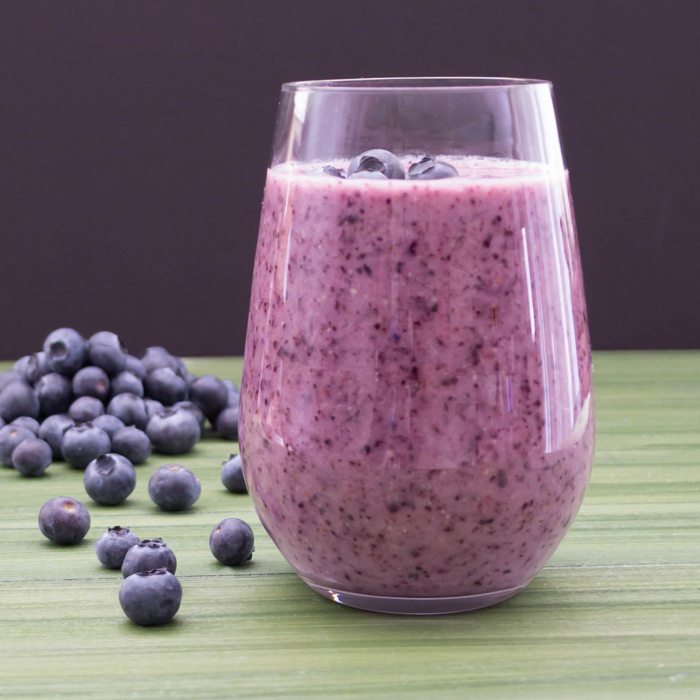 Summer is just around the corner, so it's time to bring out the tropical fruits! The high antioxidant and fibre content of the blueberries combined with the sweet tropical flavours of the pineapple and banana make this smoothie perfect for those hot summer days! The Greek yogurt adds protein and the milled flax provides the fiber to keep you feeling fuller longer.
Green Blender
Apricot Carrot Smoothie
437 Calories, 21 g Total Fat, 45g Carbohydrate, 7g Fibre, 19.5 g Sugar, 10.4 g Protein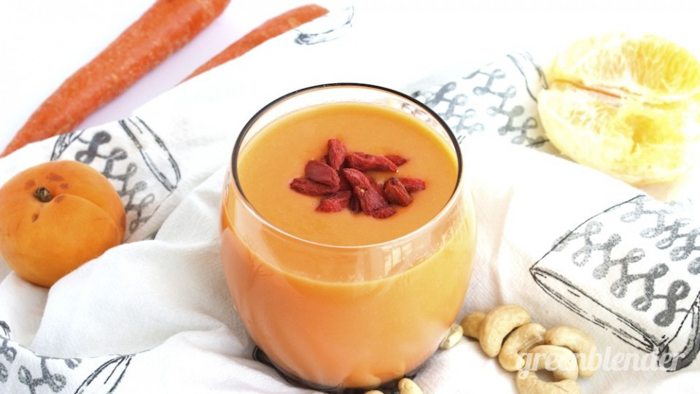 Who knew you could add whole raw carrots to healthy smoothies? This vibrantly coloured smoothie is a must try, and this recipe makes use of two incredible sources of beta-carotene – apricots and carrots. The dietary fiber in the apricots and carrots will also ensure your tummy is satisfied long after snack time is through!
The Foodie Physician
298 Calories, 15.4 g Total Fat, 38 g Carbohydrate, 7.9g Fibre, 25 g Sugar, 7.5g Protein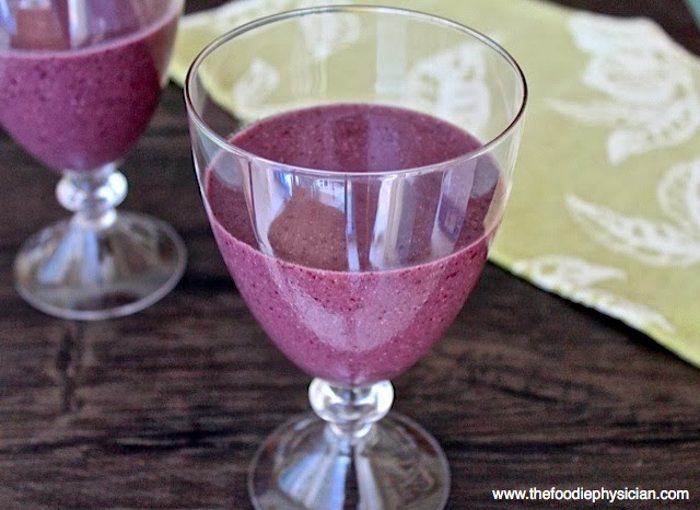 What a perfect way to kick off cherry season with a smoothie loaded with delicious plump deep red cherries! If you're a fan of cherry ice cream, you'll love this refreshing smoothie, with the addition of almond butter for extra creaminess and satisfaction! This smoothie also contains chia seeds which crams in tons of protein, fiber, and healthy fats!
Sweet Remedy
Fruit Oatmeal Flax Smoothie
226 Calories, 4.5 g Total Fat, 31 g Carbohydrate, 6.5 g Fiber, 13.5 g Sugar, 14.7 g Protein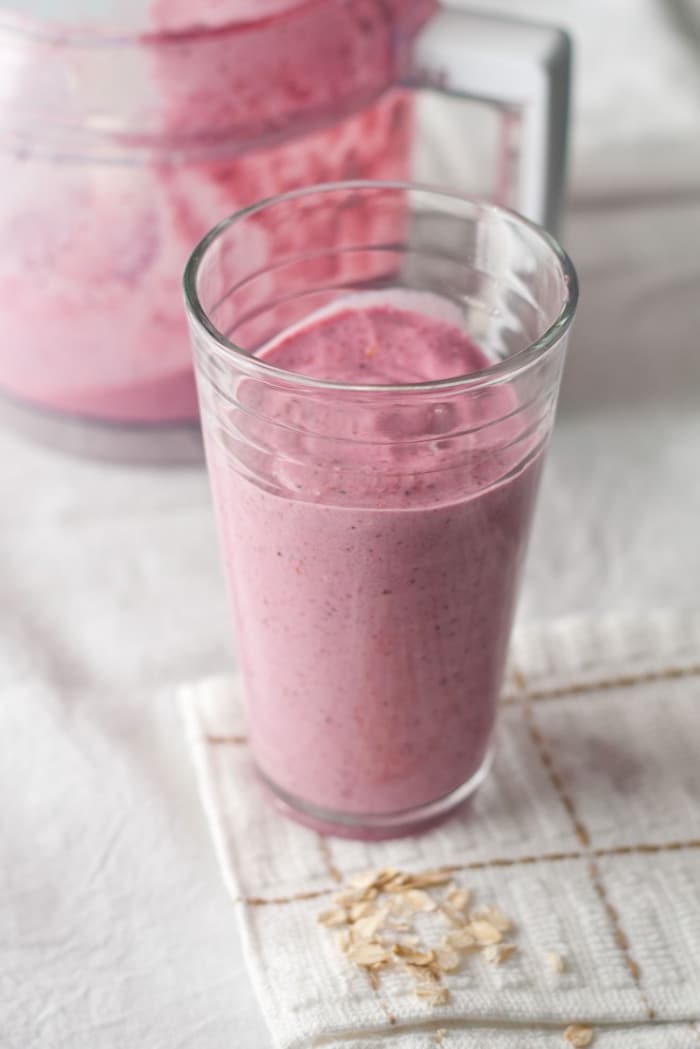 Who said the only way to eat your oats is in a bowl of mushy oatmeal? Loaded with lots of fibre, oats helps thicken the consistency of healthy smoothies while the flaxseed offers an excellent source of healthy omega-3 fatty acids!
The Lemon Bowl
290 Calories, 10 g Total Fat, 40 g Carbohydrate, 4.5 g Fibre, 17.5g Sugar, 11 g Protein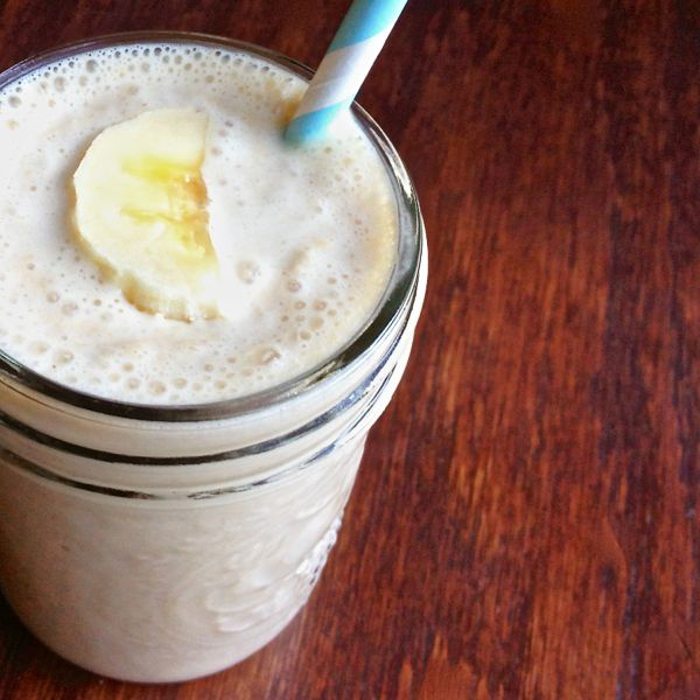 Love that peanut butter banana flavor combo? Have you tried it in a smoothie? This smoothie packs a punch with the healthy fats from the nut butter, paired with the fibre from the oats, and the natural sweetness from the banana. The flavour is a big winner with kids and adults, alike.
Peanut Butter and Peppers
153 Calories, 0.5 g Total Fat, 15 g Carbohydrate, 15 g Sugar, 20.5 g Protein
It tastes like dessert and contains 20 grams of protein! This light and refreshing smoothie is perfect for a post workout cool-down snack given that it doesn't contain fiber so the nutrients and protein can be quickly absorbed by your tired muscles!
Green Blender
Lemon Chia Seed Muffin
216 Calories, 5.3 g Total Fat, 67 g Carbohydrate, 11.7 g Fibre, 29.5g Sugar, 7.2 g Protein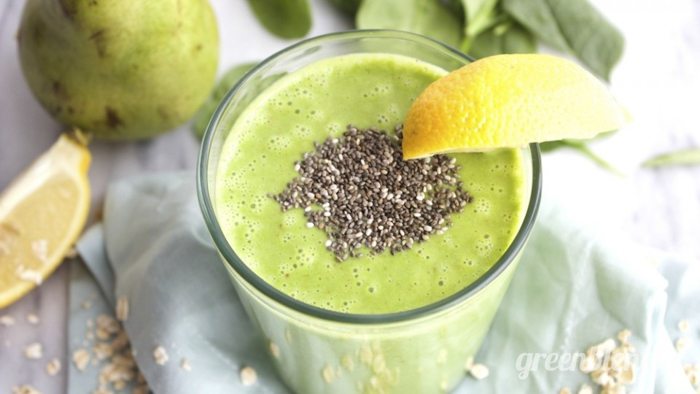 The sweet tangy flavour of fresh lemon adds zing to healthy smoothies like this one. It also features everyone's favourite trendy vegetable, kale, packed with antioxidant vitamins, phytonutrients, and cholesterol-lowering fiber!
The Foodie Physician
151 Calories, 0 g Total Fat, 31.5 g Carbohydrate, 3.5g Fibre, 23 g Sugar, 7.6 g Protein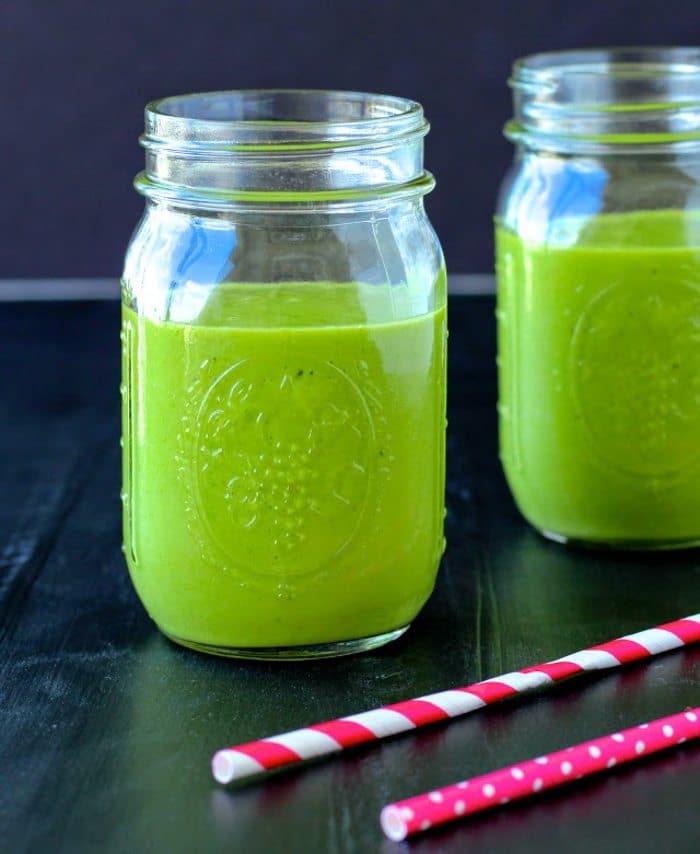 You'd never be able to tell that this tropical tasting smoothie contains a whole cup of fiber rich spinach! That's a whole serving of veggies! Meanwhile, the Greek yogurt adds a boost of protein as well as a creamy texture. Yum!
The Foodie Physician
177 Calories, 0 g Total Fat, 44 g Carbohydrate, 6 g Fibre, 30 g Sugar, 3 g Protein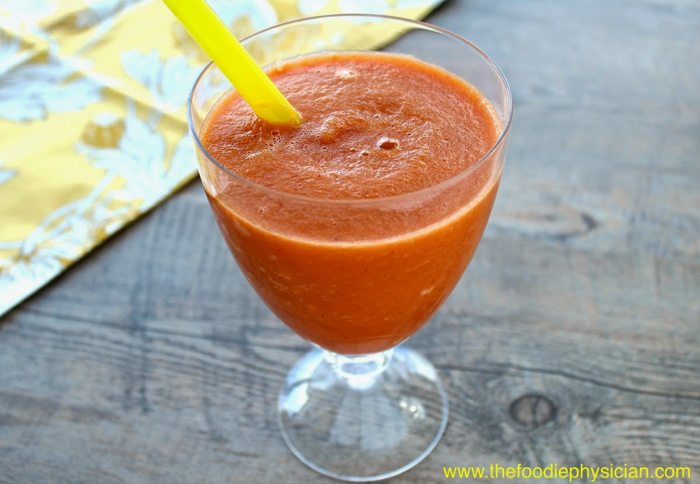 This delicious smoothie carries with it a slightly spicy flavour from the ginger, which will be sure to wake up your taste buds! I also love the fiber from the whole apples and the hit of vitamin C from the citrus!
Oh My Veggies
396 Calories, 21.8 g Total Fat, 52 g Carbohydrate, 11 g Fibre, 38 g Sugar, 26.5 g Protein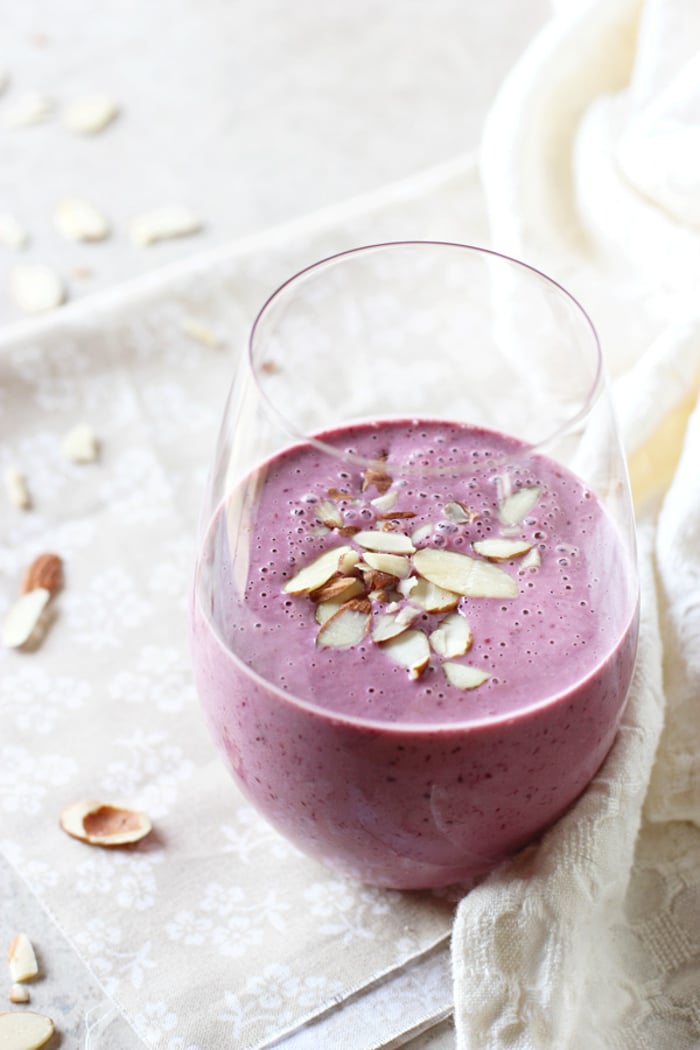 The almond butter in this recipe not only creates a smoother and creamier consistency, but it also adds a healthy fat for long lasting energy! Offering a double whammy of goodness, there's also a sprinkling of hemp seeds to add extra protein, fibre and magnesium!
What are some of your favourite healthy smoothies? Leave me a comment below or tweet me your faves!
Updated on October 4th, 2021