This Slow Cooker Vegan Blueberry Peach Crisp will become your go-to healthy summer gluten free dessert for the crockpot to keep you from turning the oven on.
Usually when we think about slow cooker recipes we think cozy, cool weather comfort foods like stew, and soups!
Well, not anymore.
I don't know about you but I will do ANYTHING to avoid turning my oven or stove on and heating up the whole house, so the idea of throwing everything into my slow cooker and walking away from the day is TOTALLY my style.
This slow cooker vegan blueberry peach crisp combines the flavours of summer in a low sugar, crazy easy no fuss dessert.
What's in Slow Cooker Vegan Blueberry Peach Crisp?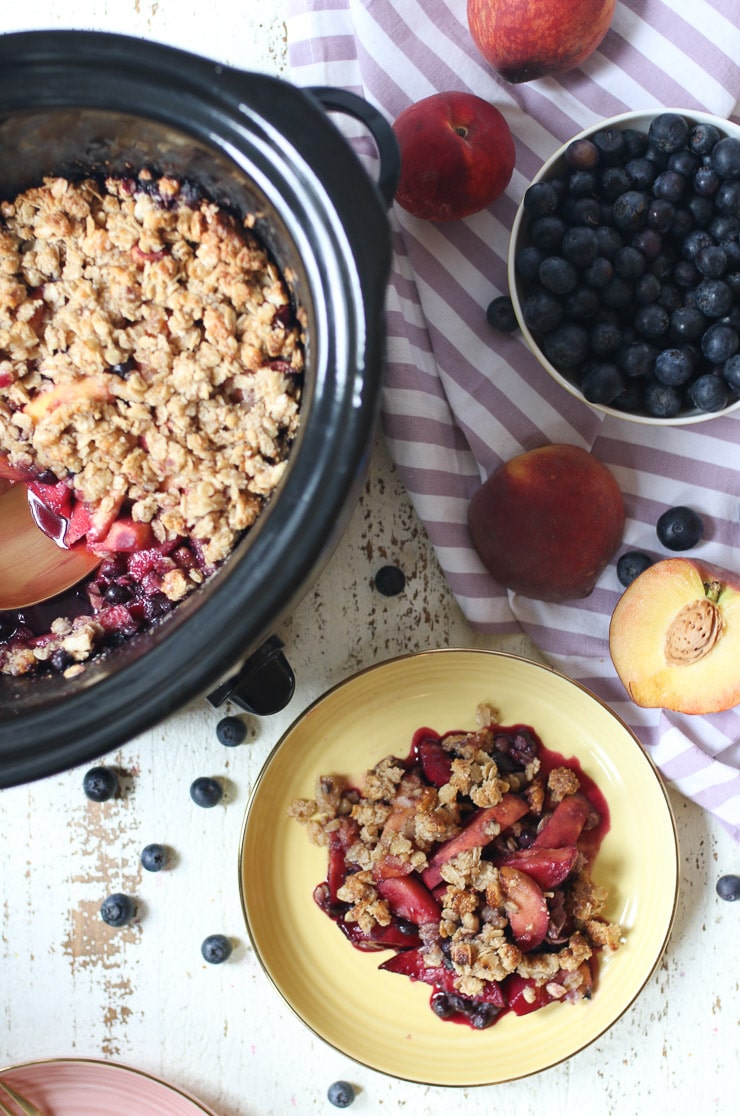 This blueberry and peach crisp easily become one of my favourite weeknight desserts that I feel good about serving Baby E because it's packed with really delicious Summer ingredients. Peaches, blueberries, cinnamon and ginger make the fruit filling, and a combination of oats, almond meal and pecans make the crispy crunchy topping. It's tasty enough for dessert, but balanced enough that I have no qualms about serving it with a dollop of yogurt for breakfast.
When you're choosing peaches for this slow cooker vegan fruit crisp, I highly suggest looking for FREESTONE peaches whenever possible. It will make it SO much easier to get the flesh away from the stone since CLINGSTONE don't just pop away so easily. They like to hug those pits like their life depends on it and it MAKES. ME. CRAZY. I mean, it's still totally doable to just cut around it, but you end up with a mango-like issue where you waste some of the fruit (or you just have to eat those stuck on bits. It's rough, I know.)
How do You Make Slow Cooker Vegan Blueberry Peach Crisp ACTUALLY Crisp and Golden on Top?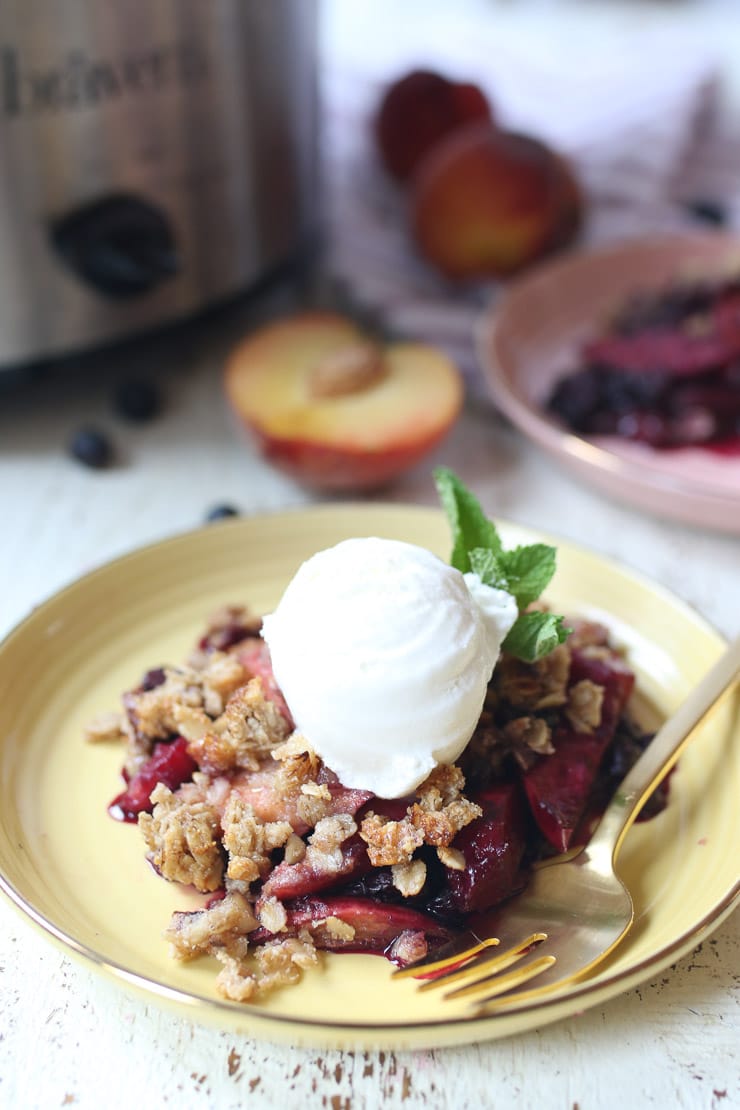 Okay so when I was thinking about making a blueberry fruit crisp recipe, I thought, how the F is it going to crisp up when there's a lid trapping in all the moisture? Well, here's the trick, my friends – a double folded piece of paper towel! As the moisture from the fruit rises to the top, it gets absorbed by the paper towel so that the topping can crisp up. If we skipped this step, the moisture would fall back onto the crisp topping and it would get soggy.
I DON'T WANT NO UNCRISP- CRISP.
Is this Blueberry Peach Crisp Vegan AND Gluten Free?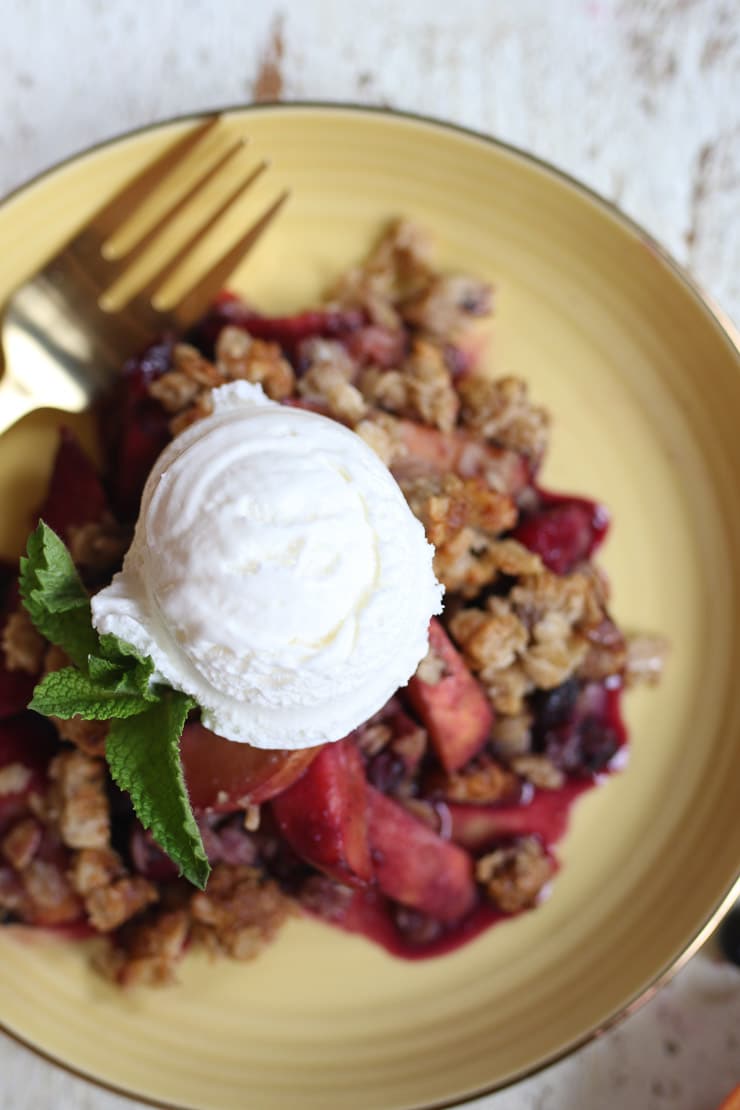 Yes! I use vegan butter in the topping (but you can also use coconut oil), and I use gluten free oats and cornstarch for the topping, and thickener, respectively. You can also use tapioca starch for the filling, and if you don't want this blueberry peach crisp to be gluten free, you can use whatever oats you have!
Can You Make Slow Cooker Apple Crisp or Use Other Fruits?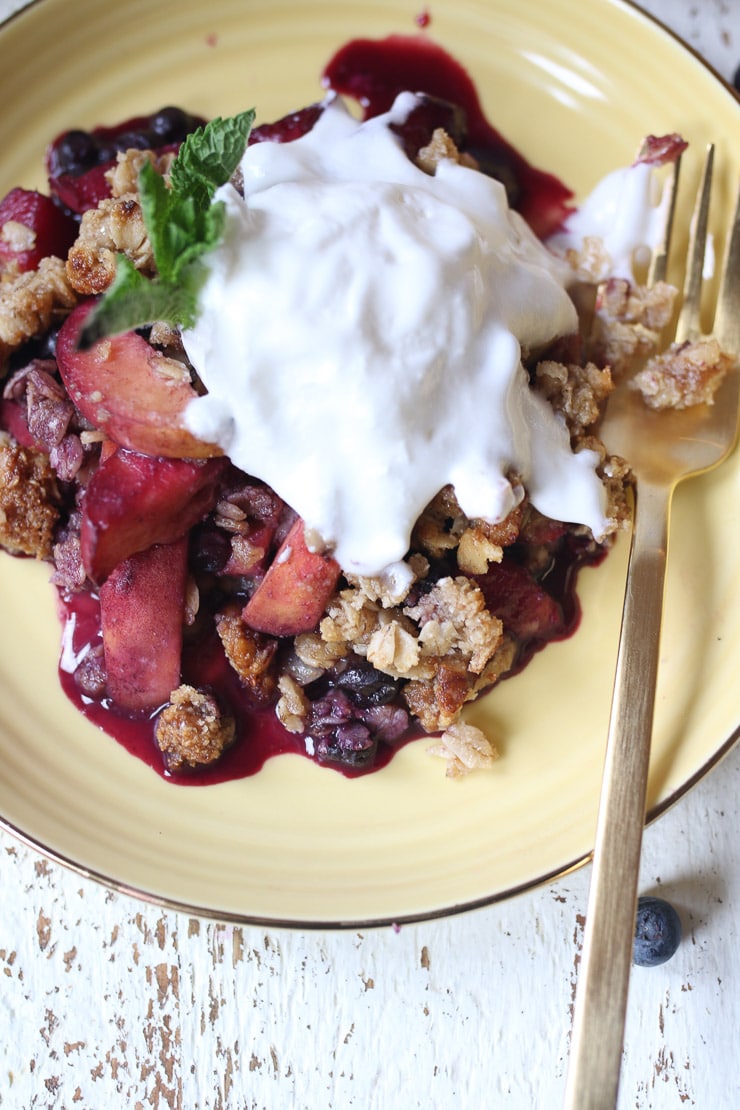 OMG YES. That is the beauty of this recipe. It will become a staple! Just swap in your favourite fruit and go for it. I love the classic late summer combination of blueberries and peaches, but do strawberry rhubarb in the Spring (may need a bit more sugar), apples or pears in the fall (may need a bit more time), and mango any time around!
What's your go-to summer dessert recipe?
Have you tried making this Slow Cooker Vegan Blueberry Peach Crisp?
Leave me a comment below with your thoughts!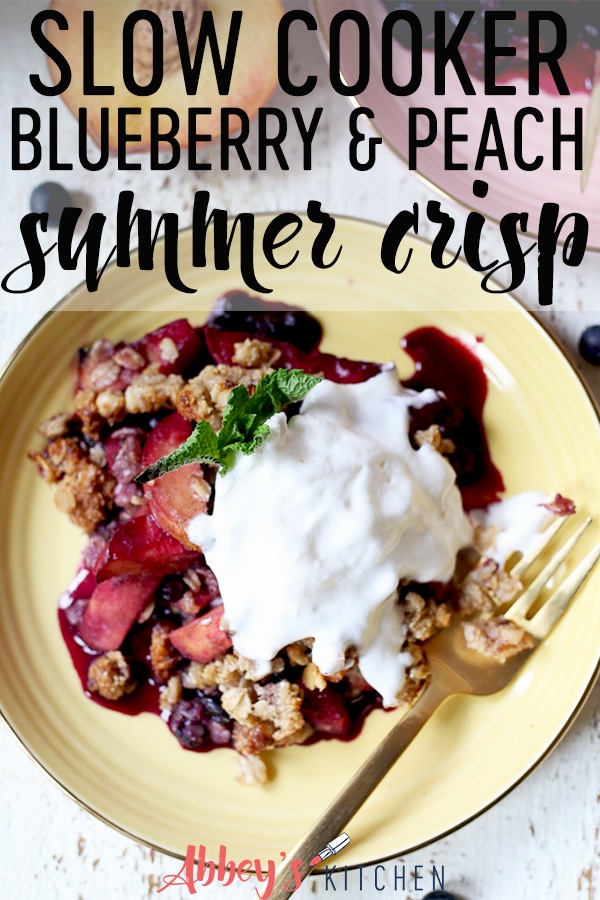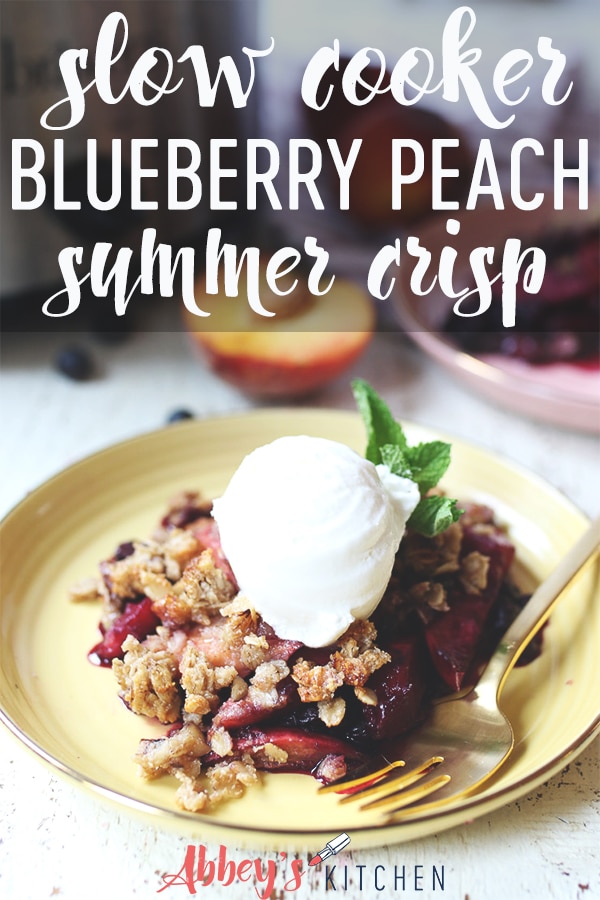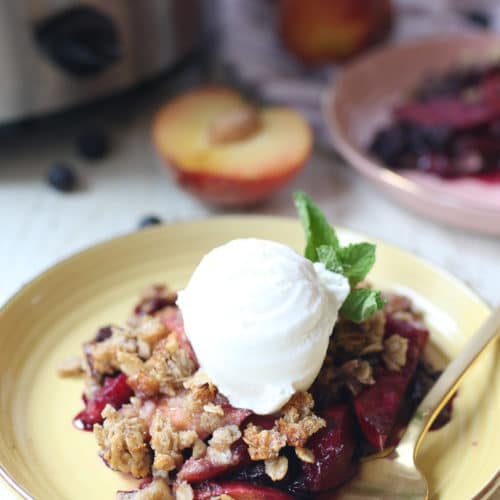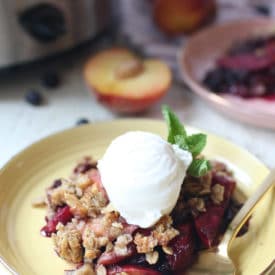 Slow Cooker Vegan Blueberry & Peach Crisp
This Slow Cooker Vegan Blueberry Peach Crisp will become your go-to healthy summer gluten free dessert for the crockpot to keep you from turning the oven on.
Print
Pin
Rate
Instructions
Mix together the topping ingredients in a bowl. Set aside.

In another small bowl, mix together the brown sugar, cornstarch, ginger, and cinnamon.

Place the peaches, blueberries, and lemon into a slow cooker and toss with the cornstarch-sugar mixture. Top with the crumble topping.

Cover with a double layer of paper towel pulled taught so it doesn't touch the crumble top. Cook on high for 2 hours or low for 4 hours.

Serve with vegan ice cream, if desired.
Nutrition
Calories:
358
kcal
|
Carbohydrates:
48
g
|
Protein:
6
g
|
Fat:
18
g
|
Saturated Fat:
3
g
|
Sodium:
162
mg
|
Potassium:
372
mg
|
Fiber:
7
g
|
Sugar:
29
g
|
Vitamin A:
800
IU
|
Vitamin C:
15.2
mg
|
Calcium:
56
mg
|
Iron:
1.7
mg
Updated on October 23rd, 2020