This Spaghetti Squash Chicken Pot Pie is a tasty and easy low carb dairy free gluten free family friendly dinner that tastes like the classic meat pie everyone loves.
I grew up eating a lot of chicken pot pie. I mean, it wasn't made from scratch. My mom used a rotisserie chicken and a can of soup with frozen veggies and stuffed it into a frozen puff pastry shell, but MAN it was good. Well this week I was craving a taste of nostalgia, so I wanted to reinvent the classic chicken pot pie but lighten it up, and pile it onto a nutrient rich veggie- spaghetti squash! Update – it was SO. GOOD.
key ingredients to make this chicken pot pie recipe
Spaghetti Squash – this will add extra fibre and veggies to the classic chicken pot pie (and also give it a fun lil twist!)
Mirepoix – aka carrots, onion, and celery.
Thyme Leaves – this will give the chicken pot pie the earthy and herby flavour.
Cremini Mushrooms – for more earthy flavour and extra veggies!
Smoked Paprika – this will add some zesty flavour to the pot pie if you like a little bit of a kick. But if you are sensitive to spice, feel free to omit this ingredient.
Unsweetened Cashew Milk – Instead of cream, this recipe uses cashew milk. I prefer it over soy or almond milk because I find it yields a much creamy texture.
Gluten Free Flour – this will combine with the cashew milk to make a delicious dairy free roux (without the cream)
Chicken Breasts – very important ingredient for any chicken pot pie (duh!)
Frozen Peas – because no classic pot pie can go without green peas. I like to use frozen because it makes it super easy to add in.
How to make Spaghetti Squash recipe Gluten Free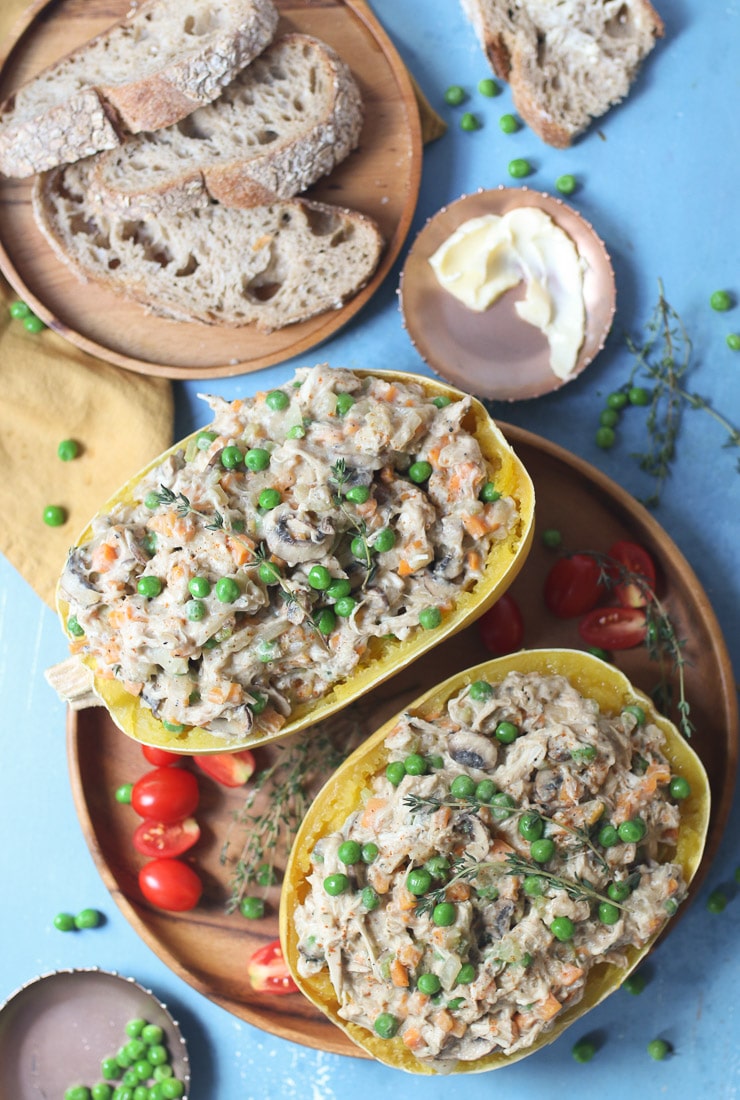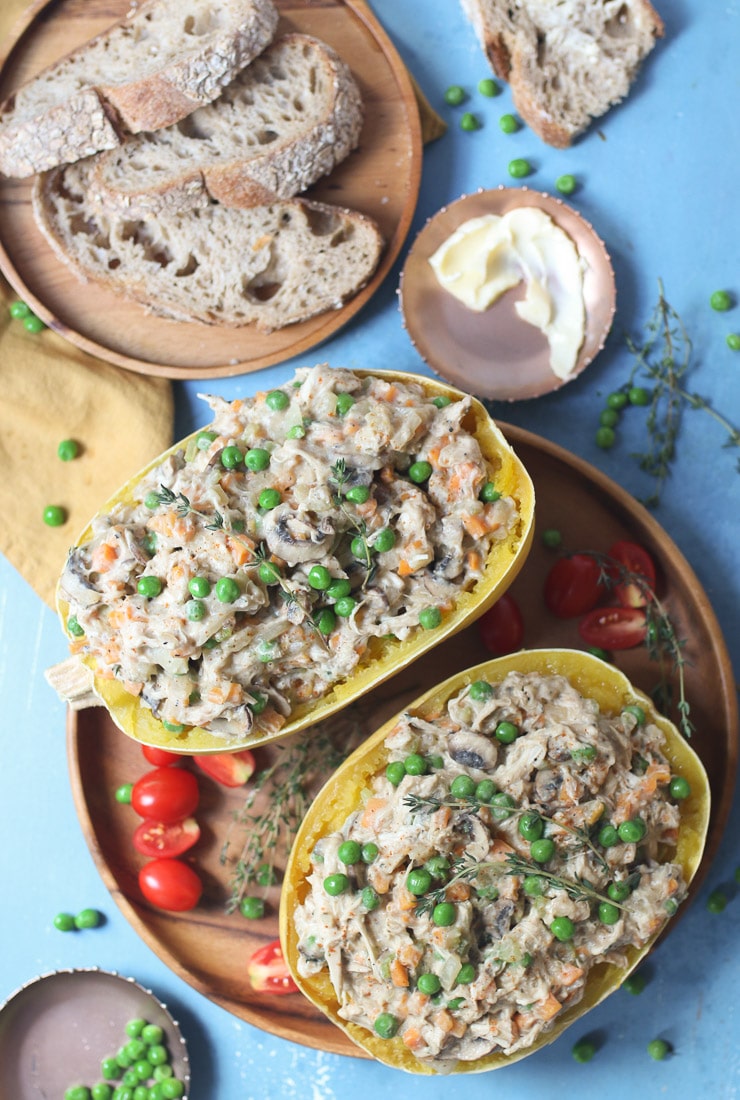 The key is get rid of the pastry shell and add in my beloved spaghetti squash as the vehicle to that iconic pot pie filling. To lighten up the filling, I skip the gloopy high sodium soup mix and make a roux with gluten free flour and cashew milk. I prefer cashew milk because I find it's creamier than almond but almond or soy also works to keep this dairy free I then added in lots of fresh veggies, but you can also use a bag of frozen!
Finally, I cooked the spaghetti squash until tender, then pulled it into strings. I like to serve the filling right inside the spaghetti squash but you can also put the squash into a serving dish topped off with the filling. Your call!
faq about this recipe
Can I Make this chicken pot pie with Dairy or Gluten?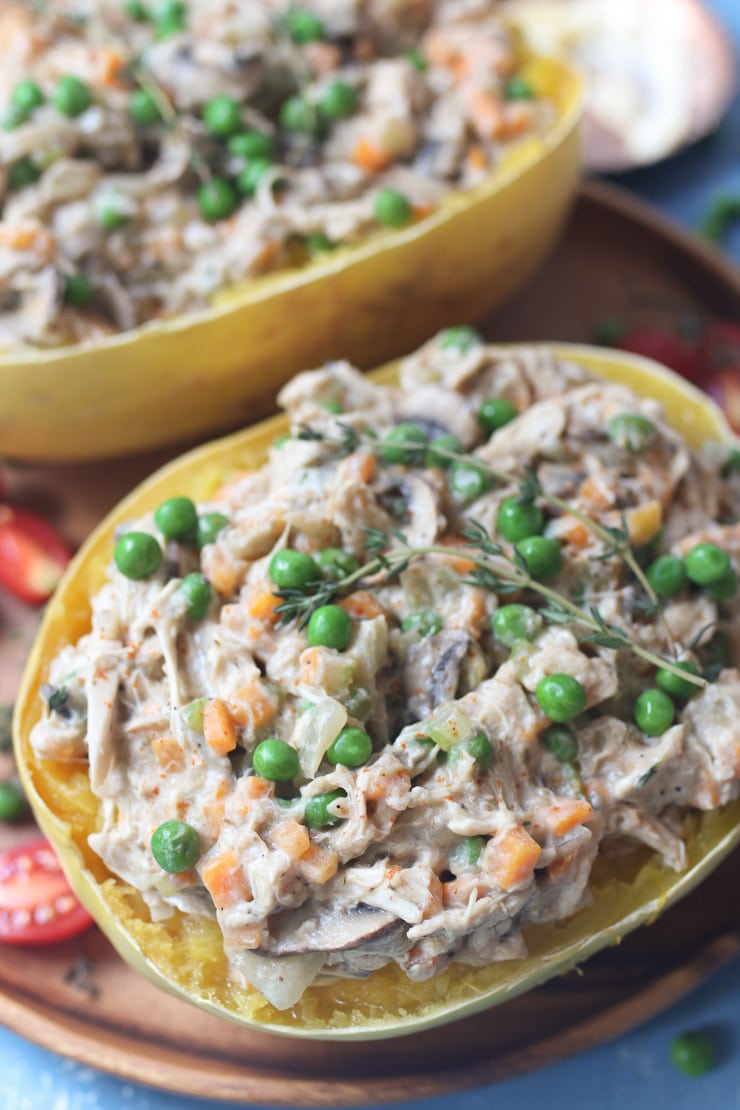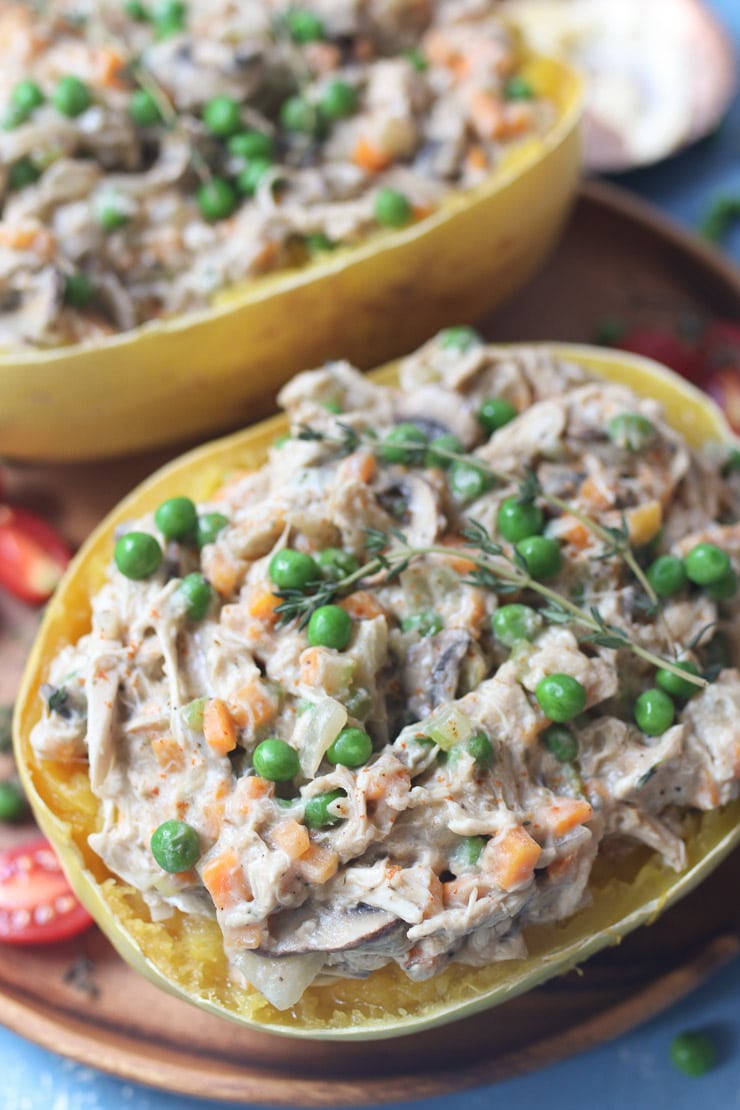 Of course! You can simply use regular milk in place of the cashew milk, and regular flour in place of gluten free flour in the roux.
Can I microwave the spaghetti squash?
Yep! Just place cut side down on a plate, cover with plastic wrap and cook on high for about 7-10 minutes, checking every few minutes until it's tender enough to pull.
Could I make this Chicken Pot Pie vegan?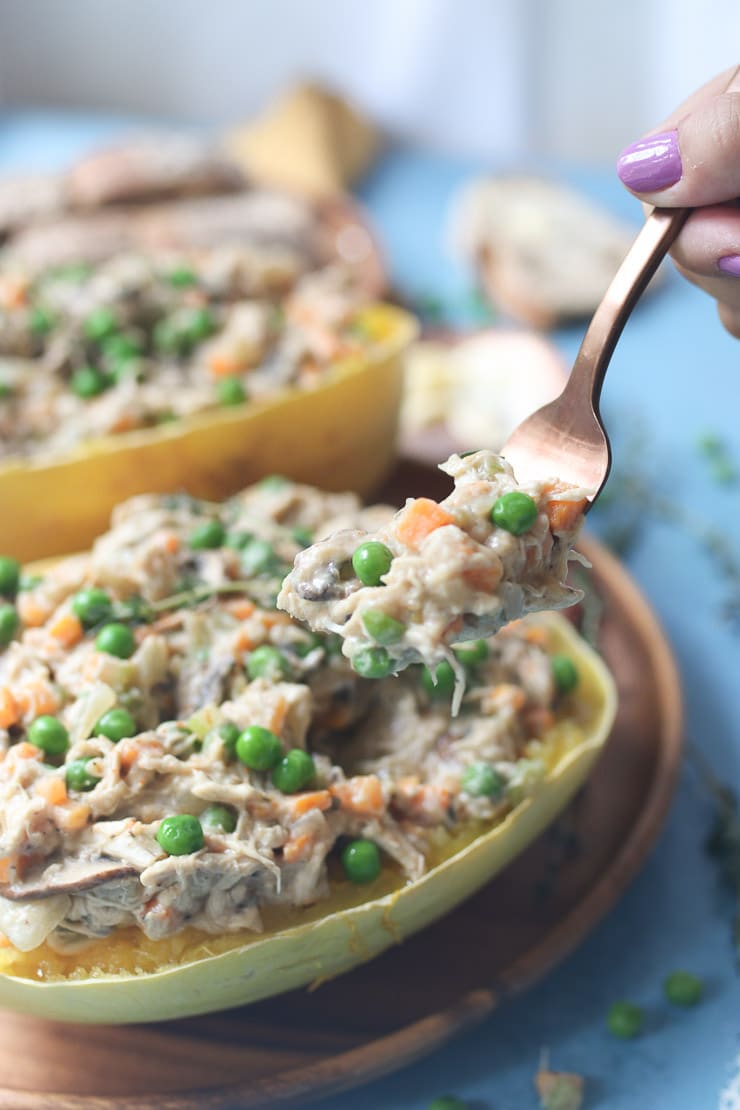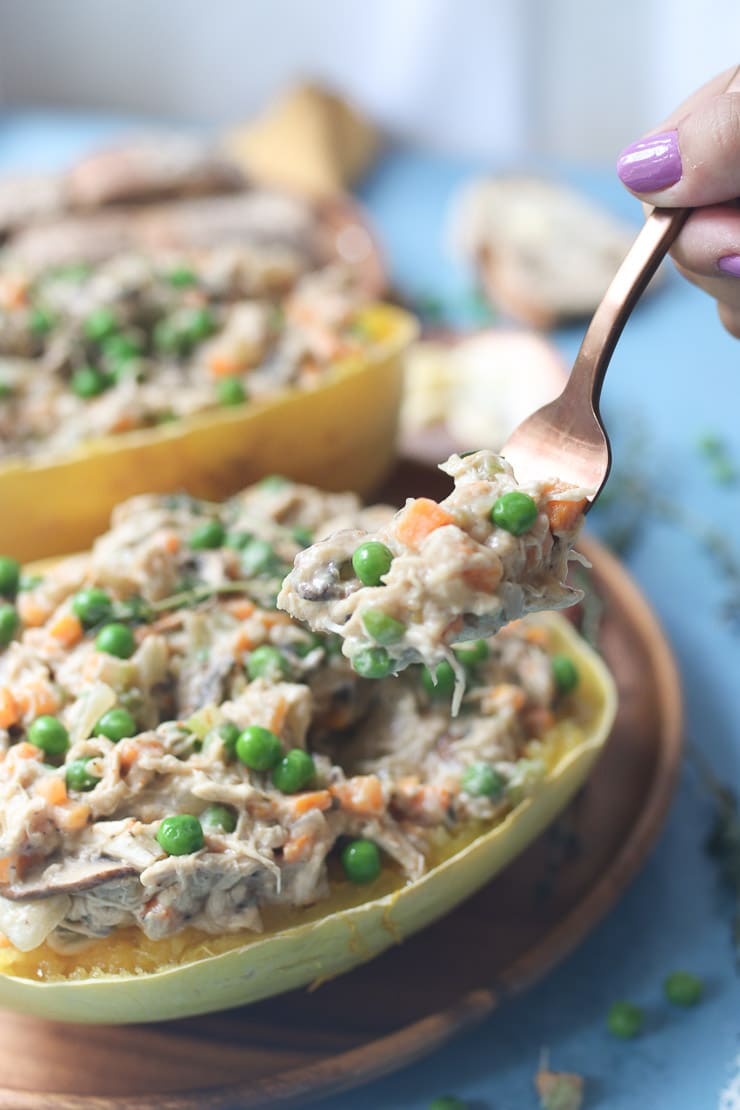 I had a few people ask me if they could make the filling vegan! It wouldn't exactly be chicken pot pie, but you could use jackfruit or any fake chicken meat. I would just throw it in at the last minute while you're finishing the sauce to warm through.
do you have any other spaghetti squash or Veggie Noodle recipes on the blog?
Oh heck yes I do! We love spaghetti squash at home. Here are some of my favs:
Vegan Curry with Spaghetti Squash Noodles
Vegan Avocado Zucchini Noodles with Pesto
Vegan Hummus Pasta with Zucchini Noodles
Now friends tell me- did you grow up eating chicken pot pie? How did your mom make it?
Have you tried this gluten free, dairy free, lower carb version?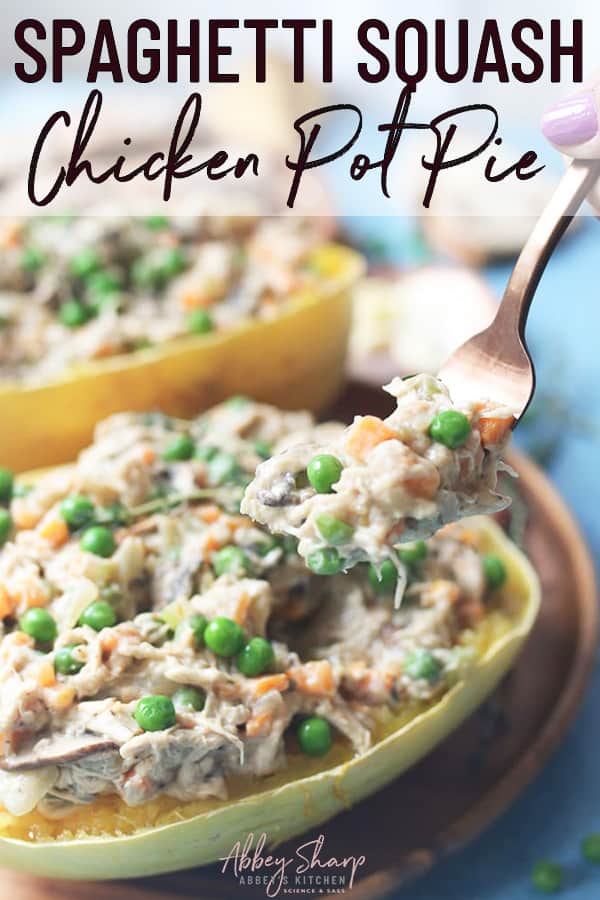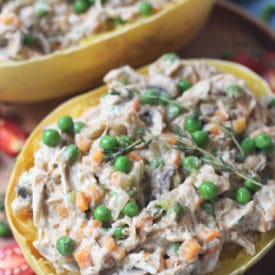 Spaghetti Squash Chicken Pot Pie
This Spaghetti Squash Chicken Pot Pie is a tasty and easy low carb dairy free gluten free family friendly dinner that tastes like the classic meat pie everyone loves.
Print
Pin
Rate
Ingredients
1

Spaghetti squash

halved lengthwise

1

tbsp

extra virgin olive oil

½

onion

finely diced

1 ½

cup

carrots

finely diced

½

cup

sliced celery

finely diced

2

cloves

garlic

minced

227

g

package cremini mushrooms

thinly sliced

1

tbsp

thyme leaves

½

tsp

sweet smoked paprika

1 ½

tsp

dried oregano

¼

cup

gluten free flour

2 ¼

cups

unsweetened cashew milk

2

rotisserie chicken breasts

shredded

½

cup

frozen peas

Thyme leaves

for garnish

Salt and pepper

to taste
Instructions
Preheat oven to 400 F. Slice the squash in half lengthwise and scoop out the seeds. Drizzle the insides of the squash with olive oil and sprinkle with salt and pepper.

Place the squash cut side down on the baking sheet and poke a few holes in the top. Roast for 30-45 minutes or until its fork tender. Remove and allow to slightly cool, then shred the insides with a fork. Set aside.

Meanwhile, heat the oil in a large nonstick skillet over medium heat. Add the onion, carrots, celery, garlic, mushrooms, thyme, paprika, and oregano and cook until the vegetables soften, about 7 minutes. Add in the flour and stir until it coats the vegetables. Add the cashew milk and cook over medium low heat until the sauce thickens.

Add in the chicken, peas and then season with salt and pepper, to taste.

Serve on top of the pulled spaghetti squash and garnish with thyme leaves.
Nutrition
Calories:
206
kcal
|
Carbohydrates:
35
g
|
Protein:
6
g
|
Fat:
7
g
|
Saturated Fat:
1
g
|
Cholesterol:
1
mg
|
Sodium:
181
mg
|
Potassium:
703
mg
|
Fiber:
8
g
|
Sugar:
12
g
|
Vitamin A:
8710
IU
|
Vitamin C:
21
mg
|
Calcium:
105
mg
|
Iron:
2
mg