I'm spicing things up for Thanksgiving by serving up my tasty vegan and gluten free sweet chili roasted brussels sprouts side dish.
 You guys probably know already about my brussels sprouts ADDICTION. Over the years, I've shared with you guys some of my fav brussels sprouts recipes that definitely take the humbdrum veg to a whole other level. From my Balsamic Roasted Brussels Sprouts to my Charred Brussels Sprout Salad with Pickled Mango and Peanut Dressing. I've definitely been around the brussels sprouts block.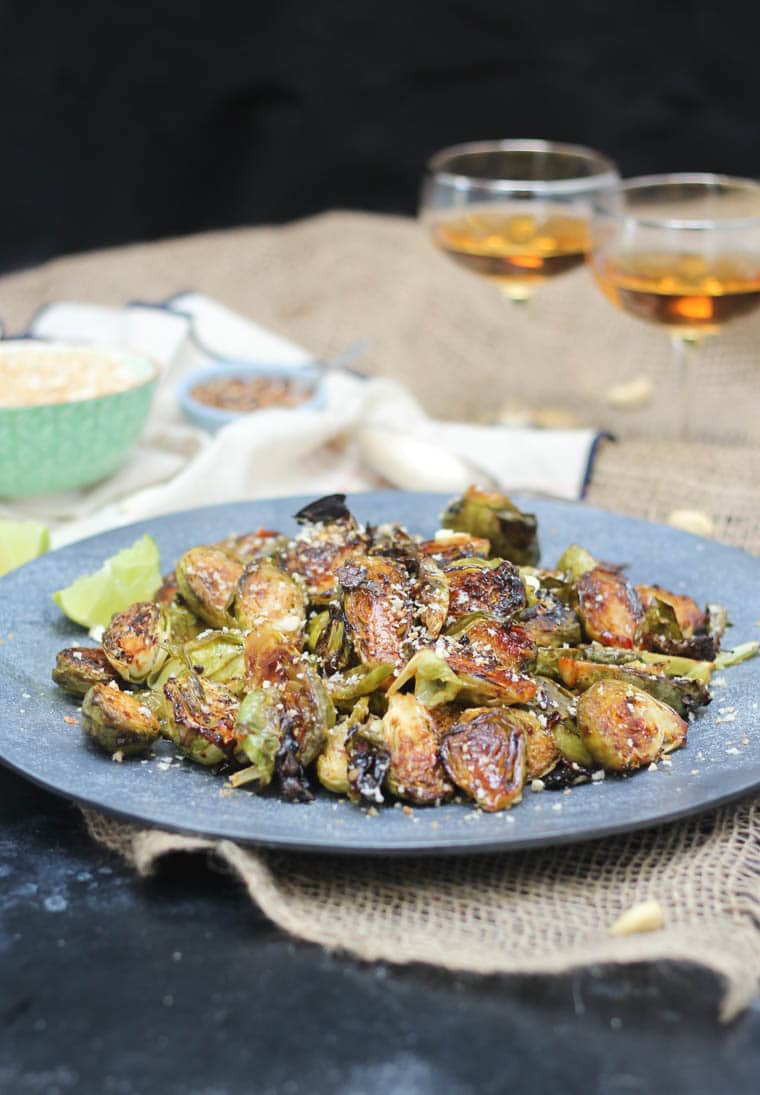 One dish everyone around the table was raving about was my Sweet Chili Roasted Brussels Sprouts side dish. They couldn't get enough of those brussels. Like people were even bypassing the stuffing to get to these gooey sticky sprouts. You know you've done good, when guests are asking for MORE of the veg. Music to a dietitian's ears.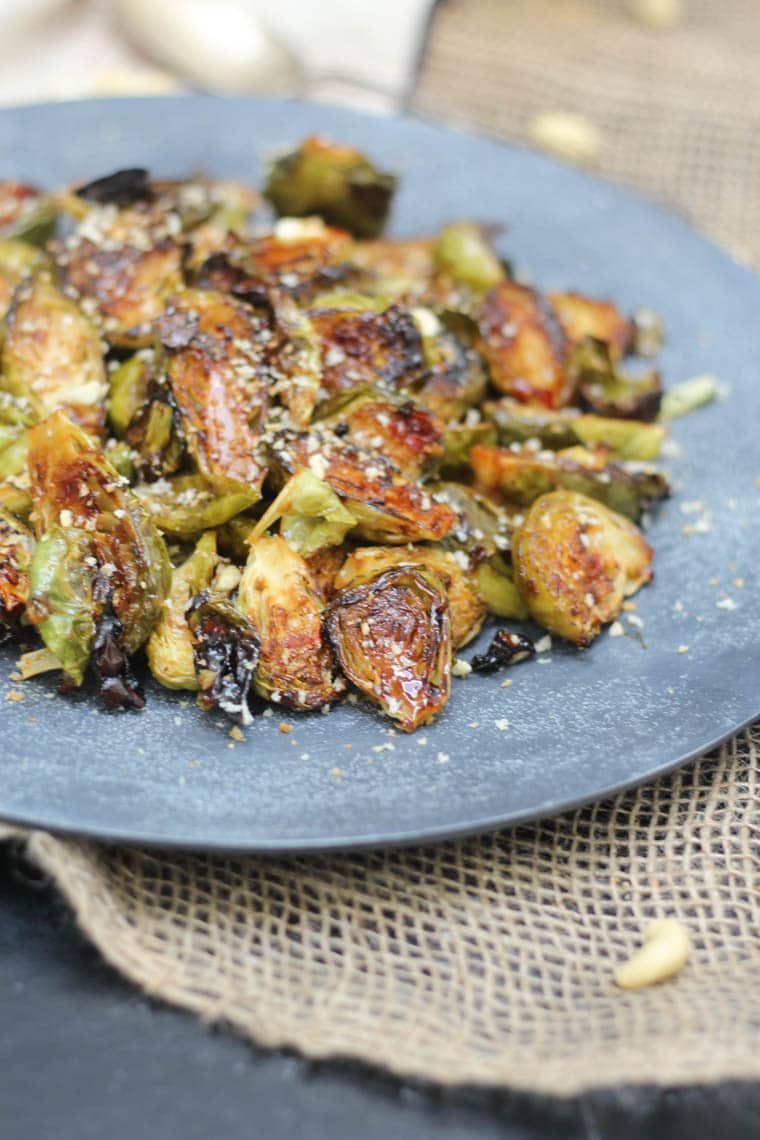 I like going untraditional when it comes to holiday meals. We do so much of the same, year after year, and that gets hella boring. So for all you Americans out there getting ready for Thanksgiving and for the rest of us thinking about Christmas or Hannukah, let's turn up a classic into a stellar dish at your upcoming holiday feast.
How to Make Sweet Chili Roasted Brussels Sprouts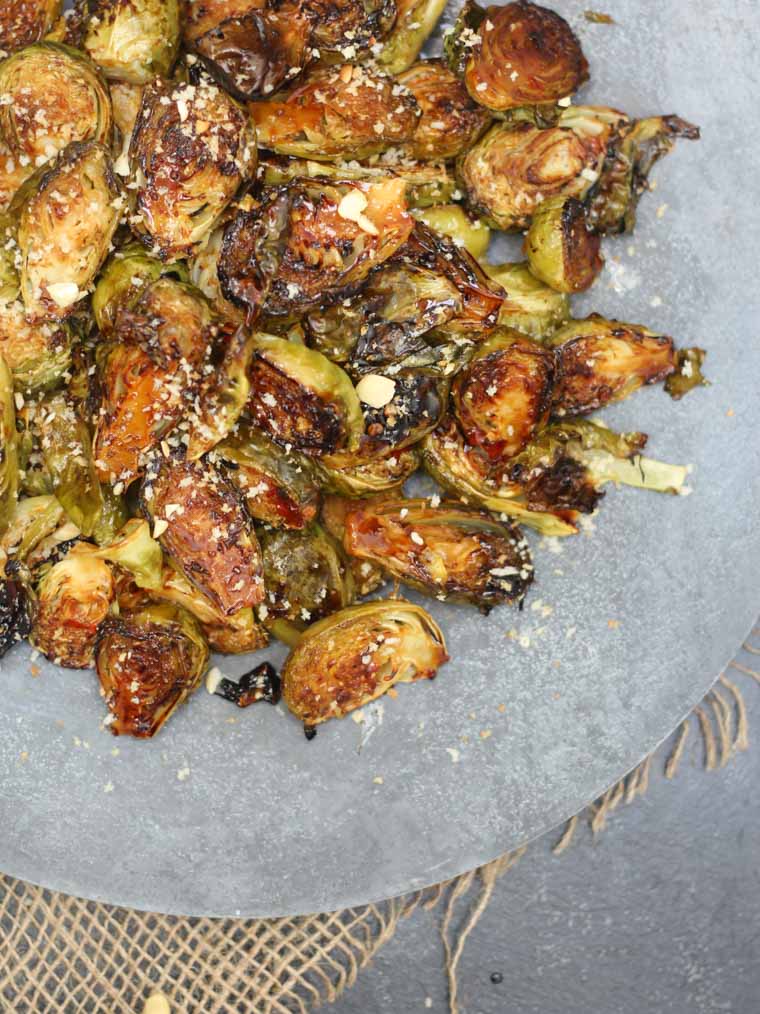 To make my sweet chili roasted brussels sprouts a gluten free side dish, I pulse Chex cereal in a food processor to turn them into gluten free panko. Next up I whip up a sticky sauce using sweet chili sauce, olive oil, lime, sriracha for a kick, tamari and garlic. Once my brussels sprouts are spread out evenly on a baking dish, I drizzle the tasty sweet chili sauce over the brussels and let the oven do the work.
While that's cooking, I toast my gluten free chex panko with some cashews until golden brown. Finally top the brussels with the toasted crumbs and enjoy!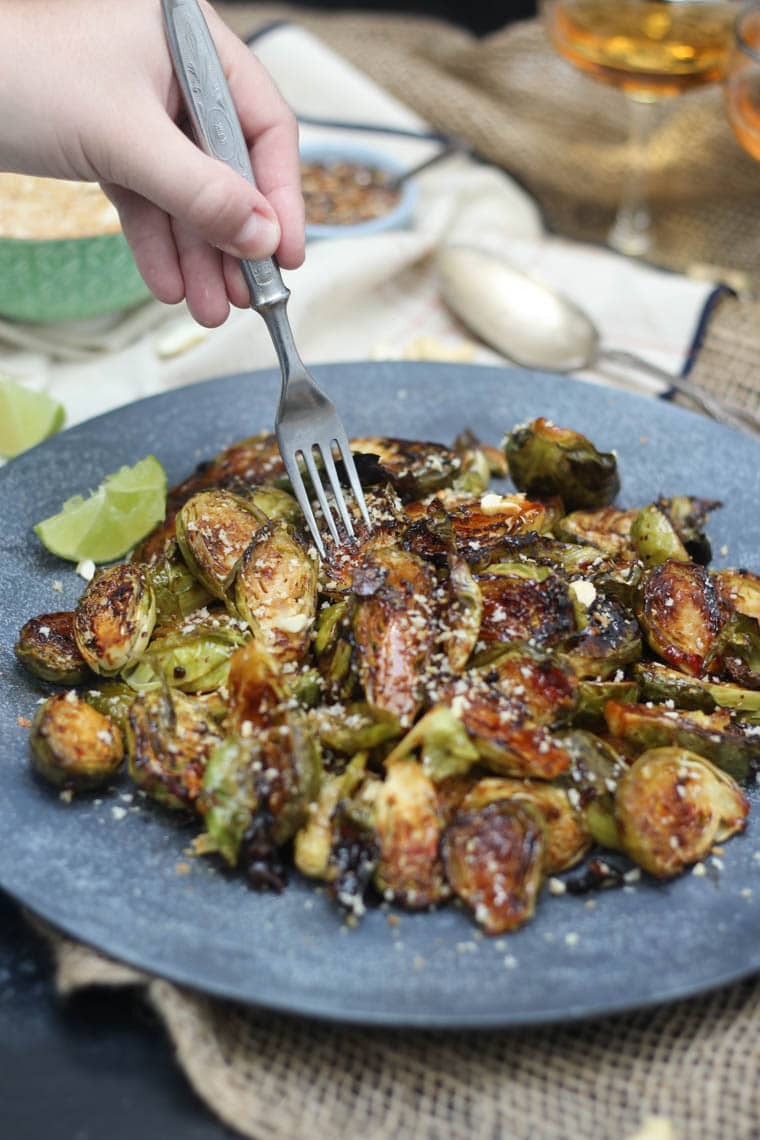 These sweet chili roasted brussels sprouts may be the best brussels sprouts recipe I've ever made. It's also a no-fuss side dish that can be whipped up in no time and pairs perfectly with any main. This was a hit at my Thanksgiving dinner and I can guarantee it'll be the next MVP of yours.
Now I want to know, what is your go-to Thanksgiving dish?
Have you tried making these brussels sprouts?
Do you have to think up some vegan and gluten free sides for your guests?
Leave me a comment below!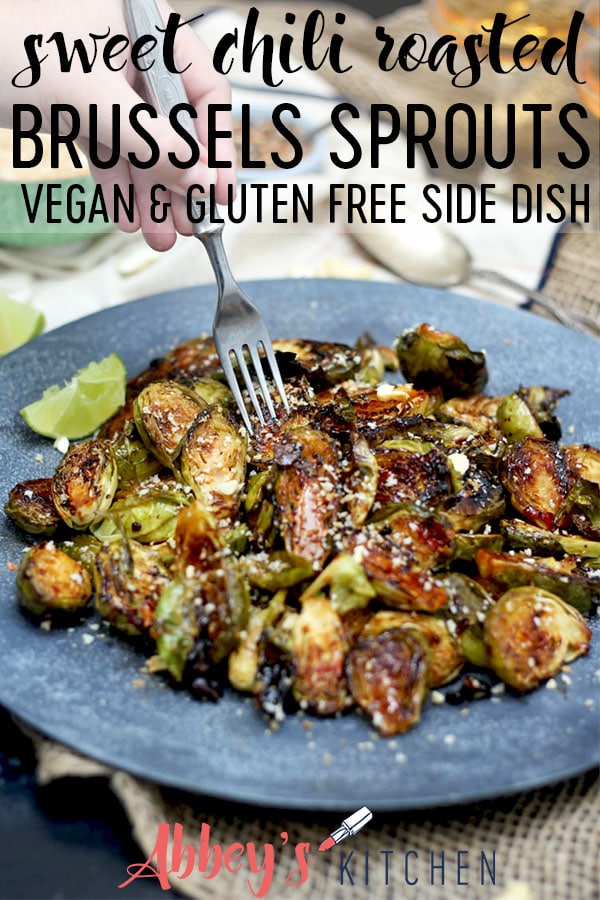 Sweet Chilli Roasted Brussels Sprouts
I'm spicing things up for Thanksgiving by serving up my tasty vegan and gluten free sweet chili roasted brussels sprouts side dish.
Ingredients
3

tbsp

olive oil

¼

cup

sweet chili sauce

Juice 1 lime

2

tsp

sriracha

1

tsp

reduced sodium tamari

2

cloves

garlic

minced

2

lb

brussels

halved
Instructions
Preheat oven to 425º and prepare two baking sheets with parchment paper.

In a small bowl, whisk together olive oil, sweet chili sauce, sriracha, lime juice, tamari, and garlic.

On a large baking sheet, toss Brussels sprouts in sauce until fully coated. Season generously with salt and pepper.

Roast until slightly charred and tender, 30 to 35 minutes.

Meanwhile, pulse the cereal in a food processor until crushed to look like panko bread crumbs. Remove and set aside. Add in the cashews and pulse until they reach crumbs.

Add the olive oil to a pan over medium heat along with the crushed cereal and cashews. Toast until just golden brown, about 3-4 minutes.

Top the crispy brussels sprouts with the "panko" nut topping and sprinkle with fleur de sel. Enjoy!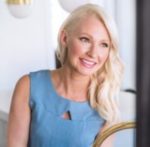 Abbey Sharp is a Registered Dietitian, an avid food writer and blogger, a cookbook author and the founder of Abbey's Kitchen Inc.