This healthy air fryer tofu with an easy hoisin maple marinade and glaze tastes like take-out but actually uses very little oil and no cornstarch or flour!
I was never a tofu lover until I started to order tofu dishes from my local Chinese restaurant on Uber Eats. I don't know about you but I love a good crispy fried tofu coated in a sweet and salty sauce. So when I got my air-fryer I decided I wanted to find a way to make a really flavourful crispy tofu recipe with less fat and also without the need to use cornstarch, flour or another starchy-coating to make it crispy. This marinated healthy air fryer tofu has since become a staple in my family's repertoire.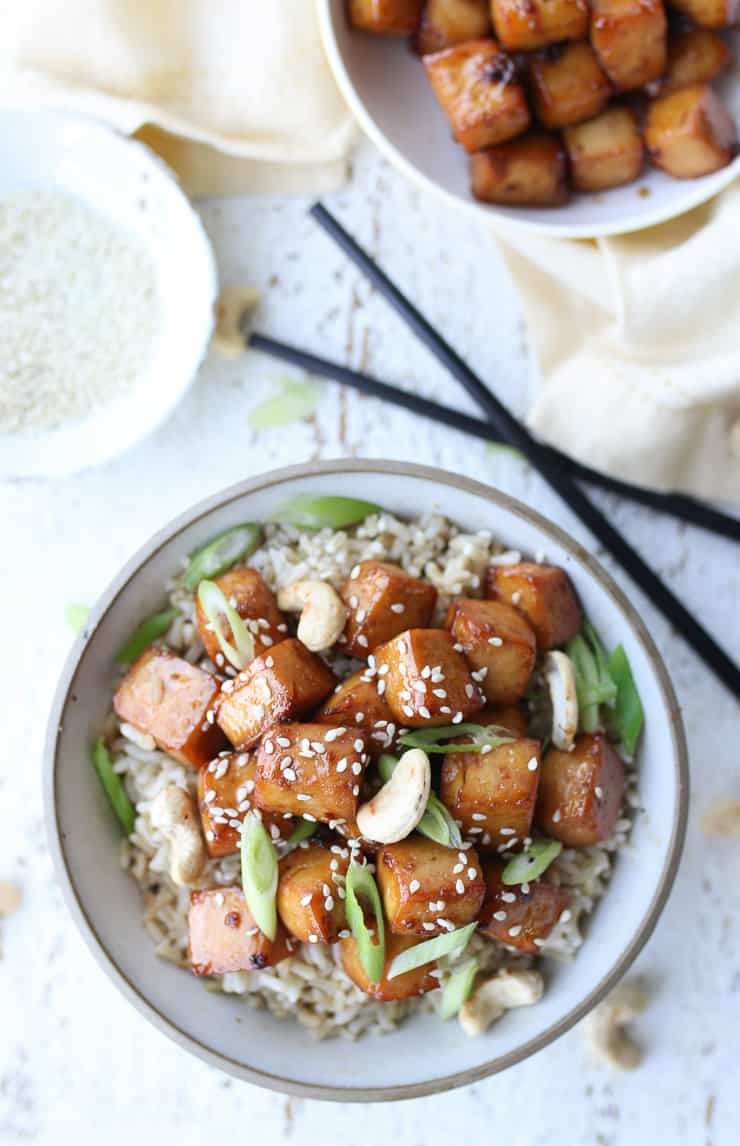 Key Ingredients for the Healthy air fryer tofu marinade
Let's be real- tofu doesn't really taste like a whole lot. So It's important you have lots of flavourful ingredients in the marinade to make it worth eating.
Extra Firm Tofu – I prefer to use extra firm for this recipe as it crisps up better than other tofu varieties
Tamari– You can use tamari or soy sauce, but I do prefer to use a low sodium variety of either so you can control the salt.
Maple syrup – I love maple syrup's flavour, but you can use honey (if you're not vegan), or brown sugar.
Seasoned rice vinegar– Seasoned rice vinegar has a bit more flavour than regular rice vinegar, so that's what I always have on hand. But feel free to use regular rice vinegar if that's what you have.
Toasted sesame oil – Toasted sesame oil has a deeper umami roasted flavour, but again, you can totally use regular sesame oil.
Hoisin sauce – Hoisin sauce is made of mashed toasted soybeans plus vinegar, sugar and other seasonings. It's salty and sweet and super thick and delicious. Some do have wheat ingredients, so if you're gluten free, make sure to choose a gluten free option.
Aromatics (garlic, ginger, green onions) – These three ingredients are key for adding lots of big bold flavour.
The Key to Crispy air fryer tofu
There are two critical steps to getting really crispy tofu in the air fryer. You will want to make sure you press your tofu really well – that means using towels or paper towels and putting heavy items on top to allow some of that moisture out. Then after it's been marinated, you'll want to pat the tofu dry so that it is flavourful, but not super wet.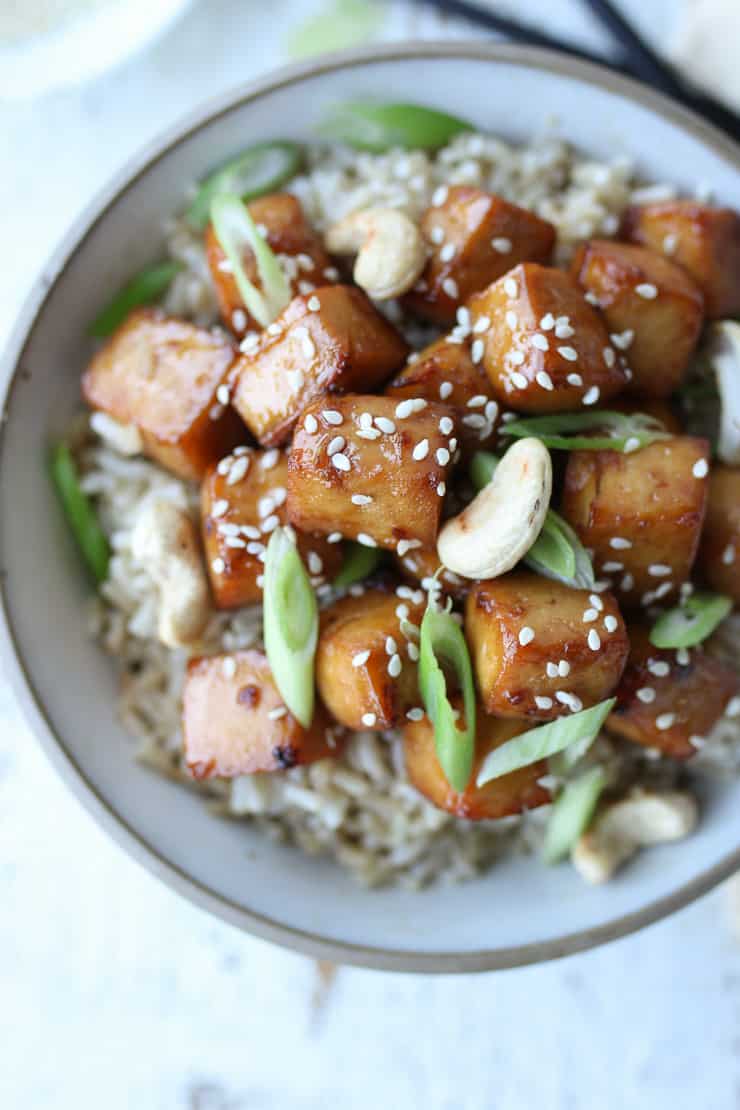 Side dishes for this crispy tofu
I think this tofu would be best as part of a stir-fry or bowl. I would likely serve it on top of some rice or rice noodles, along with some stir-fried vegetables as well. Alternatively, a brussels sprout salad with panko would be AMAZING as a beautiful side dish!
FAQ about this recipe
Here are some of the most commonly asked questions about this recipe.
IS THIS TOFU GLUTEN FREE?
It is actually naturally gluten free if you use a gluten free tamari and hoisin sauce. There is no cornstarch, flour or other starches in this recipe so it has a nice light texture.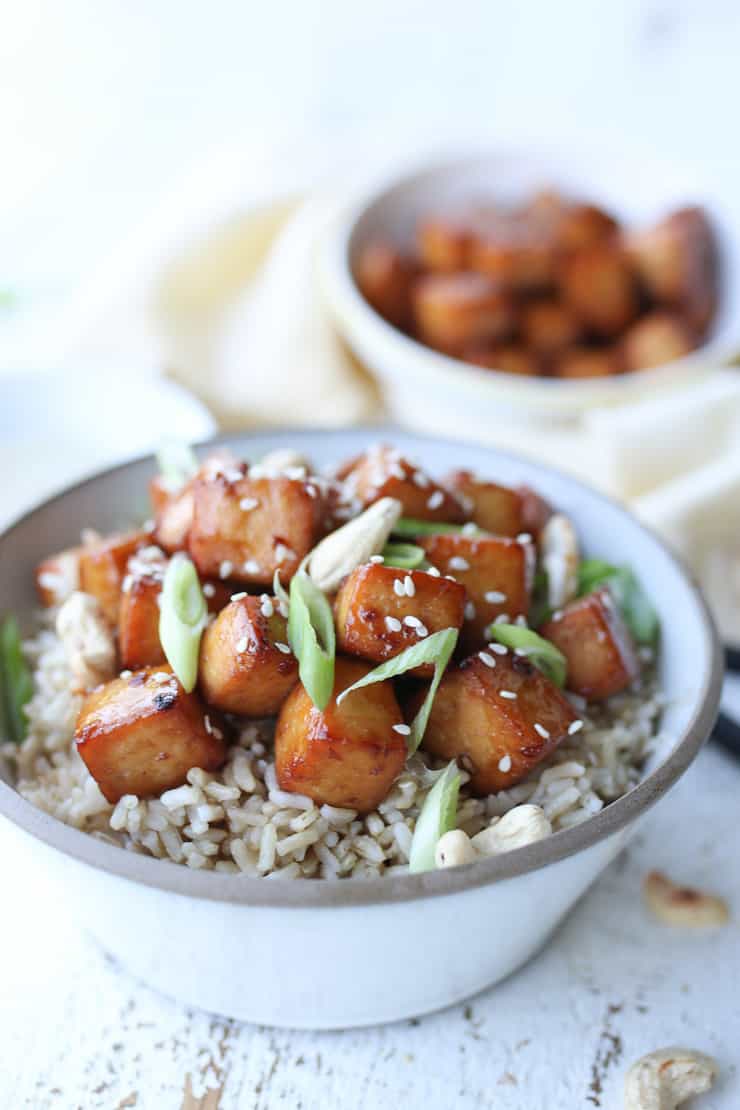 IS THIS NUT FREE AND SAFE FOR SCHOOL?
Assuming your school doesn't have any rules about soy, then of course, this is completely nut free and safe for school.
Is this kid-friendly?
I think tofu is a great food for kids. Not only is it rich in protein and iron, but it's also pretty mild in flavour and very versatile. My kiddo loves this tofu because it's sweet and easy to eat!
baking instructions
Yes, to cook in the oven, preheat oven to 425 F. Place the marinated and dried tofu on a baking sheet and bake for 30 minutes, flipping half way through. If you want the tofu extra crispy, you can broil for 2-3 minutes at the end then toss with the maple and hoisin mixture.
GRILLING INSTRUCTIONS
If you want to grill your tofu, preheat grill to medium heat. Cook the dried tofu until grill marks appear on each side, about 5 minutes per side. Then toss with the maple mixture.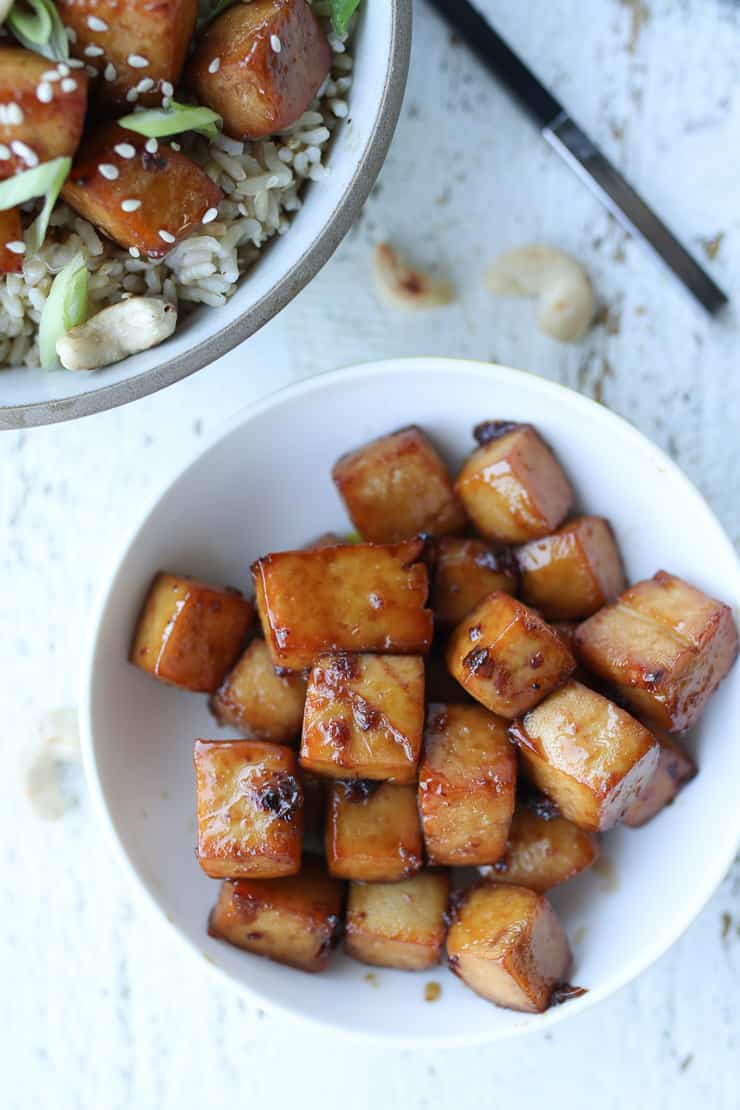 PAN-FRYING INSTRUCTIONS
If you want to pan-fry instead of air-fry, heat a tablespoon of olive oil, or canola oil to a large cast-iron or nonstick skillet over medium high eat. Add the dried tofu to the hot pan and cook on each side for 4 minutes until golden brown. Then again, toss with the maple mixture.
how long will this last in the fridge?
I recommend trying to consume this within 3 days of preparing. It won't say as crispy if you reheat in the microwave, but if you want to reheat this in the oven at 425 F for 10 minutes, it will crisp back up.
More Healthy Tofu Recipes
Crispy Baked Buffalo Tofu Sticks
What are some of your go-to ways to serve tofu? Leave me a comment below with your thoughts!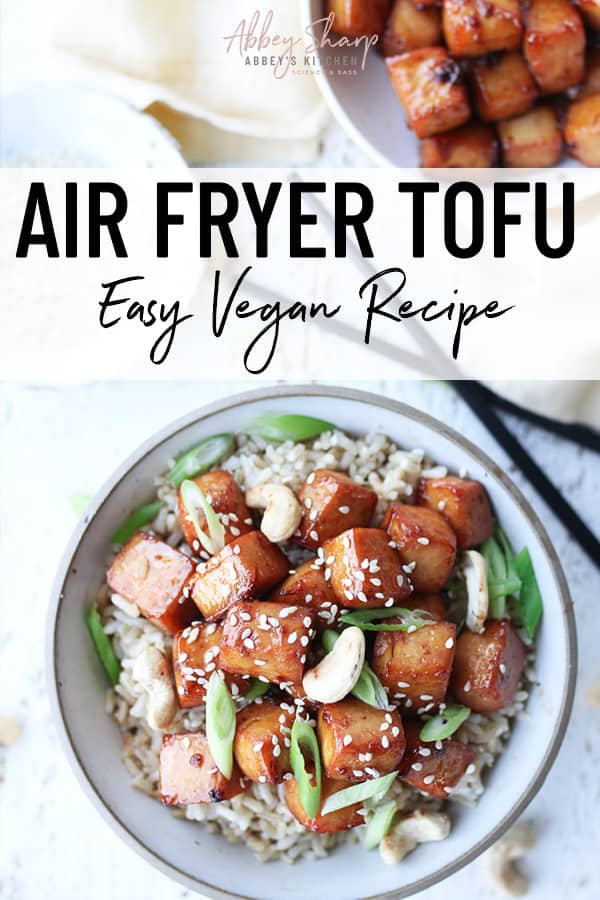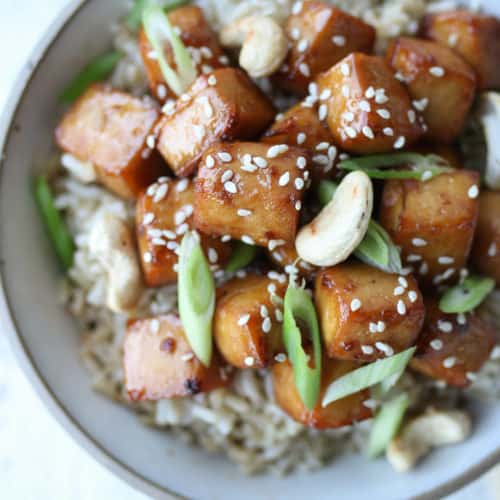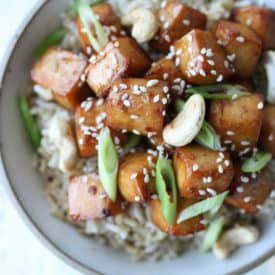 Healthy Air Fryer Tofu
This healthy air fryer tofu with an easy hoisin maple marinade and glaze tastes like take-out but actually uses very little oil and no cornstarch or flour!
Print
Pin
Rate
Ingredients
350

g

extra firm tofu

cut into cubes

2

tbsp

low sodium tamari

1

tbsp

maple syrup

1

tbsp

seasoned rice vinegar

1

tbsp

toasted sesame oil

1

tbsp

hoisin sauce

2

tsp

grated garlic

2

tsp

grated ginger

1

tbsp

minced green onions

1

tbsp

extra virgin olive oil

1

tbsp

maple syrup

1

tbsp

hoisin sauce
Instructions
Press the moisture out of the tofu by layering paper towel or kitchen towel onto a baking sheet, adding the tofu cubes, topping it with more towel and adding heavy items. Allow to sit for at least 30 minutes.

Mix together the tamari, maple, vinegar, sesame oil, hoisin, garlic, ginger and onions and add to a reusable bag along with the pressed tofu. Allow to marinate for at least an hour, but ideally up to 4.

Remove the tofu and pat dry. Add the oil to the airfryer and set it for 20 minutes at 400 F. Add the tofu and allow it to cook until crispy.

Meanwhile, in a small bowl, mix together the residual 1 tablespoon each of maple syrup and hoisin. When the tofu is finished, toss with the maple hoisin mixture and enjoy!
Nutrition
Calories:
163
kcal
|
Carbohydrates:
13
g
|
Protein:
7
g
|
Fat:
9
g
|
Saturated Fat:
1
g
|
Cholesterol:
1
mg
|
Sodium:
453
mg
|
Potassium:
172
mg
|
Fiber:
1
g
|
Sugar:
9
g
|
Vitamin A:
15
IU
|
Vitamin C:
1
mg
|
Calcium:
41
mg
|
Iron:
1
mg
Updated on October 23rd, 2020