This Vegan 1st Birthday Cupcake for Baby is Nut Free, No Sugar Added, Dairy Free, Gluten Free, Egg Free and perfect for a BLW and a wide range of baby dietary restrictions, intolerances and allergies.
HOW IS IT BABY E's FIRST BIRTHDAY THIS WEEKEND?! On this day, a year ago, I was a day away from my due date (April 9), and I was feverishly trying EVERYTHING to put myself into labour. I was eating spicy food, doing squats, walking up hills (for hours), eating dates, pumping/ nipple stimulation, I WAS DOING ALL THE THINGS. And guess what, Baby E was quite content in there getting yummy ice cream treats and pizza.
I was induced a few days later (you can read all about how my birth plan did not go the way I intended), and delivered a healthy, very vocal little boy on April 13th.
Fast forward to today, and I am planning his first birthday party this weekend and that means – his first cake! Now, I'm going to be totally honest. I'm pretty lax about the whole sugar thing. Baby E eats REALLY well and balanced (I cook all his meals from scratch), so I'm okay for him to have a little sugar on his birthday.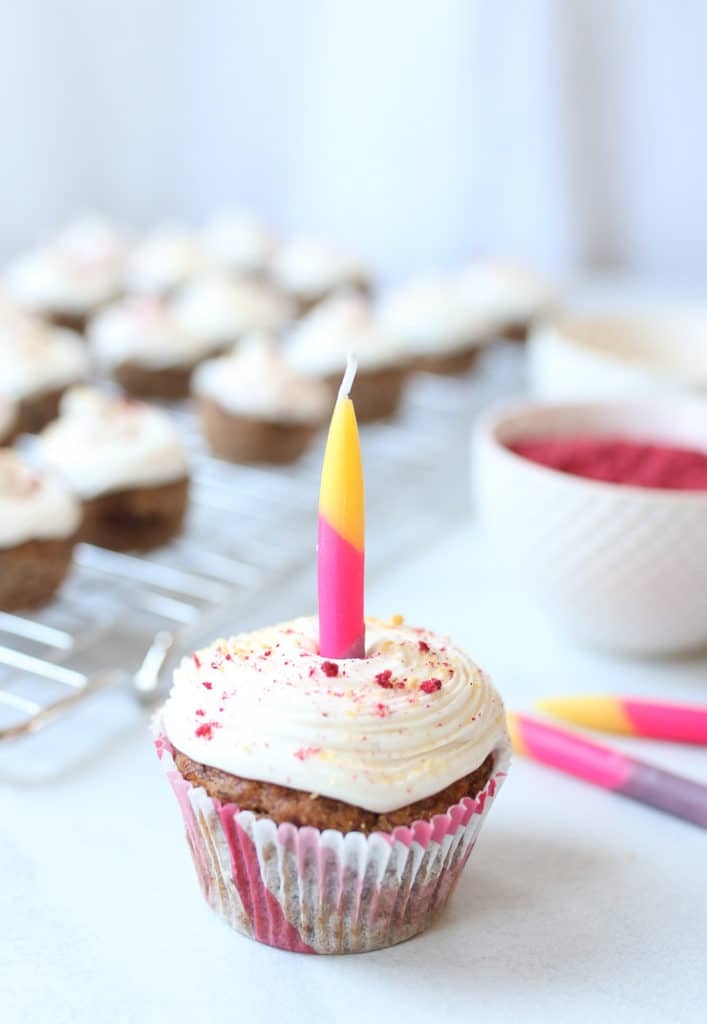 Having said that, I've gotten a lot of requests from moms who want a cupcake that has no sugar added, and also are free of common allergens incase they're serving it to other kiddos with allergies. This Vegan 1st Birthday Cupcake for Baby is Nut Free, No Sugar Added, Dairy Free, Gluten Free, Egg Free and perfect for a BLW.
How to Make this Vegan 1st Birthday Cupcake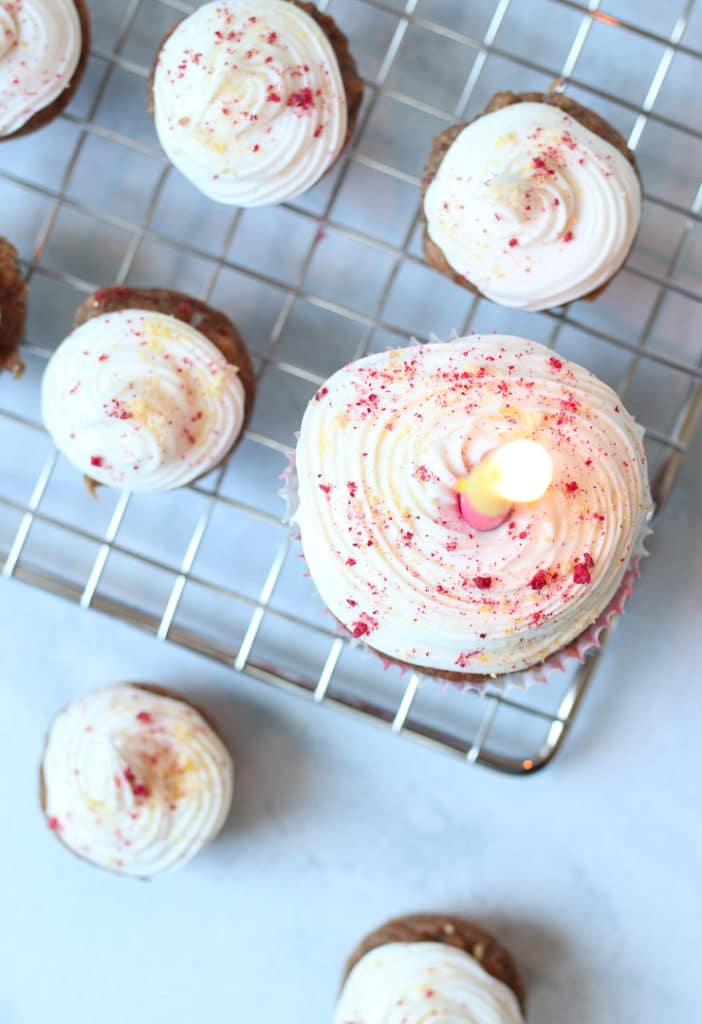 You've probably tried my amazing BLW peanut butter banana cherry muffins, which to this day are one of Baby E's favourites, so you know the importance of having a fruit base to add sweetness and moisture. Instead of just using banana here, I took it up a notch to make these mango flavoured inside, giving these vegan 1st birthday cupcakes a bit of a tropical flavour.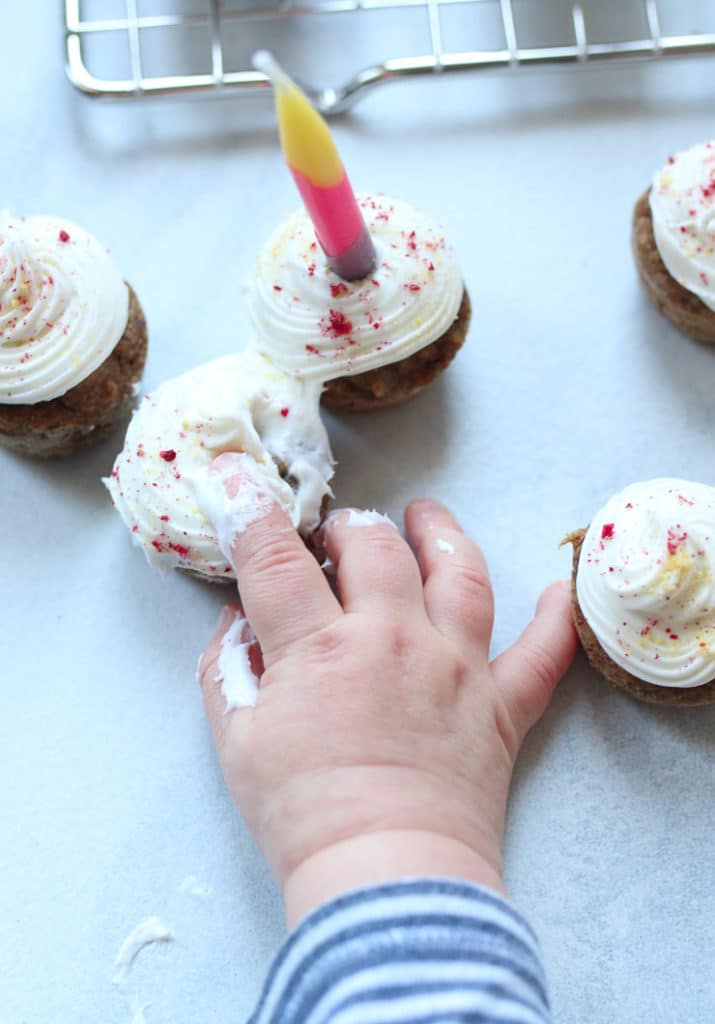 The cake is made of gluten free flour (or regular flour), and freeze dried mango which I pulverized into a sweet flour-like consistency. I also use a flax egg instead of a regular egg which adds moisture and also healthy Omega 3s, fibre and protein.
Then I make a little mango chia jam, which has become a baby led weaning staple for us. Any chia jam is a great way to add tons of nutrition and also some natural no sugar added sweetness to oatmeal, yogurt, ricotta and toast. This get squirted into the middle for a fun sweet surprise of flavour in every bite.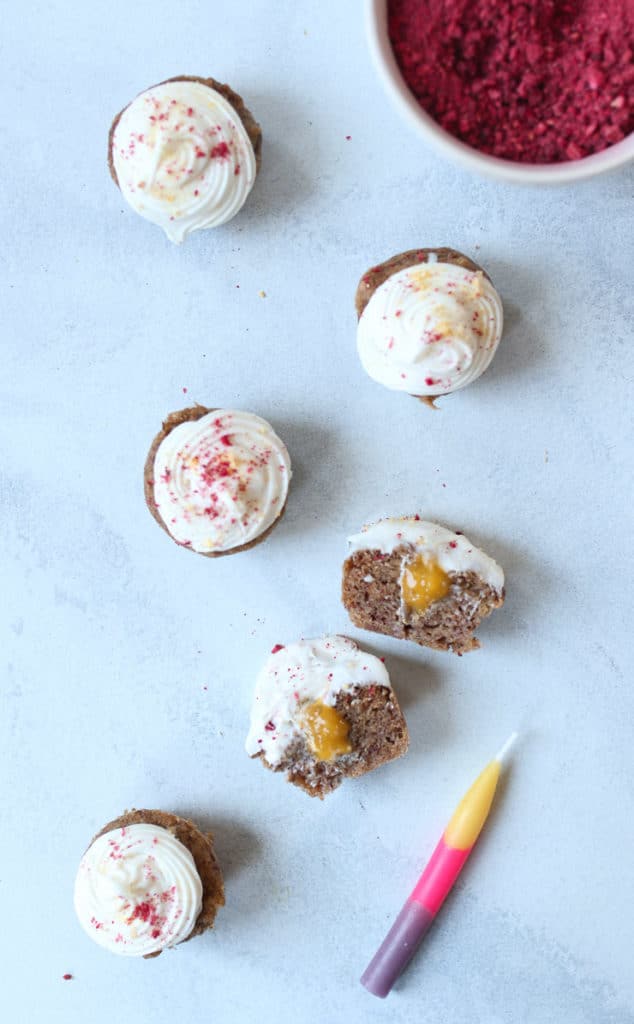 Then we get to the topping, and you have a few options here. To keep this vegan 1st birthday cupcake completely plant-based, you can use coconut whipped cream. You can also do regular whipped cream. Your other option is to make aquafaba meringue which is the technique I used to make this amazing vegan lemon mousse. All of that can get a little dusting of pulverized freeze dried raspberries and mango instead of sugary colourful sprinkles to keep this no sugar added.
How adorable is this vegan 1st birthday cupcake? I am excited (but also SO EMOTIONAL) about the thought of baby E shoving one (or two) into his face (*cue the mom waterworks*)
So loves, tell me – what did you serve your baby on his or her first birthday?
Are you going to try these no sugar added vegan 1st birthday cupcakes?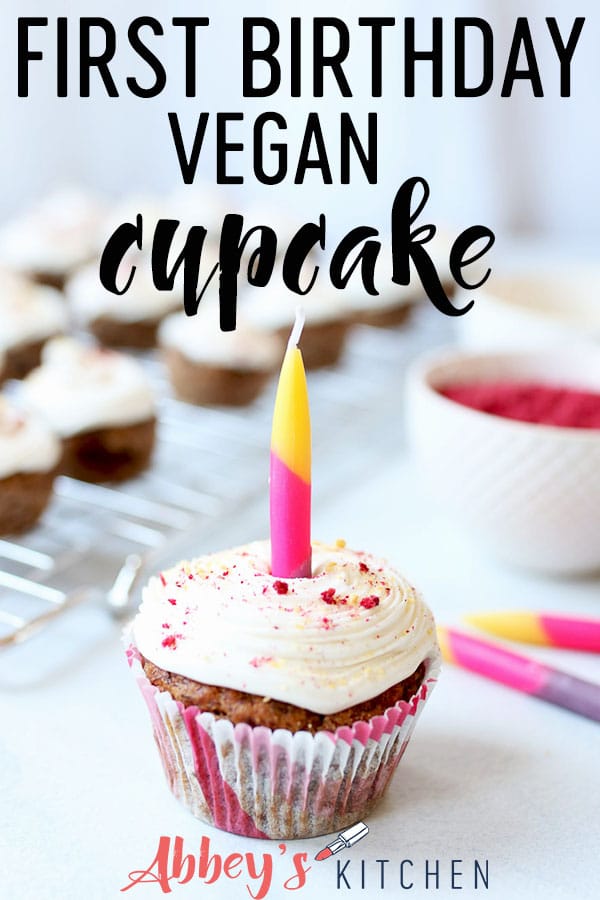 Vegan 1st Birthday Cupcake for Baby
Servings:
24
mini cupcakes
This Vegan 1st Birthday Cupcake for Baby is Nut Free, No Sugar Added, Dairy Free, Gluten Free, Egg Free and perfect for a BLW and a wide range of baby dietary restrictions, intolerances and allergies.
Ingredients
Mango Chia Jam:
1

cup

ripe fresh or frozen mango

Juice of 1/4 lime

1

tbsp

chia seeds

Zest of 1/2 lime
Cupcakes:
1 1/4

cup

Gluten free flour

or regular all purpose flour

¼

cup

freeze dried mango

processed into a powder

1

tbsp

cinnamon

1

tsp

baking soda

Pinch

salt

2

cups

of very ripe mashed bananas

about 4 medium

¼

cup

coconut oil

melted

¼

c

unsweetened mango puree

2

tsp

vanilla extract

¼

cup

coconut milk

full fat

2

flax eggs

2 tbsp ground flax with ¼ cup water
Instructions
In a food processor or blender, puree the mango for the chia jam until smooth. Mix with the lime juice, zest and chia and place in the fridge overnight.

Preheat oven to 350 F. Prepare 2 x 24 mini muffin tins or 12 large muffin tins (with cupcake liners).

To a large bowl, mix together the flour, freeze dried mango powder, cinnamon, baking soda, and salt.

In another bowl, mix together the mashed banana, coconut oil, mango puree, vanilla, coconut milk and flax eggs.  Mix the wet into the dry.

Fill ¾ of the way up in the large muffin tins or pretty well to the top of the minis.

Bake for 20 minutes for minis, and 30 minutes for regular size.

Allow to cool on a cooling rack.

Transfer the mango chia jam to a piping bag with a very small star tip. Insert the tip into the centre of the muffin and add a small amount of jam.

Whip the coconut cream, or dairy whipping cream until fluffy, then add in vanilla. If using aquafaba, whip the chickpea liquid with the cream of tartar until very fluffy, then add in the vanilla. You can add sugar, if you don't mind added sugar in this recipe, which will obviously make the icing have sweetness and flavour, and make it stable enough that it will hold.

Whatever topping you choose, pipe onto the tops of the muffins. Top with a sprinkle of the powdered freeze-dried mango and raspberries. Enjoy!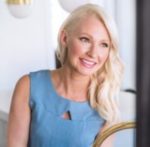 Abbey Sharp is a Registered Dietitian, an avid food writer and blogger, a cookbook author and the founder of Abbey's Kitchen Inc.