This Vegan Alphagetti is packed with hidden veggies and is made with all of your go-to pantry staples to make getting a family-friendly, kid approved meal on the table fast and easy!
Did anyone else grow up with the nostalgic goodness that was alphagetti? I don't know if it was the super soft pasta or the semi-sweet tomato sauce, but as a kid, I was totally obsessed. I don't know what got me thinking about it while here in covid-19 quarantine, but I guess in general I've been craving lots of nostalgic comfort foods lately. This homemade copy cat vegan alphagetti recipe is actually really good for you. It's got protein from chickpea pasta, plus lots of natural sweetness from pureed butternut squash. And no, your kids will not even know that there are extra veggies in there – it simply makes for a sweet and creamy sauce.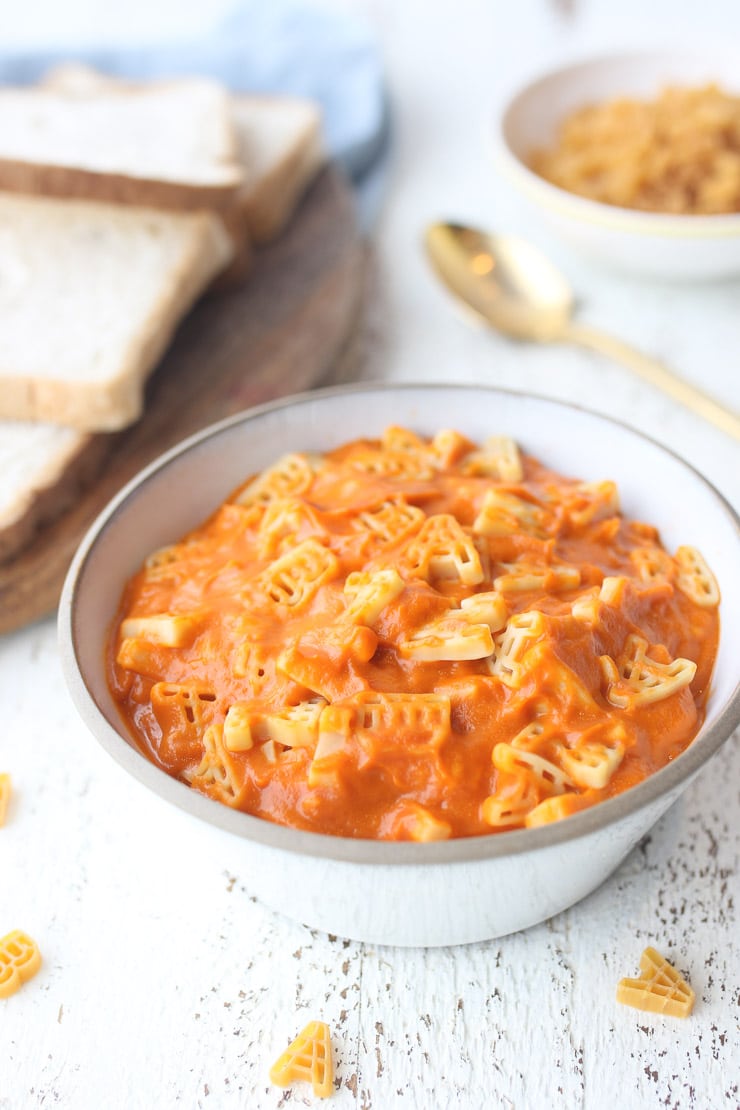 What is alphagetti?
Honestly, I do not really know if alphagetti is soup or if it's supposed to be a pasta dish. I kinda see it as somewhere in between because it's an extra saucy pasta dish. What I do know if that it's totally delicious, it comes in a can, and I LOVED it when I was growing up.
I also know that the canned version by Heinz has 8 grams of sugar per 3/4 cup and who just eats 3/4 cup?!
Key ingredients to make healthy vegan alphagetti
In my effort to try to make this into a bit more of a balanced meal with protein, fibre and veggies, I made my own homemade alphagetti – AND mine is also vegan and gluten free! The key ingredients include:
Chickpea pasta – I was able to find alphabet chickpea pasta which I love for the extra fibre, and protein! If you can't find the alphabet version, any short cut chickpea noodle will work.
Tomato sauce – Just plain canned tomato sauce is a pantry staple for me, so I always have lots on hand.
Frozen butternut squash – Definitely a staple in my house for throwing into soups or on salads. I love how easy it is because it's already cooked.
Nutritional Yeast – This adds the cheesy flavour without any cheese. It's also got fibre, protein and B12!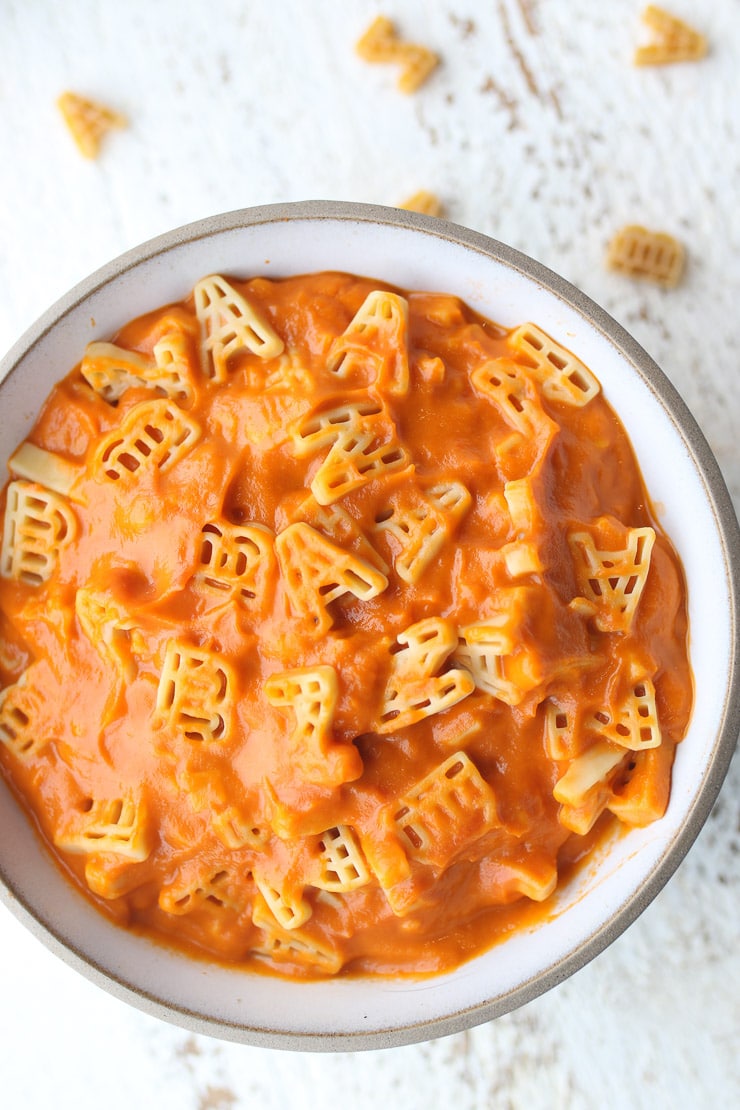 tips for nailing this recipe
I definitely am a fan of super creamy pasta sauces, so I think a good stand blender will help you achieve that super creamy soft texture.
I also recommend not cooking the pasta anymore once it's been cooked separately. In other words, just get your sauce nice and hot, then add it in. You don't want it simmering on the stove for ever or the pasta may fall apart.
faq about this recipe
Here are some commonly asked questions about this copy cat alphagetti recipe.
is this pasta gluten free?
Yes! I use chickpea pasta which is naturally gluten free and is also higher in fibre and protein than regular wheat based pasta.
is this safe for babies and toddlers?
Yes, in fact, my son ADORED it. It's also very baby friendly because it's very soft. Just make sure it's not too hot when you give it to your kiddos.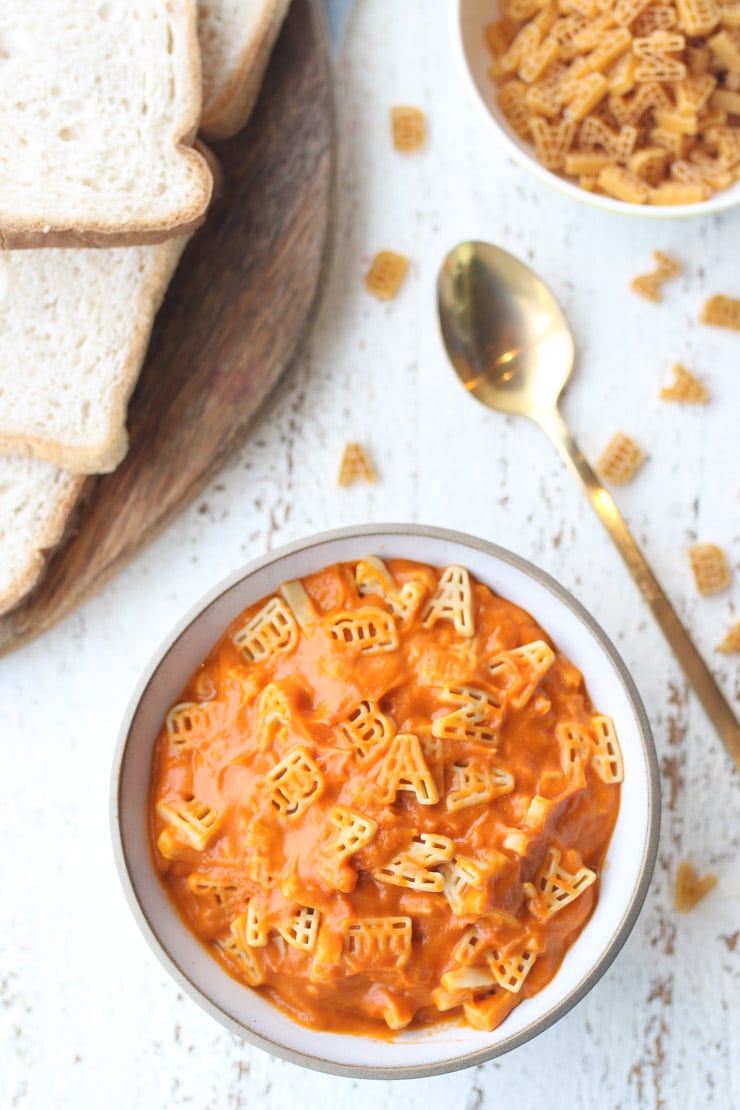 is it a good idea to hide vegetables in food?
If you want my honest answer, no I don't like to be deceitful and not tell kids about vegetables they hate being in foods they like. However, in recipes like this, they aren't even going to ask because the sauce just tastes like a sweet tomato sauce. If my son were to ask "hey mom, what's in this?" I would 100% tell him. You don't want to build a distrustful relationship around food. But my kid can only put like a few words together in short sentences so I think I'm probably okay.
can i freeze this if i batch prep?
Yes, you can freeze the alphagetti once it's cooled. Simply pop it into a freezer bag, lay flat and put it into your freezer for up to 3 months.
Do you have any other easy recipes using pantry staples?
You bet I do! I have been pumping them out because hey, we all have a lot of pantry and freezer foods to go through. Here are some of my favourites:
VEGAN LENTIL BUTTERNUT SQAUSH SOUP
VEGAN CARROT CAKE BAKED OATMEAL
What are you making with your pantry staples? Leave me a comment below with your recipe ideas!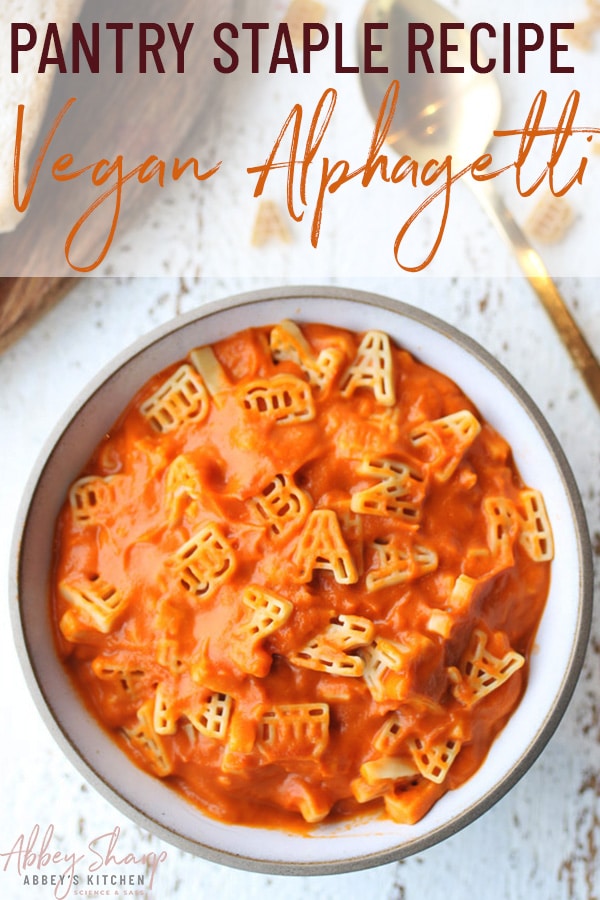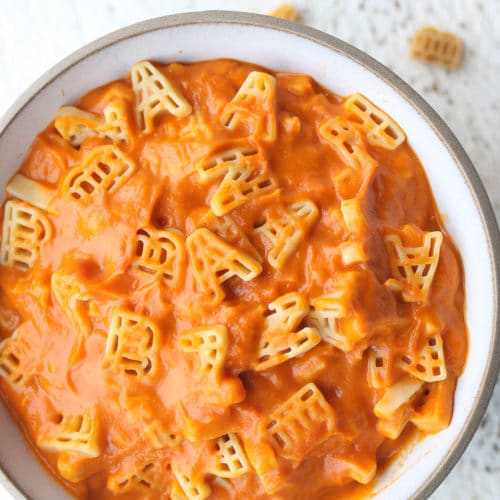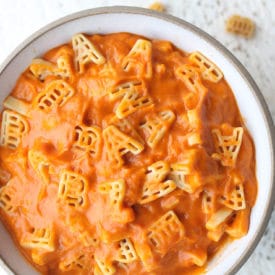 VEGAN ALPHAGETTI WITH HIDDEN VEGGIES & PANTRY STAPLES
This Vegan Alphagetti is packed with hidden veggies and is made with all of your go-to pantry staples to make getting a family-friendly, kid approved meal on the table fast and easy!
Print
Pin
Rate
Ingredients
2

cups

chickpea alphabet pasta

1

tbsp

extra virgin olive oil

1

small onion

finely diced

2

cups

frozen butternut squash

or finely diced squash cooked al dente

2 ½

cups

no added salt plain tomato sauce

1

tbsp

vegan butter

3

tbsp

unsweetened almond milk

2

tbsp

nutritional yeast

1

tbsp

maple syrup

¼

tsp

paprika

¼

tsp

salt

or to taste
Instructions
Cook the pasta according to package directions. Drain and set aside.

In a medium saucepot, heat the olive oil over medium heat.

Add the onion and saute for 3 minutes, until it begins to soften.

Add the squash and tomato sauce, cover and cook on medium low for 15 minutes until the squash is tender enough that when pricked with a fork, it falls apart.

Add the butter, almond milk, nutritional yeast, maple, paprika and salt.

Transfer to a blender and puree until very smooth.Transfer back to the pot and add in the cooked pasta. Stir until combined. Serve hot.
Nutrition
Calories:
554
kcal
|
Carbohydrates:
90
g
|
Protein:
34
g
|
Fat:
14
g
|
Saturated Fat:
1
g
|
Trans Fat:
1
g
|
Sodium:
1114
mg
|
Potassium:
884
mg
|
Fiber:
22
g
|
Sugar:
23
g
|
Vitamin A:
8300
IU
|
Vitamin C:
27
mg
|
Calcium:
162
mg
|
Iron:
14
mg
Updated on July 26th, 2020