These vegan apple oatmeal muffins with oatmeal streusel topping are easy, healthy and packed with nutritious ingredients, perfect for adults and kids.
I'm just going to go out and call 2020 the year of the snack. If you're working from home, or off work, have kids at home, or don't, a lot of us are constantly wondering "what can I have for snack?" I have taken up a real love of baking during covid times, and making muffins for my son and I has become a real favourite past time. These vegan apple oatmeal muffins are as wholesome and nutritious as they are easy and delicious, packed with lots of really tasty ingredients that are super good for you and your family, too.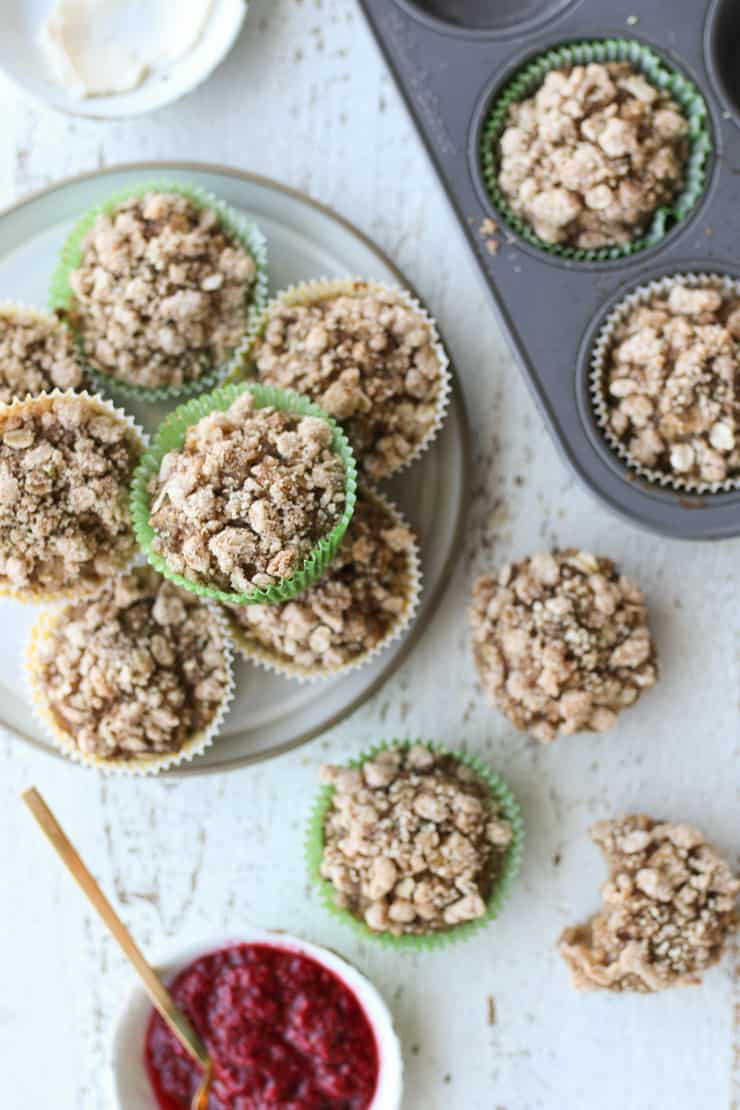 Key ingredients for Vegan Apple Oatmeal Muffins
There are a few key ingredients to making these muffins really moist, soft and yet, still really nutritious.
Apples – Obviously you need some kind of apple to make these apple muffins. I like a tart apple like granny smith, but any firm apple like gala, fuji or honeycrisp will hold its shape.
Maple syrup – I love maple syrup with apples, but you can also use honey.
Whole wheat flour – Whole wheat flour definitely adds a bit more fibre, but feel free to use all purpose if that's what you have.
Rolled (large flake) oats – This is key to getting that oat-like flavour and of course for the oatmeal crispy streusel on top.
Ground flax– I love adding flax to my baked goods for some extra fibre, protein and healthy fats.
Hemp hearts– Hemp hearts are a great way to add fibre, protein and healthy fats as well while also adding a nutty crunch.
Vegan melted butter– This is a relatively low fat muffin, but the bit of melted vegan butter does help carry the flavour and keep them moist.
Unsweetened applesauce – We use applesauce both as an egg substitute and in place of some of the butter.
Unsweetened vanilla oat milk– Feel free to use whatever non dairy milk you like.
Apple cider vinegar– This reacts with the baking soda to give the muffins rise without the need to use an egg.
What are the nutrient benefits of using oatmeal in muffins?
Oatmeal adds soluble fibre to baked goods which has been shown to help lower cholesterol, provide satiety and improve digestion. In other words, if your kiddo is backed up, oats can definitely help. When paired with the whole wheat flour, flax, hemp hearts, and apple, these are some pretty nutrient dense vegan muffins.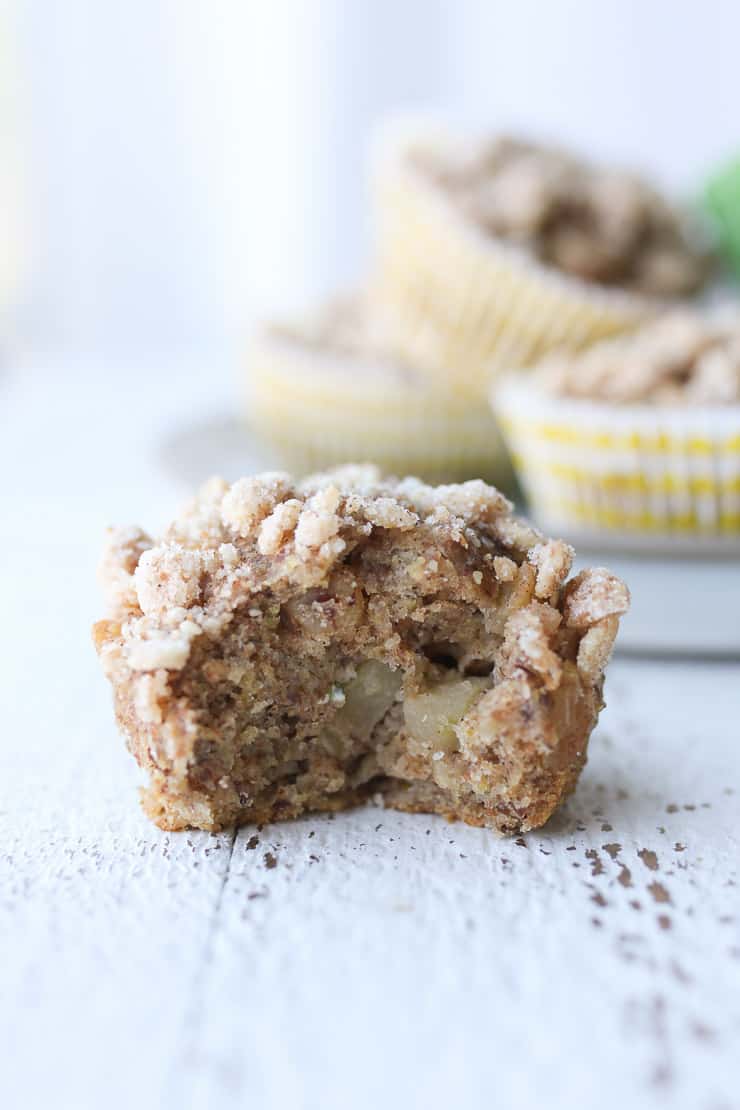 FAQ about these muffins
Here are some commonly asked questions about these muffins.
Can I make these with a different fruit?
I honestly haven't tried making them with another fruit, but your best bet would be with pears since they have a very similar consistency. You can also try with softer fruits like cherries or blueberries, but you may need to bake them a little bit longer to accommodate for the extra moisture.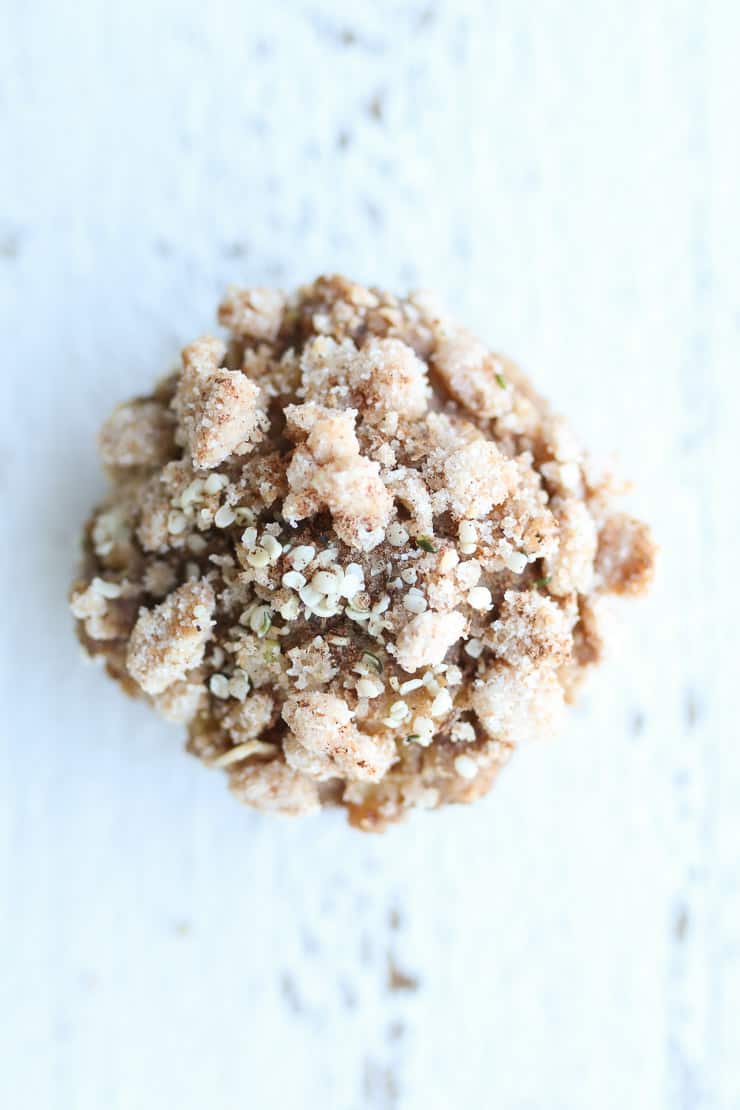 are these school safe and nut free?
Yes, because there are no nuts in this recipe (including the non dairy milk), these muffins are safe for taking to school and daycare (if we ever get to go to school or daycare).
are these muffins blw friendly and safe for babies?
Absolutely. If you're looking for a safe, nutrient dense muffin that your kids, babies and you will all love, these are them. If you're making these for babies under one, you may want to omit the streusel just to reduce the sugar even further. You can also check out some of my recipes for BLW Muffins like this one here.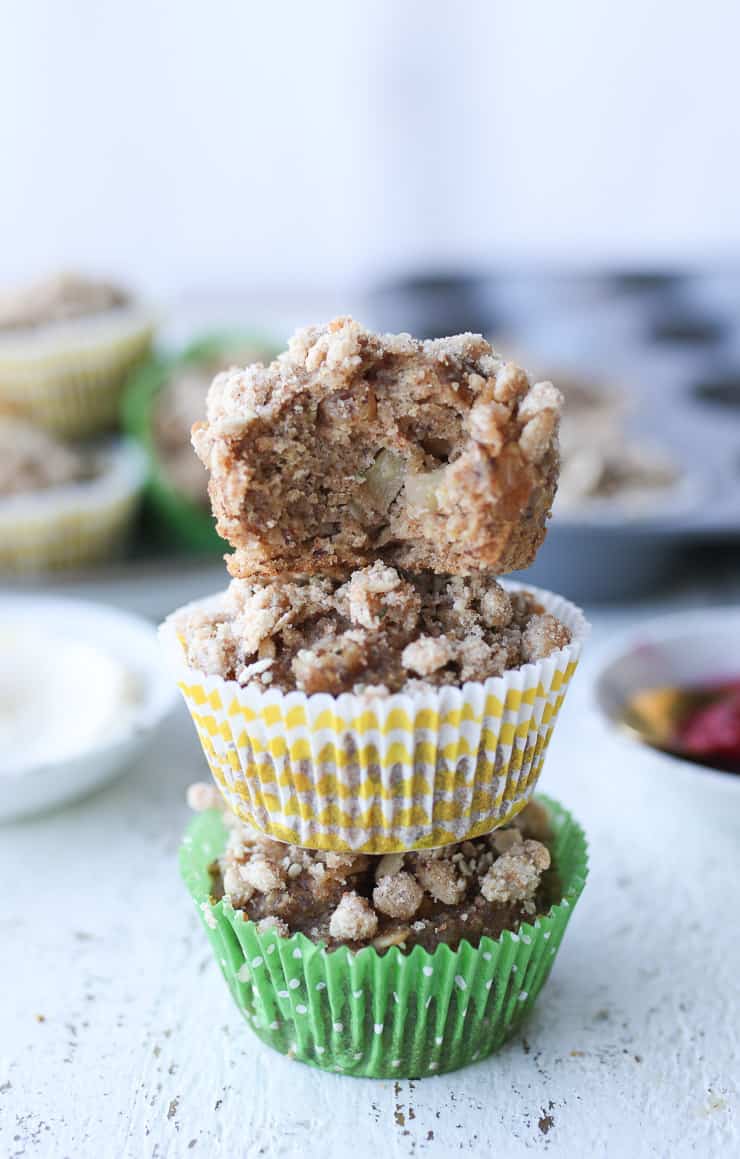 Can i skip the streusel topping?
Absolutely. If you want to make these even lower in sugar, you can omit the streusel topping, but it does give a nice crunch to these.
can i make these gluten free muffins?
I haven't actually tried to make these gluten free, but you could experiment with a gluten free blend flour and of course, just make sure to use gluten free oats. I do have a great gluten free oatmeal muffin on the blog though if you're looking for inspiration.
How can i batch prep these muffins and freeze them?
Feel free to double or triple this recipe and freeze the muffins. I suggest allowing them to cool, then transferring them with their muffin liners to a baking sheet to freeze solid, then popping them into a freezer bag. These will last 6 months in the freezer. When you're ready to eat, just pull them out and pop them into the fridge for a few hours to thaw out.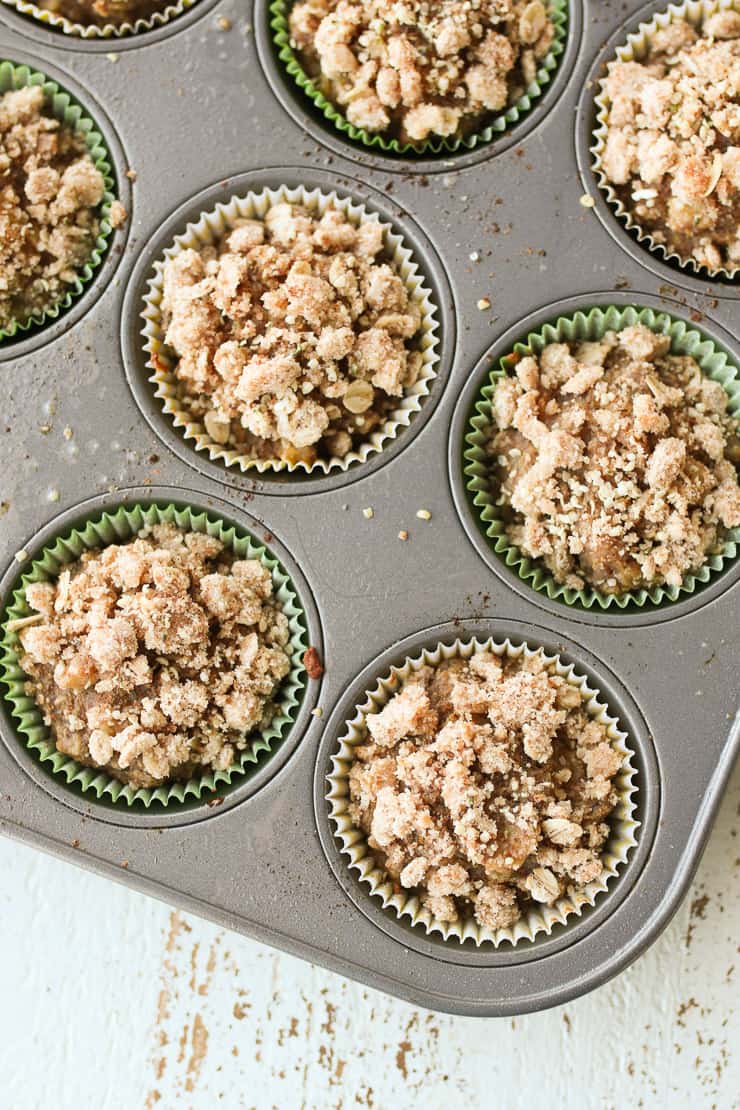 Can i use regular butter or milk?
Absolutely, if you're not dairy free or vegan you can absolutely use regular butter and milk here.
Do you have other great muffin recipes i can check out?
Yes, we love muffins in my house, so I make quite a few varieties.
Peanut Butter Banana Mini Muffins
Chocolate Cherry Almond Muffins
Now tell me friends, have you made these vegan apple oatmeal muffins? Leave me a comment below with your go to muffin recipe!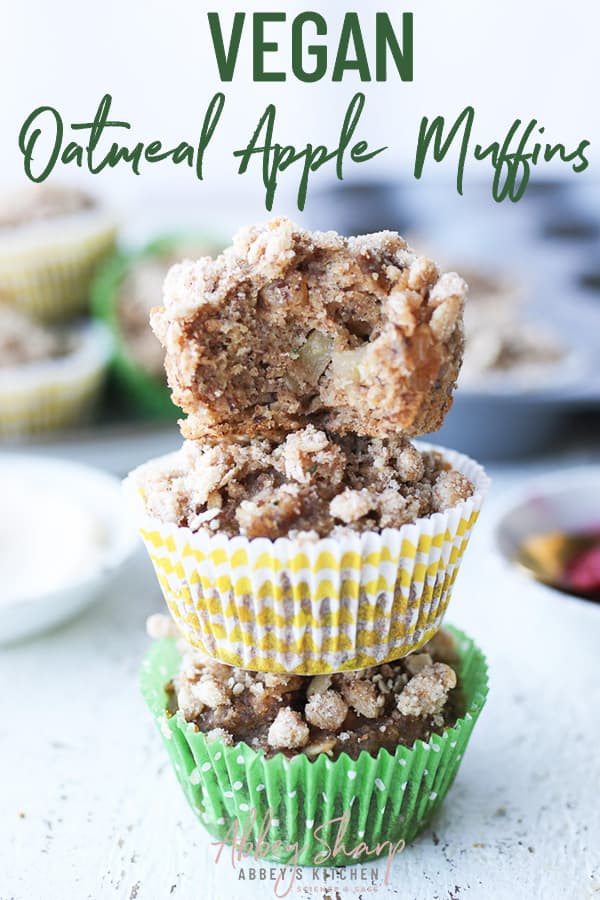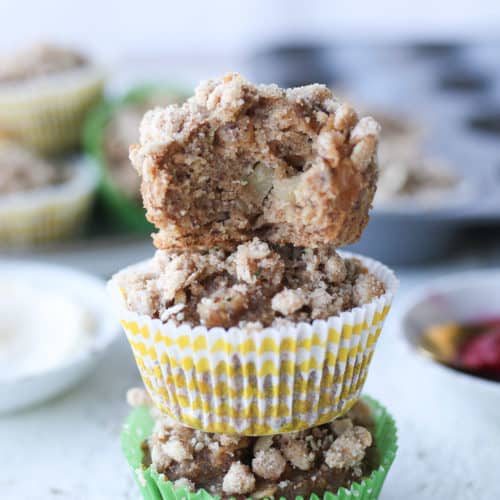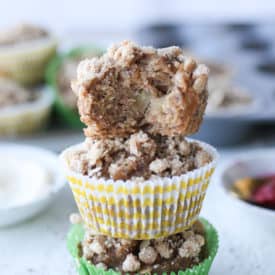 Vegan Apple Oatmeal Muffins
These vegan apple oatmeal muffins with oatmeal streusel topping are easy, healthy and packed with nutritious ingredients, perfect for adults and kids.
Print
Pin
Rate
Instructions
Preheat oven to 375ºF. Grease muffin cups or line with muffin liners.

In a small saucepan over medium heat, saute the apples with maple syrup and cinnamon for about 5 minutes until softened and lightly caramelized. Set aside.

Stir together the whole wheat flour, oats, flax, cinnamon, salt, baking powder, and baking soda in a mixing bowl. Add in the maple syrup, applesauce, melted butter, vinegar, vanilla and milk. Stir until just moistened. Fold in chopped apple and raisins. Divide the batter between 12 muffin cups.

To make the streusel, mix together the flour, sugar, oats, salt, cinnamon and hemp hearts. Then work in the vegan butter to yield coarse crumbs. Sprinkle on top of the muffins.

Bake for about 18 minutes in the preheated oven, or until a toothpick comes out clean. Allow to cool before eating.
Nutrition
Calories:
238
kcal
|
Carbohydrates:
35
g
|
Protein:
4
g
|
Fat:
10
g
|
Saturated Fat:
2
g
|
Sodium:
251
mg
|
Potassium:
277
mg
|
Fiber:
4
g
|
Sugar:
14
g
|
Vitamin A:
213
IU
|
Vitamin C:
2
mg
|
Calcium:
83
mg
|
Iron:
1
mg
Updated on July 29th, 2020