These Vegan Baked Tofu Nuggets are the perfect meat-free nugget for baby led weaning (BLW), picky toddlers and kids who LOVE the dip their food in sweet sauce 😉
My kid has just turned two which means we are entering into the picky toddler phase everyone has warned me about. I know I am "lucky" in that my son still does eat vegetables, but he definitely throws me a loop some days with his food preferences. Like kid, I made you mac and cheese FROM SCRATCH and it is FREAKING delicious, and you just want to eat the snap peas on your plate? Whatevs. Well, this week for Meatless Monday, I decided it was a good idea to make something a little more kid-friendly – and behold, these vegan baked tofu nuggets were born.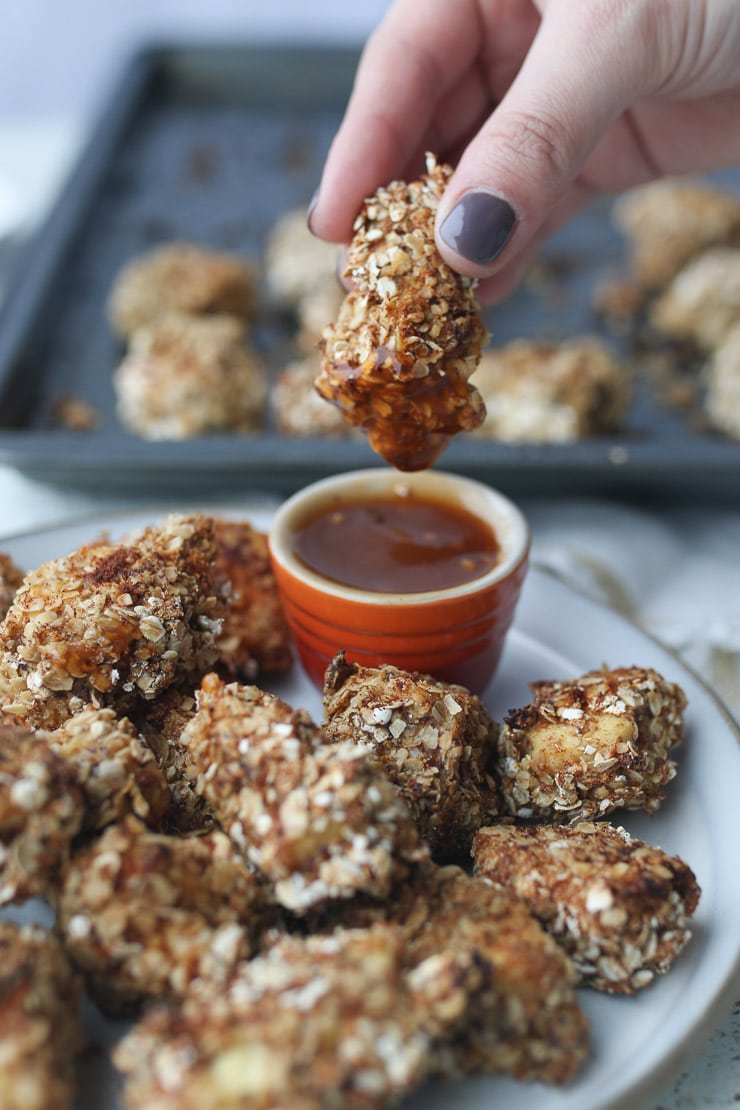 I've made chicken nuggets before (and my kid LOVED those). I've also made everything bagel tofu nuggets for the ground ups who are OBSESSED with everything but the bagel spice like me. But these tofu nuggets are just PERFECTION. They're baked (no frying required), and really crispy, AND they're packed with nutrition from the combination of flax, whole grains and tofu.
Key Ingredients to Make Vegan Baked Tofu Nuggets
Extra firm Tofu- If you're not used to working with a lot of tofu, it's really important that you SQUEEZE the excess liquid out. That means pressing the tofu on a baking sheet lined with towels and putting heavy items on top to get some of the excess moisture out. I also like to rip the tofu into pieces rather than cut them into cubes to make them look even more like REAL chicken nuggets.
Quick Cooking Oats – This is what adds a nice textural crunch on the outside along with some spices. If you only have rolled or old fashioned oats, you can give them a pulse in the food processor until they've been broken up a bit.
Ground Flax- This is your "egg". By mixing the flax with the soy milk, and the flour, you'll get a thick sticky paste that is perfect for adhering the oats.
Soy milk- You can swap in whatever your favourite non-dairy milk is but I prefer the thickness of soy milk over almond milk.
Oil in an oil atomizer- I do prefer to put my own olive oil into an oil atomizer since then you get a nice even coating of oil and you avoid some of the propellants and less quality oil in nonstick spray.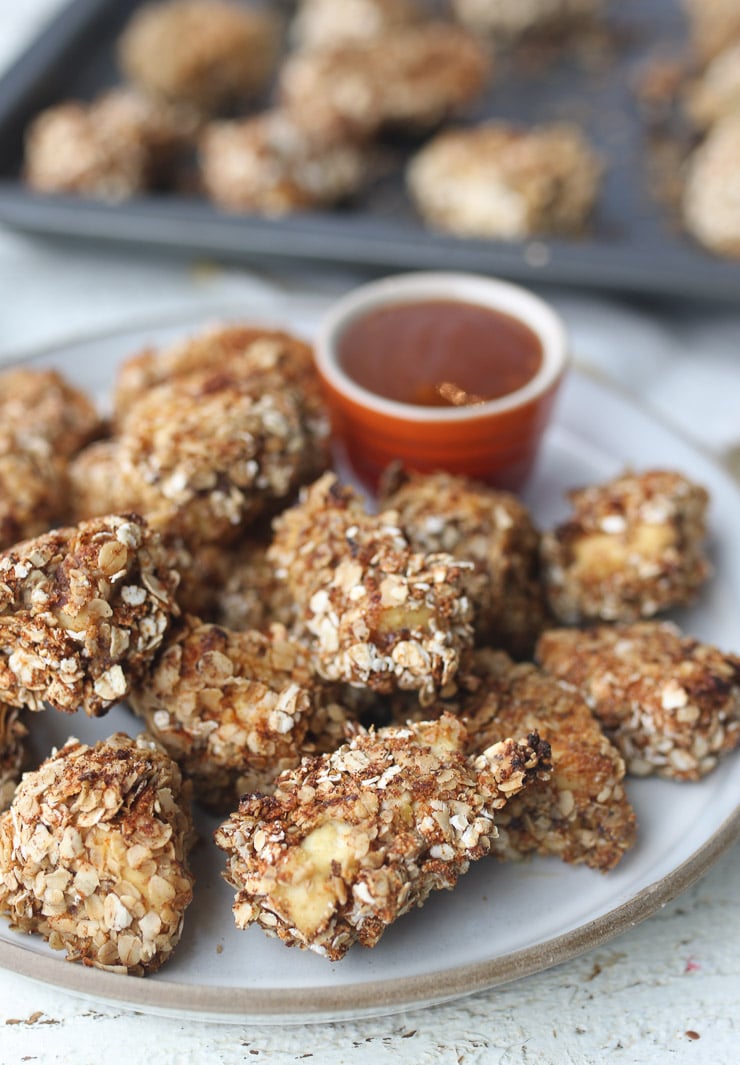 Tips for Making these crispy baked tofu nuggets
If you want your nuggets to get crispy without frying them, you HAVE to get that moisture out by pressing it out with heavy objects and towels. Do not skip that step.
You also will want to make sure not to overcrowd the baking sheet. Make sure there is at least 1/4″ between pieces and if you need to separate the tofu nuggets into two baking sheets, it may be worth that.
Also, preheat your baking sheet IN THE OVEN. Yes, I know that sounds strange but I like to get it hot so the second you put those nuggets on, the bottom doesn't get soggy while the tops get crispy.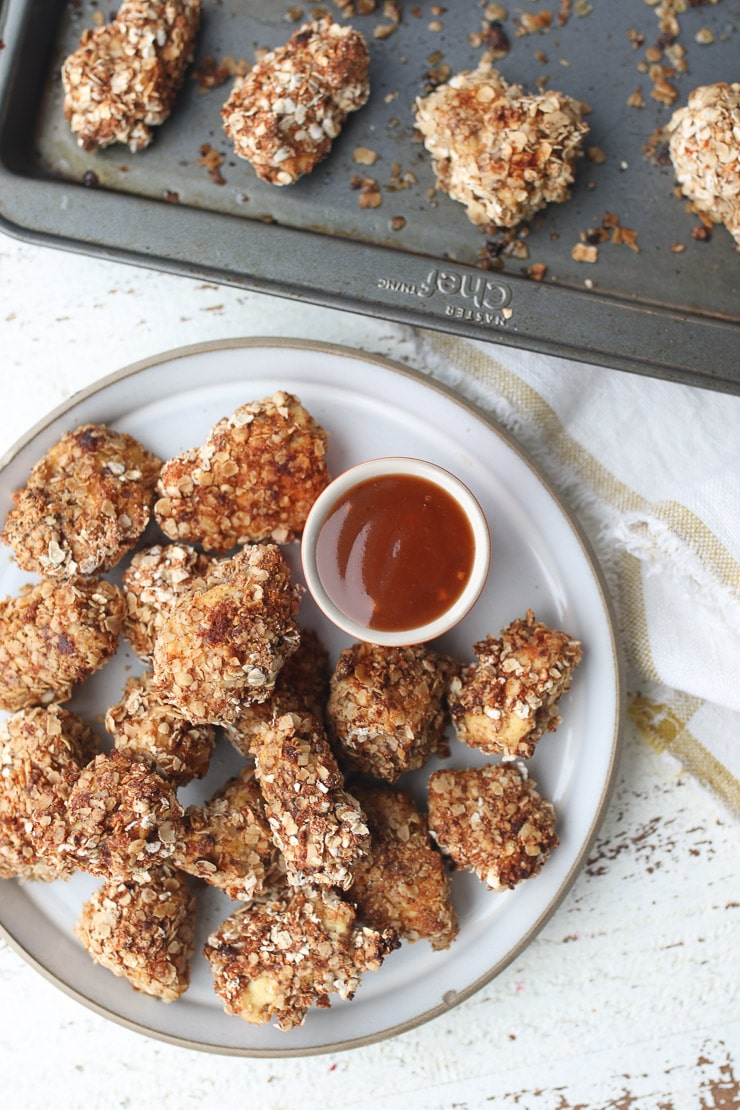 what should i serve with these nuggets?
If you're serving these as a meal for your family, some potatoes (mashed or boiled white or sweet) would be great, along with some steamed broccoli or green beans for an easy veg option. Or you can try some of these recipes.
Vegan Roasted Broccoli with Tahini Dressing
Instant Pot No Sugar Baked Beans
Sweet Chili Roasted Brussels Sprouts
Homemade Ketchup with No Sugar Added
Vegan Hasselback Sweet Potatoes
Balsamic Roasted Brussels Sprouts with Figs and Grapes
FAQ about this recipe
Here are some of the most likely common questions I will receive about this recipe.
How long will these last in the fridge?
These will be good for about 4 days in the fridge. To reheat, I would pop them into a 400 F oven for about 10 minutes until hot and crispy again.
Can I freeze these nuggets?
Yes, it's very easy to freeze these. I would recommend allowing them to cool fully, then transferring them to a baking sheet lined with parchment paper and freezing for an hour until solid. Then I would pop them in a freezer bag for up to 4 months.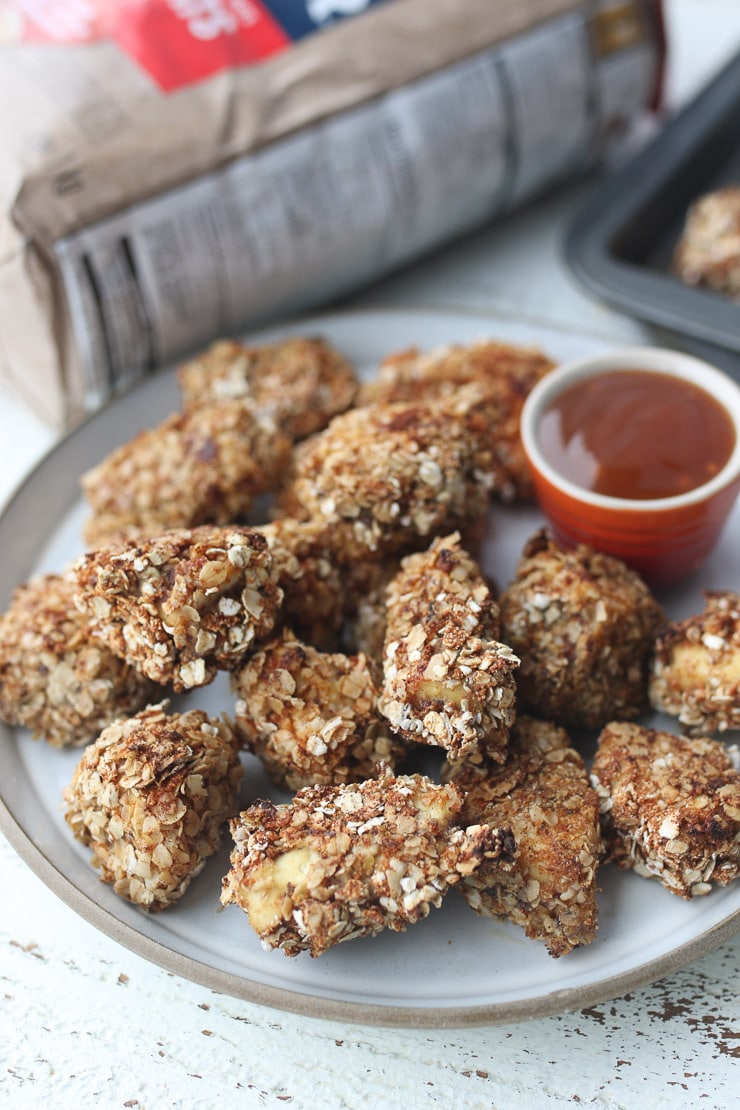 What are some good dips i can serve with these nuggets for my toddlers and babies?
We love dips in my house and my 2 year old son LOVES to dip all of his nuggets and veggies into something. For those who like a classic, my no sugar added ketchup is a HUGE hit. And if you want to try some other combinations that are super toddler and kid friendly for these baked vegan nuggets, check out this post here.
What other healthy nugget recipes do you have?
Thankfully, we are huge nugget lovers in my house, so here are some of my favourites.
EVERYTHING BAGEL VEGAN TOFU NUGGETS
MCDONALDS CHICKEN NUGGETS COPYCAT VERSION
What are some of your favourite meals for meatless Monday? Leave me a comment below!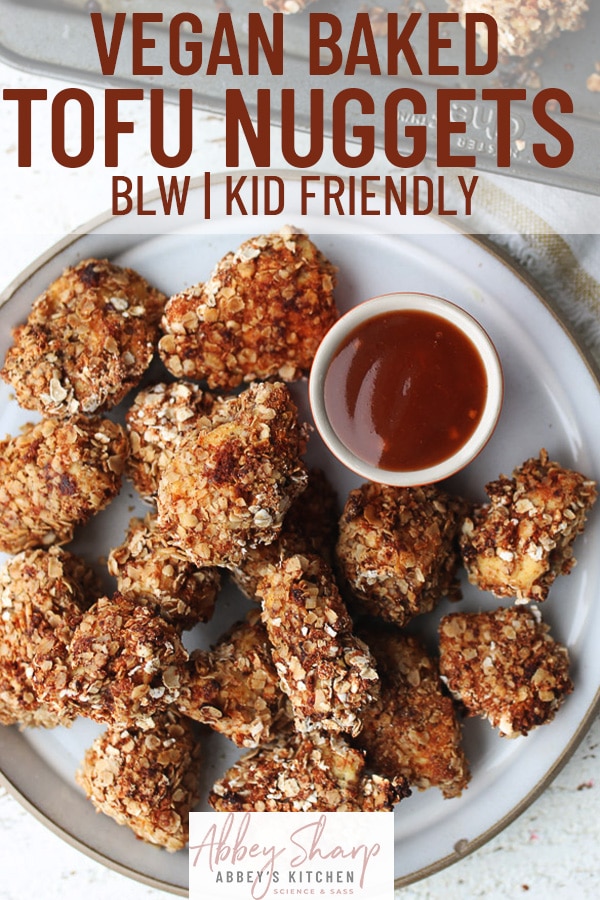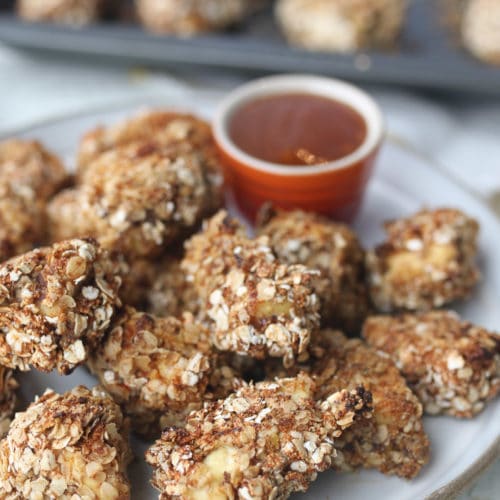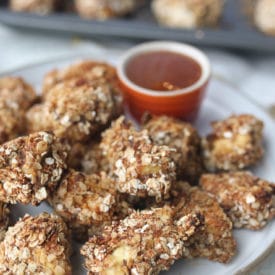 Vegan Baked Tofu Nuggets
These Vegan Baked Tofu Nuggets are the perfect meat-free nugget for baby led weaning (BLW), picky toddlers and kids who LOVE the dip their food in sweet sauce 😉
Print
Pin
Rate
Ingredients
Wet batter:
1 1/2

cups

soy milk

6

tbsp

whole wheat flour

¼

cup

ground flax

1/2

tsp

fine salt

optional for babies

1/2

tsp

pepper

optional for babies
Coating:
2

cup

quick cooking oats

2

tsp

garlic powder

2

tsp

onion powder

2

tsp

paprika

1/2

tsp

pepper

Fleur de sel on top

optional

1

pack extra firm tofu

Oil in an oil atomizer for spraying
Instructions
Break the tofu pieces into rough nugget size (about an inch each), place them on a baking sheet lined with a kitchen towel. Top with another towel, and press down with heavy items. Allow to sit for 15-20 minutes.

Preheat the oven to 425° and place a baking sheet in the oven to preheat.

In a small bowl, whisk together all of the wet ingredients for the batter. Allow the mixture to sit for at least 10 minutes.

In another bowl, together the oats, garlic powder, onion powder, paprika, pepper and salt.

Remove the baking sheet and grease with olive oil.

Dunk the tofu piece into the wet batter, then the dry oats, and transfer to the pre-heated baking sheet. Continue with the remaining tofu, then spray the tofu pieces with oil lightly.

Bake for 12-14 minutes, then flip the tofu and spray again with oil.

Bake for an additional 10-12 minutes more, until browned and crispy. Immediately sprinkle generously with fleur de sel.

Serve with your favourite sauce for dipping.
Nutrition
Calories:
197
kcal
|
Carbohydrates:
26
g
|
Protein:
11
g
|
Fat:
6
g
|
Saturated Fat:
1
g
|
Sodium:
231
mg
|
Potassium:
339
mg
|
Fiber:
5
g
|
Sugar:
2
g
|
Vitamin A:
522
IU
|
Vitamin C:
4
mg
|
Calcium:
119
mg
|
Iron:
3
mg
Updated on October 23rd, 2020