These new and improved McDonalds chicken nuggets are perfect for beginner eaters using baby led weaning, as well as for toddlers and kids as an iron rich salt free meal.
When I was a kid, McDonalds chicken nuggets were a weekly treat. Okay, so we probably had McDonalds several times a week. My mom had two very busy girls, was a business owner (Montessori school), and we had activities literally every night. We had a healthy relationship with food and saw McDonalds the same way we say a homemade bowl of vegetable soup. They were delicious, they filled out belly, and gave us energy to rock the world.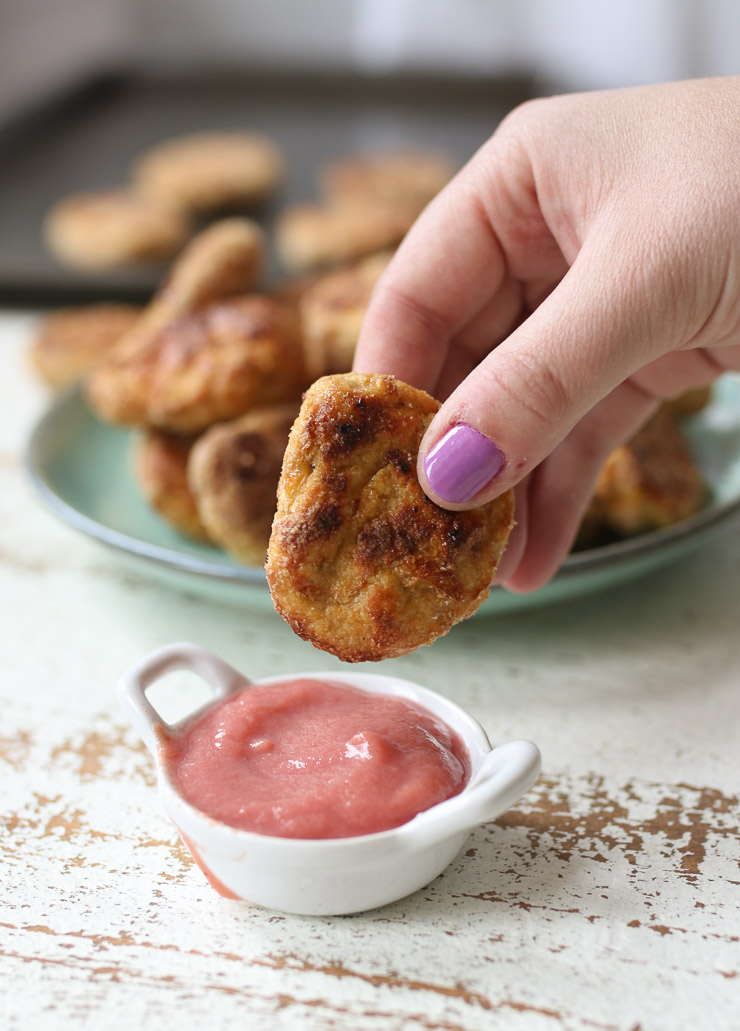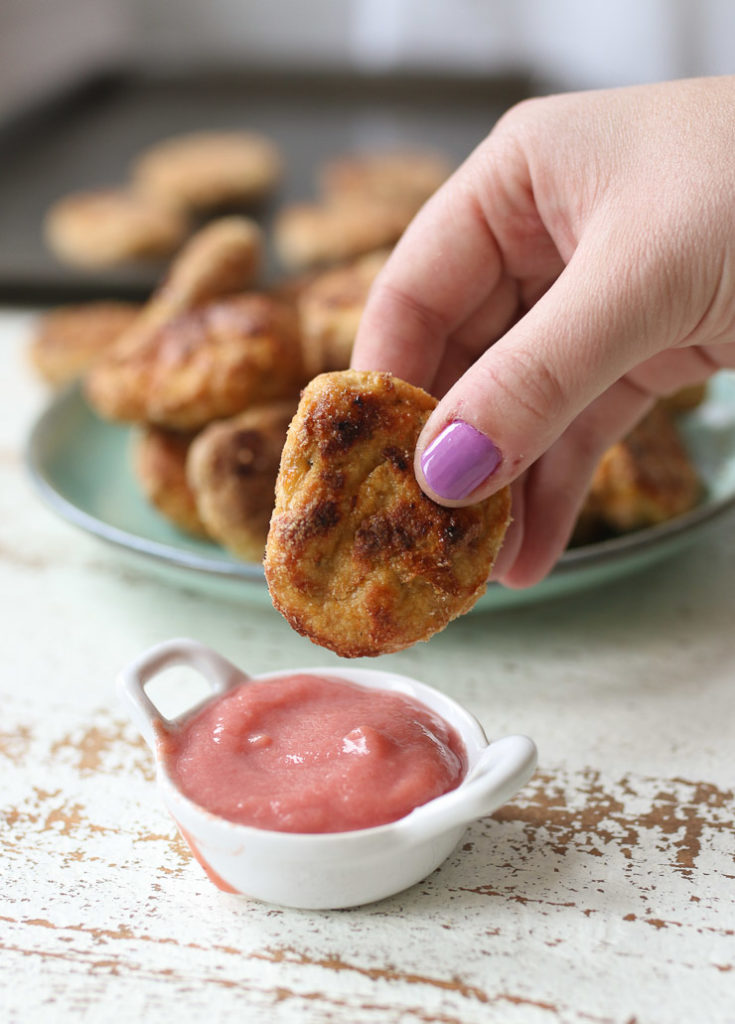 As I got older, and my mom told me stories of things she had witnessed as a school principal and owner, I realized how many parents were really strict about banning things like McDonalds chicken nuggets. And while my mom is not a dietitian, or feeding expert, she did tell me this – if you ban something, those kids will want it more. She told me that all of the kids in her school who weren't ever allowed to have fast food like McDonalds chicken nuggets would go CRAZY the second they were invited to a birthday party. Just like adults do when faced with strict diet rules, the kids couldn't help themselves but binge in fear that they would never get the alleged "bad" food again. I made a deal with myself that I would absolutely let me kids have McDonalds Chicken Nuggets on occasion, along with ice cream, pizza and fries. Heck, my son is only 10 months and admittedly, has already had a handful of fries and a lick of ice cream. I'm really not that worried.
Having said that, while I'm totally flexible when we're travelling or out and about, I like to prepare the majority of Baby E's meals with little or no salt, and lots of added healthy fats and flavours. This way he can appreciate a wide range of textures, flavours, and foods, and there are not good and bad. And these Chicken Nuggets might not be fried, but they taste better than McDonalds and are packed with iron rich ingredients!
What Makes these Better Than McDonalds Chicken Nuggets?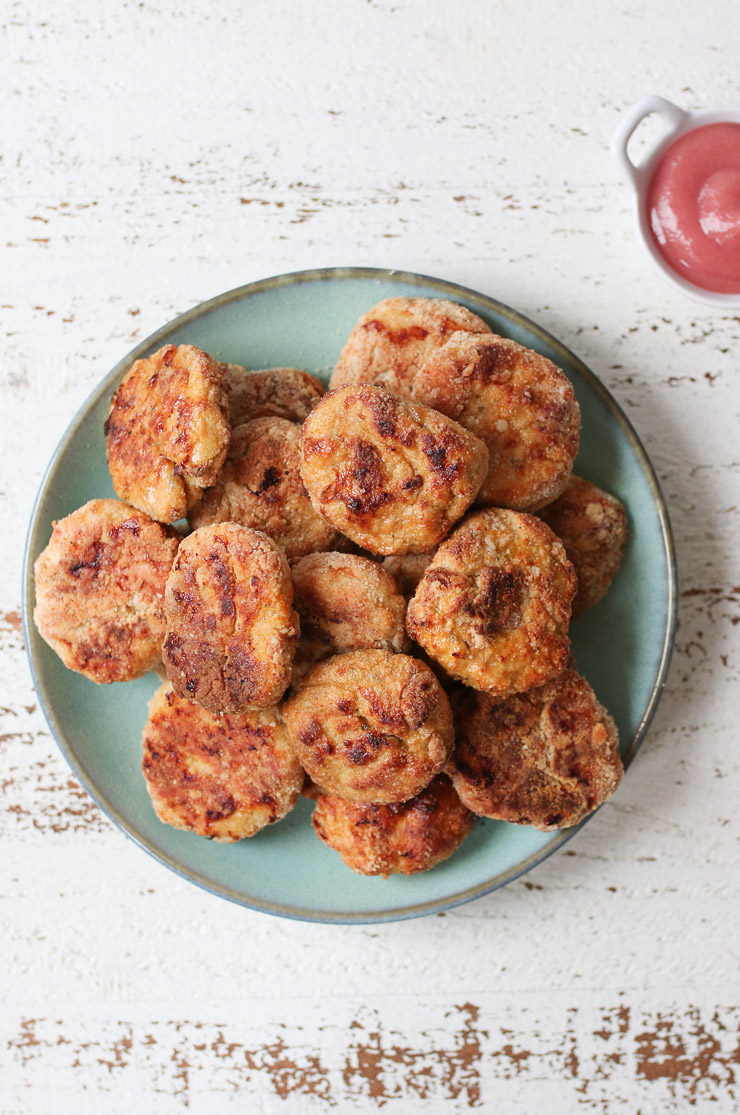 Hey, I'm not here to dispute that McDonalds chicken nuggets are DELISH. I also am 100% team honey when it comes to how to dip 'em (though I know there are a lot of opinions on this between sweet and sour, plum, ketchup or mayo). But when it comes to homemade chicken nuggets that are perfect for baby led weaning, and toddlers because they're low in salt and high in iron, these babies take the cake. Or chicken. You get the picture.
So I start by pureeing ground chicken with sweet potato, cooked onion and garlic, a little cauliflower, white beans and spices. Since it's recommended that babies under one limit added salt, I know I have to flavour bland old ground chicken up other ways. I find that adding the sweetness of a sweet potato, plus some mild spices, and even the mild nuttiness of the almond flour crust really makes for flavourful chicken nugget without the salt.
Where's the Iron in these Nuggets?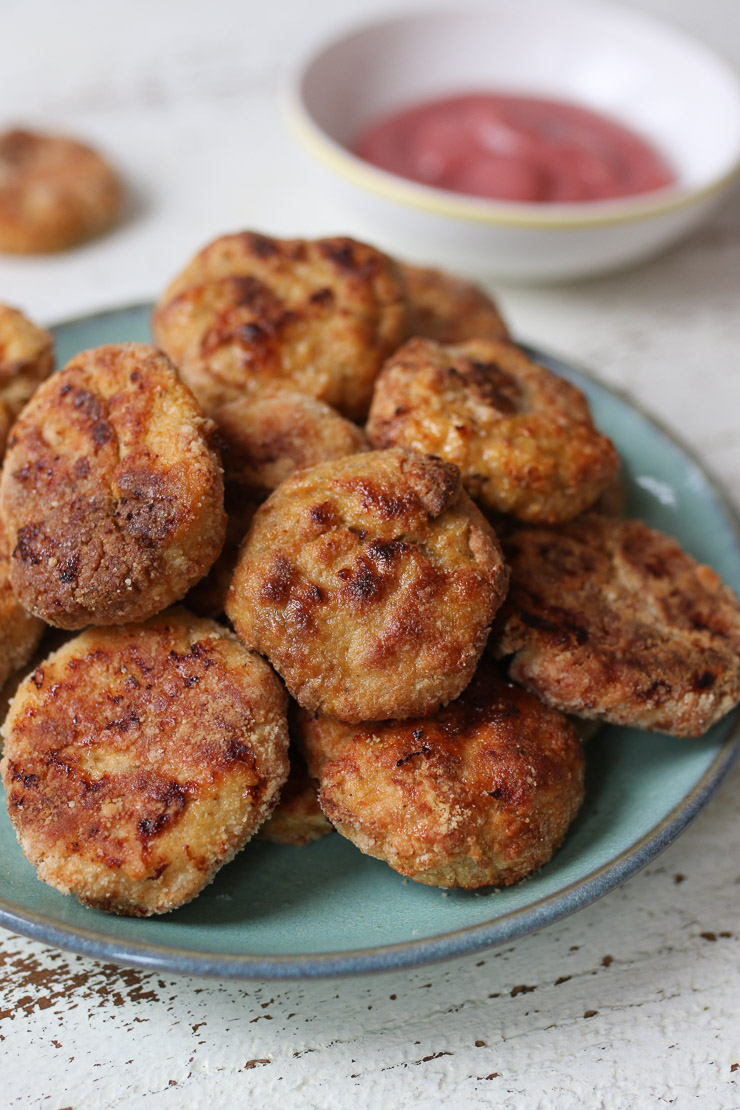 Chicken is a rich source of iron, but considering most of my son's food ends up on the floor, I like to be budget conscious and stretch his meat allowance with other cheaper sources of iron. So these chicken nuggets also contain sweet potato, white beans, eggs and fortified baby cereal for iron, plus almond flour for a healthy dose of good fats.
how to make these into healthy frozen chicken nuggets?
This toddler chicken nuggets recipe are easy to make ahead, freeze and pull out throughout the week for an easy fast meal for baby led weaning and toddlers. To freeze, simply lay them flat on a baking sheet and freeze for one hour, then transfer to a freezer bag for up to three months.
How Can I Make these Chicken Nuggets Gluten Free?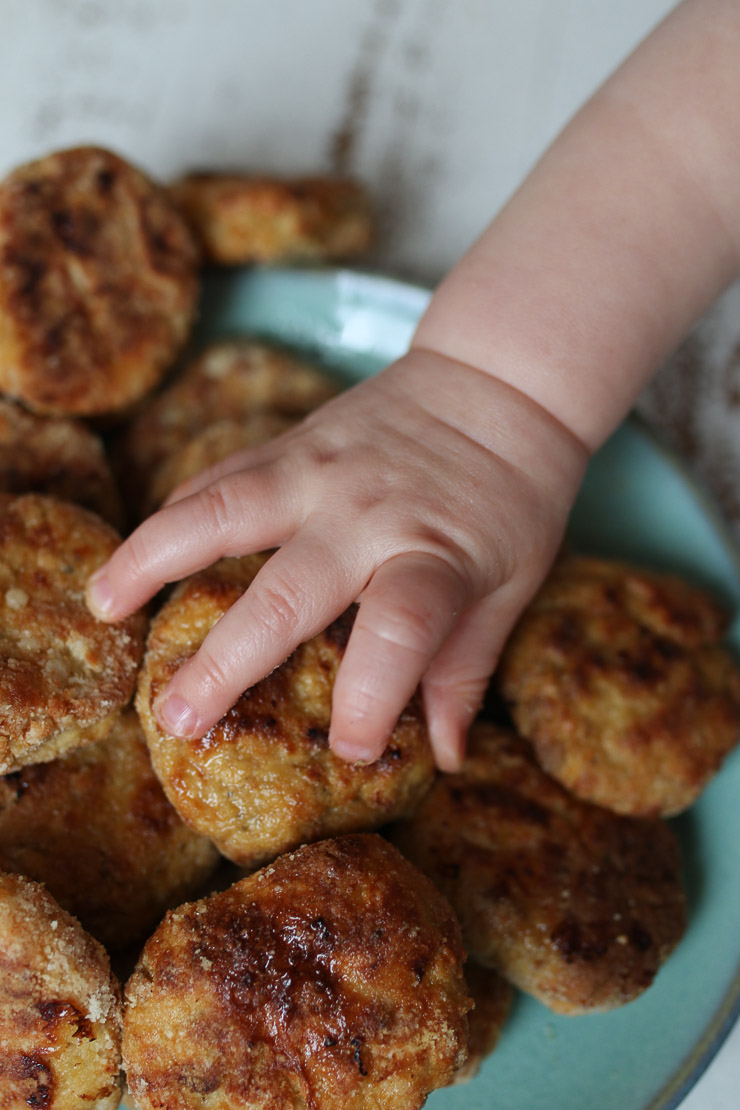 They technically are actually! Unlike in real McDonalds chicken nuggets, I like to use a rice-free baby cereal made of oats or quinoa, in which case these would also be gluten free.
Finally, let's talk a dipper. Dry meat is a choking hazard for baby, and we all know that chicken breasts aren't the most juicy fatty meat options. So having some kinda dip on hand for meat is always my recommendation. Rather than a super sugary plum sauce, ketchup or sweet and sour sauce like they serve at McDonalds, I usually just bust out one of E's favourite puree pouches and let him dip it in that. You could even do a plum flavoured puree (with no added sugar!)
do you have other great high iron baby led weaning recipes?
Oh yes. Here are a few of Baby E's favourites.
Cheesy High Iron Baby Meatballs
High Iron Omega-3 Avocado Pasta
Chickpea Peanut Butter Baby Biscuits
Kale Pepper Baby Frittata Fingers
Do you have a favourite healthy frozen chicken nuggets recipe that your toddlers love? Let me know below!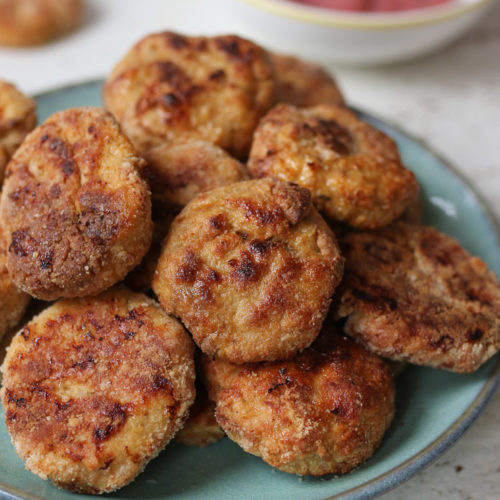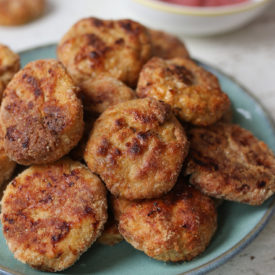 Healthy " Better than McDonalds Chicken Nuggets "
These healthy better than McDonalds chicken nuggets are perfect for beginner eaters using baby led weaning, as well as for toddlers and kids as an iron rich salt free meal.
Print
Pin
Rate
Servings:
10
– 12 nuggets
Ingredients
2

tbsp

extra virgin olive oil

1/2

cup

diced onion

2

cloves

garlic

minced

1

lb

ground chicken

boneless chicken breast, cut into chunks

1/2

cup

cooked sweet potato

1/2

cup

steamed cauliflower

cooked until soft

1/2

cup

cannellini beans

white beans

2

tsp

dried thyme

1

tsp

sweet paprika

1/4

tsp

pepper

½

tsp

cumin

3

eggs

beaten

1

cup

fortified baby cereal

1.5

cup

almond flour

Extra virgin olive oil in an oil atomizer

Your favourite baby puree for dipping
Instructions
Preheat oven to 450 F and grease two nonstick baking sheets.

Heat a small nonstick skillet over medium high heat with 1 tbsp of oil. Add the onion and sauté until lightly browned, about 5-7 minutes. Add the garlic and sauté for another minute.

In a food processor, puree the ground chicken with the sweet potato, cauliflower, onion, beans, thyme, paprika, pepper, cumin and 1 tbsp oil until smooth.

Form into small nuggets, dip then dip into the baby cereal, then the eggs, and then into the almond flour.

Continue with the remaining nuggets and spritz generously with the olive oil.

Bake for 17-20 minutes until they reach an internal temperature of 165 F. Serve with your baby's favourite fruity baby puree for dipping.
Nutrition
Calories:
238
kcal
|
Carbohydrates:
16
g
|
Protein:
13
g
|
Fat:
15
g
|
Saturated Fat:
1
g
|
Cholesterol:
79
mg
|
Sodium:
110
mg
|
Potassium:
254
mg
|
Fiber:
4
g
|
Sugar:
3
g
|
Vitamin A:
2250
IU
|
Vitamin C:
6.8
mg
|
Calcium:
77
mg
|
Iron:
3.9
mg
Updated on July 21st, 2020