These Gluten Free Vegan Elderflower Pancakes are perfect for any Mother's Day Brunch or any other weekend treat.
GUYS. IT'S MY FIRST MOTHER'S DAY. Also, Baby E is going to be a whole MONTH old that day so it will be EXTRA special for me. Honestly, being a mom (ah, I still can't really wrap my head around that new title) has been one of the most amazing experiences of my life. And I have only just started my adventure! While ordinarily, my hubby visits his mom on Mother's Day and I visit mine, this year, we're all hanging out together at my place. And that means, I'm going to need to get my sh*t together somehow to make a proper mother's day brunch!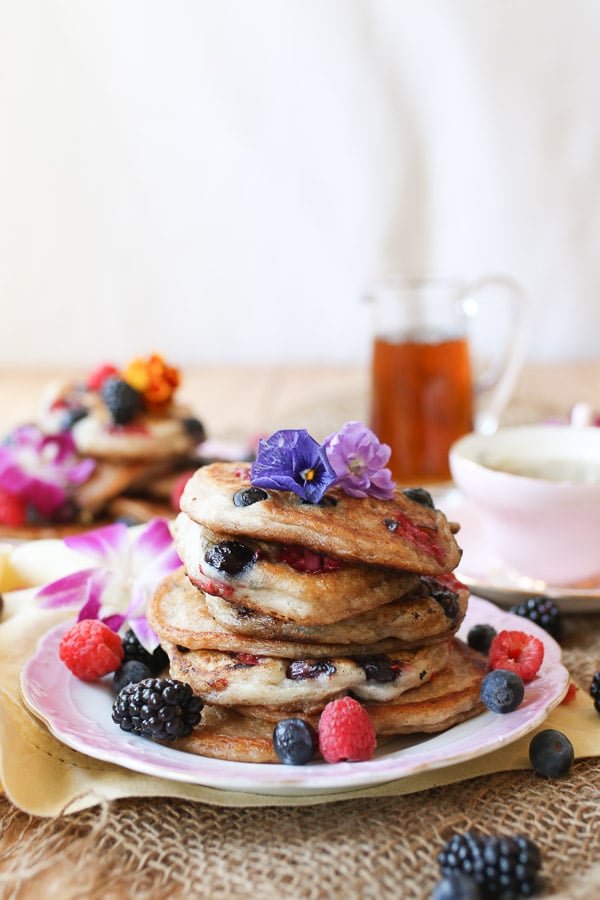 So you probably can see that I've gone a little overboard on the Mother's Day brunch and dessert recipes this year (like these salted tahini truffles and orange poppyseed waffles). These gluten free vegan elderflower pancakes are ALMOST too pretty to eat, but since we will be celebrating three generations of mommas in my home this year (as well as Baby E's one month milestone!), I figured we had to go all out!

How to Make Gluten Free Vegan Elderflower Pancakes for Mother's Day Brunch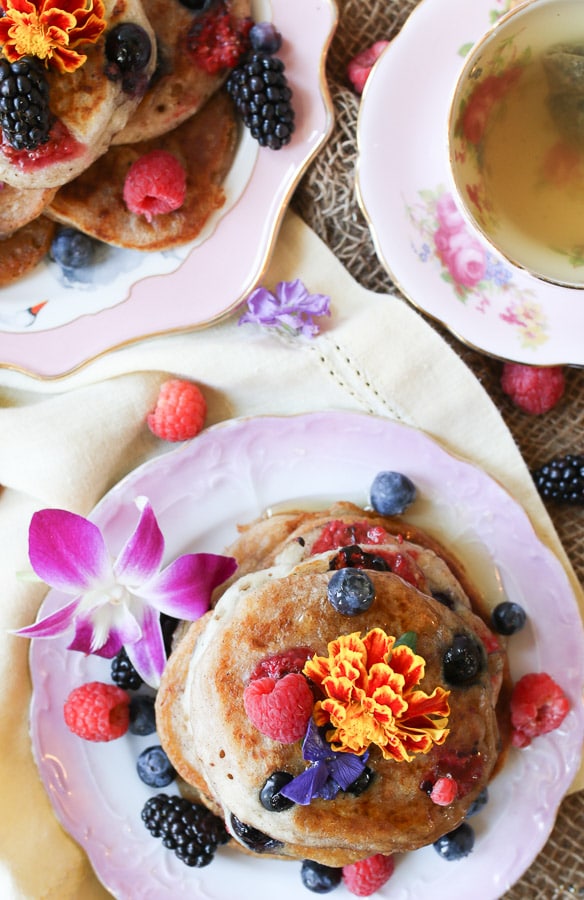 These elderflower pancakes are as easy to make as they are to eat. The idea came to me as I was enjoying my favourite non-alcoholic pregnancy and breastfeeding-friendly bevvy, Elderflower Presse. It's basically a light fizzy pop that I became totally obsessed with early on in my pregnancy because it tastes like a breath of sweet spring air. Since these gluten free vegan elderflower pancakes have no eggs, adding some of the carbonated floral drink adds a little extra rise to these babies. It also adds a beautiful flavour that is complimented by my elderflower spiked syrup.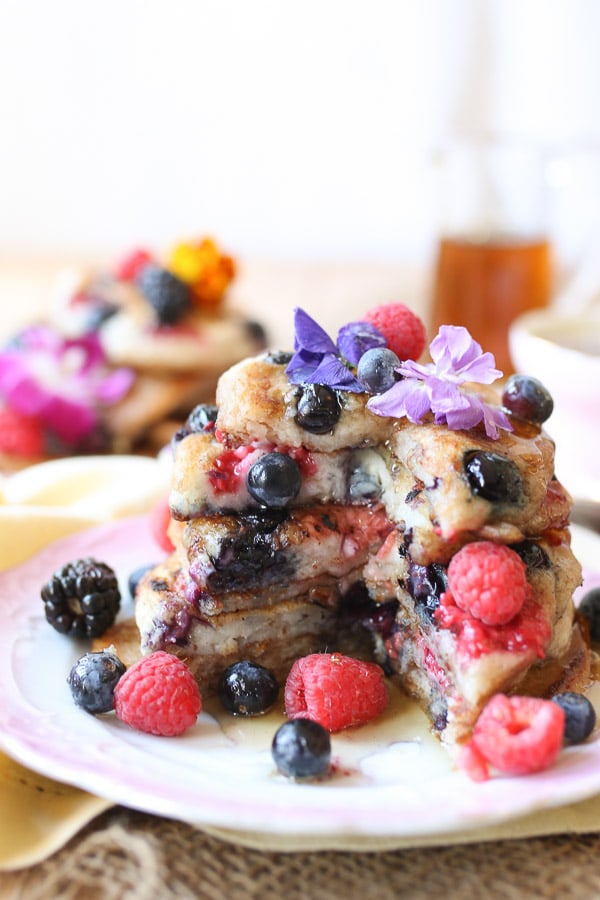 I also add in a few of my favourite berries for natural sweetness and a pop of colour, but feel free to add whatever fruit you or your honoured momma likes.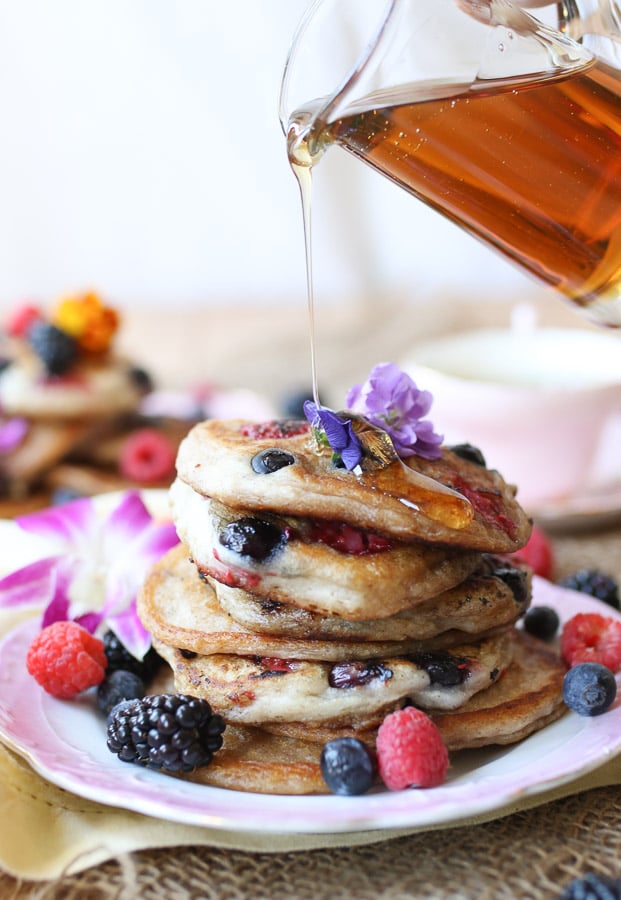 Since it is such an important day for such important people (MOMS!), I even busted out the pretty edible flowers. Honestly, nothing says "Spring time fancy pants" like edible flowers!

Now lovelies, I want to know what do you plan to make for Mother's Day brunch?
Have you tried making these gluten free vegan elderflower pancakes?
Have you ever tried Elderflower Presse?
Leave me a comment below with your thoughts!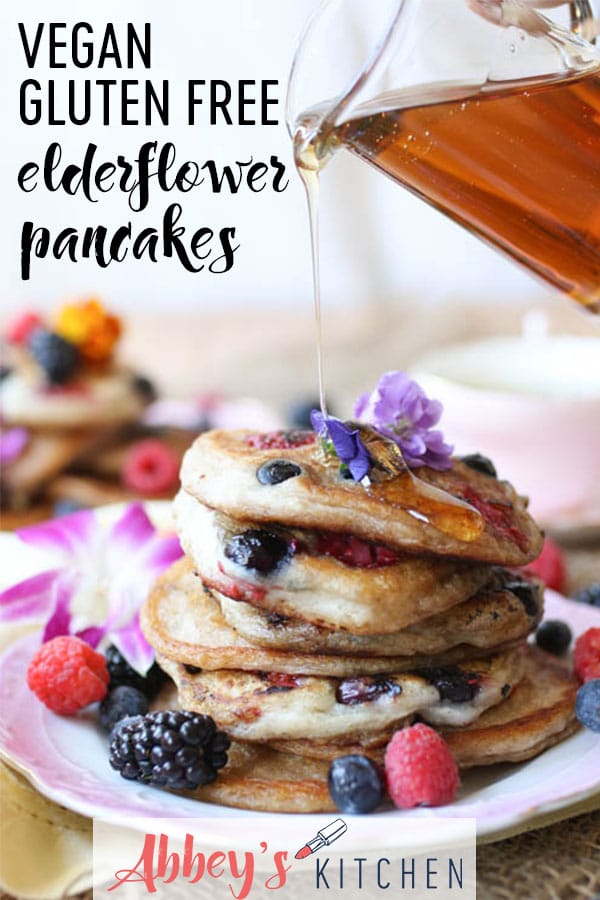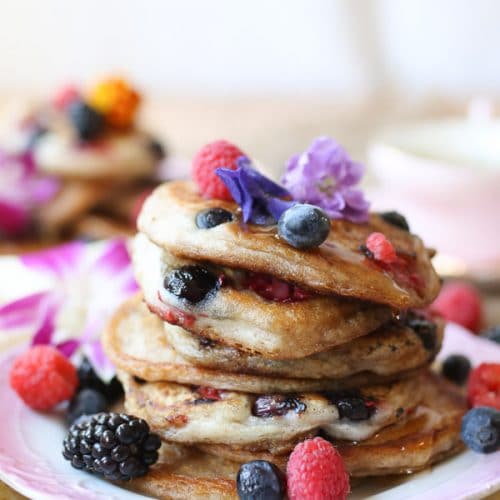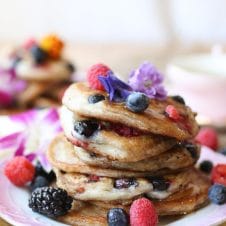 Gluten Free Vegan Elderflower Pancakes
These Gluten Free Vegan Elderflower Pancakes are perfect for any Mother's Day Brunch or any other weekend treat.
Print
Pin
Rate
Ingredients
Syrup:
2/3

cup

maple syrup

1/3

cup

elderflower presse

Toppings:

Berries

Edible flowers
Instructions
Mix together the flour, baking powder, salt, and spices.

Add in the almond milk, maple, melted vegan butter and the elderflower presse. Allow the mixture to sit for 5 min.

Add a tablespoon of the vegan butter to a nonstick skillet over medium heat. Add in 1/4 cup circles of batter and top with a few fresh berries. Cook until bubbling around the edges, then flip and cook on the other side. Continue with the remaining pancake batter and keep the cooked pancakes warm in the oven at 200 F until ready to serve.

Meanwhile, combine the maple syrup and elderflower presse in a small saucepot to make the syrup. Simmer over low heat for 5 minutes until bubbling and thick.

To serve, top the pancakes with fresh berries, syrup and edible flowers. Enjoy!
Nutrition
Calories:
446
kcal
|
Carbohydrates:
81
g
|
Protein:
5
g
|
Fat:
9
g
|
Saturated Fat:
2
g
|
Sodium:
273
mg
|
Potassium:
692
mg
|
Fiber:
5
g
|
Sugar:
43
g
|
Vitamin A:
400
IU
|
Calcium:
450
mg
|
Iron:
2.1
mg
Updated on January 30th, 2023