I chat about how much sugar is too much based on the new guidelines and share a low sugar meal plan with 100 grams of daily sugar.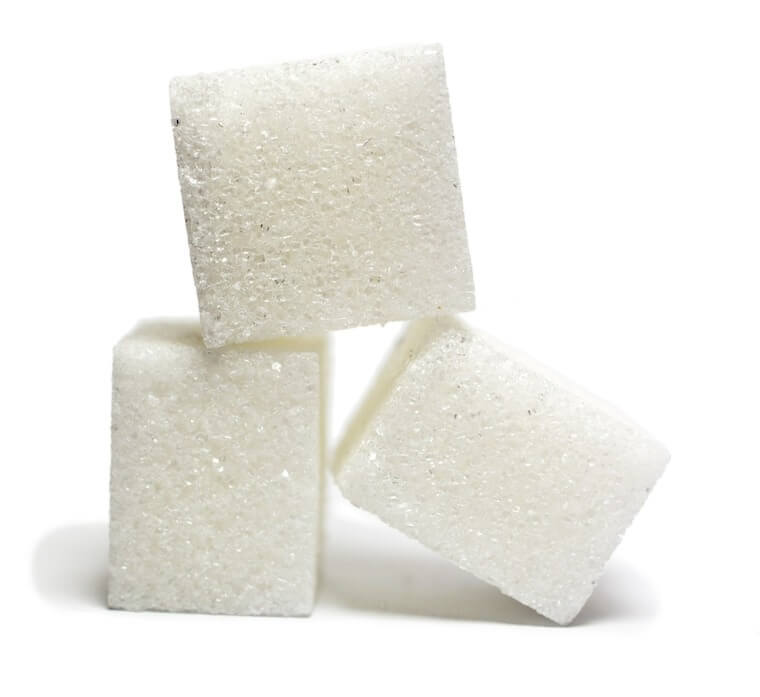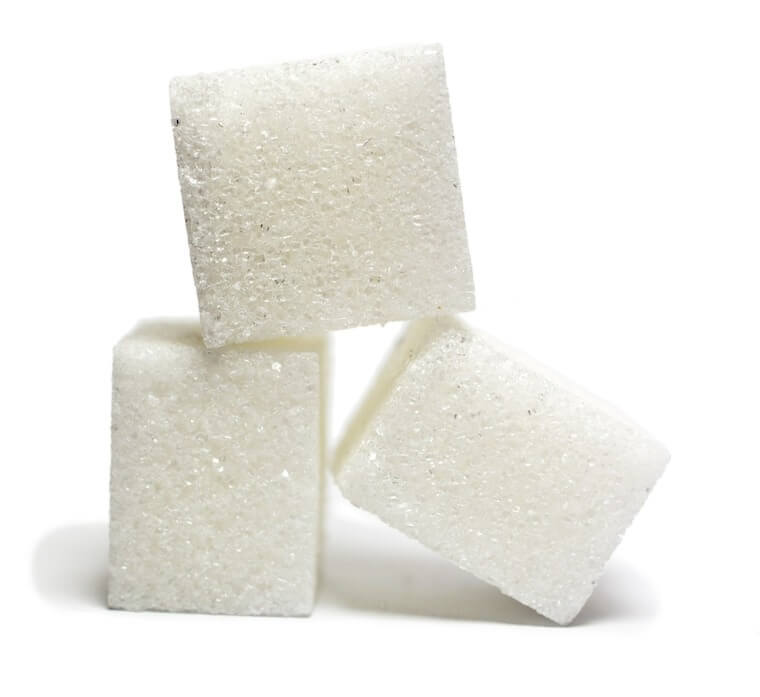 Friends, let's talk about sugar. As a dietitian with a serious sweet tooth, I understand the daily struggle of keeping life satisfyingly sweet while not overdoing it on the heavily processed treats. And apparently I'm not the only one keeping an eye on these things.
In a survey of 992 Canadians by KIND® Snacks and Leger, 77% of women said that the amount of sugar was an important factor for them in choosing snacks for themselves, and even more women were concerned about the sugar in their kids' snacks. One quarter of women said they didn't know what constitutes an appropriate amount of sugar for themselves, while 1 in 5 didn't know how much sugar was right for their kids. And almost all of the women who thought they knew the maximum suggested sugar recommendations got the number wrong. So the problem is not that Canadians don't care, it's simply that we may not be quite sure where sugar is coming from in our diet. And that's not necessarily our fault.
How Much is Too Much Sugar?
The proposed new Canadian nutrition label will feature a % Daily Value for total sugars, based on Health Canada's new recommended total of 100 grams. If you remember from my in-depth post on sugars here, this total sugar number includes:
Cow's milk, soy milk, rice milk, yogurt, etc.
Fruits and some vegetables
Apples, bananas, berries, pears, carrots, etc.
Honey, molasses, brown rice syrup, agave, maple, white sugar, brown sugar, etc.
Sadly, free (aka. added) sugars are not listed on nutrition labels, and therefore, are a little harder to keep track of. But thankfully, there are a few things we can realistically do to manage our sugar intake.
Step 1) Look at the Ingredient List
A recent analysis of 40,000 packaged foods by Public Health Ontario and Waterloo University found that 66% of packaged foods contain added sugars. Snacks and sweets actually outranked beverages as the category most likely to have added sugars, with 86% of products containing at least one added sugar.
You can spot a source of added sugar by looking for words that end in "–ose", along with anything like honey, brown sugar, maple, agave or other "syrup" words. The new proposed Canadian nutrition label will make this easier for Canadians by grouping all of the sugar-foods together in brackets so it would read like: Sugar (sucrose, glucose, honey, agave). Since ingredients in the ingredient list are ordered by weight (aka the greatest amounts will show up at the start of the list), we know that if those sugary suspects show up near the top of the ingredient list, you can assume that there is a fair amount of those free (added) sugars.
Step 2) Look at Total Sugars
The reality is that not all sugars are created equal so I do have a bit of beef with the fact that we will be able to more easily track total sugars than we are added or free sugars. I have no qualms about getting in natural sugars from dairy and fruit, but research suggests that sugars from snack foods and sweetened drinks make up the lion's share of the sugars in our diet. And that's where we can make some tweaks.
Using the recommendation of 100 grams of total sugars each day, I suggest keeping an eye on the ingredient lists for those sneaky sources of added sugars, and trying to get the bulk of your 100 grams from natural sources like dairy and fruit.
When you start to really look at these labels and ingredient lists together, you'll probably be surprised how much added sugar creeps up in all sorts of foods marketed as really healthy. Some power bars or granola bars end up looking as sweet as typical chocolate bars, and commercial smoothies or shakes can pack half your daily sugar needs.
Low Sugar Meal Plan
So to help you see what 100 grams of sugar a day looks like in real life, I crafted up a typical day in my life to show you how I "spend" my 100 grams of sugars every day. Feel free to use this low sugar meal plan as a guide or even just as a bit of an eye opener for what it could look like.
DAY 1
Breakfast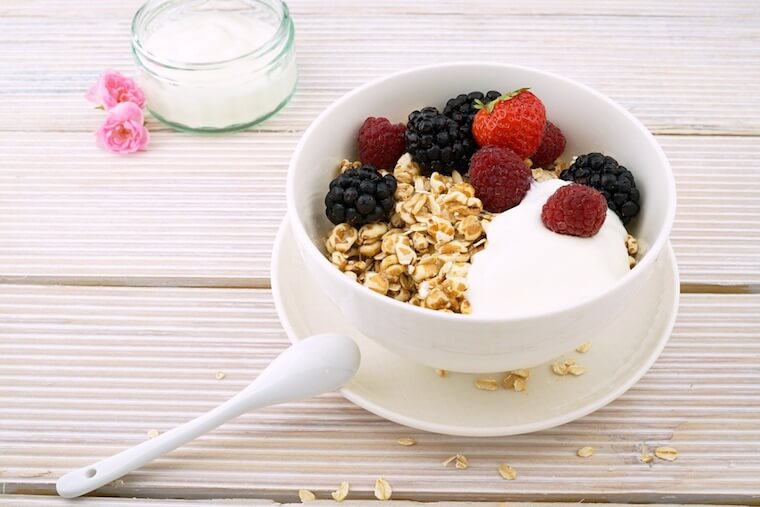 A bowl of yoghurt (1/2 cup) with granola (1/4 cup), banana (1/2 banana) and strawberries (1/4 cup)
Nutrition Breakdown:
Kcal: 368
CHO: 75g
PRO: 15g
Sugar: 41g
AM Snack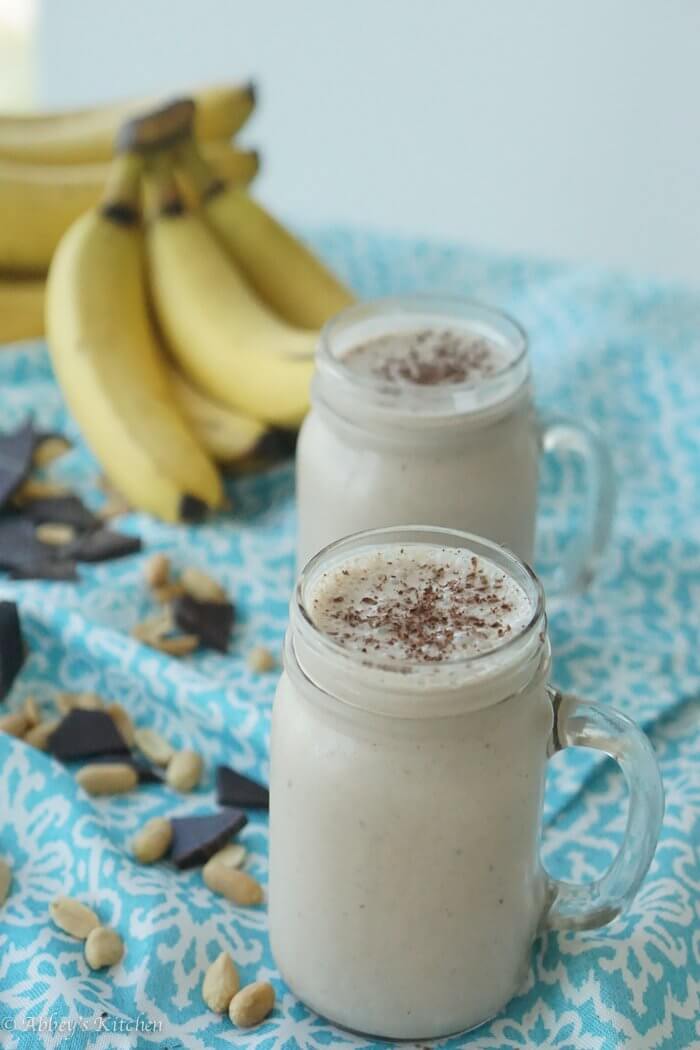 Peanut Butter Chocolate Smoothie with Banana
Nutrition Breakdown:
Kcal: 373
CHO: 58g
Fat: 9 g
PRO: 23g
Sugar: 27g
Lunch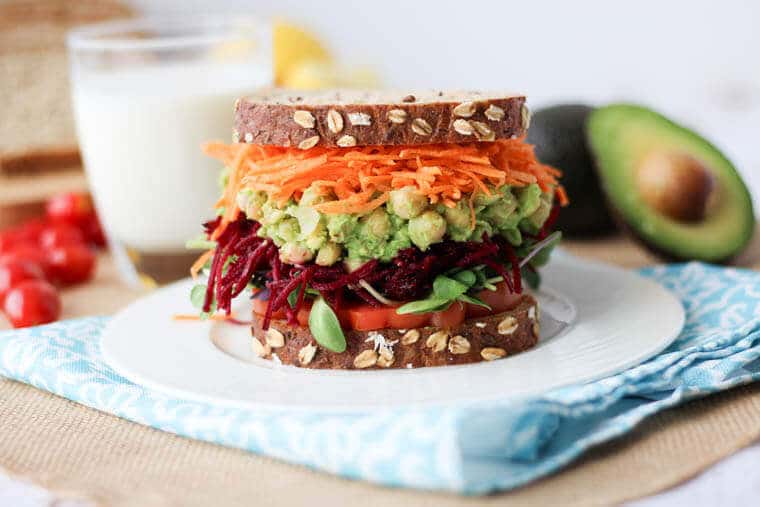 Avocado Chickpea Salad Sandwich
Nutrition Breakdown:
Kcal: 456
CHO: 69g
Fat: 20g
PRO: 15g
Sugar: 14g
Snack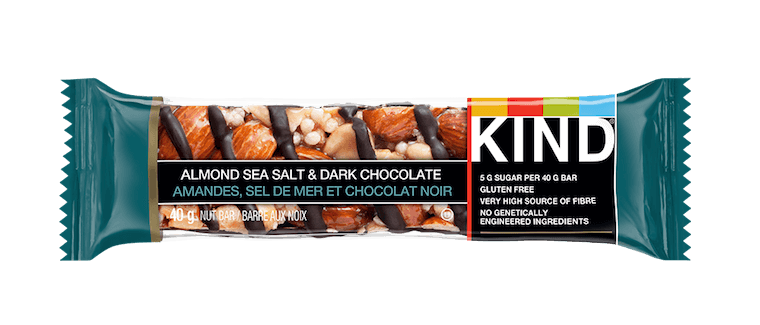 Almond Sea Salt & Dark Chocolate KIND Bar
Nutrition Breakdown:
Kcal: 200
CHO: 16g
Fat: 15g
PRO: 6g
Sugar: 5g
Dinner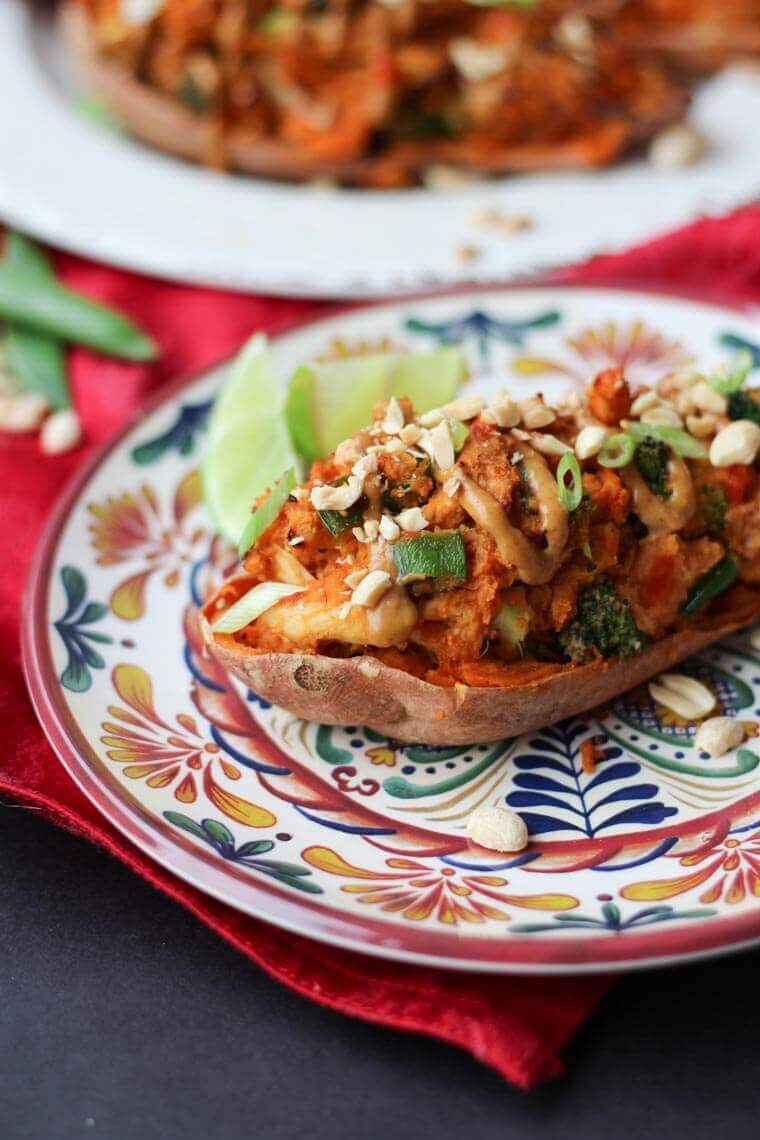 Paleo Peanut Satay Stuffed Sweet Potatoes with Chicken
Nutrition Breakdown:
Kcal: 430
CHO: 33g
Fat: 24g
PRO: 23g
Sugar: 10g
Total Kcal: 1,827
TOTAL SUGAR: 97g
DAY 2
Breakfast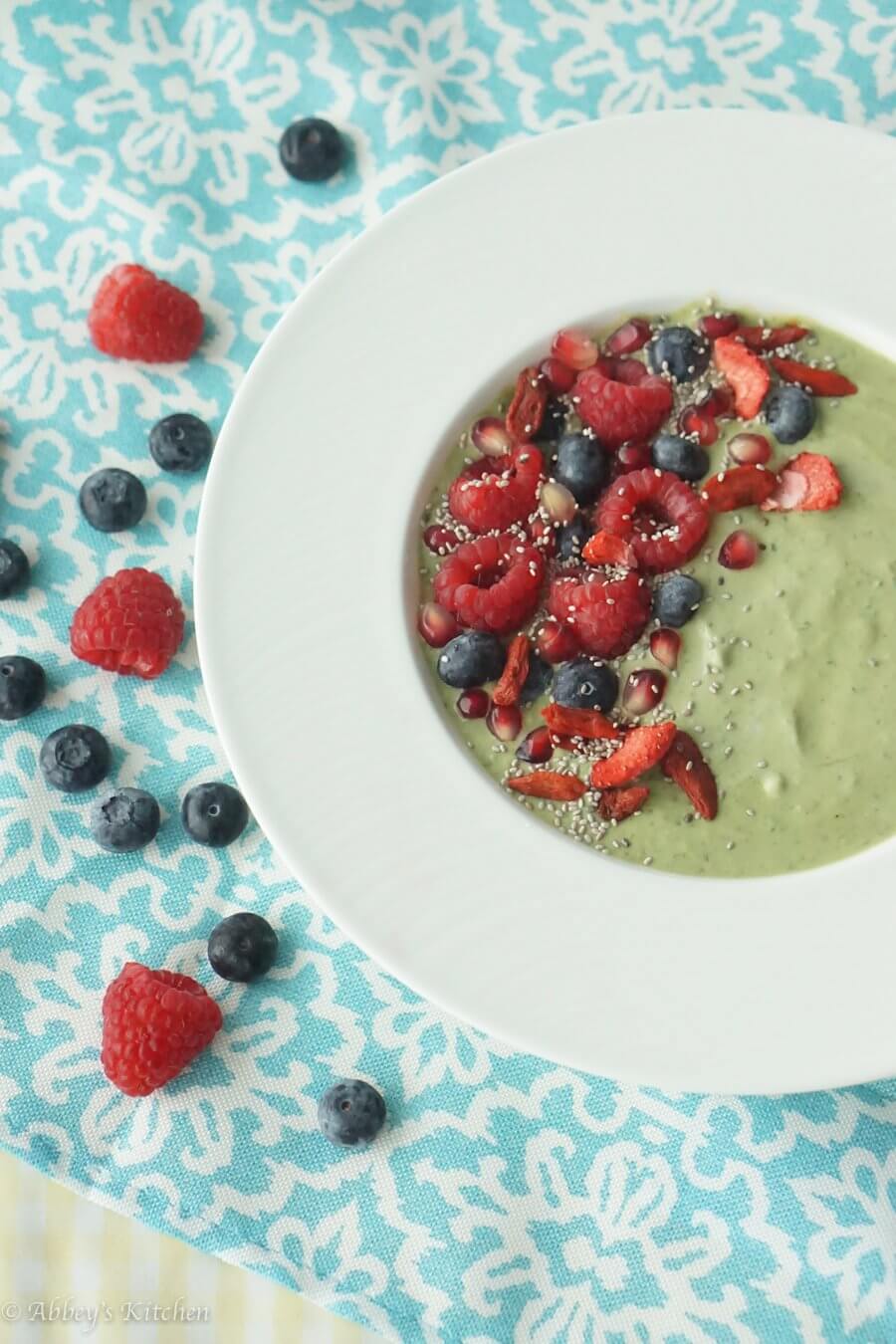 Green Smoothie Bowl with Antioxidant Packed Matcha & Berries
Nutrition Breakdown:
Kcal: 401
CHO: 60g
Fat: 9g
PRO: 19g
Sugar: 37g
AM Snack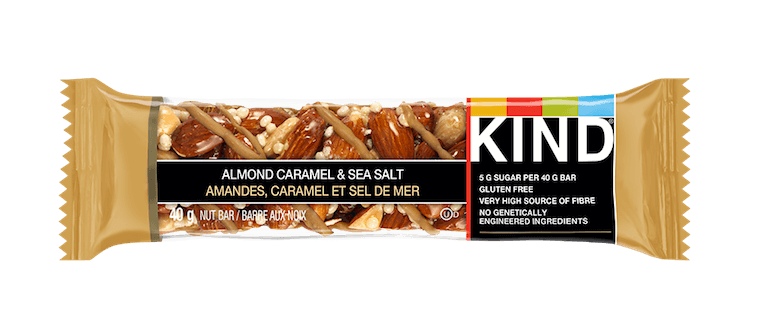 Almond Caramel & Sea Salt KIND Bar
Nutrition Breakdown:
Kcal: 210
CHO: 14g
Fat: 15g
PRO: 6g
Sugar: 5g
Lunch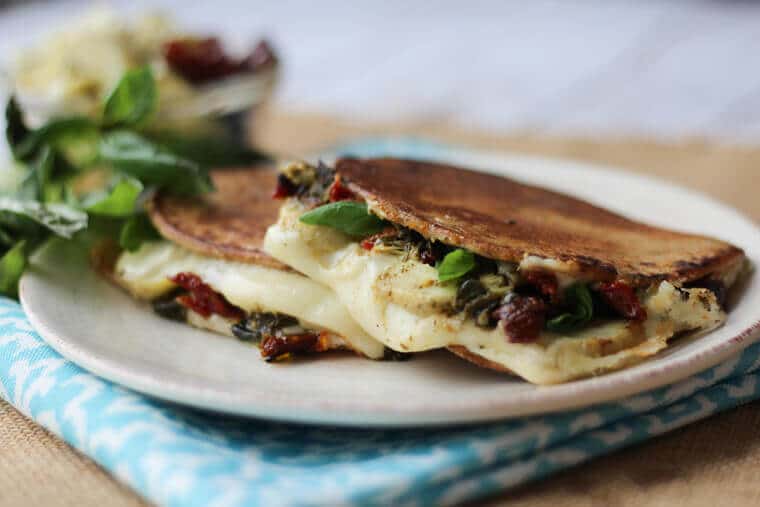 Nutrition Breakdown:
Kcal: 384
CHO: 53g
Fat: 18g
PRO: 12g
Sugar: 10g
PM Snack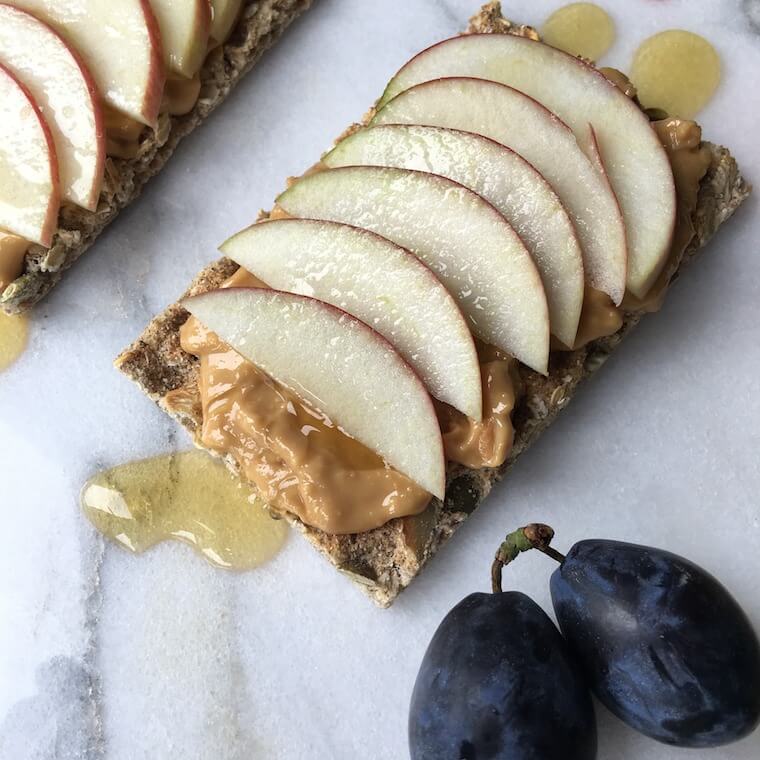 Whole Grain Toast with Peanut Butter, Apples and drizzled with Honey
Nutrition Breakdown:
Kcal: 300
CHO: 60g
Fat: 10g
PRO: 11g
Sugar: 32g
Dinner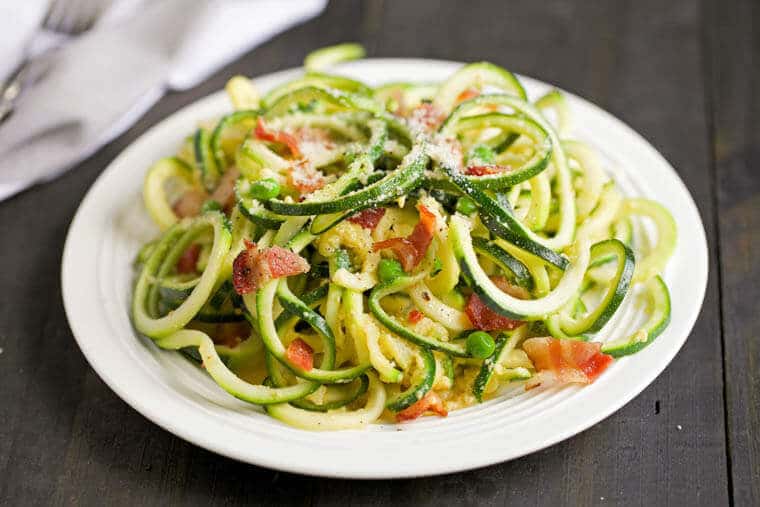 Zucchini Noodle Pasta Carbonara
Nutrition Breakdown:
Kcal: 495
CHO: 48g
Fat: 27g
PRO: 31g
Sugar: 12g
Total Kcal: 1,790
TOTAL SUGAR: 96g
DAY 3
Breakfast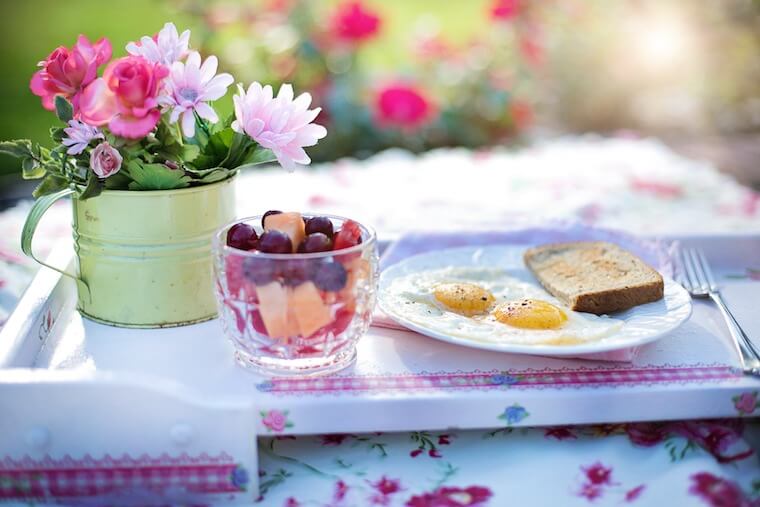 Boiled egg, Whole Grain Toast with Almond Butter, Fruit Salad (1 cup)
Nutrition Breakdown:
Kcal: 350
CHO: 36g
Fat: 15g
PRO: 10g
Sugar: 27g
AM Snack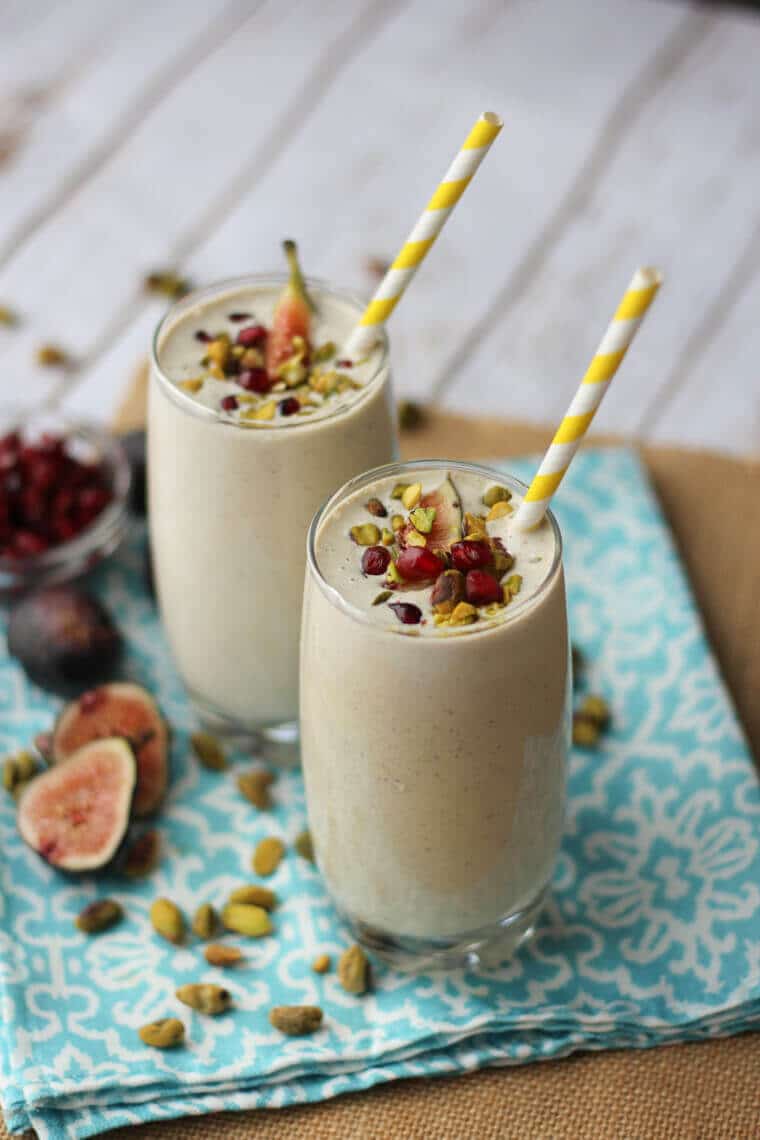 Pistachio & Tahini Protein Smoothie
Nutrition Breakdown:
Kcal: 298
CHO: 45g
Fat: 2g
PRO: 11g
Sugar: 30g
Lunch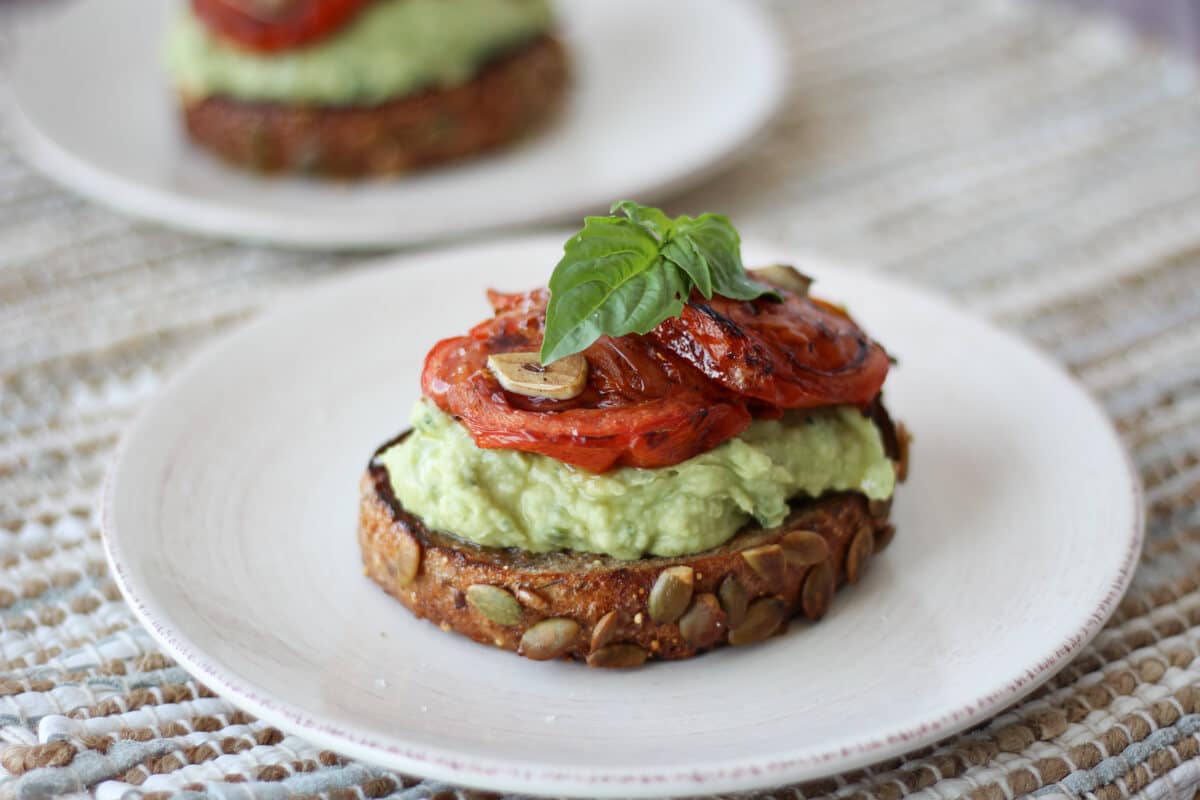 High Protein Avocado Toast with White Beans & Roasted Tomatoes
Nutrition Breakdown:
Kcal: 322
CHO: 33g
Fat: 20g
PRO: 5g
Sugar: 8g
PM Snack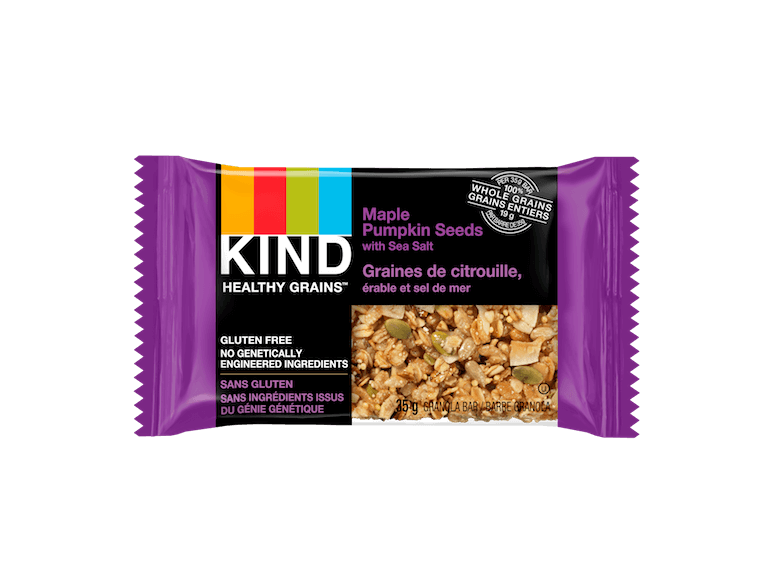 Maple Pumpkin Seeds with Sea Salt KIND Bar
Nutrition Breakdown:
Kcal: 150
CHO: 22g
Fat: 6g
PRO: 3g
Sugar: 5g
Dinner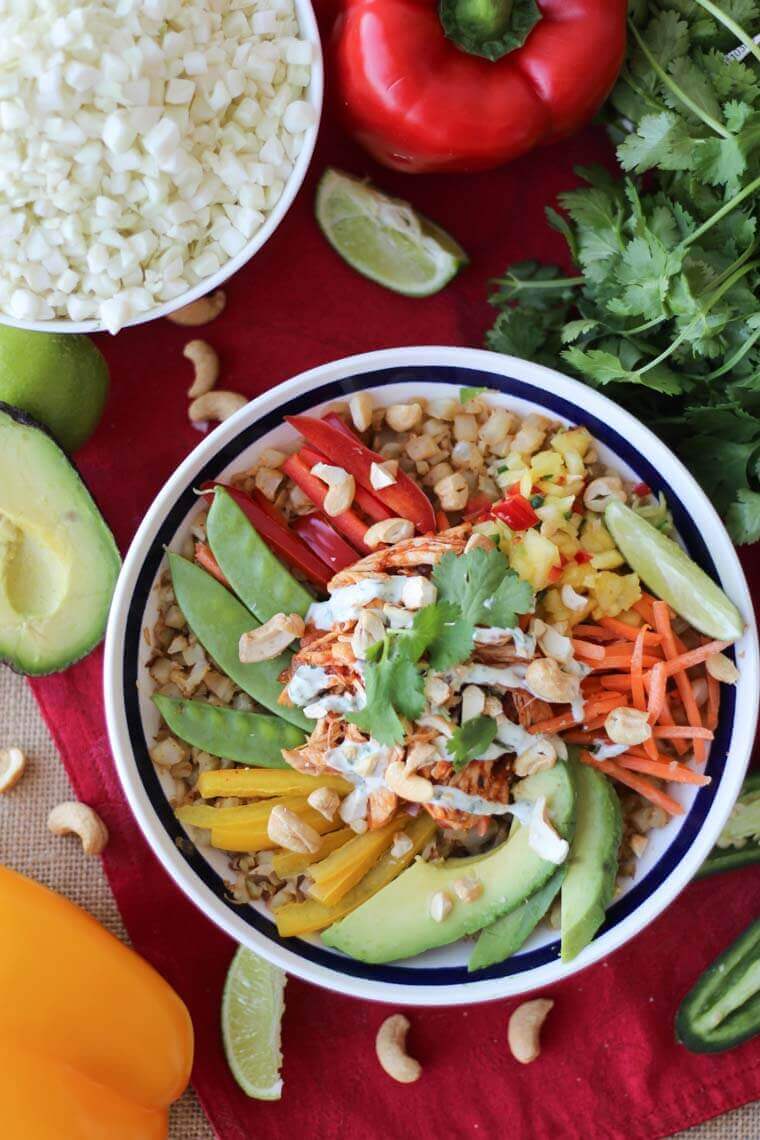 Paleo Cauliflower Rice Chicken Burrito Bowl with Dairy Free Cilantro Lime Crema
Nutrition Breakdown:
Kcal: 449
CHO: 40g
Fat: 24g
PRO: 38g
Sugar: 20g
PM Snack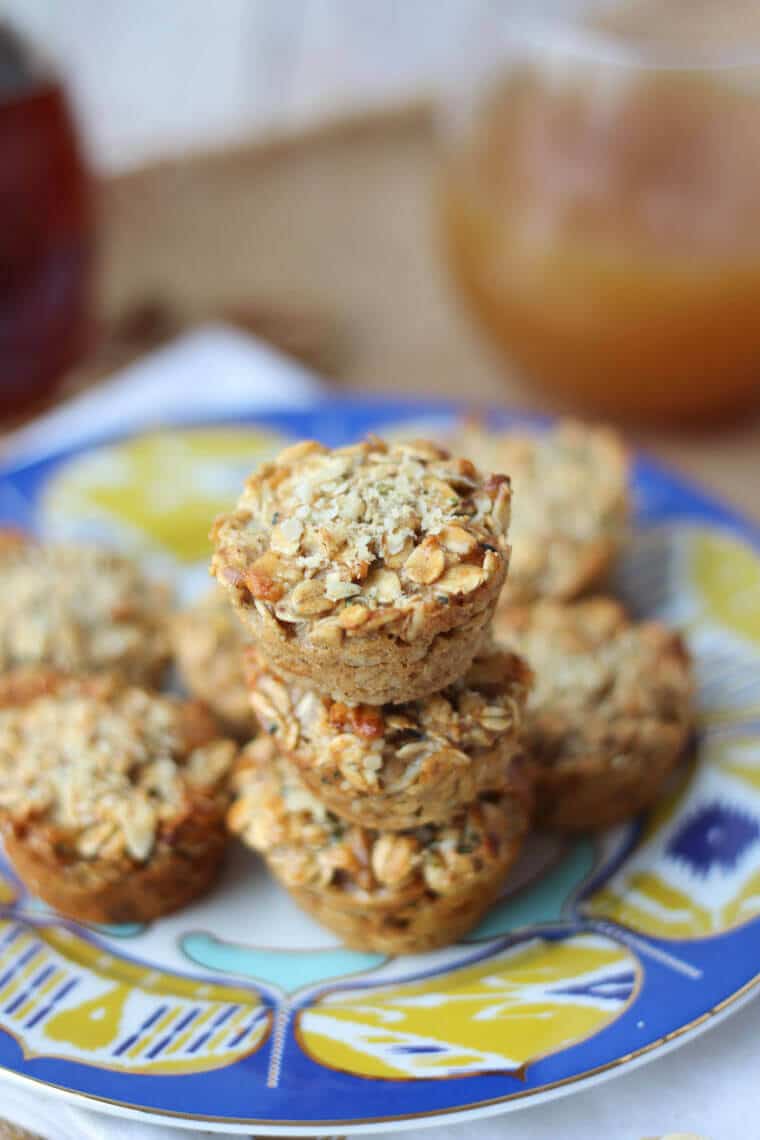 Apple Pie Vegan Protein Granola Cups (2)
Nutrition Breakdown:
Kcal: 180kcal
CHO: 15g
Fat: 10g
PRO: 6g
Sugar: 10g
Total Kcal: 1,749
TOTAL SUGAR: 100g
Bottom Line on Sugar
I hope this post gave you a better understanding of the difference between added and natural sugars and what 100 grams of sugar/day looks like. As you can see from my sample meal plan, limiting your sugar intake to 100g/day can be easy and totally doable. A good rule of thumb is to try and stick to foods that naturally contains sugar and limit those added sugars to small portions of your favourite treats.
Get Started on Your Own Low Sugar Meal Plan
I know it may seem overwhelming trying to keep track of where your sugar is coming from so planning convenient low sugar meals and snacks can be key. I love KIND bars for this reason because they've got a wide range of flavours (so I never get bored), and a lot of them clock in at just 5 grams of sugars. Compare that with the leading energy and nutrition bar on the market that has 23 grams. They also pack some protein, fibre and healthy fats from the nuts and are made with real simple ingredients.
I'm giving away a KIND prize pack worth $100. To enter, you must be a Canadian resident and complete the following (the more you do, the more:
Subscribe to my blog in the box above or below.
Subscribe to my YouTube channel.
Follow Abbey's Kitchen on Facebook.
Follow Abbey's Kitchen on Pinterest.
Follow Abbey's Kitchen on Instagram.
Share this blog post on Facebook using the hashtag #snackKIND.
Leave us a comment below with your favourite KIND Bar flavour!
WHAT ARE YOUR THOUGHTS ON THE PROPOSED CHANGE TO 100 GRAMS OF SUGAR A DAY. DO YOU AGREE? WHAT ARE SOME OF THE WAYS YOU TRY TO LIMIT ADDED SUGAR ON A DAILY BASIS?
LEAVE ME A COMMENT BELOW.

DISCLAIMER: This post was developed in sponsored partnership with KIND however, as always, all opinions are genuine.
Updated on July 20th, 2018