We compare common and specialty flours to determine what is the healthiest flour to bake with, along with tips and tricks for their use.
Get the Healthy Flour Cheat Sheet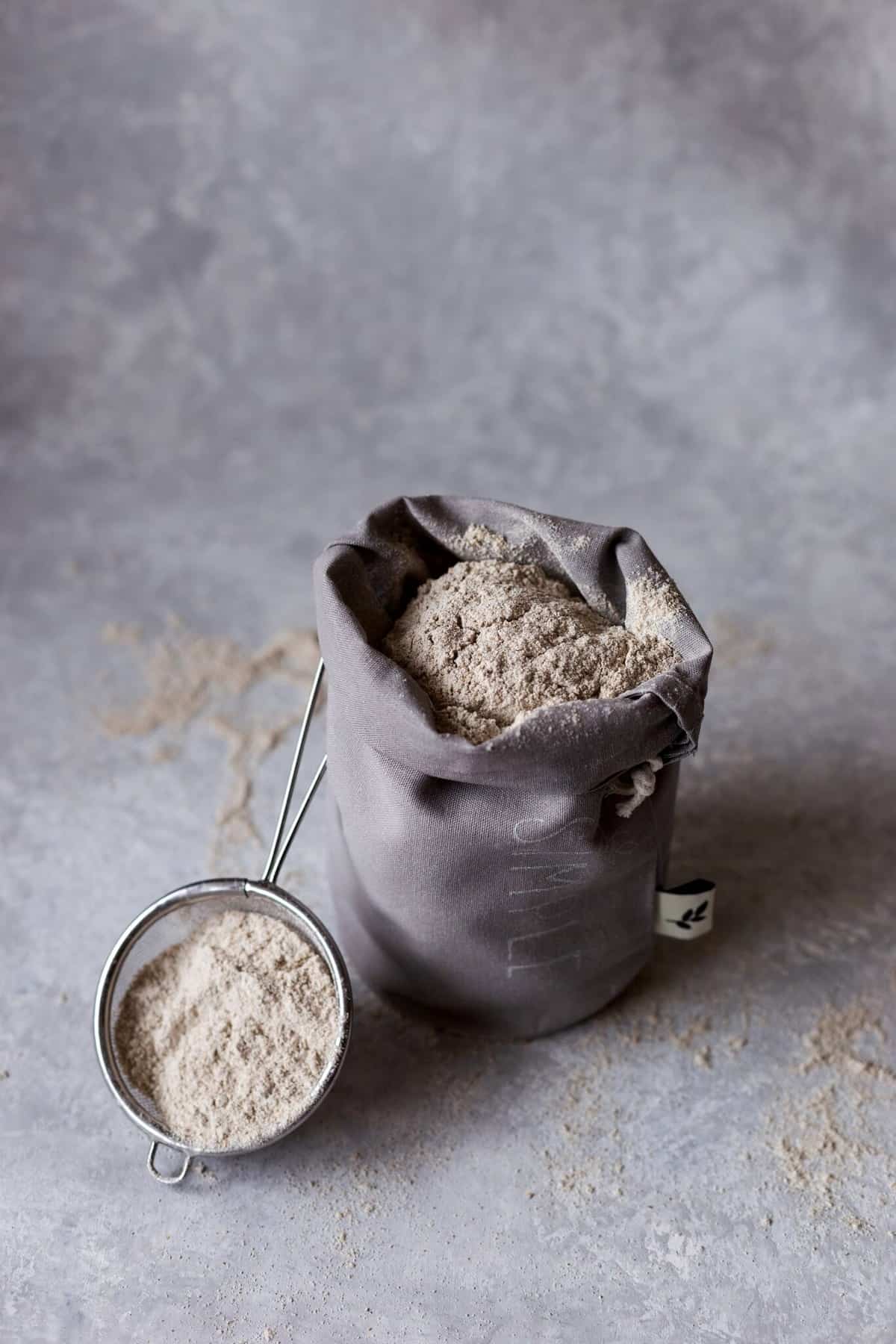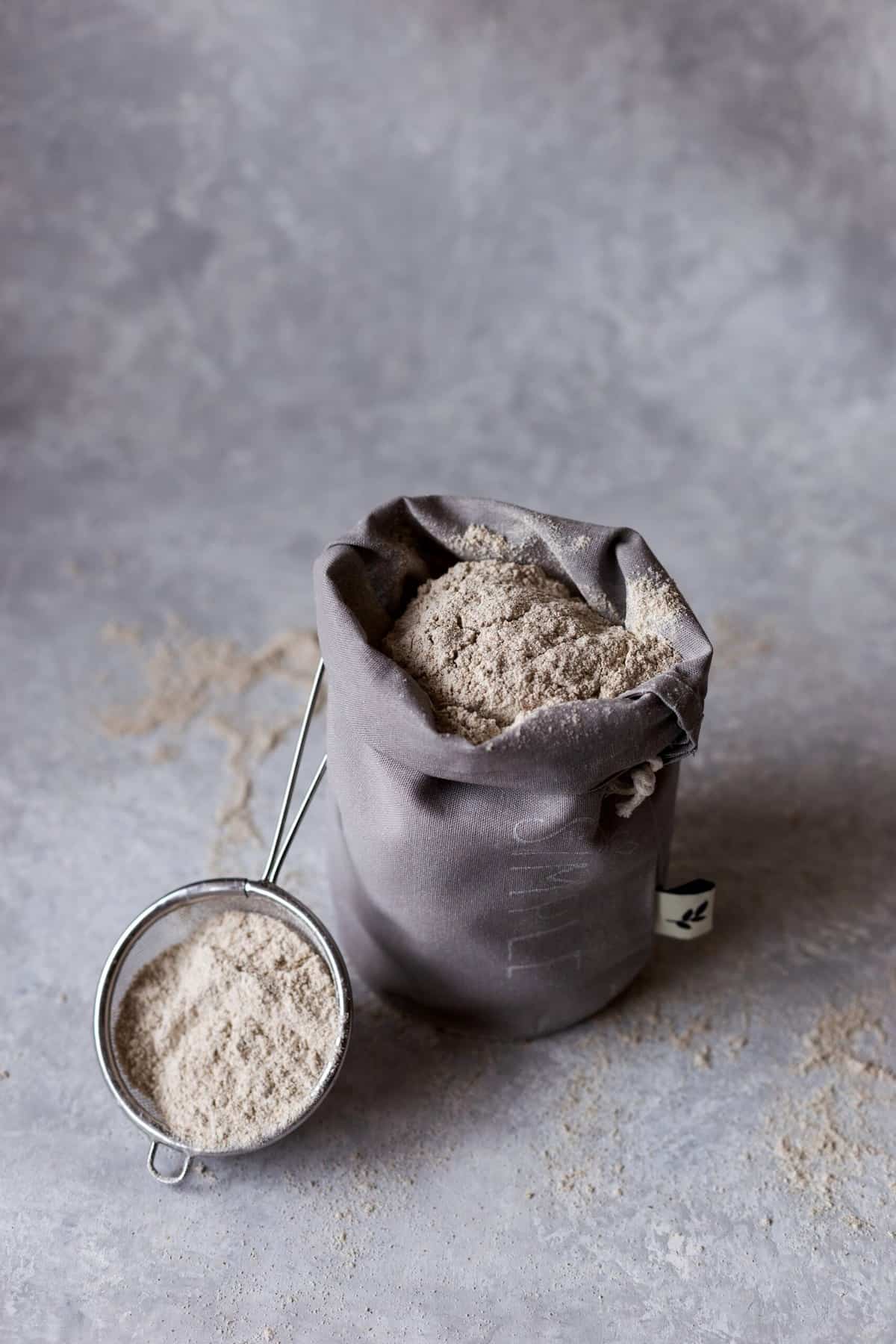 Flour is a pantry staple that is found in pastries, cakes, sauces, desserts and breads. But with so many varieties to choose from, it's hard to know which one to choose and for what purpose. Here we shed some light on what is the healthiest flour by breaking down the components of a variety of healthy flours, taking a look at their pros and cons, and how to best use them to showcase their properties.
What is the Healthiest Flour?
For starters, flour is created when a dry grain is pulverized into a powdery substance. This process is called milling. The most common and traditional type of flour is made from wheat, however any grain can be made into flour. New and trendy flours have recently come into the picture, many of which offer additional benefits like being gluten free or higher in fibre. But what are these flours as "healthy" as everyone claims? Let's find out what is the healthiest flour for you!
Whole Wheat Flour
Whole wheat flour is made by grinding the entire grain (endosperm, bran, and germ). It has a strong, nutty flavour and produces a heavier, denser bread compared to all-purpose flour.
Pros:
Contains more nutrients compared to all-purpose flour depending on how refined it is. These nutrients include B vitamins, higher levels of protein (mainly gluten), and lignans which is a category of antioxidant.

Whole grains may help to lower your risk of

heart disease

.
Cons:
Whole-wheat flour is not optimal for high-rising breads and tender baked goods.

Wheat flour can be difficult for some people to digest.

It is not gluten free
What is it best for?
Wheat has a high gluten content compared to other grains and it yields a very elastic dough. Wheat flour is best when baking yeast breads like brioche, flatbreads like pits, or sourdough.
Tips:
Use less whole wheat flour when baking because it is more dense and higher in weight compared to white flour. Substitute 1 cup of white flour for ¾ cup of whole wheat flours.

Add a bit more liquid when baking with whole wheat flour because the flour tends to absorb liquid more slowly. Add an extra teaspoon of liquid for each cup of whole wheat flour.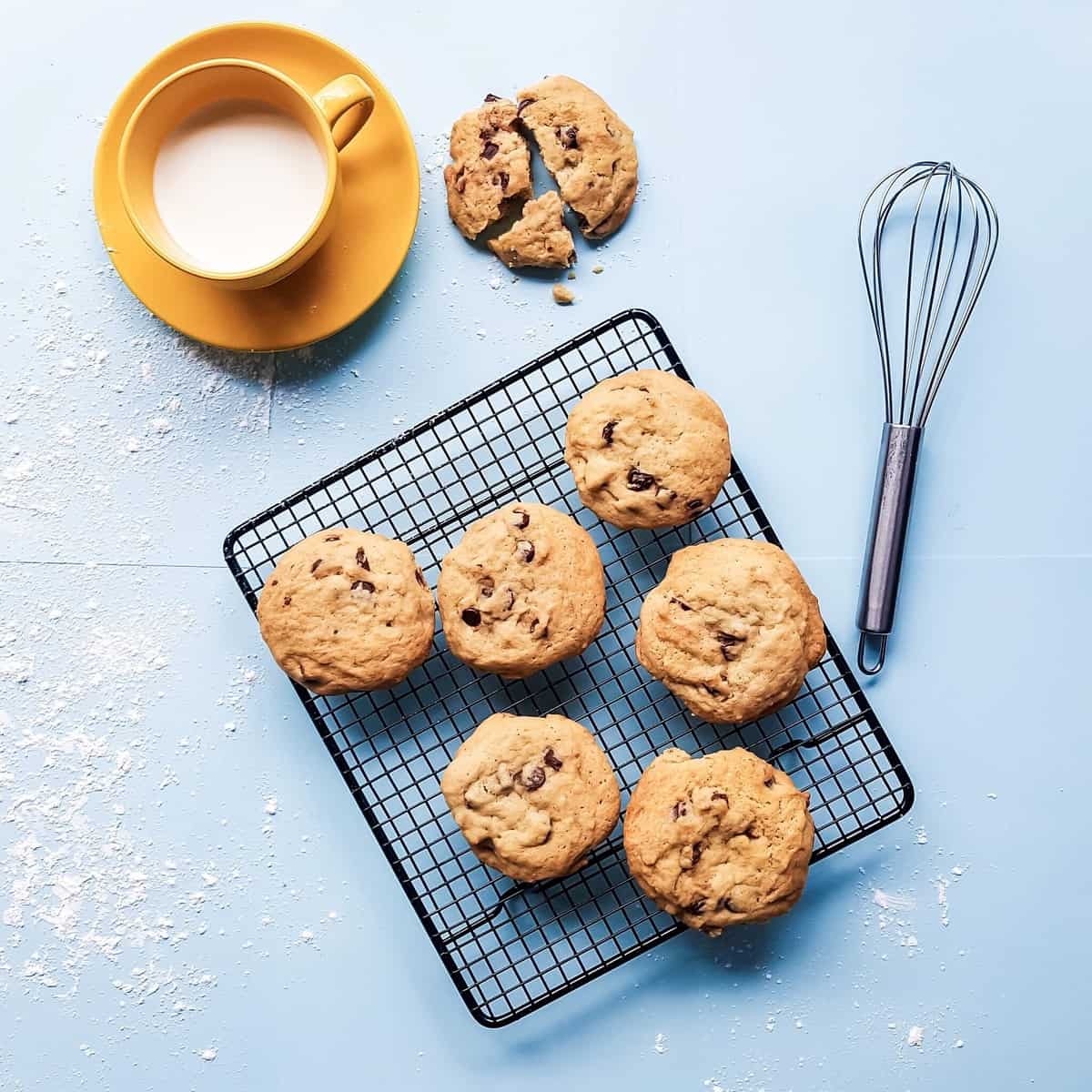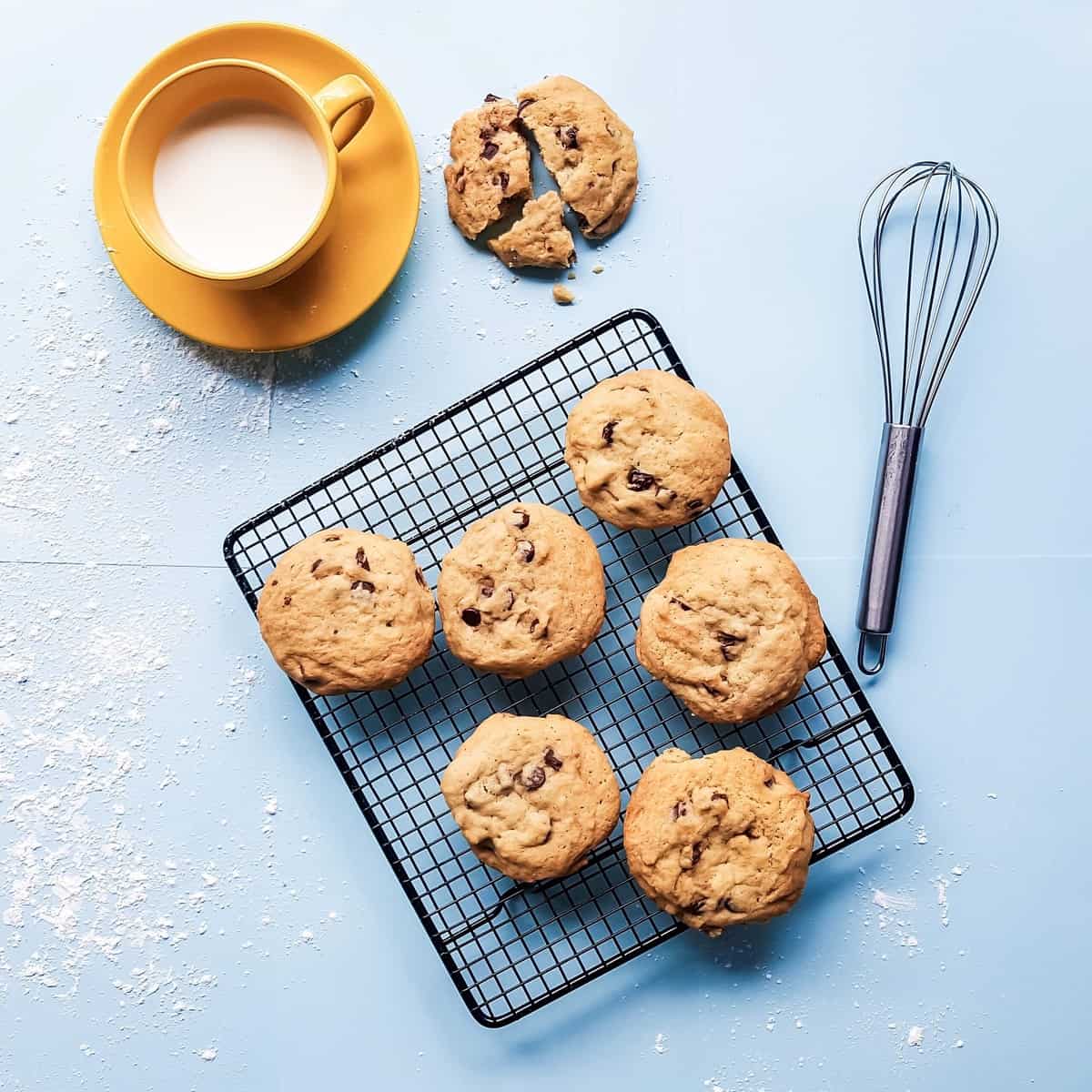 Coconut Flour
Coconut flour is a soft, gluten and grain free flour that is produced by drying out coconut meat at a low temperature. It is then ground until it creates a soft fine powder. Coconut flour has a mild, sweet taste that is fairly distinct. Be aware that it can make your final product have a faint coconut taste.
Pros:
It is high in protein and fibre (1 cup of coconut flour contains 16 grams of protein and 40 grams of fibre!)

Coconut flour is low in carbohydrates compared to other flours making it a good option those that are following a keto, low carb, paleo, grain-free, or gluten free diet.

It is rich in manganese, which is an essential nutrient that our bodies need for the normal functioning of our brain, nervous system, and many of the body's enzyme systems.

Contains other minerals such as iron, potassium, phosphorus, selenium, and vitamin B6.
Cons:
Coconut flour can be gritty and soaks up much more liquid compared to regular flour, which can dry out your final product

Coconut flour is also significantly more expensive than regular flour.
Tips:
Use additional liquid because coconut flour is very absorbent.

Use more eggs in the recipe because it will give the baked good a better structure and more moisture

Substitute coconut flour for all-purpose flour at a 1:4 ratio, and remember to add 1 egg for every ¼ cup of coconut flour.
Almond Flour
Almond flour is typically made by using blanched almonds with no skins and grinding them up into a fine consistency. Almond flour gives a sweet, nutty aroma to baked goods without giving an overwhelming almond taste.
Pros:
Almond flour is gluten free.

Almond flour is rich in vitamin E, which is a fat-soluble vitamin that acts as an antioxidant in your body.

A great source of magnesium is found in almond flour. Magnesium is needed for many functions in the body and the

benefits

include improved blood sugar control, reduced insulin resistance and lower blood pressure.
Cons:
Causes baked goods to be more flat and dense compared to wheat flour because there is no gluten in almond flour, which helps stretch and trap air allowing the baked good to rise.

Almond flour is slightly higher in calories than wheat flour. It contains

163 calories

for 28 grams, compared to wheat flour which contains

102 calories
Almond flour is easy to bake with and in most recipes you can replace regular wheat flour with almond flour. It can also be used in savoury dishes and can be used in place of breadcrumbs to coat fish, chicken, and beef.
Tips:
Baked goods made with almond flour tend to be extremely soft and delicate when they first come out of the oven. To avoid having your product break or crumble, let them cool in the baking pan or sheet for 10-30 minutes before transferring them to a cooling rack.

Due to the high fat content of almond flour, the texture of baked goods made with almond flour usually yields a more tender and cake-like product rather than being crunchy and crispy. In order for your product to be more crunchy, you can use almond flour in combination with other gluten-free flours.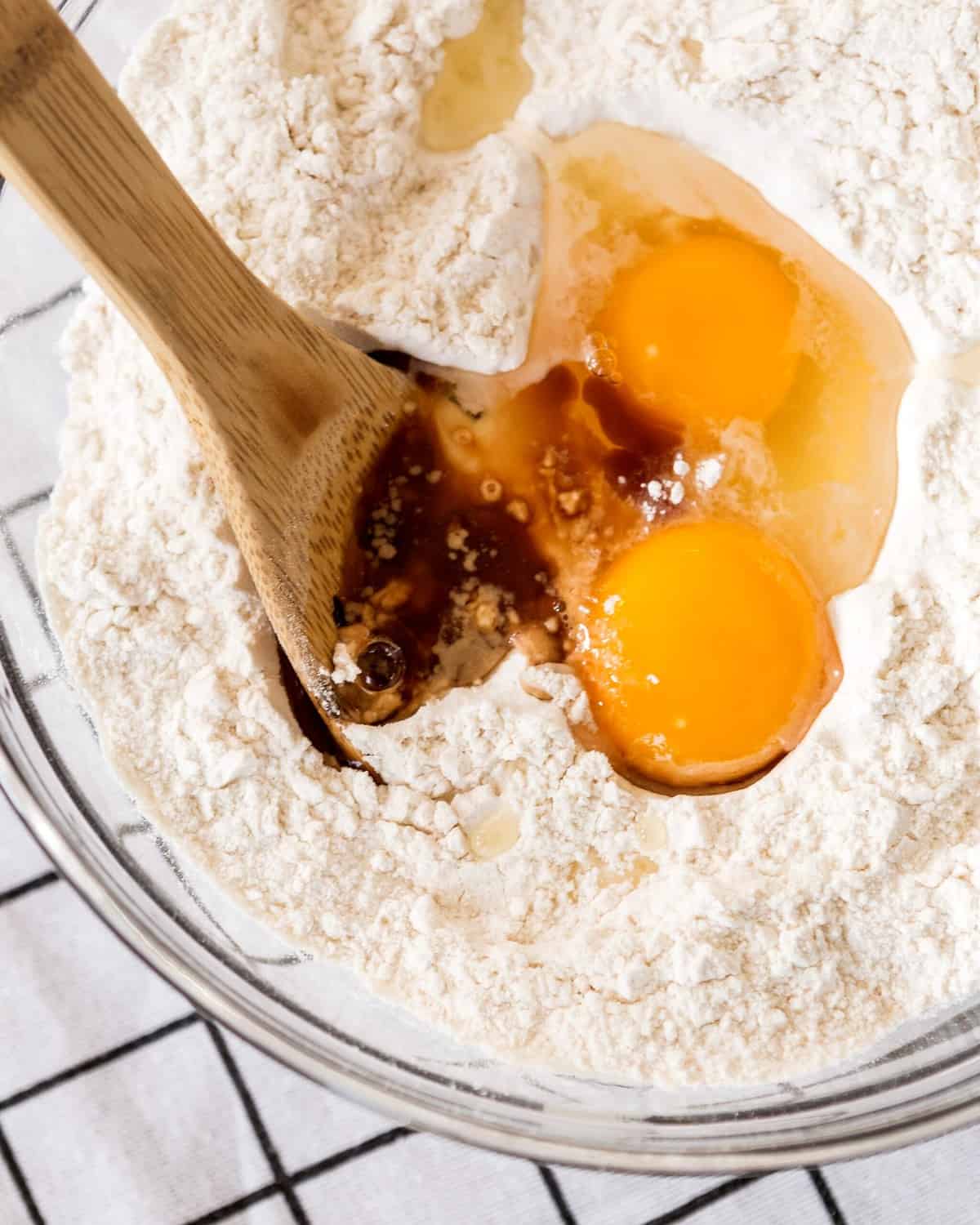 Oat Flour
It is made from ground oats and has a superfine and fluffy texture. It gives off a sweet and neutral taste and is great for sweet and savoury dishes.
Pros
Oat flour is a whole grain and gluten-free flour.

High amount of protein and fiber compared to regular flour (1 cup of oat flour yields 21 grams of protein and 12 grams of fibre)

High amounts of minerals are found in oat flour such as manganese, phosphorus, magnesium, copper, iron, zinc, and B vitamins.

Cheap to buy and very easy to make at home. You simply place rolled oats in a blender or food processor and blend until they form a fine flour.
Cons:
If oat flour is used alone, baked goods will not rise or hold together well the same way that wheat flour does. You will need to use extra baking powder, yeast or another leavening agent to ensure the proper rise of your end product. Try adding 2.5 tsp of baking powder per cup of oat flour.
Oat flour has a 1:1 ratio for regular flour and is great to use when making pancakes, muffins, waffles, and cakes.
Tips:
When substituting oat flour for wheat flour, substitute by weight and not volume. Oat flour tends to be lighter when using measuring cups so you would be missing some of the flour that could potentially affect your end product.

Let the batter rest because it gives time for the oats to absorb the liquid and will lead to a more moist product.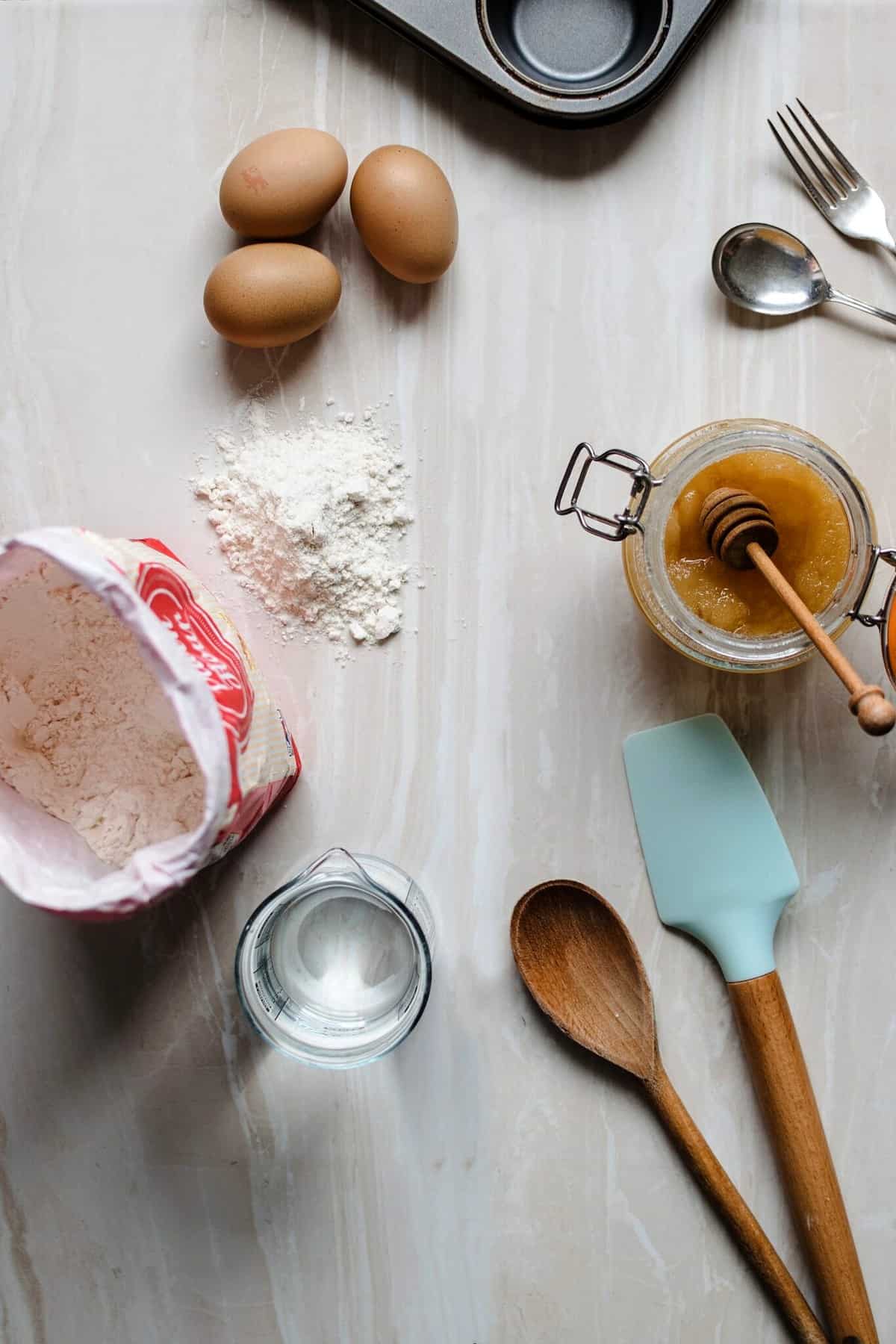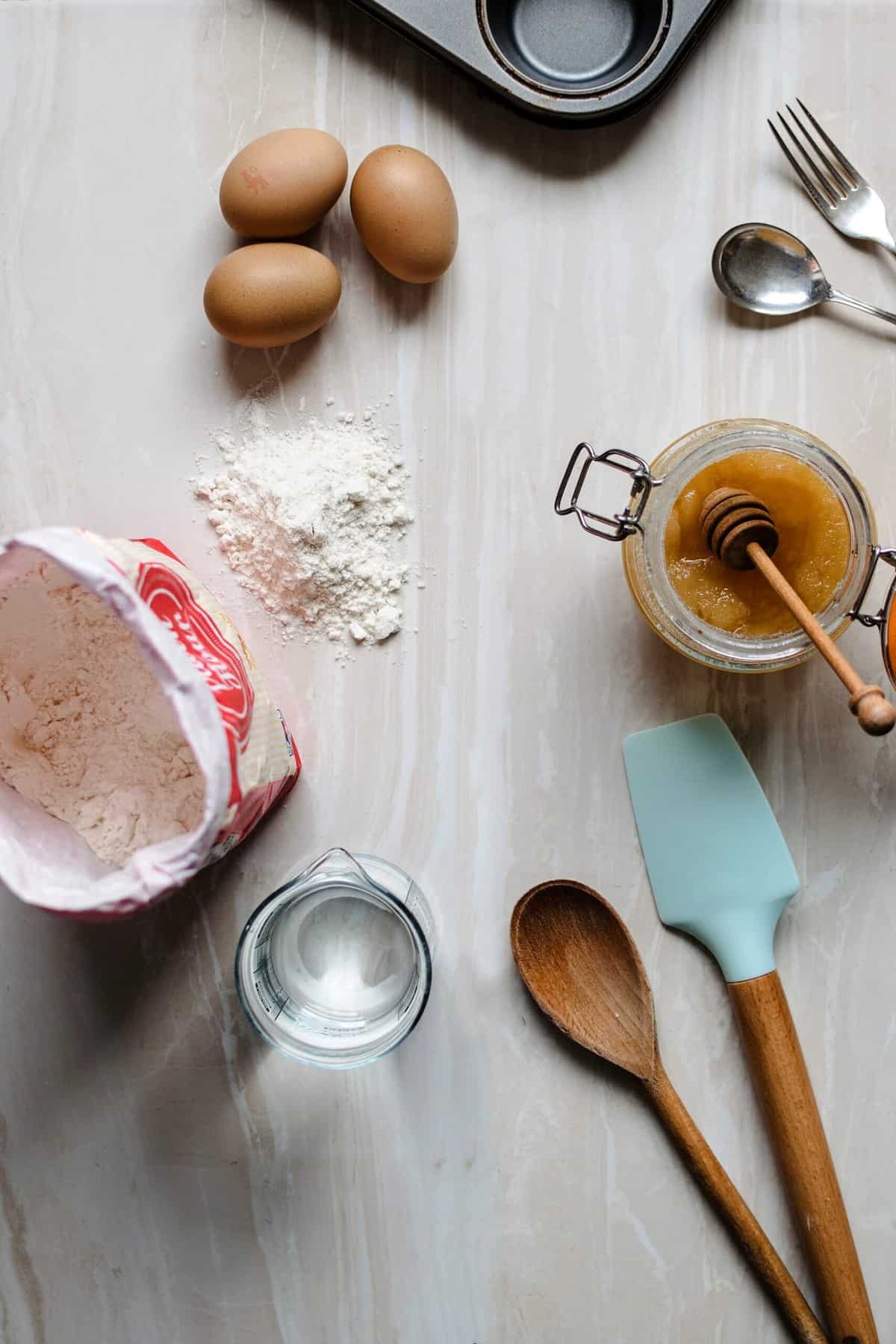 Chickpea Flour
Chickpea flour is made from ground dried chickpeas and has a fairly neutral, slightly nutty, slightly bean-y flavour. It is a naturally dense flour which leads to baked goods having a sturdy and tender texture when mixed with other gluten-free flours. Chickpea flour is a staple of India, Pakistani, and Bangladeshi cuisines.
Pros:
Great source of folate for the diet.

Chickpeas contain beneficial antioxidants called

polyphenols

.

Chickpea flour is filled with fiber (10 g per 1 cup).

You can easily make chickpea flour at home and all you need is dried chickpeas, a baking sheet, food processor, and a sifte.
Cons:
Having too much can cause digestion problems for some people. Beans contain a category of sugar called

oligosaccharides

. The types you find in chickpeas are reffinos, ciceritol, and stachyose and unlike grains, these can be hard for some people to digest and can lead to the production of gas.
Chickpea flour is a great binder for baking or for dishes that need a little extra stability.
Tips:
It is a great thickener and can be used instead of cream, or wheat flours in sauces, soups, and curries. It helps thicken and prevent the dish from curdling.

Chickpea flour works well in dense cakes, biscuits, or brownies

It is very absorbent and can be used as an egg replacer when cooking. Mix equal parts water and chickpea flour to replace an egg (1 egg = ¼ cup chickpea flour + ¼ cup of water).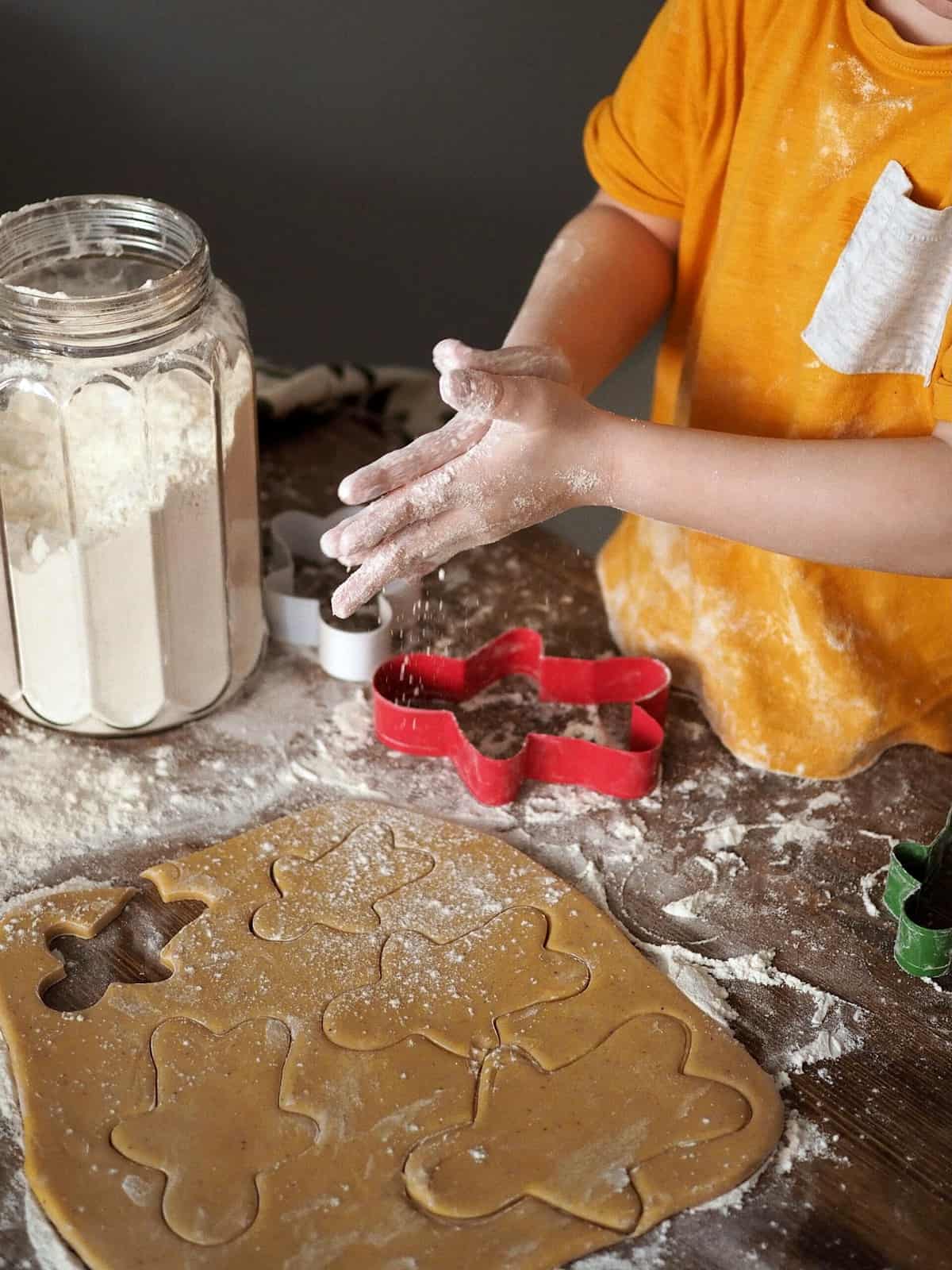 Rice Flour
Rice flour is a form of flour that is made from finely milled rice. Rice flour has a very neutral flavour and the consistency is close to wheat flour and produces a cake-like consistency.
Pros:
Rice flour, especially the brown rice flour variety, is an excellent source of fibre, which is great for digestion.

Great gluten-free option

Easily available and inexpensive
Cons:
Contains less folate compared to whole wheat flour

Cancer-fighting phytonutrients called lignans is found in both rice flour and whole wheat flour, however whole grain flour has

30%

more. Foods that contain lignans may help lower the risk of cardiovascular disease, cancer, and lower cholesterol levels.

Gives baked goods an unappealing, translucent-white colour.
Rice flour is great as a thickening agent for soups, stews, gravies, sauces, and roux. It is also a great substitute for wheat flour when baking cakes and biscuits.
Tips:
Rice flour contains less yeast and when baking you will need to add more baking soda to help your product rise more.

You should store rice flour in an airtight container and to help extend the freshness and storage life, you can place the flour in the refrigerator.
Buckwheat Flour
Buckwheat flour is naturally gluten-free and has a nutty, earthy, and a little bitter taste. The flavour can be a bit intense for some people. The flour has a light and very soft texture and gives the baked goods a darker toasted brown colour.
Pros:
This grain is very low on the glycemic index which means that the carbohydrate content is absorbed slowly into the bloodstream and provides your body with a steady flow of energy.

Great source of dietary fiber. One cup of buckwheat flour provides

12 grams

of fiber. Dietary fiber helps to keep food moving smoothly in the digestive tract and may help you feel fuller for longer.

Rich in manganese, magnesium, and phosphorus.
Cons:
This flour has very different properties to whole wheat flour and it is important to remember that this flour will not rise and cook the same way as regular wheat flour.
Buckwheat flour can be fun to experiment with because it can really impact the flavour of a recipe. Buckwheat flour pairs nicely with toasty flavours such as chocolate, coffee, caramel, nuts, and spices. It also pairs well with earthy flavours such as mushrooms, parsnips, and squash.
Tips:
Baking with 100% buckwheat flour can be challenging. Try 15-25% buckwheat flour combined with wheat flour to help make the dough less crumbly.

If you are using it in a cake then it may result in a heavy or crumbly product because it doesn't have the same binding properties of gluten. Combine buckwheat flour with a starchy flour like rice flour or almond flour, which will produce a light and fluffy texture.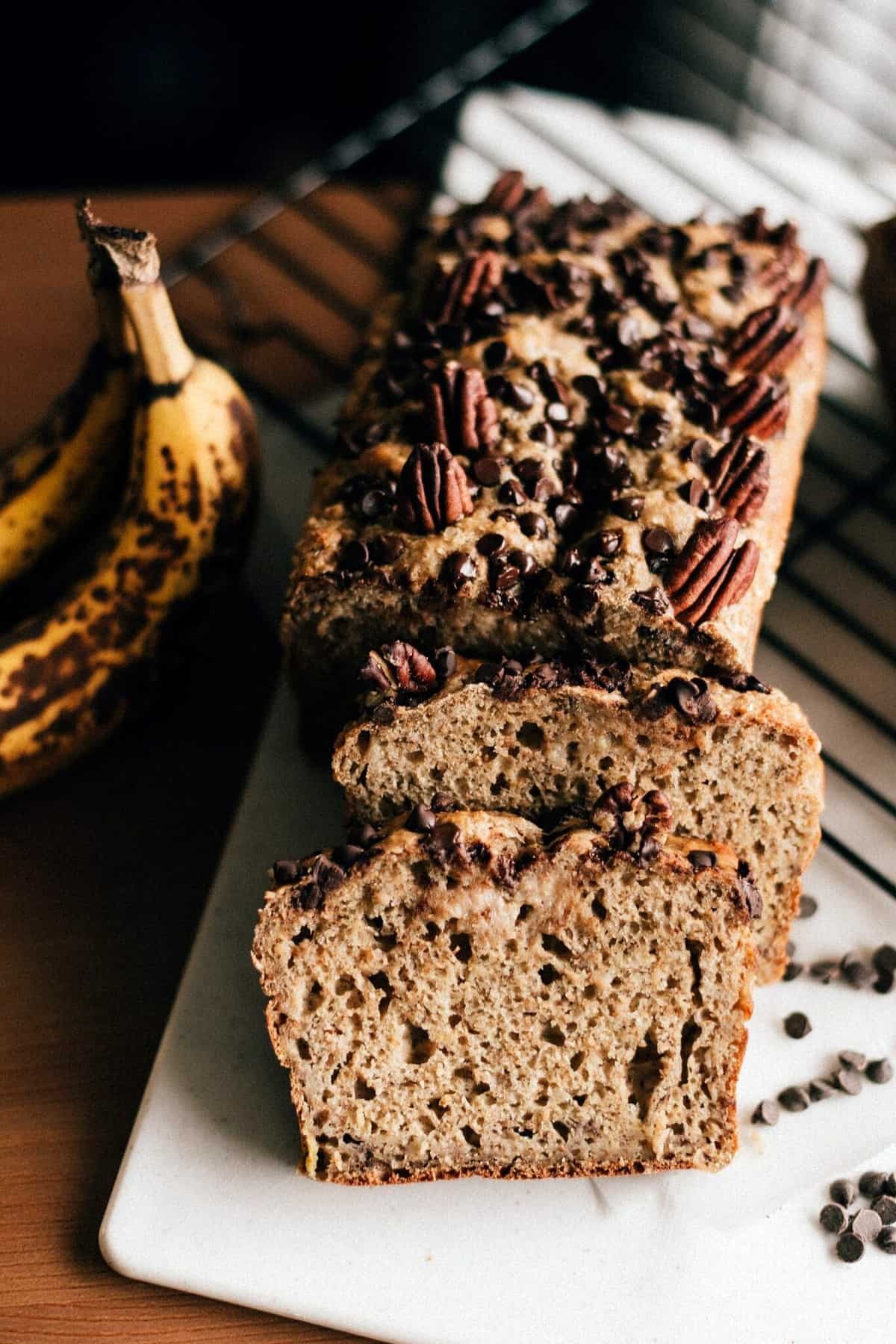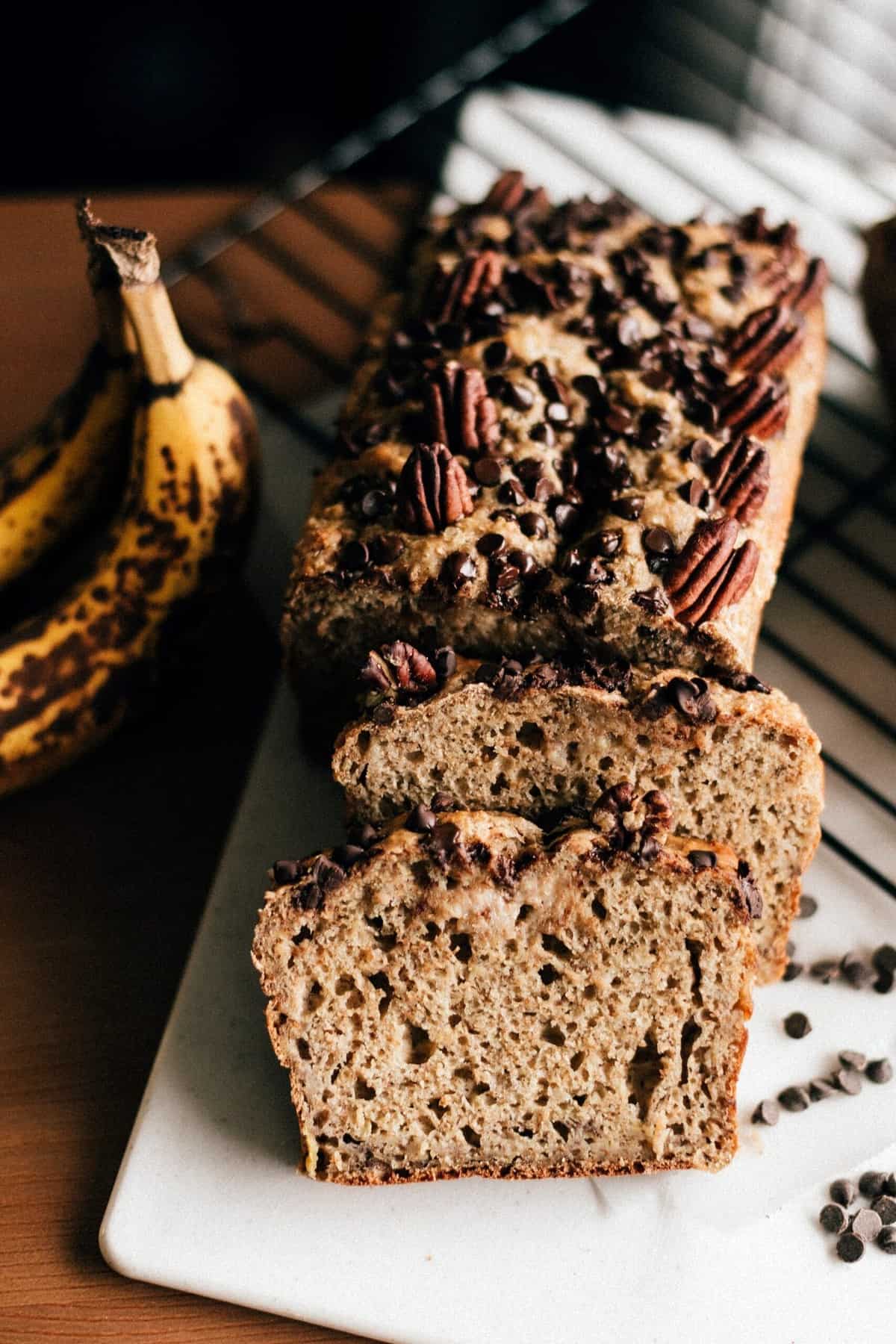 Quinoa Flour
Quinoa flour is made by grinding quinoa seeds to a fine powder like consistency. This flour has a bold flavour, almost grass-like and a tad bitter and can sometimes overpower a recipe. Also, it may make your final product taste and feel a tad grainy.
Pros:
Great source of fiber as well as protein. In one cup of quinoa flour there is

8.8 g

of fibre and

16 g

of protein!

The soluble fibre in this grain helps to reduce total blood cholesterol as well as LDL cholesterol in your body. This can help reduce the risk of atherosclerosis, clogged arteries, and other heart diseases.

Quinoa flour is a good source of potassium, which is a key nutrient to help lower

blood pressure.
Cons:
Quinoa flour can be quite expensive.

The taste of the flour may be a bit overpowering for some and is an acquired taste. It might take some getting used to.
You can easily incorporate quinoa flour to a broad range of baking recipes from desserts to muffins and breads. You can substitute this flour for ½ of the all-purpose flour in many recipes or completely replace wheat flour in cakes and cookie recipes.
Tips:
To keep the flour as fresh as possible, store in an airtight container in your refrigerator or freezer.

If you find the taste of this flour to be a bit bitter, you can toast it in a pan for a few minutes before using it in recipes. This will help remove the bitter aftertaste.

You can easily make this flour at home by rinsing your dry quinoa under cold water, then blending it in a high speed blender until a flour like consistency forms.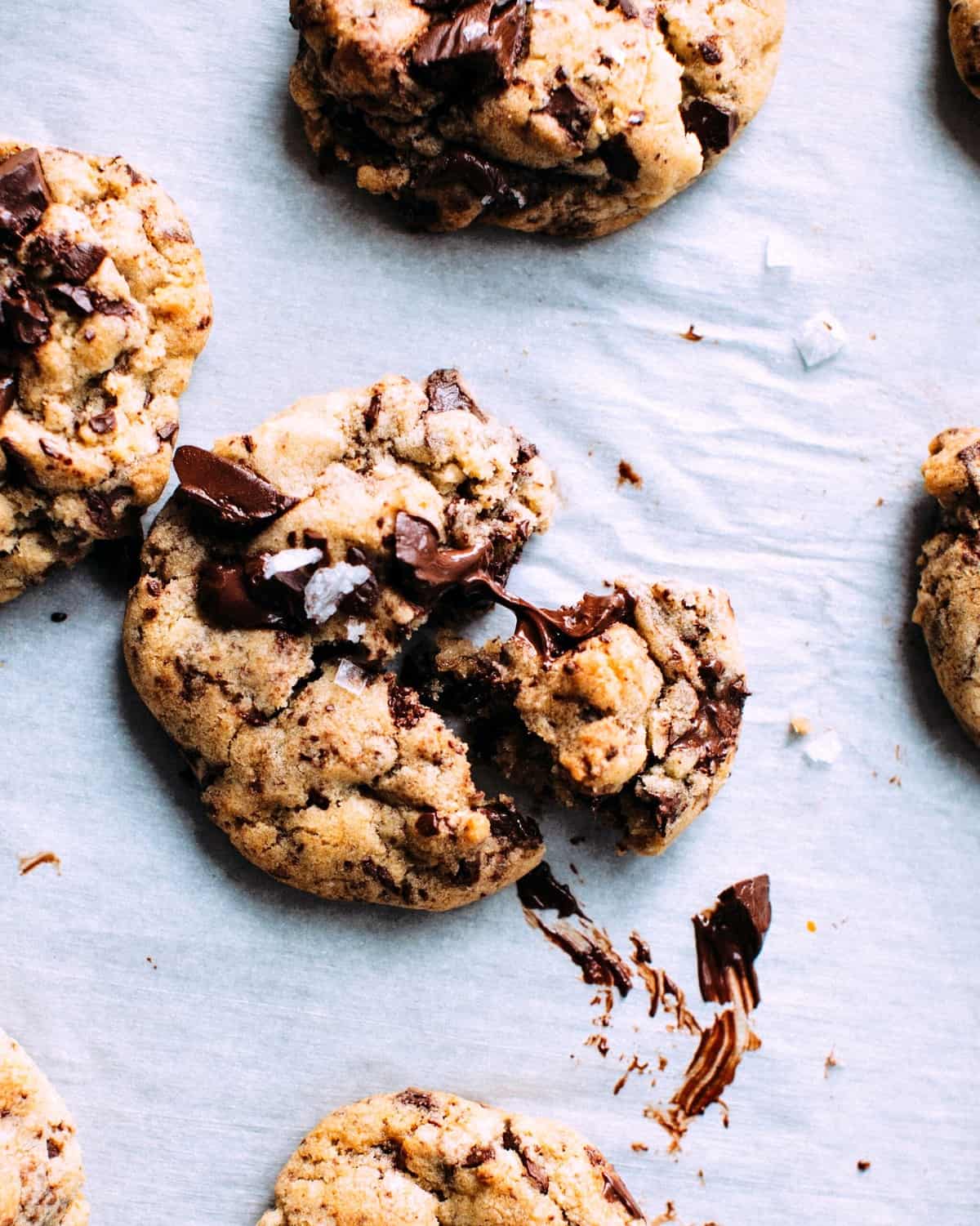 Cassava Flour
Cassava is a root vegetable and the flour comes from grinding the cassava root. This flour is white in colour, has a neutral taste, and a fine texture making it a great baking substitute.
Pros:
Cassava is gluten, grain, and nut-free, as well as vegan, vegetarian and paleo.

Cassava is a source of

resistant starch,

which can boost a person's gut health by helping nurture gut bacteria. Resistant starches remain relatively unchanged when it passes through the digestive tract.

Has a higher water content, lower fat content, and less calories compared to other gluten-free flours, such as almond or coconut flour.
Cons:
Processing

cassava by cooking, peeling, and chopping can significantly reduce its nutritional value.

Cassava contains antinutrients which are plant compounds that may interfere with digestion and inhibit the absorption of vitamins and minerals in the body. These aren't a concern for most healthy people, but if you want to learn more about the effects of anti-nutrients I break it down in my blog post

here

.
Due to cassava flour's smooth and powder-like consistency, this flour is ideal for baking traditionally more dense treats, such as brownies or cookies.
Tips:
A recipe might say you can substitute a cup for a cup, however. Cassava flour soaks up a lot of water and therefore is more dense than other flours. You may end up needing to use slightly less cassava flour than you may think. If a recipe asks for 2 cups of flour, first add one cup and slowly add the second cup. Do not pour it in all at once because your baked goods might turn out dry. Anywhere between 2-5 tbsp of cassava flour can be eliminated from the original recipe.

This flour leaves a bit of a nutty flavour so you may want to keep that in mind for the final taste of your product.
And there you have it! While it can totally be easy to feel overwhelmed by the wide variety of flours, we hope that this guide helped to break down what is the healthiest flour for you when it comes to consistency, flavour, cost, nutrition, dietary intolerances, and ease of use.
Contribution by: Gila Gross
What is the healthiest flour that you like to bake with the most? Leave me a comment below with your thoughts!
More Blog Posts You Might Like
Updated on February 17th, 2021