This Carrot Cake Lactation Smoothie is a delicious breakfast for breastfeeding moms who are struggling with their milk supply for baby!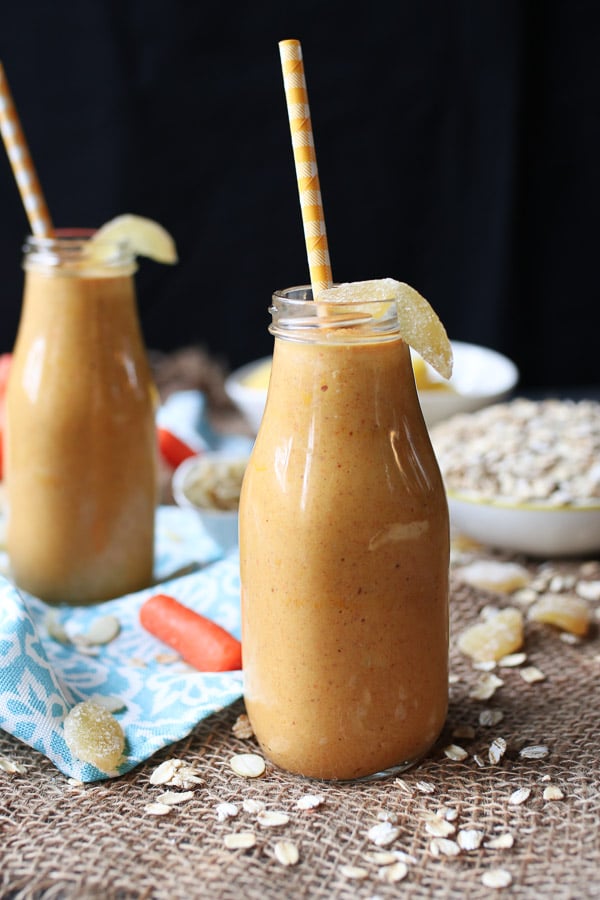 I'm past my breastfeeding days, but I still remember the struggle. In those days I went crazy for my favorite lactation treat- aka my gluten free vegan lactation cookies. Today, I wanted to share another new breakfast favourite – my carrot cake smoothie which my favorite VEGAN lactation recipe! This beauty is nutrient-packed for anyone who needs a tasty morning or afternoon pick-me-up, but is particularly great for breastfeeding mamas who are looking to increase their milk supply. Lactation smoothies are seriously a win-win, even if you're not breastfeeding anymore like me.
Why This Recipe Works
Breastfeeding (especially at the beginning) is a full time job. It requires at LEAST one hand, and is super dehydrating. Lactation smoothies like this vegan carrot cake smoothie are the PERFECT fuel to keep you going! I also love this recipe because it's:
Super quick to make – only 2 steps!
Packed with all good-for-you foods for your boobs
Vegan & Gluten Free
Packed with ~13 grams of protein
Key Ingredients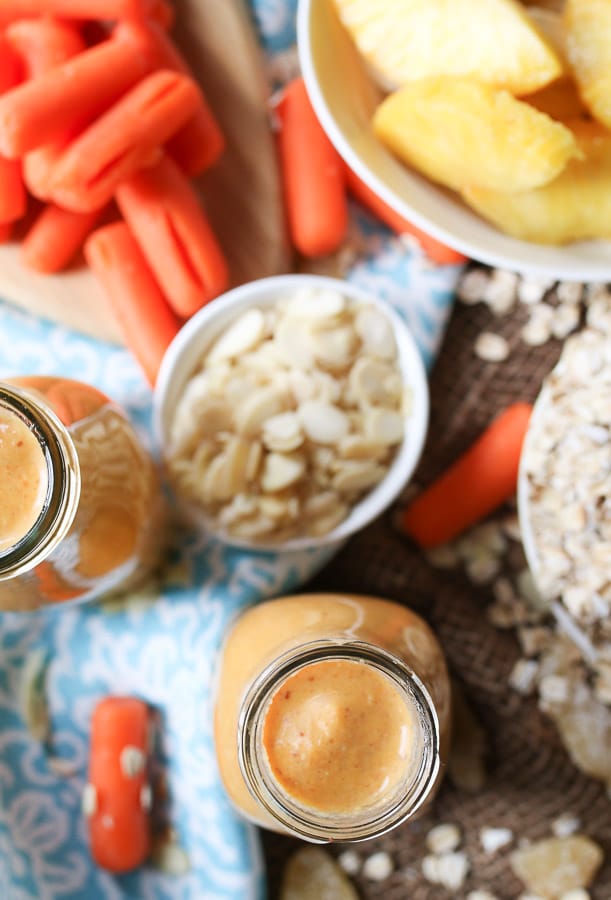 Brewer's Yeast – Brewer's Yeast is packed with B vitamins which help provide energy to the body by breaking down macronutrients to utilize. It also has ~16 grams of protein per 2 tablespoons.
Natural Almond Butter – I love adding almond butter to smoothies because it makes the smoothie a bit thicker and natural almond butter is a bit "runnier" which makes it not too thick, just the perfect creamy consistency.
Flaxseed – Flaxseed is something I love sneaking into my diet wherever I can, including this lactation smoothie. It's a great and easy way to help digestive health as there are ~2 grams of fiber for only 1 tablespoon of flaxseed!
How To Make This Recipe
Step 1: Add all of the ingredients to the blender and puree until smooth.
Step 2: Serve and enjoy!
Expert Tips
Let me tell you, lovelies. If you recall, there are a number of foods said to have an impact on breast milk supply. Although we need more research in this area, all of these foods are really delicious and nutritious regardless, so I say, hey WHAT THE HECK! Here are the ingredients that show up on a ton of recommended lists (including those that my lactation consultant and doula recommended) that I decided to incorporate into my lactation smoothie:
Recipe FAQs
How can I batch prep this lactation smoothie?
You can make a huge batch of this carrot cake lactation smoothie by freezing it into ice cube trays and then just thaw a glass full of cubes out each morning on the go.
Can I use another type of nut butter?
Yes! Any type of natural nut butter of your choosing would be fine to swap in this smoothie.
Can I use another type of milk alternative?
Of course! Any milk would work in this recipe. If you weren't set on keeping this recipe vegan, you can even add regular cow's milk as the liquid base for extra added protein.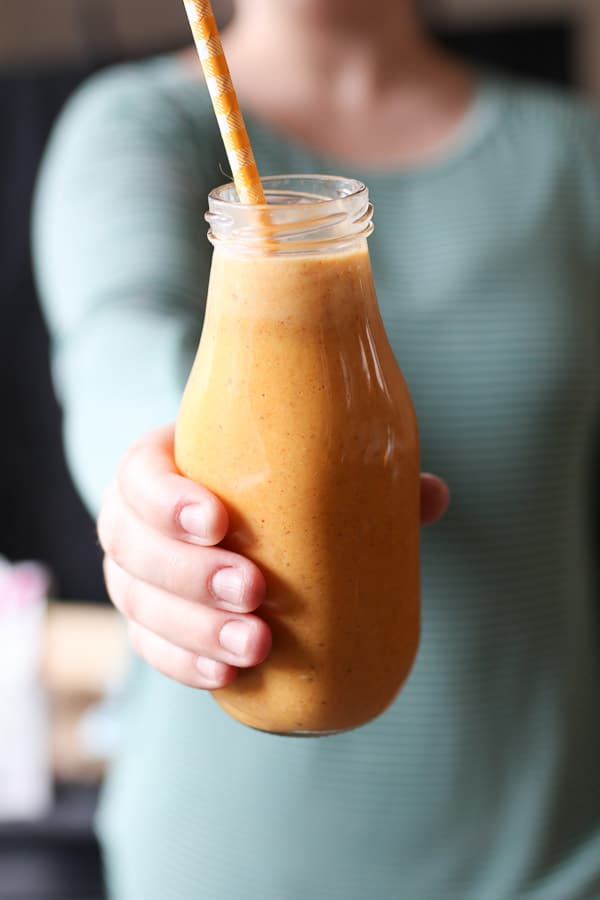 More Recipes You Might Like
If you loved this lactation smoothie, check out some other delicious lactation recipes below!
Now moms, what did you eat as breastfeeding fuel to improve your milk supply? Have you tried lactation smoothies yet? Leave me a comment below with your thoughts!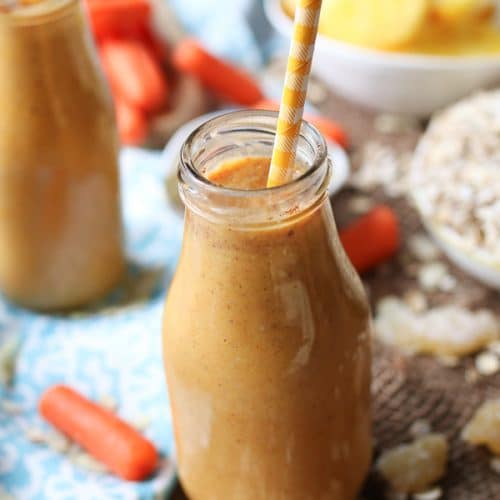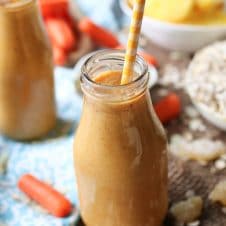 Carrot Cake Smoothie (Vegan Lactation Recipe)
This Carrot Cake Smoothie is a delicious gluten free breakfast for breastfeeding moms who are struggling with their milk supply for baby!
Print
Pin
Rate
Instructions
Add all of the ingredients to the blender and puree until smooth.
Nutrition
Calories:
333
kcal
|
Carbohydrates:
43
g
|
Protein:
13
g
|
Fat:
15
g
|
Saturated Fat:
1
g
|
Sodium:
377
mg
|
Potassium:
1029
mg
|
Fiber:
12
g
|
Sugar:
17
g
|
Vitamin A:
26775
IU
|
Vitamin C:
48.8
mg
|
Calcium:
369
mg
|
Iron:
3.3
mg