These Salted Toffee Vegan Lactation Cookies are naturally gluten free, and packed with ingredients said to help increase breastmilk production (but they're so good, even non breastfeeding folks will love them!)
Well folks, I am officially in the thick of this newborn breastfeeding life. If you recall from my first postpartum experience, breastfeeding was a massive struggle for me. I didn't have enough milk (supply issues), and our latch was so bad E just would never be able to stay on the boob for more than a hot minute without screaming his head off. This time around, I had enough milk to get me going (not a crazy amount but enough to feed O plus a bit to freeze), but our latch wasn't the greatest. I do notice that when my boobs are extra full with milk that he drinks better (and therefore sleeps better), so I'm anxious to make sure my supply doesn't dwindle. That's where these amazing lactation cookies come in. Packed with sweet flavour and lots of nutritious add-ins for mama's milk, these salted toffee lactation cookies make amazing breastfeeding fuel AND a sweet treat for the whole family.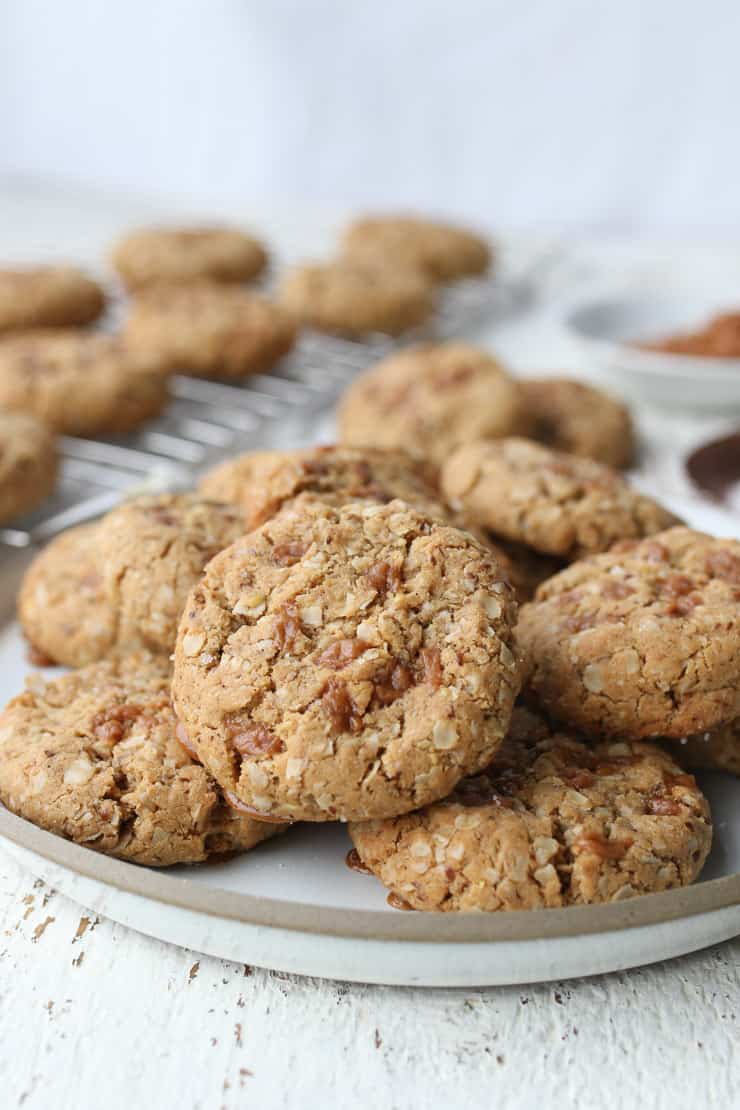 Key Ingredients for these Salted Toffee Vegan Lactation Cookies
Toffee Bits – If you are strictly vegan, follow my recipe below for homemade toffee bits. Otherwise you can purchase toffee bits at your local bulk store or in the baking aisle.
Ground flax – This is to prepare the flax eggs to keep these cookies vegan. I like to mix it with almond milk just for extra flavour, but you can always use water. The flax also add healthy omega 3s, fibre and protein, and is said to help promote breastmilk production.
Gluten free quick oats– I am partial to a good oatmeal cookie, and I promise these will not disappoint.
Gluten free all purpose flour– If you're not gluten free, you can feel free to use regular all purpose flour here.
Brewers yeast– Brewers yeast doesn't really have much of a flavour (maybe just kinda toasty), but it is said to be one of the best ingredients for promoting milk production.
Vegan butter – If you don't need to keep these vegan, feel free to use regular butter in these.
Dark brown sugar– I like a good molasses-rich dark brown sugar, but you can also use light brown sugar in it's place.
Cashew butter – If you don't have cashew butter, peanut or almond will work. I just prefer cashew in this recipe because it is relatively neutral in flavour so it allows the toffee to shine.
Fleur de sel– Adding a little salt on top takes a good cookie and makes it a GREAT one.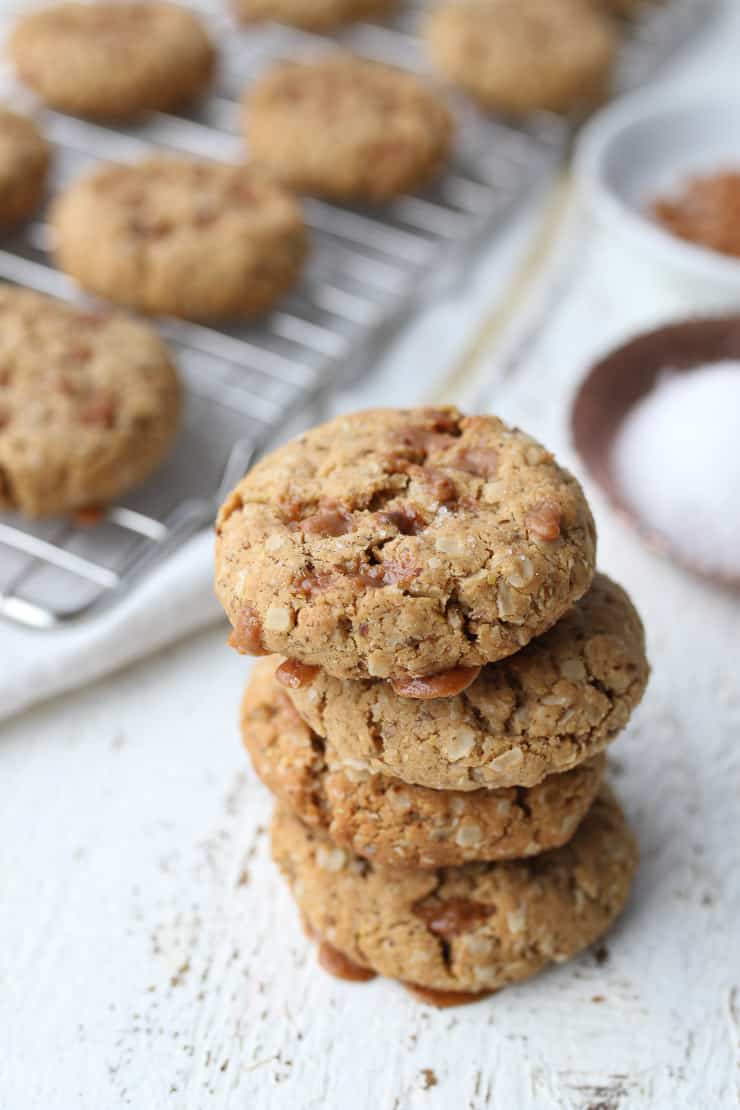 What are the Ingredients that make these good for breastfeeding?
There are a lot of wives tales about certain foods helping with breastmilk production. I actually wrote a whole blog post about them, which you can check out right here. The truth is, there isn't a ton of evidence for these "galactagogues" as they're called, but regardless, these ingredients do tend to be nutrient dense and delicious, and therefore help YOU get the fuel you need to make milk. Here are the ingredients in this recipe that supposedly do the trick: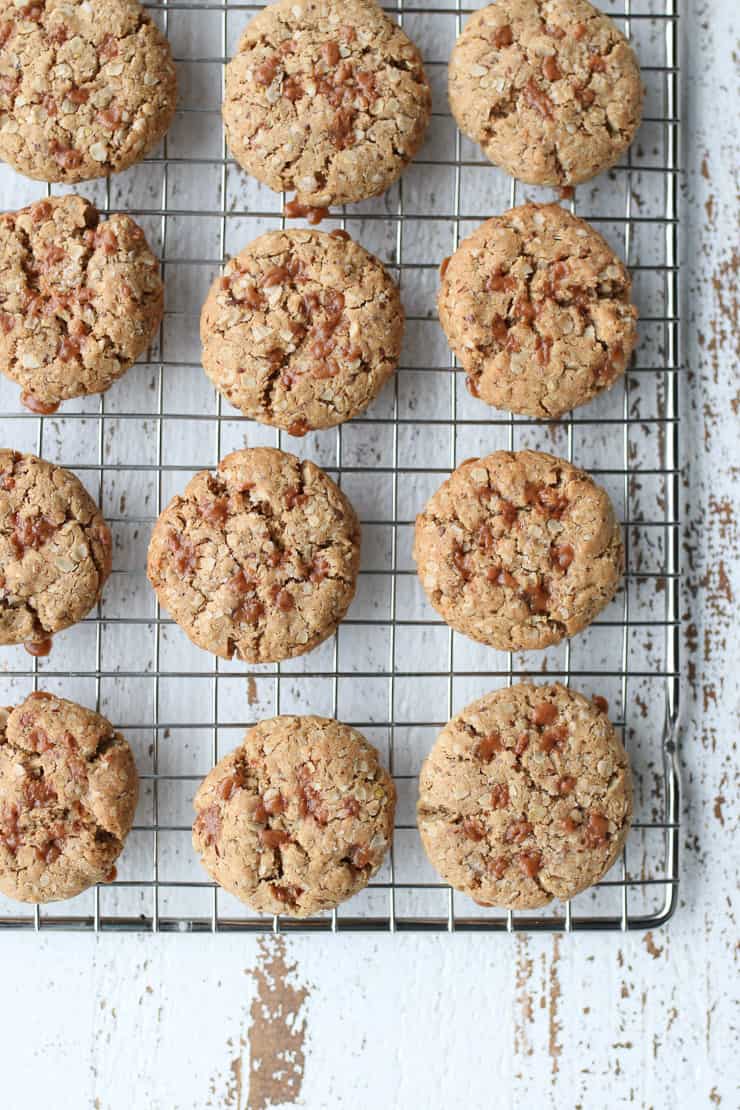 FAQ about this recipe
Here are some of the most commonly asked questions about this recipe.
Do i need to make these vegan?
Absolutely not. While I have not tested these without the flax eggs (since the added flax was a bonus for the breastmilk and for extra nutrition), you can try using regular eggs and regular dairy butter.
Do these cookies have to be gluten free?
Nope. You can use non gluten free oats and flour if you're not sensitive to gluten.
What if I'm allergic to nuts?
If the cashew butter is a no-no, you can try using a soy-based butter or sunflower seed butter. Either one will work!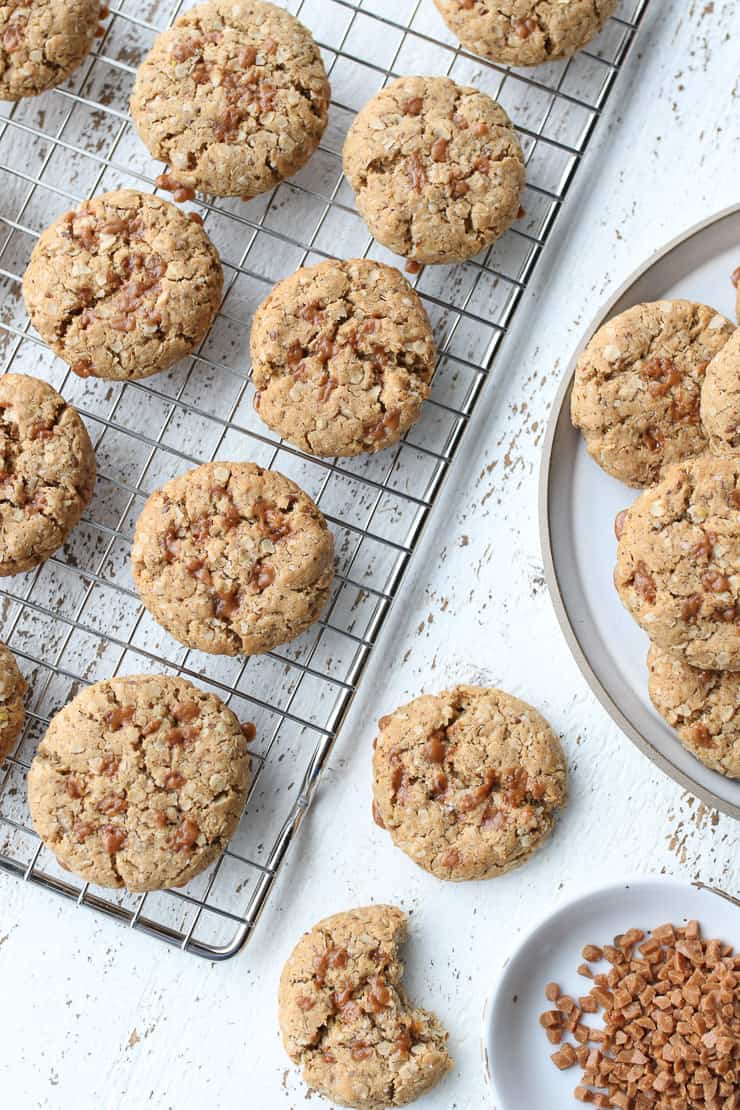 what else can i do to increase my breastmilk supply?
There are a lot of food, supplement, herb and non-food suggestions on how to increase your milk supply. We wrote a whole evidence based blog post on breastmilk supply that you can check out right here.
Are these lactaction cookies safe for people who are not breastfeeding?
Of course! I can ASSURE YOU that these cookies will not just make a man make breastmilk LOL Nor will it encourage a woman to start leaking if she is not already nursing and producing those hormones. These lactation cookies are 100% safe for anyone who loves oatmeal cookies and salted toffee (aka EVERYONE).
Can I freeze these cookies and how long will they last?
These cookies can be stored at room temperature in an air-tight container for about 3-4 days. To freeze them, put them on a baking sheet lined with a silpat and freeze for 30 minutes before transferring to a freezer bag for up to 4 months.
Do you have other lactation cookie recipes?
We love lactation cookies around here and a lot of them are vegan! Here are some of our favourites:
Vegan Carrot Cake Lactation Cookies
Salted Chocolate Almond Vegan Lactation Cookies
Lemon Poppyseed Vegan Lactation Cookies
Do you have other non-cookie recipes that are good for lactation?
Yes, check out this delicious lactation smoothie for days you're not feeling like a cookie!
What are you trying to eat more of if you're breastfeeding to increase your breastmilk supply? Leave me a comment below with your thoughts!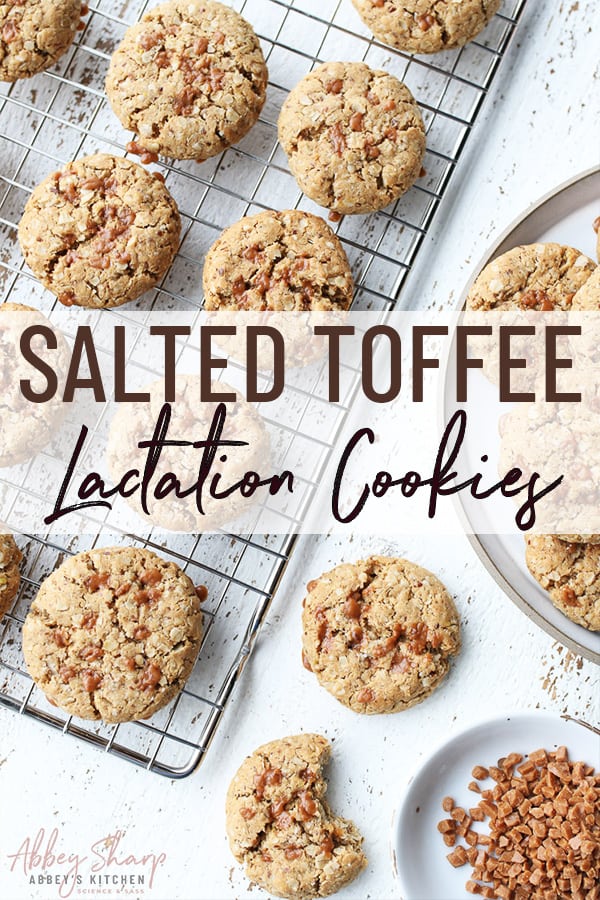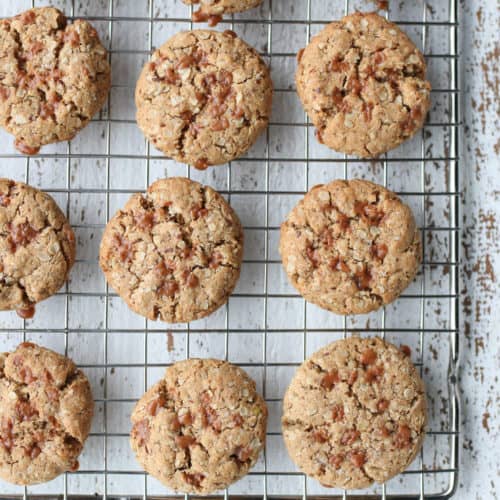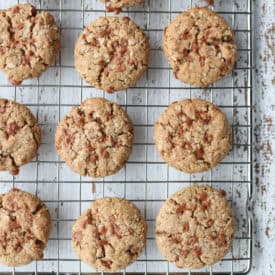 Salted Toffee Vegan Lactation Cookies
These Salted Toffee Vegan Lactation Cookies are naturally gluten free, and packed with ingredients said to help increase breastmilk production (but they're so good, even non breastfeeding folks will love them!)
Print
Pin
Rate
Ingredients
Cookies:
3

flax eggs

3 tbsp ground flaxseed with 7 tbsp unsweetened vanilla almond milk

3

cups

gluten free quick oats

1 1/2

cups

gluten free all purpose flour

5

tablespoons

brewers yeast

3

tablespoons

ground flaxseed

1/2

teaspoon

baking powder

1/2

teaspoon

baking soda

1/2

teaspoon

cinnamon

1/4

teaspoon

salt

1

cup

vegan butter

1 1/2

cups

dark brown sugar

¼

c

cashew butter

2

teaspoons

vanilla extract

1/4

cup

vegan toffee bits or storebought toffee bits

optional to make yourself, see above for vegan recipe

Fleur de sel

for garnish
Instructions
To make the optional toffee (you can also buy toffee bits), line a baking sheet with parchment or a silpat and set aside.

Have a heavy saucepot heated to medium high and add the butter, sugar, maple, soy milk and salt. Stir until the sugar and butter melts. Cook until it reaches the soft crack stage (285 F) - watch your thermometer like a hawk because it can easily get too hot.

Turn off the heat, and carefully (using gloves) pour the toffee onto the parchment or silpat and spread it out quickly. Place in the fridge or freezer until set then smash into tiny pieces. Set aside.

Preheat the oven the 350 degrees F and line three baking sheets with parchment paper or a silpat.

Prepare the flax eggs by combining 2 tbsp of flaxseed with 5 tbsp unsweetened vanilla almond milk. Refrigerate for 10-15 minutes until it looks thick and gloopy.

In a large bowl, mix together the oats, gluten free flour, brewer's yeast, flaxseed, baking powder, soda, cinnamon, and salt.

In another bowl (or your stand mixer), beat the vegan butter until softened. Add in the sugar and beat until it looks smooth and fluffy. Add in the cashew butter, flax eggs, and vanilla and beat until mixed.

Stir the wet ingredients into the dry and then fold in the toffee pieces if using.

Roll into balls about 1 1/2 inches in diameter and place on the baking sheet with about 2 inches between them (12 per baking sheet). It should yield about 36 cookies.

Gently press the cookies down just a touch it should look high but not like a ball and sprinkle generously with fleur de sel.

Bake for 15-17 minutes or until the bottoms are light golden brown.

Sprinkle generously with fleur de sel and bake for 15-17 minutes until the bottoms and sides turn golden brown. Allow to cool for at least 5 minutes before picking up. Store in an air tight container for up to 5 days, or in the freezer for 6 months.
Nutrition
Calories:
215
kcal
|
Carbohydrates:
27
g
|
Protein:
3
g
|
Fat:
11
g
|
Saturated Fat:
3
g
|
Cholesterol:
2
mg
|
Sodium:
157
mg
|
Potassium:
127
mg
|
Fiber:
2
g
|
Sugar:
17
g
|
Vitamin A:
505
IU
|
Calcium:
28
mg
|
Iron:
1
mg
Updated on October 23rd, 2020