This healthy flax focaccia bread is a recipe with no flour and is yeast free, yielding a gluten free, keto-friendly (optional) bread with omega-3s!
I asked my followers on Instagram what they would like if I were to come up with a bread recipe. Some of the most common requests were healthy, gluten free, yeast free, and flour free. I get it. The two ingredients have become some super hot commodities and even I can't make bread with yeast! I did, however, have a TON of ground flax in my house so I decided to MacGyver a way to turn it into a loaf of healthy, nutrient rich bread. I saw a recipe for flax bread which I used as my inspiration and guide, and then added my own spin to flavours.
I was totally skeptical that anything made pretty much exclusively with flax would taste good, but the results were truly shocking. The texture was springy, the flavour was salty and satisfying. Honestly, it made a fantastic snacking bread that my toddler also LOVED. It was also totally gluten free and can be made keto-friendly.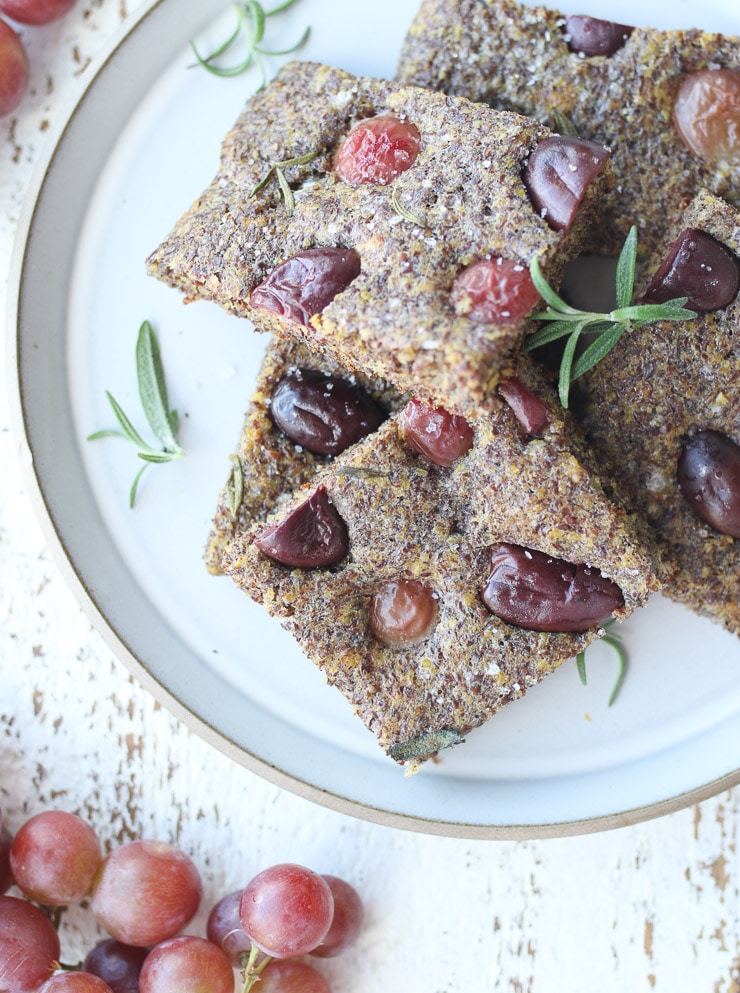 Key Ingredients for Making Flax Focaccia with no flour or yeast
This flax focaccia recipe is surprisingly easy and I was able to make it just from ingredients I already had in my fridge or pantry.
Ground flaxmeal- I love flax because it's rich in omega-3s, fibre and protein. It's a staple in my house, especially for making baked goods more nutritious for my son. Always store your flax in the fridge once you've opened the package.
Olive Oil- Focaccia is not focaccia without a generous amount of olive oil! I definitely recommend a nice extra virgin olive oil for this.
Eggs- The eggs do help keep this springy and not too dense as you might experience if you tried to make this strictly vegan.
Fleur de sel- Any fancy finishing salt will work here, but I am obsessed with good fleur de sel.
Maple or any other sweetener – Keto friends, you can use a non-calorie sweetener here, it is just to add a little flavour.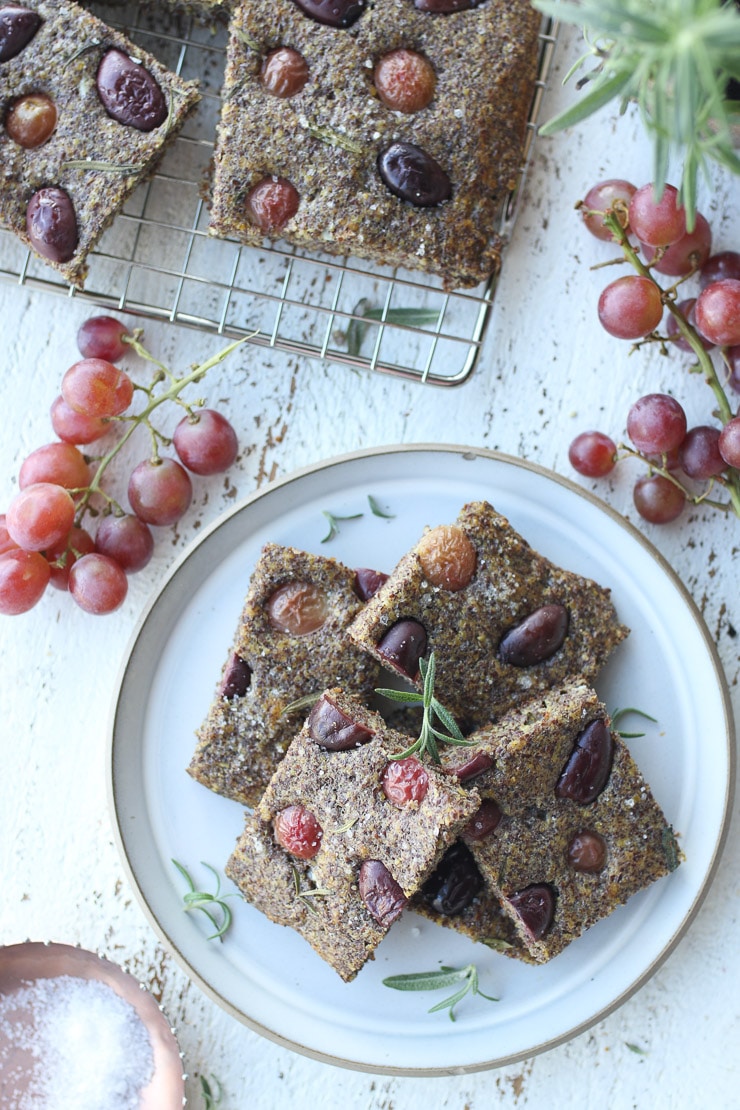 Recipe Tips for a Flourless Bread
Again, I was totally skeptical but I need you to know that this recipe is embarrassingly easy. It is important that you let the dough sit by itself for at least 20 minutes to allow the flax to "bloom" with the liquid so it's thick and fuffy.
Also, don't skimp on the olive oil. It's what adds flavour and moisture to this bread.
FAQ about this recipe
Here are some common questions I will likely get asked about this flax focaccia recipe.
Is this flourless bread gluten free?
Yes! Flax is completely gluten free so you can absolutely enjoy this if you avoid gluten.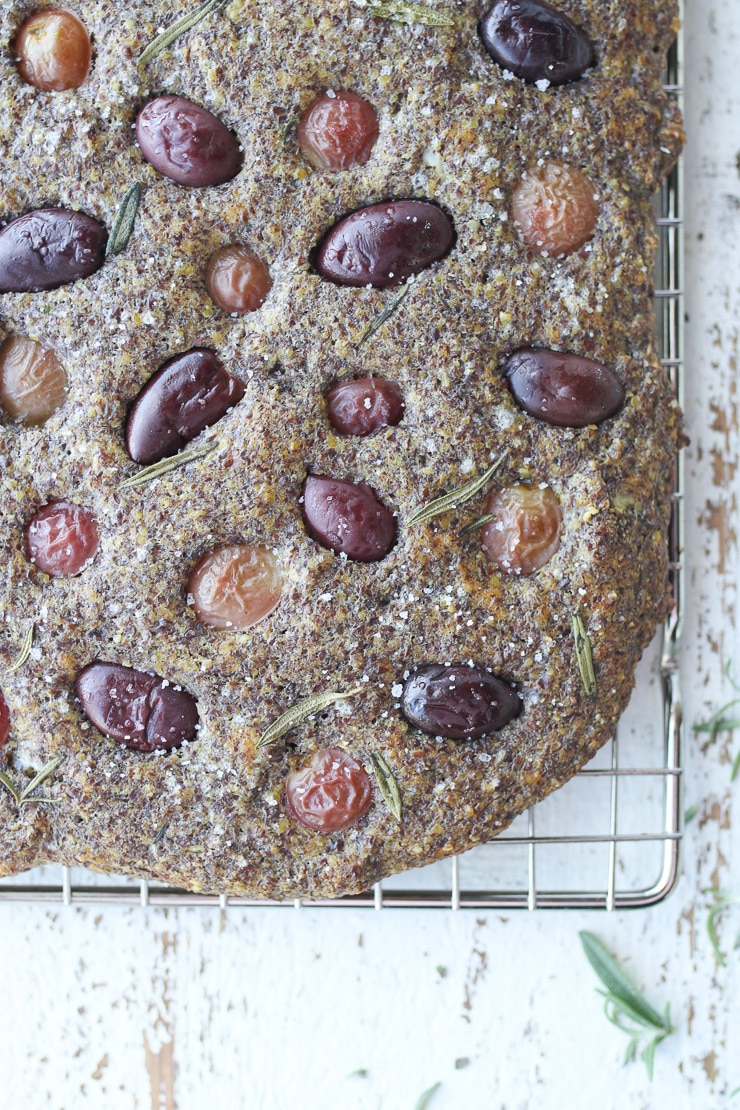 How is this bread keto friendly?
The base of this bread – flax, olive oil and eggs- are all keto-friendly. This bread can be made keto friendly by using a non calorie sweetener in place of the maple syrup, and you can also omit the grapes if you want (though these probably add a negligible amount of carbs). See below for other topping ideas.
How else can I top my focaccia?
You can totally make this simply with just salt, or try some other toppings:
Sliced cherry tomatoes + mozzarella + basil
Roasted garlic + tomatoes
Peaches + thyme
Cooked sausage + Honey + Olives
Prosciutto + mozzarella
Artichoke hearts + gruyere
Caramelized onions + mushrooms
Nuts + Chocolate + Mascarpone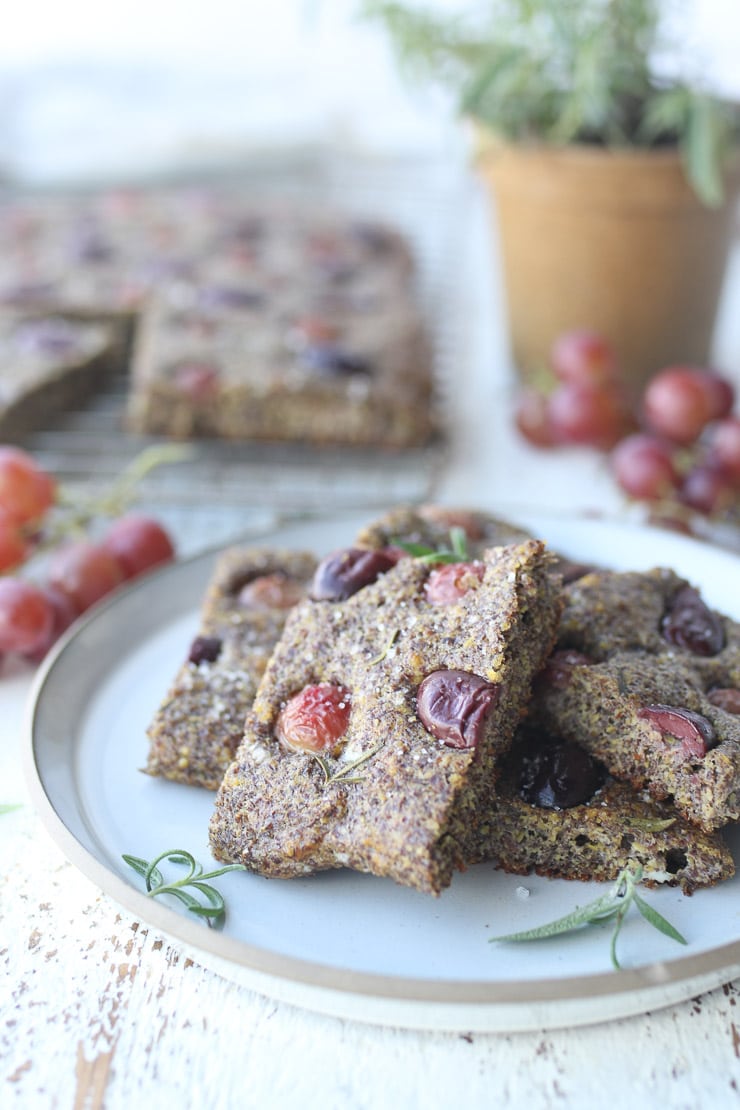 What should I serve this bread with?
If we stay in an Italian theme, it's delicious with this vegan sausage white bean pasta, or minestrone pasta.
What baked goods are you whipping up without flour or yeast? Leave me a comment below with your ideas!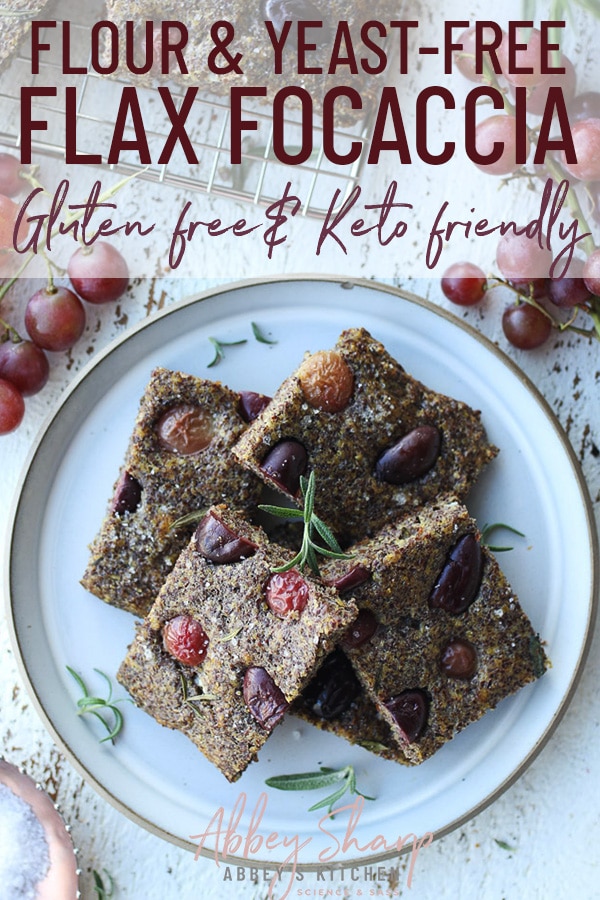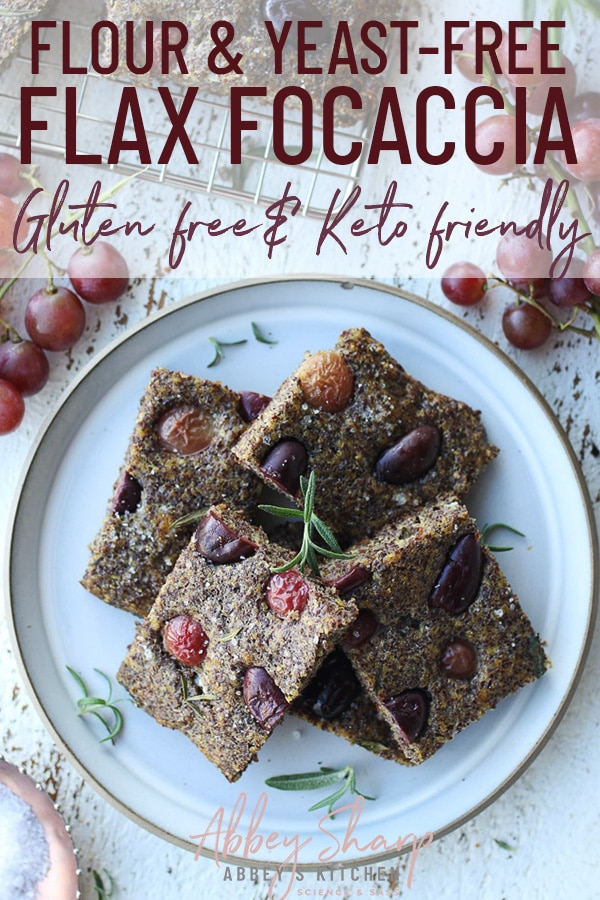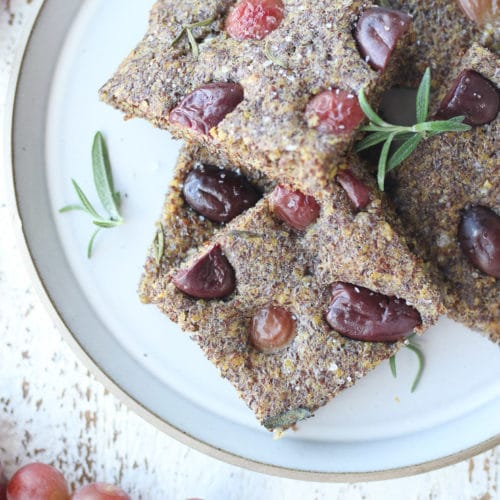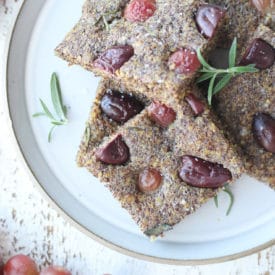 Flax Focaccia (No Flour or Yeast Free Bread)
This healthy flax focaccia bread is a recipe with no flour and is yeast free, yielding a gluten free, keto-friendly (optional) bread with omega-3s!
Print
Pin
Rate
Ingredients
1/2

cup

olive oil

2

sprigs

rosemary

2

cups

finely ground flaxseed

1

tsp

fine sea salt

6

eggs (beaten)

1/2

cup

water

1

tbsp

maple syrup (or low calorie brown sugar for keto/low carb)

1/2

tsp

fleur de sel

1

sprig

rosemary (minced)

1

cup

red grapes (halved)

(optional for keto)

1

cup

kalamata olives (pitted and halved)

1

tbsp

baking powder
Instructions
Preheat oven to 350 F. Prepare a sheet pan with a piece of parchment paper or a silpat.

In a small saucepot, heat the olive oil and the two sprigs of rosemary until simmering over low heat for 10 minutes. Carefully remove the rosemary sprigs and set aside to cool.

In a large bowl, mix together the flax, baking powder, and salt until combined. Add in the beaten eggs, water, maple or other sweetener, and 1/3 cup of the rosemary olive oil. Allow to sit for 15 minutes to thicken.

Transfer to the baking sheet and spread out about an inch in thickness, making sure to leave at least an inch from the edge of the pan.

Top with the grapes (cut side down), olives (cut side down) and rosemary pieces. Carefully brush the top of the dough with about a tablespoon of the rosemary olive oil and sprinkle with fleur de sel.

Bake for about 25-30 minutes or until the dough feels springy and dry on top. Allow to cool for at least 15-20 minutes before cutting into slices.
Nutrition
Calories:
426
kcal
|
Carbohydrates:
18
g
|
Protein:
12
g
|
Fat:
36
g
|
Saturated Fat:
5
g
|
Trans Fat:
1
g
|
Cholesterol:
123
mg
|
Sodium:
615
mg
|
Potassium:
572
mg
|
Fiber:
12
g
|
Sugar:
5
g
|
Vitamin A:
258
IU
|
Vitamin C:
1
mg
|
Calcium:
200
mg
|
Iron:
3
mg
Updated on July 22nd, 2020