This EASY keto zucchini lasagna pinwheels is the fastest lasagna you can make for your family! Gluten free, low carb, high fibre and healthy, it will definitely become a family favourite!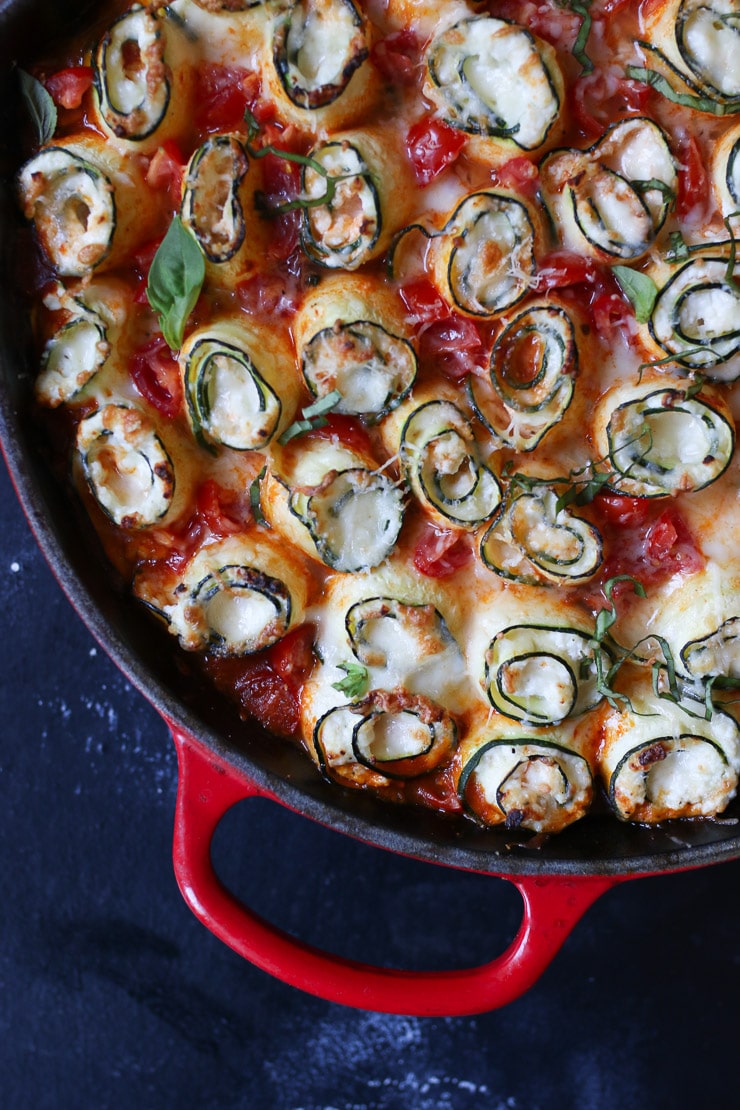 When I think of the classic family meal, lasagna usually comes to mind. Only, that's kind of strange because I never EVER had lasagna growing up. The reason for my deprivation was two-fold. One, my mom just really REALLY didn't like cheese and therefore, we rarely got meals that were cheese-centric (I know, tough childhood)). And two, making lasagna is a marathon. I will be the first to admit that I actually have never done it the full-out traditional nonnas-kitchen way. I've simply relied on home-style restaurants (and my Italian-blood YouTube producer, Kyla) for that. Alas, as a new mom, I'm all about efficiency, and these easy keto zucchini lasagna pinwheels are exactly that. Quick, tasty and cheese AF, these will totally satisfy your lasagna craving.
key ingredients to make these lasagna pinwheels
Zucchini
– Zucchini is the star of this low carb recipe and packs a nutrition punch! For this recipe, I recommend about 3 large zucchini's to make the pinwheels.
Cheese – Because what is a lasagna without cheese? Like any standard lasagna recipe, you'll need ricotta cheese, mozzarella, and parmesan.
Marinara Sauce – I recommend using a low sugar low sodium variety for this recipe.
Spinach – I love adding spinach anywhere I can because it wilts down to basically nothing, meaning you can add in a bunch of nutrient packed spinach to this recipe.
How to Make Easy Keto Zucchini Lasagna Pinwheels
So these may be keto-friendly, low carb and gluten free, but that's definitely not why I make these zucchini lasagna pinwheels. I love that I can get my fibre and antioxidants in with a big plate of veggies while really just eating a mouthful of golden gooey cheese. For my non-keto and non-gluten free followers, this really just leaves some wiggle room for a little bread on the side or (my choice), wine. Lasagna needs wine. Moms need wine. Moms need these zucchini lasagna pinwheels.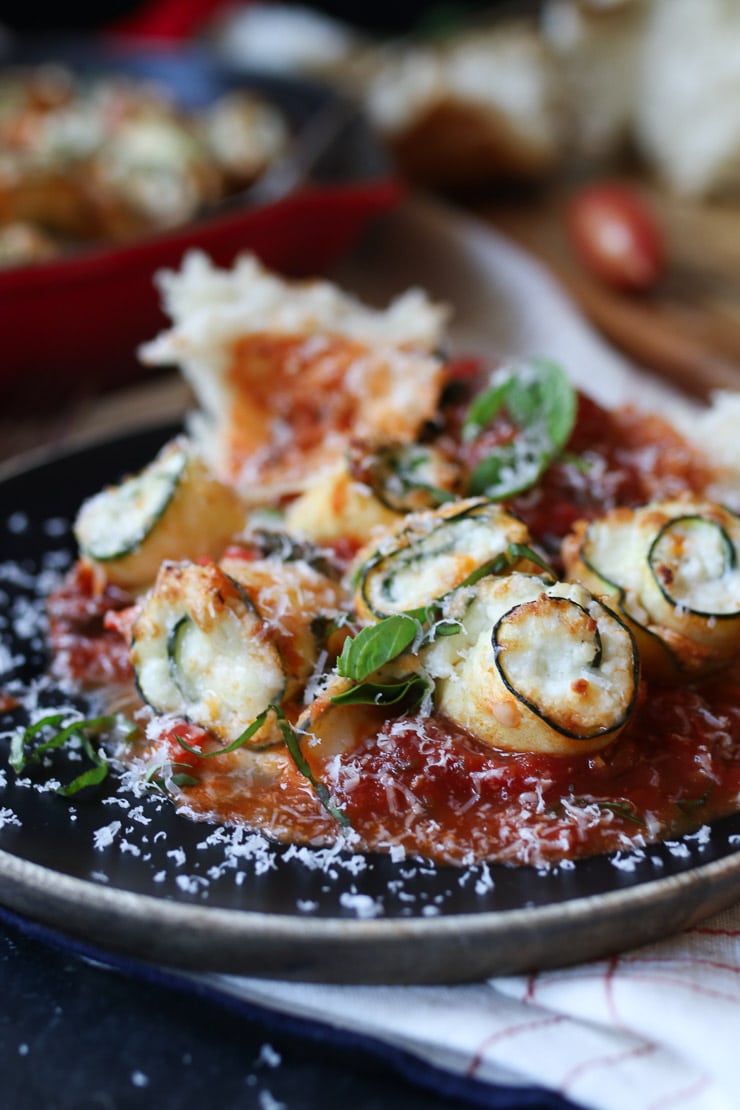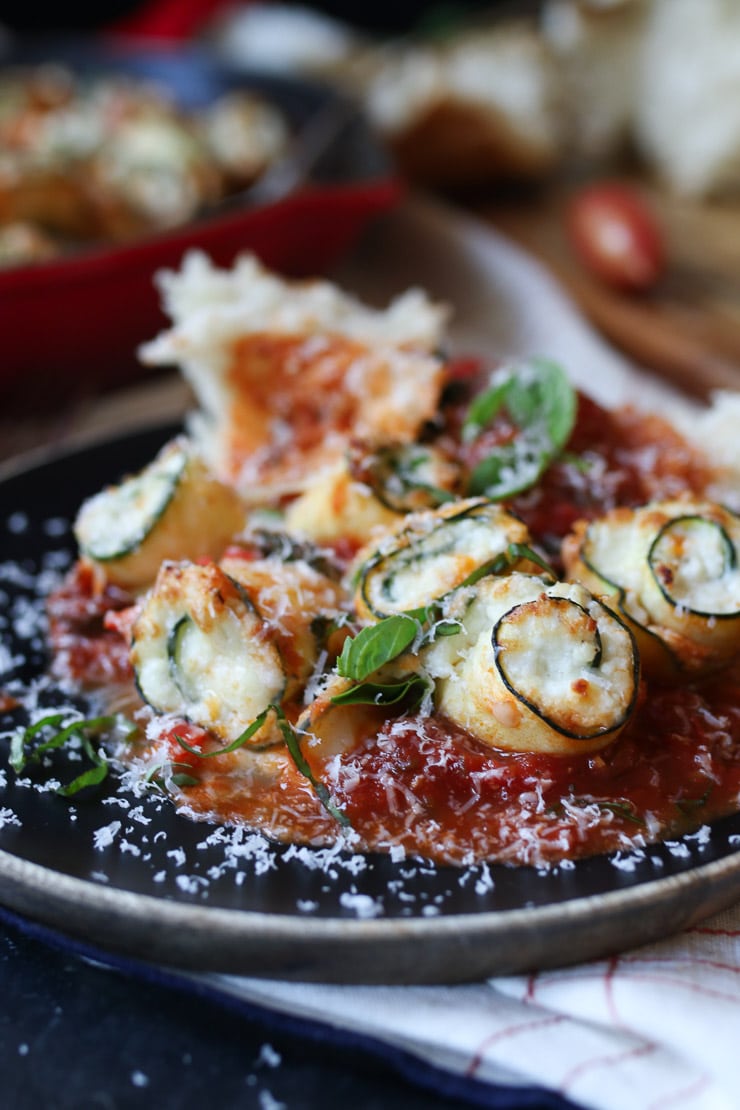 Okay, but now let's talk about keeping this dish flavourful, and not watery. You NEED to salt those zucchini. This might sound strange but it's salting your zucchini draws out the excess moisture and is also the key to non-soggy zucchini noodles (like in this carbonara).
I also recommend cooking down your marinara sauce so that any excess moisture will be pumped BACK into it while the zucchini lasagna cooks.
The last hack I use to keep the sauce from getting too watery is that I finish these bad boys on broil. This also does double duty in getting some serious golden brown cheese action and GOLDEN CHEESE IS LIFE.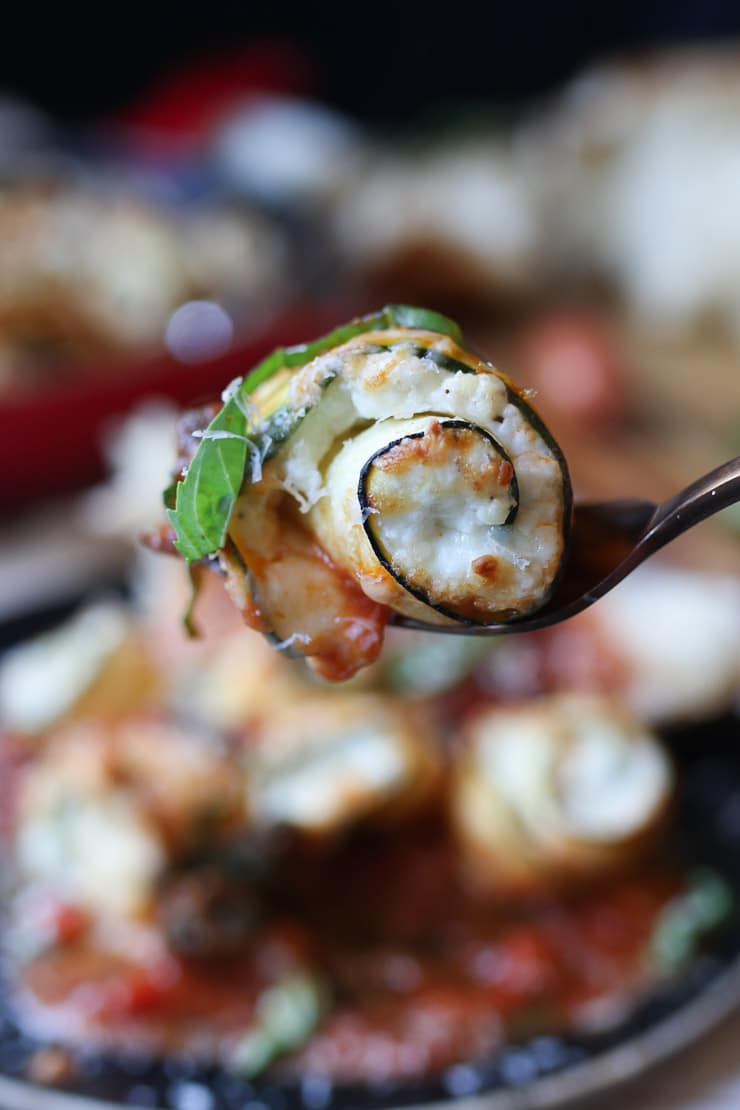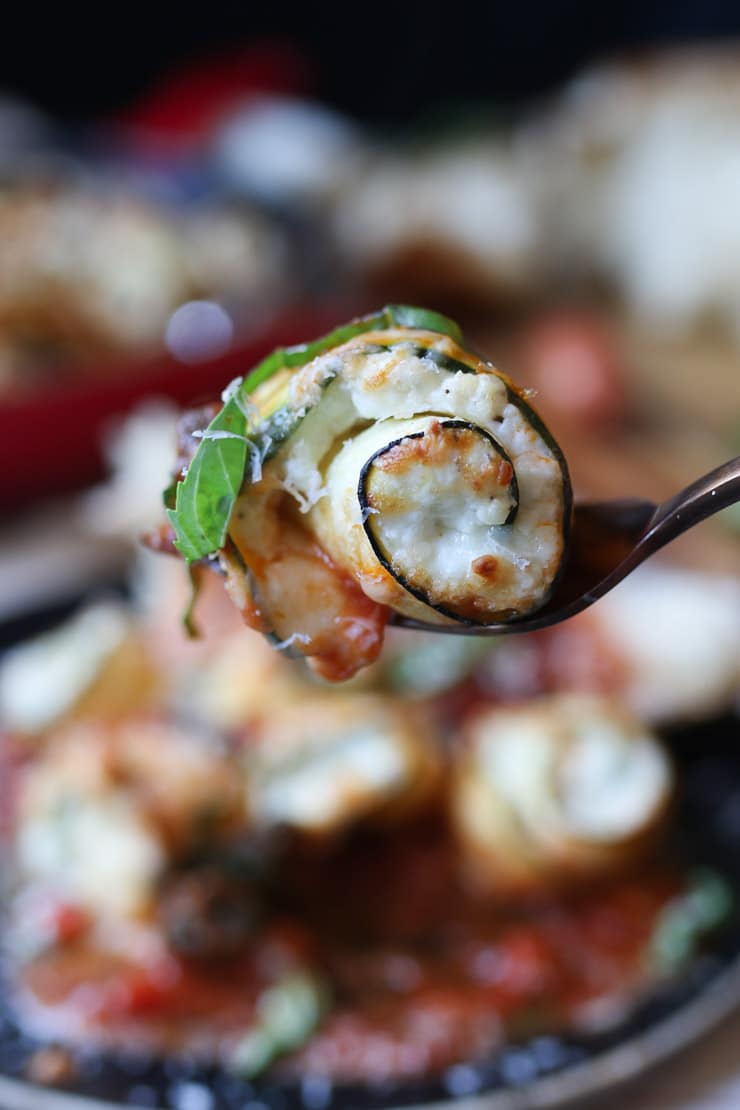 I don't think it matters if you're gluten free, keto, or a carbosaurus like me, these easy keto zucchini lasagna pinwheels will blow your lasagna-loving mind. Sorry nonna, but this is WAY more instagrammable than your family recipe.
faq about this low carb recipe
Here are some commonly asked questions I get about this popular recipe.
what are some tips to cut the zucchini into thin slices?
If you don't want to cut the zucchini I would recommend using a mandolin to get slices that are nice and thin.
what can i serve as a side dish if im not keto or low carb?
You can totally make things simple and serve this with a side of sourdough bread for conveniences sake. But you could also serve it with a nice grain salad like this pesto pasta salad.
is this recipe kid friendly?
For sure! Baby E has never met a lasagna he didn't like and this zucchini lasagna pinwheel recipe is no exception.
Do you have any other family friendly meals?
VEGAN MEXICAN PASTA CASSEROLEÂ
GREEK SHEET PAN CHICKEN BREASTSÂ
EASY VEGAN MINESTRONE SKILLET PASTAÂ
Now lovelies, let me know, what recipes do you think of when you think about the classic family meal? Leave me a comment below with your thoughts!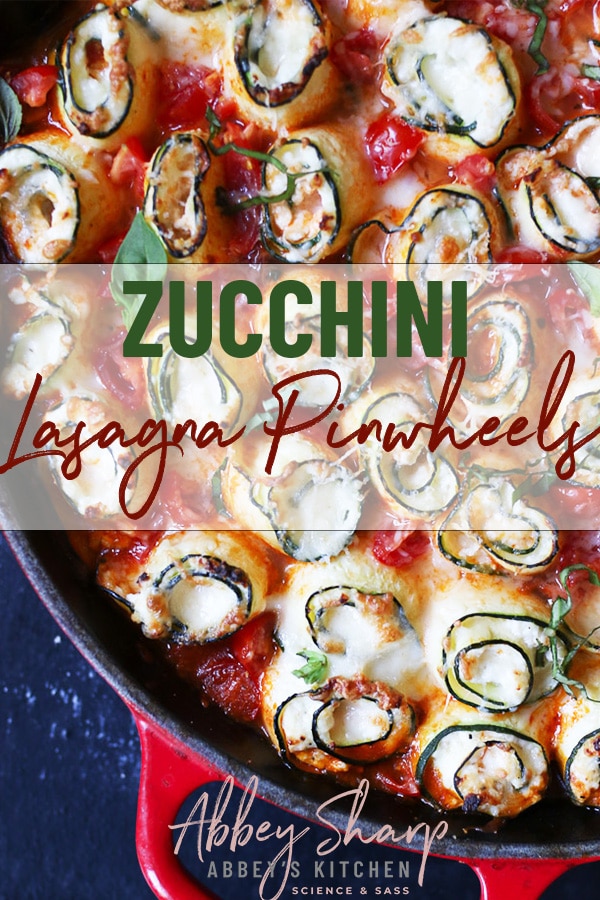 Easy Keto Zucchini Lasagna Pinwheels
This EASY keto zucchini lasagna pinwheels is the fastest lasagna you can make for your family! Gluten free, low carb, high fibre and healthy, it will definitely become a family favourite!
Ingredients
3

large zucchini

thinly sliced length-wise on a mandoline

1/2

tsp

kosher salt

2 1/2

cups

ricotta cheese

3/4

cup

mozzarella cheese

grated and divided

1/2

cup

plus 2 tbsp parmesan cheese

grated and divided

1

egg

2

tsp

extra virgin olive oil

2

cloves

garlic

minced

3

cups

spinach

finely chopped

3

cups

low-sugar marinara sauce

2

tbsp

basil

chiffonade
Instructions
Preheat oven to 400 F.

Lay a few pieces of paper towel down on two baking sheets and lay the zucchini slices on top. Salt them and top with another few pieces of paper towel. Top with another baking sheet and press down. Let sit for 10 minutes. Wipe the salt and water off of the zucchini.

In a bowl, mix together the ricotta, and 1/2 cup each of parmesan and mozzarella cheese. Season with salt and pepper, to taste, then mix in the egg.

Meanwhile, heat the oil in a large cast iron skillet. Add the garlic and saute until fragrant. Add in the spinach and allow to wilt. Season with a pinch each of salt and pepper.

Pour in the marinara sauce and give everything a stir. Reduce the sauce over the heat for 7-8 minutes until very thick.

Spread about 1 1/2 tbsp of the cheese mixture onto the slice of zucchini and roll into a pinwheel.

Ladle a few spoonfuls of the marinara sauce into the casserole dish and spread out so it covers the whole bottom of the dish.

Position all of the pinwheels into the casserole dish and top with the remaining cheese.

Place the lasagna into the oven for 15 minutes, then change the oven setting to broil.

Broil for 3-5 minutes or until golden brown. Enjoy!
Nutrition Facts
Easy Keto Zucchini Lasagna Pinwheels
Amount Per Serving
Calories 394
Calories from Fat 234
% Daily Value*
Fat 26g40%
Cholesterol 116mg39%
Sodium 1408mg61%
Potassium 1065mg30%
Carbohydrates 17g6%
Protein 26g52%
Vitamin A 3479IU70%
Vitamin C 37mg45%
Calcium 525mg53%
Iron 3mg17%
* Percent Daily Values are based on a 2000 calorie diet.
Updated on July 21st, 2020