This EASY Healthy Peanut Butter for kids and toddlers is naturally sweet with no added sugar and perfect for making nutrient dense PB&J sandwiches!
I know kids are stereotypically supposed to be obsessed with peanut butter and jelly sandwiches, or just peanut butter anything, but my kid was never a fan. When he was really little and I was trialing different common allergens, it was always a struggle to get him to eat anything with peanut butter in it because he just didn't like that much. That's why I created these PB muffins, but that's a whole other story.
I since figured out that he would happily eat the commercial peanut butter with added oils, salt and sugar, but wasn't so much a fan of the natural stuff I buy. That's when I came up with the idea for this power protein packed healthy peanut butter that is naturally sweetened with his favourite fruit, banana, and is loaded with healthy fats, protein and fibre.
Key ingredients for this healthy peanut butter
Natural Peanut Butter– Choose a peanut butter that is just peanuts, no salt, sugar, or other oils.
Ripe Banana– This is going to be our natural sweetener and adds some extra nutrients like potassium while we're at it.
Ground Flax– Flax provides protein, fibre and healthy omega 3 fats, so this really pumps up the nutrition in this peanut butter.
Hemp Hearts – My son calls hemp hearts sprinkles, so he loves them. And I love that they supply protein, fibre and healthy omega 3 fats.
Cinnamon– For a little extra sweet flavour.
Sea Salt– If you want! I usually don't bother and my kiddos still gobbles this up.
what do you use this naturally sweetened peanut butter for?
This is perfect for putting on oatmeal, swirling into yogurt or cottage cheese, or smearing on rice cakes or toast. It also makes a crazy delicious PB&J Sandwich that is naturally super sweet.
How do you make a healthy PB&J sandwich without added sugar?
I suggest a nice high fibre bread, then a smear of this healthy peanut butter on on side, and my famous homemade chia jam on the other. Tada! You've got a kid friend and toddler friendly PB&J with no added sugar and a ton of healthy fats, protein and fibre.
do peanut products cause allergies?
We used to think that giving young children peanut products would cause food allergies, but we now know it's actually the complete opposite. We now want to expose our kids to the top 8 allergens as soon as we can once they start solids around 6 months. Check out this whole post on peanut allergens, and this BLW meal plan for starting solids to reduce allergens.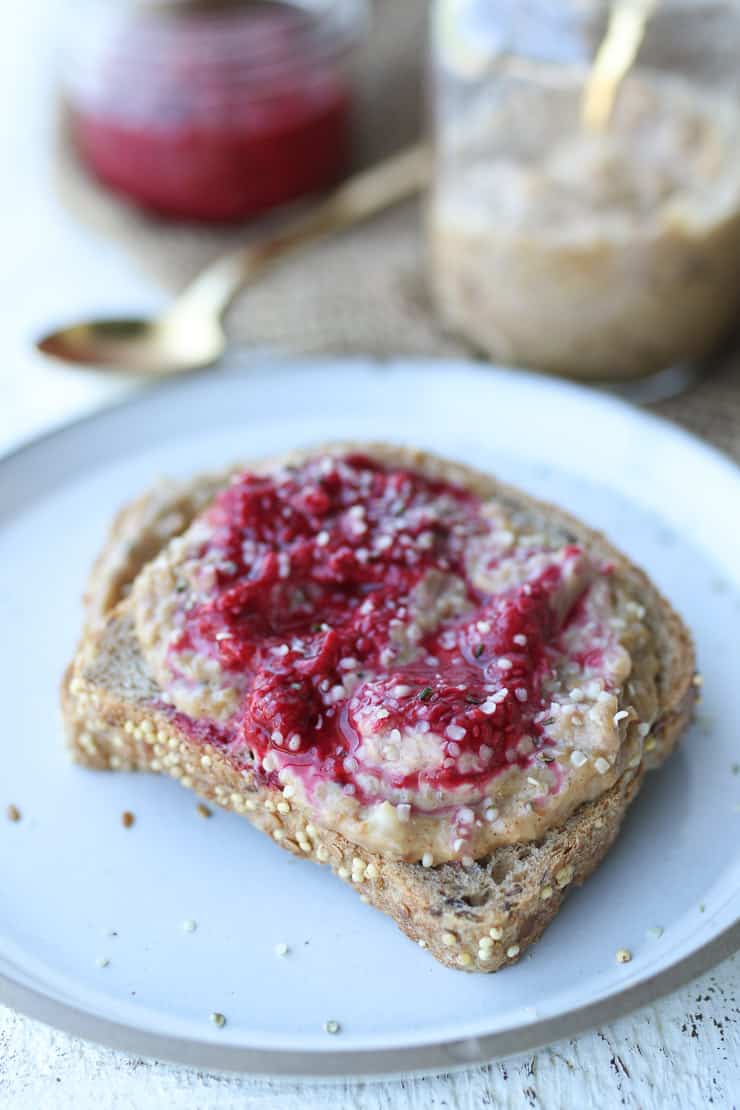 FAQ About this recipe
Here are some of the most common questions about this recipe.
How long will this last in the fridge?
I find that this recipe lasts for about 3 days in the fridge, so I make these small batches frequently throughout the week.
how do you choose a healthy peanut butter?
I recommend looking straight at the ingredients. It should just say peanuts (or almonds, or cashews, or whatever the nut is in question). You can cut back on added sugar and salt in your kids diet by avoiding nut butters that have these products or partially hydrogenated oils in them.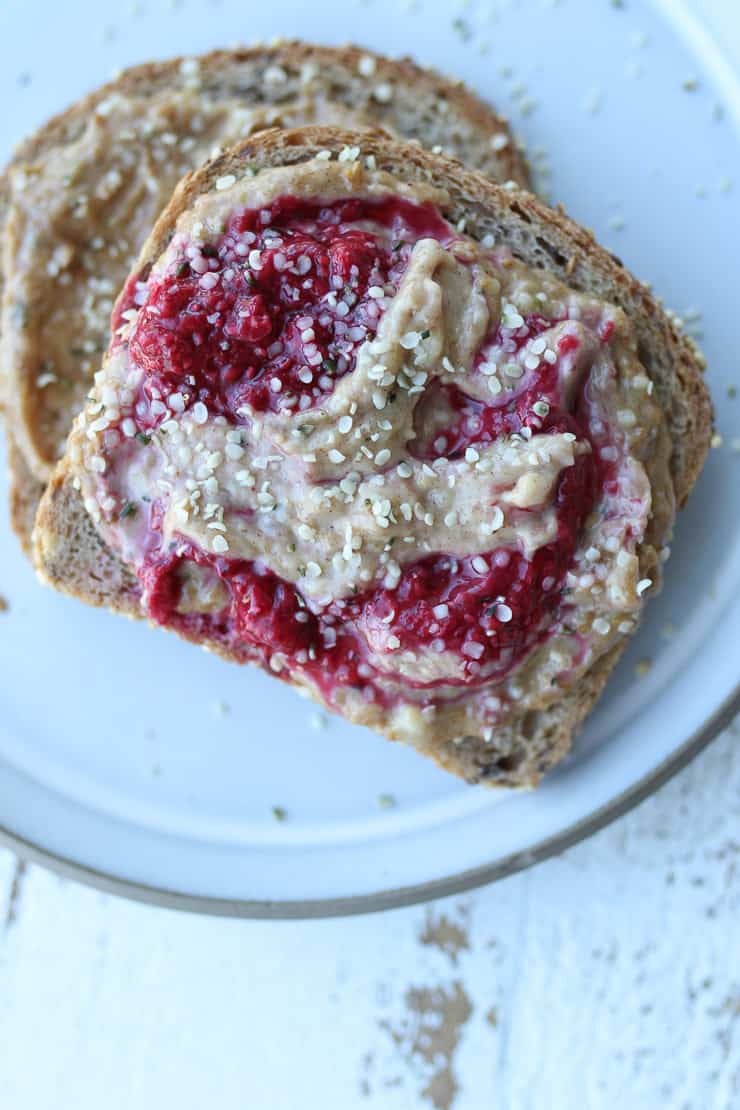 is this pb vegan and gluten free?
Yep, this is completely safe and healthy for those who stick to a vegan diet or gluten free diet.
Will kids actually like this?
Um, yes? If your kids like ripe bananas (who doesn't like that sweetness), they will love this healthy peanut butter. And if you haven't tried my chia jam, you MUST make them together.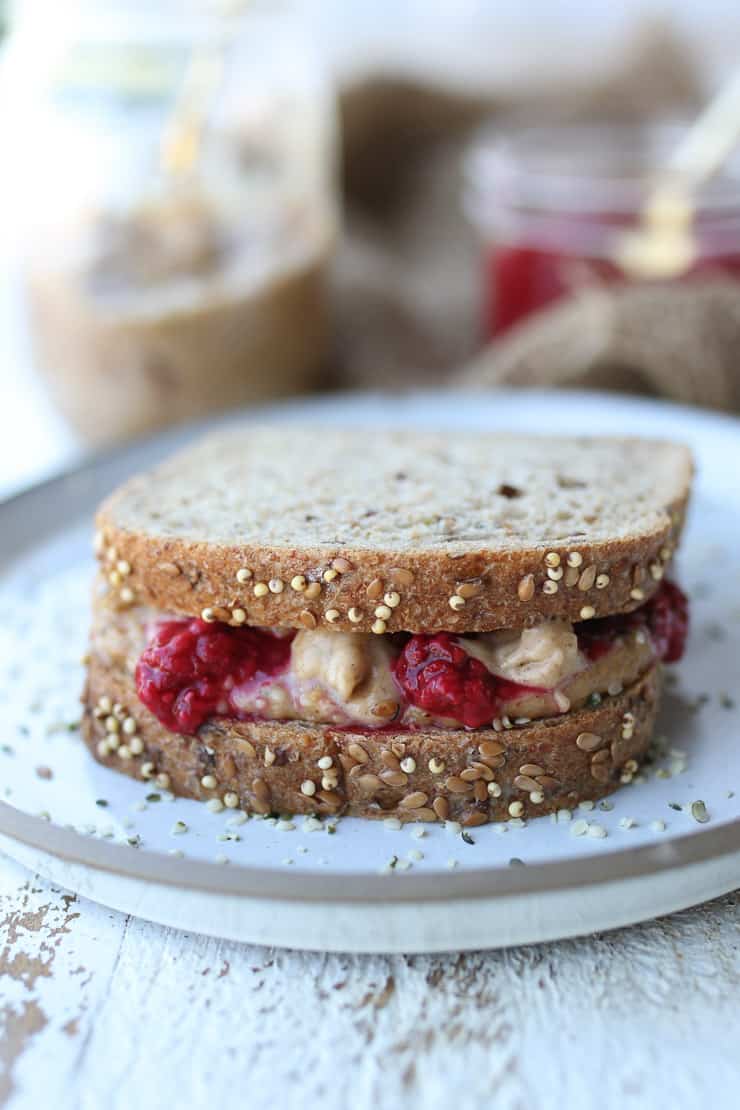 Do you have any other peanut butter recipes for maintaining allergen exposure?
We actually have a whole blog post that will help give you some recipe inspiration for starting solids that include peanuts and peanut butter.
Now tell me what you're putting this amazing nut butter on! Leave me a comment below if you and your family loves this power peanut butter!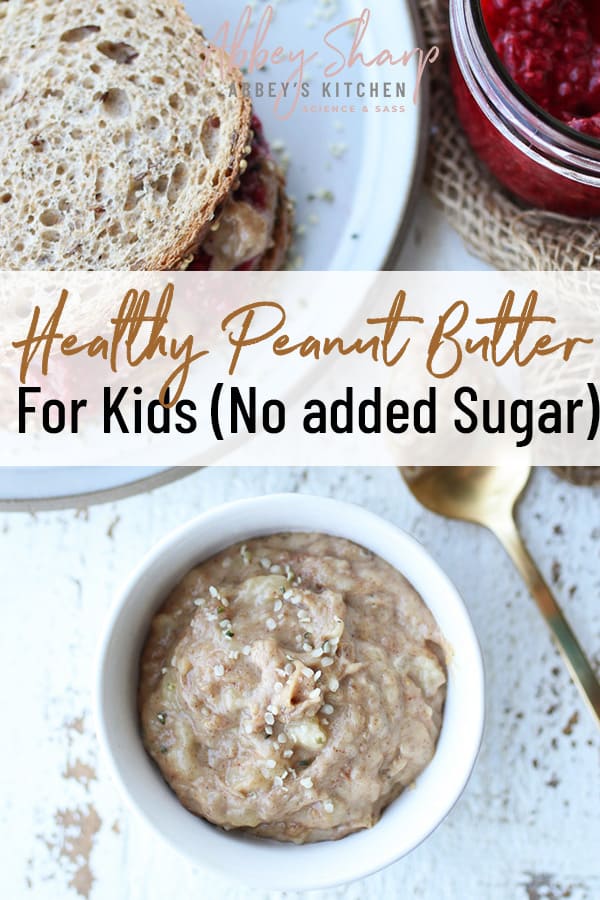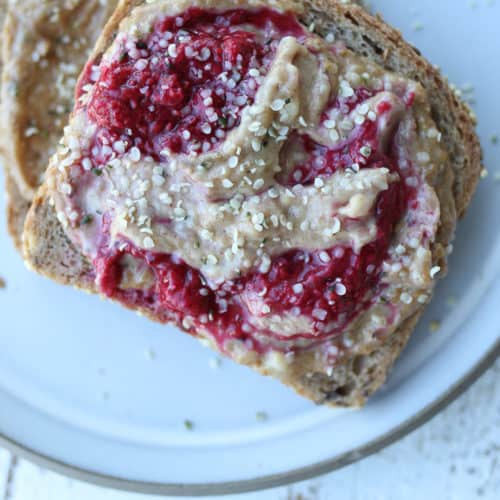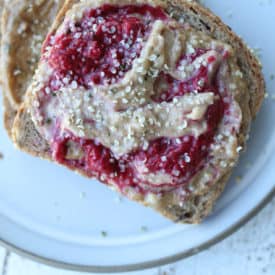 Healthy Peanut Butter for Kids
This EASY Healthy Peanut Butter for kids and toddlers is naturally sweet with no added sugar and perfect for making nutrient dense PB&J sandwiches!
Print
Pin
Rate
Instructions
Mash the banana in a bowl and mix in the peanut butter, hemp, flax, cinnamon and salt.

Serve on bread, yogurt, or oatmeal.
Nutrition
Calories:
177
kcal
|
Carbohydrates:
20
g
|
Protein:
10
g
|
Fat:
8
g
|
Saturated Fat:
1
g
|
Cholesterol:
1
mg
|
Sodium:
96
mg
|
Potassium:
244
mg
|
Fiber:
5
g
|
Sugar:
8
g
|
Vitamin A:
140
IU
|
Vitamin C:
5
mg
|
Calcium:
34
mg
|
Iron:
2
mg