These Gluten Free Keto Cabbage Roll Enchiladas are a perfect One Pan Low Carb Dinner that everyone in the family is going to love!
If you're a fan of cabbage rolls (HELL YES) and that spicy tangy enchilada sauce (BRING IT ON), you're going to adore these gluten free keto cabbage roll enchiladas. They're the love child of everything delicious in this world, and BONUS- mine are actually healthy.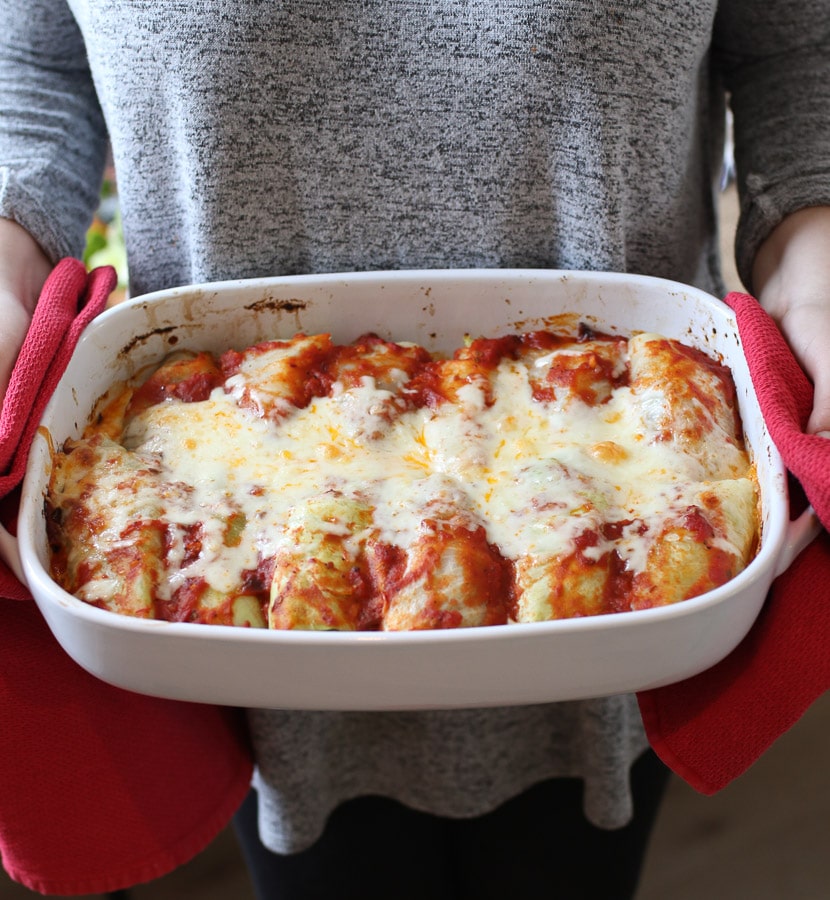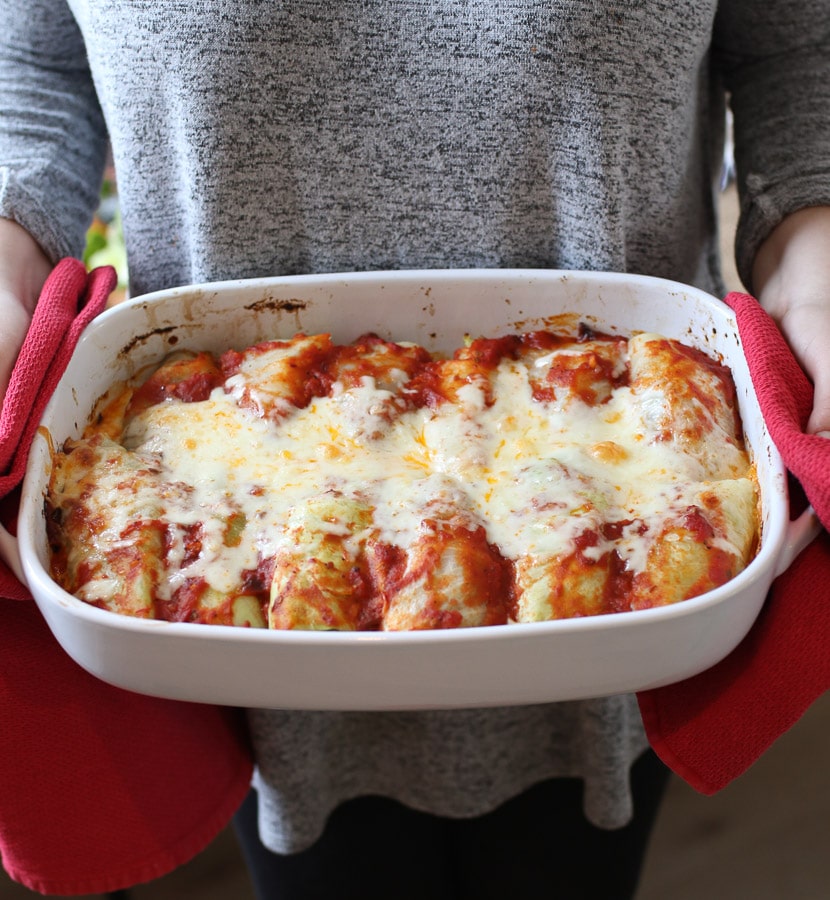 what are the key ingredients for these cabbage roll enchiladas?
Cabbage
– Cabbage is the star of the show in this low carb version and will hold the filling, similar to cabbage rolls.
Ground Beef – In my opinion, enchiladas are not quite the same without ground beef but you can totally use any other ground meat or veggie ground round as a substitute.
Cheese – I like to use a mild cheese like Monterey Jack to really bring out the flavours and spices of the enchiladas while still offering ooey gooey cheesiness. But feel free to use any of your favourite semi-hard cheeses.
Bell Pepper, Corn, Cremini Mushrooms – I personally love this combo in these enchiladas as it provides the perfect blend of crunchy texture from the bell pepper & corn combined with the soft chewy texture of cremini mushrooms.
Enchilada Sauce – Whats an enchilada without enchilada sauce? I created my own recipe using simple ingredients but a store bought sauce definitely works as well.
Spices – Strong and aromatic spices are what really make the flavour of enchiladas sing. For this recipe I use cumin and chilli powder.
How to Make Gluten Free Keto Cabbage Roll Enchiladas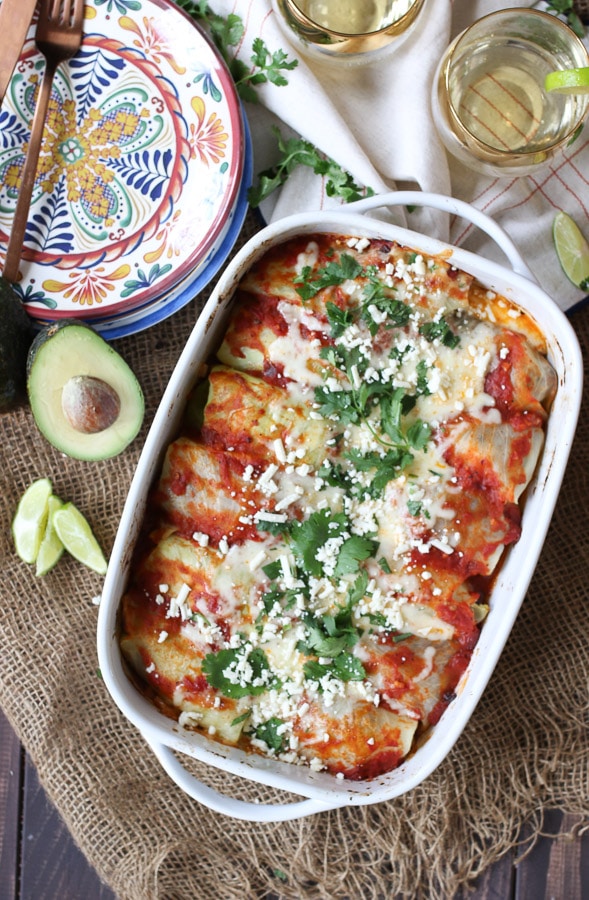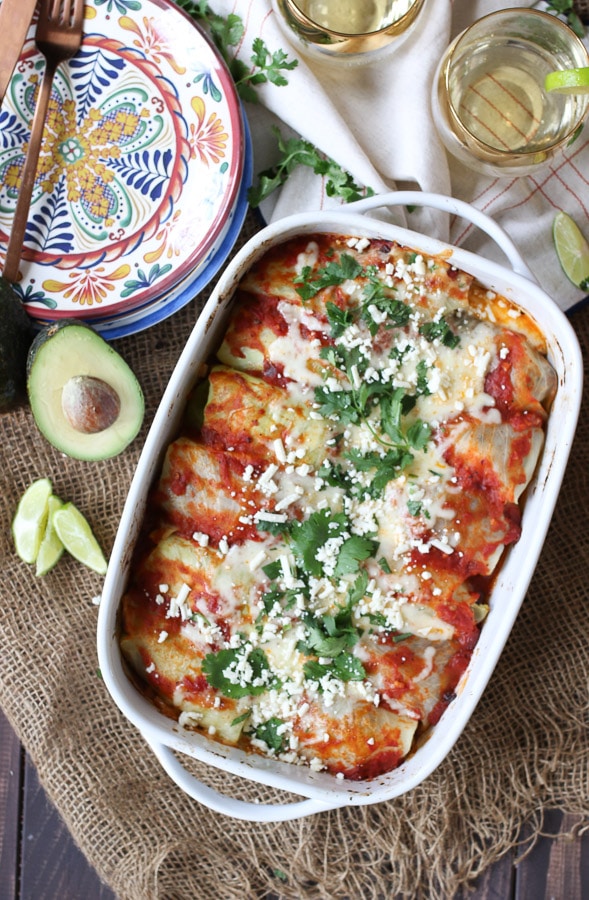 I grew up eating a lot of cabbage rolls, so I've got a more classic version here on my blog. I've also made a lot of enchiladas before including this chicken one, and this butternut squash version here. It really was just about time that I forced the two together in a steamy love bath and called it dinner. The thing is, I love cabbage any way, so the idea to use cabbage leaves as the low carb vessel to hold in a ton of meat and cheese just felt REALLY right. Hence why these gluten free keto cabbage roll enchiladas have become an instant favourite in my family.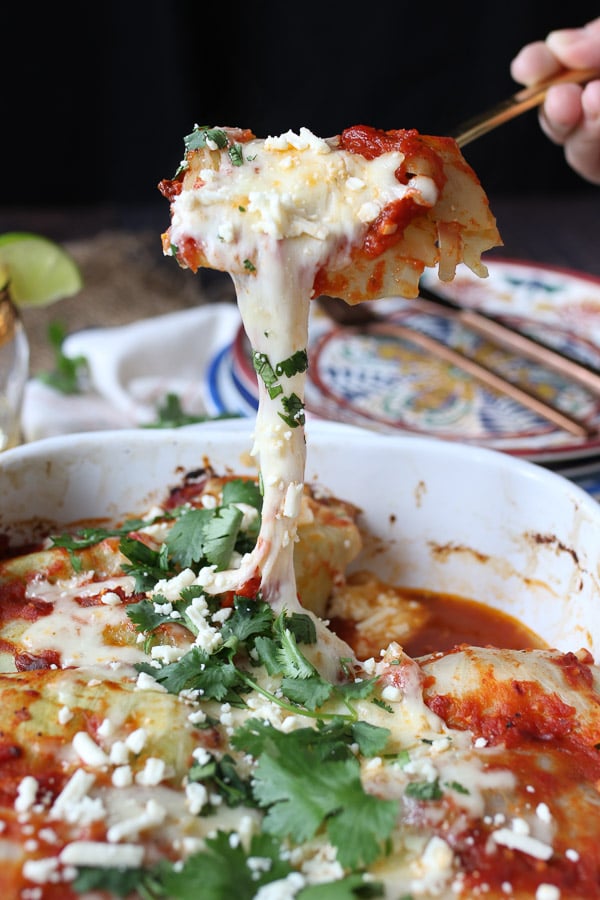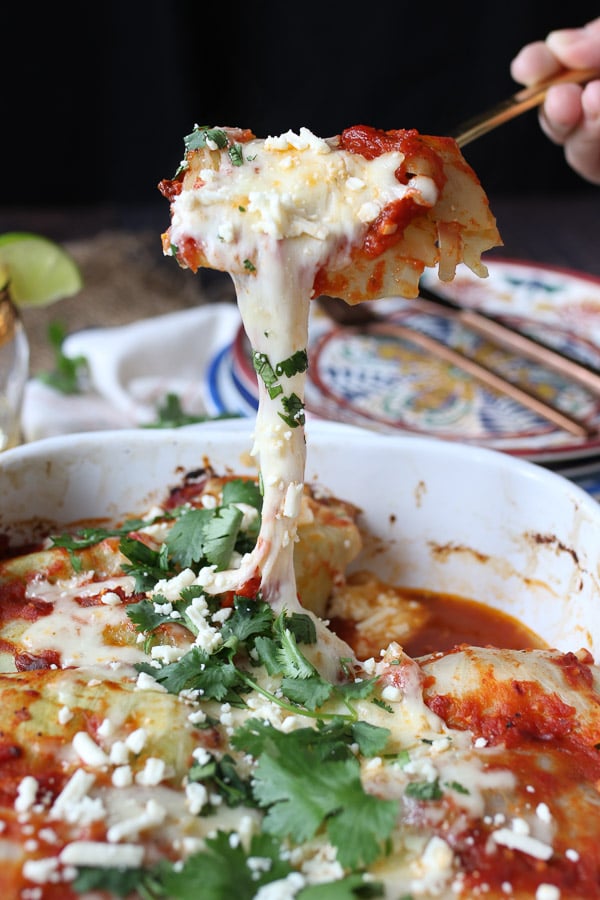 It starts with blanching your cabbage leaves so they're pliable enough to roll. Then you can fill them up with tons of meat, veggies and cheese and stuff them into your casserole dish. Since these are gluten free keto cabbage roll ENCHILADAS, we need a solid enchilada sauce. I like to think mine is AMAZING so definitely try it out. If you need to be super careful about the carbs you can leave the maple syrup out or swap it for a non calorie sweetener. I just really like the tiny bit of sweetness to balance out the spicy chipotle in adobo.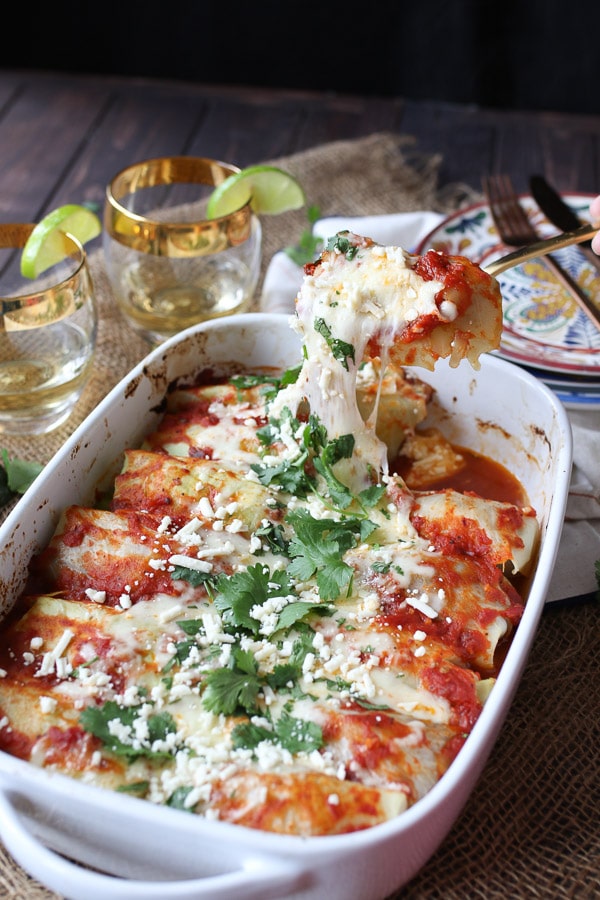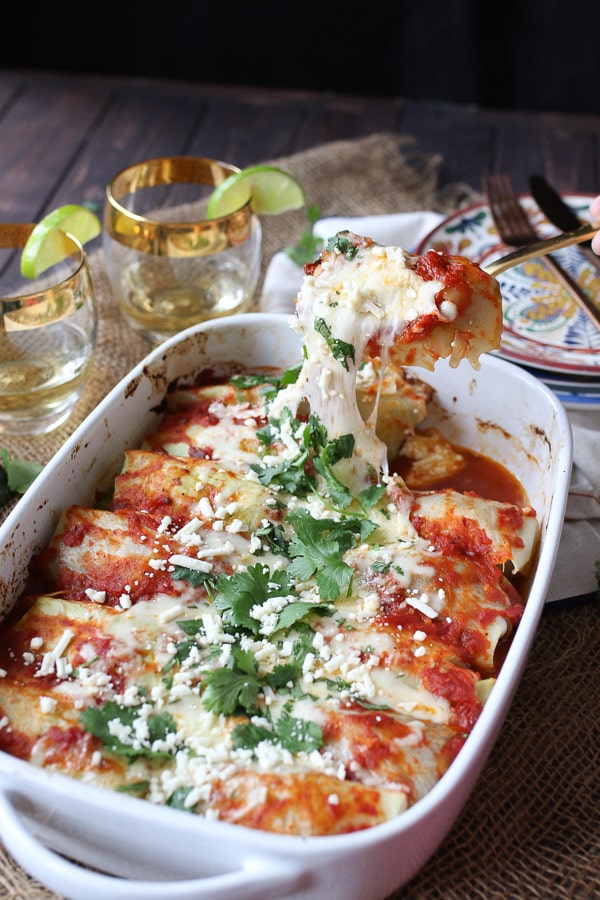 Ah my mouth is watering just thinking about it again, so I guess I'm going to have to find the time between feeds to make another batch. Trust me, it's totally worth it.
FAQ ABOUT THIS RECIPE
Here are some common questions I've been asked about this recipe.
Can i make this one pot recipe ahead and freeze it?
Yes absolutely! You can freeze these enchiladas in the same container, thaw and reheat all at once. You can also portion them individually by wrapping each roll in plastic wrap or aluminum foil and throwing them into a freezer bag. I would suggest holding off on adding the cheese until reheating.
Can I make this keto enchilada recipe vegan?
Definitely. Instead of ground beef, you can use veggie ground round or lentils to preserve the same meaty texture. You can also use any vegan cheese variety on top.
HOW LONG WILL THIS one pot recipe LAST IN THE FRIDGE FOR MEAL PREP?
This recipe will last in the fridge for roughly 3-5 days.
IS THIS enchilada recipe KID FRIENDLY?
Yes! Maybe not for toddlers as the cabbage can be a little tough to chew for new eaters but toddlers can definitely enjoy the filling.
Do you have any other tasty keto recipes?
Absolutely I do! Here are some of my favourite keto-friendly recipes on the blog.
EASY KETO ZUCCHINI LASAGNA PINWHEELS
EASY TOMATO AVOCADO TUNA MELTÂ
Now lovelies, tell me, have you made these gluten free keto cabbage roll enchiladas?
What's your favourite filling in enchiladas?
Have you ever thought to use low carb cabbage leaves instead of tortillas?
Leave me a comment below with your thoughts!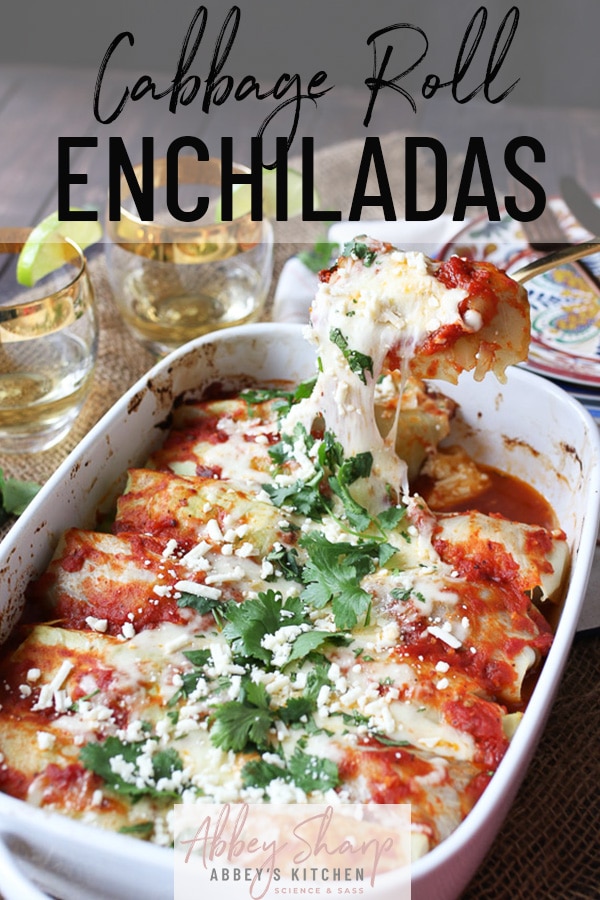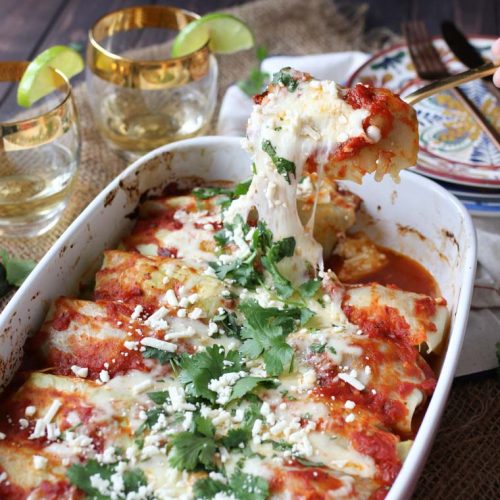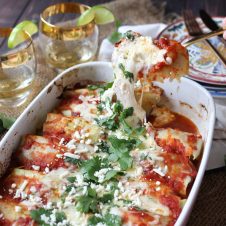 Gluten Free Keto Cabbage Roll Enchiladas
These Gluten Free Keto Cabbage Roll Enchiladas are a perfect One Pan Low Carb Dinner that everyone in the family is going to love!
Print
Pin
Rate
Ingredients
Enchilada Sauce:
1

tsp

extra virgin olive oil

2

garlic cloves

minced

1/2 - 1

chipotle in adobo sauce

minced

1

tbsp

adobo sauce

1 1/2

tbsp

maple syrup

or non calorie sweetener

1/4

tsp

cumin

2

cups

plain tomato sauce

Salt

to taste
Enchilada filling:
1

head green cabbage

2

tsp

olive oil

1/2

lb

extra lean ground beef

2

clove

garlic

minced

1

bell pepper

diced

1/2

jalapeno pepper

seeds and veins removed, minced

8

oz

cremini mushrooms

stemmed and diced

1

can black soybeans

drained and rinsed and lightly smashed

1 1/2

tsp

chili powder

1 1/2

tsp

cumin

1/4

cup

frozen

fresh or canned corn

2

cups

monterey jack cheese

divided

Salt to taste
To Serve:
Avocado

Lime wedges

Cilantro

Cojita cheese
Instructions
Preheat a skillet over medium high heat and add in the olive oil for the sauce. Add the garlic and cook for 30 seconds, then add in the chipotle, adobo sauce, maple, cumin and tomato sauce. Simmer for 10 minutes until the flavours come together then season with salt to taste. Pour into a dish and set aside.

Clean out the skillet and add the olive oil for the filling. Add in the beef and start to cook until it browns. Add in the garlic, bell peppers, jalapeno, mushrooms, the lightly smashed beans, chili and cumin. Cook for 7 minutes, then add in 1/4 cup of the reserved sauce, along with the corn and salt, to taste. Set aside.

Meanwhile, preheat oven to 350 F and grease a 13x9" baking dish.

Carefully remove the leaves from the cabbage head and plunge into a pot of salted boiling water. Cook for 3-4 minutes then transfer to a bowl filled with ice water. Dry the leaves off.

Place a leaf in front of you with the stem towards you and add about 3-4 tablespoons of filling. Top with 1 tablespoon of cheese then roll up, tucking in the sides as you go.

Add about 1/4-1/3 cup of the sauce to the bottom of the dish and begin to fill with the cabbage rolls. Top with the remaining sauce. Cover the casserole dish with foil and bake in the oven for 15 minutes. Remove the foil and bake for another 15 minutes.

Finally, remove from the oven and sprinkle the cheese down the centre. Bake uncovered for an additional 10 minutes until the cheese is bubbly.

To serve, top with avocado, cilantro, cojita cheese and lime wedges on the side. Enjoy!
Updated on October 4th, 2021