The arrival of Fall may mean the end of our beloved Canadian Summer but for us optimists, it also signals the start of a beautiful thing called Pumpkin season. Pumpkins are great for much more than carving out a scary face. They're packed with nutrients (as I mentioned
here
), really tasty and surprisingly versatile. It's time to think outside the beloved calorie bomb that is the PSL (Pumpkin Spice Latte for those lucky enough to not know the acronym by heart), and experiment with this Autumn gourd. Looking for pumpkin recipes? You've come to the right place.
I've come up with some of my own pumpkin recipes, like my pumpkin pie protein pancakes, spicy pumpkin and black bean quesadillas, and pumpkin chipotle pasta but here are a few of our favourites from our friends around the blogosphere.
Best Healthy Pumpkin Recipes
Per slice (if cutting into 8) 314 kcal, 16g fat, 38g CHO, 5g fibre, 4g protein, 20g sugar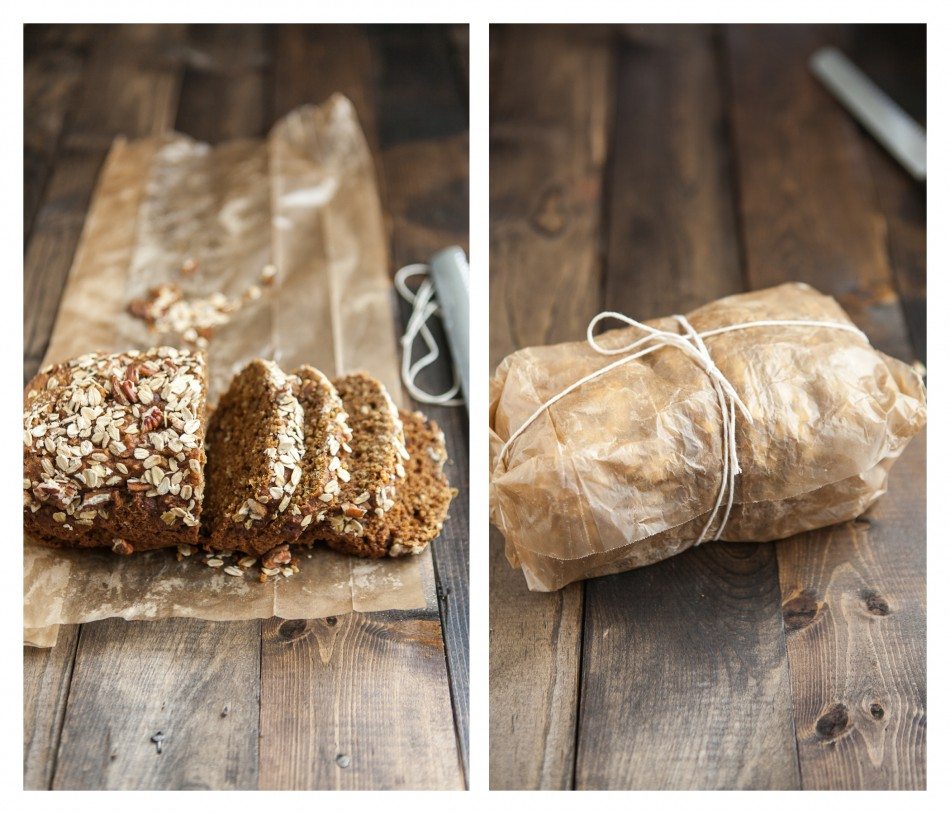 Hearty and full of fall flavours
114kcal, 10g fat, 6g CHO, 2g fibre, 1g sugar, 1g protein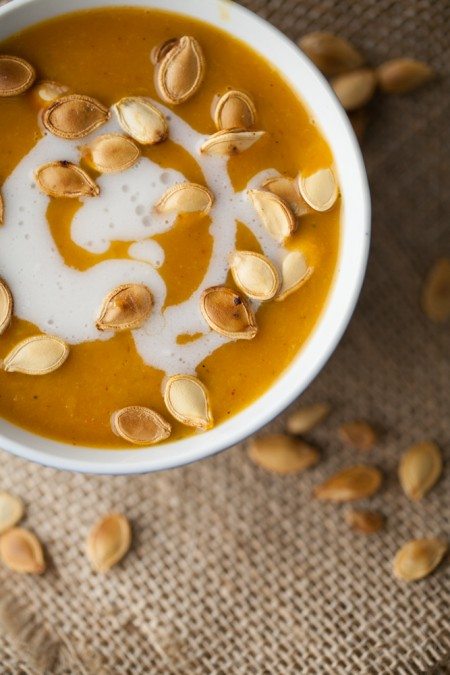 This soup puts typical fall spices on the back burner in favour of curry for a different take on pumpkin that will warm you up all season long.
92kcal, 4g fat, 12g CHO, 3g fibre, 6g sugar, 3g protein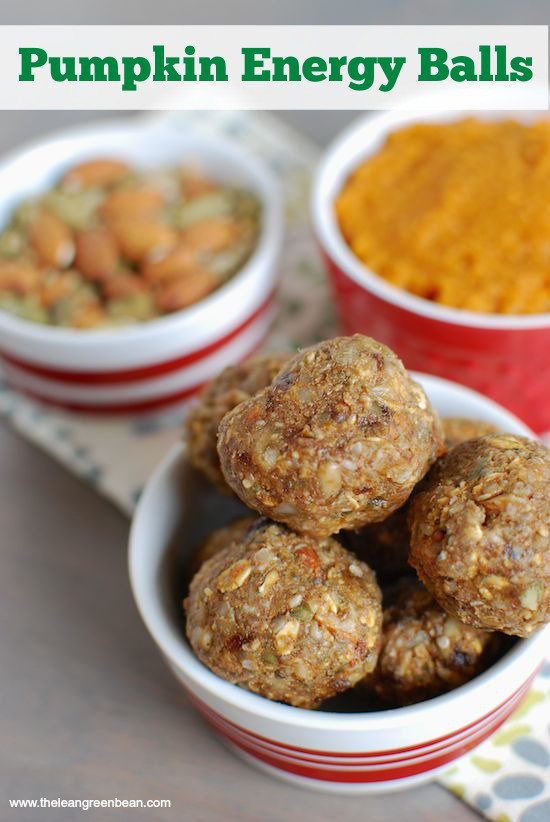 Perfect for fall appropriate snacking on the go!
325kcal, 23g fat, 27g CHO, 8g fibre, 10g sugar, 5g protein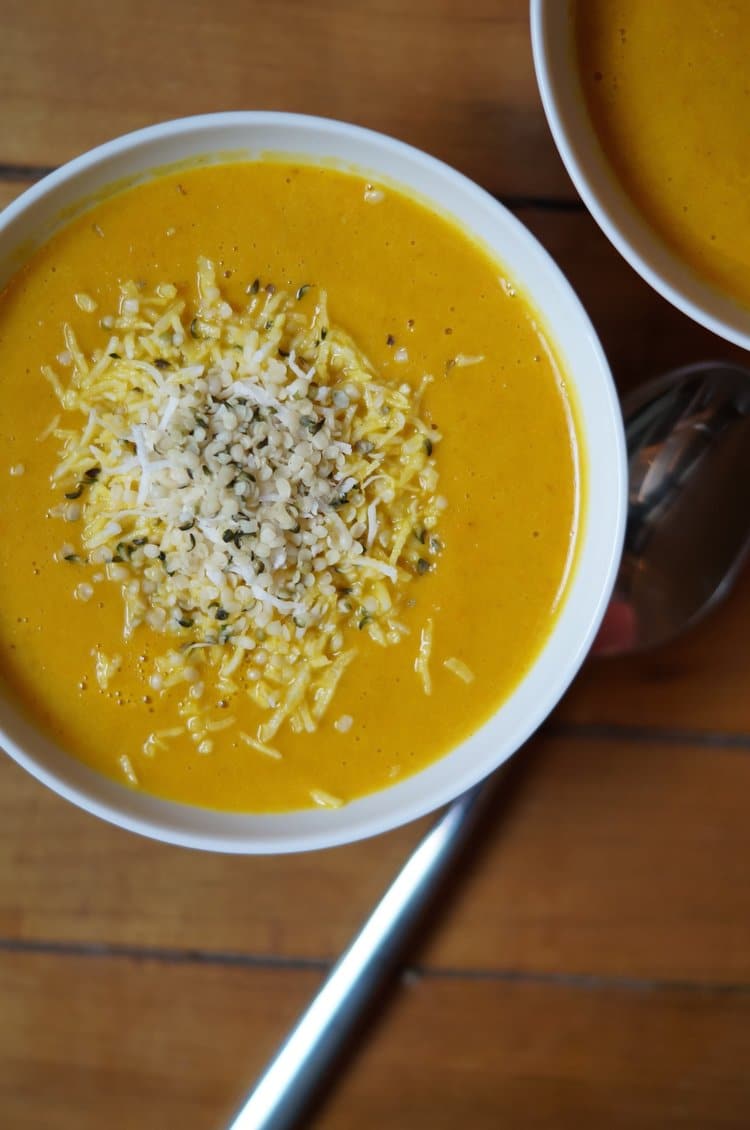 Hemp hearts add a punch of omega 3s and a great texture.
392 kcal, 10g fat, 57 g CHO. 6g fibre, 7 g sugar, 20g protein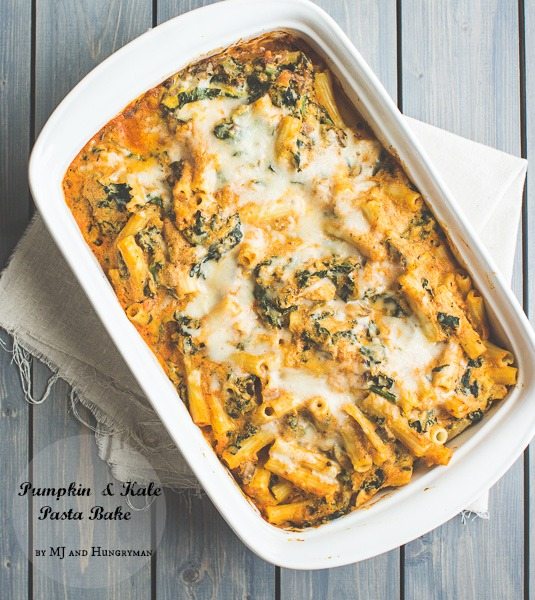 All the pleasure of baked cheese, all the nutrition of kale and pumpkin.
296kcal, 11g fat, 42 g CHO, 8g fibre. 11g sugar, 9g protein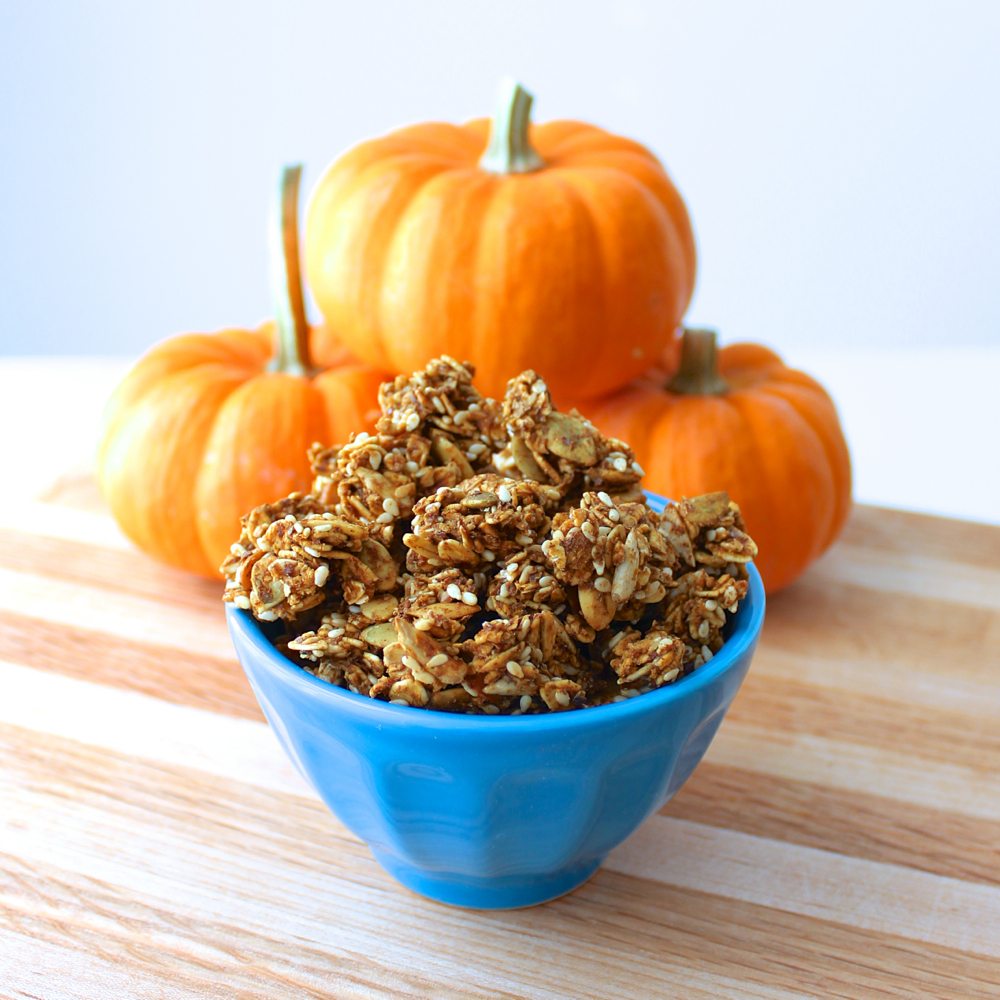 Crunchy and packed with heart healthy seeds, delicious!
252 kcal, 9g fat, 40g CHO, 3g fibre, 20g sugar, 5g protein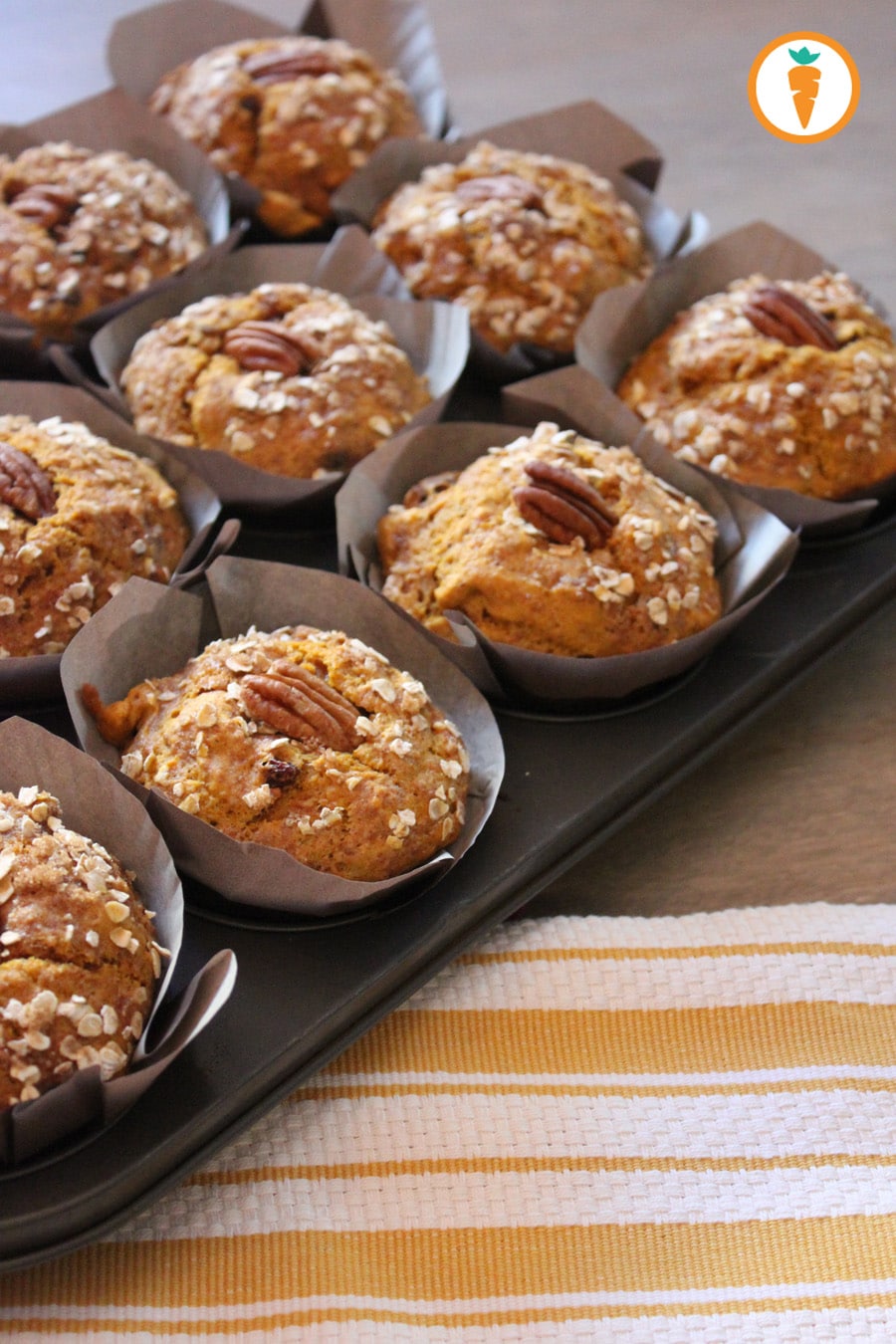 Pumpkin keeps these delicious muffins moist even though they use mostly whole wheat flour!
Avocado a Day Nutrition- Paleo Pumpkin Pancakes with Maple Cashew Cream
284 kcal, 17g fat, 23g CHO, 5g fibre, 15g sugar, 9g protein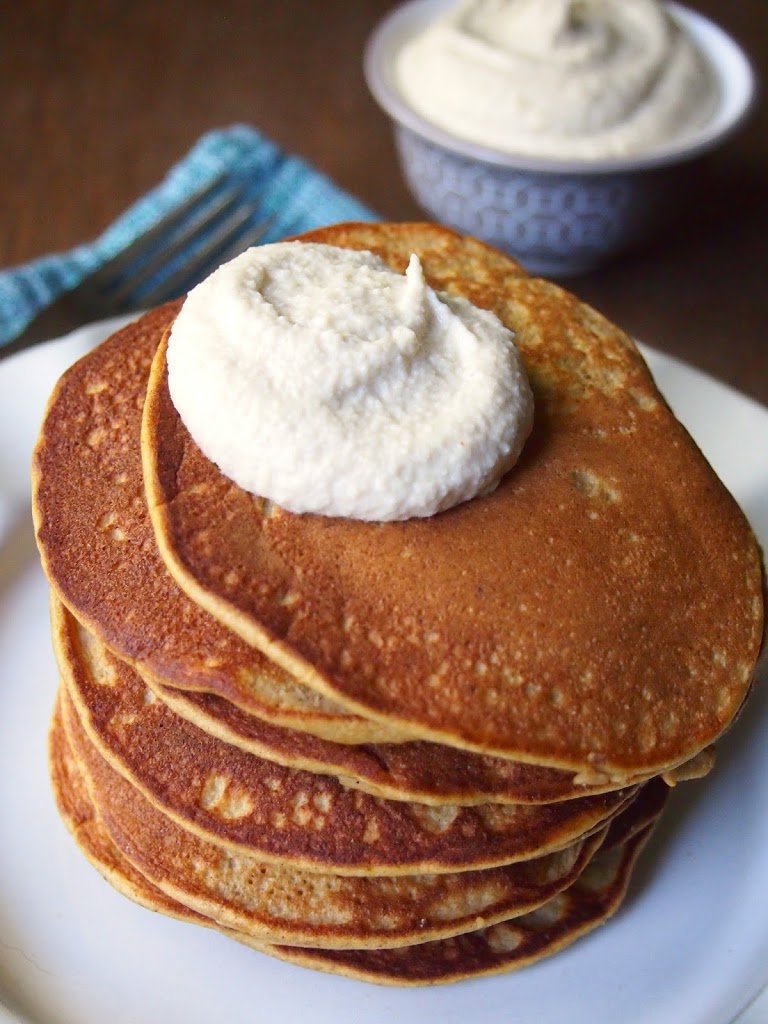 Who says pancakes can't be healthy and 'guilt' free? These make for an indulgent yet high fibre and high protein breakfast.
195kcal, 8 g fat, 23g CHO, 2g fibre, 5g sugar, 9g protein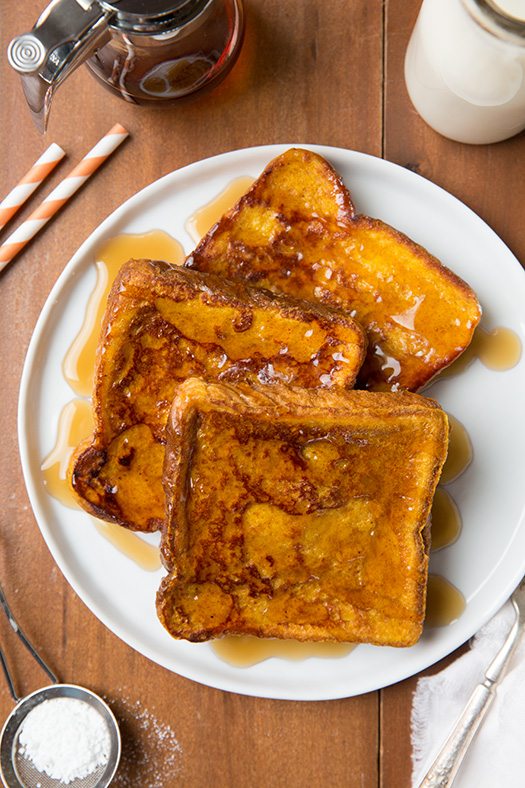 Perfect for lazy fall Sundays.
179 kcal, 10g fat, 16g CHO, 5g fibre, 1 g sugar, 7g protein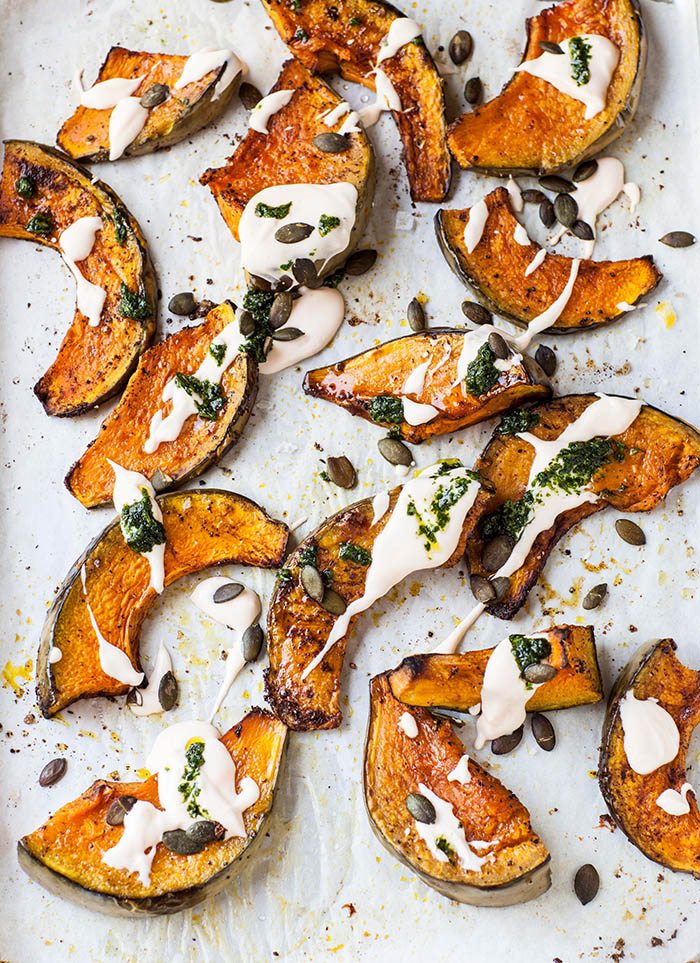 A more savory take on pumpkin, this recipe is impressive yet simple.
138kcal, 3g fat, 25g CHO, 7g fibre, 9g sugar, 6g protein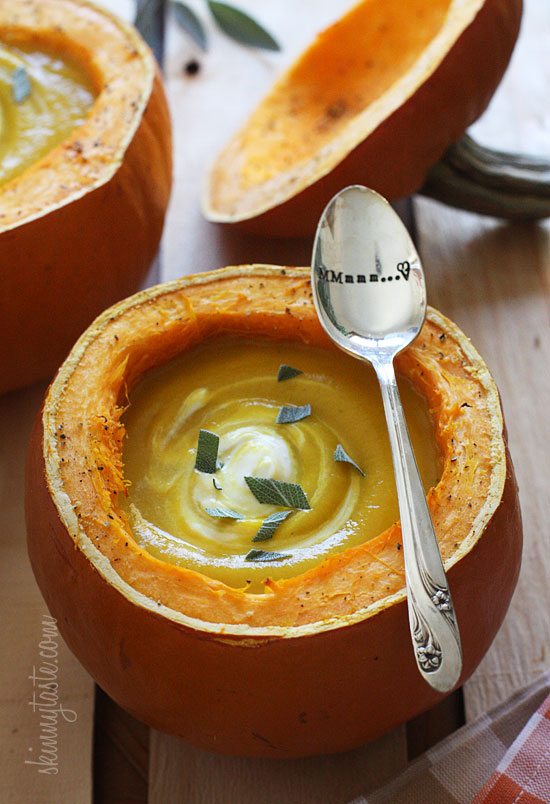 Silky, smooth and comforting for cool fall nights.
250kcal, 21 g fat, 11g CHO, 2g fibre, 7g sugar, 9g protein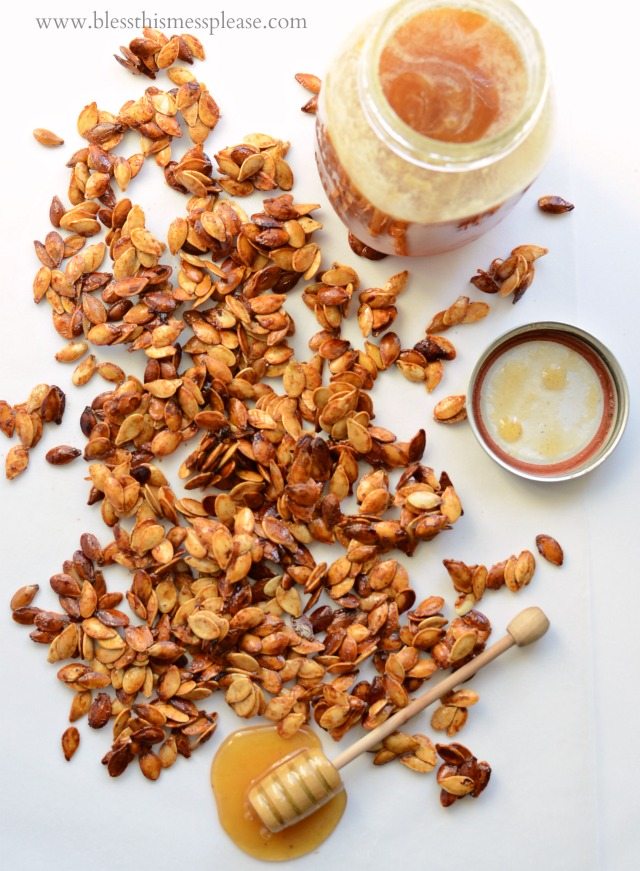 Don't forget to save the seeds when scooping out your pumpkins! Follow this recipe and roast them up to make a crunchy snack or salad topper.
130kcal, 6g fat, 12g CHO, 3g fibre, 5g sugar, 8g protein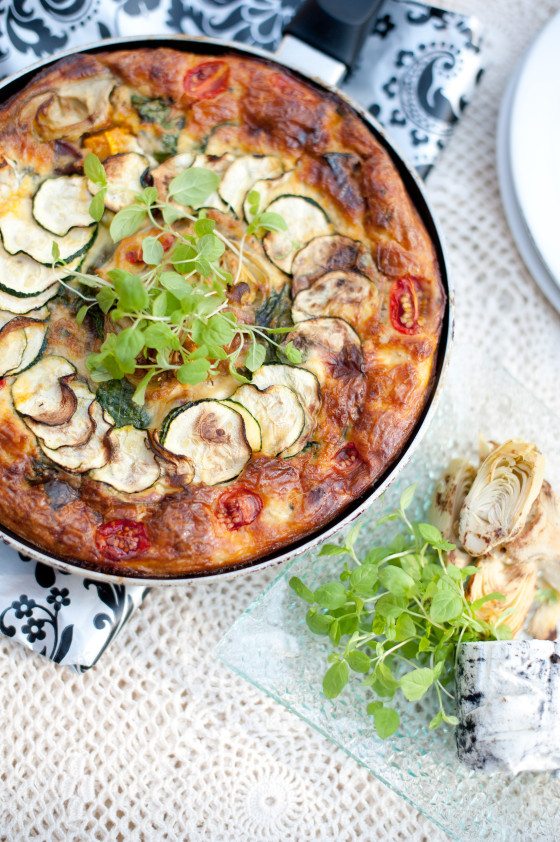 Eggs are the perfect vessel for everything in the fridge, this recipe is great for using up whatever you have and making it delicious.
110kcal, 8g fat, 8g CHO, 2g fibre, 5g sugar, 3g protein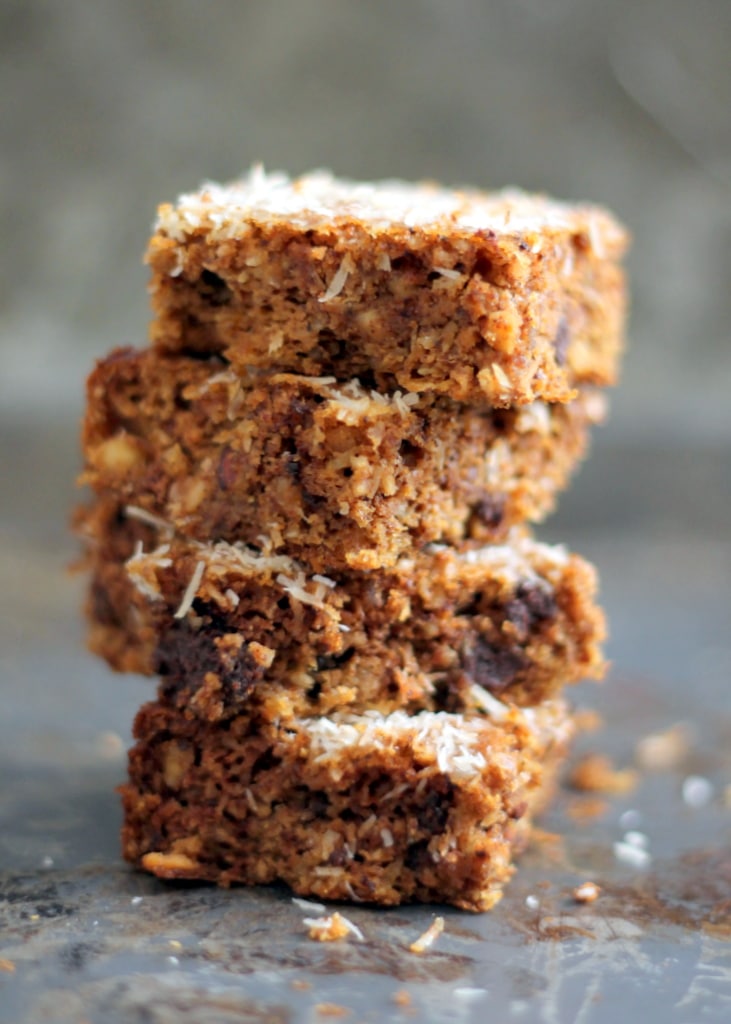 Decedent, chocolately, nutty, and low in sugar? Count me in.
Ambitious Kitchen- Whole Wheat Pumpkin Chocolate Chip Muffins
144kcal, 4g fat, 27g CHO, 3g fibre, 12g sugar, 5g protein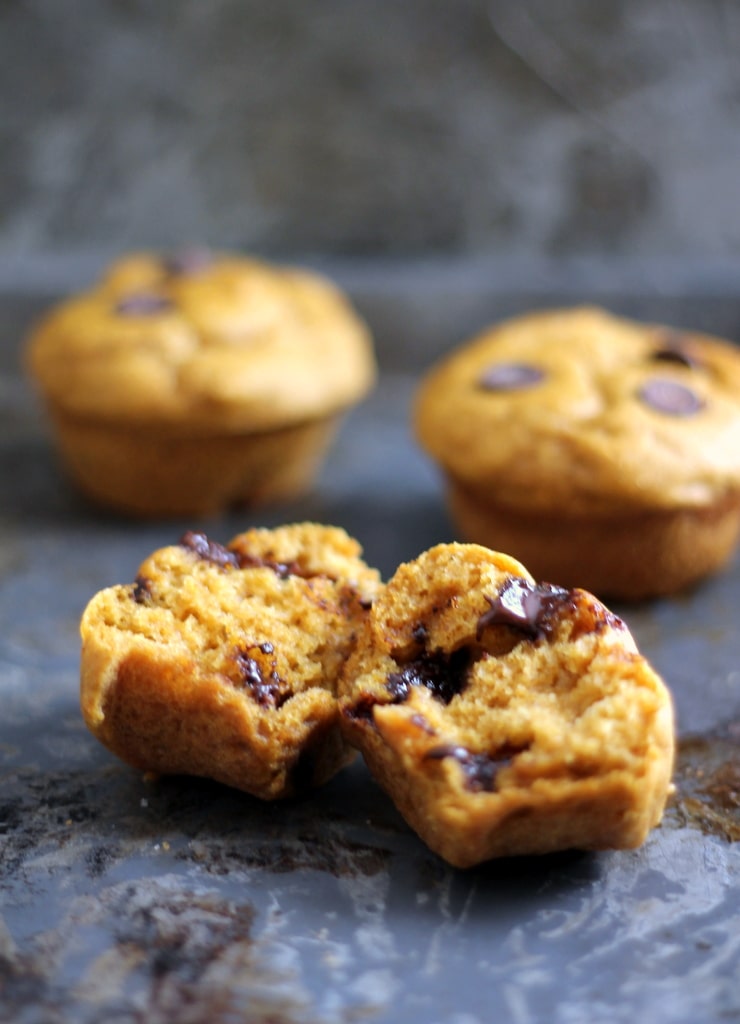 Whether it's breakfast in a hurry or as a snack, these muffins will hit your chocolate and pumpkin cravings all at once.
253kcal, 14g fat, 31g cho, 2 g fibre, 17g sugar, 3 g protein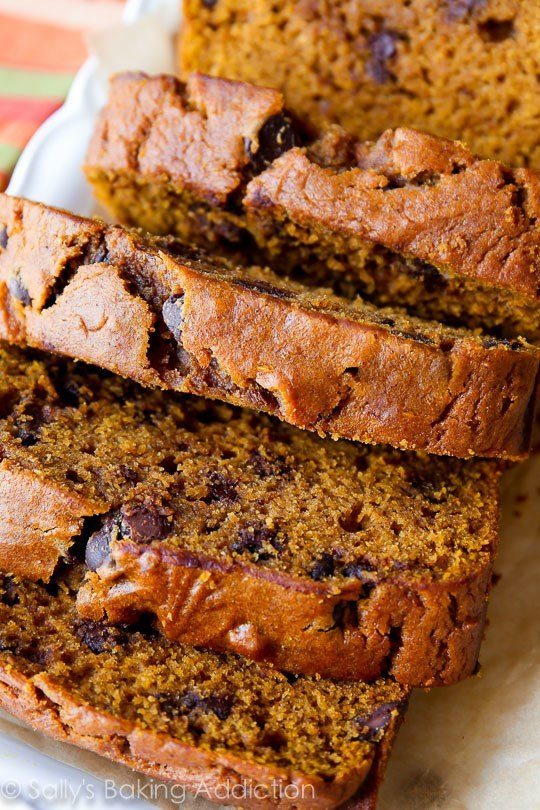 More indulgent than some other pumpkin recipes here, but everyone deserves a true dessert every once in a while!
772 kcal, 31g fat, 106g CHO, 11g fibre, 30g sugar, 24g protein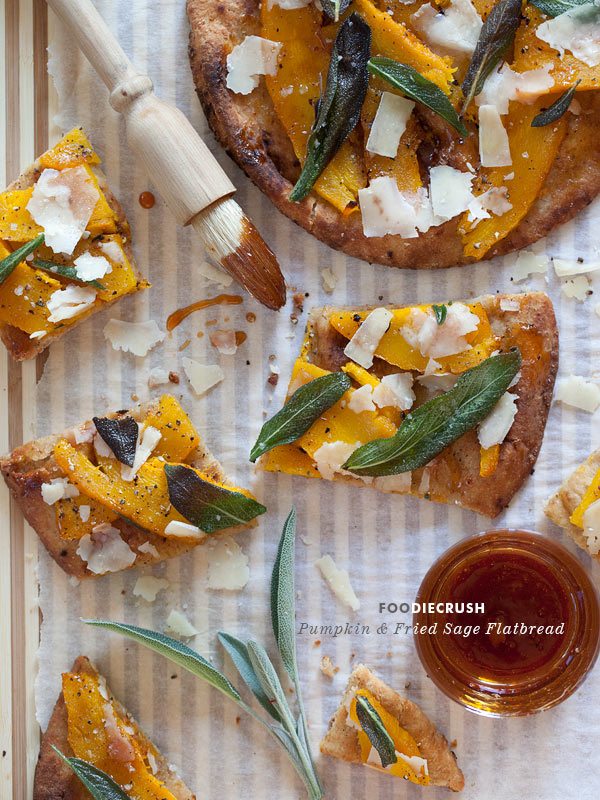 Using naan bread instead of pizza dough is a smart way to keep this dinner super quick.
109kcal, 5g fat, 13g CHO, 3g fibre, 5g sugar, 3g protein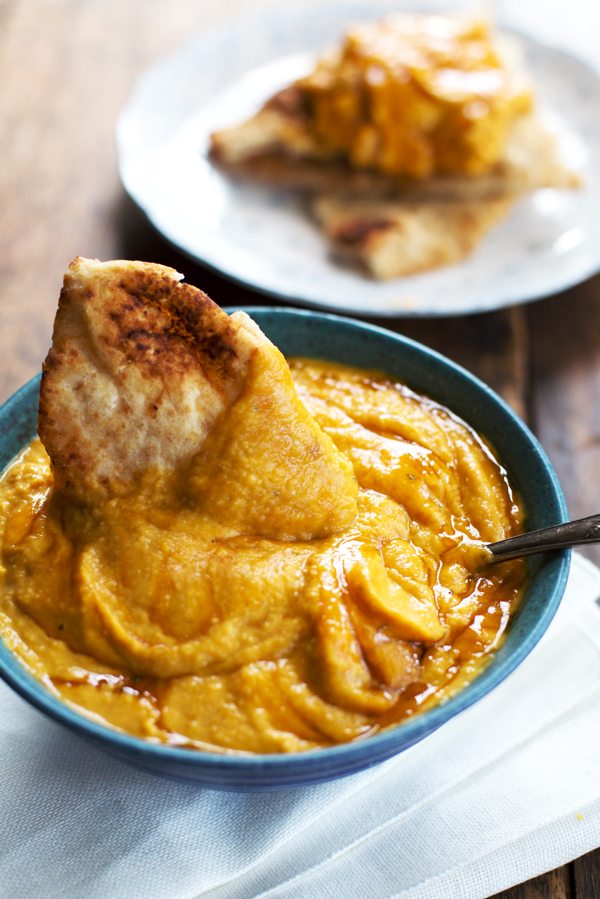 This recipe is a great example of how adding pumpkin to anything is delicious. Yay for healthy pumpkin recipes!
78kcal, 2g fat, 14g CHO, 1g fibre, 9g sugar, 2g protein
Low in fat, yet still moist from the pumpkin puree.
195kcal, 15g fat, 12g CHO, 3g fibre, 4g sugar, 6g protein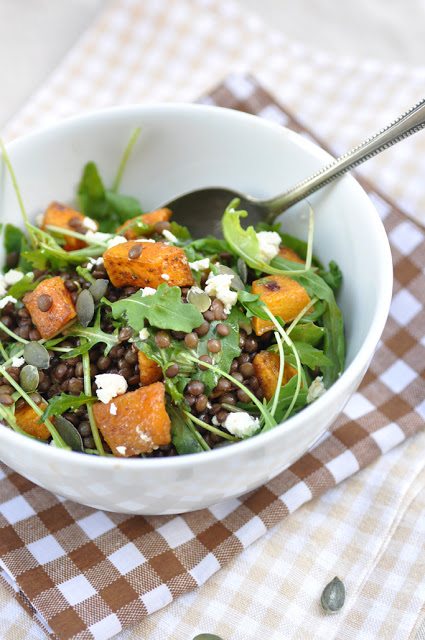 Another way you can incorporate pumpkin into more than just dessert, this is an easy salad to pack up for lunch or to wow guests.
The Nutritious Bite- Pumpkin Pie Dip
102kcal, 3g fat, 16g CHO, 1 g fibre 12g sugar, 2g protein
Breakfast, dessert, or snack, this dip is perfect with apples or crackers.
What are your favourite healthy pumpkin recipes? Thanks to all the bloggers who let us share these pumpkin-centric creations! Which are you dying to try? Leave us a comment and let us know your favourite way to use pumpkin this time of year!
Contribution by #RD2B Olivia Cupido
Updated on October 23rd, 2020