These No Bake Mini Egg Granola Cups are the perfect gluten free dessert for Easter using your common pantry staples.
We are living in seriously uncertain times thanks to Coronavirus and it's disappointing to imagine that a lot of us will be spending Easter alone and without the usual big family affairs. I was really looking forward to my parents planning E a big Easter egg hunt and celebrating his birthday with all of our friends and family the same weekend. It's not looking like that's a realistic reality at this point.
But since I've been stuck inside all this time, I decided it was the perfect time to do more cooking and baking – including Easter treats for E and the rest of the family. These no bake mini egg granola cups are perfect for snacking (with a fun Easter flavour).
Key Ingredients for these No Bake Mini Egg Granola Cups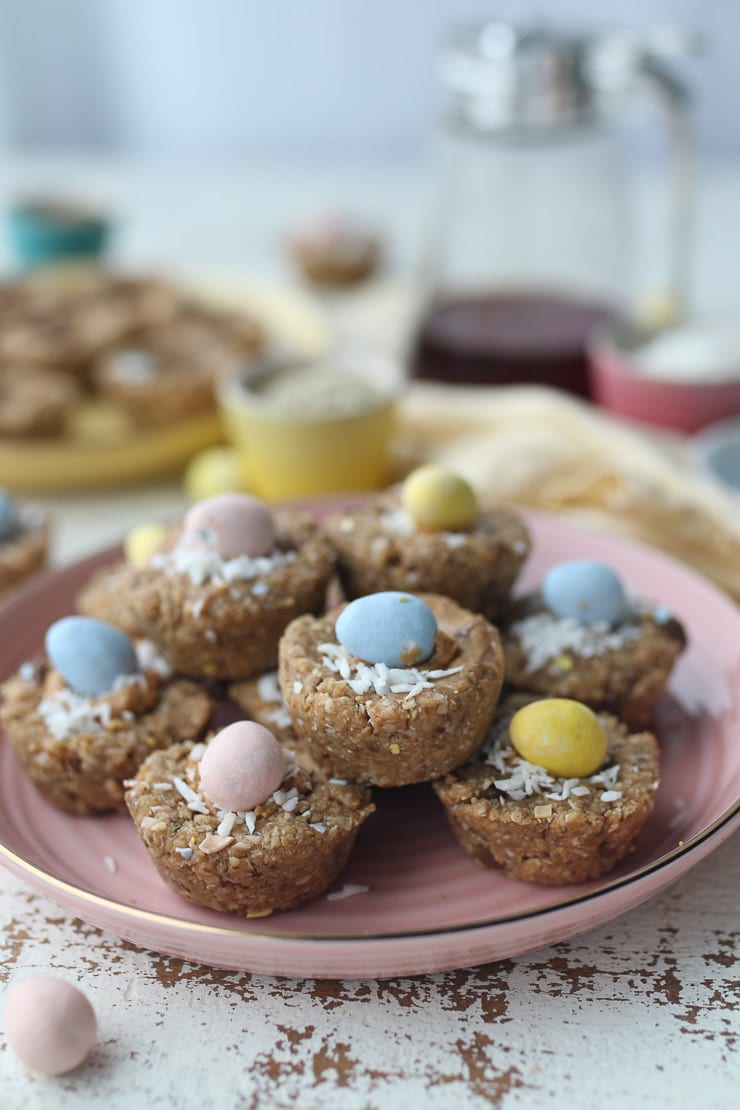 Most of the ingredients in this recipe will likely be found in your pantry or fridge right now, with the exception of the Mini Eggs of course, which you can likely get in any grocery order right now or online (#lifeessentials).
Mini Eggs- You can get the off brand variety too, whatever you're able to find in these crazy times. But let's be real, mini eggs are life, and even if you're not going to make this recipe, you should probably make sure they're part of your emergency snack stash for April.
Oats – I am using the quick cooking oats but if you have only large flake, that's totally fine too as you're putting them into the food processor and that will grind them up nice and fine. And if you want to keep these gluten free, just make sure to choose gluten free oats.
Ground Flax– Rich in Omega-3s, I always have flax on hand for boosting the nutrition in basically anything I make my family.
Hemp hearts- Ditto with the hemp hearts. I put these on EVERYTHING. If you don't have hemp or flax, you can just double the other ingredient. These are very versatile and easy.
Almond Butter- This is an important glue but you can absolutely use peanut butter or sunflower butter or anything else you have!
recipe tips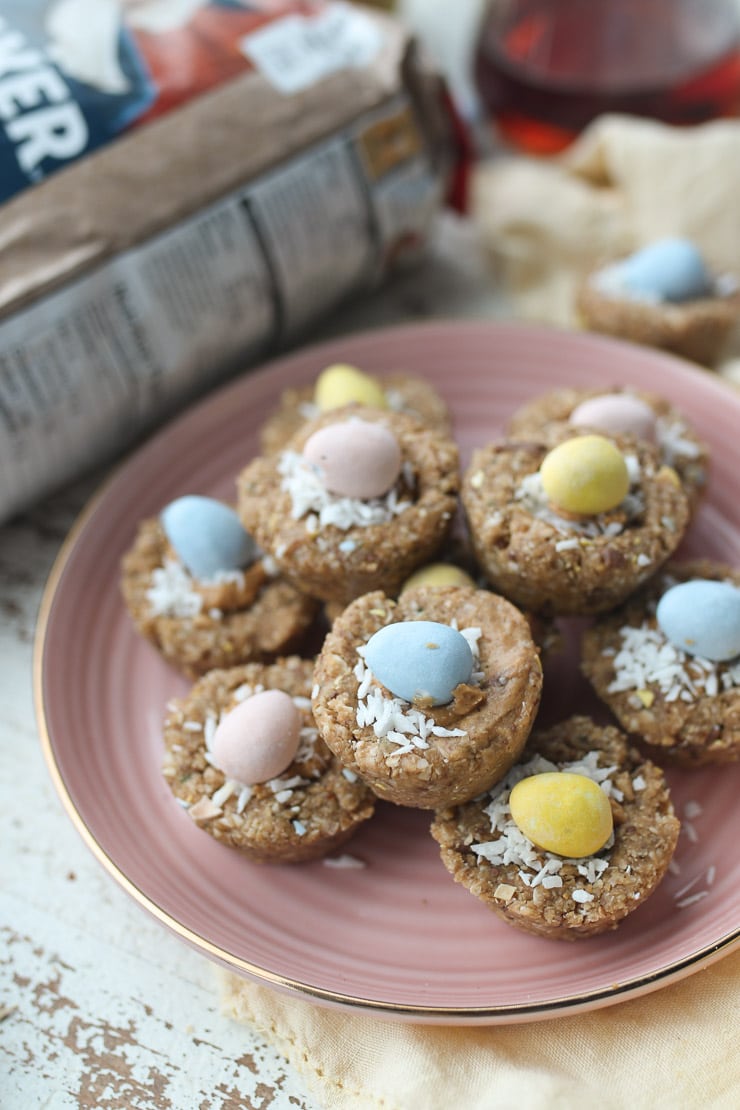 I do recommend using a food processor for this job. I've tried it without and it's totally do-able but a LOT of work and the mixture will not get as smooth and packable. I mean, it will still taste amazing, but won't look as pretty.
I also highly recommend using a silicon mini muffin mold (this one is an affiliate link). This will make it WAY easier to pop these babies out without accidentally crushing them.
FAQ about this Recipe
Here are some of the most common questions I'm likely to get about this recipe.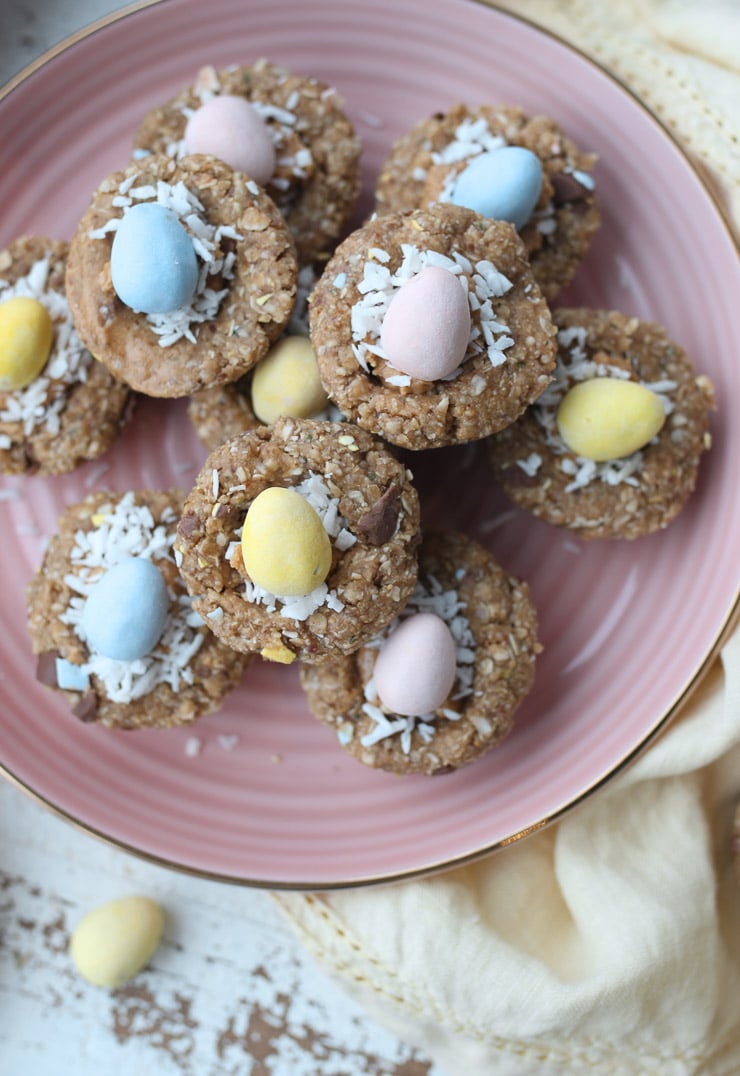 what if i cant find mini eggs because of the Coronavirus food shortages?
You can absolutely omit these and add any little chocolate chips or chopped chocolate – or just omit them all together!
are these cups safe for toddlers?
Toddlers over 1 can have small amounts of sugar, so they can have small portions of these but avoid keeping the mini egg on top since this could be a choking hazard. My son (2 years old on Easter Monday!) got to have a half mini cup without the mini egg on top as dessert. It was plenty and he LOVED it.
are these mini egg cups gluten free?
Yes, they are actually, assuming you use gluten free oats! But mini eggs and all of the other ingredients are 100% gluten free!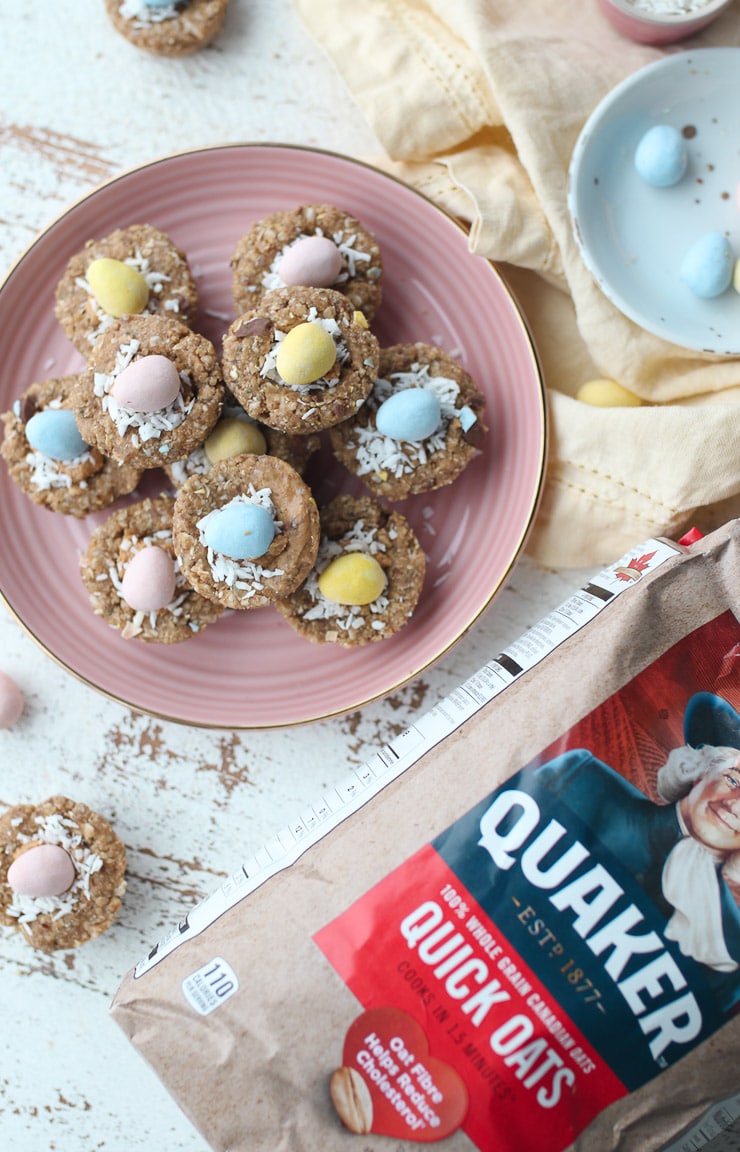 can i make these into large muffin tins for a larger portion?
Yes, that would be totally easy to do though again I would recommend using the silicon muffin cups.
Do you have any other easter themed recipes we can make easily while in social isolation?
Yes, I love the colour and fun of Easter and being isolated from extended family doesn't need to stop us from celebrating!
VEGAN GLUTEN FREE RICE KRISPIES EASTER EGGSÂ
MINI EGG GLUTEN FREE PROTEIN PANCAKESÂ
So friends, I know that this is a difficult time, but chocolate does make our days a little brighter, right? Let me know what you're going to make for Easter and let me know in the comments how you're doing in general!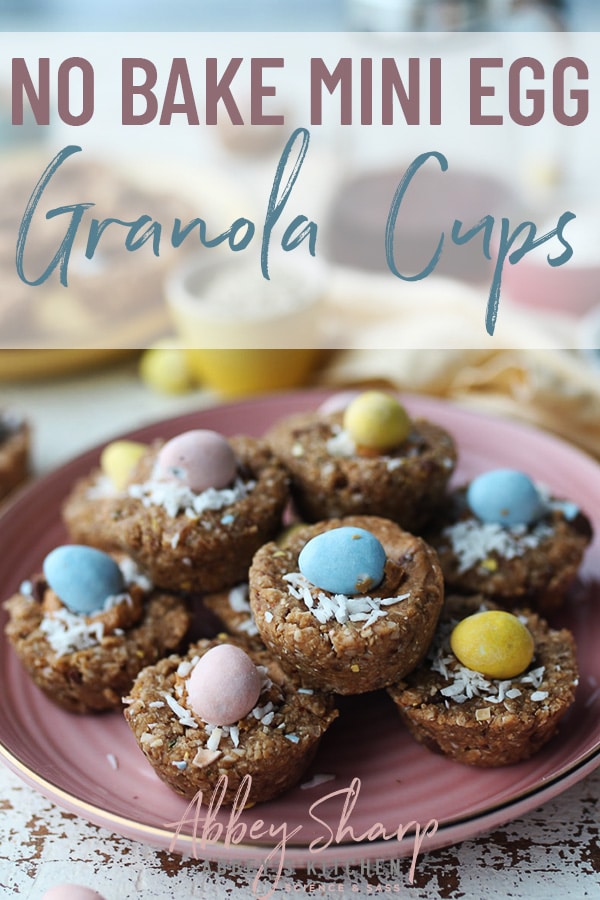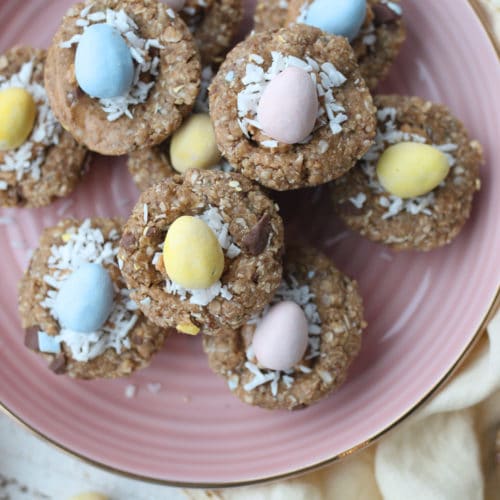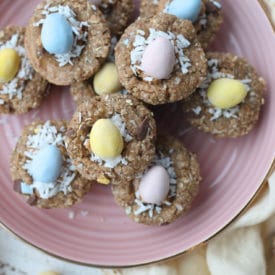 No Bake Mini Egg Granola Cups | Pantry Staples Recipe for Easter
These No Bake Mini Egg Granola Cups are the perfect gluten free dessert for Easter using your common pantry staples.
Print
Pin
Rate
Instructions
To a large food processor, add the oats, flax, hemp hearts, 2/3 cup almond butter, maple syrup, vanilla, salt and ¼ cup coconut. Process until mixed throughout.

Transfer to a bowl and sprinkle in the minced mini eggs.

Press two-tablespoon balls into mini silicon muffin tins and press a hole into the middle (but not all the way through).

Add a small teaspoon or so of almond butter, and a sprinkle of more coconut, then top with one mini egg. Enjoy at room temperature or out of the fridge.
Updated on October 23rd, 2020