These Peach BBQ Slow Cooker Chicken Tacos is an easy, healthy gluten free summer dinner recipe that will help get you OUT of the hot kitchen!
When I think of summer, I think BBQ and I think seasonal produce like peaches, so it was only a matter of time that put these two delicious warm-weather staples together into these awesome slow cooker chicken tacos. This sauce is delicately sweet and mildly spicy without being overly sauced, gloopy or sugary.
key ingredients for these chicken tacos
Chicken – I use skinless boneless chicken breast for this recipe, but chicken thighs would also work very well in this recipe.
Peaches – Peaches are the key ingredient in this recipe that really makes the tacos sing! The natural sweetness and texture of the peaches really brings out the zesty bbq flavour and ugh. just. delish.
BBQ Sauce – BBQ sauce all day everyday, am I right?? I am pretty much obsessed with this stuff but I make sure to opt for a low sugar variety.
Chipotle Peppers in Adobo Sauce – Friends, if you are not already using chipotle peppers in adobo sauce this is the perfect recipe to introduce this magical spicy ingredient to you all! These chipotle peppers give the tacos such a rich depth of flavour. However, it can be easy to go over board on the spice so if you can't tolerate spice very well I would introduce them slowly.
Corn Tortillas – We use corn tortillas to make this recipe gluten free, but you can absolutely use flour tortillas or lettuce cups instead.
Toppings – For this recipe I like to top my peach BBQ chicken taocs with shredded cabbage, diced tomato, avocado and feta cheese with a squeeze of lime juice. Feel free to play around with whatever toppings you have on hand.
How to Make Peach BBQ Slow Cooker Chicken Tacos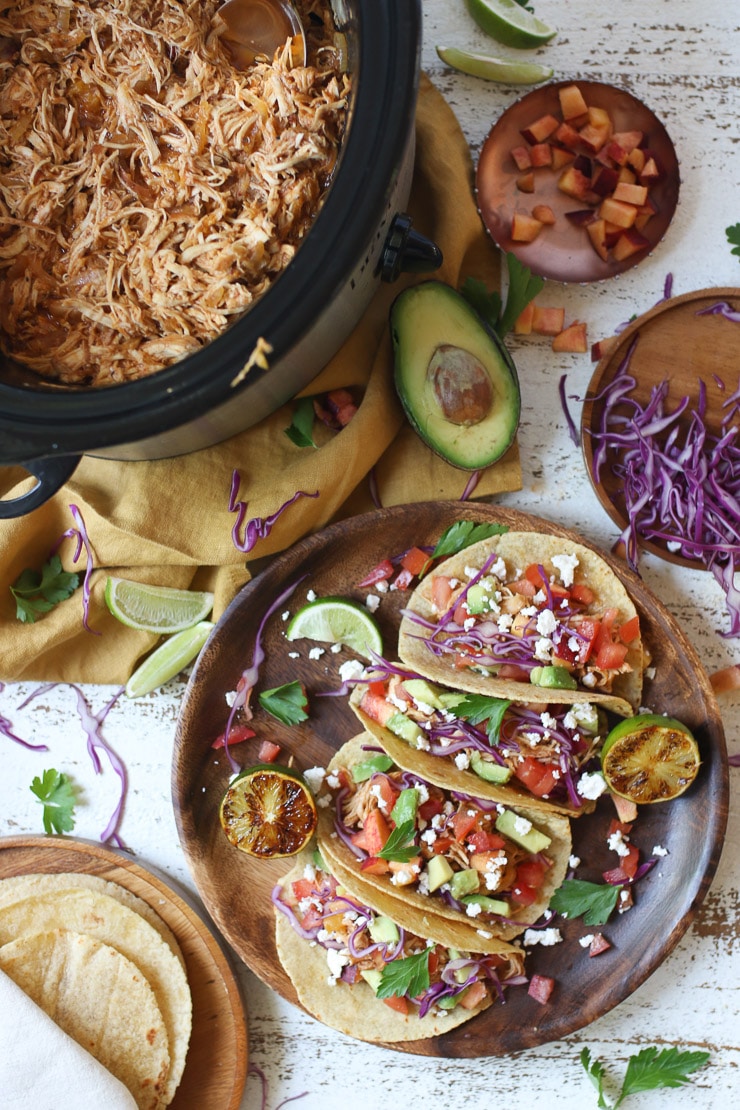 I LOVE the idea of using the slow cooker in the summer because it's a great way to avoid heating up the whole kitchen with the stove or oven.
This recipe simply calls for chicken breasts (but, like I said, thighs would also work really well), and a combination of low sugar BBQ sauce, some diced peeled peaches and minced up chipotle in adobo sauce. It legit takes five simple steps to whip this up.
Brown your chicken.
Put all the ingredients into the slow cooker.
Let it cook.
Shred the chicken and add it back to the pot.
Assemble your tacos.
EAT.
Okay, so that's 6 steps if you count the most important one (the eating step). But the best part is that you can do this in like 15 minutes, walk away and have an amazing meal ready at 6 PM when everyone is losing their shit.
faq about this taco recipe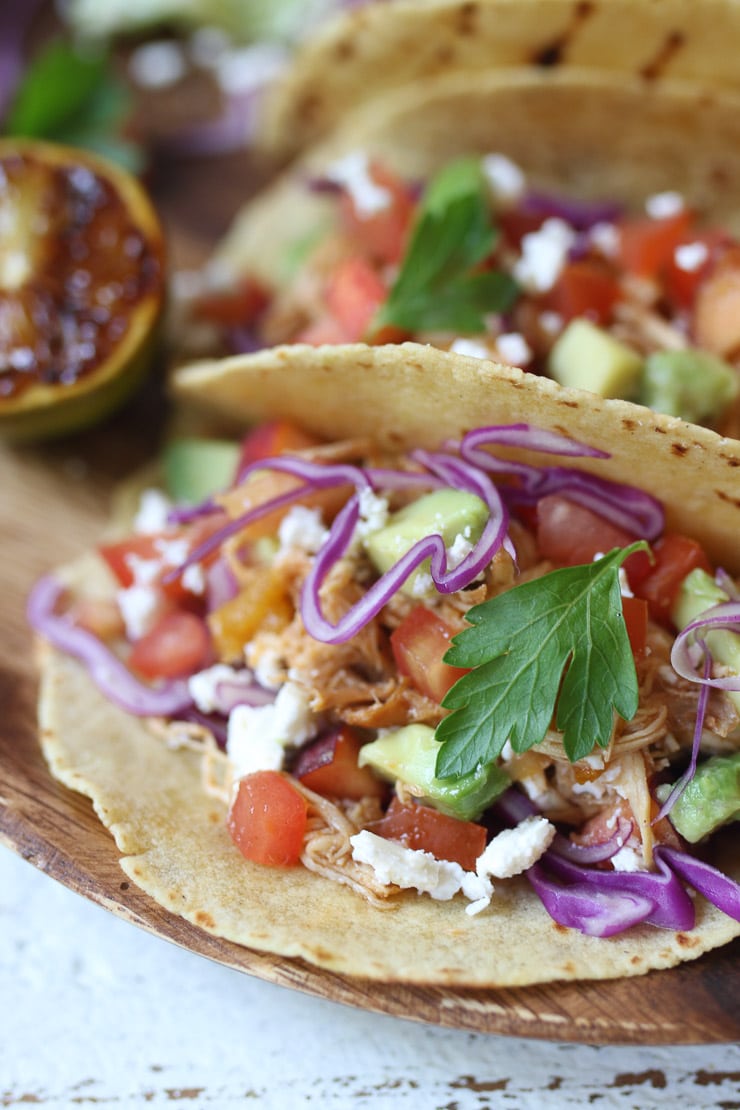 can you make these peach bbq slow cooker chicken tacos without a crockpot?
Yep! The pulled chicken and peach BBQ sauce could easily be done in a dutch oven and baked in the oven until tender and cooked through. I recommend setting the oven to 325 F and baking for about 90 minutes or until the chicken reaches an internal temperature of 165 F.
can you make chicken sandwiches instead of tacos?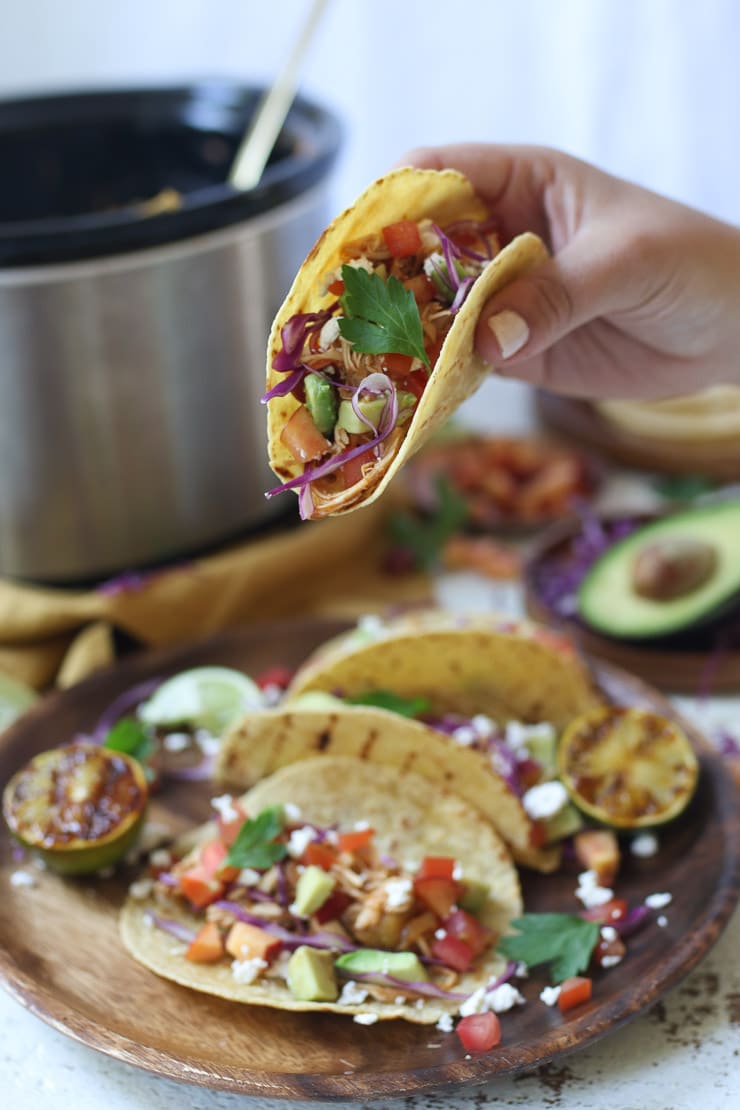 Yep! Super easy to throw slow cooker pulled chicken and peach BBQ sauce onto a fluffy brioche and forgo the tacos. Just keep in mind that if you want to keep it gluten free, you'll have to choose a gluten free bun.
What can i use instead of peaches for this recipe?
Any sweet summer fruit like pineapple or mango would be absolutely divine in this recipe!
do you have any other taco recipes on the blog?
For sure! These are some of my all time favourites when I am in a taco mood.
VEGAN BUGGALO CAULIFLOWER AND CHICKEN TACOS
VEGAN WALNUT MEAT CAULIFLOWER TACOS WITH PICKLED BEETS
BEST HEALTHY TACO RECIPES FOR CINCO DE MAYO
So tell me, do you use your slow cooker in the summer? What do you like to make? Leave me a comment below with your favourite slow cooker recipes.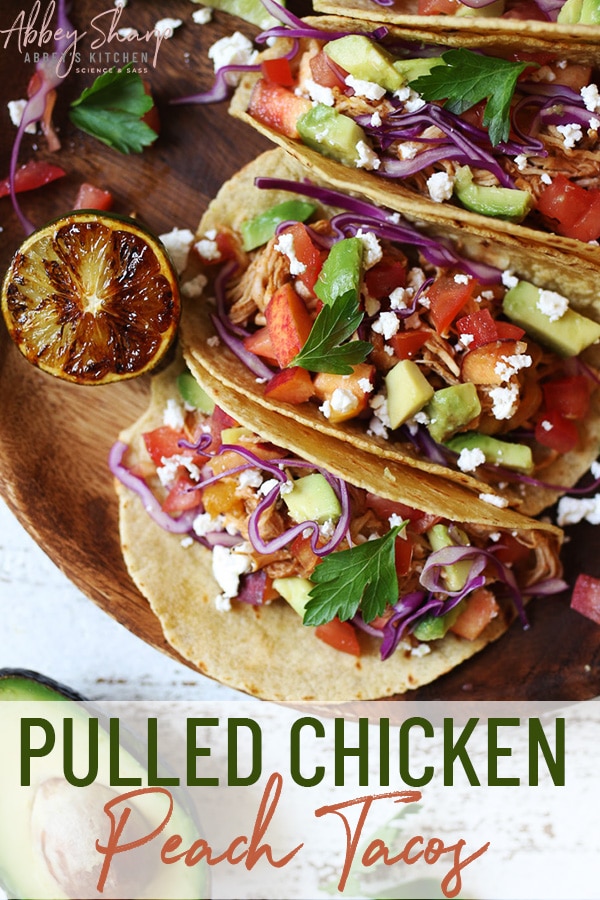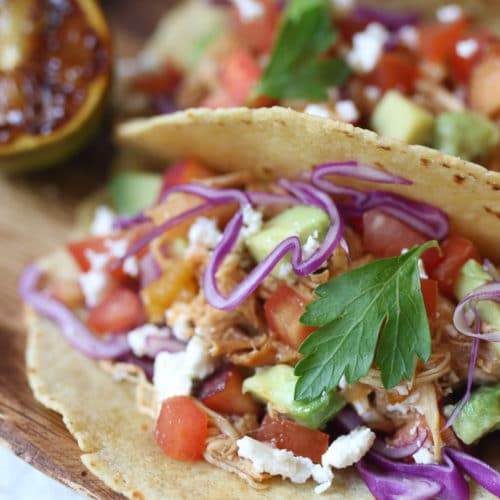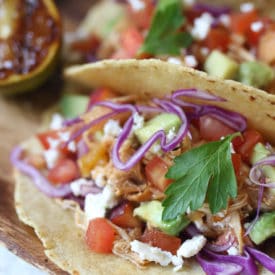 Pulled Chicken Peach Tacos
These Peach BBQ Slow Cooker Chicken Tacos is an easy, healthy gluten free summer dinner recipe that will help get you OUT of the hot kitchen!
Print
Pin
Rate
Ingredients
For Serving:
Corn tortillas

toasted

Shredded red cabbage

1

peach

diced

1

roma tomato

seeded and dicedd

1

avocado

diced

Feta

crumbled

Lime wedges

Cilantro
Instructions
Preheat the slow cooker on high.

Meanwhile, heat the olive oil in a nonstick skillet over medium high heat. Pan fry the chicken and onions just until the chicken is golden brown on each side. Set aside.

Put the peaches into the slow cooker and add the chicken, onions, BBQ, apple cider vinegar and chipotle. Cook on high for 3-4 hours or low for 6-7 hours.

Remove the lid and continue to cook the sauce on high. Remove the chicken and pull it into shreds. Return to the slow cooker to toss with the sauce. Adjust with salt and pepper, to taste.

Pile the chicken into the taco shells and top with cabbage, peaches, tomatoes, avocado, feta, lime and cilantro, to taste.
Nutrition
Calories:
272
kcal
|
Carbohydrates:
23
g
|
Protein:
26
g
|
Fat:
9
g
|
Saturated Fat:
1
g
|
Cholesterol:
73
mg
|
Sodium:
460
mg
|
Potassium:
785
mg
|
Fiber:
4
g
|
Sugar:
8
g
|
Vitamin A:
570
IU
|
Vitamin C:
10.9
mg
|
Calcium:
28
mg
|
Iron:
1.1
mg
Updated on October 23rd, 2020