This indulgent dessert is combines my two fav desserts: brownies and butter tarts.
A few months ago, I threw a dinner party with a few of my friends, Kyla and Matt, and created the messiest menu I could to test out my new-found-love, Cascade Platinum. One of my mad-hatter moments was to combine two of the messiest desserts I know- brownies and buttertarts. Yep I made buttertart brownies and they were pretty bad ass.
Buttertarts + Brownies = BEST Buttertart Brownies EVER
Warning- this is not one of my healthy living recipes. This is a full out splurge night recipe that is totally cool in moderation. That's why I set the serving size to 16- the hope is that you won't eat 8 of those 16 portions in one sitting. That's the hope.
On their own, these buttertart brownies are in themselves super fudgy, chewy and decadent. They're surprisingly not-to-sweet thanks to the 70% dark chocolate which is why they can totally handle the caramelized buttertart layer on top.
Have you ever thought of making buttertart brownies? What decadent dessert mash-up would you like to see?
Photo credit: Kyla Zanardi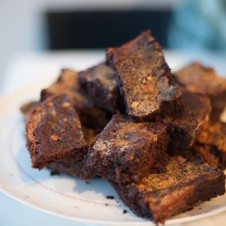 Best Buttertart Brownies
This indulgent dessert is combines my two fav desserts: brownies and butter tarts.
Print
Pin
Rate
Instructions
Buttertart Layer
Preheat oven to 350 F and lightly grease a 9 x 13 inch glass baking dish.

Mix everything together thoroughly in a bowl. Set aside.
Brownie Layer
Combine the butter, sugar and vanilla in a medium bowl until combined. Beat in the eggs, one at a time until everything is incorporated.

In another bowl, sift together the salt, cocoa and flour. In two additions, mix the dry into the wet and stir until combined. Stir in the dark chocolate shards.
Assembly
Pour the brownie mixture into the prepared dish and smooth it out so that it's as flat as you can make it. Top it off with the buttertart layer.

Bake in the preheated oven for about 40-45 minutes. Don't bother with the toothpick test- the gooey buttertart layer will always be gooey and will give a false impression of doneness. Check the bottom of the pan for doneness and press the top to ensure it no longer giggles and is dry.

Allow to cool for a few hours until room temperature before slicing, dusting with icing sugar (if desired) and serving.
Nutrition
Updated on October 23rd, 2020