We explore the research on Cow's Milk Protein Allergy in infants, its symptoms, risk factors, and treatment options as well as if breastfeeding moms need to go dairy-free.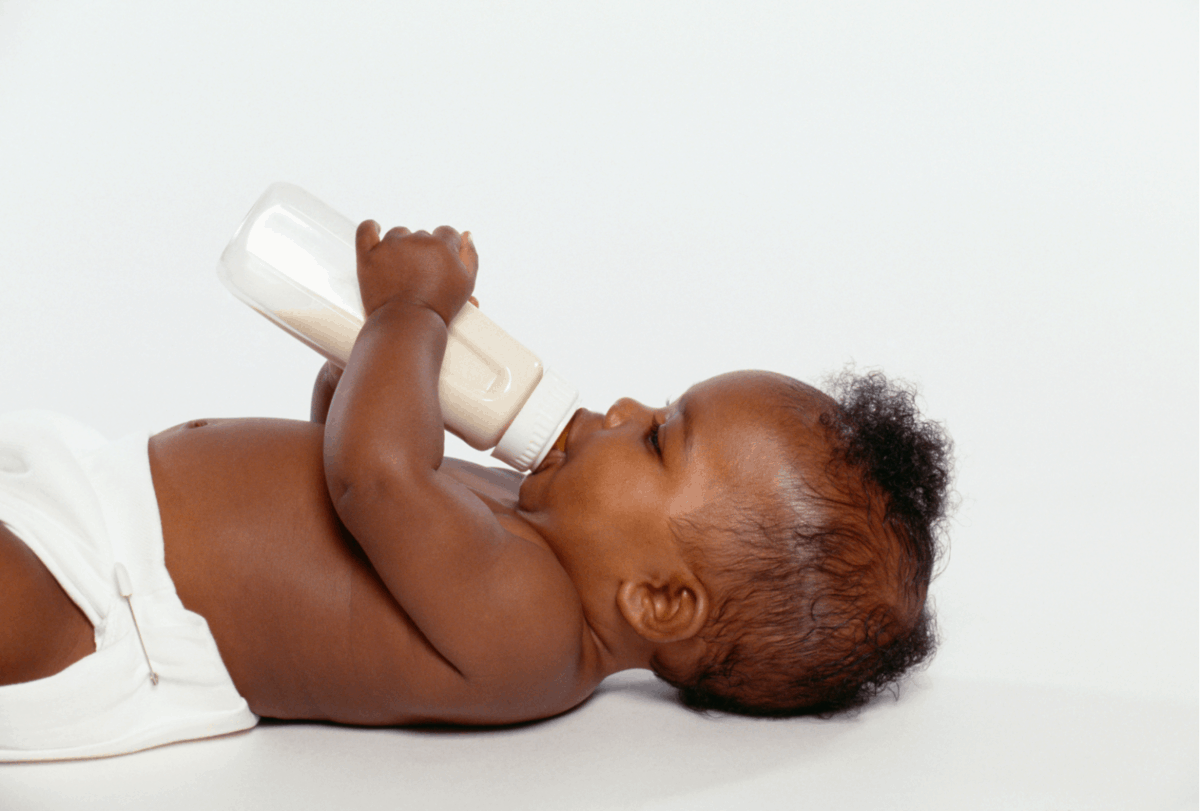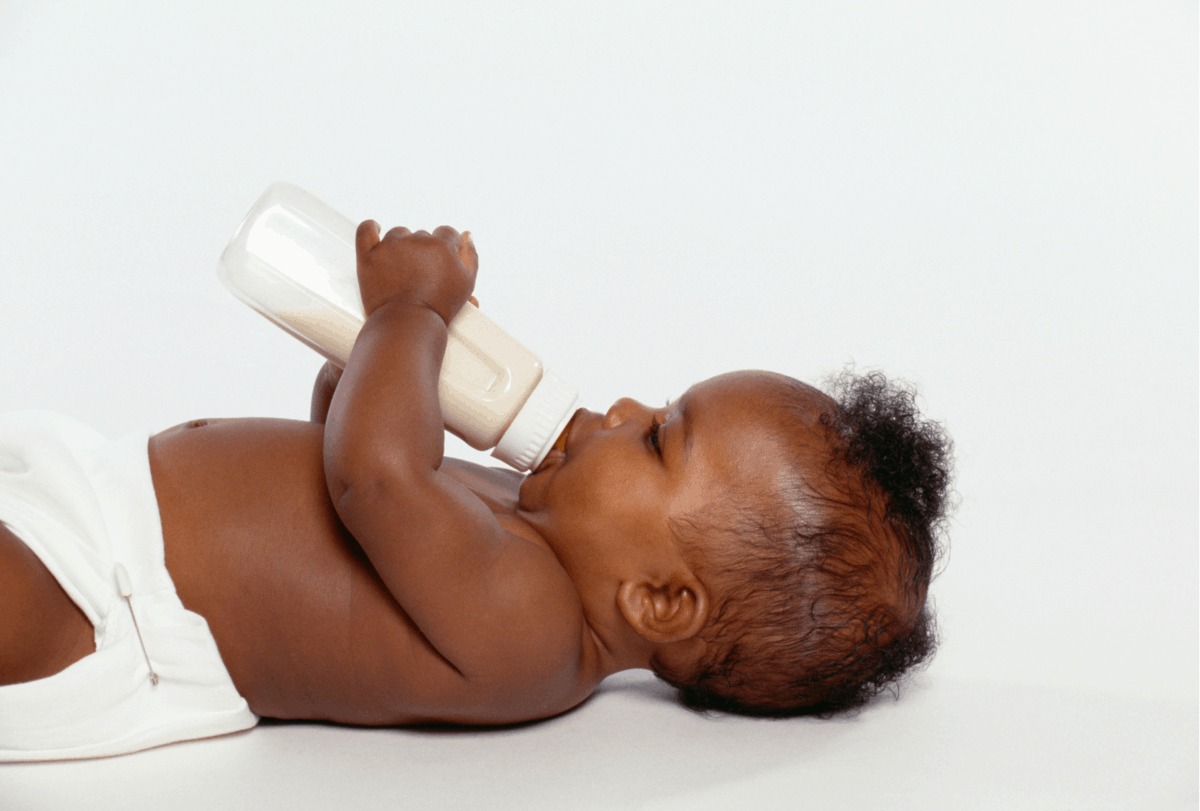 Food allergies affect up to 10% of infants and the prevalence of allergies in children continues to be on the rise. Cow's Milk Protein Allergy (CMPA) is among the most common allergies found in babies and is diagnosed in 2 to 6% of children, primarily in infants under the age of one. In this blog post we deep dive into all things CMPA and break down the common symptoms, risk factors, diagnostic tests, treatment options, and whether or not you need to go dairy-free.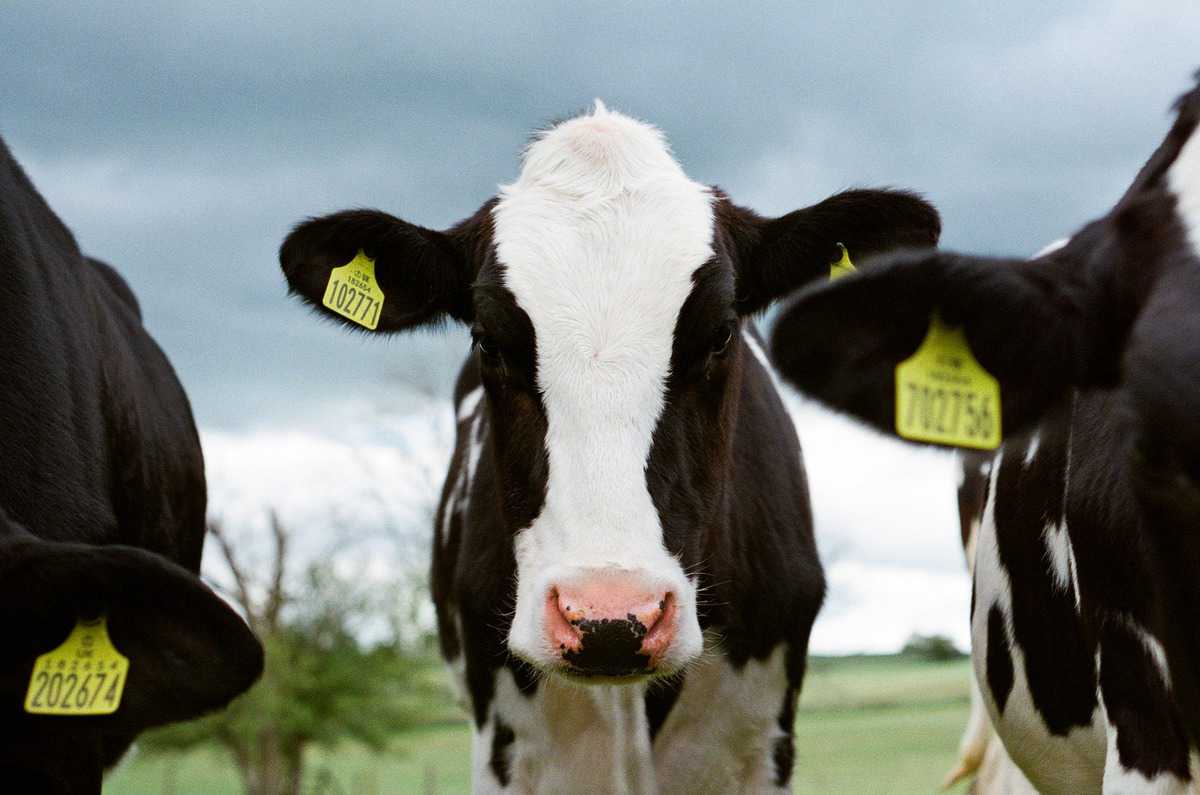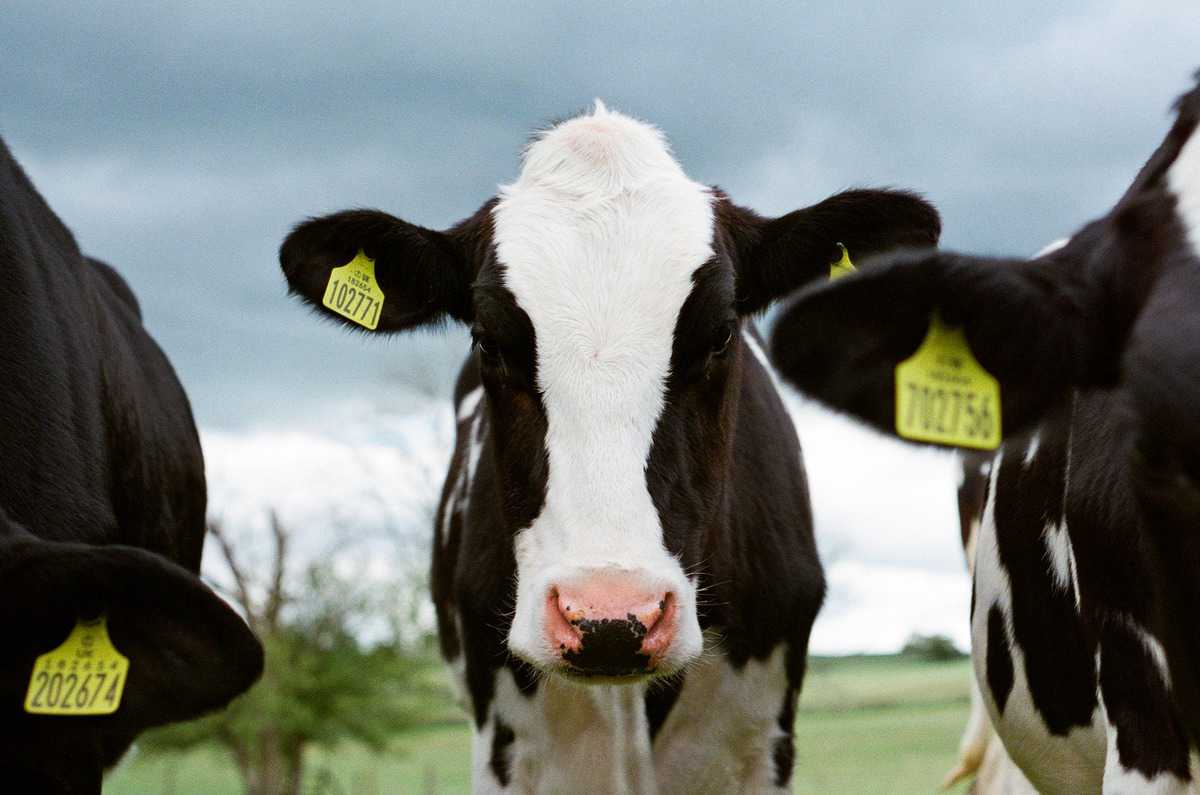 What is a food allergy?
First things first, what is a food allergy and how does the body react when an allergen is ingested? In short, a food allergy is when the body's immune system responds abnormally to the protein in a certain food that is otherwise harmless. This results in an allergic reaction ranging from a rash to anaphylaxis, the latter of which can be life-threatening.
The most common food allergens include:
Peanuts

Tree nuts

Eggs

Fish

Crustaceans/molluscs

Wheat

Soy

Sesame seeds

Mustard

Sulphites

Milk
Regardless of the type of food allergy, there are two different immune reactions that can occur in the body in response to an allergen:
I

mmunoglobulin E (IgE) mediated:

The body creates the

IgE antibody

which usually occurs within 30 minutes of consuming the allergen and may result in symptoms as serious as anaphylaxis.

Non-IgE mediated:

Other parts of the immune system respond to the allergen, but it does not involve IgE antibodies. The exact response is still not fully understood. In contrast to IgE mediated reactions, allergy symptoms are delayed by a few hours or even days, and often include rashes or digestive problems.
What is CMPA?
CMPA is an allergy to the casein and/or whey protein found in cow's milk and can be either IgE mediated or non-IgE mediated. This means it can result in symptoms ranging from mild to severe often including digestive discomfort and breathing issues. The symptoms, tests, and treatments depend on whether the allergy is IgE or non-IgE mediated as this determines the way the allergy presents itself in the body.
Cow's milk protein can be found in breastmilk in very small amounts if the mother consumes dairy. A mother can continue to breastfeed a child with CMPA, but some dietary changes may be recommended by their doctor or dietitian.
Lactose Intolerance vs CMPA
CMPA and lactose intolerance are commonly mistaken for one another. As mentioned, a food allergy is the abnormal immune response to a protein in a food. A food intolerance, on the other hand, is an abnormal digestive response. With a food intolerance, food is not digested properly due to sensitivities to certain ingredients or a lack of digestive enzymes. This may lead to symptoms like cramps, nausea, and diarrhea. Common intolerances include those to gluten or lactose.
CMPA is sometimes referred to as cow's milk protein intolerance or CMPI, which may lead to some confusion. In reality CMPI is not an intolerance at all, as the reaction is initiated by the immune system (NOT the digestive system). In short, CMPI was once used to describe non-IgE mediated CMPA before non-IgE mediated allergies were well understood.
With that in mind, lactose intolerance occurs when an individual cannot produce lactase, the digestive enzyme needed to break down the lactose sugar found in cow's milk. Consuming lactose when one is lactose intolerant will result in digestive distress such as bloating, stomach pain, and diarrhea. Despite their discomfort, these symptoms are not life-threatening and can often be mediated by ingesting a lactose enzyme, like Lactaid, prior to consuming dairy. While lactose intolerance is very rare in children under the age of 5, it is often a lifelong condition.
On the other hand, CMPA has the potential to be life-threatening as it can trigger a more aggressive immune reaction in the body. Luckily CMPA is not a lifelong condition as nearly half of all infants outgrow this disorder after 1 year, 75% outgrow it after 3 years, and almost all children outgrow it after 5 years. Despite their differences, CMPA and lactose intolerance can both be managed by eliminating cow's milk or other dairy products from the diet.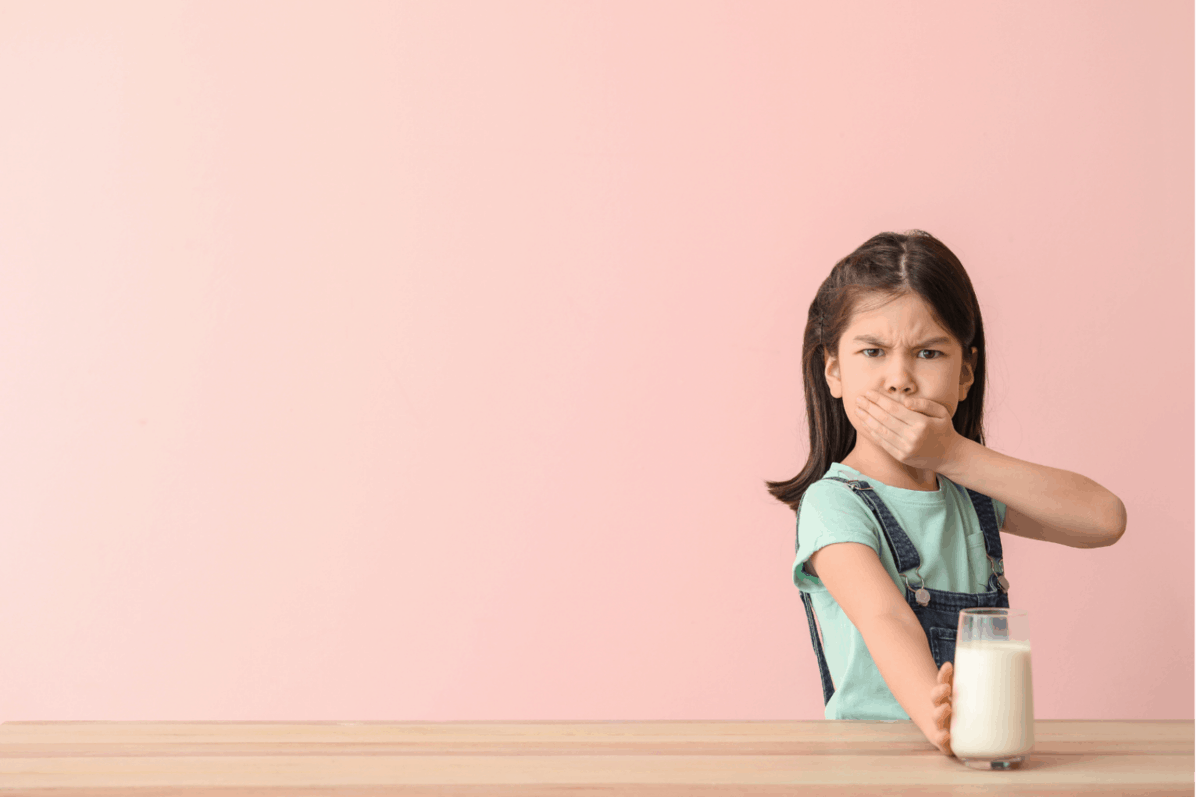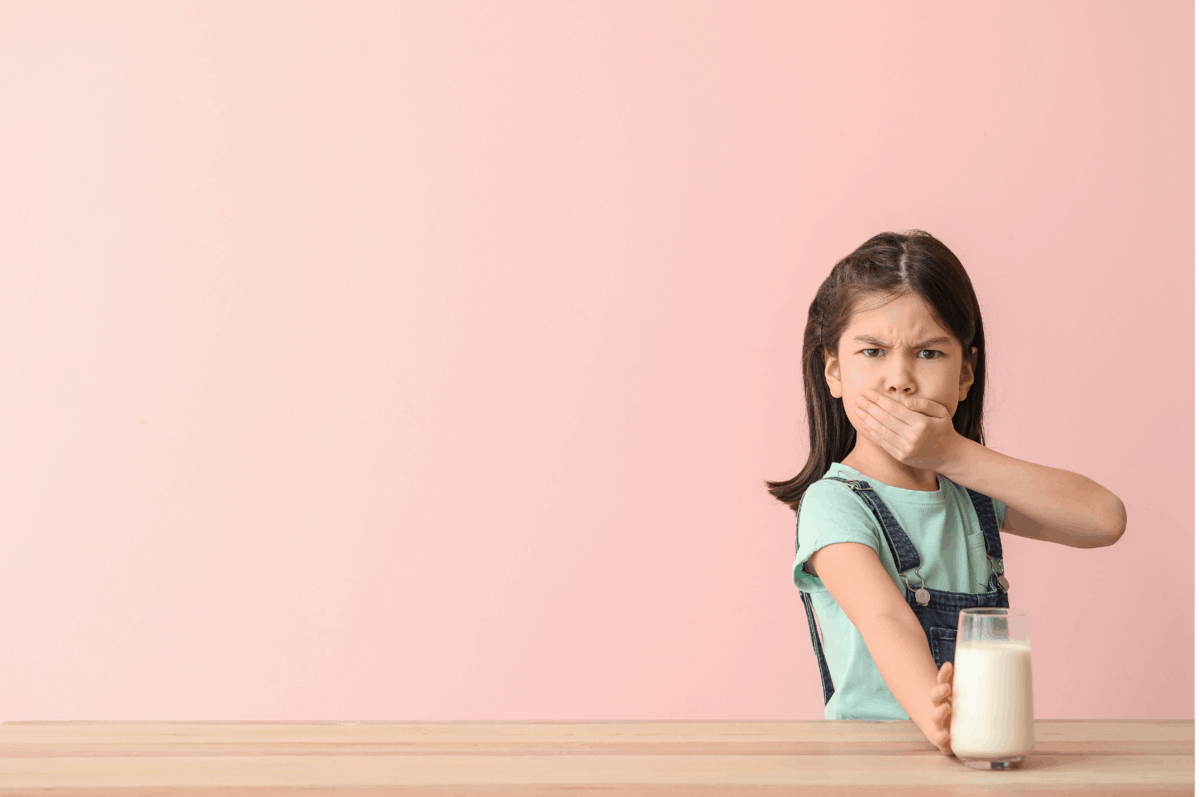 What are the symptoms of CMPA?
Common symptoms of CMPA can be divided into four categories:
Skin

– symptoms include eczema, rash or hives, and swelling.

Digestive

– symptoms include diarrhea, constipation, vomiting, and acid reflux.

Respiratory

– symptoms include difficulty breathing, runny nose, and coughing.

Other

– such as trouble sleeping, drowsiness, or excessive crying.
Of these types, skin and digestive problems are the most common, especially in non IgE-mediated allergies (delayed). If the allergy is IgE-mediated, the symptoms will be present within a few minutes and are more likely to include respiratory issues, as well as skin and digestive problems.
Luckily, most children affected by CMPA tend to experience mild to moderate symptoms, rather than severe. Regardless, all symptoms can be managed through changes to the diet, so an accurate and early diagnosis is important.
What are the risk factors?
While there is no single cause of cow's milk protein allergy in infants, genetics is one of the most commonly sourced risk factors. A child whose parents have allergies (to food or non-food items) has a higher risk of developing an allergy to cow's milk protein than does a child whose parents do not have any allergies. One study found that the risk is even higher if the child's mother has a food allergy when compared to fathers with food allergies. The same study found that exposure to antibiotics while in the womb and the introduction of food or drink other than breastmilk before the age of 4 months may contribute to the risk of CMPA.
There is also some evidence that early exposure to cow's milk protein, either through breastmilk or complementary foods after the age of 6 months, may act as a protective factor against CMPA. This means that a breastfeeding mother who consumes cow's milk or introduces it into their child's diet after 6 months of age may lower the baby's risk of developing CMPA.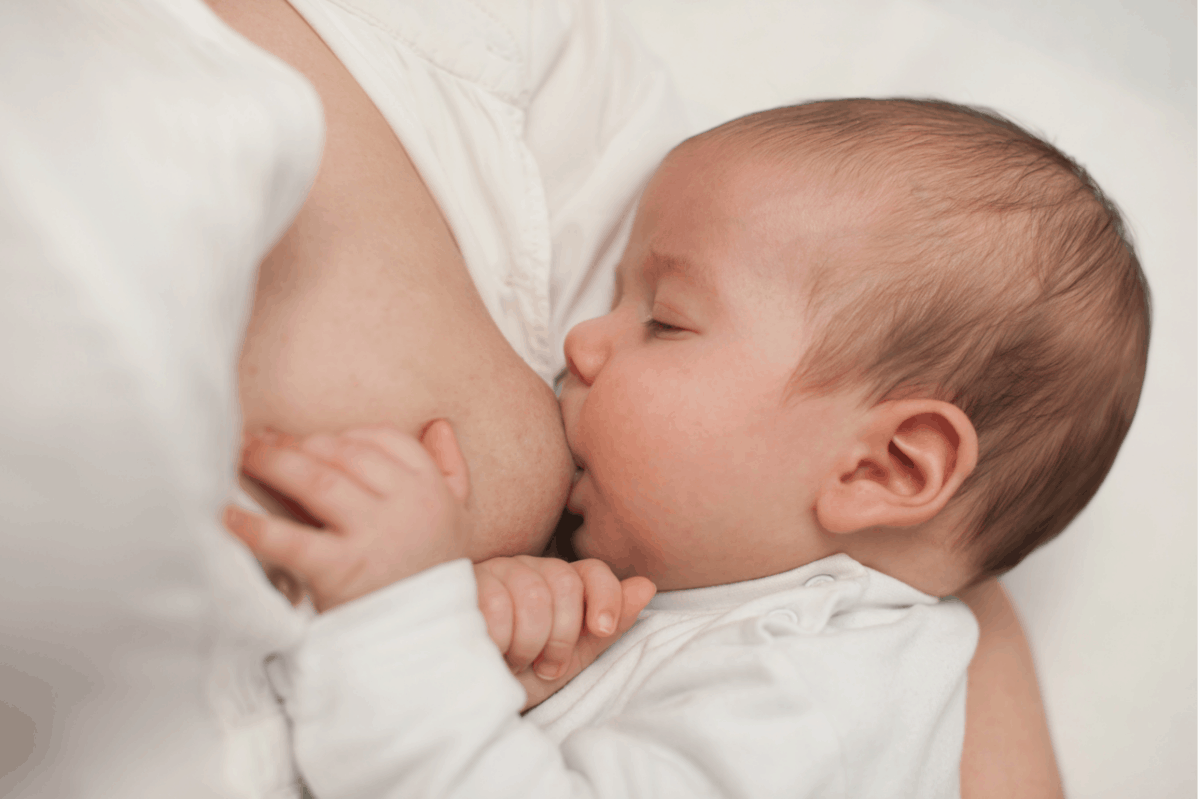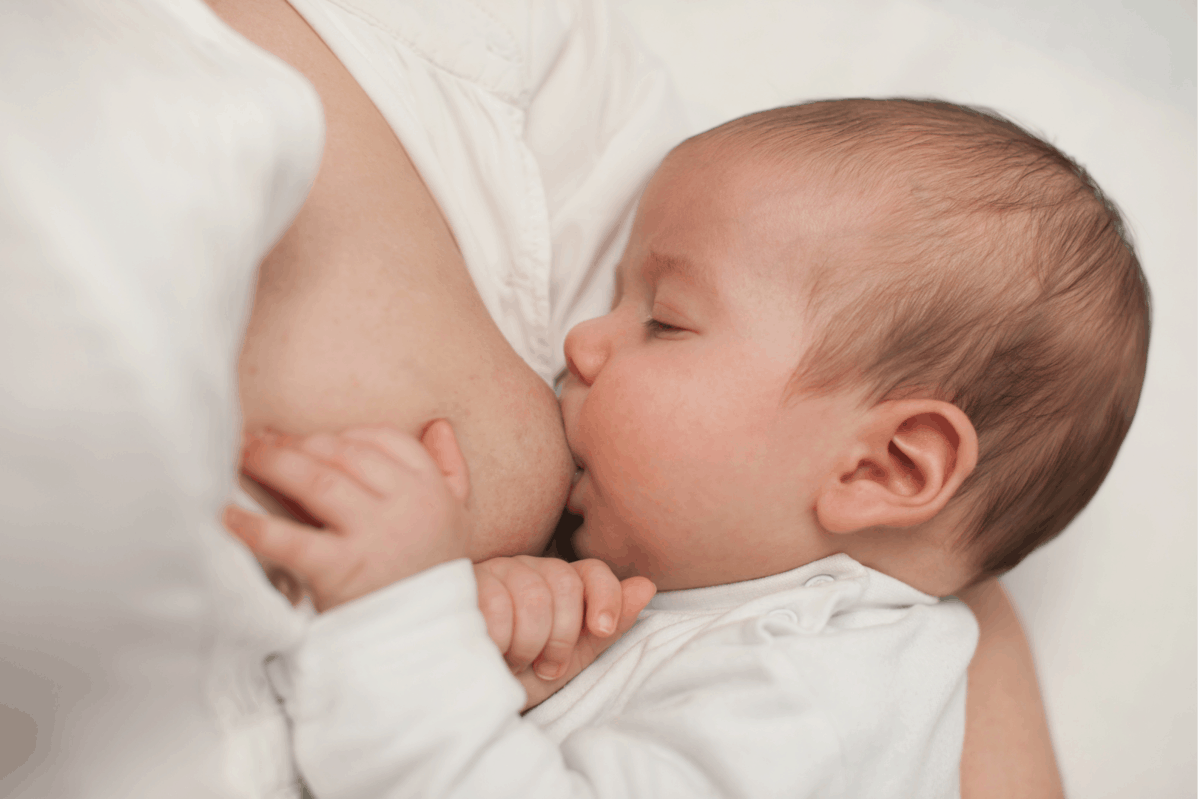 How Is CMPA Diagnosed?
If a cow's milk allergy is suspected, diagnostic tests include a blood test, skin prick test, or a patch test, as well as an elimination diet paired with a food challenge. If your baby is displaying any symptoms of CMPA, it is important to get tested as the long-term effects of undiagnosed cow's milk protein allergy in infants can affect a child's growth and development by increasing their risk of stunted growth, rickets (a vitamin D/calcium deficiency), anemia, malnutrition, undeveloped bones, asthma, colic, and acid reflux.
Blood Test
The blood test, often known as a Radioallergosorbent Test or RAST, tests for IgE antibodies. A very little amount of blood is taken and tested for the antibodies against cow's milk protein. This test will not be effective if your child's allergy is non IgE-mediated.
Skin Prick Test
The skin prick test, or scratch test, also tests for IgE antibodies. A small scratch is made to the child's skin, usually on the arm, and a small amount of the allergen is added to the area. If a cow's milk protein allergy exists, the skin will react. After a few minutes, the area will be inflamed, itchy, and/or red, indicating a possible allergic reaction.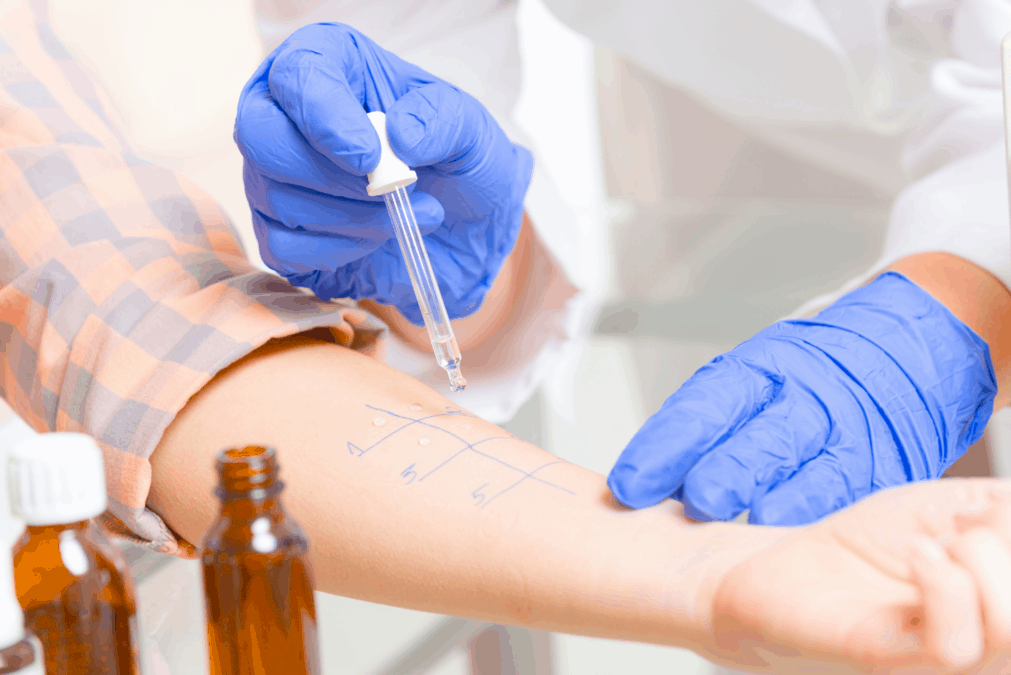 Patch Test
The patch test is similar to the skin prick test, but rather than scratching the skin the child wears a patch with the allergen on their arm or back for about 48 hours. Your doctor will then assess whether the allergen resulted in a reaction, which may also include inflammation, itchiness, and/or redness.
Elimination Diet & Oral Food Challenge
The elimination/food challenge combination test is considered the gold standard of CMPA testing as it is often the most reliable. The elimination diet requires the child to cut out cow's milk protein for 2 to 6 weeks and slowly reintroduce it back into the diet through what is called an oral food challenge.
If symptoms do not improve during the elimination diet, consult your doctor regarding other possibilities, as it is unlikely that your child has CMPA. If symptoms disappear or improve with elimination of cow's milk protein, and then reappear upon reintroduction, the test is positive. This means that the child will likely be prescribed an elimination diet to avoid cow's milk products. The child can then be re-challenged 6 to 12 months after the initial food challenge reaction to determine whether they have outgrown the allergy.
If your child is diagnosed with a mild to moderate non-IgE mediated cow's milk allergy, they may be reintroduced to dairy-containing foods using the Milk Ladder. This is a 6-step evidence-based approach that can be introduced after the child has been milk-free for at least 6 months. This guideline starts the child out with foods that contain small amounts of cow's milk, such as a cookie, and progresses to liquid pasteurized cow's milk. This approach tests the child's tolerance and should always be done under the supervision of a doctor or dietitian.
CMPA is rarely found in babies who are exclusively breastfed. Should it be suspected, the mother may undergo a similar elimination diet and food challenge.
Dietary Recommendations for Cow's Milk Protein Allergy in Infants
Dietary recommendations for moM
While it is rare, some babies react to the cow's milk protein in breastmilk and breastfeeding mothers may be required to eliminate it from their diet. As discussed, after a few months of following an elimination diet, cow's milk protein may be reintroduced through an oral food challenge following the milk ladder while also monitoring the baby's tolerance and symptoms. However, unless CMPA is properly diagnosed, it is not recommended that a breastfeeding mother avoid dairy products as it can increase the risk of calcium deficiency in mom.
In some instances, a child with CMPA may also react to soy, but the research on this is limited. With that said, we can't say for certain that breastfeeding mothers should avoid soy to prevent a CMPA reaction in baby. However, anecdotally, some breastfeeding mothers may find that going soy-free may help to improve CMPA symptoms, so going soy-free may be a matter of trial and error. If you wanted to try going soy-free to see if it improves CMPA symptoms in your little one, this would mean eliminating foods such as edamame, soy milk, tofu, miso, soy sauce, tempeh, soybeans, soy nuts, and meat alternatives containing soy.
If you do decide to trial a dairy-free and/or soy-free diet, make sure to speak to your doctor or dietitian about a calcium supplement and how you can compensate with plant-based sources of calcium such as nuts, legumes, leafy greens, and fortified foods. This is particularly important for breastfeeding mothers as the breast milk will pull calcium from bone stores to ensure that the baby gets enough, which can have long-term implications for bone health.
Dietary recommendations for the child
Just as with breastfeeding mothers, children with CMPA may be required to eliminate cow's milk from their diet. This includes milk, cream, yogurt, ice cream, cheese, cottage cheese, chocolate, sauces, dips, and other prepackaged foods that are made with cow's milk. Children over the age of 12 months do not usually require breastmilk or formula supplementation to meet their nutritional needs since they can eat a balanced diet while following an elimination diet. On the other hand, children under the age of 12 months may require a formula to supplement their diet if breastfeeding is not an option.
It is important to note that you should never place your child on an elimination/reintroduction diet without a doctor's recommendation and supervision. Limiting cow's milk from the diet without proper guidance may lead to an imbalanced diet, or calcium and vitamin D deficiency.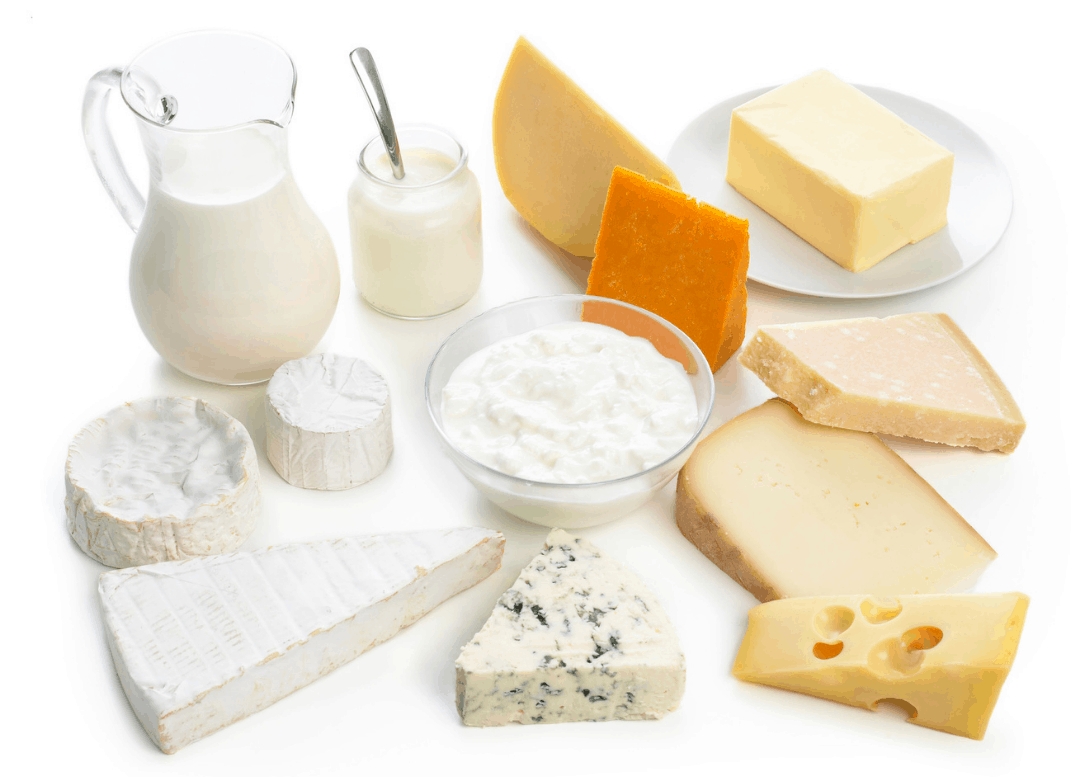 Soy Formula
Up to 14% of children with CMPA also react to soy. While it is not recommended to eliminate soy from a child's diet without a reaction or doctor's recommendation, soy formula may not be an option for your child if they cannot tolerate it.
Extensively Hydrolyzed Formula
This type of formula contains the cow's milk protein casein that has been broken down so that it is easier for the child to digest. This option is tolerated by 90% of infants with CMPA.
Amino Acid Formula
If your child does not tolerate soy or extensively hydrolyzed formulas, amino acid formulas are a great option. This type of formula contains amino acids, which are the building blocks of protein. It is tolerated by most children with CMPA as it is often made from either corn or rice. However, keep in mind that this formula tends to be more costly and has a unique flavour that some children do not like.
Bottom line
Cows milk protein allergy in infants is among the most common allergies found in babies and can result in mild to severe symptoms in your little one. Unlike lactose intolerance, CMPA is usually outgrown but must be managed through dietary changes by eliminating dairy products from the child's diet – whether it be through solid foods and/or from the mom's breast milk. Before making any change to you or your child's diet, make sure to consult with your doctor and dietitian so that CMPA can be properly diagnosed and you can prevent nutritional deficiencies through supplementation and non-dairy foods.
Contribution by: Rebecca Harris, MHSc (c)
Edited by: Giselle Segovia RD, MHSc
MORE BLOG POSTS YOU MIGHT LIKE
Updated on October 15th, 2021