Healthy Strawberry Lemonade Vegan Pop-tarts that are the perfect good-for-you treat when you need a little pick me up.

My mom was what I call a real-world mom. We weren't raised on house churned grass-fed butter, or organic free-range ducks from our backyard. Nope. We were a busy family. We were always on the run to some activity, class or job, so most of our meals were usually in the car. I would be lying if I said that pop-tarts weren't a morning staple and that "blue" was the breakfast flavour of choice.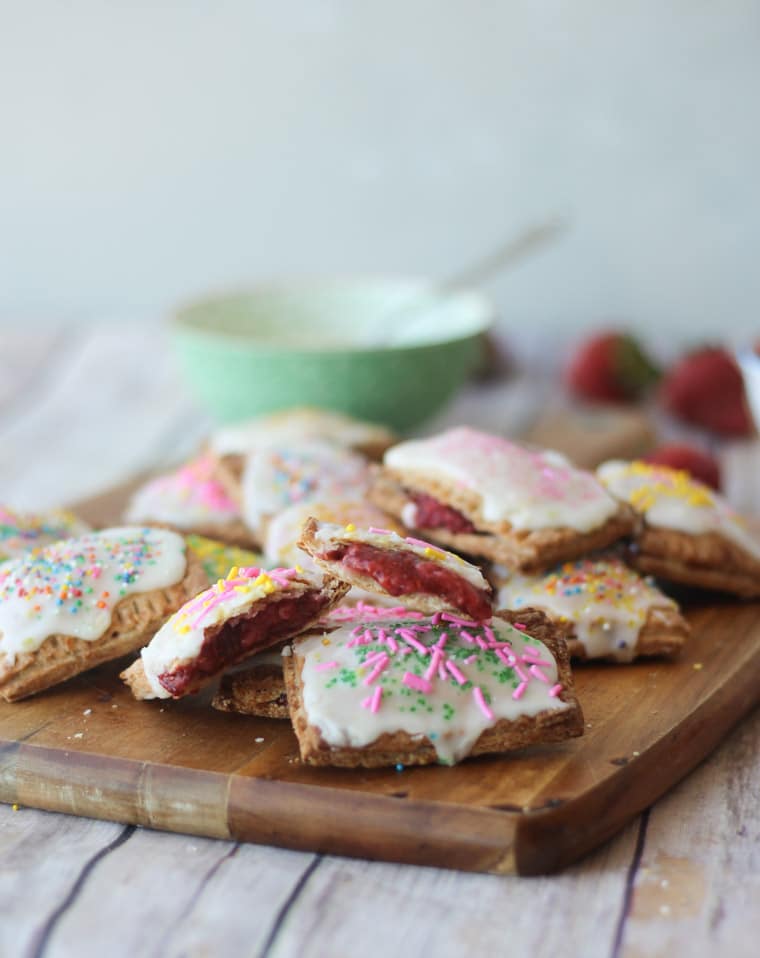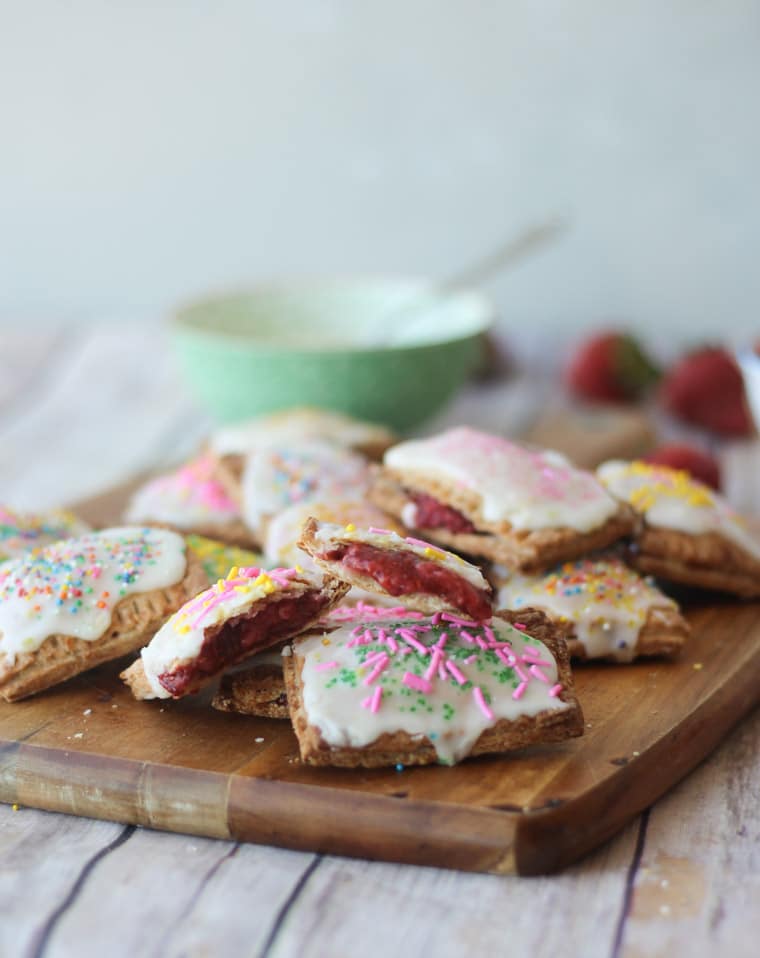 Today, not a whole lot has changed. Okay, so I am a dietitian and I prefer my pop-tarts from a bakery, not a box, and served at the dining room table (usually) after dinner as dessert, but I still have a serious nostalgic love for the things. I can't believe I don't have a pop tart recipe on my blog, so I figured this was the time to do it.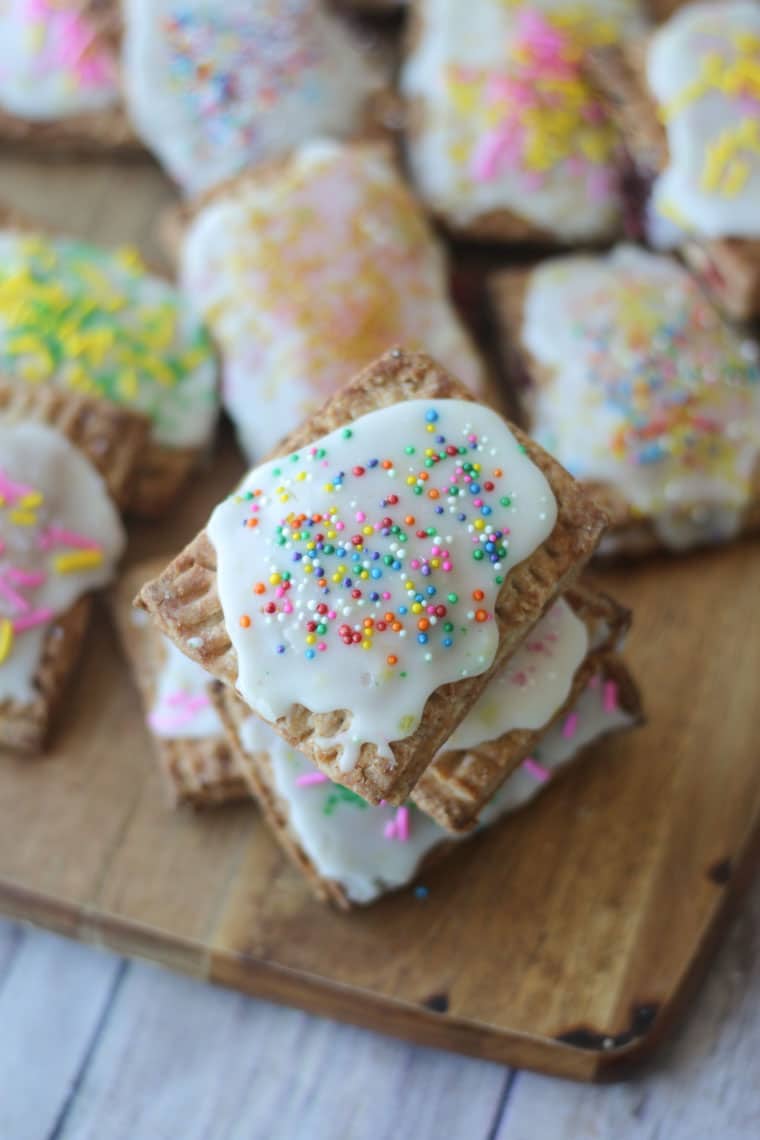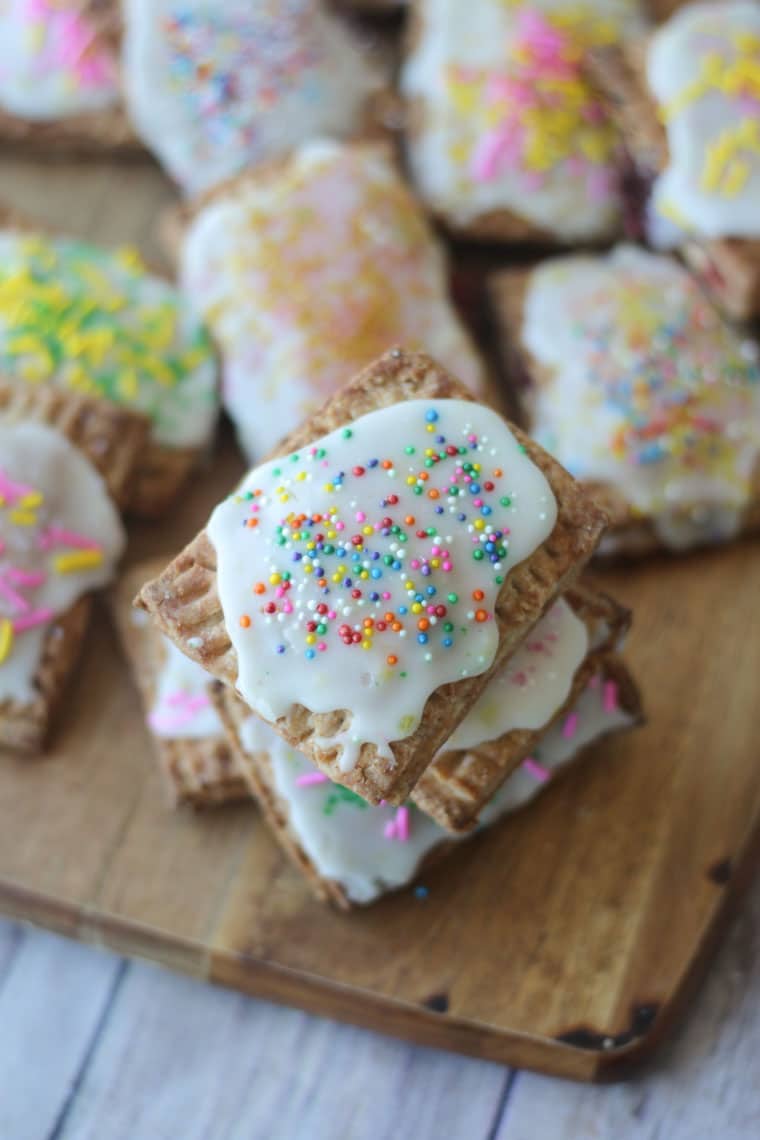 How to Make Strawberry Lemonade Vegan Pop-tarts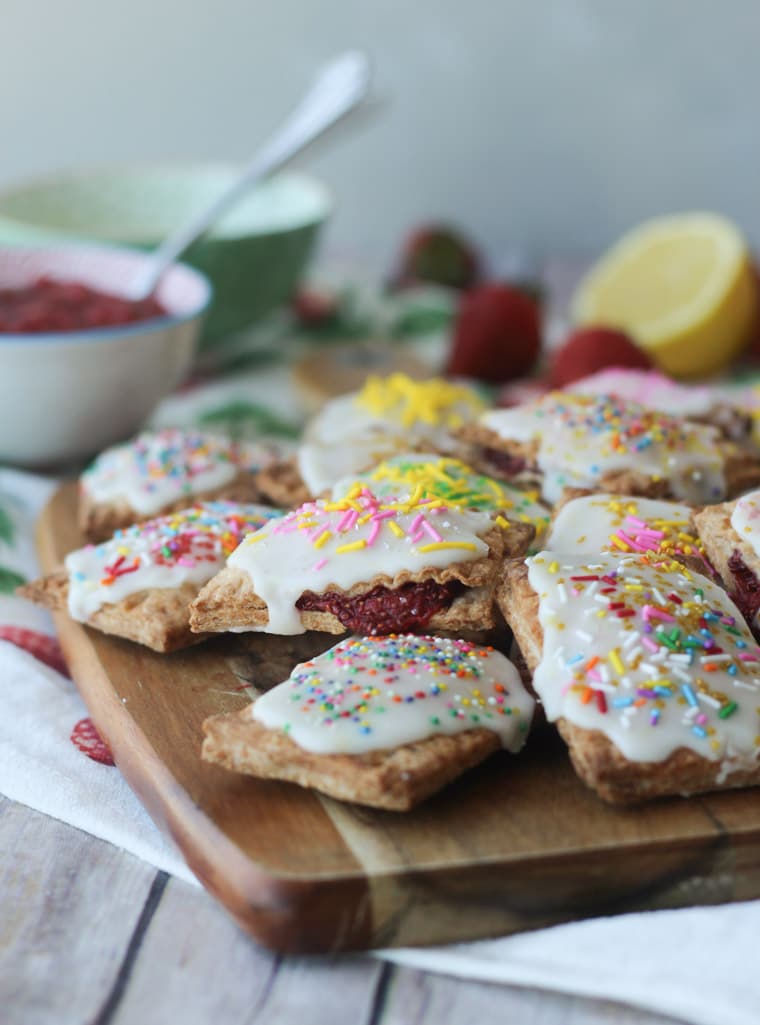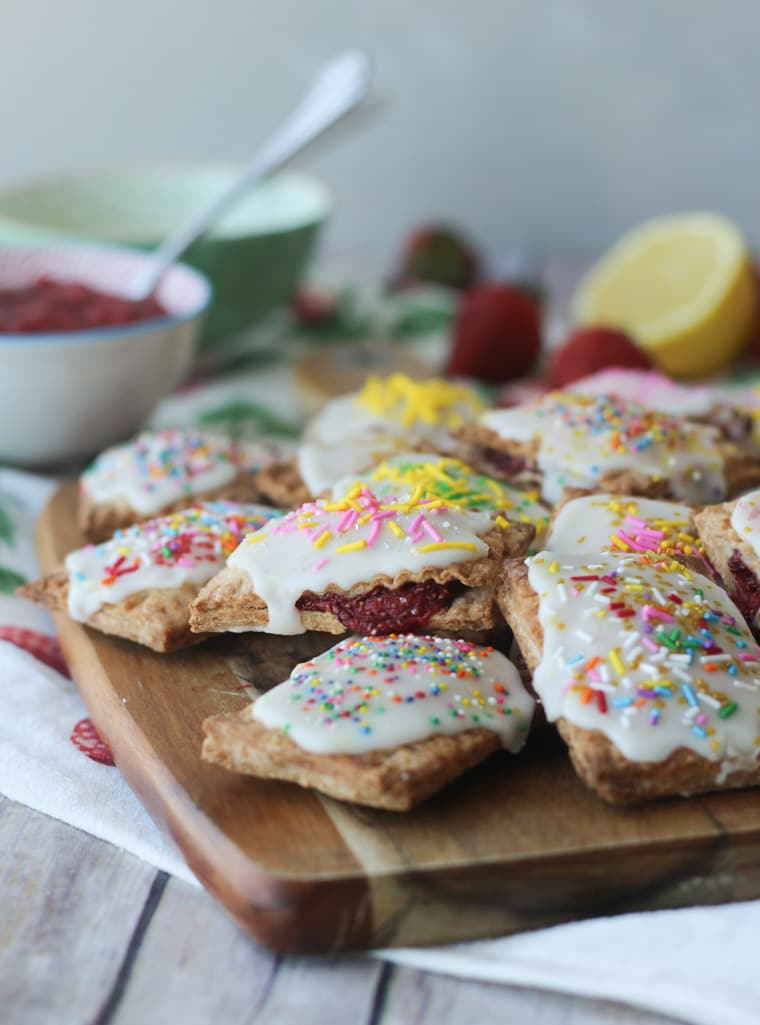 I really don't know how store-bought pop-tarts are made, but judging by their ingredients and nutritional information, I would say, probably not health-fully. So I decided to lighten up my vegan pop-tarts with extra fibre and air-fry them using my new Philips Airfryer. If you haven't used this amazing appliance yet, it essentially uses a unique TurboStar technology to get air circulation to each corner of the basket so you get perfectly fried food without the fat. Seriously, I don't even add any oil to the basket and they cook 50% more evenly than other Airfryers while getting crispy and golden brown just like the butter-loaded pastries I ate as a kid. It's also crazy fast (just 10 minutes to cook- you don't even have to preheat!) and really easy to clean because it's super non-stick and dishwasher safe. And if you've had a Philips Airfryer before, you'll be happy to know that this model is 20% smaller than last year's but it has the exact same capacity.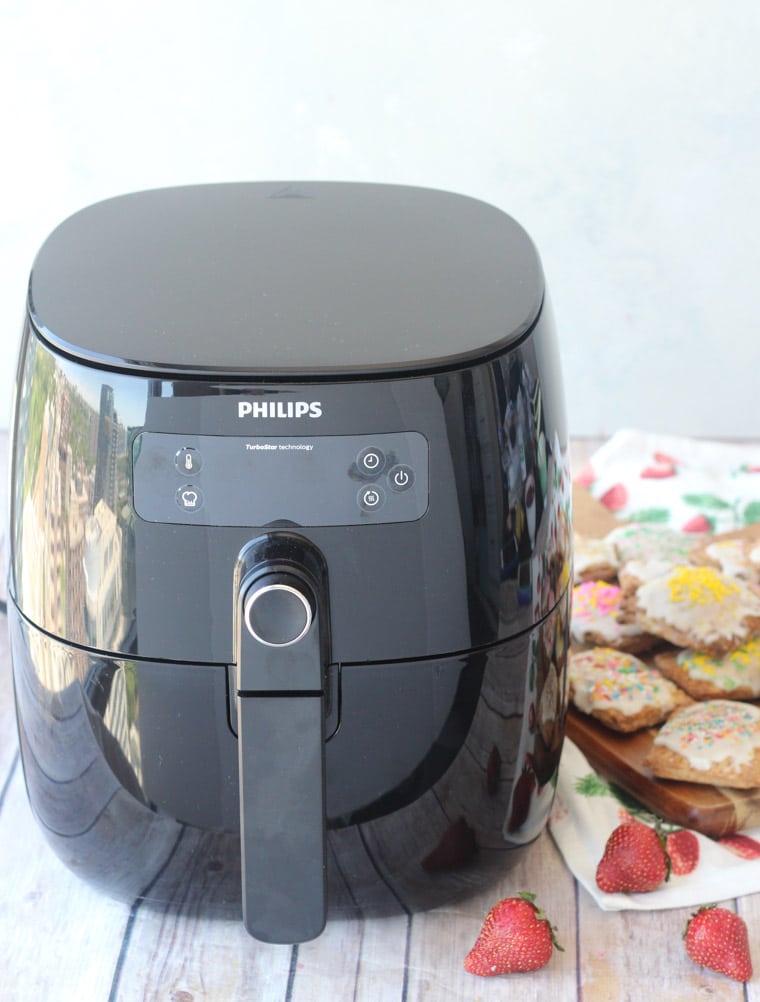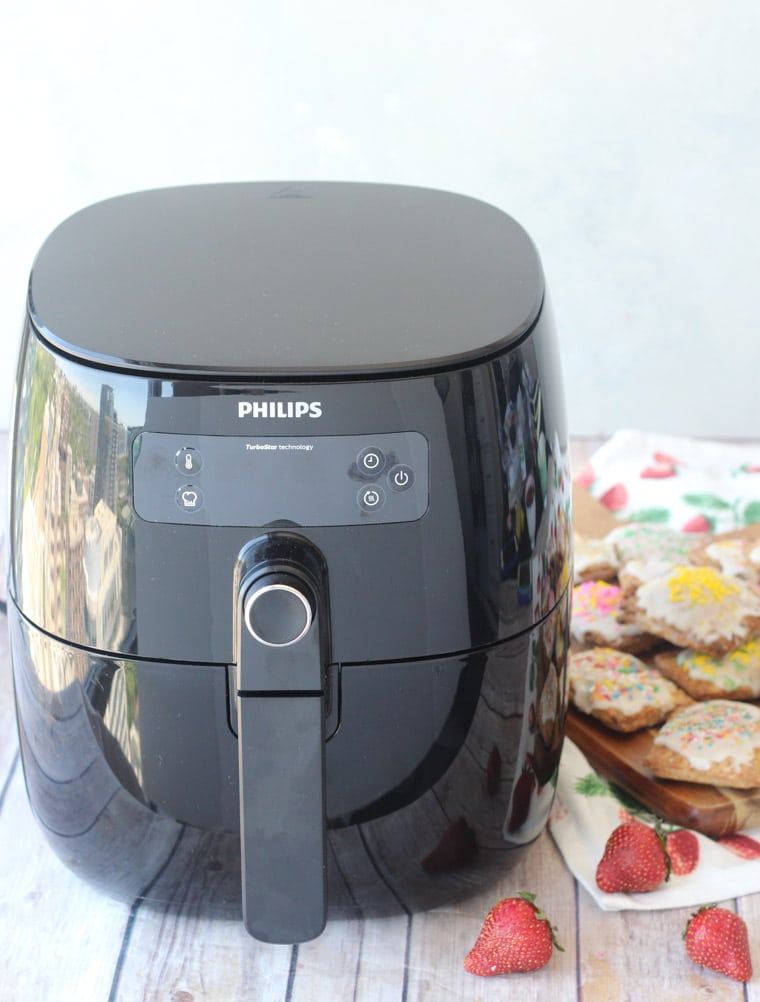 To make the filling for my Strawberry Lemonade Vegan Pop-tarts, I make a super quick low sugar chia jam that has become a fan favourite on my blog. I feel like since we're DEFINITELY going to have to have icing and sprinkles, we can cut the sugar in the jam, and my chia jam adds loads of nutrition with omega 3s and fibre. This recipe will make a big batch of chia jam because I KNOW you're going to want to put it on EVERYTHING (yeah… you're welcome).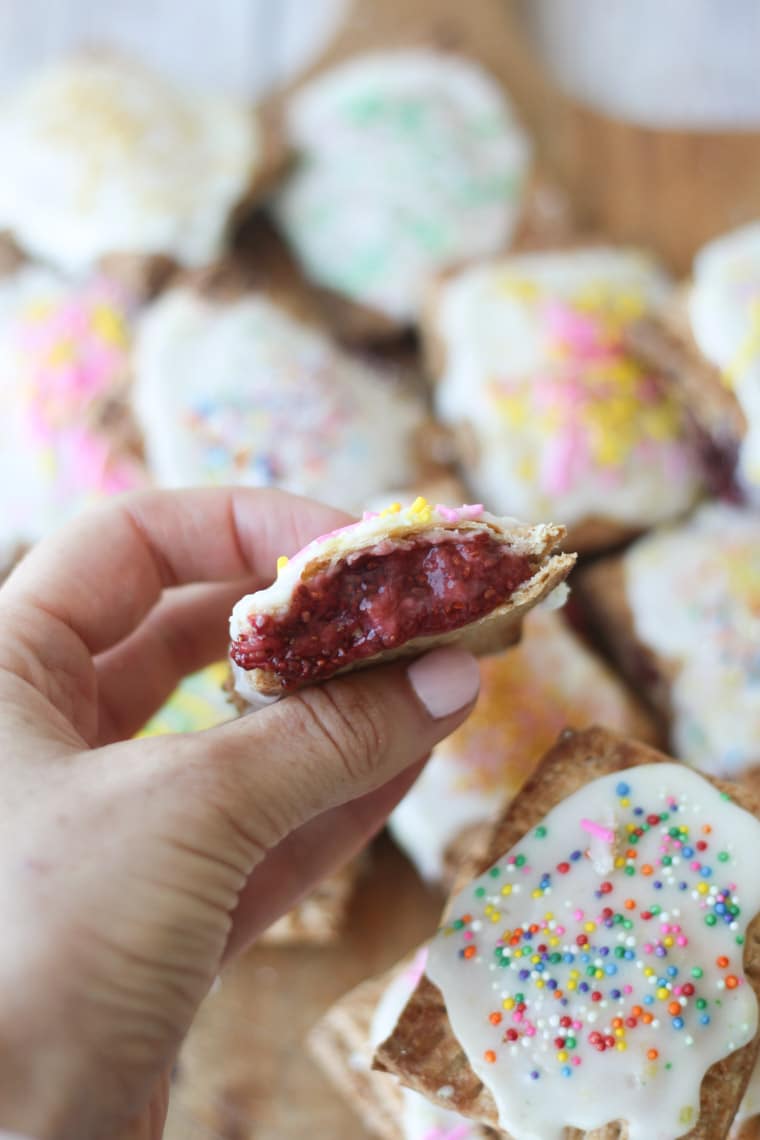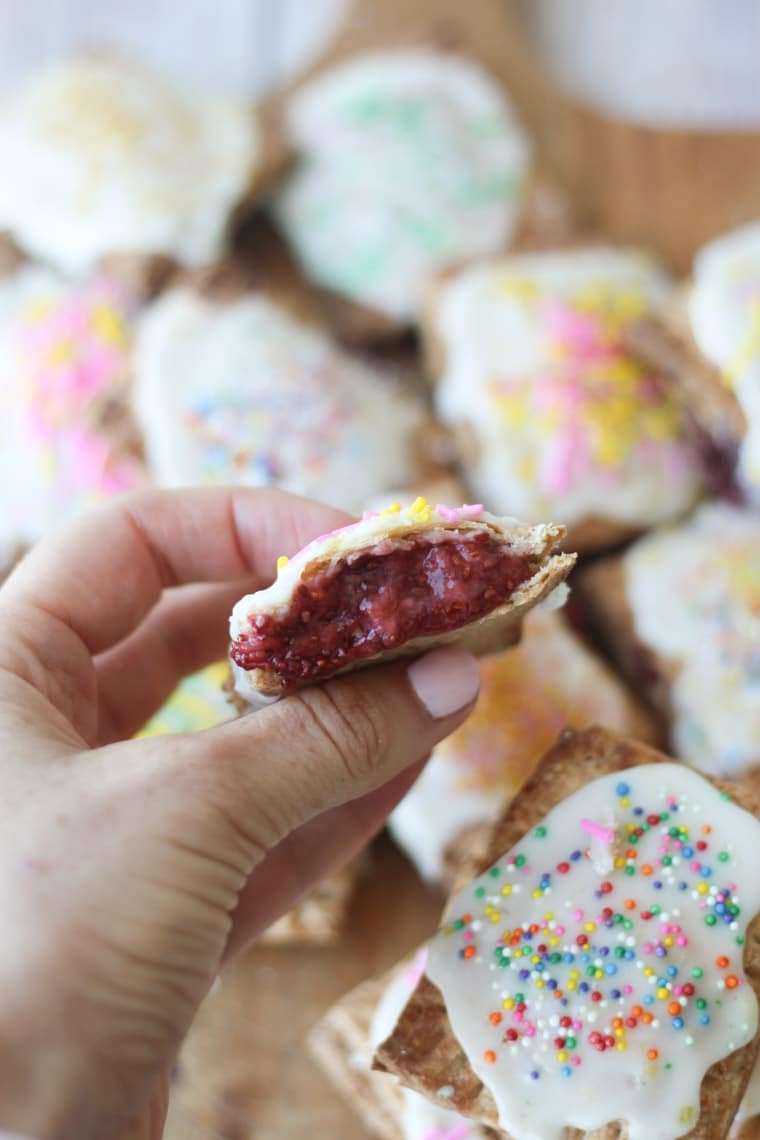 The dough is equally as simple. I don't do pastry often because I usually find it to be such a pain, so if I'm willing to do this- you know it's easy peasy. I cut into small, cute, mini vegan pop-tarts for those times I just need a little quick fix, but hey, if you want to go for the classic momma-size, you do you.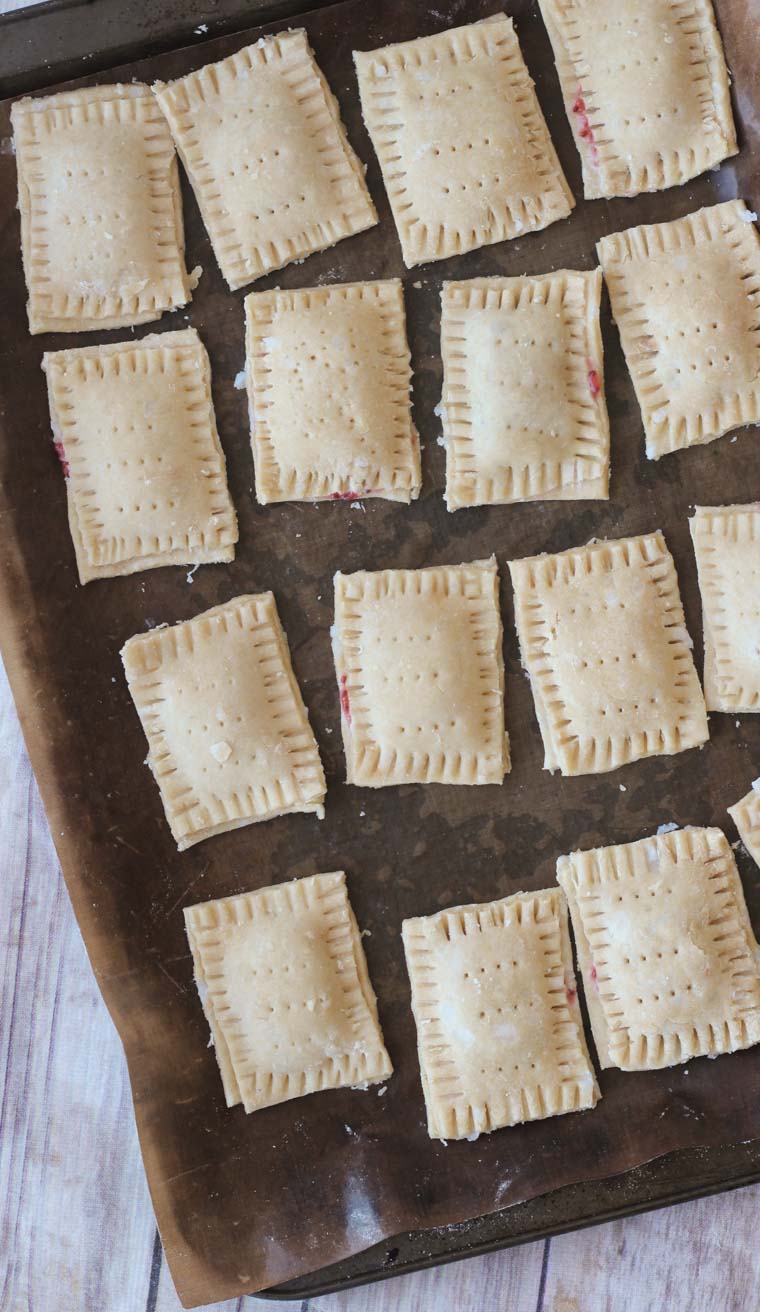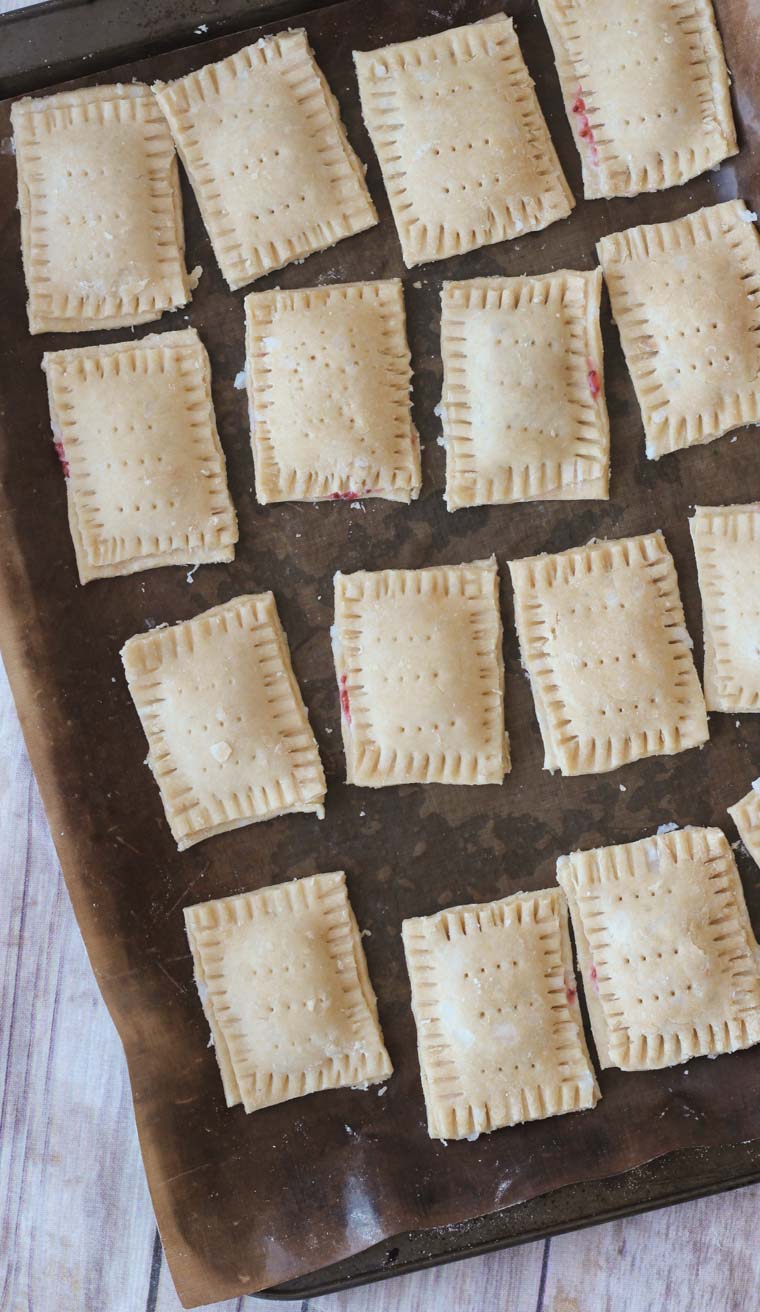 OK so don't hate me, but I skipped the blue icing for something a wee-bit more sophisticated. Lemon icing always reminds me of my grandma who ALWAYS made the same lemon iced cake for birthdays and celebrations (and we were all OK with that). Lemon icing is my bae.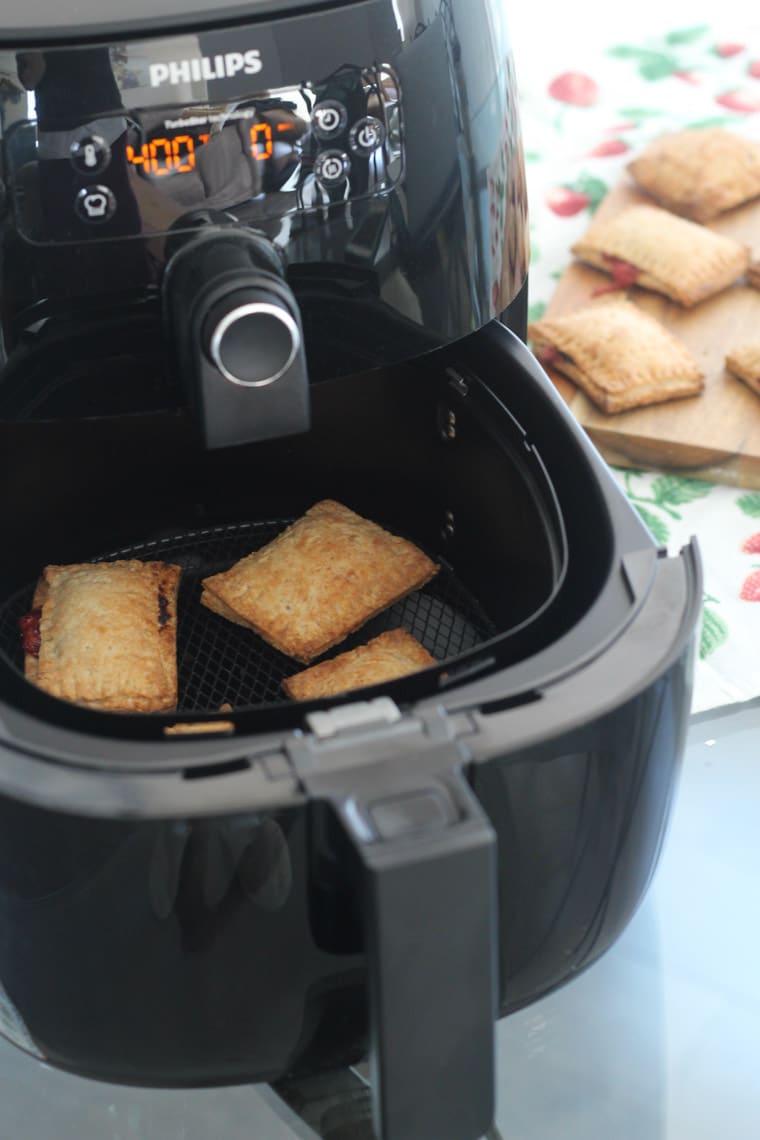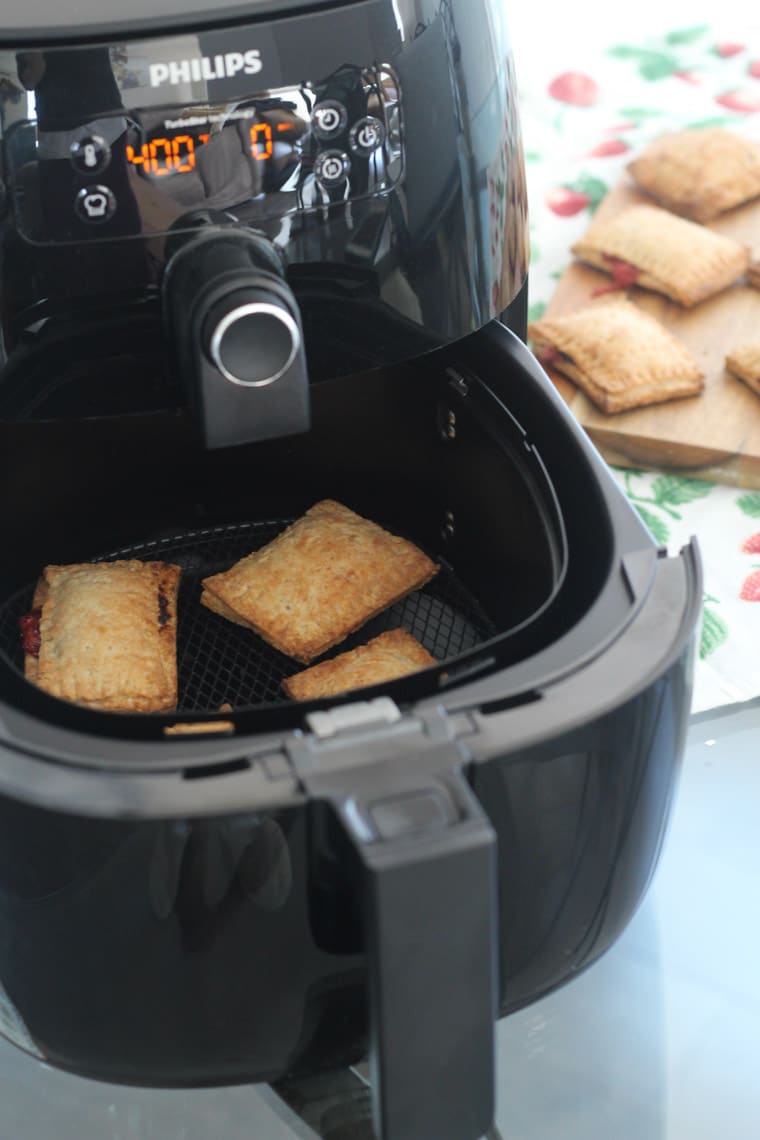 Once you've got your dough, your chia jam and your lemon icing ready, you just assemble your vegan pop-tarts, pop them in the Airfryer for just 10 minutes and if you can wait until they're cool- you get to decorate! Eek! This is legit the reason for making these Strawberry Lemonade Vegan Pop-tarts. My assistant and I were in our own little zen state while decorating these up, and yes, I spent a LOT of time contemplating which sugar to pair with which sprinkle. Hey, these are serious life decisions.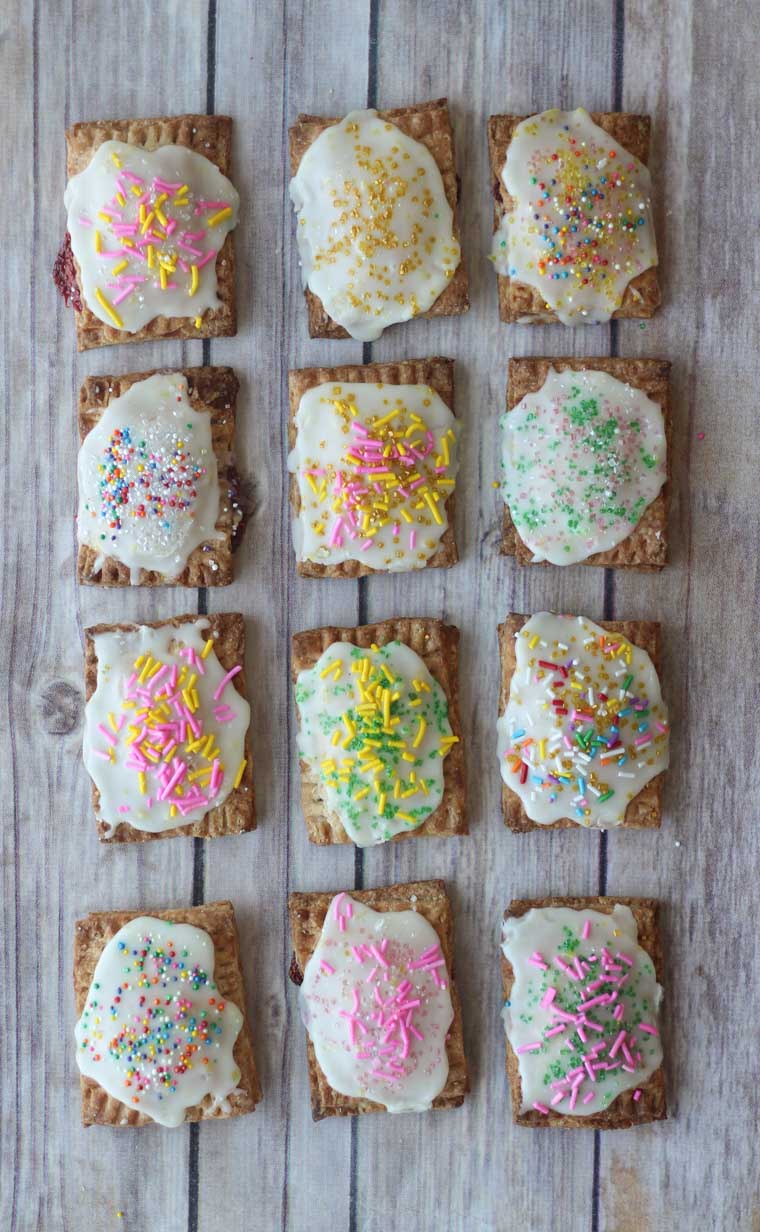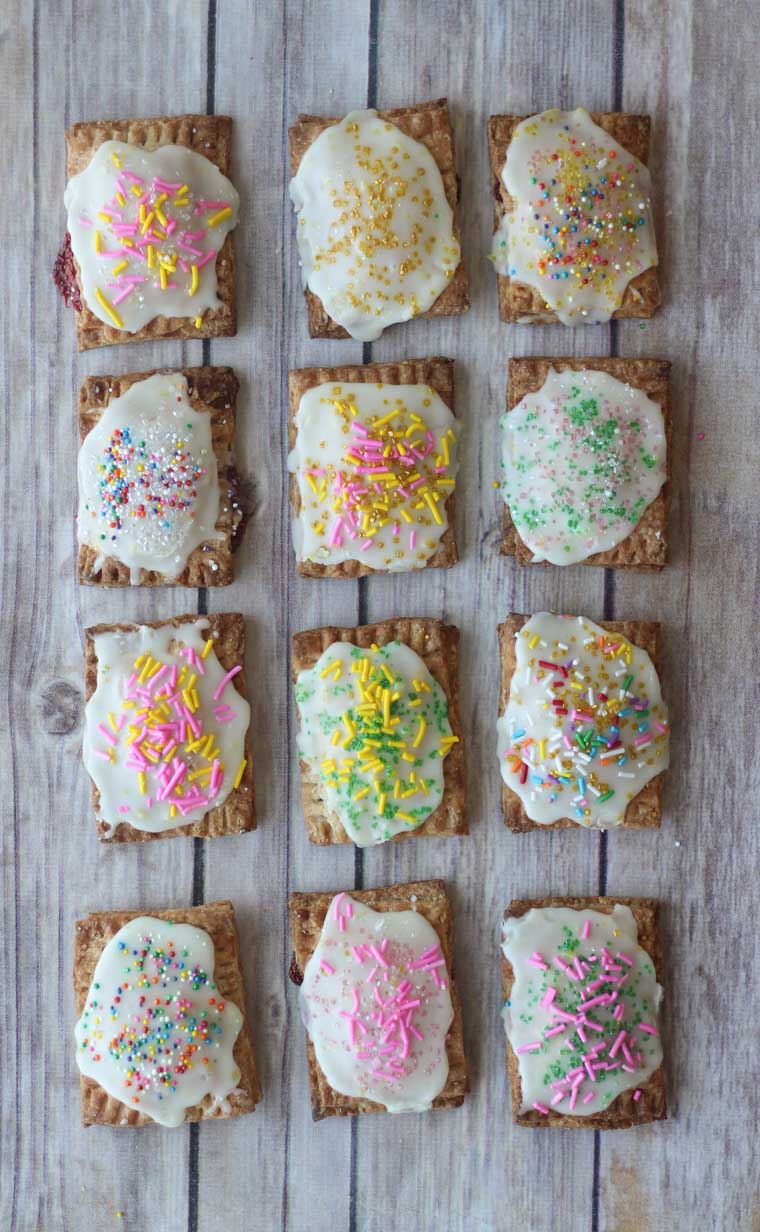 Whatever you pack on there, these Strawberry Lemonade Vegan Pop-tarts are the perfect sweet treat to bring you back to the ease of your childhood without the preservatives or crazy fat. If you want some more airfrying inspiration, you can download the free Philips Airfryer app for amazing recipes with step-by-step instructions.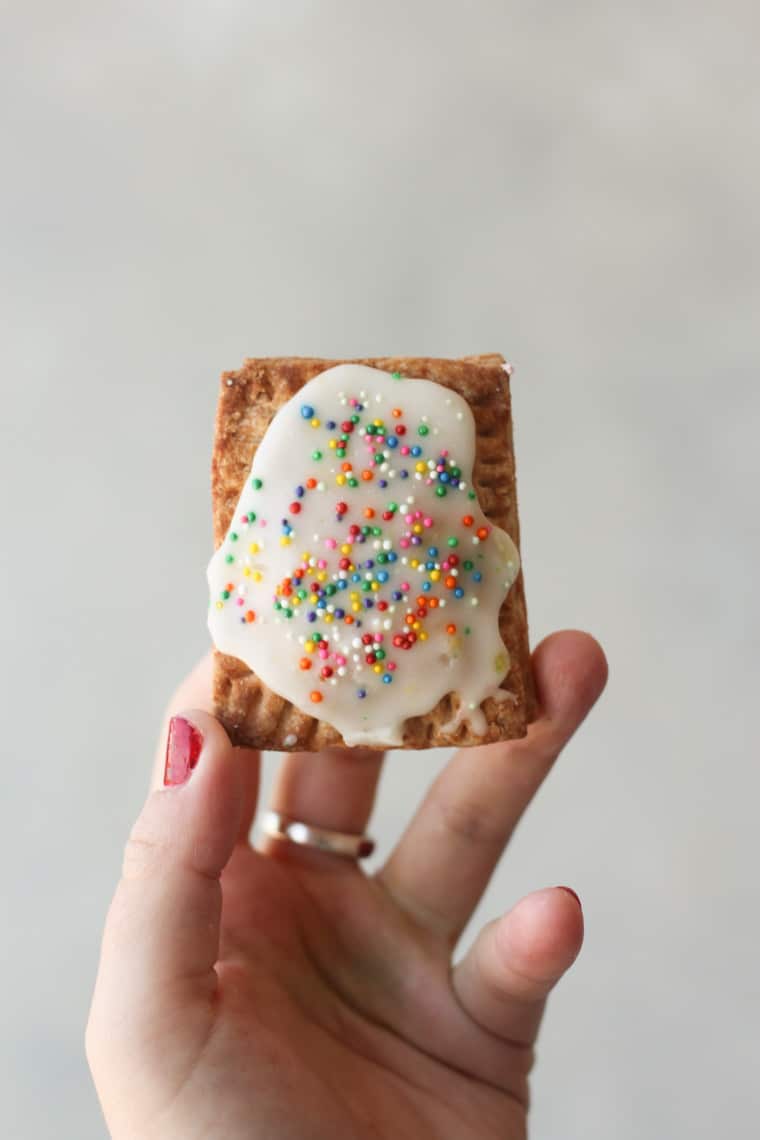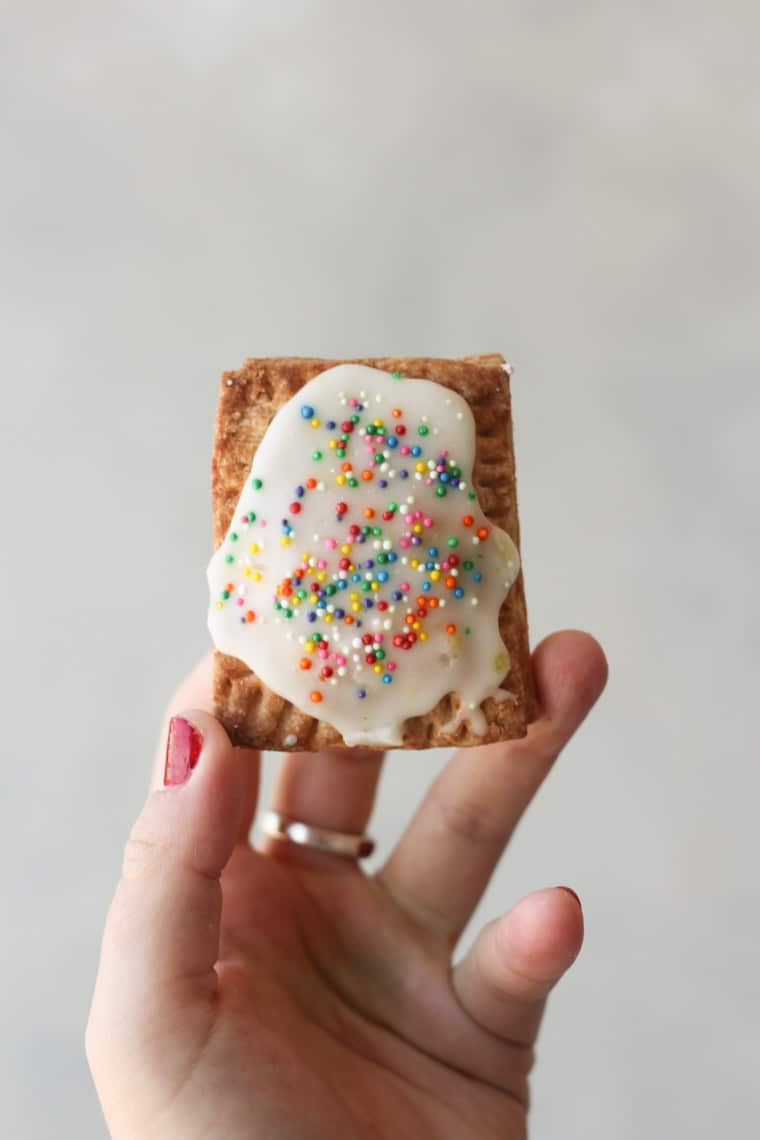 Now tell me, what are your favourite childhood treats?
What did you have for breakfast as a child that you miss?
Have you tried making these Strawberry Lemonade Vegan Pop-tarts?
Leave me a comment below with your thoughts!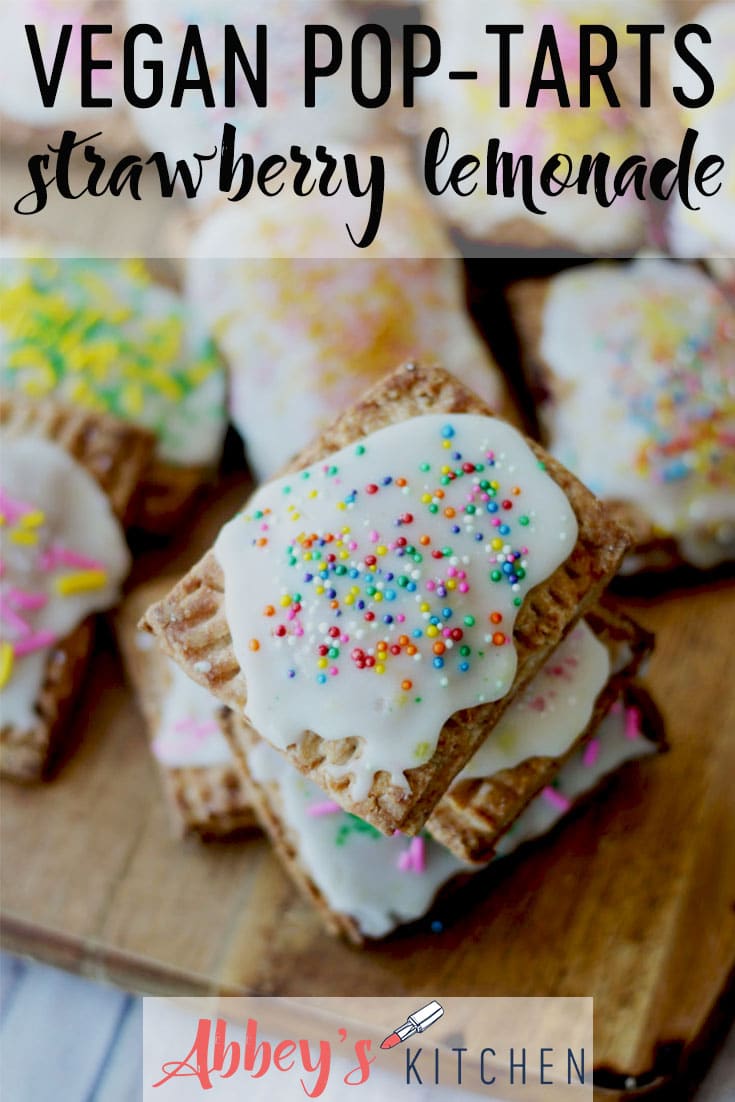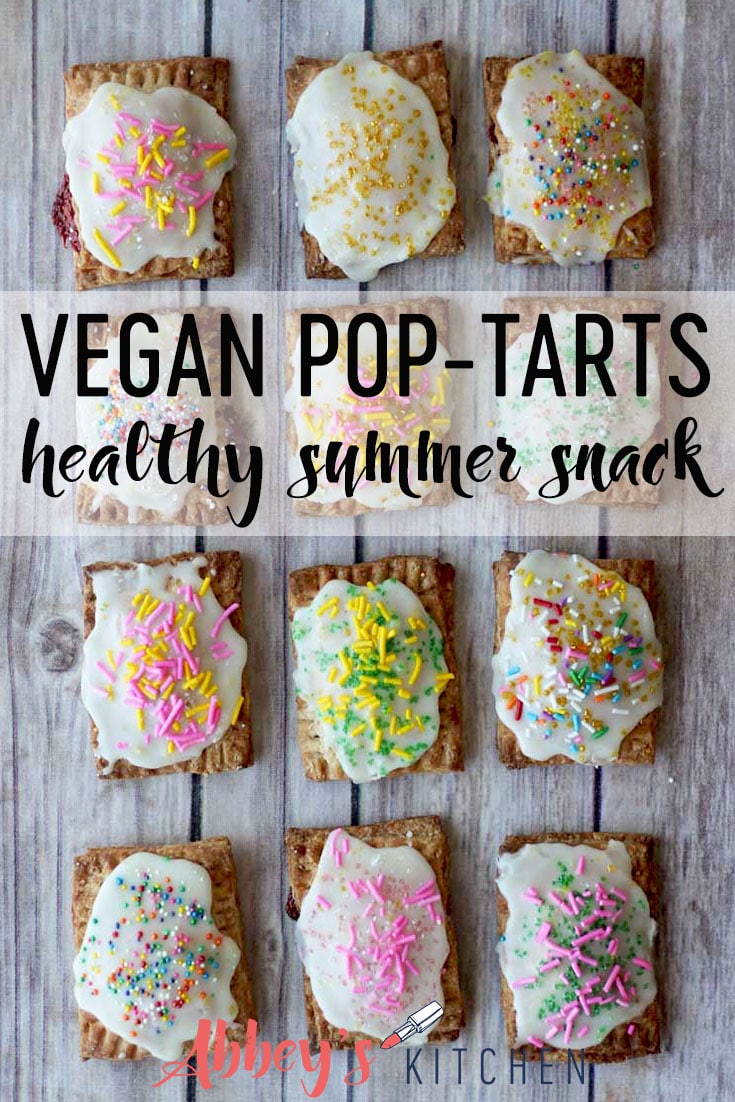 Disclaimer: This recipe was developed in paid partnership with Philips, however, all opinions are genuine.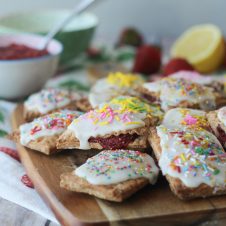 Strawberry Lemonade Vegan Pop-Tarts
Healthy Strawberry Lemonade Vegan Pop-tarts that are the perfect good-for-you treat when you need a little pick me up.
Print
Pin
Rate
Servings:
12
-14 pop-tarts
Ingredients
Strawberry Chia Jam:
1 1/2

cups

sliced strawberries

fresh or frozen

1 1/2

cups

pitted dark cherries

2

tbsp

lemon juice

or to taste

2

tsp

maple syrup

or to taste

3

tbsp

chia seeds
Instructions
Chia Jam:
In a saucepot, heat the cherries and strawberries until they start to bubble and get syrupy. Once super soft, mash them with a potato masher until the mixture is jammy, loose, and with some visible little bits of fruit in it.

Add in the lemon juice and maple syrup, and taste. Adjust the lemon and maple syrup depending on the sweetness of your fruit.

Take the mixture off of the heat, transfer it to a container and add in the chia seeds. Allow the mixture to set for at least 20 minutes, or until it thickens up. You'll have lots of extra jam so you can use it on toast or on oatmeal throughout the week.
Pop-tarts:
In a large bowl, mix flours, salt and sugar. Cut in the cold coconut oil with a pastry cutter or fork until you see tiny pea-shaped pieces in the dough.

Drizzle in the vanilla and one tablespoon at a table, add in the ice cold water. It should be moist enough that you can form it into a ball without it flaking away, but not sticky.

Cut the dough in half and lightly flour your surface and rolling pin. Roll out the dough to just a few millimeters thick then cut into 5 cm by 7 cm rectangles. Place the rectangles on a baking sheet lined with a silpat or parchment paper.

Place one heaping teaspoon of jam onto half of the dough rectangles in the centre. Then wet your finger and moisten all around the perimeter (around the jam). Top with another rectangle, and using your fork, crimp the edges to seal. Poke three sets of three holes into the top of the pop tart with your fork. Continue with remaining pop-tarts. Place the baking sheet in the fridge to set for 20 minutes.

Heat the Philips Airfryer to 400 F. Add four pop-tarts to the fryer basket and set the timer for 10 minutes. Remove and repeat with the remaining pop-tarts until they're all cooked. Allow to cool for about 20 minutes.
Lemon Glaze:
In a bowl, mix together the powdered sugar, lemon juice, lemon zest, coconut oil and vanilla extract.

Spread about a teaspoon of the icing on each of the pop-tarts and decorate with your favourite sprinkles and sugars. Allow the icing to set and enjoy!
Nutrition
Calories:
272
kcal
|
Carbohydrates:
36
g
|
Protein:
3
g
|
Fat:
14
g
|
Saturated Fat:
11
g
|
Sodium:
51
mg
|
Potassium:
125
mg
|
Fiber:
3
g
|
Sugar:
18
g
|
Vitamin A:
10
IU
|
Vitamin C:
13.7
mg
|
Calcium:
32
mg
|
Iron:
1.2
mg
Updated on July 21st, 2020