This Vegan Oatmeal Pudding is no rice take on the classic rice pudding that is naturally gluten free and fibre rich and made with pantry staples!
When I was a kid, my mom used to regularly make me rice pudding since it was a cheap and cheerful way to use up any leftover rice she had made for the week. To this day it remains a real favourite of mine, and I've since started making it a lot at home for my family who equally adores the classic treat. But with us all hunkering down for Coronavirus social isolation, I've been really focusing in on what ingredients I have an abundance of in the pantry. One of my big staples is definitely oatmeal.
I love oatmeal for breakfast, and baking, but what if we could make a pudding out of oats that was equally comforting and dreamy?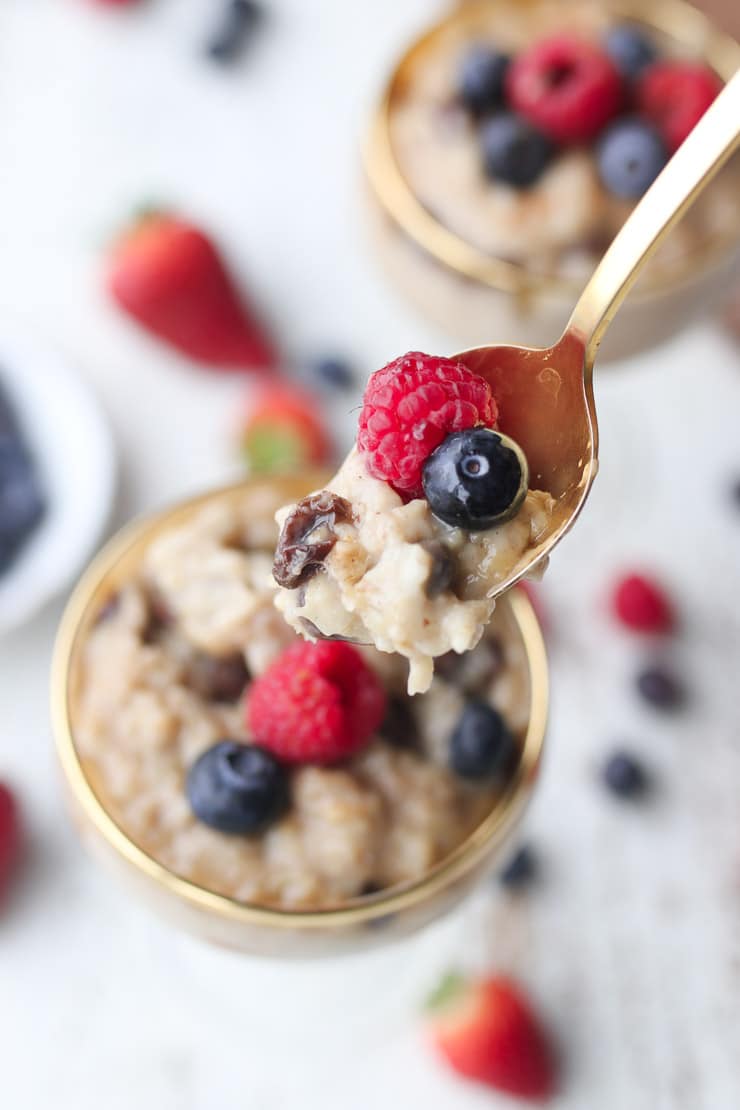 What makes this vegan oatmeal pudding different than just oatmeal?
It's all about the double cooking process. The first cooking step yields oatmeal like you would normally have for breakfast. But the second cook yields a SUPER creamy thick pudding like consistency that totally feels like dessert.
Key ingredients for this recipe
This recipe is perfect for those of us socially isolating because it's literally just all your classic pantry staples.
Lake Flake Oats – You can use quick cook in a pinch but you want a little bit of texture like you would in rice pudding and you get that from the more whole oats. These can definitely be gluten free if you need an option that is safe for gluten intolerance and celiac.
Almond Milk- You can use any non dairy milk or dairy milk if you don't want this to be vegan.
Raisins – This is optional, but in my books it's a must!
Cinnamon – I like LOADS of cinnamon on mine.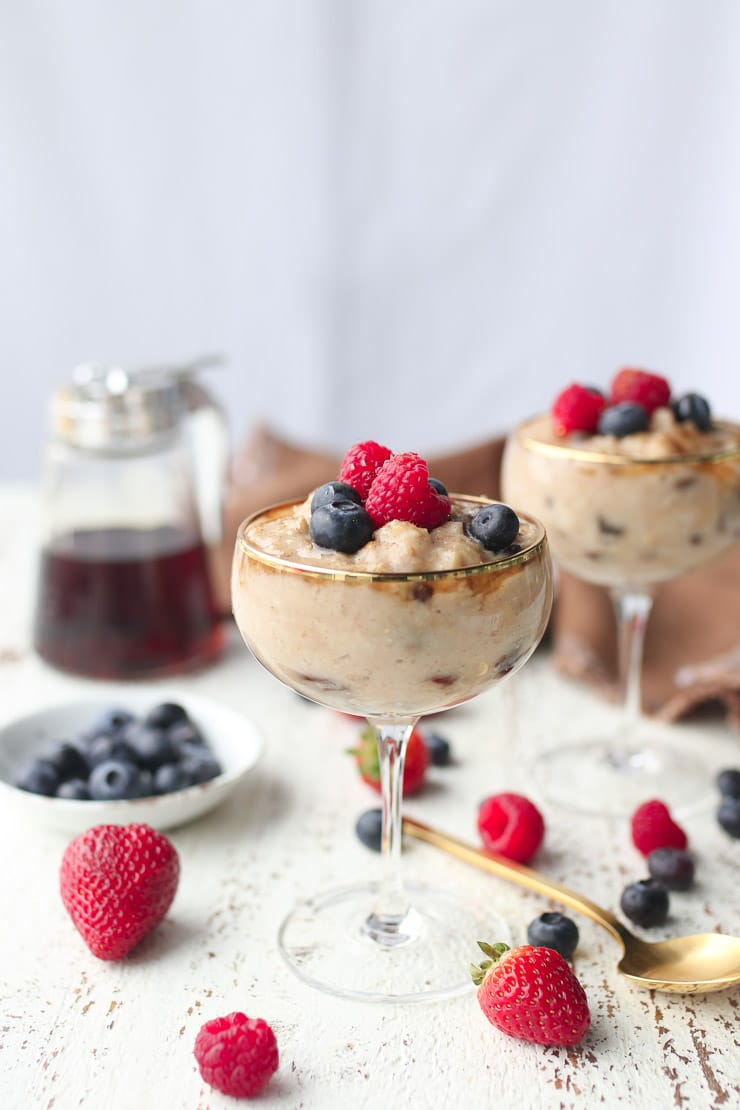 FAQ about this recipe
Here are some likely common questions and answers about this super simple pantry recipe.
how long will this last in the fridge?
Depends how many hungry people you're feeding LOL. No but really, about 5 days.
Can i freeze this pudding?
I don't recommend freezing it but the recipe is so fast and easy you can totally make it on the fly.
Can i make this chocolate oatmeal pudding?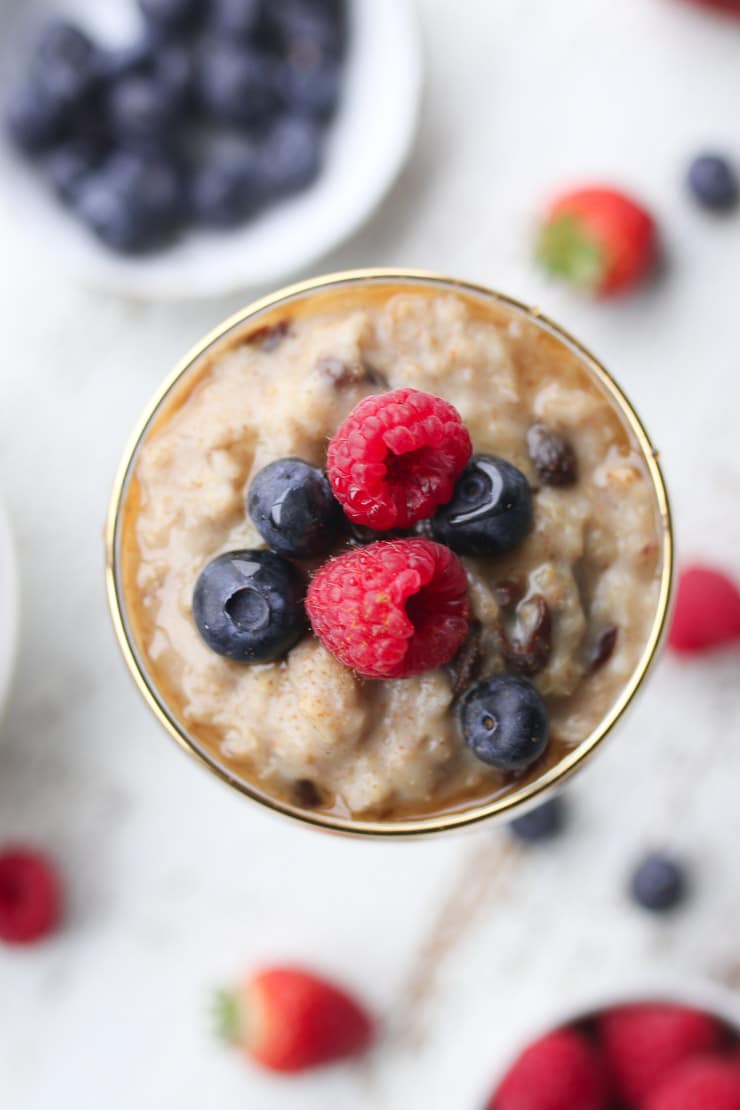 Definitely, just add a teaspoon or two of cocoa powder or a small handful of dark chocolate chips in while you're cooking with the almond milk.
do you have any other easy oatmeal dessert recipes?
Yes, as I said, oatmeal is the one ingredient I didn't need to stock up on for my quarantine because I already had SOOOO MUCH. Check out these recipes for some of my favourites.
PINA COLADA PROTEIN OATMEAL (PROATS)
VEGAN CHOCOLATE ZUCCHINI BAKED OATMEAL
OATMEAL COOKIE CUPS WITH CHOCOLATE MOUSSE
What easy healthy desserts are you making to boost moods while in social isolation? Leave me a comment below with your thoughts!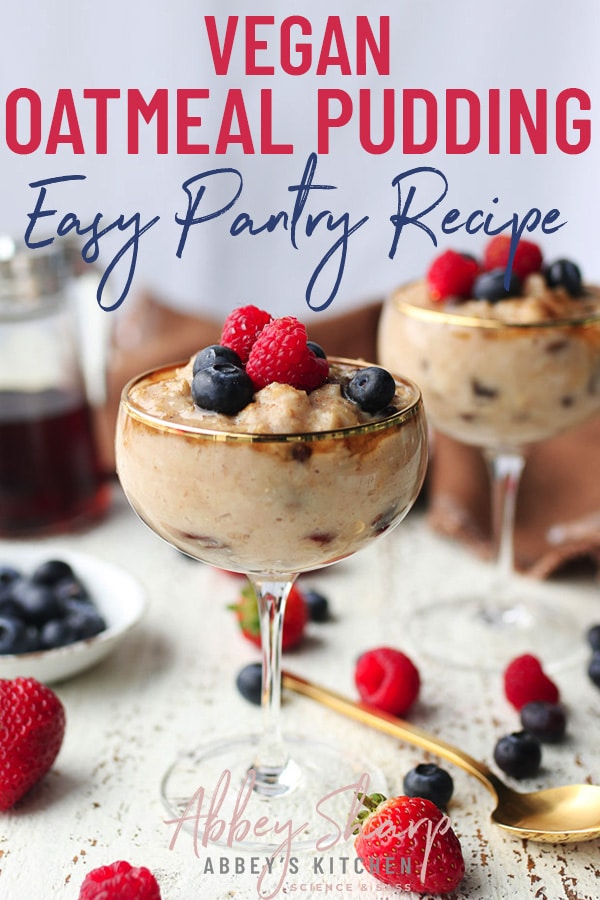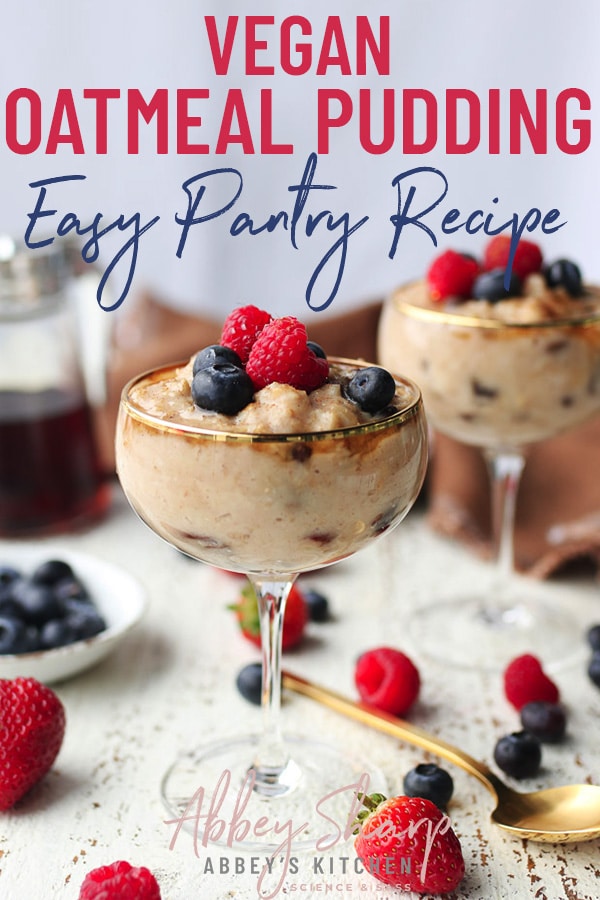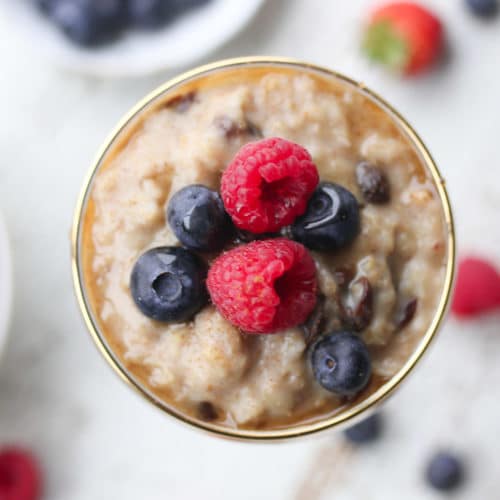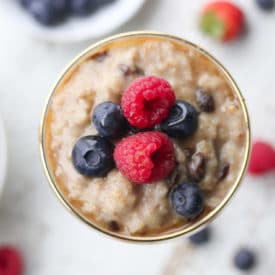 Vegan Oatmeal Pudding with Pantry Staples
This Vegan Oatmeal Pudding is no rice take on the classic rice pudding that is naturally gluten free and fibre rich and made with pantry staples!
Print
Pin
Rate
Instructions
Combine the oats, water and salt in a pot and bring to a boil. Reduce to simmer, cover and cook for about 15 minutes until the oats are tender, and the water is absorbed. Allow to cool for 10 minutes in the pot.

Add in the almond milk, cinnamon, vanilla, raisins and maple, and bring back to a boil. Reduce to low and cook for another 15 minutes, stirring occasionally until it reaches a soft, tender rice pudding like consistency.

Serve topped with berries and an extra sprinkle of cinnamon.
Updated on October 23rd, 2020